It can be quite stress-inducing when you've planned your holiday and you encounter bad weather, so I've written this post to help you.
Stormy weather and rain is increasingly common around the world, and it's harder to predict ahead of time when you're booking things in advance.
Whether you're on a staycation or abroad, here is my survival guide to making the most out of a washout holiday, whether you're by yourself or with family or friends.
*This post may contain affiliate links*
My first piece of advice would always be to check the reviews on Tripadvisor before your trip to see what facilities are available to you:
Here are 9 tips to survive when you experience bad weather while you're on holiday:
1. Find or download your own entertainment
Downloading your own entertainment can mean taking a book on your phone or it could be a film or a podcast. Check out my podcast recommendations here.
If you have young kids, then you could download the CBeebies app or the CBBC app if they're a bit older. Decide what games or films you can put up with before you go to avoid conflict. You could even take cards or board games.
If you do want to get out and about, then check local listings for shows or you could visit a local cinema.
Check out these best board games for kids as voted by mums.
2. Take some crafts
There are loads of crafts that don't take up much room that you could take with you if you end up stuck in the hotel. Craft is great for kids and adults alike, and there is loads of inspiration on Pinterest.
I find that crochet is really relaxing and it doesn't take up much space, so you can make such beautiful things. Follow my Pinterest at Land of Size to see the things that inspire me.
3. Take pictures or make a film
Hone your photography or filming skills in your hotel by finding things that inspire you. If you have kids, get them to have a go at making a little stock motion film or to take some family photos.
4. Cooking or takeaway
If you love cooking then you could use the time to make a lovely buffet that could even be inspired by the country that you're in.
If you're with children, you could set them some baking tasks or if there are any aspiring chefs with you then they could have a go as well. You could even have a Bake Off!
If you are interested in cooking and it's available, then you could take a cooking class. For those who aren't into cooking, or want to take a break, then there are loads of takeaway apps available now for you to order a delicious feast online.
5. Have some DIY pamper time
Grab a face mask, try makeup on each other, do each other's hair and really enjoy pamper time.
You could give yourself a manicure or you could even book yourself a massage or spa day if you can afford it.
If you want to try introducing more eco-friendly beauty products into your regime, then check out how to have an eco-friendly facial, haircare routine, or manicure.
6. Indoor exercise
There are so many apps and YouTube videos with exercise regimes for all tastes for if you want to get active. Whether it's pilates, yoga or circuits, you can find whatever suits you online. If your hotel has a gym, you could even go there for a workout to blow off steam.
Kids can try a dance video or just blast some music out so that you can all enjoy an energetic boogie together.
If you're interested in sustainable fashion, then check out my list of eco-friendly yoga essentials.
7. Language learning
There's always something interesting about a language to learn when you're in a new country. Once you know a few phrases then you could try out your skills on the hotel staff.
It's also something kids can join in with and I recommend a fun language app like Duolingo.
8. Go swimming
When it's wet anyway, then you may as well go for a swim in a pool and get your laps in.
If your hotel doesn't have a pool then have a look online to see if there are any others that you can use.
Don't go in an outdoor pool or go in the sea when it's stormy.
9. Embrace it
It's always worth bringing wet weather gear with you, even if it's just a raincoat or waterproof trousers for when you're travelling light. Kids love splashing around in puddles and at least there won't be any crowds!
What do you do on holiday when rain stops play? Share your wisdom in the comments below!
Pin this for later: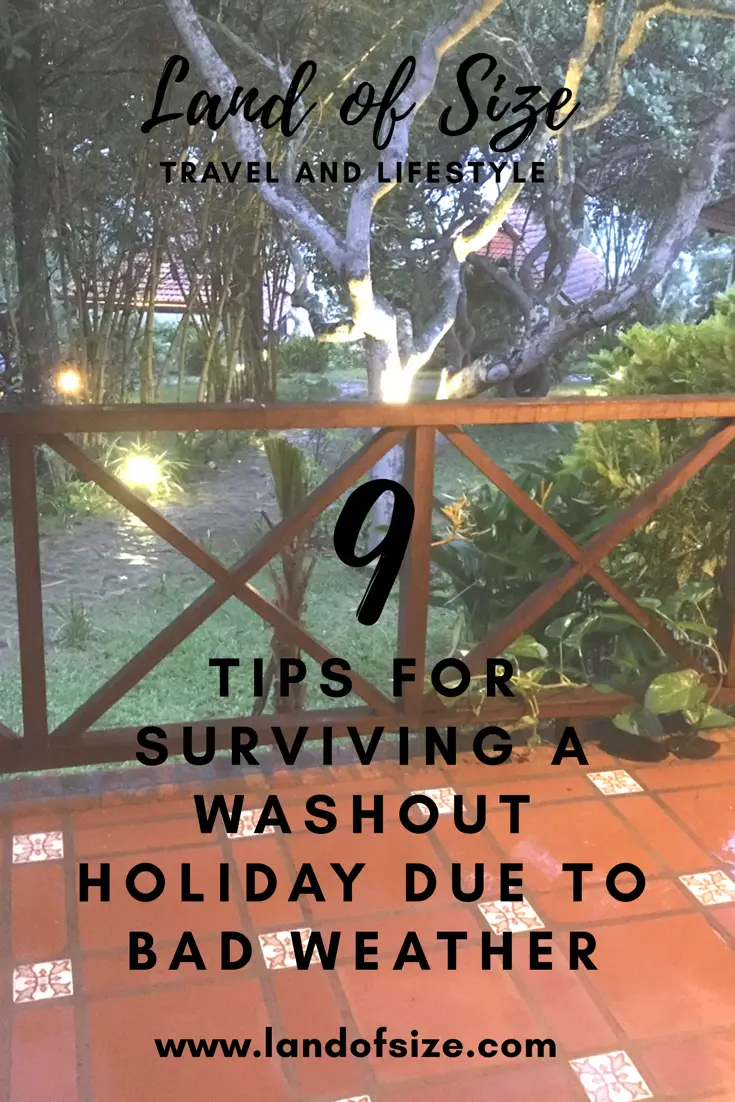 Or