Travelling around Taiwan isn't too popular with backpackers yet but it should be, because its great fun and less expensive than you might think! If you're doing a circuit around the island then I really recommend Taipei, Kaohsiung and the Taroko Gorge near Hualien.
Taroko Gorge is so beautiful that it's hard to believe that its not a UNESCO Heritage site (even though various politicians have tried to make it so).
Read: 9 tips to make your backpacker budget go further in Taiwan
We stayed at Dongdaemun Boutique Hotel which was a good budget option with breakfast, near the train station and a 7-Eleven. Check for reviews and deals and Tripadvisor before you book.
This is my guide all about how to see Taiwan's Taroko Gorge in one day while on a backpacker budget:
There are not so many English speakers in Taiwan as there is not as much call for it, so be prepared for this if you do book a tour or when hiring a vehicle to get you around.
Luckily the signs and maps are in English as well as Mandarin so they will help you, as offline map apps like Maps.me are mainly in Mandarin too. Only hire a bike if you're a confident driver and have experience.
Once you've hired a bike or a car then these are some beautiful places in the Taroko Gorge to visit on your journey: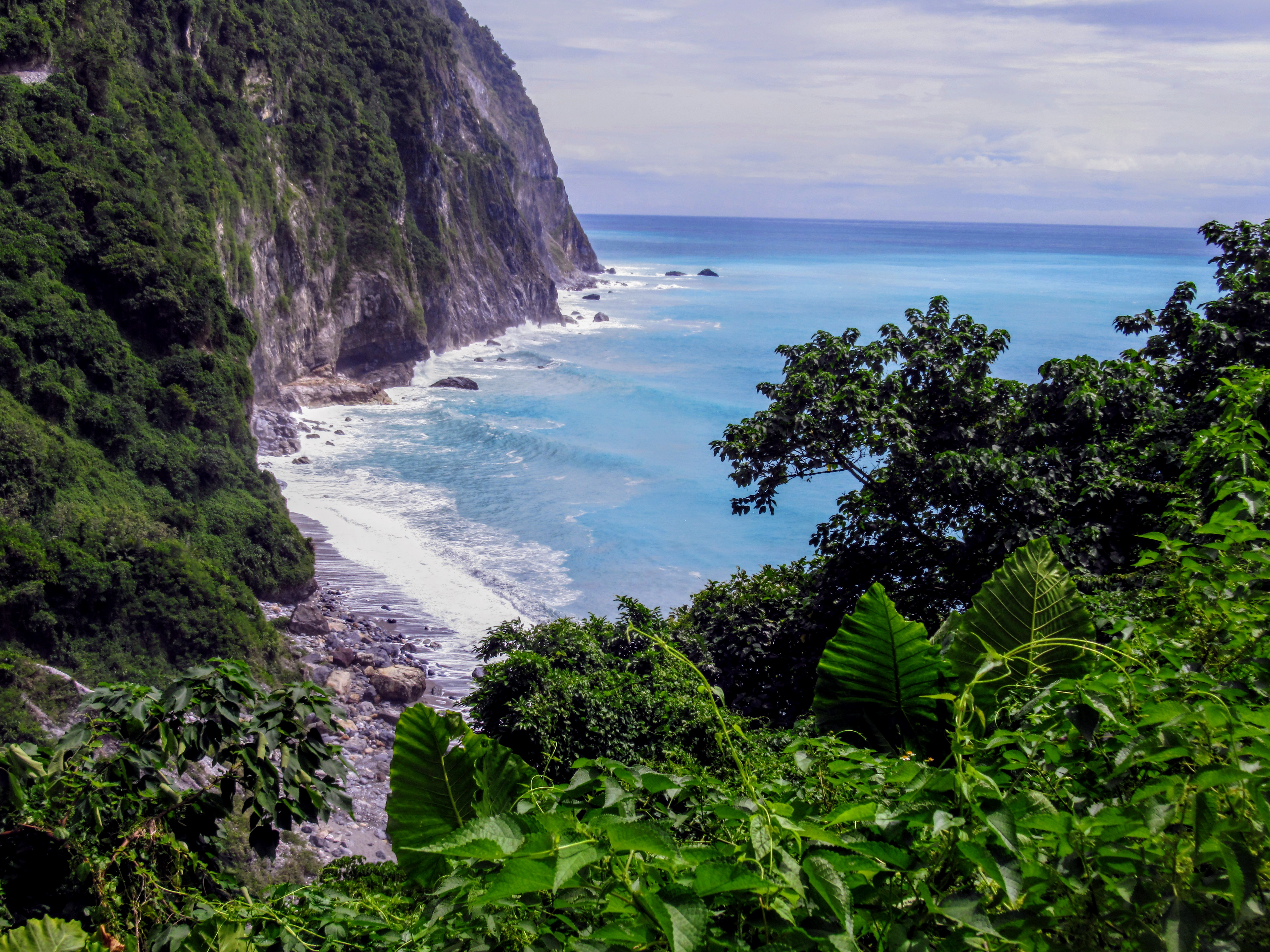 Qingshui Cliff
The first stop of your trip is the popular Qingshui Cliff, where you can see the weather-beaten stone cliffs, the grey beach and the incredibly blue sea. It's really incredible but you won't be alone.
From the popular cliff viewpoint, you can see the train going through the tunnels that have been painstakingly carved through the mountains.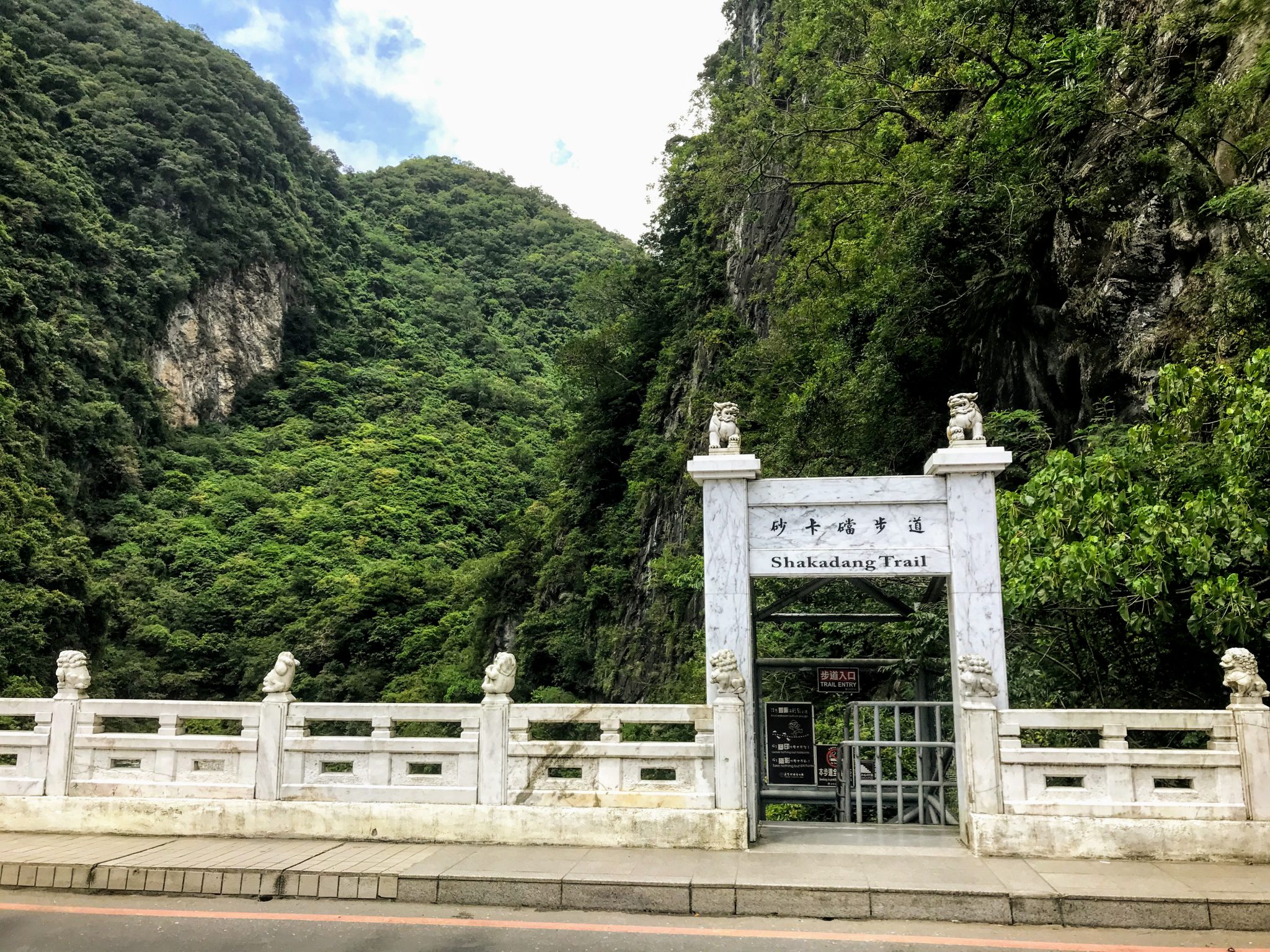 Shakadang Trail
One of the most famous gorge walks is the Shakadang Trail, where you can see the beautiful red Cimu bridge, marvellous views and marble lions on the walls.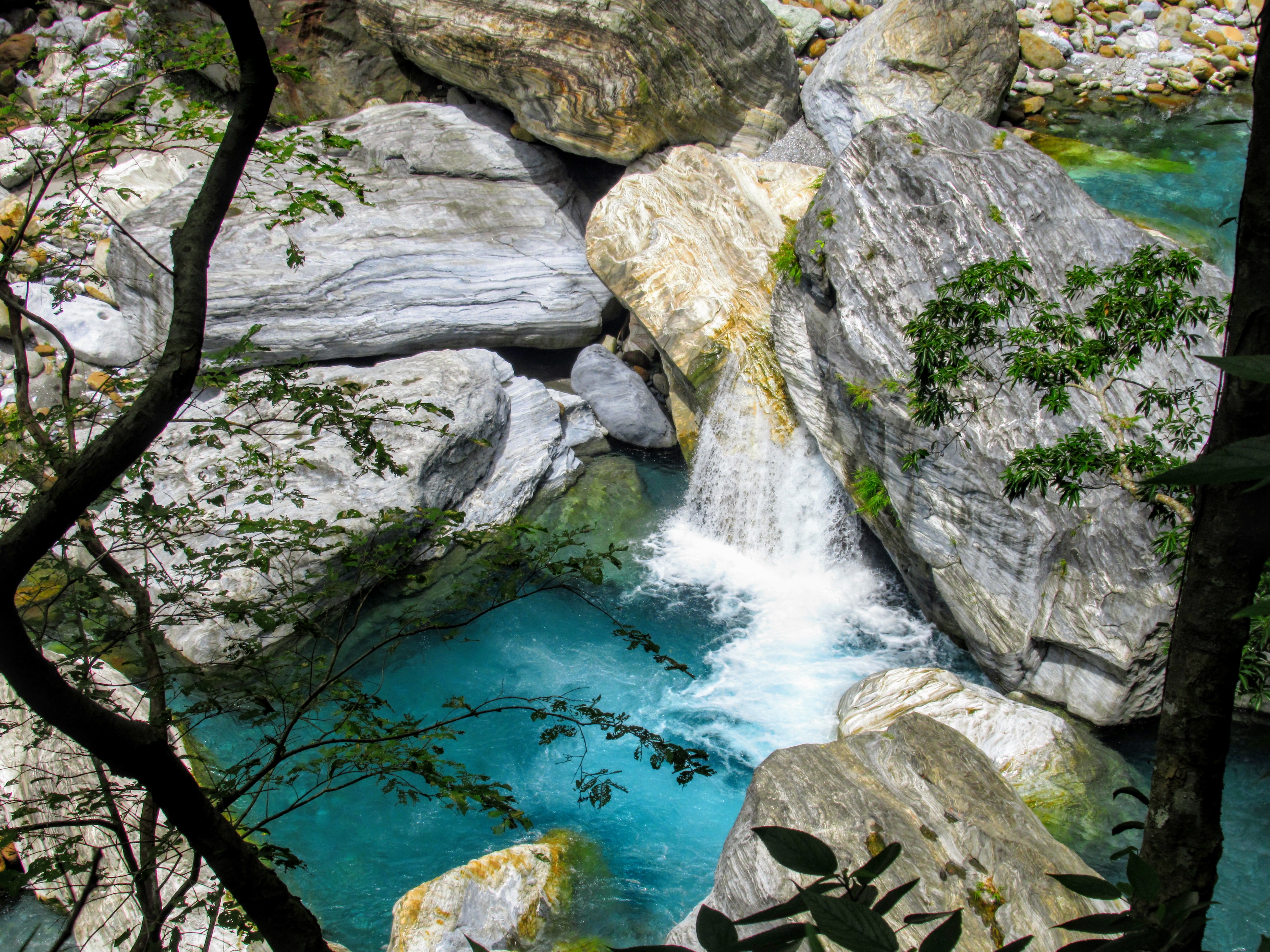 You can walk for hours along the beautiful trail and be sure to look at the incredible blue water and listen to the frogs chirping. The Taiwanese are generally very fit even in their older years so you may get lapped if you walk slowly!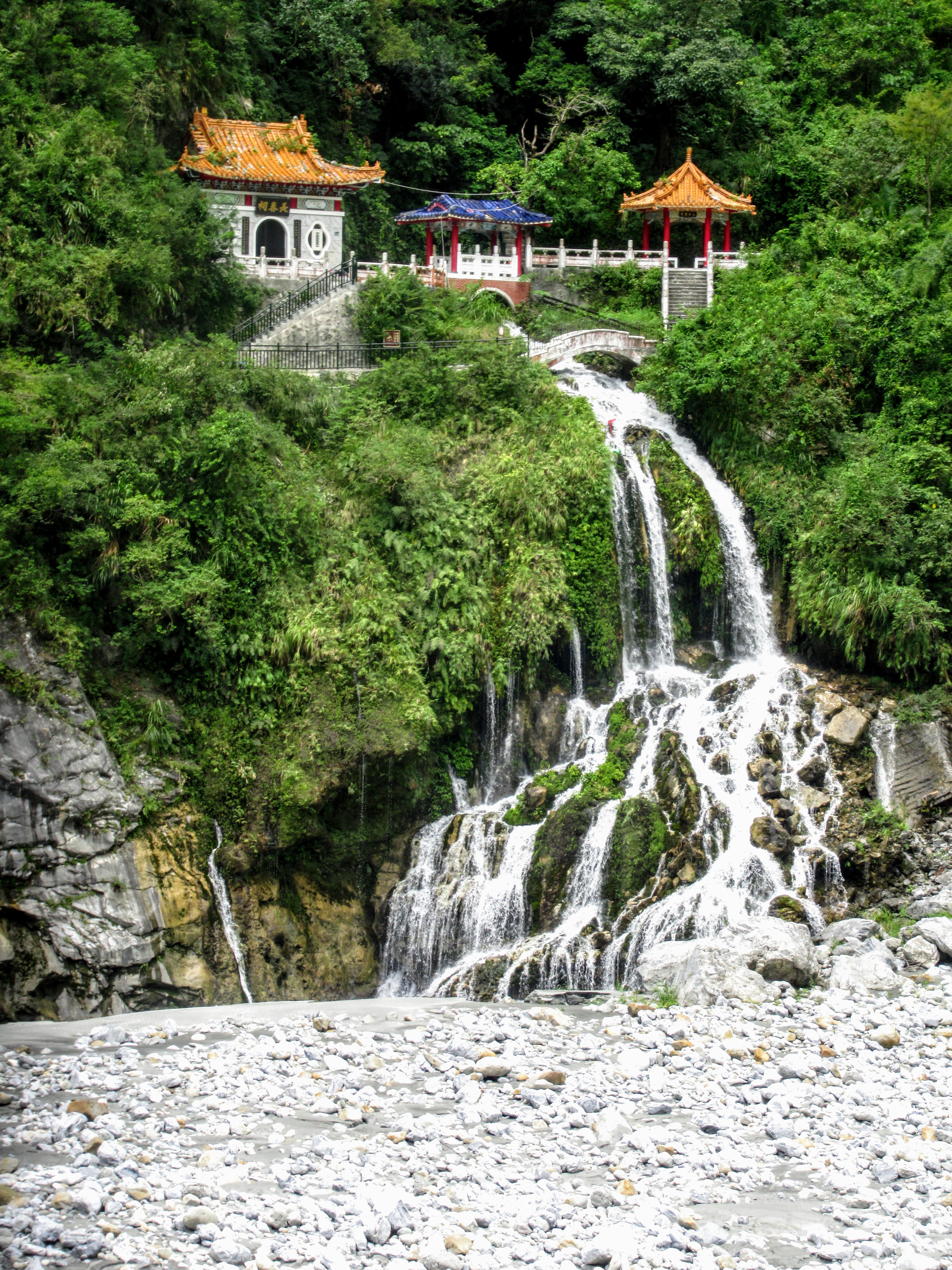 One of the highlights of the Taroko Gorge is the Changchun or Eternal Spring Shrine which is a temple build on top of a waterfall which is a really ethereal place. It is now dedicated to those who died building the mountain road.
At lunchtime, or any time that you want food you can stop at the small town of Taroko, that has Taroko Gate and a small church as well as a 7-Eleven where you can eat in and a few small restaurants.
Read: 11 vegetarian foods to buy from supermarkets like 7-Eleven in Taiwan
Read: 15 delicious and cheap desserts to eat in Taiwan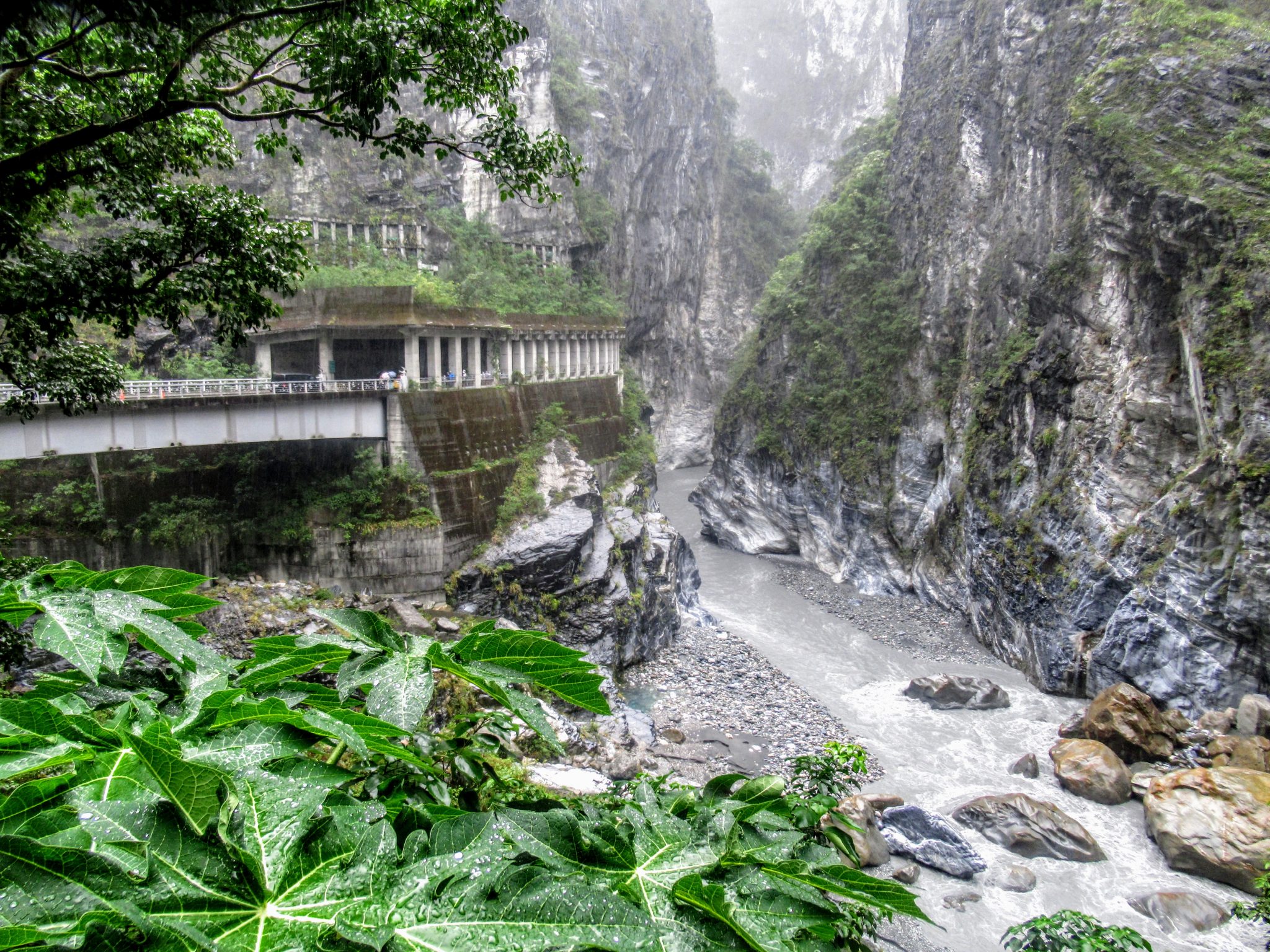 Tunnel of Nine Turns
Head to the Jiuqudong, or the Tunnel of Nine Turns to see beautiful grey rock formations but don't forget to collect your free hard hat at the booth. This is to protect you from falling rock when you're going through the tunnels.
The contrast with the blue river in the other part of Taroko Gorge is stark with the grey river and rock.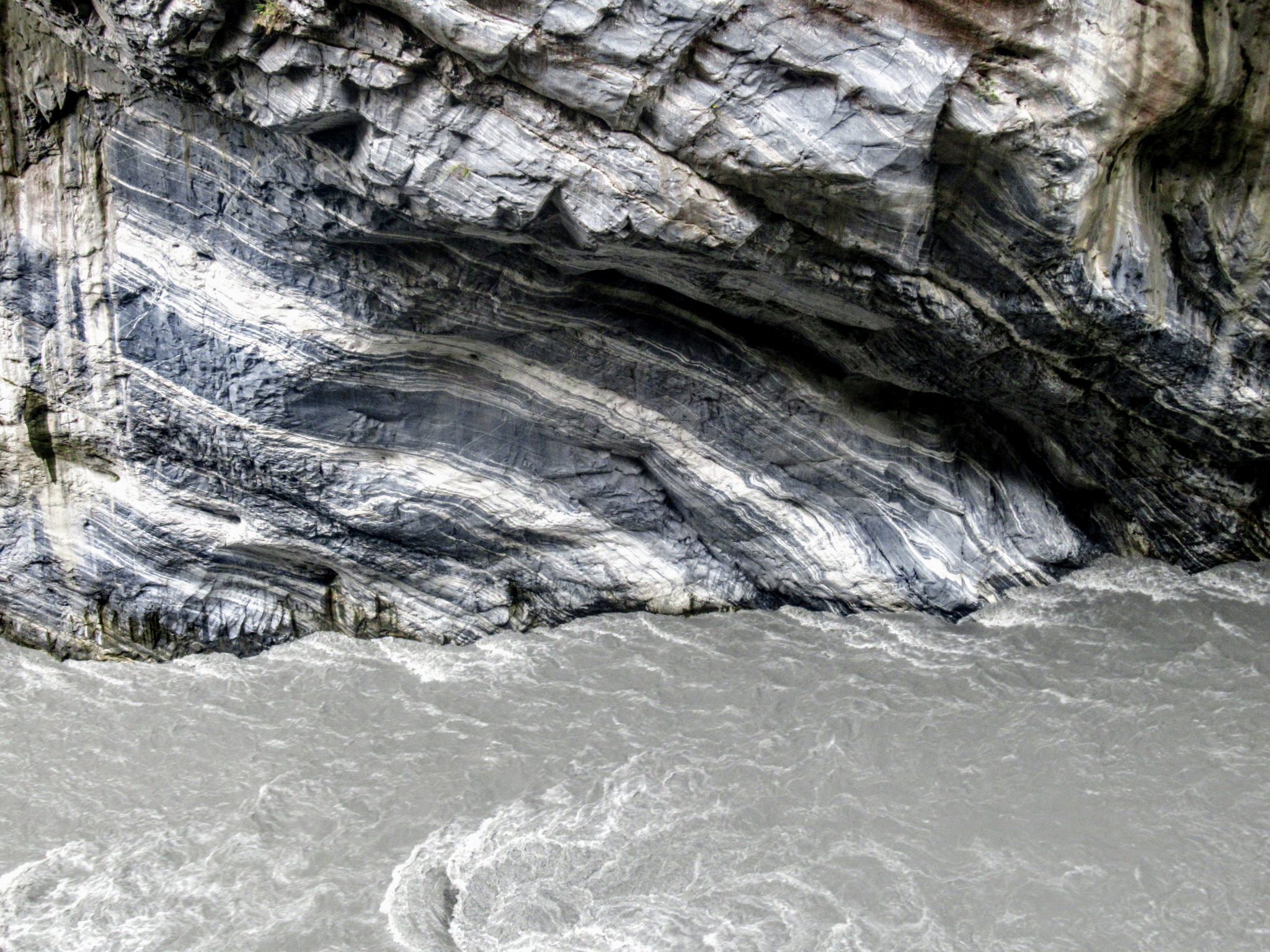 Look out for more incredible rock formations of the Swallow Grotto, which were created by the erosion of the Liwu River over the years.
Qixingtan Beach
The last place to visit is the wonderful Qixingtan Beach, which is a grey stone beach with wonderful turquoise blue ocean. When the seasons get wetter, the sky takes on this dramatic hue of deep blue that you can see on this picture. Swimming is not permitted and there is a lifeguard there for your safety.
If you want somewhere to go for some cheap food for tea then check out Tungtamen Night Market next to Pacific Park in Downtown.
I hope I've persuaded you to make a stop at Taroko Gorge as it really is the jewel in Taiwan's crown as far as nature is concerned.
Have you been to Hualien and Taroko Gorge? What were your favourite places and how did you keep to your budget? Share your stories in the comments below!
Pin this for later: