Hampi is easily one of the best places to see in South India and somewhere you'll always remember, its a beautiful setting with UNESCO-listed ruins and its a major backpacker stronghold. It's famous as it was the last capital of the Hindu Kingdom of Vijayanagar, and it was these rich princes who built Hampi's famous Dravidian temples.
We arrived here on a night bus from Bangalore and as it's so far away that most people come on the night bus. You get dropped off outside Hosapete public bus station and buses run from about 6.30 am to 8.30 pm for the half-hour journey to Hampi. To book private buses, download the Redbus or Ixigo apps to book transport directly and avoid cripplingly high commission from travel agents.
If you're also visiting Gokarna while you're in Karnataka then check out my guide Gokarna's beaches for budget backpackers. We took a public night bus from Hampi to Gokarna which was horribly uncomfortable but it was cheap, Paolo's Travels has a private bus that gets there at about 3 am.
Where to stay in Hampi
We stayed at Netra Guesthouse which was a very cheap decent budget option and not great but it had a good but slow restaurant. Check the Tripadvisor link below to check reviews and find good deals for budget hotels in Hampi:
This post may contain affiliate links
Issues in Hampi
Hampi has had a couple of issues in recent years which have had an effect on its tourism. UNESCO is worried that the water-intensive agricultural practices like rice growing, tourism, road traffic, pollution and illegal quarrying will all damage the ruins and they want development to move away from them. A bit like the issues with pollution and the Taj Mahal.
This hasn't happened and a load of businesses were bulldozed overnight, then some were moved over the river and now some are back. They are now trying to recoup losses from tourist money by hiking up fees and now businesses will lie about electricity and water in order to save money, coupled with infrastructure problems caused by the move. Power cuts are common and wi-fi is sketchy here so don't plan to do any admin in Hampi!
Matanga Hill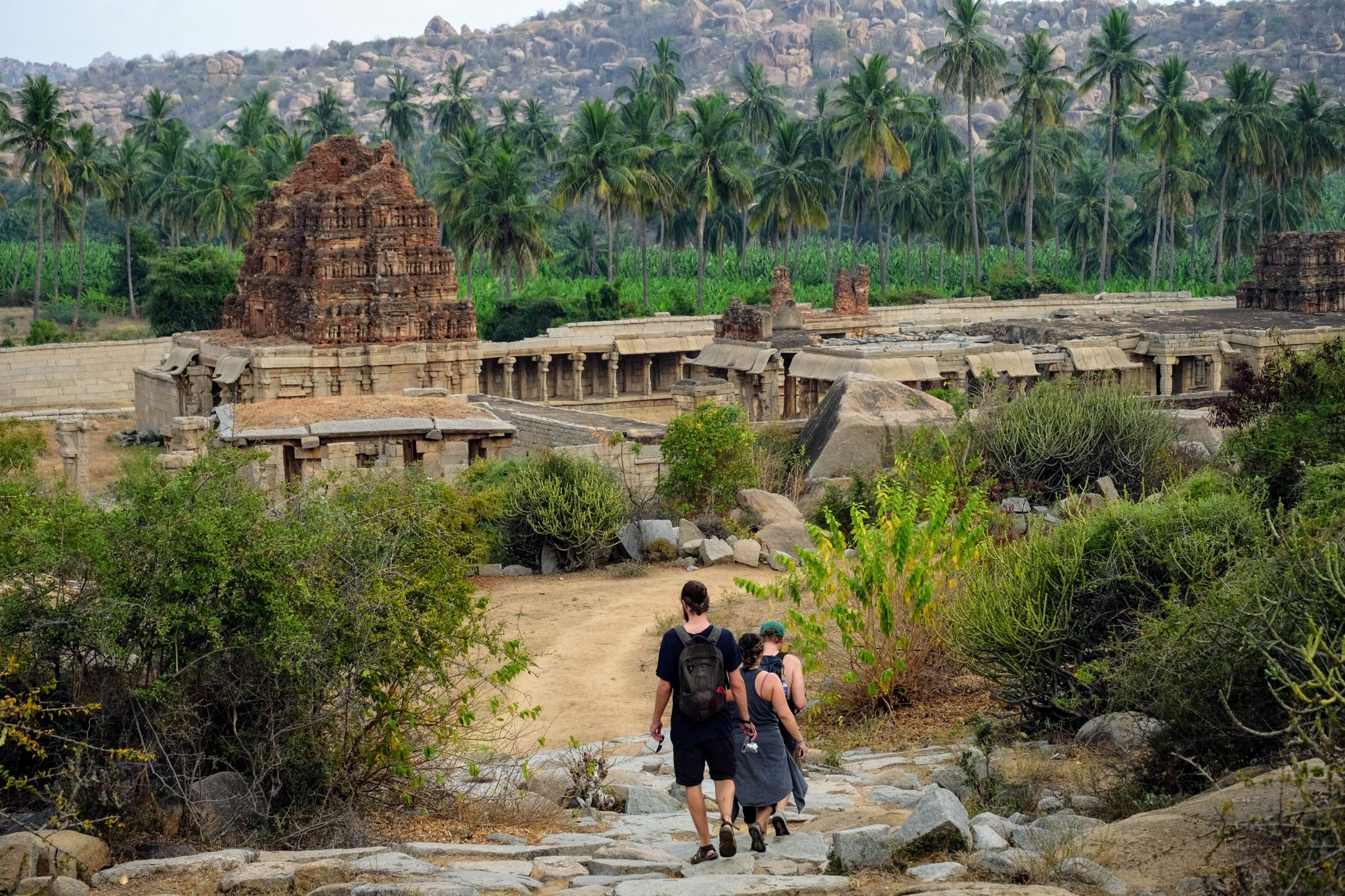 There are various clusters of ruins around Hampi, including many free ones around Hampi village and two that are paid for with an entrance ticket. We went to the Achyutaraya Temple first which is along the Sule Bazaar road opposite the Sri Virupaksha Temple, behind the rocks.
It's a nice one to visit as you can then continue up the path to Matanga Hill which is the best place to get a view of Hampi and watch the sunset (or rise!) and it's free! Make sure to descend Matanga Hill before it gets dark to avoid animals and injury!
Alcohol is prohibited in Hampi but you can usually get it in a white mug in some restaurants – they will usually claim to be the only one but they're not. Some good restaurants are Mango Tree, Top Secret Restaurant, Ravi's Rose and Chillout Bamboo Restaurant who all do good falafel and hummus!
Sri Virupaksha Temple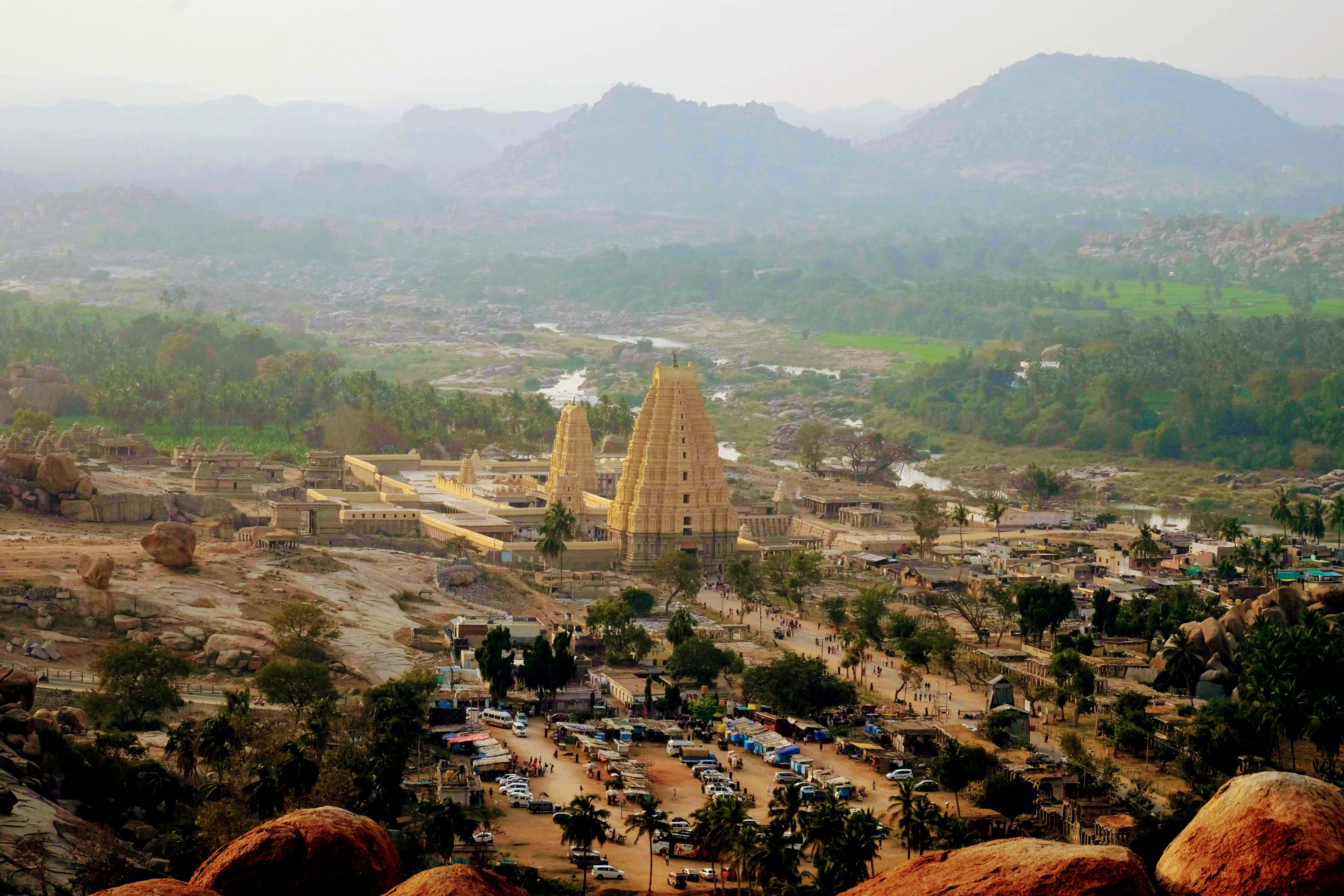 If you want to go inside the famous Sri Virupaksha Temple, it costs 50 rupees and its very famous with pilgrims. The only issue (apart from the macaques that jump on you when you're in there) is that they have an elephant called Lakshmi who lives there in miserable conditions. I found her sucking her trunk out the back and it was upsetting to see. You can see her bathing in the river every morning in order to collect food and money from tourists. If you want to know more about her and the problems with temple elephants in India then read my article.
To see the ruins that are further away, I do recommend getting a bicycle or moped and there's a hire place near Tope Secret Restaurant. Be warned that the mopeds are not very powerful and they cost the same as a good moped of 300-400 rupees per day. Also, be aware that the man lies about the fuel efficiency of the bikes so that he can siphon it off at the end of the day and resell it. I suspected this and then caught him doing it in the street as people have no qualms about ripping off tourists.
Paid sights in Hampi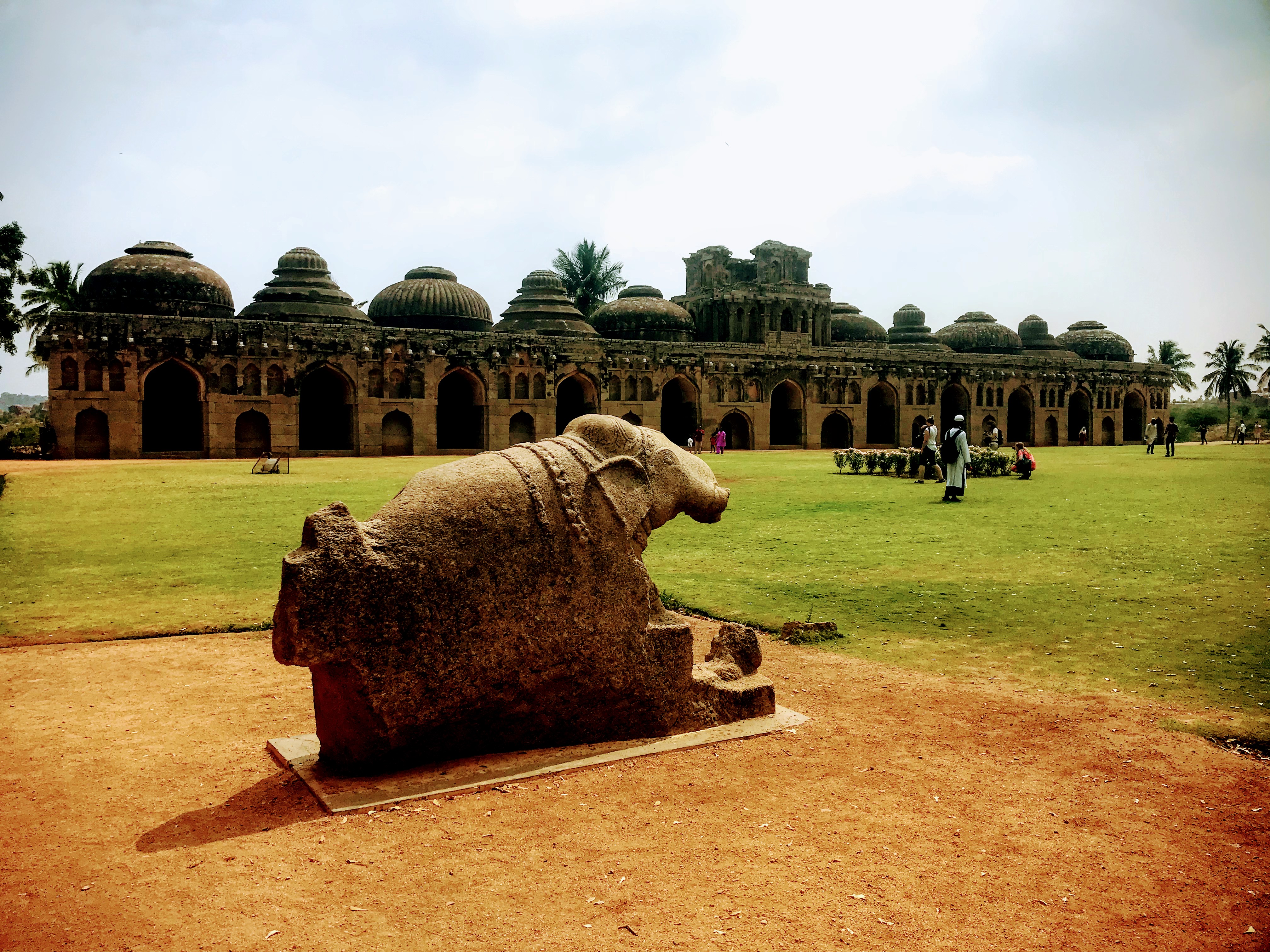 A ticket for the more famous ruins costs 600 rupees for a foreigner, and you can buy it at the entrance to the elephant stables and the Lotus Mahal. It also grants access to the Vijaya Vittala Temple by the river and the archaeological museum but you have to see them in one day. I recommend seeing them alongside the bear sanctuary if you're going as it will save you money on bike hire, but it will be a busy day!
On the roads to the Lotus Mahal, there are some awesome free ruins, including the Queen's Bath, Mahanavami Dibba, the stepwell and the Hazara Rama Temple.
Vijaya Vittala Temple
The second place that the ticket grants you access to, and one of the most impressive in Hampi, is the Vijaya Vittala Temple. There is a 10-minute walk to get there from the road and you can't take a moped. It's famous for the stone-cut chariot in the middle of the temple. If you're visiting the Mahabalipuram ruins near Chennai then they have a couple of similarities.
If you're travelling to the bear sanctuary, then you'll see the Archaeological Museum on your way which the third place included in your ticket. There are restrictions on photography in the museum but you will learn a bit more about the history of the ruins.
How do you get to the Hampi bear sanctuary and how much does it cost?
Going to Daroji Sloth Bear Sanctuary is actually much easier than it seems and you can go by moped or tuk-tuk. We took the cheap option of the moped and even with the total lack of power, it only took us 40 minutes from the centre of Hampi.
The centre opens from 2-6pm and entry is only 100 rupees for entrance if you're on a bike but you pay more for a tuk-tuk or car. It's about 5km from the entrance to the viewpoint and you take your bike as you can't walk it due to the bears.
The reason we wanted to come is that we hadn't seen a sloth bear in the wild, despite going to Periyar National Park and Yala National Park and these bears are free-ranging in 83 square km so its a wild place for them to live. They usually come out in the evening but we didn't see them. Make sure to bring binoculars.
There are leopards, hyenas, jackals and spotted deers in the vicinity as well which is why you should always be careful but we only saw mongooses, peacocks and bonnet macaques.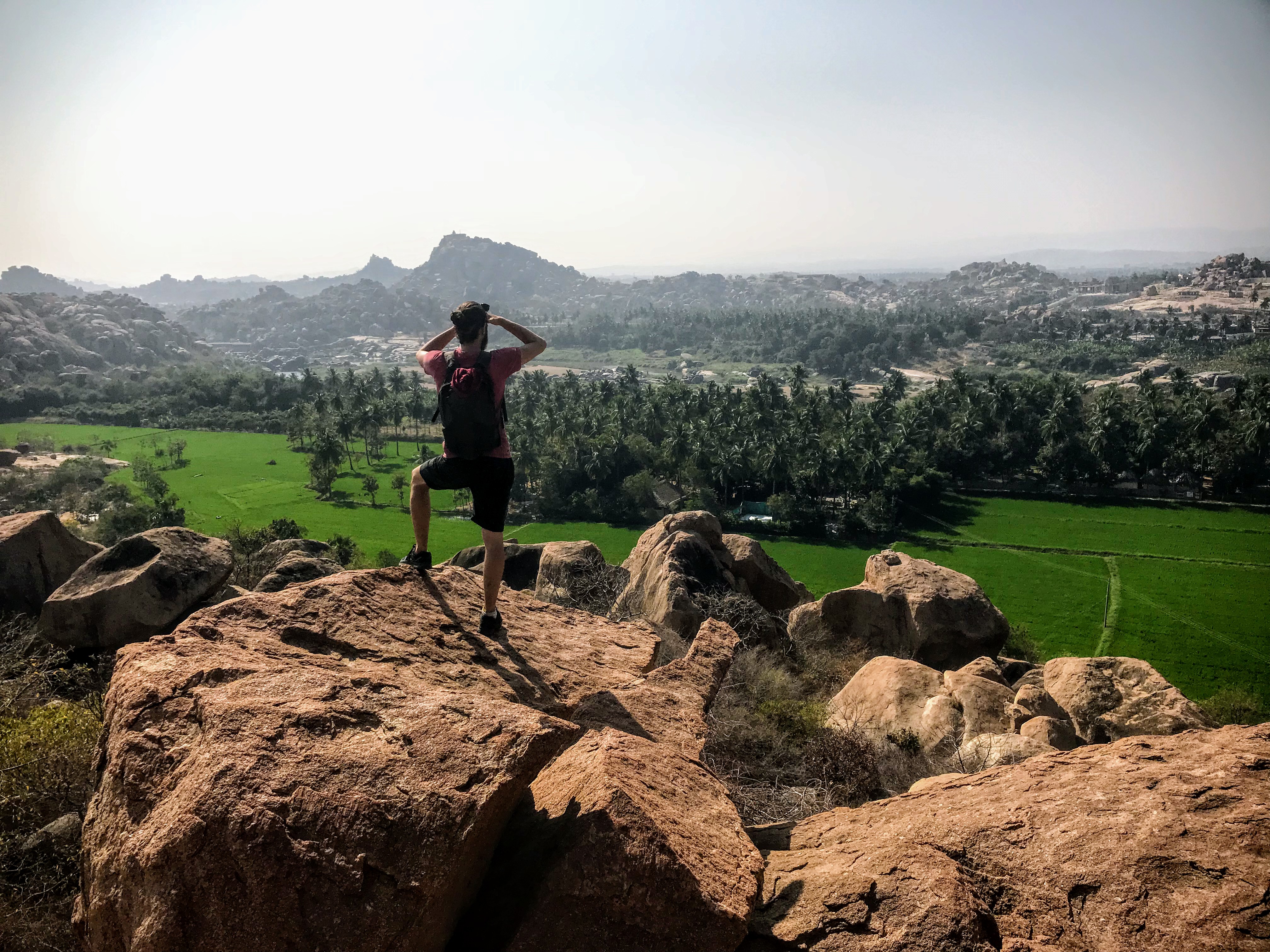 The other side of Hampi
Once you've seen the Hampi ruins, it's worth heading to the other side of the river to gaze at the rice fields, and wander amongst the boulders. There is a small market here, babas looking for money, various cafes and you can drink beer as it's not sacred land. It's known as a 'hippie village' but it can be seedy so be careful after dark.
There is a small boat that goes from the port, it only takes a couple of minutes but they've raised the price to 50 rupees in order to recoup the money they've lost from the development issues. I don't really think that its the responsibility of tourists to pay for that, as it should be the government but it is common for visitors to pay the price for things that are out of their control in India, like the Taj Mahal.
Anegundi ruins
You can wander up to a church on a hill which will take you past lots of boulders and will give you nice views along the way. You can plot your route on Maps.me and if you want to go further afield to Anegundi ruins on your right you can hire a bicycle once you get off the boat. Look out for grey langur monkeys and beautiful lizards along the way, but don't go wandering alone.
Hampi is a magical place and even with its issues, it's a great place to spend some time. It may be in the middle of nowhere, but it's certainly the jewel in the crown of Karnataka and worth making to effort to see if you can.
What did you think of Hampi? What were your favourite ruins and did the Hampi politics affect your trip? Did you see a bear in the sanctuary? Any questions then let me know in the comments below.
Pin this for later: