Kerala is a beautiful state and its backwaters are a great place to explore, it's actually really easy to do this cheaply and sustainably so its a must on any backpacker itinerary for South India.
Kerala really isn't like any other state in India, it used to be a matriarchal society as well as being run by a communist government. The vibe is different, but so is the landscape as it is cross-crossed with lakes, rivers and canals which separate the land, as well as joining its communities.
The unique culture and its natural beauty draws the travellers here, and they all know that the best way to see Kerala, is by boat. The problem is that the increasing number of boats that plough the waters are polluting these delicate ecosystems.
Problems in Kerala
As well as that, in August 2018, unusually heavy monsoon rains caused mass flooding which killed around 500 people. It is thought that poor management of the dams, as well as deforestation, made this big situation much worse. We visited in December of that year, and some of the waters were filled with rubbish, partly due to the flooding.

There is a ray of light as Kerala is planning to replace much of the State Water Transport Department's fleet with solar or electric-powered ships. They have already tested a ship called Aditya and its great success has spurred them on to make their vessels eco-friendly which they will roll out over the next few years.
In short, Kerala's backwaters and communities are facing multiple threats from environmental degradation and it's important to travel lightly here as a result of that. The good news is that taking public transport here is really cheap so you can have a great time in the backwaters for a bargainous price.
Getting to Kerala
There are multiple entry points to Kerala, depending on where you're coming from, we travelled from Goa to Kochi by train and then changed at the station for Alleppey. I'm using the old names as they're easier to google for you, but Kochi is now known as Ernakulam and Alleppey is Alappuzha. Kochi, Kottayam and Kollam can also be used as entry points for the backwaters but Alleppey is a great choice to go in several directions.
Guesthouses are king in Kerala, so I would recommend them for a budget backpacker, they're also much more eco-friendly than staying in regular resorts. They're also great as you get to stay with families and they can arrange boats and trips for you with recommended people or companies. We stayed at Carpe Diem B'n'B in Alleppey and it was cheap and lovely, with a kind owner. Search more guesthouses or homestays on 
Where to eat
I really recommend looking up your nearest Indian Coffee House when you're in South India as it's a bargainous cooperative where you can get tasty and cheap eats, be aware the portions are small, so make sure to order a few things!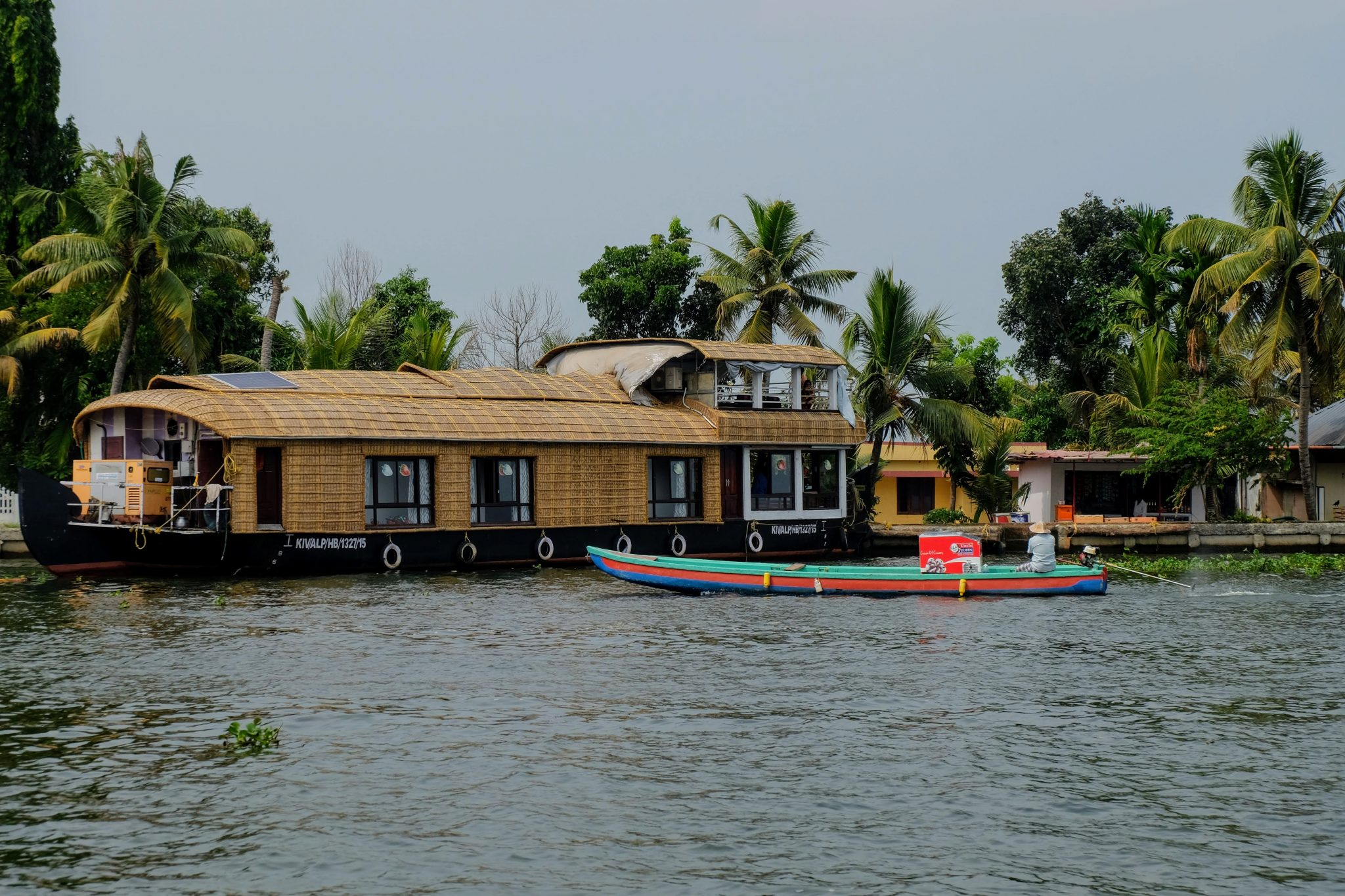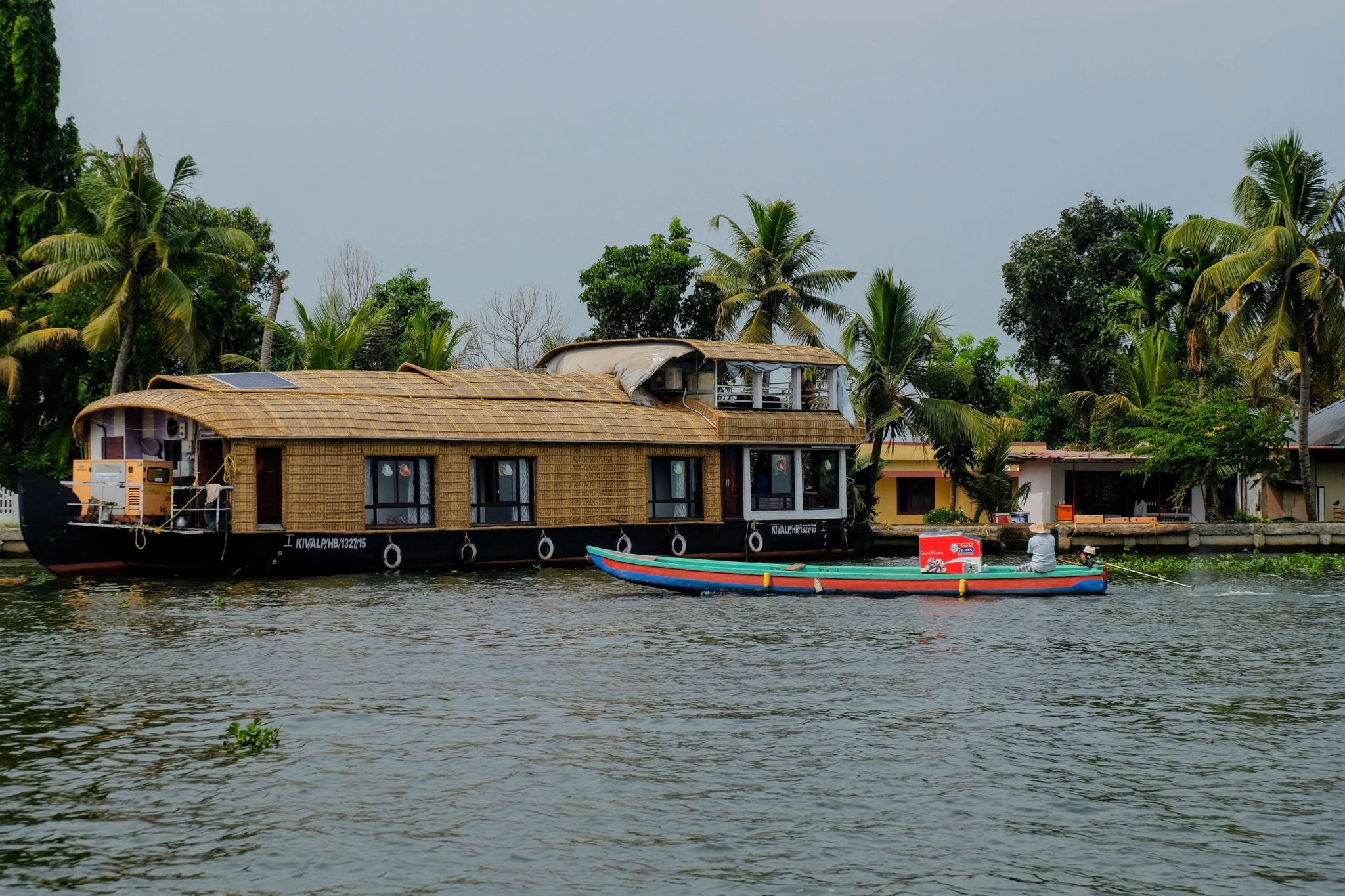 There are a multitude of water-borne vessels to choose from to see the backwaters. The most common are dugout canoes, motorised canoes (shikaras), public ferries, houseboats or kayaks.
Types of boats in Kerala
Dugout canoes that are punt-powered (about $2 per hour) are a very eco-friendly way to get around, and they support the local economy as well as keeping punters in work. They can take you to various villages where you can experience some of the Keralan ways of life.
Public ferries are the cheapest way to get around and you can find schedules on the Kerala State Water Transport website. We went from Alleppey to Kottayam for just 15 rupees and it took 2 and a half hours. These boats are really slow which gives you ample time to enjoy the views!
Kayaks can be used under your own power, which makes them very eco-friendly but you are limited by your own paddle ability. The price depends on whether you have a guide as you may not know where to go if you want to see rural village life. If you do this independently then it can be very cheap but make sure to bring supplies with you!
Motorised canoes will take you further out, but are more expensive and less eco-friendly. If you know other travellers then you can hire your own canoe with a driver and fill it or you can join an organised tour.
Houseboats are the most expensive and the least eco-friendly form of transport, to make it cheaper and to reduce your carbon-footprint then try to get a group of you together. You can haggle down at the port of where you choose to set off (don't worry they will find you) or you can book a houseboat online. I would recommend having a look around the boat as they can be in varying states and to avoid disappointment or being overcharged. A ballpark figure to rent a houseboat for a night and a cruise in the day is about 9,000 rupees or $120 but its often much more.
Kottayam and Kumarakom
If you like to travel slowly and cheaply then I would recommend getting the ferry from Alleppey to either Kumarakom or Kollam. Kumarakom borders Vembanad lake which is incredibly ethereal and beautiful, although it can feel like you're on the edge of the earth. You can visit Kumarakom bird sanctuary which is small but full of birds (you need to walk to the end of the trail to see them all, but for safety reasons don't go alone).
It is a very chilled out place to be and you can be there in 3 hours if you take the ferry to Kottayam and then the bus to Kumarakom which is about 20 minutes away. Kottayam has a train station with frequent trains to Kochi for when you leave. There isn't much to do but I spent my time there writing which I really enjoyed.
Kollam
If you want to go to a city, and go on a longer journey, then I would recommend heading to Kollam which takes about 8 hours (with a break in the middle) and leaves at 10.30am from Alleppey boat terminal. It costs 400 rupees (about $3) which is an absolute bargain and you'll see beautiful views along the way. When you get there it has great transport links to the beaches of Kerala and you can visit Ashtamundi lake and other attractions.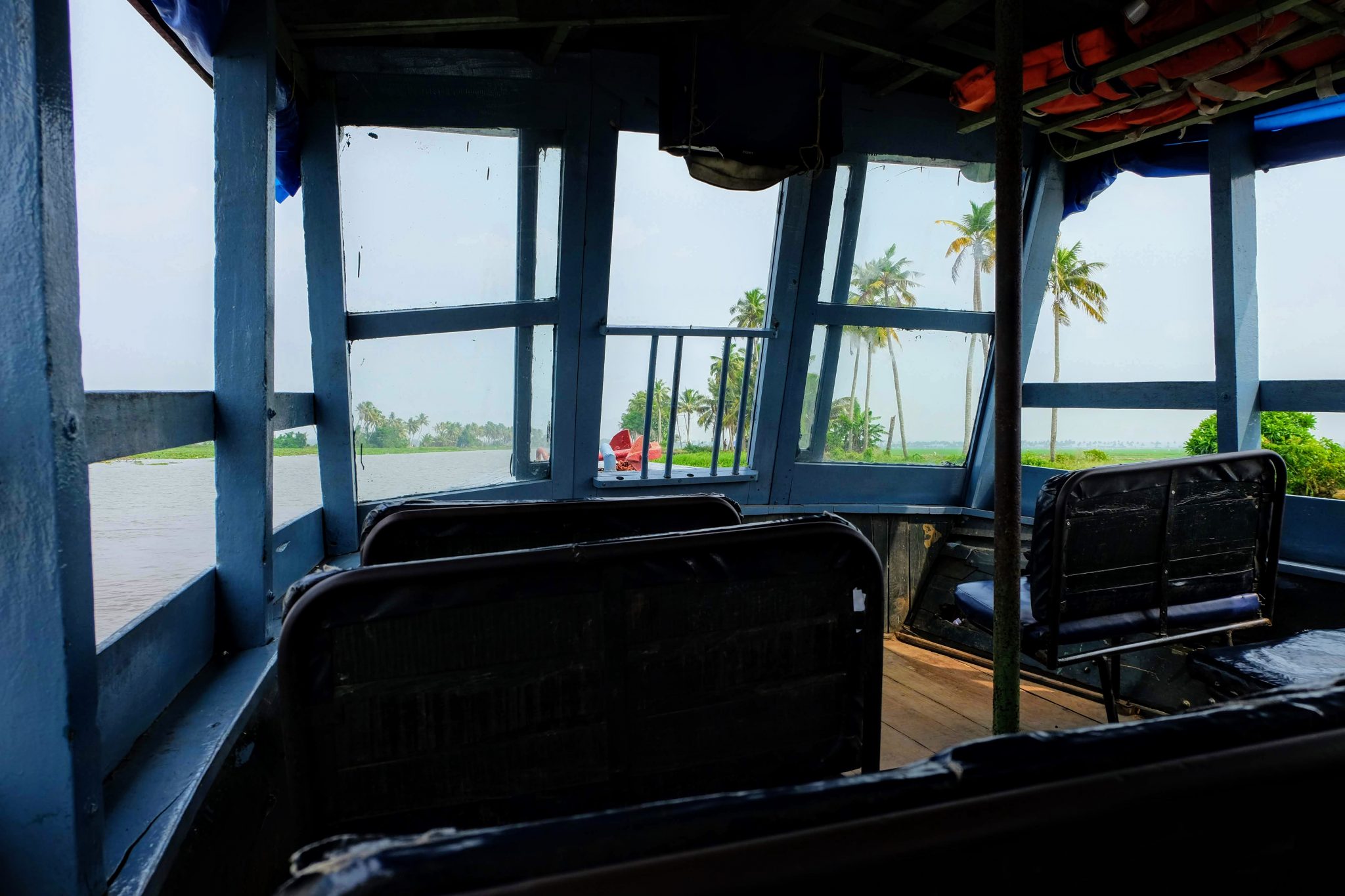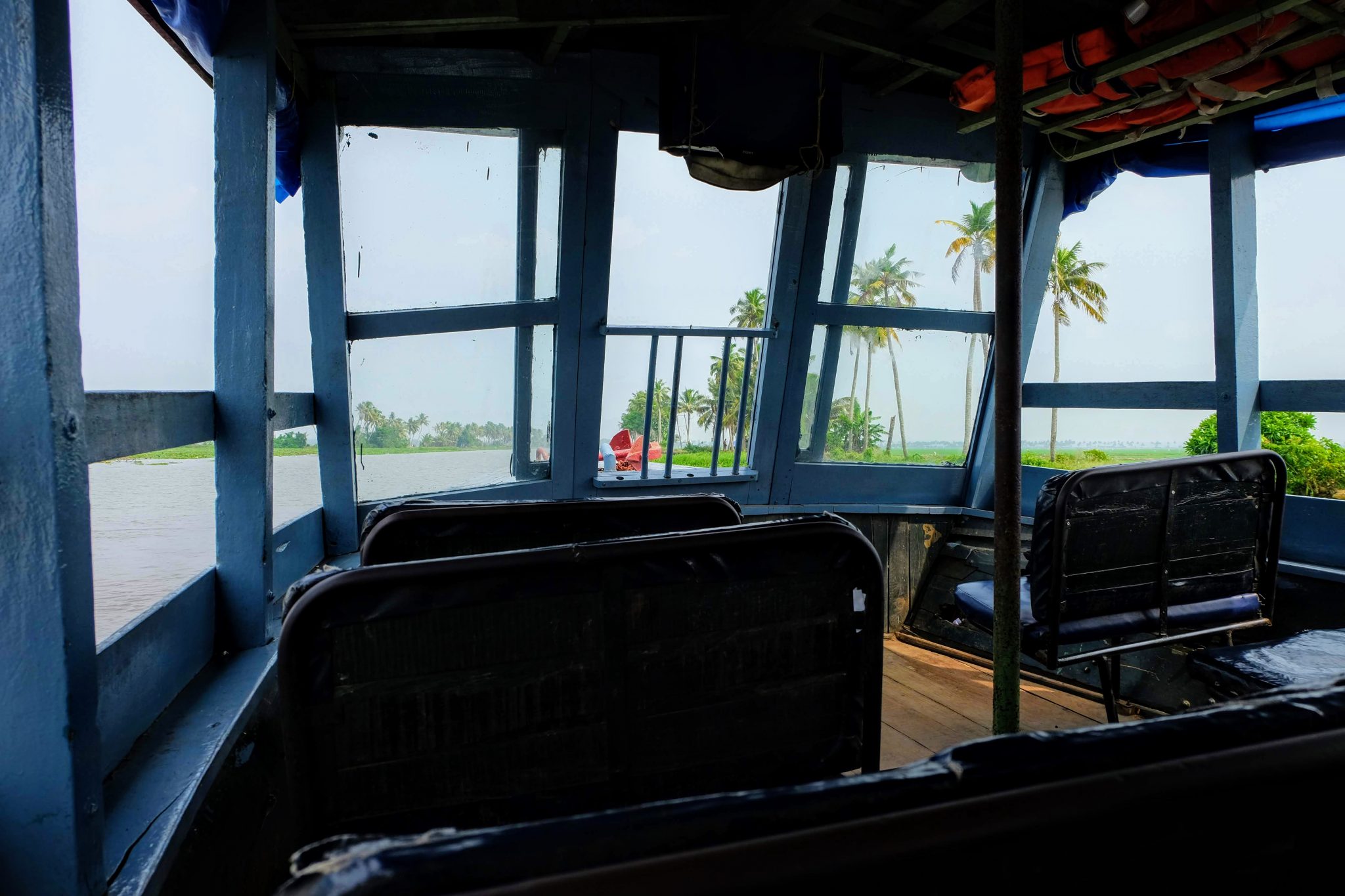 How to be environmental in Kerala
There is great street food in Kerala so you can buy as you go or take a cheap packed lunch with you on boat trips. To save plastic bottles then make sure to bring a filter bottle with you to purify your water. It's worth knowing that Kerala is pretty much a dry state but alcohol can be found in hotels for tourist consumption. Alcohol was banned for a while but they lost out on money from tourists so they brought it back again.
Have you travelled around Kerala's backwaters? If so, where did you go? I'd love to hear your recommendations so let me know in the comments below!
Pin this for later: