Mandalay is one of Myanmar's greatest cities and its surrounded by wonderful places to go day tripping, including the sights in the neighbouring towns of Sagaing, Ava and Amarapura. While they're no doubt interesting and you can hire a car to take you around them, I was interested in going to the see Hsinbyume Pagoda and Mingun Pahtodawgyi (Paya) and travelling there by boat.
We came to Mandalay from Bagan, which costs about 15,000 kyats and takes about 4-5 hours by bus which will pick you up from our hotel. We stayed at the Royal Yadanarbon Hotel which was a decent budget option with free bikes and good common areas but small rooms and not a great breakfast. Check the Tripadvisor link below to check reviews and find good deals for hotels in Mandalay:
This post may contain affiliate links
If you're travelling around Myanmar, then check out my posts on travelling to Ngapali Beach to Yangon via Pyay, Ngapali Beach, Inle Lake, crossing the border to Mae Sot in Thailand and my travel warning on Mrauk U after I got caught up in civil conflict there.
Here is everything you need to know about getting from Mandalay to Mingun by boat, which is a cheaper way to travel than getting a taxi which has to go around the long way.
We walked to the jetty from our hotel but if you're too far away, you can get a cheap taxi by downloading Grab which is the Uber equivalent in Myanmar. The tourist jetty that you'll leave from is on Myo Patt Road, near 26th Street and clearly marked on Maps.me. You buy boat tickets from the small booth on your left.
When does the public ferry for Mingun leave?
The public ferry to Mingun departs at 9am and returns to Mandalay at 1.30pm, it costs $8 for a return ticket. If you miss that ferry you can hire a private boat which is about $11 per person that will bring you back at an agreed time.
The journey takes 40 minutes to an hour each way and while it's a relaxing ride, there isn't too much to see along the way.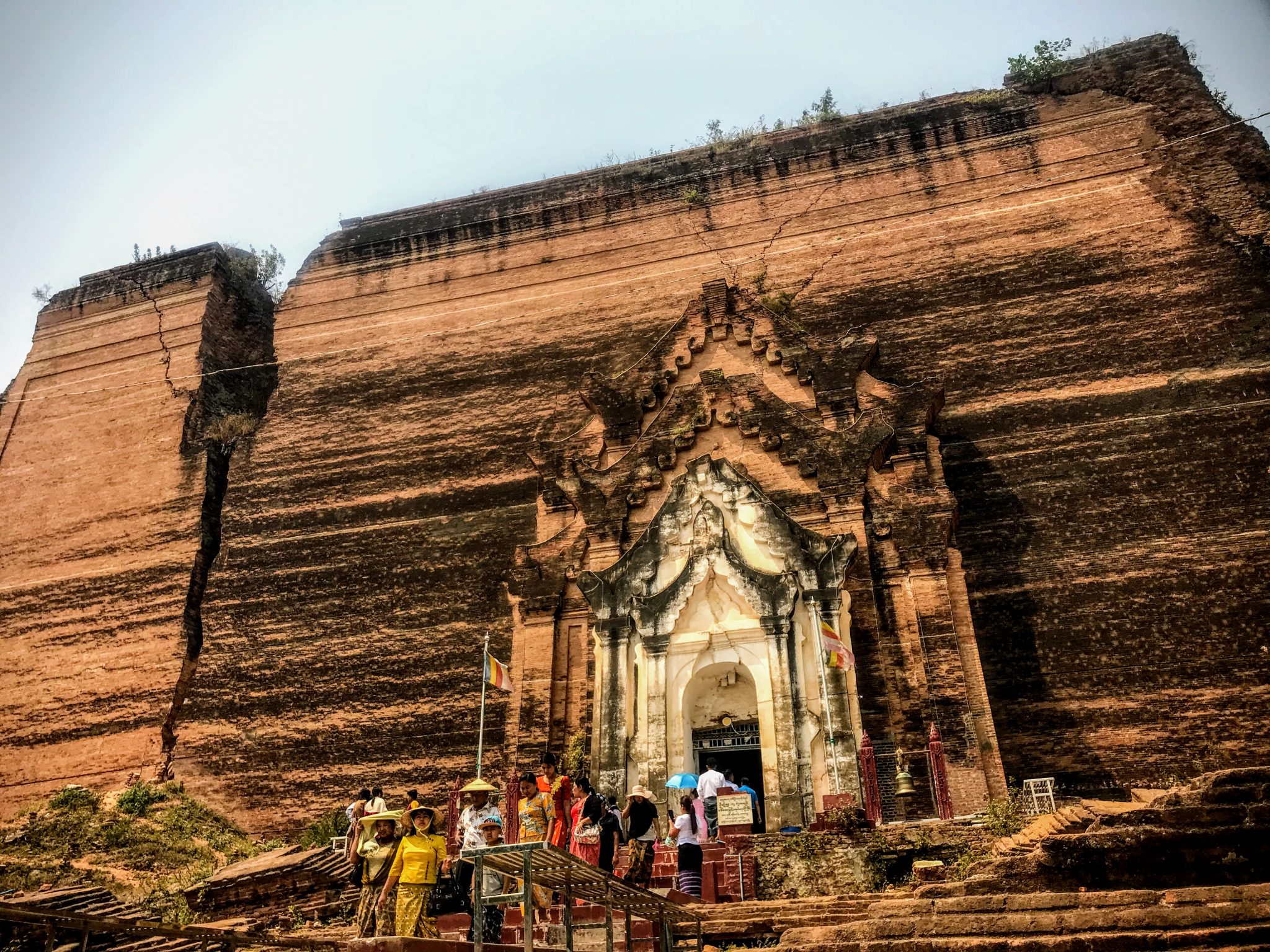 Once you depart the ferry, you'll be directed to the booth where you'll pay your 5,000 kyats entrance fee which covers everything. All the sights are essentially in a short loop so they don't take too long to see.
Mingun Paya and bell
The Mingun Paya will be almost straight ahead of you, this striking rock-cut temple was started by King Bodawpaya in 1790 and left unfinished. Inside the elaborate doors are quite small cavities full of worshippers praying to the Buddha statues so there isn't much to see inside. There is a staircase on the right-hand side which you can take to go to the top of it.
If you continue down the road which is lined by market stalls if you wish to buy anything, then you will come across the Mingun bell which is the world's second largest bell and you can even go inside it. The inside is full of graffiti and it is VERY popular with tourists so it gets cramped inside the bell.
Hsinbyume Pagoda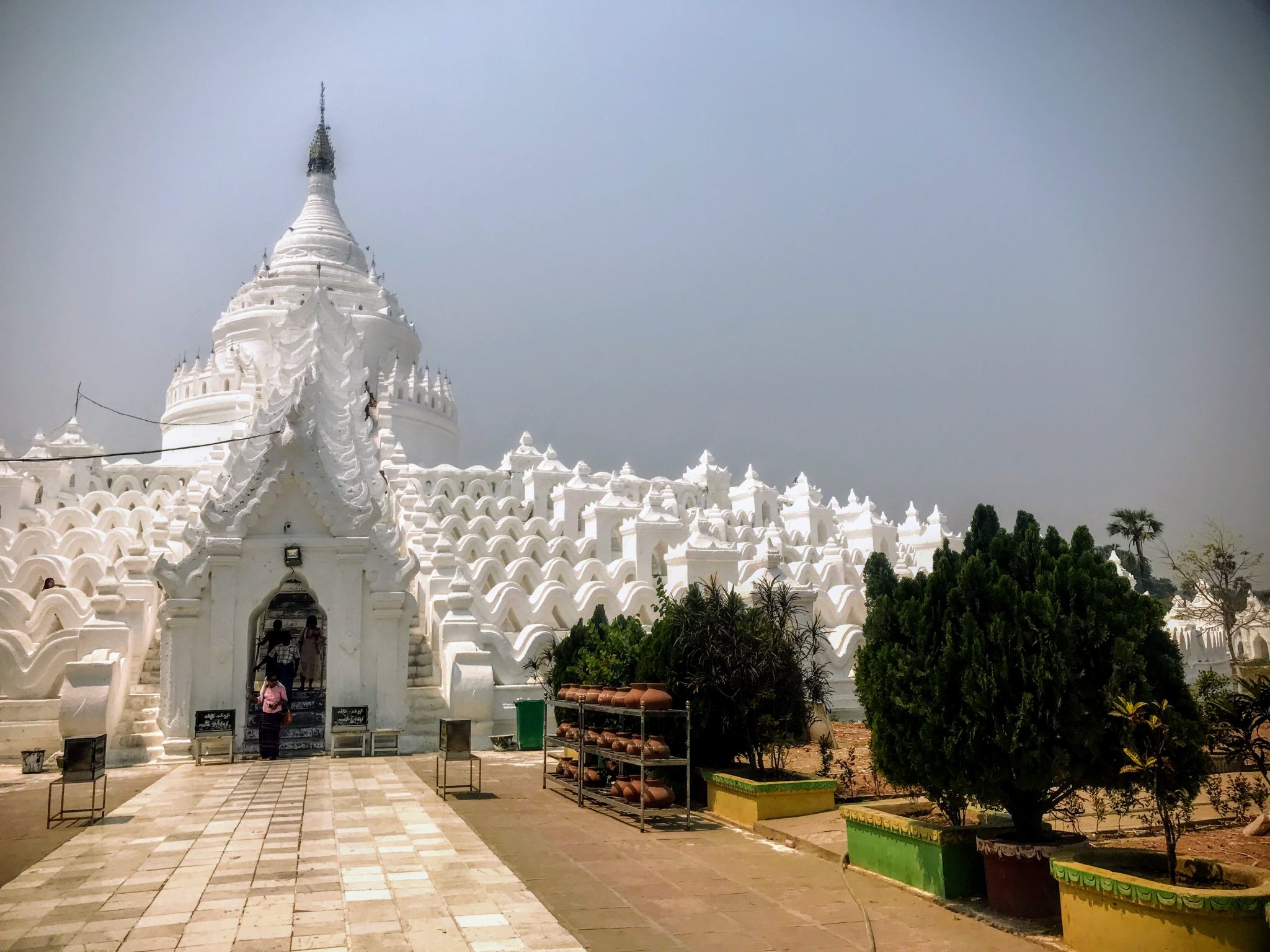 The last major attraction on the road is the temple that launched a thousand Instagrams – the Hsinbyume Pagoda. If you're not familiar with the Hsinbyume Pagoda, it looks like a Viennetta and is one of Myanmar's most photographed temples a result.
Like the Taj Mahal it is a monument to love, built in 1816 by Prince Bagyidaw, (successor of King Bodawpaya of Mingun Paya fame) for his wife, Princess Hsinbyume who died in childbirth. Its unusual design was inspired by the mountains around Mount Meru and it doesn't take long to see, unless you're trying to get the perfect picture.
On the way back, look out for the two big lions of stone, they've seen better days but they're positioned along the path that will take you back to the waterfront. If you're not templed out then check out the Sat Taw Yar Pagoda next to the spot that the ferry leaves from.
Eating in Mingun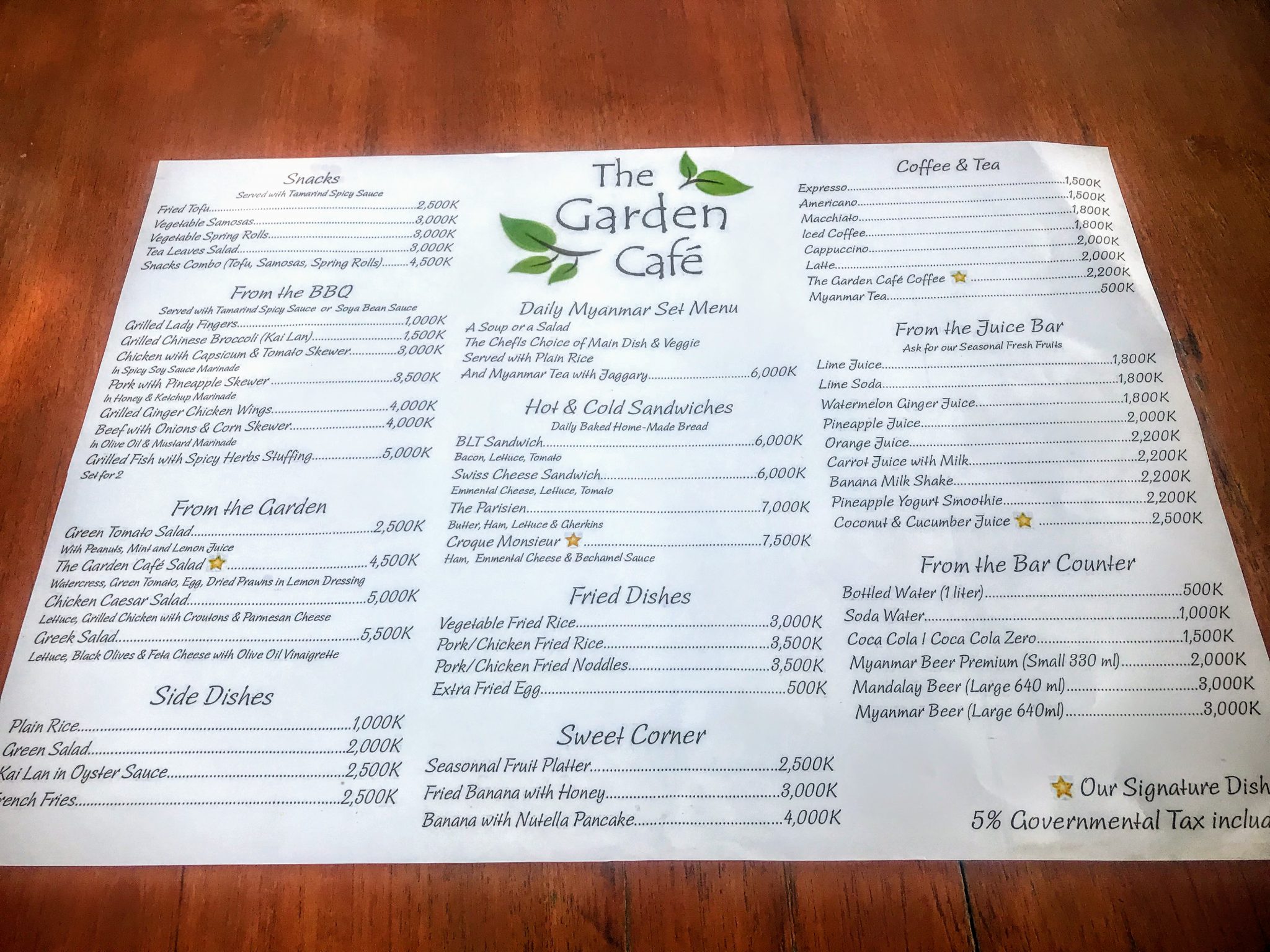 If you need to eat while you wait for your ferry to come, I recommend The Garden Cafe which is positioned on the waterfront opposite the Mingun Bell. I've included a picture of the menu to give you an indication of food prices – it's a good place to escape the sun and it does vegetarian food to boot.
Mingun is an easy and fun day trip with the only downside being that you might get bored while waiting for the ferry. If you go in the dry season it does get very hot so even though it's a half-day trip, you might not feel like doing anything afterwards until the evening when it cools down.
Have you been to Mandalay? What were your favourite places to visit and why? Any questions then let me know in the comments below!
Pin this for later: