It seems like visiting the Maldives is out of reach for so many backpackers, so I wanted to explain how we went there for $500 each for 5 days including flights and accommodation. The figure of $500 is based on two sharing for 5 nights in the Maldives, including flights to and from South Asia and there is a price breakdown at the end of this article.*
The trick is to start from India or Sri Lanka to get your flights, as unfortunately, you cannot reach the Maldives independently by boat. We flew from Kochi (Ernakulam) in South India to Malé via Colombo for $170 and then we flew from Malé to Colombo for $130 but prices fluctuate depending on the season, we went just before Christmas. Try looking for cheap flights on Kiwi below.
This post may contain affiliate links
We decided to stay on the island of Thulusdhoo, because we knew that a public ferry went there and we knew that there was budget accommodation available. As our flight got in late, we still had to spend a night in the capital, but we found a place to stay for $30 and it was nice not to rush off to the islands immediately.
We stayed at the Vinorva Hotel on Villingili Island which is where the blue arrow is located on the map below. Try looking for cheap accommodation on Tripadvisor below.

You can get reasonably priced accommodation on the reclaimed airport island of Hulhumalé but I don't recommend staying there as there is a LOT of construction work going on. It's also entirely manmade so it doesn't necessarily have the charm of the real islands as yet.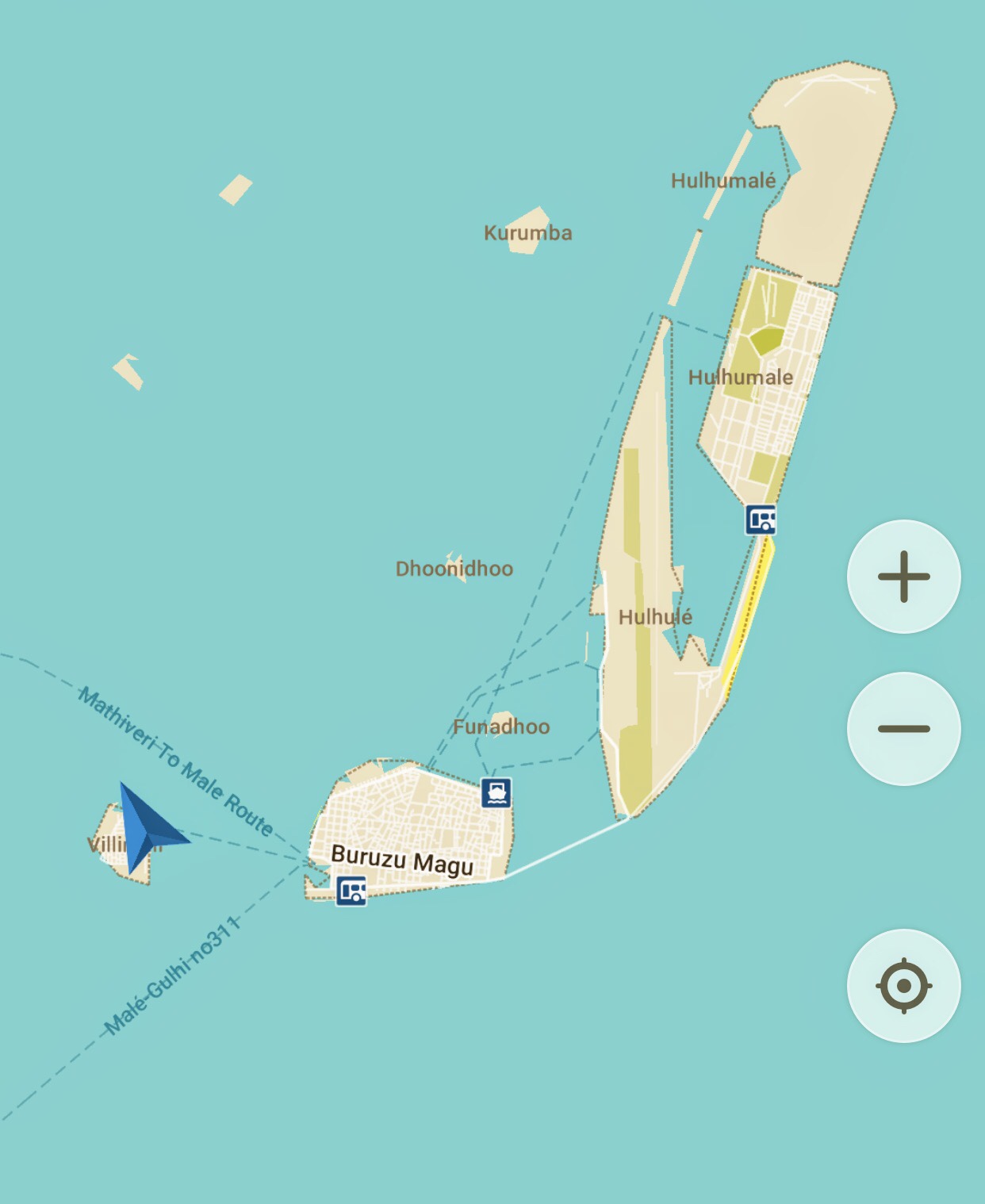 The ferries from the airport to Malé and from Malé to Villingili run 24 hours a day, and they're every ten minutes or so. There is the Chinese friendship bridge that now connects Hulhumalé and Malé but it's cheaper and easier to get the ferry.
You walk out of the airport and the sea is right there so it's easy to find the boat, it takes 10 minutes to get to Malé and costs just 35 cents.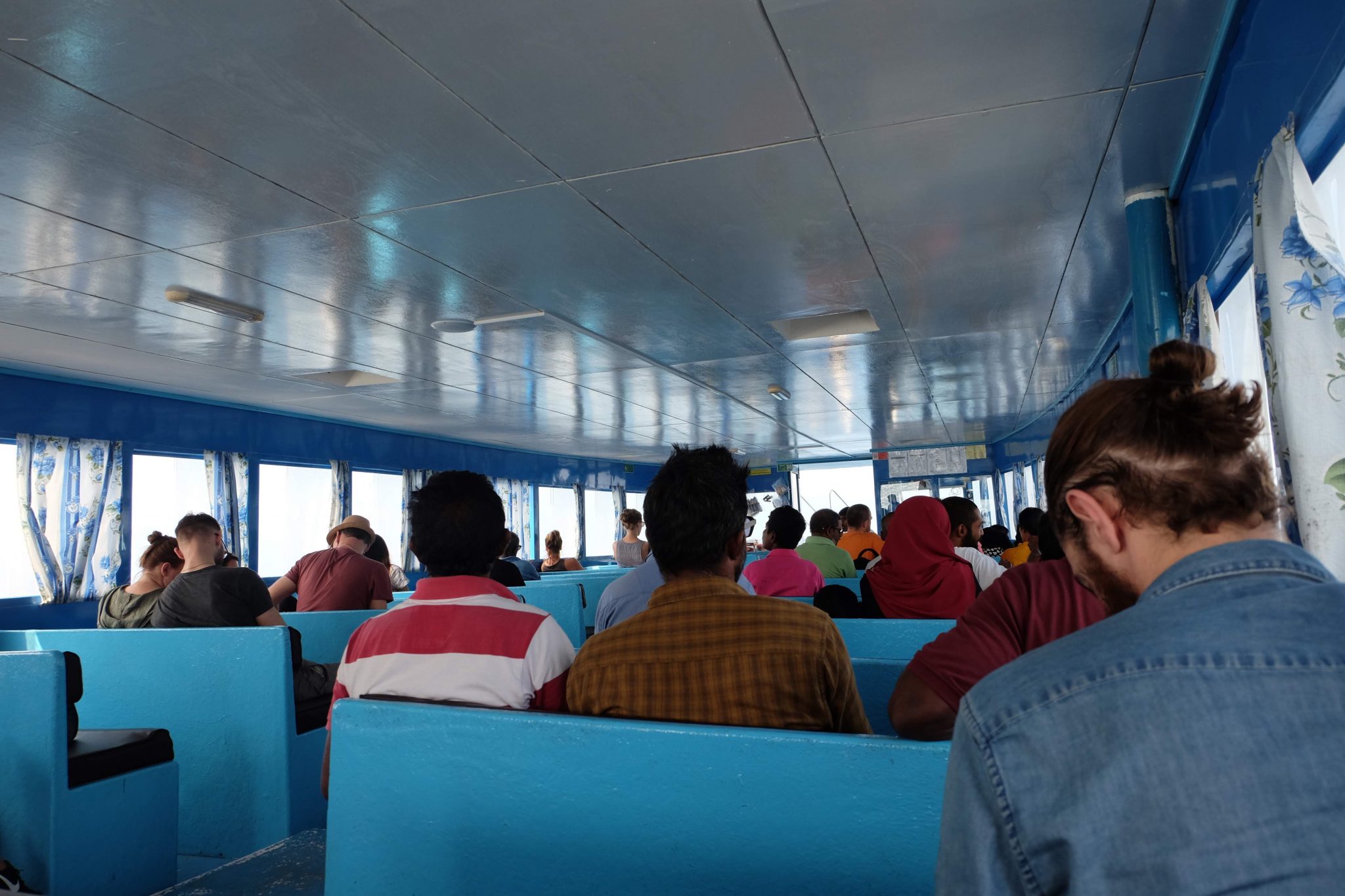 The ferries are both really cheap, but you'll need a taxi to take you from the airport ferry terminal on Malé to the other side of the island for the Villingili ferry.
As Malé is so small, a taxi won't cost you more than $2-3 and it takes about 15 minutes. The ferry from Villingili goes every 10 minutes, costs 20 cents and takes about 5 minutes to get to the port. The Vinorva is right next to where the ferry terminal drops off.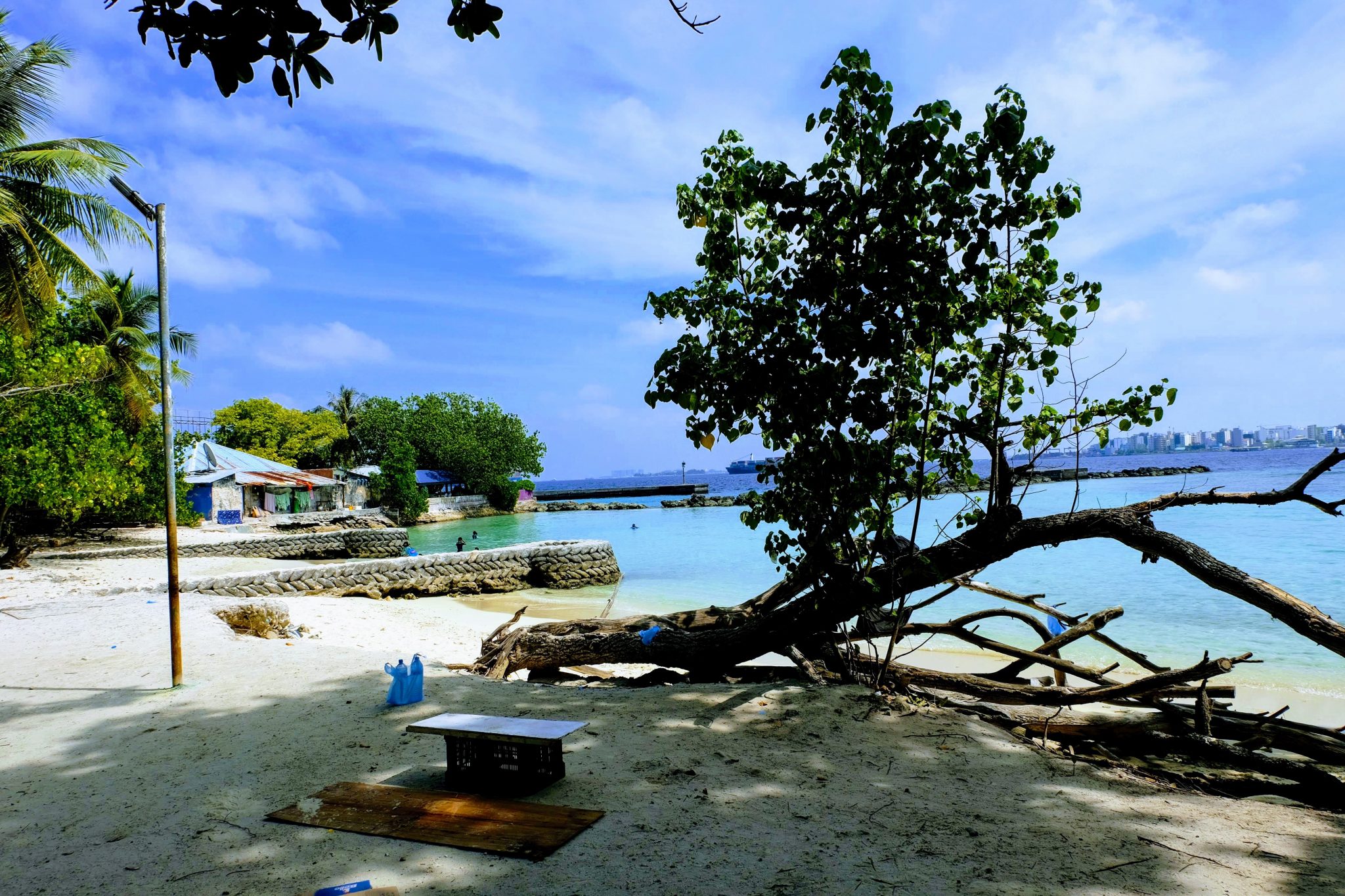 There are no bikini beaches on Villingili so you can't wear a swimsuit but it is a nice place to watch the fish and there are small beaches like this one which offers nice views of Malé.
The ferry takes 2 and a half hours from Villingili port to Thulusdhoo, you see so many beautiful islands along the way, and it costs only $3. It's essentially a free tour of the northeastern islands of the Maldives.
Keep your camera at hand and this is a map of all the tiny yet perfectly-formed islands that you will see along the way. Most accommodations will pick you up from the port in a little truck if they know when you are arriving, but distances on the islands are generally tiny.
There is a green tax on accommodation in Maldives which costs $3 a day and there is a 12% goods tax that you also need to pay. This meant that it cost $260 for both of us to stay in budget accommodation in Thulusdhoo for 4 days so $120 each.
This is the beautiful beach where we got to hang out and there was a small jetty, a bay around the corner that was full of hermit crabs and fish as well as an abundance of beach furniture.
RECOMMENDED SNORKEL:
One of the best free things that you can do on Thulusdhoo Island is chill out! There are loads of chairs, jollies and hammocks that are part of your accommodation or publicly available so there is no shortage of places to chill while watching the waves.
The jetty was my favourite place to see gorgeous marine wildlife and I came here every day to see what beautiful creatures were swimming around. On our first day, we saw spinner dolphins jumping out of the water and spinning.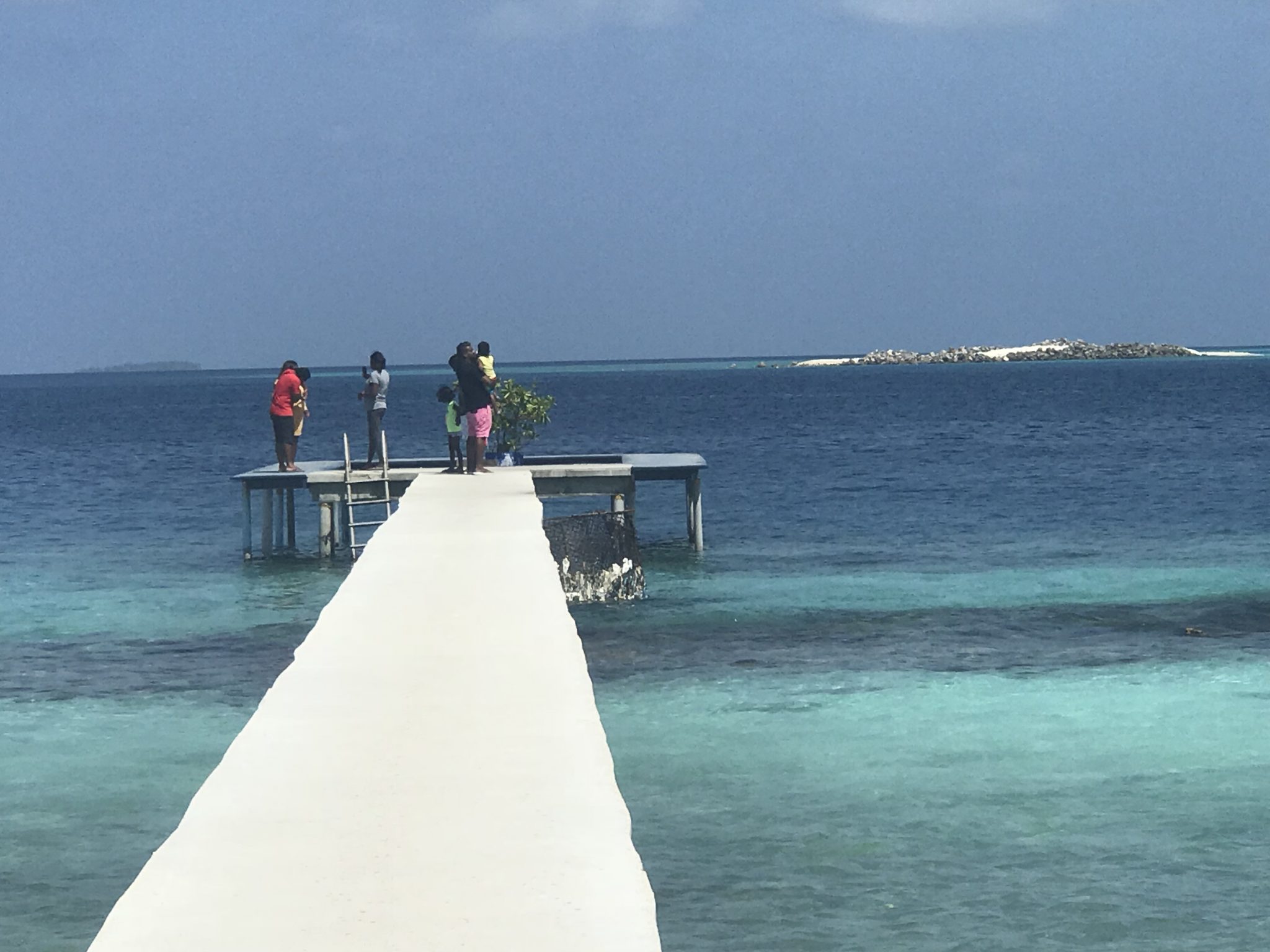 A guy tipped us off that if we wanted to see stingrays then we should come back to the jetty at about 16:30 so we did and we were rewarded! The tuna drying factory near the jetty puts all the tuna heads and tails in a wheelbarrow then pours all this bloody gore into the sea. Once the rays smell the blood, they come in their droves and we were lucky that a huge and aggressive black-spotted stingray muscled in on the action as well as several others.
As if the dolphins, rays and fabulous fish weren't enough, we were treated to a few views of this gorgeous sea turtle from the jetty. The jetty is a great place for a chat and an Indian doctor told me that sea turtle tasted like chicken which was not what I wanted to hear. He told some children to catch it but they said no because it was an endangered species which was a relief.
It's important to realise that there is rubbish in the Maldives, created by locals and tourists alike and the dump is right next to the sea so it does leach out. The same is true in Malé and while they might hide this in resorts, it still exists as there is no virgin place left on Earth.
The water is quite shallow in the Maldives so it is a lovely place to snorkel and there are loads of gorgeous tropical fish species that you might find. If you don't have your own snorkel, then you can hire one for $5 per day, just make sure it fits well, unlike this one!
Thulusdhoo has a coke factory, which is interesting because its the only one in the world which uses desalinated salt water so you could actually buy local coke here. It's also why Thulusdhoo is sometimes called 'cokes island' and it has a surfing wave called cokes (the other wave is called chickens).
Another interesting fact about Thulusdhoo is that after the Tsunami in 2004, they took in their neighbours from the next island which brought the population to about 2,000.
Finally, if you're worried about what to eat on Thulusdhoo then never fear as cheap options are available! There are minimarts everywhere so you can buy snacks and there are local restaurants where you can buy noodles like this for $2-3 dollars and I ate spaghetti for $4 at the Surf Deck restaurant.
If you do want to treat yourself, then I really recommend the Australian surf cafe behind the Cokes beach resort hotel as we had expensive (I haven't included it in the budget!) but incredible food as well as the only good wifi that we found on the island.
If you want alcohol then you will have to go to one of the booze bars that are anchored in the sea for tourists. As we were on such a tight budget we didn't go, but drinks cost about $5 so it isn't overly expensive, you can't drink on the islands as the Maldives is a strictly Muslim country.
It's worth mentioning that if you do have more money to spend then you can go surfing, paddleboarding, dolphin watching and various other ocean-based activities but always be wary of the delicate ecosystems and wildlife in the Maldives that may suffer from high-carbon fun like jet skiing and motorboating.
This is the price breakdown for our trip based on two sharing for 5 nights in the Maldives:
Flights: $300
Boats and taxis: $7
Malé Hotel: $20
Thulusdhoo Hotel: $120
Snorkel hire: $5
Food: $40
Total: $492
Overall, it was a tight squeeze on our budget, but it really was a dream come true! I saw more diverse marine wildlife than I ever thought possible and I've never been anywhere as close to paradise as the Maldives. Thulusdhoo was really quiet with not too many tourists at all compared to the beaches of Goa and Sri Lanka. It's still the most peaceful country that I've ever visited and the most I've ever felt connected to our beautiful ocean.
Read more like this:
Have you been to the Maldives on a budget? If so, what islands do you recommend and why? Let me know in the comments below and ask me any questions you might have!
Pin this for later: