The Plain of Jars in Laos is one of Asia's more mysterious and less-visited attractions so it is ideally placed for losing the crowds.
The exciting news is that it's on track to receive UNESCO heritage status in the summer of 2019.
If this archaeological site tickles your fancy and you want to visit Phonsavan on a budget, then this is the guide for you.
This post may contain affiliate links
We came to Phonsavan on the public bus from Xam Neua in the northeast (where we visited the Vieng Xai Caves), which took 10 hours and cost 100,000 Kip. You can also get a bus from Vientiane or Paksan. When we leave, make sure to get tickets directly from the bus station to avoid a commission.
We stayed in the Sipanya Guesthouse in Phonsavan, which was a great budget option next to the bus station and the city centre. Check Tripadvisor for deals and reviews:

If you're going to Kong Lor Cave, Vang Vieng or Vientiane in Laos then check out my posts on them.
Phonsavan is the capital of the Xieng Khouang region and like most cities in Laos, it's fairly compact with few facilities but has some good eating options.
Some great places to eat are Bamboozle and Cranky-T is good for coffee. If you're on a budget, then there are some minimarts on the Main Street and a bakery or you can eat at the market next to the bus station.
If you're on Phonsavan high street, I recommend popping into the MAG visitor centre. They're the charity who clear unexploded ordnance in Laos and they made the Plain of Jars safe to visit again. They also have a centre in Vientiane.
What is the Plain of Jars and how do you get there?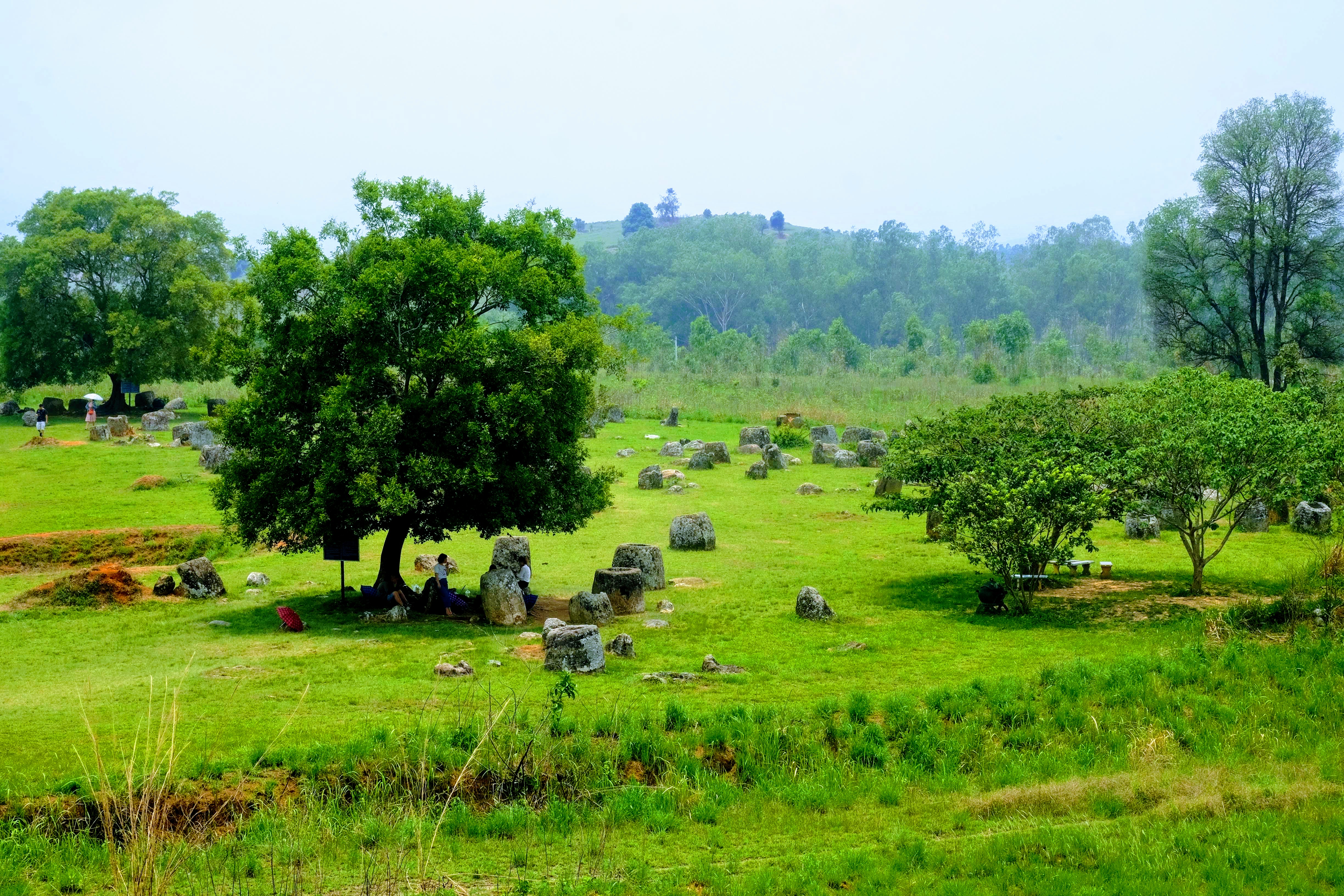 There are three Jar sites near Phonsavan plus one that's further away, that you can only get to by trekking (site 52), but that will cost you.
The Jars were created around 1,500 and 2,000 years ago and their origins remain mysterious.
The likely reason for the existence of these huge jars carved from sedimentary rock is as funeral urns for burying people.
Other theories are that they were used for food and wine. The Laotian legend is that the ancient king of the giants, Khun Cheung, made wine in them to celebrate victory in battle.
Jar Site 1
You can visit site 1, which is the biggest one, on a bicycle, by moped or by paying for a tour (which can get expensive for small groups).
We wanted to see two of the jar sites so we hired a moped from a shop next to Lao Falang restaurant and the tourist shops also hire them out for about 70,000 Kip per day. You can cycle to site 1, but site 2 is much further to get to under your own steam.
You can find the sites on Maps.me and site 1 costs 15,000 Kip and sites 2 and 3 costs 10,000 Kip each.
Jar 1 has a proper visitor centre which talks a lot about the bombing of Laos and has a free shuttle bus to the first cluster of jars. It takes about 20 minutes to drive there from the Phonsavan and costs 3,000 Kip for moped parking.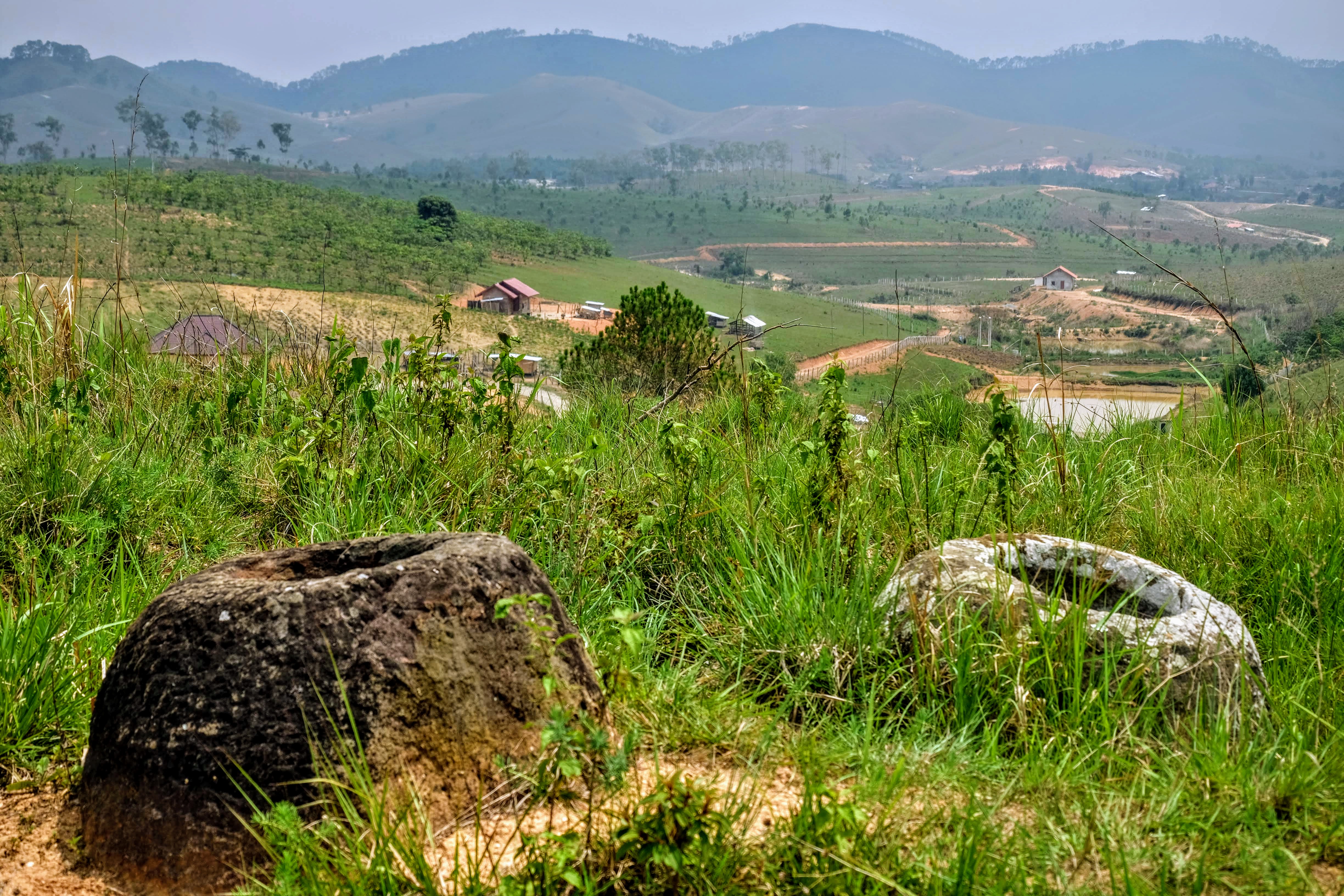 It takes about 1-2 hours to go around site 1, which is essentially a field full of jars and there is a cave you can go into and a hill to climb for a view. It gets very hot up there so you've been warned!
Jar Site 2
Jar sites 2 and 3 are very similar so we just went to 2, which was about 20 minutes away, with nice views across the countryside.
For jar site two, you pay your fee and then drive up further to the gate as it's a long walk. Not everyone speaks English so it might help to know a few phrases or have some written down on your phone.
Sites 2 and 3 are in woodlands, which is lovely but they are surrounded by bugs! You can see site 2 in about 30 minutes but be careful not to wander off alone and stick to the paths. Here you can see a tree that has grown through a jar.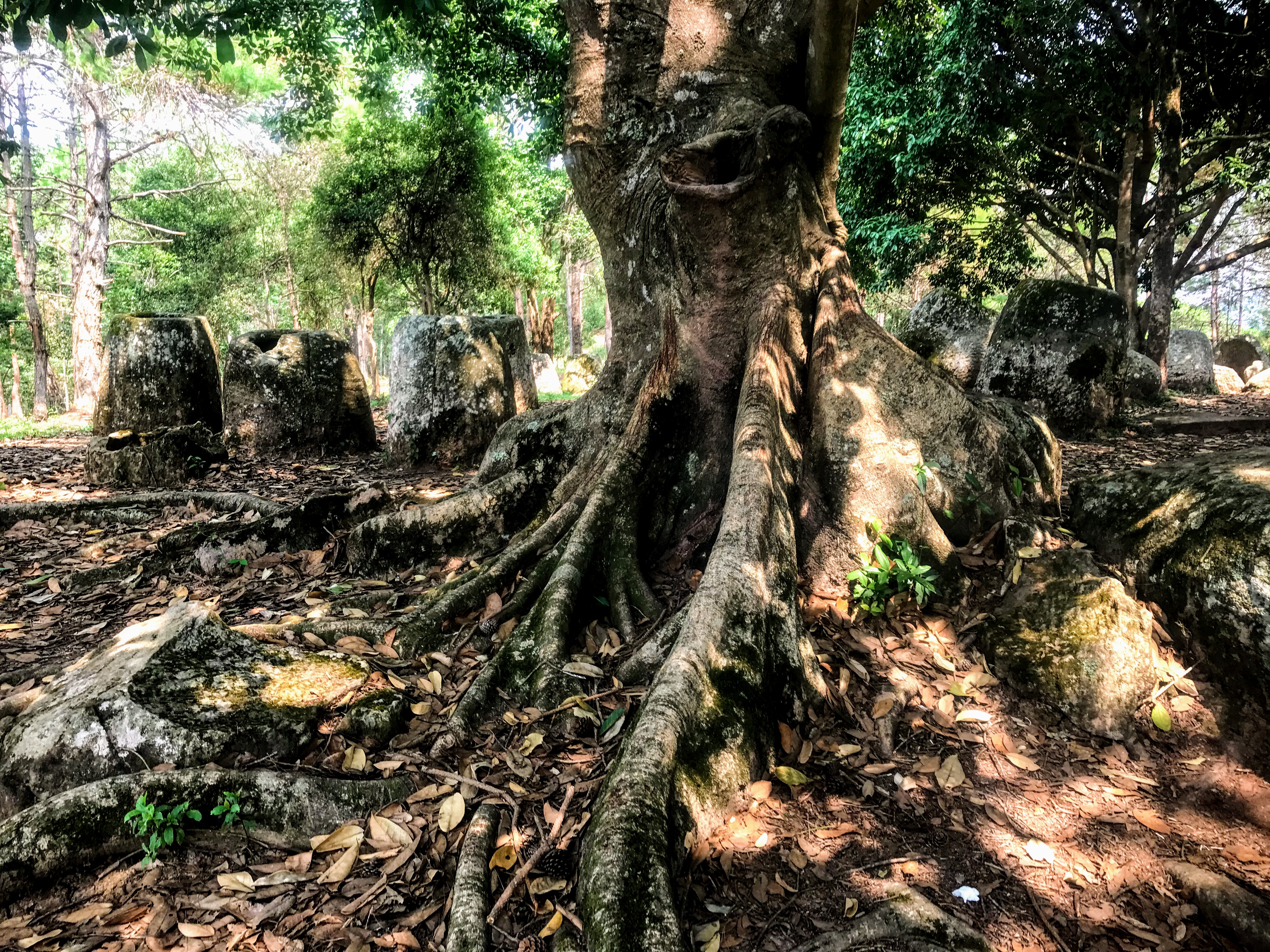 I'm glad we went out of our way to visit the Plain of Jars as I love quirky visitor sites and seeing the MAG bomb clearance people driving around doing their amazing work was incredible.
It made me happy to support this attraction and explore more of Laos intriguing countryside to see something that most people have never heard of, that doesn't really exist on this scale anywhere else.
Have you been to the Plain of Jars? What's your favourite theory about this mysterious place? Let me know in the comments below!
Pin this for later: