If you're travelling for a long time, you may visit areas during shoulder season, this means there may be a chance of landslides in some countries.
If you are in a country where the weather is bad and there has been landslide activity in the past, then these are the ways to avoid them and stay safe.
A landslide is classified as the collapse of earth or rock down the slop of a mountain or a cliff. There are several causes that can create landslides including rainfall, melting snow, water level changes, groundwater changes, steam erosion, earthquakes, volcanic activity and human activity. It can also be a mixture of several things.
Landslides can be very dangerous so always avoid travel during or after extreme weather if possible. Consult with your embassy and local authorities if you need help or information.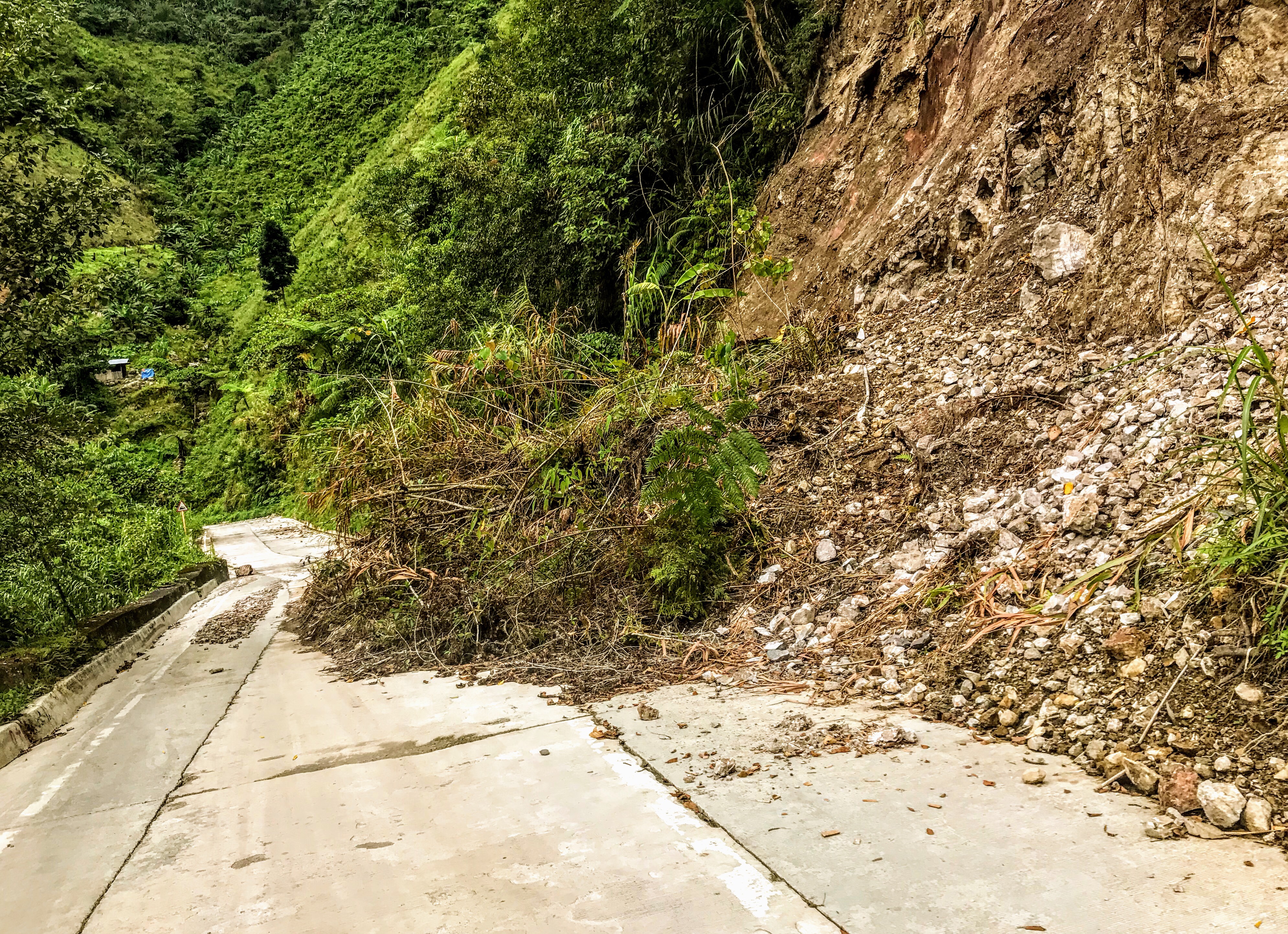 *This post may contain affiliate links*
I recommend always doing your research before visiting a landslide-prone country as it may be safer to avoid it during stormy seasons. Lonely Planet is a great source of information. It can recommend the best times to travel to different areas of a country, as seasons can vary from region to region. Download ebooks to your phone so you have the information on there.
Don't stay anywhere that is on a hill or at the bottom of a hill if you think there will be a landslide. Preferably stay somewhere on the flat that is not near other buildings that could fall on it as the result of a landslide. Check your accommodation and the area around it on TripAdvisor before you go as it has loads of travellers photos and reviews on there:

How to avoid a landslide:
Log onto landslide maps and weather reports before venturing outside to see where the hazards lie or if any activity has been reported. In the Philippines, landslide activity is tracked by Project Noah.
Study the condition of hills during and after bad weather. Look out for cracks appearing in the soil and sudden gushes of water pouring out. Avoid mountainous roads in wet season.
Be aware of your local evacuation centre as well as the quickest and safest way to get there. Download Maps.me as it works without internet and you can use it as a route planner.
If you do see signs of a landslide or if there is non-stop rainfall which starts to cause problems then evacuate immediately.
Prepare your survival kit if possible. Items to include are a torch, food (that doesn't require refrigeration or cooking), drinking water and a radio if you have one. Some countries restrict bringing in radios or satellite phones so check before you go.
Always get good travel insurance that covers emergency situations. Read the small print and make sure that you have your policy and all the numbers that you need to hand. Laminate your copy and save to your phone and email. Get a travel insurance quote by clicking on the link below.
What to do if you get caught in a landslide
If you cannot evacuate, then stay inside and get under a table if possible.
Avoid affected areas and try to get to a safe and elevated place if you're outside.
Lie down and adopt the fetal position if you can't avoid it.
Don't cross bridges or roads that may collapse as well as cliffs or ridges if you're in a car.
What to do after a landslide has happened
Steer clear of landslide affected areas as further landslides could be imminent.
Watch out for flash floods as the landslide may have redirected the water flow in some areas.
Is anyone missing? If anyone is not accounted for, then raise it with local authorities if you can. If they are foreign, then you may need to speak with their embassy who will mark them as missing.
Watch for any travel advisories from local authorities on radio, TV or online that will inform you as to where is and isn't safe for travel. They will also know if more landslides are expected.
Check for buildings damage in anywhere you're staying as it could be unsafe.
Report damage if possible, for example power lines, water sources, telephone lines or buildings on the brink of collapse to the authorities so they can fix it and prevent accidents.
Have you experienced landslides while travelling? Share your stories and wisdom in the comments below!
Pin this for later: