I'm an experienced traveller and I'm happy to put up with a lot for cheap accommodation but I wanted to talk about this hostel we stayed at in Jaipur for two reasons. One is that I think it's important that hostel buildings are safe and the other is that everything about this experience was awful.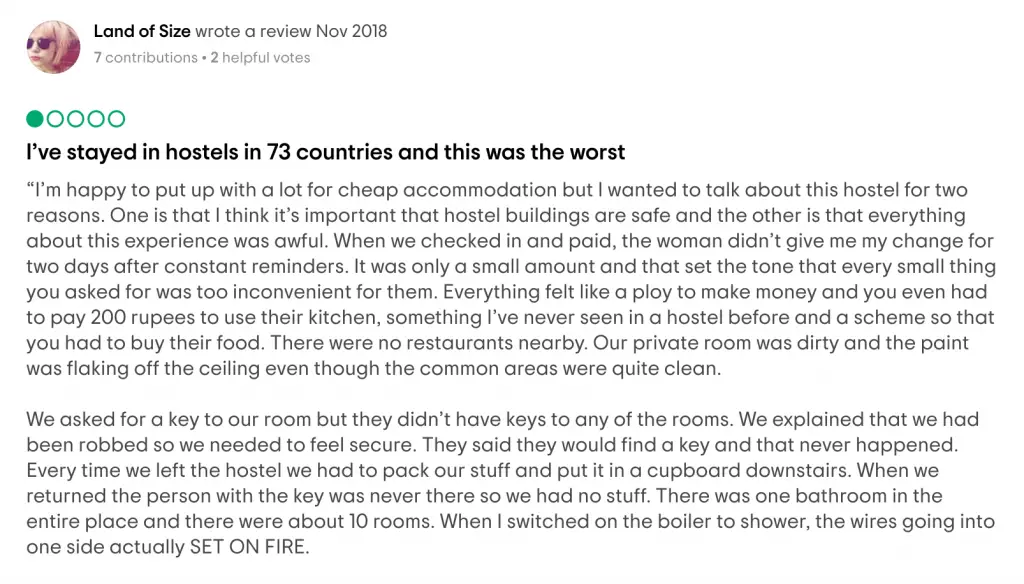 When we checked in and paid, the woman didn't give me my change for two days after constant reminders. It was only a small amount and that set the tone that every small thing you asked for was too inconvenient for them.
Everything felt like a ploy to make money and you even had to pay 200 rupees to use their kitchen, something I've never seen in a hostel before and a scheme so that you had to buy their food. There were no restaurants nearby. Our private room was dirty and the paint was flaking off the ceiling even though the common areas were quite clean.
We asked for a key to our room but they didn't have keys to any of the rooms. We explained that we had been robbed so we needed to feel secure. They said they would find a key and that never happened. Every time we left the hostel we had to pack our stuff and put it in a cupboard downstairs.
When we returned the person with the key was never there so we had no stuff. There was one shared bathroom in the entire place and there were about 10 rooms. When I switched on the boiler to shower, the wires going into one side actually SET ON FIRE.
The boiler had broken so they just cut the wires which is so dangerous. I told them that they needed to close off the bathroom until it got fixed and they did nothing. This caused me great worry as I was so concerned someone either would electrocute themselves or burn the hostel down.
It had been that way for five days without being fixed. Alarming as there were children staying in the hostel who could have accidentally splashed the wires whilst having a bucket wash. I had to find a leftover bucket of hot water that they'd provided for someone else to wash my hair.
As we were close to the train station, we could hear the trains roaring by and blowing their horns. It was quite a disconcerting noise which could have been lessened by basic soundproofing. On the second night, we were woken at 4am by a group of 40 people who were staying in the corridors on extra mattresses for a celebration.
Nobody told us there would be all these extra people and it was impossible to walk anywhere without tripping over people and the blankets and mattresses were strewn across the floor. The only motivation for cramming in so many people is greed. That evening someone walked into our room as it didn't lock. There was absolutely no privacy here. In the morning, people stared at us and some children stuck phones in our faces to take pictures of us.
The children banged on our windows while we were trying to sleep, not maliciously, just because they were bored and nobody told them to stop. It was very uncomfortable when the hotel is somewhere to relax after a long day.
We walked out that morning despite having paid for three nights and after everything that they'd promised and not delivered, I knew I wouldn't get my money back. I'm more concerned that they are allowed to operate in this way. I think that hotels need to meet basic safety standards where you can lock your door for security and privacy.
I have reported the hostel to the booking agent as I can put up with a lot, but not an electrical fault in a wet room. To round up, I've stayed in a hotel that operated as a brothel, a hotel that had rooms similar to Alcatraz and hotels run by drunks but nothing that was as incompetently run as this place.
Moral of the story: Always check the reviews:
Tell me your terrible hostel stories and let's share the pain! 
Pin this for later: