South Manchester's Kenworthy Woods is a 55-acre woodland full of urban wildlife and birdwatching. It is situated next to the River Mersey between Chorlton and Northern Moor, just across the river from the ever-popular Chorlton Water Park near Merseybank Estate and while it's much less crowded than the river and the park, it's still very much an urban woodland.
These woods are used for everything from den building with forest schools to mountain biking on homemade tracks as wells as dog walking and pony riding. The creepy faces carved into the bark of some of the trees, muddy bike jumps and the homemade stick dens are as a constant reminder that these woodlands are used by so many people in the area, especially during lockdown.
The best time to visit Kenworthy Woods for birding is in the morning before it gets busier as the wildlife tends to keep a low profile then. I've lived next to the woods for six years and these are all the bird species I've seen during that time.
The springtime is when the woods really come to life as the summer migrants like the blackcaps and chiffchaffs come to breed. I've seen several blackcap couples as they're so vocal when you pass their nests. There are a few chiffchaffs but they tend to hang out in the tops of the trees.
Another loud visitor, albeit one that lives here all year around is the wren. They live close to the ground and you can see and hear them all over the woods.
The robin can also be found as they're an ubiquitous part of woodlands all over the UK. They're as confiding here as everywhere else and you'll certainly get a good photograph.
Read more: 5 fascinating facts about the European robin
The dunnock and the house sparrow also make their homes here.
There are a good amount of tit species, with blue tits and great tits flitting through the trees.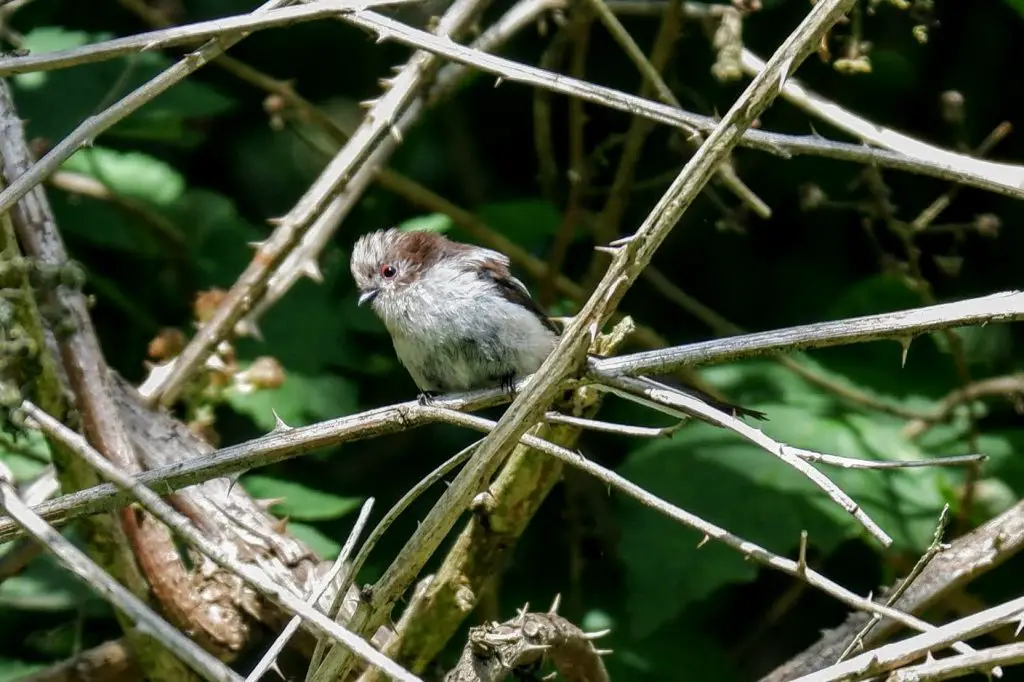 Long-tailed tits are another tit that live and breed here, just look for their long tails as they hop around in their flocks.
The most exciting tit that you can find here is the rare willow tit, a red-listed bird species in the UK. While they're here all year round both in the woods and in Sale Water Park, they're not often seen, hence why my picture is so bad! So when you think that you've seen a more common tit, look again to make sure it isn't one of these beauties!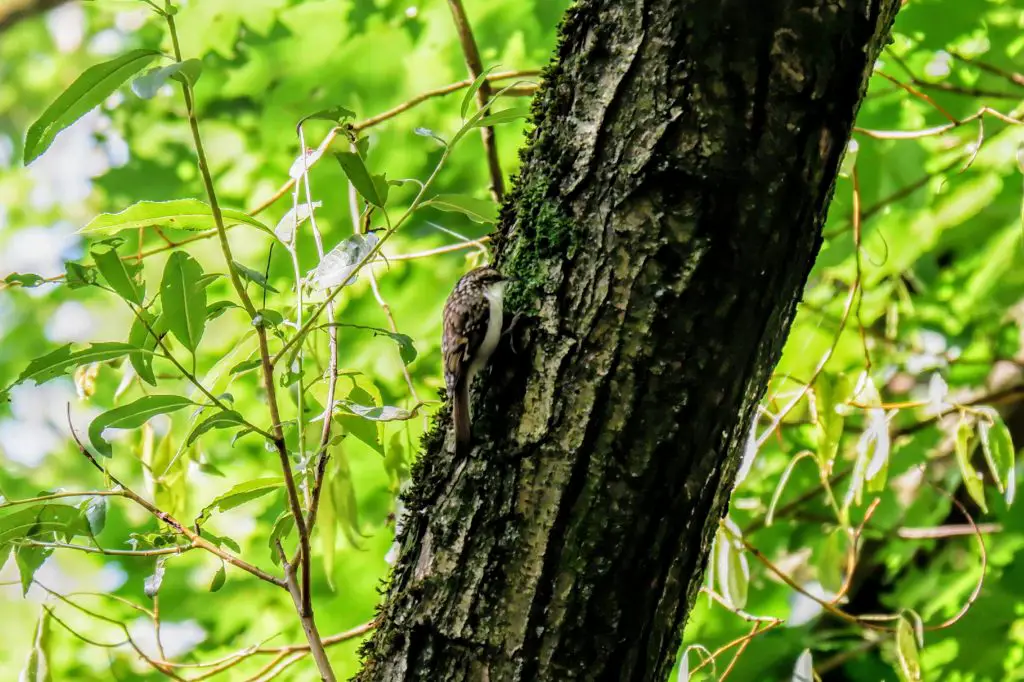 On one amazing morning in the woods, I saw a nuthatch, a treecreeper and a great spotted woodpecker all within 30 minutes of standing in the same spot. It was pretty incredible and it just shows what you can see in woodland if you stand in one place and watch for movement in the trees.
Read more: Urban birding on the River Mersey in Manchester
Treecreepers are very small so you need to study the tree bark to find them and woodpeckers spook very easily so you need to be extra quiet to avoid scaring them off.
If you like nuthatches and want to get good photographs then quite a few pairs breed in the nestboxes at Southern Cemetery. Read more: Urban birdwatching at Southern Cemetery in Manchester
Common large birds that live in the woods are the woodpigeons, magpies, carrion crows and blackbirds.
Two lesser-seen larger birds, the song thrush and the jay also make their homes here.
Overhead you can can see ducks, Canada geese and buzzards passing by.
It is not just birds here, as if you see a lot of movement in the trees it could well be a squirrel as there are a lot of them in the woods. Rabbits also make their burrows beneath the trees.
Another much less popular animal you can find here is the brown rat, a beautiful and intelligent creature that was introduced in the 18th century. I often see birds like crows eating them so they do provide food for various predators like foxes.
If you can catch a few quiet moments in Kenworthy Woods, you'll surely be amazed by what you see whether it's the butterflies, orchids, bird species or the mammals that you can find here. Like many woods, sometimes you get very lucky and sometimes the wildlife likes to hide but the nearby River Mersey and Chorlton Water Park offer even more chances to see birds.
Full list of birds I've seen:
Blackbird
Blackcap
Blue tit
Bullfinch
Buzzard
Carrion crow
Goldfinch
Great tit
House sparrow
Jay
Kestrel
Long-tailed tit
Magpie
Mallard duck
Nuthatch
Ring-necked parakeet
Song thrush
Treecreeper
Willow tit
Woodpigeon
Wren
If you're wildlife watching in your local area with little ones then download my Birdy Bingo card game to see how many points you can score!
Read more: The secret garden (wild)life of Merseybank Estate in Manchester
What birds have you spotted in Kenworthy Woods? Share your sightings in the comments below!
Pin this for later: