The Rocket festival in Laos, known as Boun Bang Fai, is held to bring the rain from April to June and we were lucky enough to bump into it in Don Det on the Mekong River.
I had high hopes as the Songkran water festival in Thailand the month before had been so much fun. While the rocket festival was a lot of fun, there was an added element of jeopardy from the explosives that you don't get by being drenched with water.
There's nothing like the peril of watching bamboo rockets being fired into the air with the added extras of music, mud, wooden penises, straw penises, polystyrene vaginas, dressing up and marionettes shagging each other to encourage the rain.
What happens during the Laos Rocket Festival?
Trying to find out when a rocket festival will begin is a bit like sticking your finger into the wind to check the weather. It might be coming in your direction, but you never really know until just before it happens.
Its difficult to pin down as it varies between provinces and is only really decided a few days before. We'd seen a few rockets going off when we were in Thakhek but we failed to pin it down until we arrived in Don Det at the 4000 islands and the receptionist confirmed that it was on!
Partying at Don Det
Prior to letting off the rockets, processions march through the town of people dressed up, with flowers in their hair whilst drumming, blessing local businesses and receiving small gifts.
We saw some men approach a shop and hand a young boy a card. The boy opened it and they'd drawn a penis on it, this entertained them all massively and shows that this is not a very serious festival. It reminded me of a small-scale carnival and foreigners are more than welcome to join in the festivities.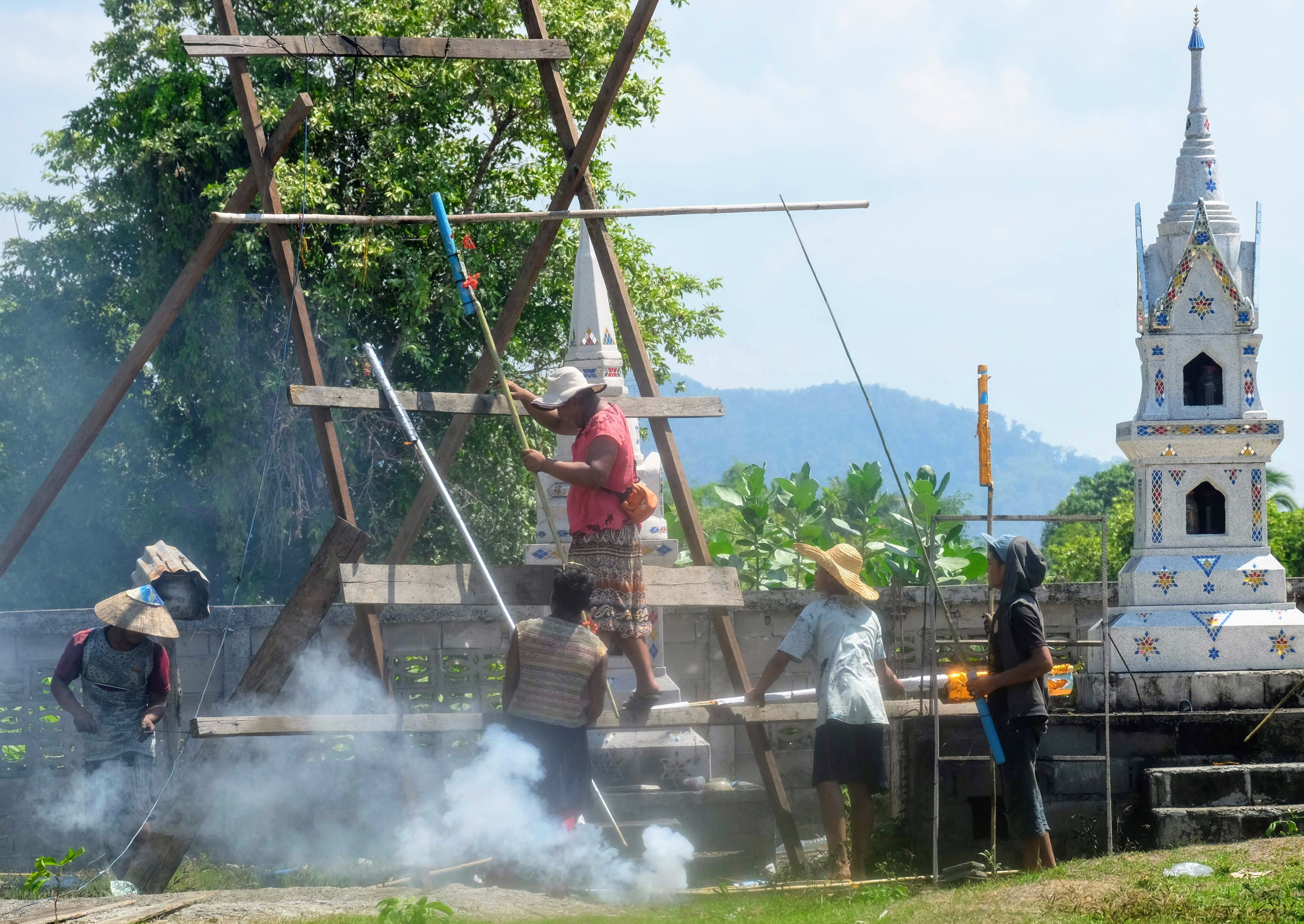 The festivals take place at a local Buddhist temple, but you can easily find out where by searching for the trails of smoke in the sky.
It starts around 11.30-midday as the rocket firing is a daytime activity so you may miss some of the action if you arrive later as it quickly becomes a chaotic parade and piss-up.
It's the only time in Laos that I've seen large-scale open drinking, as people start partying a few days before and bring their BeerLao to the temple to drink during the festivities.
Firing rockets
As the rocket-firing happens during the peak of day, when it's absolutely boiling hot you need to take lots of water! Be very careful to avoid the path of the homemade bamboo rockets as although they are generally inspected by an 'official' they start going off everywhere as the day wears on.
As it is Southeast Asia, you can bet that sex is involved despite all outward conservatism within Laotian society.
The rockets are basically big penises but as the festival is about the rebirth of the rice fields, it's also about celebrating fertility. As the whole town got so drunk that night, I wouldn't be surprised if some people were impregnated that same evening.
Dressing up and sex floats
Many men dress up in women's clothing, with varying degrees of commitment so some just wear wigs and dresses but some don stuffed bras and faces of makeup.
This wooden float of a couple having sex doggy style complete with swinging breasts was paraded around the temple to great amusement.
It is a puppet so the man at the back end animates it to make the marionettes shag vigorously. They also let off whistlers to let everyone know that they're coming.
There are also straw dolls with erections that are marched around and I saw a women who had made herself a polystyrene vagina attached to her underskirt that she flashed at intervals.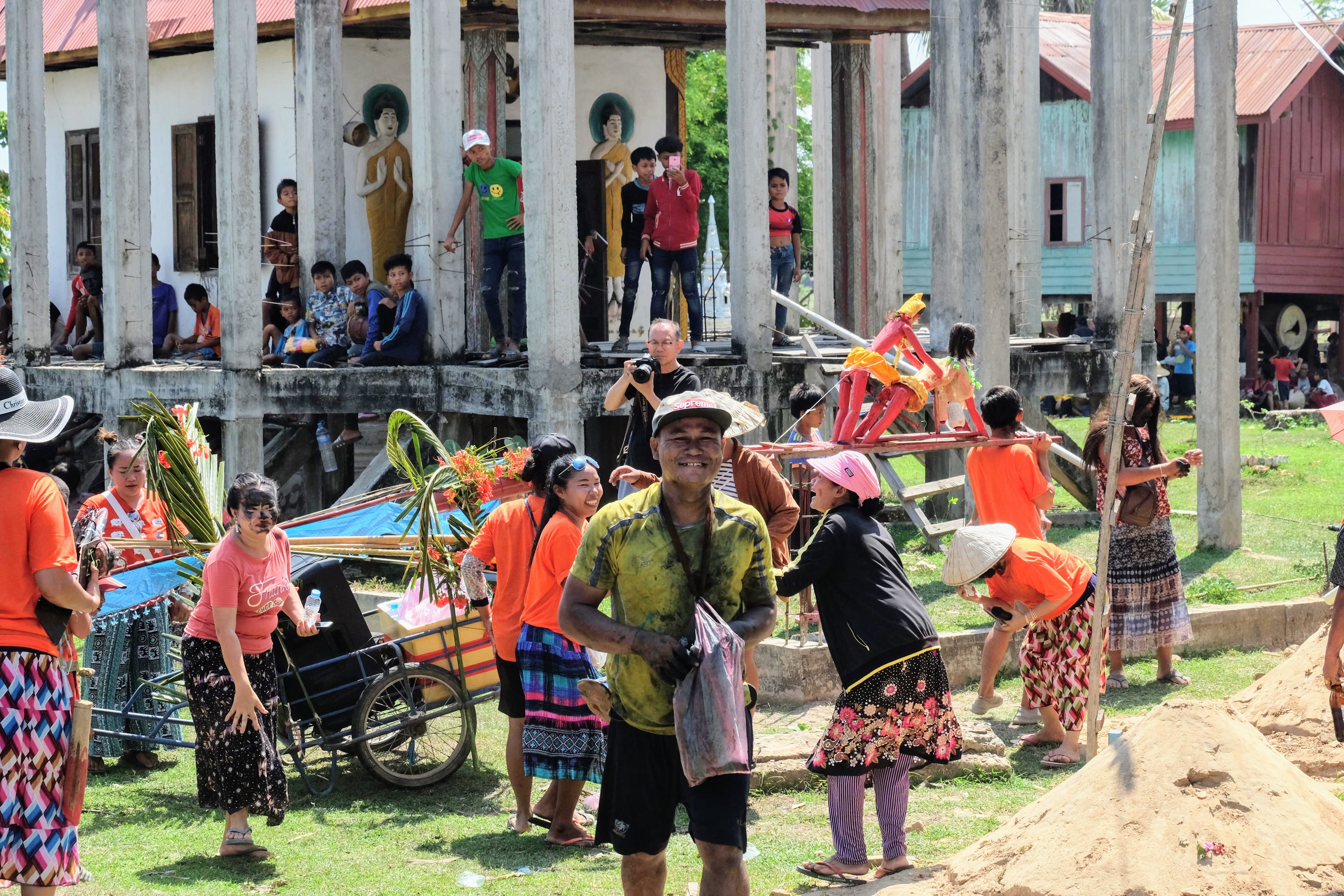 If your rocket backfires, or fails to shoot straight up into the sky then there's a forfeit to be paid. Your face with be painted with mud if your rocket's a dud, but pretty much everyone leaves covered in mud regardless of whether they've shot a rocket or not!
The rockets are of varying quality and wrapped in plastic pipe which falls from the sky once they've exploded. Some even take the stand with them which is entertaining to watch.
Wooden penises
Once the rockets have been fired everyone takes to the streets for a good ok' fashioned knees up with their penises, drums and sex puppets! Not to mention copious bottles of Beerlao.
Despite the hot temperatures, it was so worth being in Laos during the shoulder season in order to experience this festival!
The best thing was that it totally worked – it started raining that evening and continued all through our journey to Vietnam the day after. It was great to see the rivers rising and the rice paddies filling up on our journeys.
It was so much fun and although the rockets do make you jump, seeing everyone having so much fun will draw you into the celebrations.
Have you experienced the Laos rocket festival? How was it? Share your stories in the comments below!
Pin this for later: