I stayed in Candolim after Palolem Beach and it was definitely a shock to the system. There is nothing wrong with Candolim as a destination for holidaymakers but it was too expensive for our budget as well as being very corporate.
Candolim is very popular with British and Russian tourists and has been for years, which may be why it's so Westernised. Calangute has a McDonald's and KFC and while I understand major chains being present in big cities, I did not expect to find them at the beach where so much good local food is available.
This post may contain affiliate links
Alcohol tax
The beach is very long as it stretches all the way to Baga, but it is filled with homogenous beach shacks that all have the same offerings. As there is so much competition, the food there is more reasonably priced than the main road. The strip has expensive restaurants that charge GST (goods and services tax), service and 22% on booze so the bill gets steep very quickly. I can't blame the restaurants, but it did price me out of many places on the main road.
Goa's less conservative view on alcohol is a draw for tourists as beer is not always readily available in some Indian states, even if they're not dry. The taxes, however, meant it was cheaper to buy beer and drink in the hotel room, which is less fun.
I wasn't charged any alcohol taxes or service charges whilst staying at Palolem and Arambol beaches, which made it easier on my budget. The food I ate at Palolem Beach was good and cheap, and the organic cafes offered healthy veggie stuff, which was a nice change to seafood and rich curry.
There was also more hassle in Candolim and Calangute when walking down the street, as well as the more expensive prices. I didn't receive much hassle at all in Arambol or Palolem, which made it a better experience.
Mouse-eaten soap
In terms of accommodation, I stayed in a beach hut which was better than the one I stayed in at Palolem but it was three times the price. This would have been fine if it was a good hotel, but this was a glorified shed in someone's garden. A mouse also snuck in and ate my soap, which did nothing to improve my mood. It's hard to believe a mouse would eat soap, but please see the photo evidence below.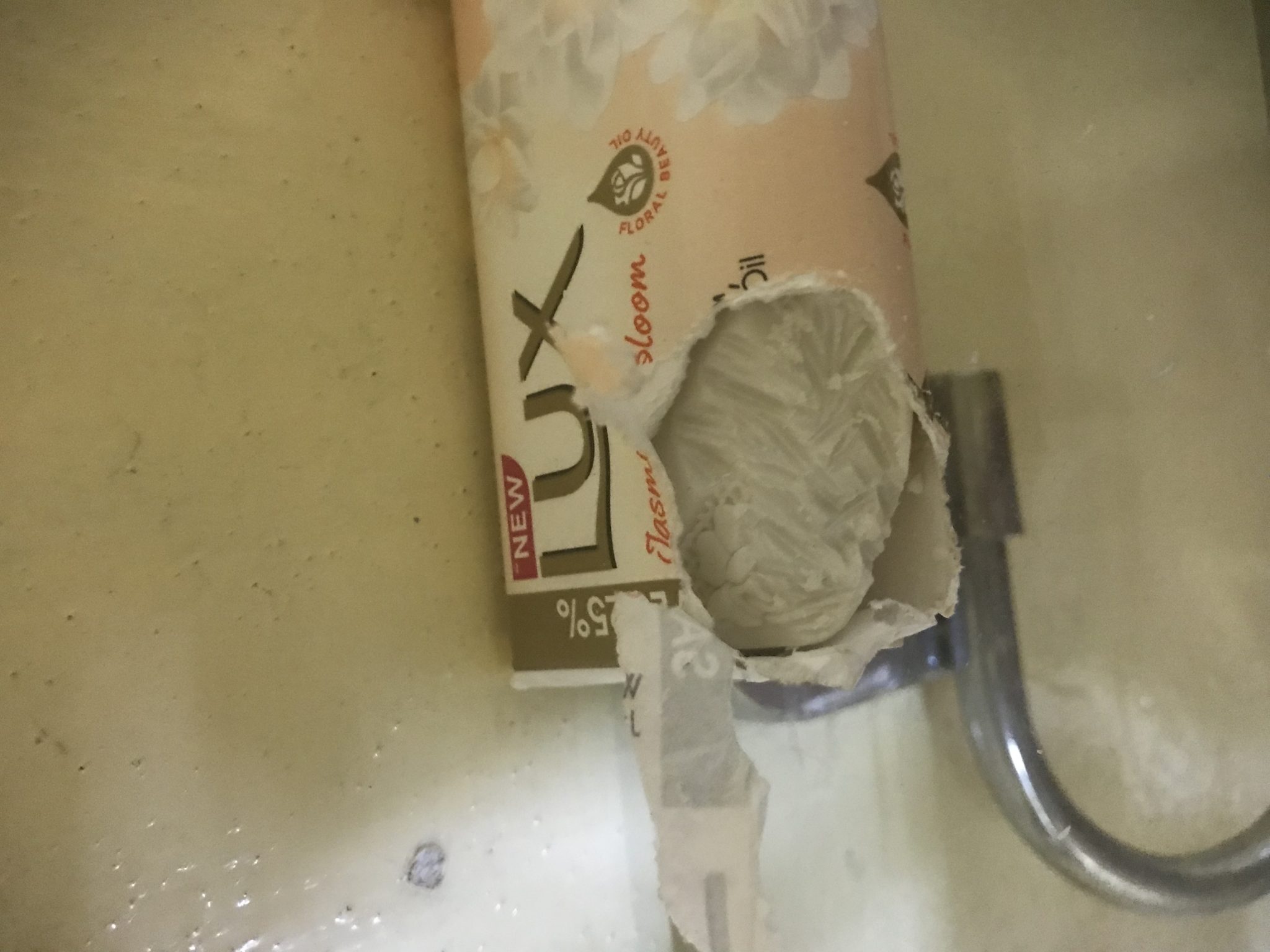 The final straw for me, was when we booked a tour to go to the Dudhsagar waterfall in the Bhagwan Mahaveer wildlife sanctuary, a spice plantation and Old Goa which cost us £20. It was quite a lot but we thought it would be worth it, but as soon as a massive coach pulled up we started to have doubts as there were so many of us.
Dudhsagar Falls
Once we got to the entrance town to get a jeep for the waterfalls, we were waiting around for an hour before we got in our jeep. We then had to queue up to get into the park and spend 90 minutes there. It was incredibly busy as you can see from the picture, and I got into a brief spat with a bonnet macaque after it tried to steal my Limca.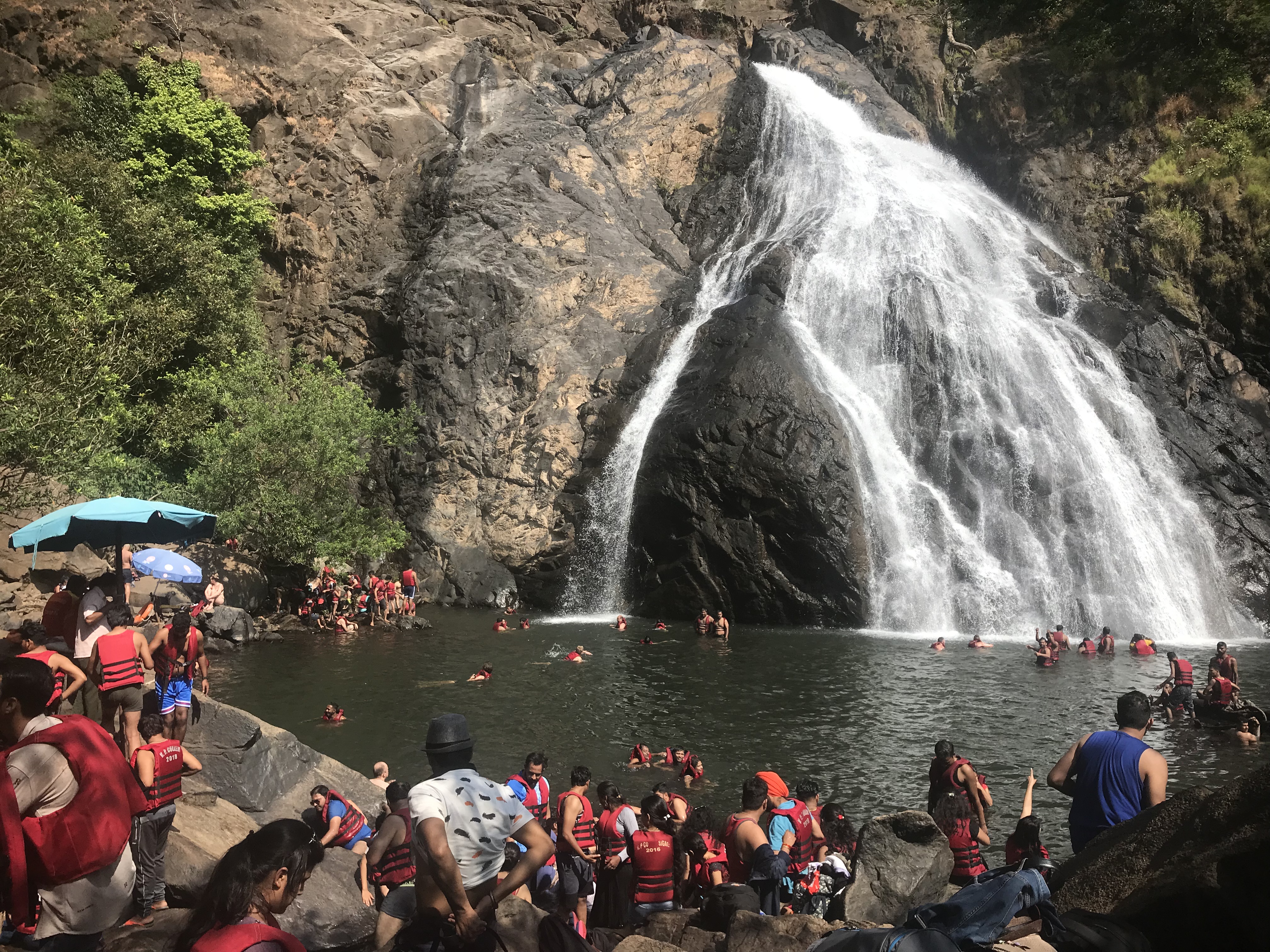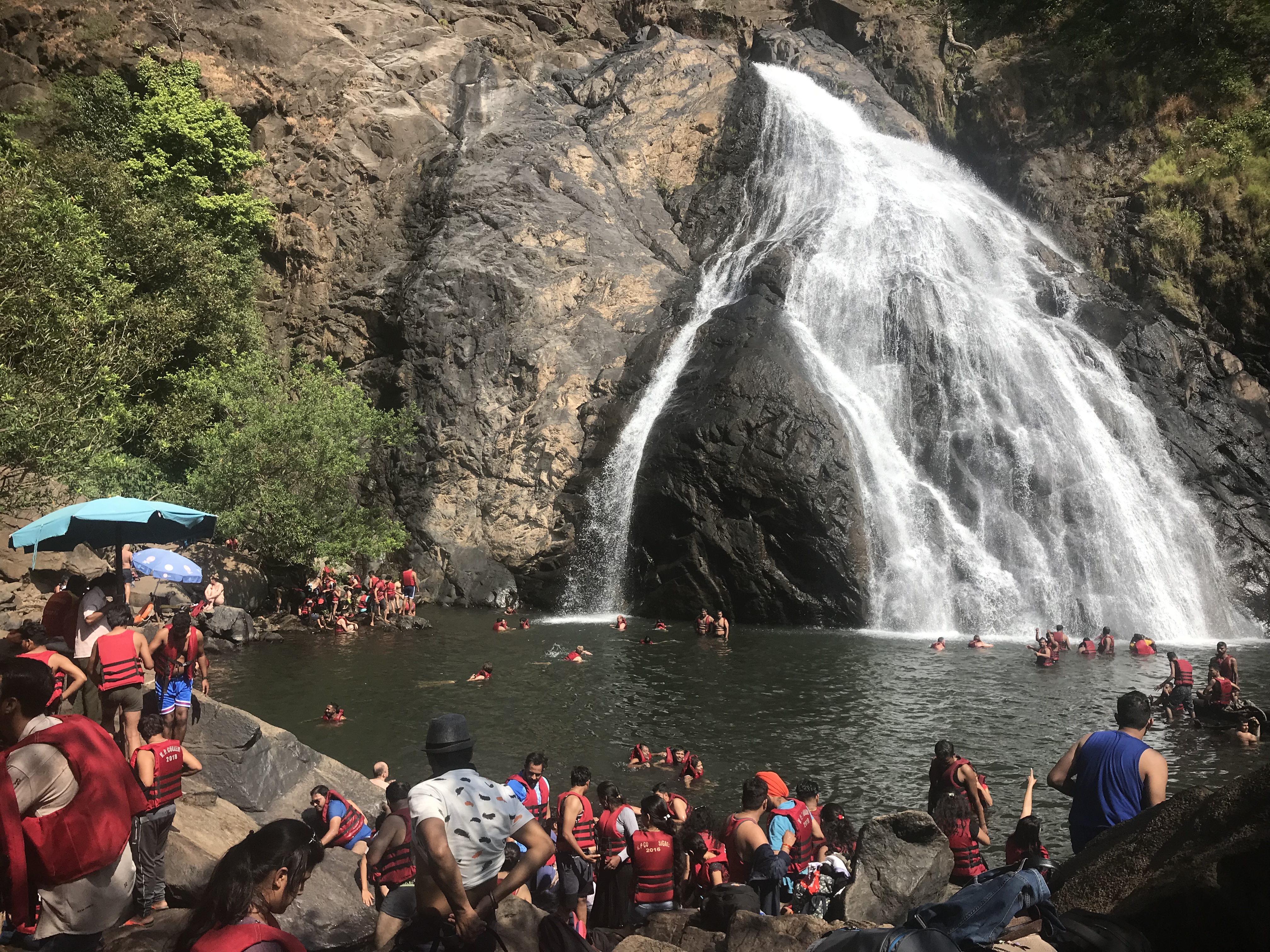 We got back to our jeep and waited some more. After half an hour, the boys that were in our jeep turned up and then we left for the spice plantation. We had a tour, which was really interesting, as well as tasting some feni alcohol and then went to wait by the coach yet again.
The driver didn't speak English, so the foreigners on the coach never had any idea what was going on. As we left the plantation, he asked if anyone had any objections if we didn't go to Old Goa (we were hideously late by this point) and the consensus said no. The fact that we paid so much to wait around for most of the day and to not even go to one of the stops embittered me so much that I complained to the tour agent but never got a reply.
I've been on many tours but this was the only one we took in South Asia and it was so bad that we stuck with seeing things independently from then on. I'm sure there are many great tours out there, but as backpackers, we couldn't afford that if there was an option to do it ourselves and actually see everything.
Why visit Candolim?
I can definitely see why so many people visit the beaches from Candolim to Baga, it's well-established, good for families and the beach is beautiful, if busy. It's still cheaper than other destinations if you take away the price of the flight but tourism is hindering Goa as much as it is helping.
Even though foreign tourism has decreased, local tourism has increased, which keeps the place in business for now, but I do wonder if that will last. Perhaps it will start to become affordable again with less tourists, but I think for now it needs to work on its problems.
Ultimately, Goa's downfall is that it has been consistently popular for so many years, which is why the central strip, from Candolim to Baga has developed the way that it has. There haven't been any conflicts or major disasters here so nothing has stemmed the flow, as can, unfortunately, happen elsewhere. Goa shows it's tourists a great time, and many holidaymakers choose to gamble in the casinos, take tours, party, eat at fast food joints, drink and be merry.
That is fair enough, but it shouldn't come at the expense of the area. It also means elevated costs, and backpackers spend less than tourist hoards, but they can be a lighter touch and support local businesses. I think that Candolim needs to get back to itself and restore some of its Goa-ness because it's visitors want India and not a soulless stretch of sand. Let's hope that happens before the whole strip becomes a resort that could be anywhere.