I highly recommend watching the Phare Circus while you're in Cambodia as it's a fun way to connect with the culture and support young people in the arts.
Phare Ponleu Selpak – The Brightness of the Arts – is a Cambodian non-profit arts school located in Battambang, offering support to children and young people. You can also watch their shows in Siem Reap as well.
They perform slapstick comedy and circus skills that represents everyday Cambodian life. It is a joyous thing to watch and a great cause to support as public funding is practically nonexistent in Cambodia as they continue to recover from their awful recent past.
This is your guide to everything you need to know about visiting the Phare Circus in Cambodia.
*This post may contain affiliate links*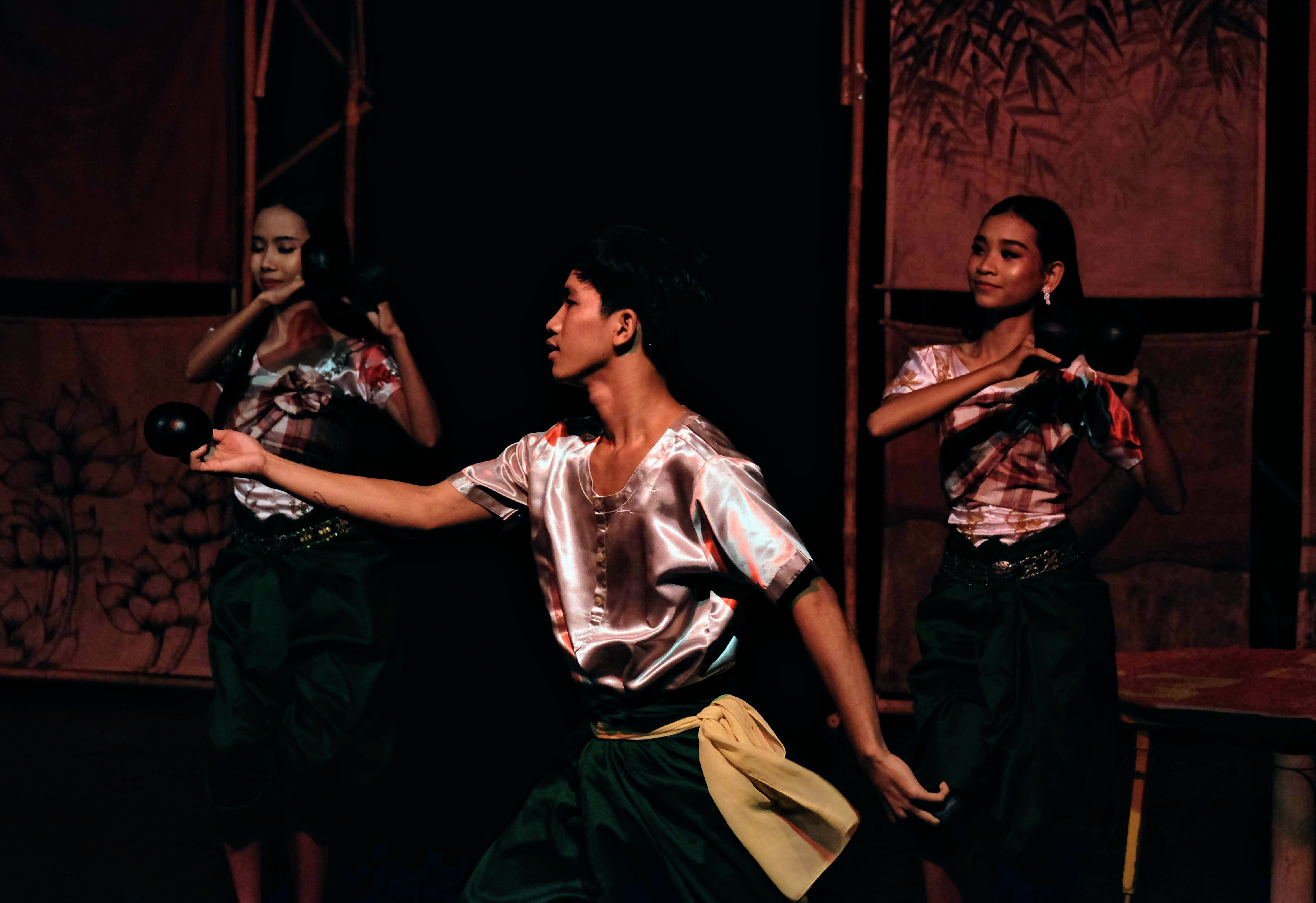 How to get to the circus
The circus costs $14 and it's a couple of minutes drive out of town. You can buy tickets online or from your hotel. It is next to a performing arts school and there is an exhibition space immediately to your left which contains artwork by the students. The school asks that you not take pictures of the children unless they're performing. There is also a gift shop and small cafe.
The show is in a circus tent with wooden seating. It starts with a traditional Cambodian dance demonstration by some of the younger students so you get lots of arts for your money! Each performance has a different theme depending on the day and there are 3-4 per week.
Read: 9 best apps for travelling Southeast Asia on a budget
The music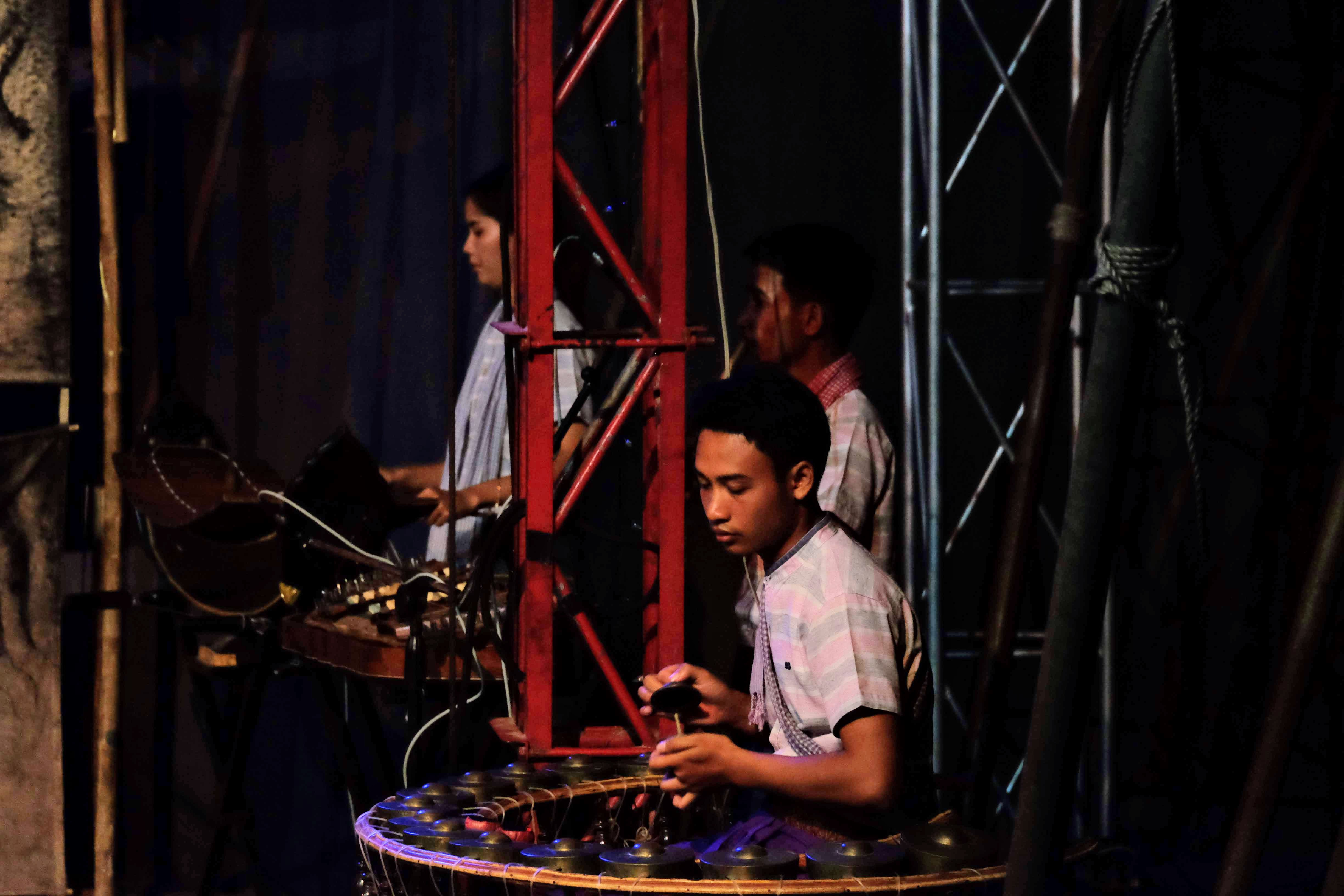 The school also trains musicians in traditional instruments and the amazing thing is that they all swop between them to get more practise in.
The traditional Khmer instruments you'll hear include the Roneat (Cambodian xylophone), Khim (a hammered dulcimer), Tro (a string instrument made from coconuts and animal skin played with a bow) and the Skor (a wooden drum).
The performers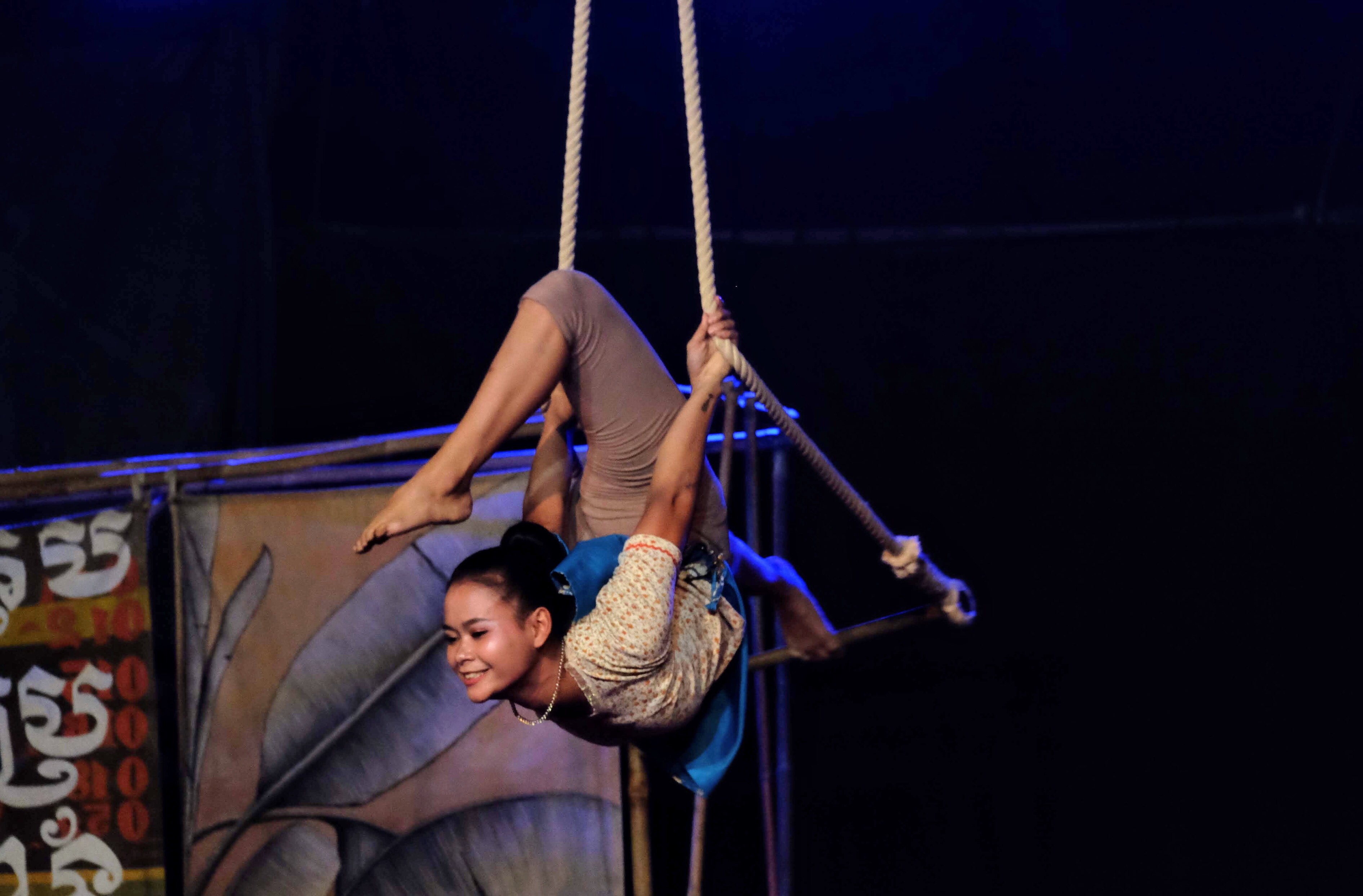 There are seven performers in the main cast, two women and four men with different specialities but all with a range of skills to demonstrate. I thought it was a shame that there weren't more female performers for a 50/50 split. In the interests of equality, I hope that they're working to rectify that.

The skills that they demonstrate come from three categories, juggling (balls, rings, sticks or diablo), vaulting (jumping with style) and equilibristics (balancing by doing handstands and acrobatics). As with many circus performances, fire is naturally involved! The performers have no safety nets so they have to get it right. Thankfully, they're so well-practised that they absolutely know their limits.
Slapstick humour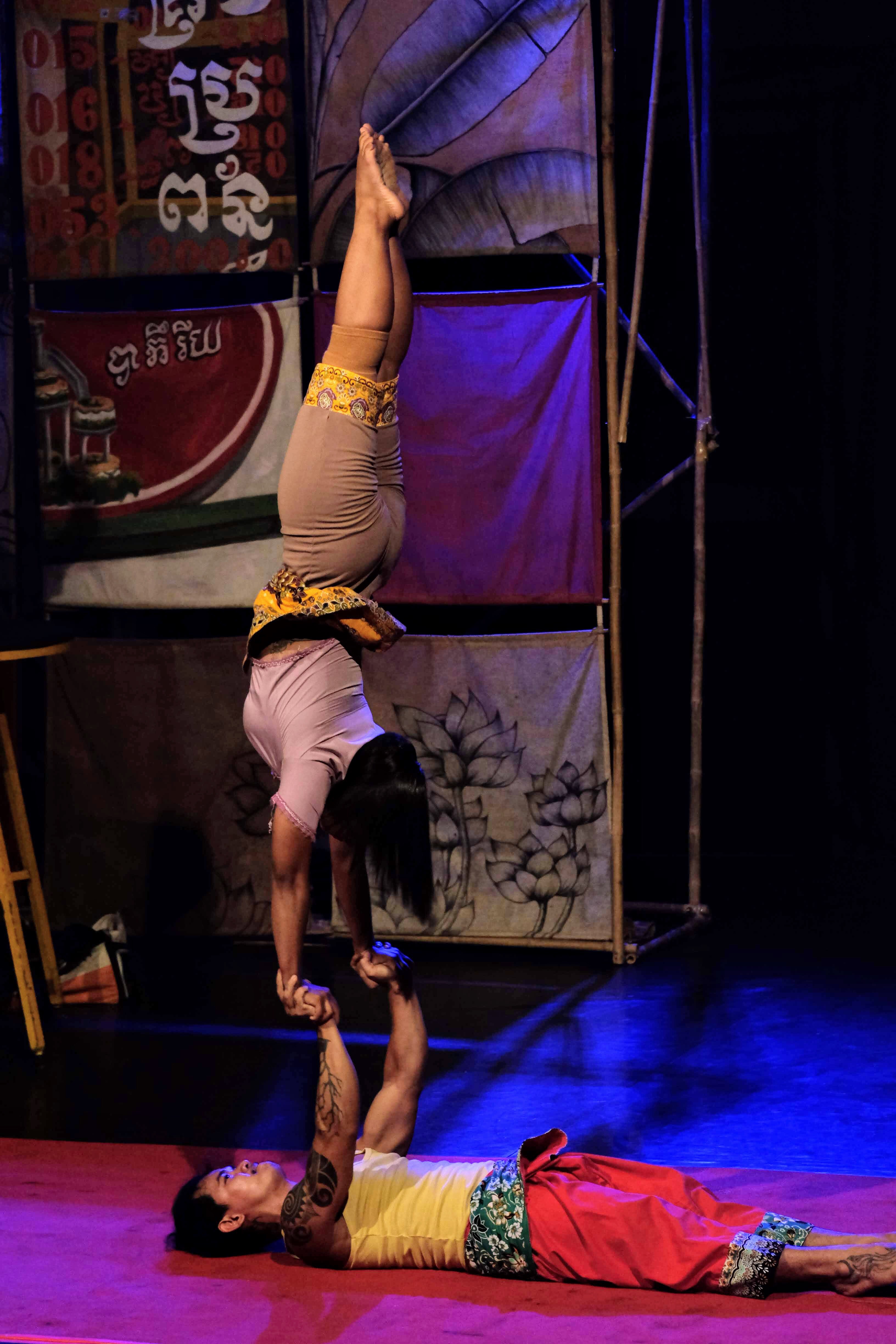 The main thing that you take away from the performances is the sheer enthusiasm that reminded me of when I used to perform as a young person. There must be no better buzz than being able to do circus skills onstage and it's really impressive.
The other takeaway is the exaggerated expressions that tell the story of traditional Cambodia, interspersed with circus performances. The cast make noises but there is no dialogue over the music. They're entirely reliant on body language to do the talking.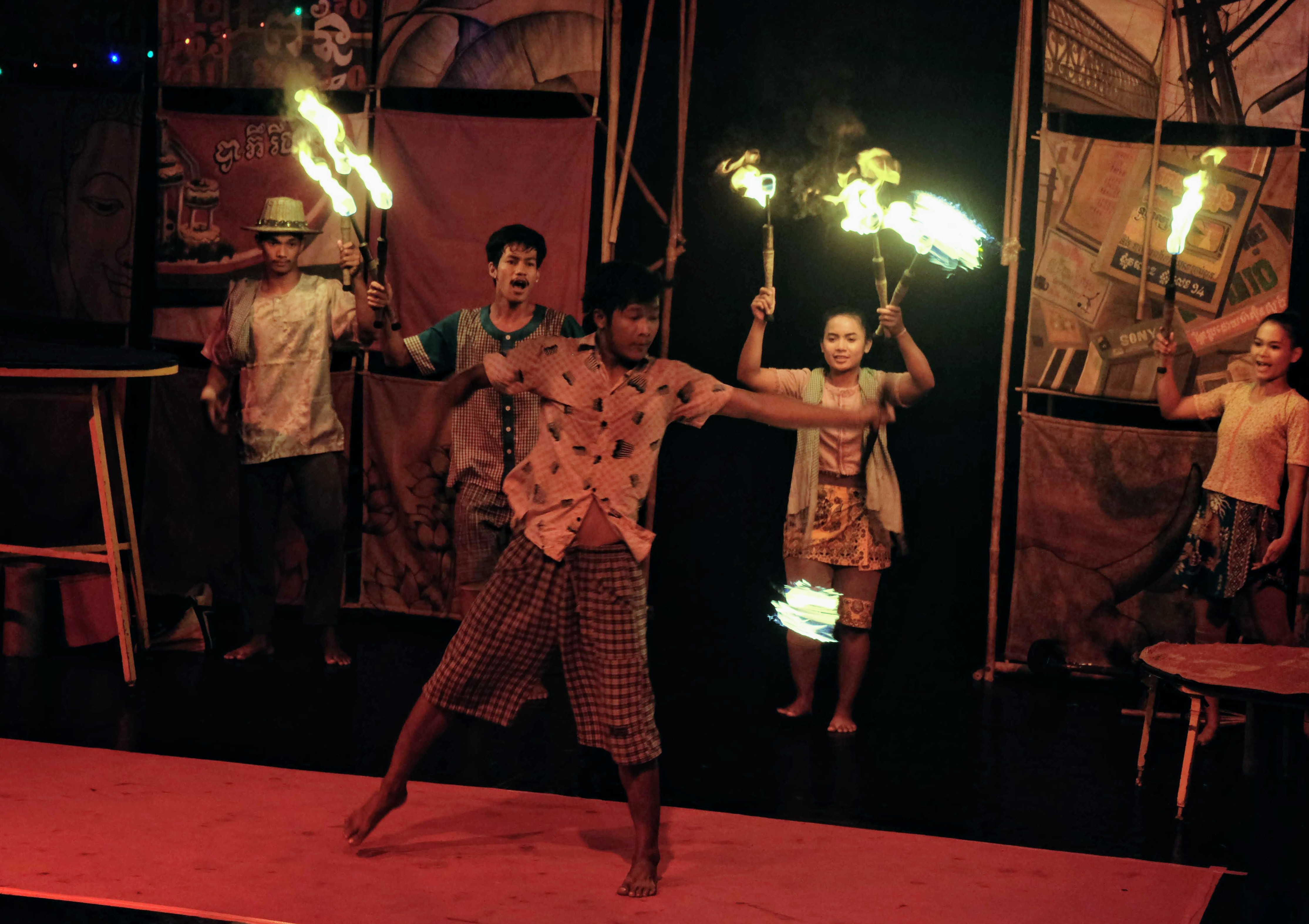 The show ended with a skit which really showed the sense of humour of the performers, which I enjoyed but I won't give away! I have a friend who filmed a show with the circus and she loved every minute of it.
At the end, they request donations and you can have your photo taken with the performers onstage. A fun night out and all for an ethical cause too.
I really recommend visiting Battambang as its not too touristy but still has lots of things to do. While I was here I did a vegetarian Cambodian cooking class, and went for a blind massage.
If you're travelling on to Koh Chang in Thailand, then I have a post about how to make that border crossing independently.
We stayed at Lucky Hostel in Battambang and it was a good budget option. For reviews and deals, check out the hotels on Tripadvisor:
Have you been to see the Phare Circus in Cambodia? What did you think of it? Share your thoughts in the comments below!