Hanoi is Vietnam's capital as well as one of its most happening cities and it's a great place to engage in the culture, including traditional shows like the water puppet show which I absolutely loved and would be great for kids.
We came to Hanoi from Phong Nha National Park, which costs about 250,000 dong and takes about 8-9 hours by night bus which will pick you up from our hotel.
We stayed at the Spoon Hotel which was a decent budget option in a good location with great breakfast and staff, but small rooms and no windows (this is common in the centre). Check the Tripadvisor link below to check reviews and find good deals for hotels in Hanoi:
*This post may contain affiliate links*
Here's everything you need to know about seeing a water puppet show in Hanoi: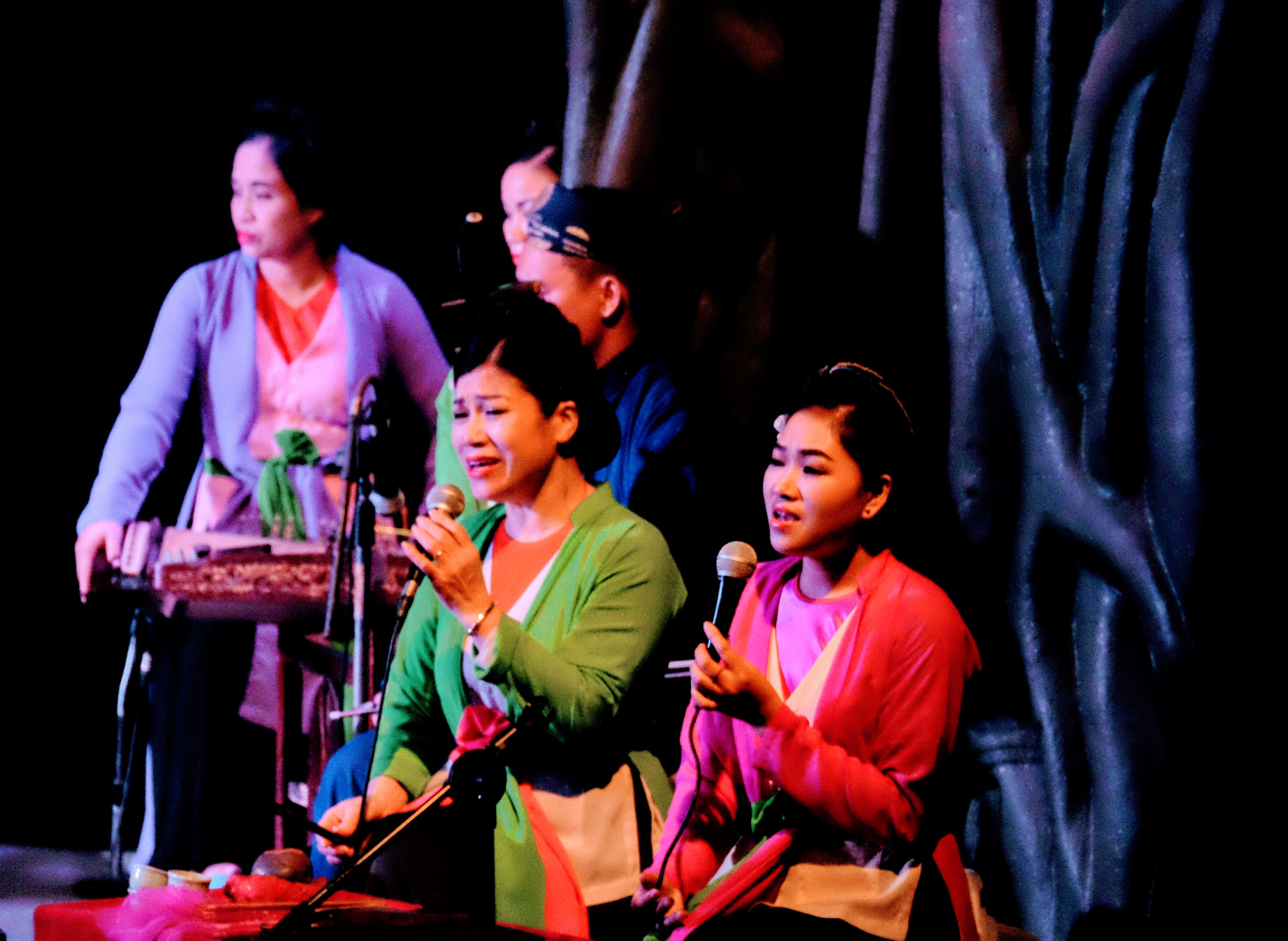 Water puppetry is unique to Vietnam and it developed in the rice fields where performances would be held at harvest time.
It is believed that puppetry, in general, has origins in China and India (in the East) as well as Greece and Italy (in the West).
There are four different types of puppet used in Southeast Asia, including shadow, glove, rod and string. Myanmar is also famous for puppetry.
In Vietnam, it is thought to come from farmers the Northern Vietnam Red River Delta during the reign of the Ly dynasty from 1010-1225.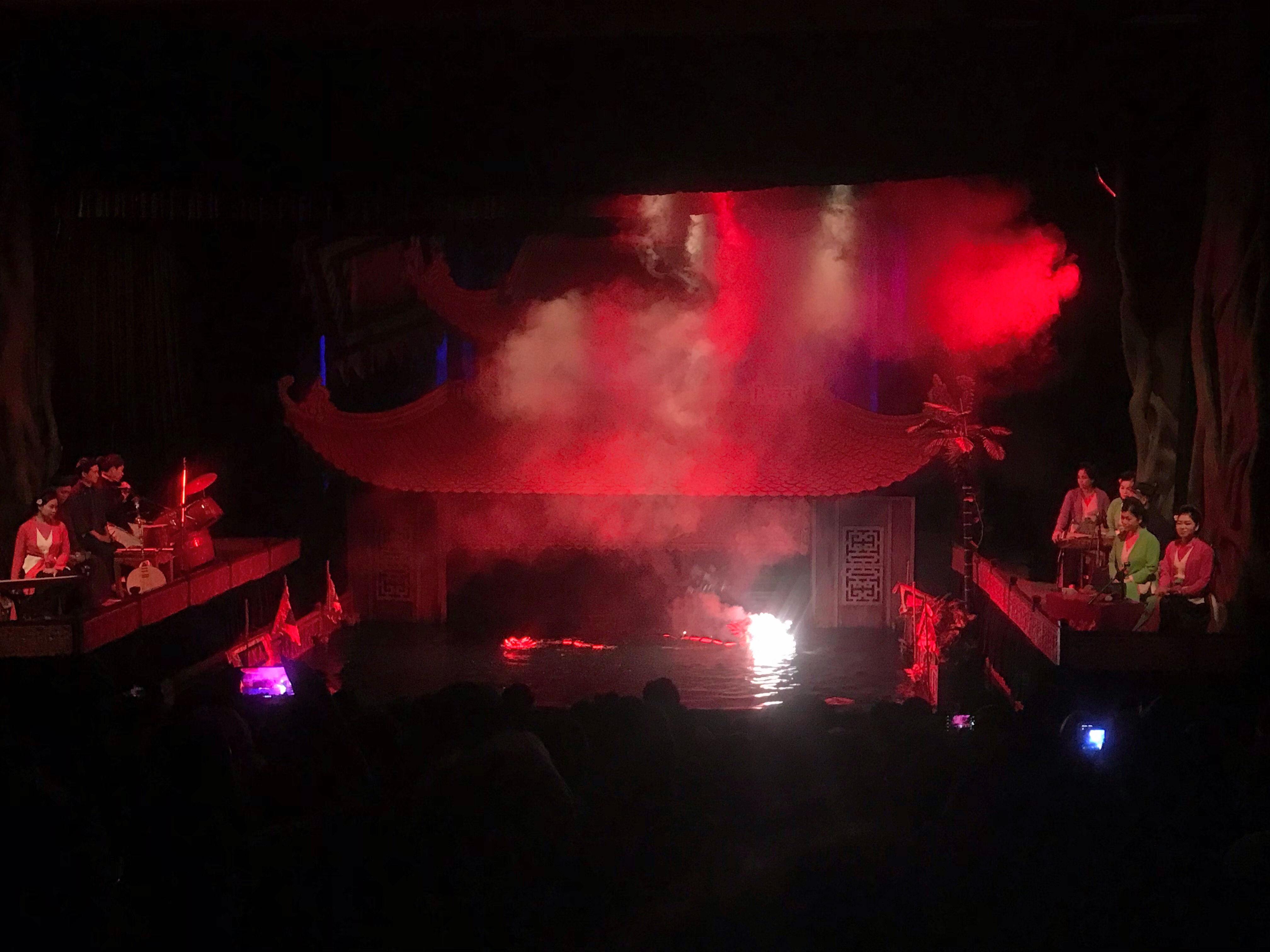 While Hanoi is the most famous place to see a puppet show in Vietnam, tourism is keeping the art going, so you can also see shows in Hu?, Hoi An and Ho Chi Minh City as well.
Thang Long Water Puppet Theatre
We went to see a show at Thang Long Water Puppet Theatre which is by the Hoàn Kiem Lake in the city centre, on the walking street. There are several daily performances at 3pm, 4.10pm, 5.20pm, 6.30pm and 8pm and tickets cost either 100,000, 150,000 and 200,000 dong, depending on where you want to sit.
It's worth spending more to get a better view and kids will love getting splashed! Tickets do sell out so buy in advance from the booth or machine outside if you can.
The theatre is based around a 4-metre turquoise pool in front of a set with the musicians seated on both sides. The puppeteers work behind the bamboo screen and use bamboo poles and strings to animate the puppets from underneath the water. The water is meant to improve acoustics and add lighting effects as well as hiding the puppetry mechanics.
The puppets are made from wood but lacquered to make them waterproof so they don't rot from being in the pool every night.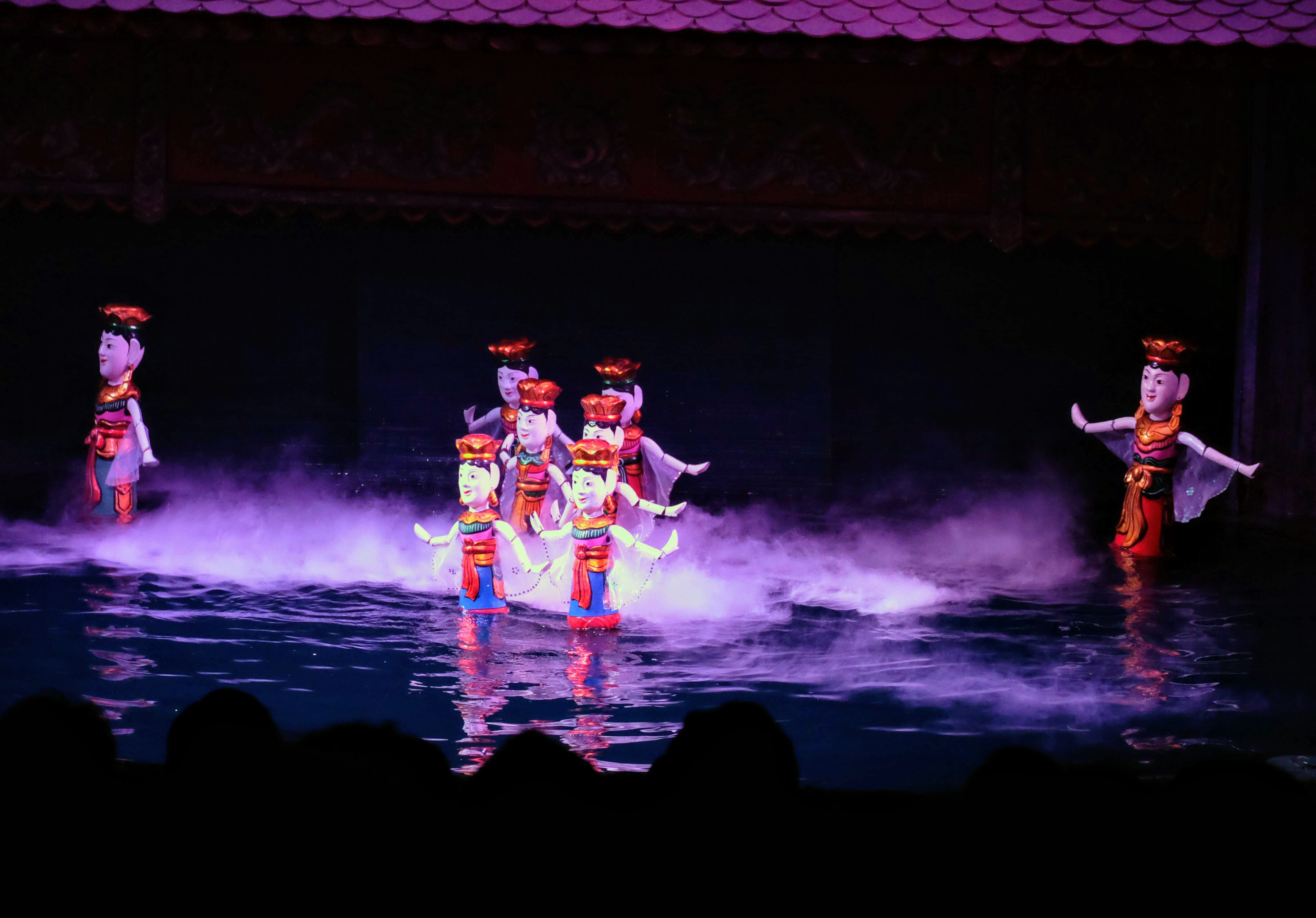 Instruments
Traditional performances are accompanied by a Vietnamese orchestra that features drums, wooden bells, cymbals, horns, dàn bau (the monochord), gongs, and bamboo flutes. The vocals are performed by chèo (North Vietnamese opera) singers.
There is no narration or explanation in English but it doesn't really need it. Something I really loved was the way that the musicians and singers interact with the puppets and that there is a constant 'babble' of vocalisations which really adds to the atmosphere.
The traditional puppet characters include fish, dragons, ducks, dancers, farmers, cats, funny men like Chú Teu (Mr. Laugh) and fishing boats that all demonstrate legends, history and folklore in energetic and bite-sized comedy chunks.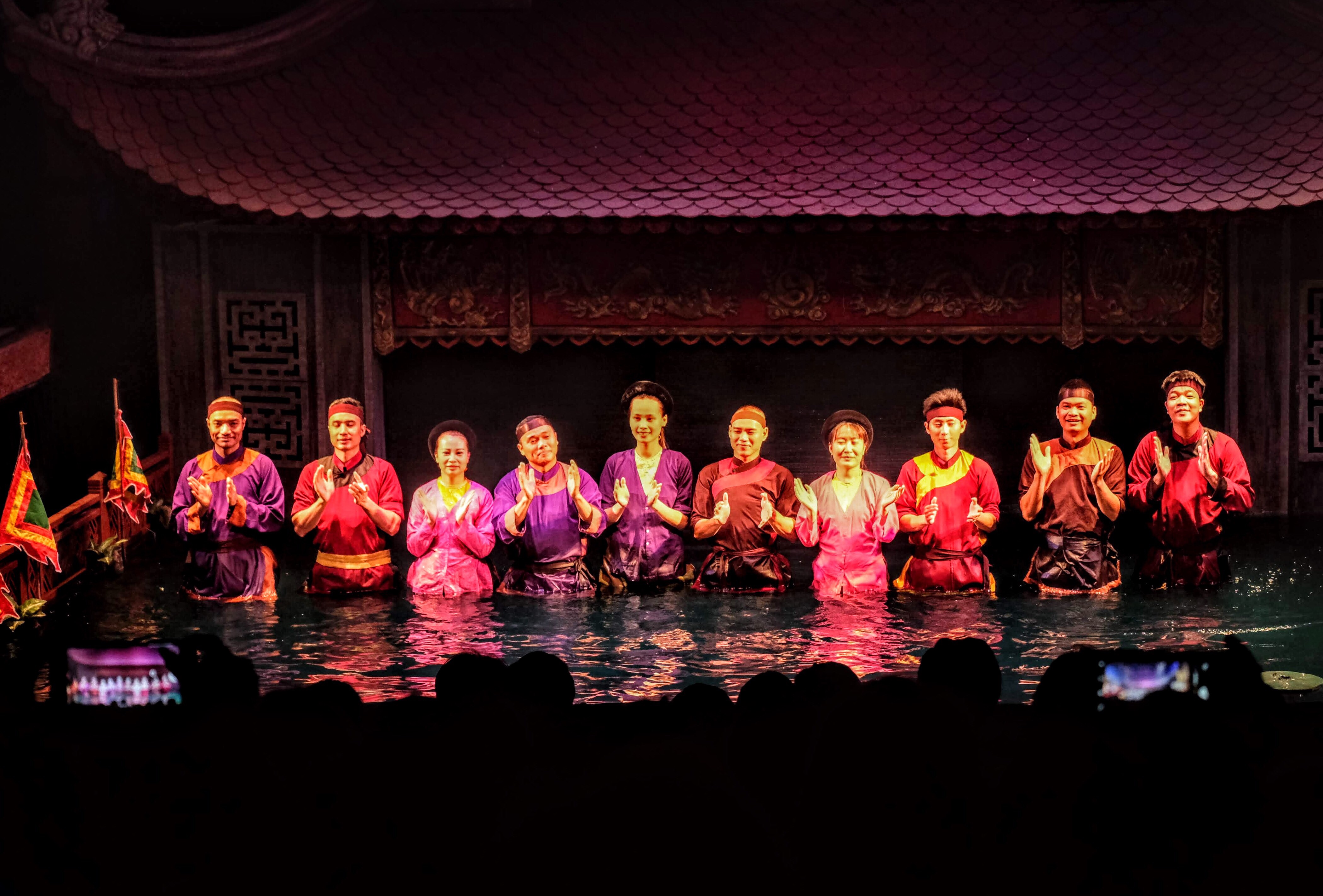 Puppeteers
At the end of the performance, you get to see the puppeteers when they come out from behind the screen, but sadly you don't see them in action which is a shame! It is about an hour in total and you see a fun range of animals and people.
I loved watching the water puppets, as I love that this art form represents and celebrates the lives of normal people in Vietnam and that it was created in the rice fields. There can be an elitist element to theatre shows that show royalty or aristocracy instead of water buffaloes and ducks so it was refreshing in that way.
The way that the puppeteers can animate the puppets and interact with the water while being so removed from them is impressive, and it was one of the funniest cultural shows that I've seen despite being completely in a different language. I really recommend it and as I said before, it is an absolute dream for children as it's in water and contains so many animals!
Have you been to see a water puppet show in Vietnam? Where did you go and what did you think of it? Let me know in the comments below!
Pin this for later: