Pondicherry (or Puducherry) is a really easy and relaxed city in spend time in Tamil Nadu, especially if you're a backpacker or on a budget as its very easy on the pocket.
Pondicherry came under French rule and became liberated in 1954, but there are many monuments to its colonial times and many people speak French or have French accents but this seems to be waning.
Most of the attractions are in the French Quarter which backs onto the sea and I recommend staying here, as its more relaxed and you can get to everything easily. We stayed in a homestay called Villa Umar which was great as he woke us up with coffee each morning and hooked us up with a scooter to go exploring.
Here are the top 9 things to do in Pondy for a backpacker on a budget:
1. Visit the 'Life of Pi' Coffee House
The Indian Coffee House is a cooperative-run cafe that can be found all over India. They're fantastic and bargainous, but this one also features in the opening chapter of Life of Pi by Yann Martel. Visiting this coffee house in the French Quarter is a little piece of India's incredible literary history.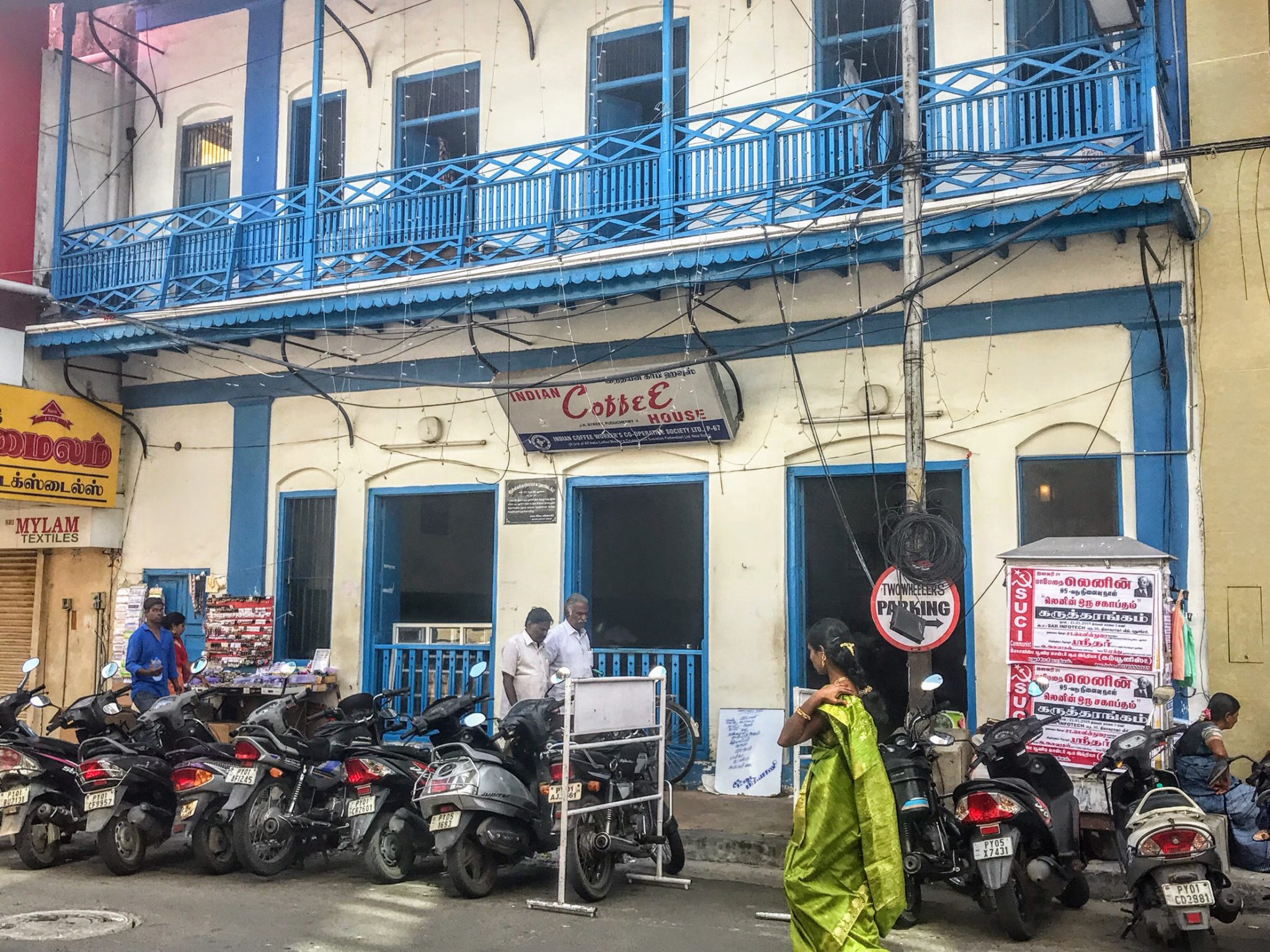 This vegetable rice dish with daal and yogurt sauce along with a hot coffee only cost me 70 rupees, which is about $1.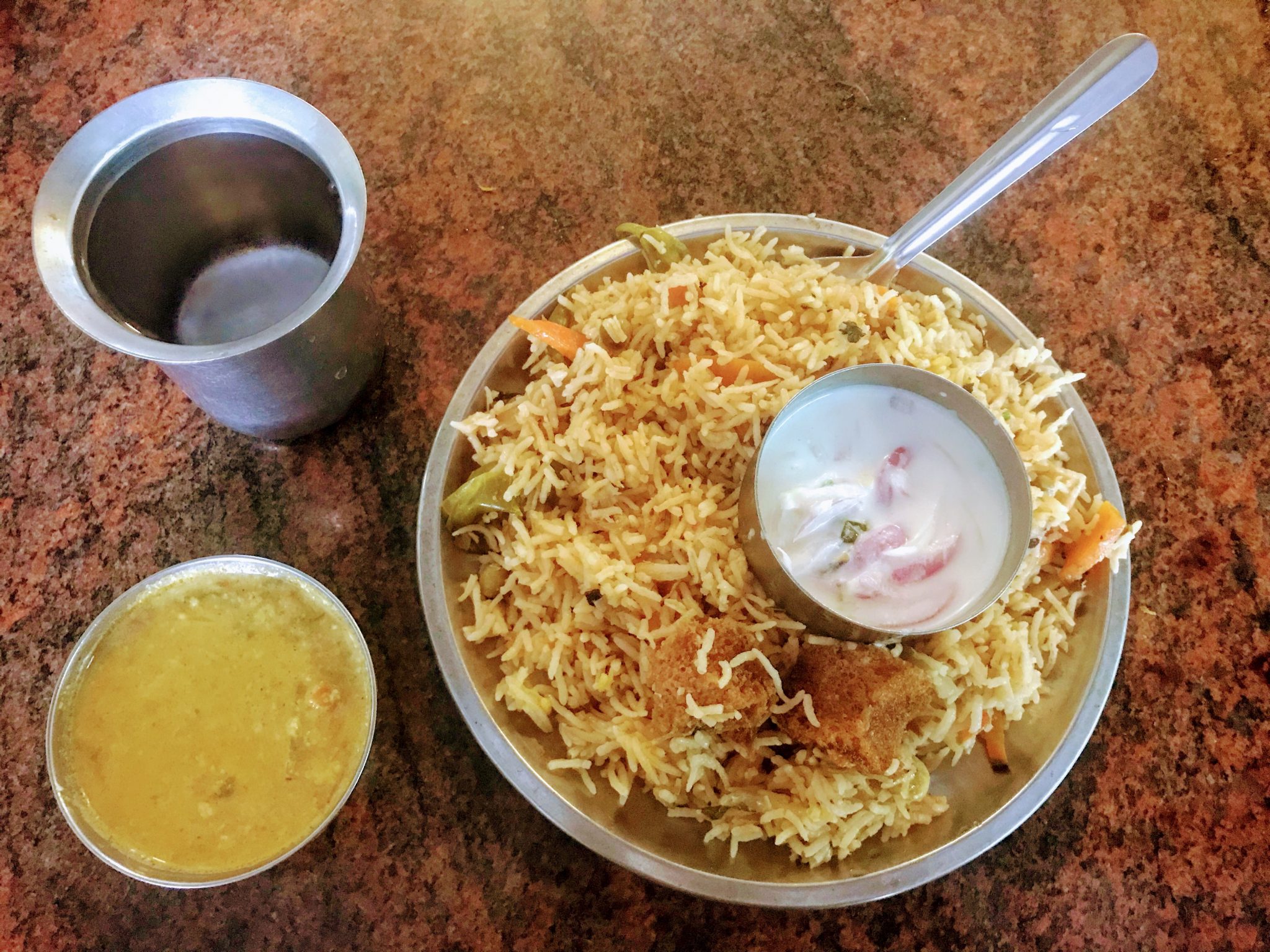 Cost: From $1 for a meal and drink.
2. Eat French fusion food
The absolute best thing to do in Pondy, is just eat! Our friends stayed here for 5 nights to do just that! The French bakeries are great, and in Hot Breads on Gingee Road you can get a proper coffee and a pastry for 70 rupees or $1. We bought quiches from here for the bus to Madurai and they were very good as well.
Food to look out for and try are croissants, danishes, quiches, cheesy omelettes (like this one with good cheese), French onion soup and ratatouille.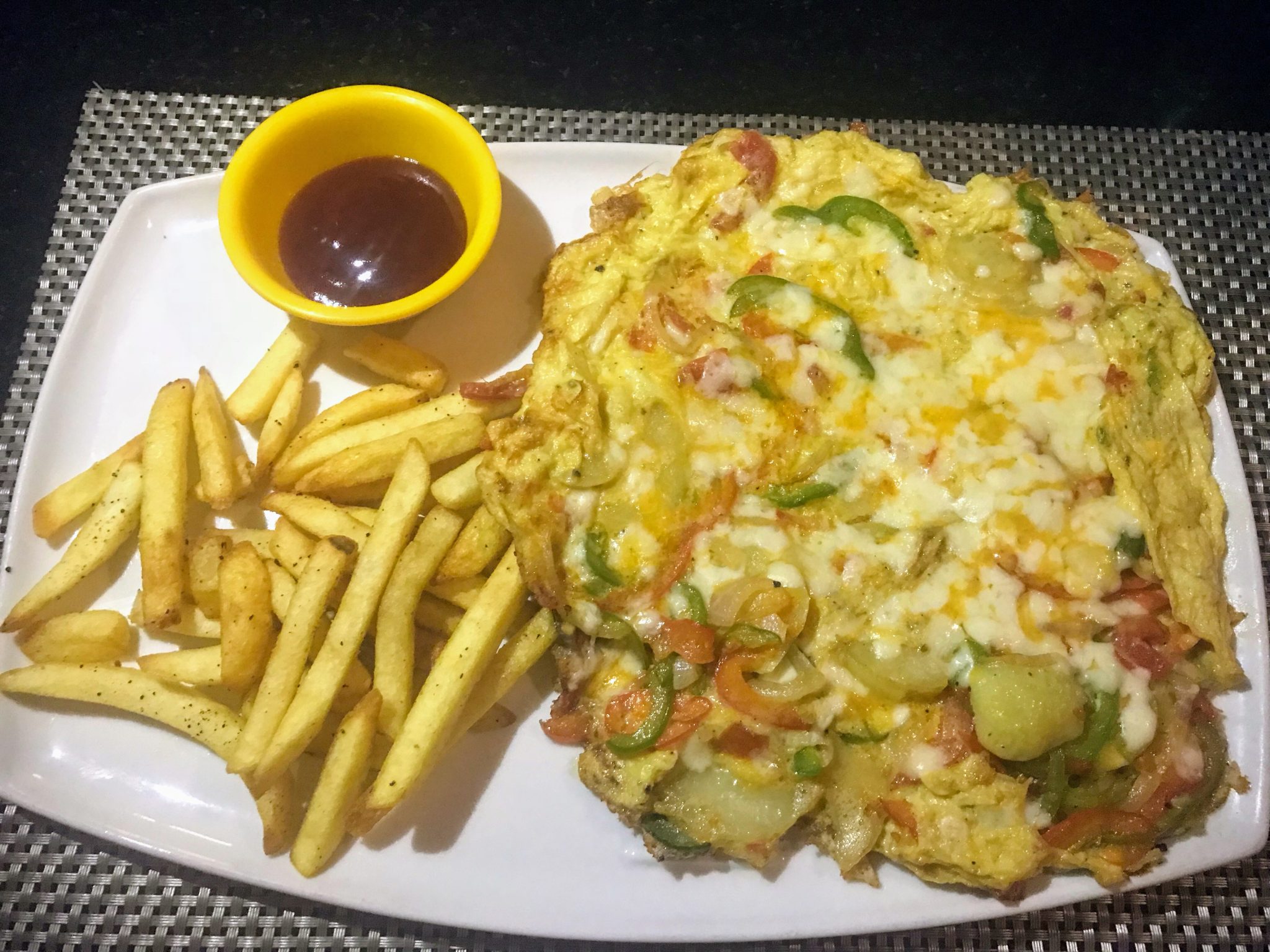 The alcohol taxes are much lower here so bottle shops are aplenty. You can get a large Kingfisher for 120 rupees but these shops tend to be unofficial bars out the back so be wary of drunken men.
3. Stroll along the promenade
Pondy's promenade is the place to be, its much quieter than its more chaotic suburbs and there are various sights to see on your stroll, including the Gandi monument, war memorials and the old lighthouse (unfortunately closed for visitors).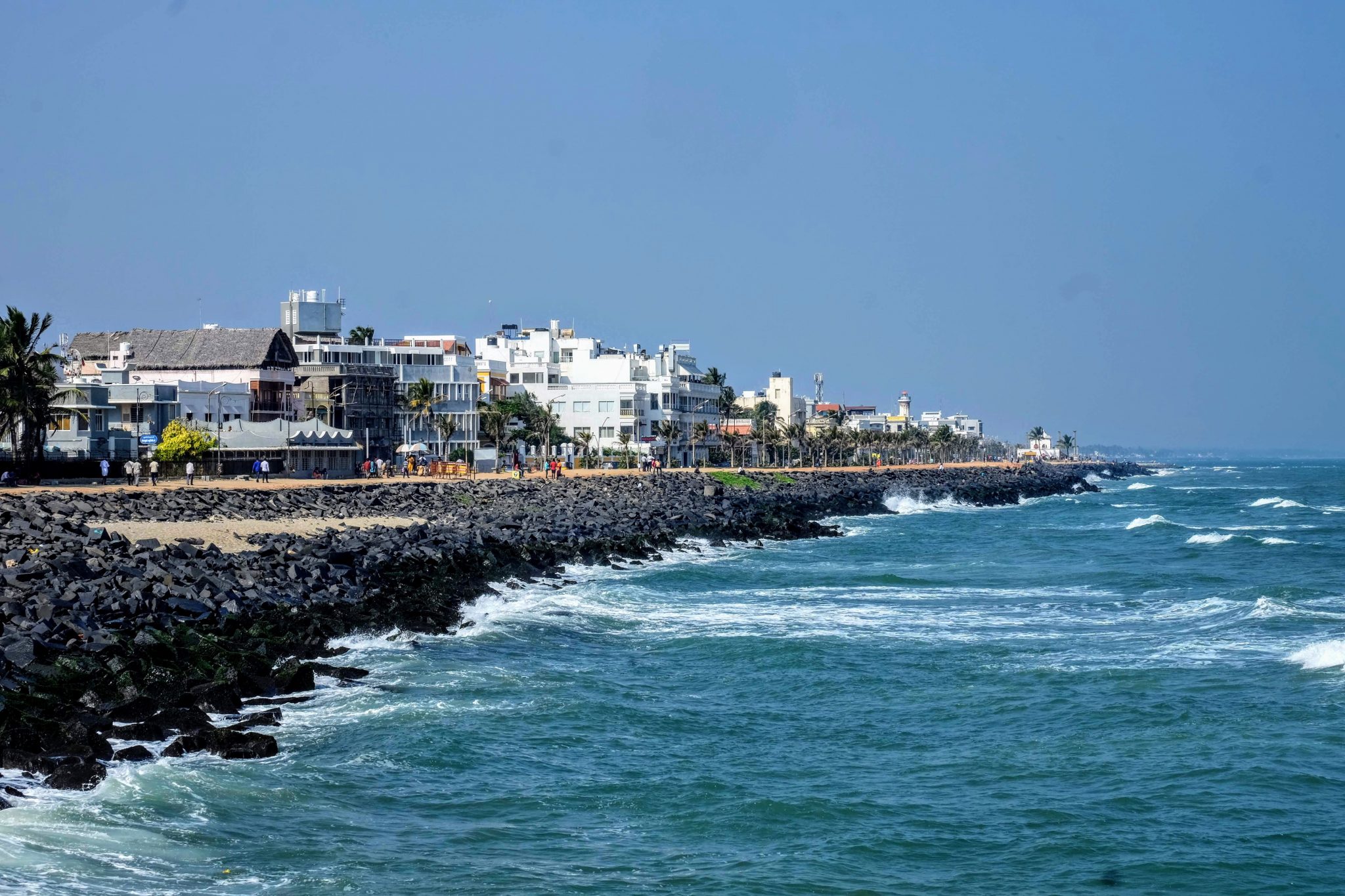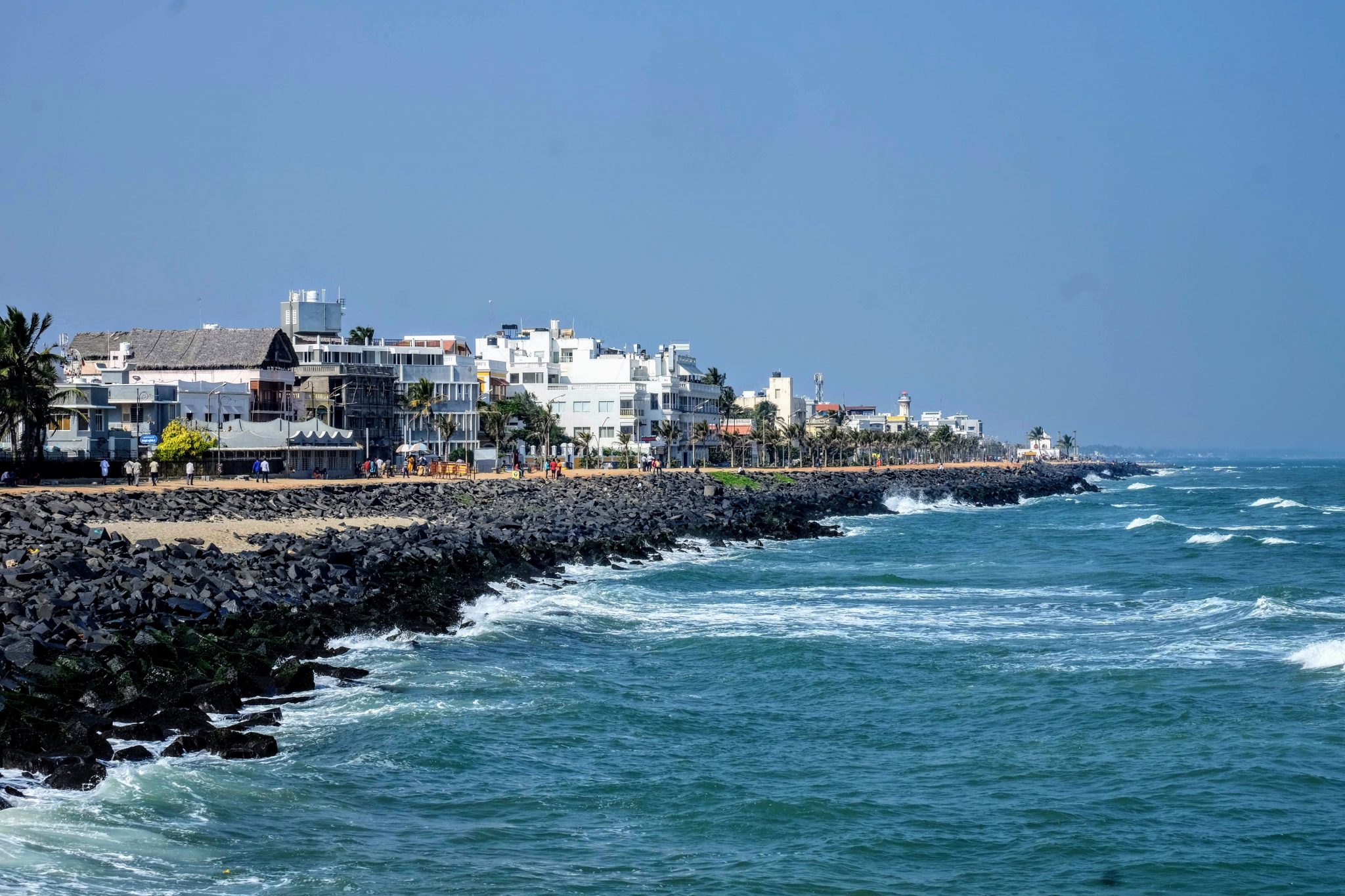 4. Go gaga for gardens
Bharathi Park is very easy to visit as its right next to close to the waterfront. It's a pleasant place to stroll as part of your heritage walk around Pondy. It comes complete with the obligatory fake cannons.
If you want a bigger green space then the Pondicherry Botanical Gardens is on the other side of the French Quarter, near the new bus stand and it doesn't have foreigner ticket prices. Many Indian people exercise in these parks here so you won't feel out of place if you want to do some squats.
Cost: Free for Bharathi Park, 20 rupees for the Botanical Gardens (Open 9-6 every day).
5. Marvel at museums
If you want to know more about the history of Pondicherry then there are a couple of small museums to visit including Pondicherry museum and the Bharathidasan museum. The Bharathidasan is the former home of the Tamil poet and the Pondy museum houses historic artefacts important to the area.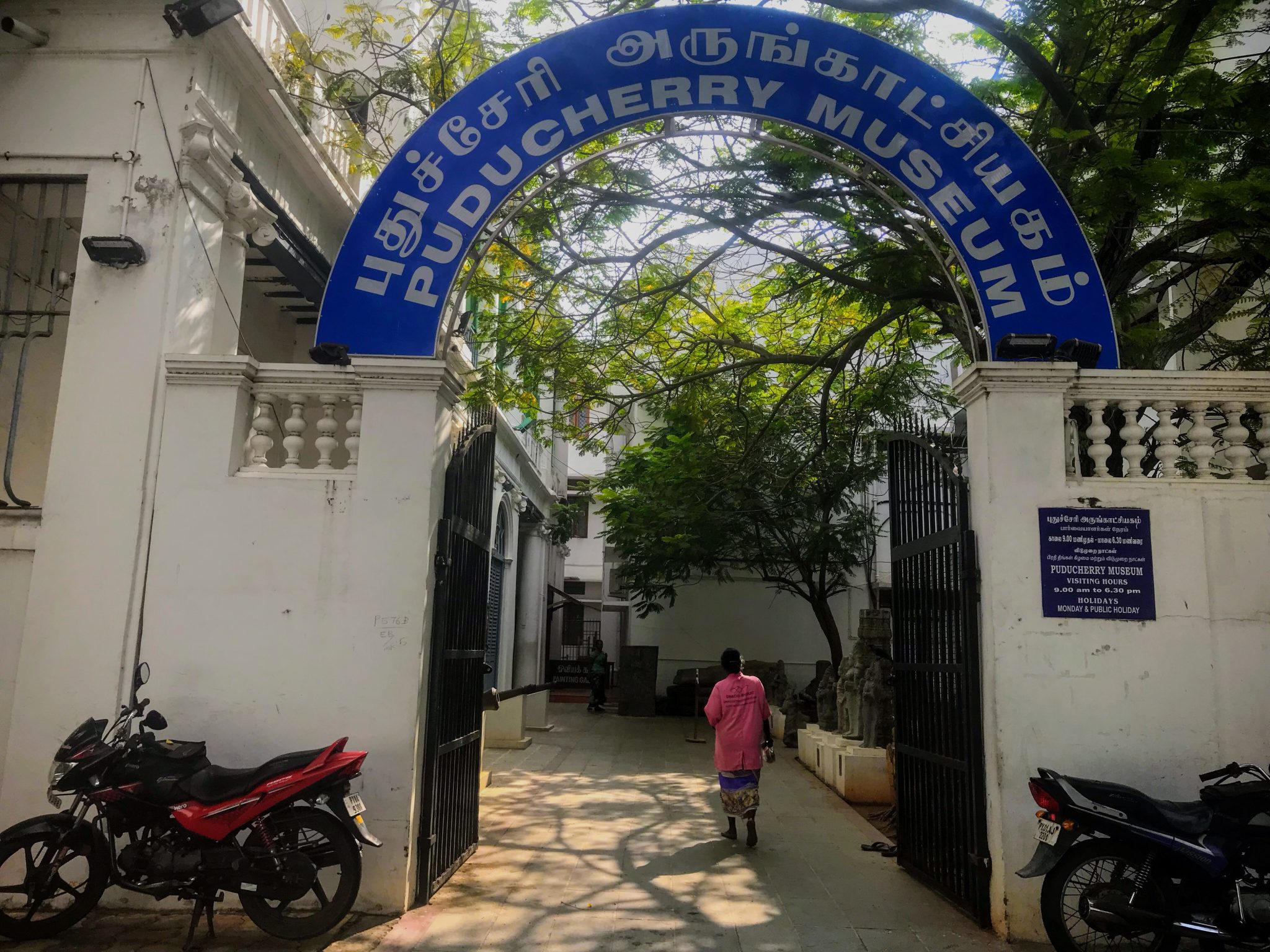 Price: Bharathidasan Museum – 15 rupees – (closed Mondays, open 9.40-1 and 2-5.20). Pondicherry Museum – 50 rupees for foreigner (open 10-5).
6. Enjoy colonial architecture
One of the best things about Pondy is it's walkability, so after you've seen the promenade I would wander around the streets behind to look at the colonial architecture, like the grand Raj Nivas building near Bharathi Park.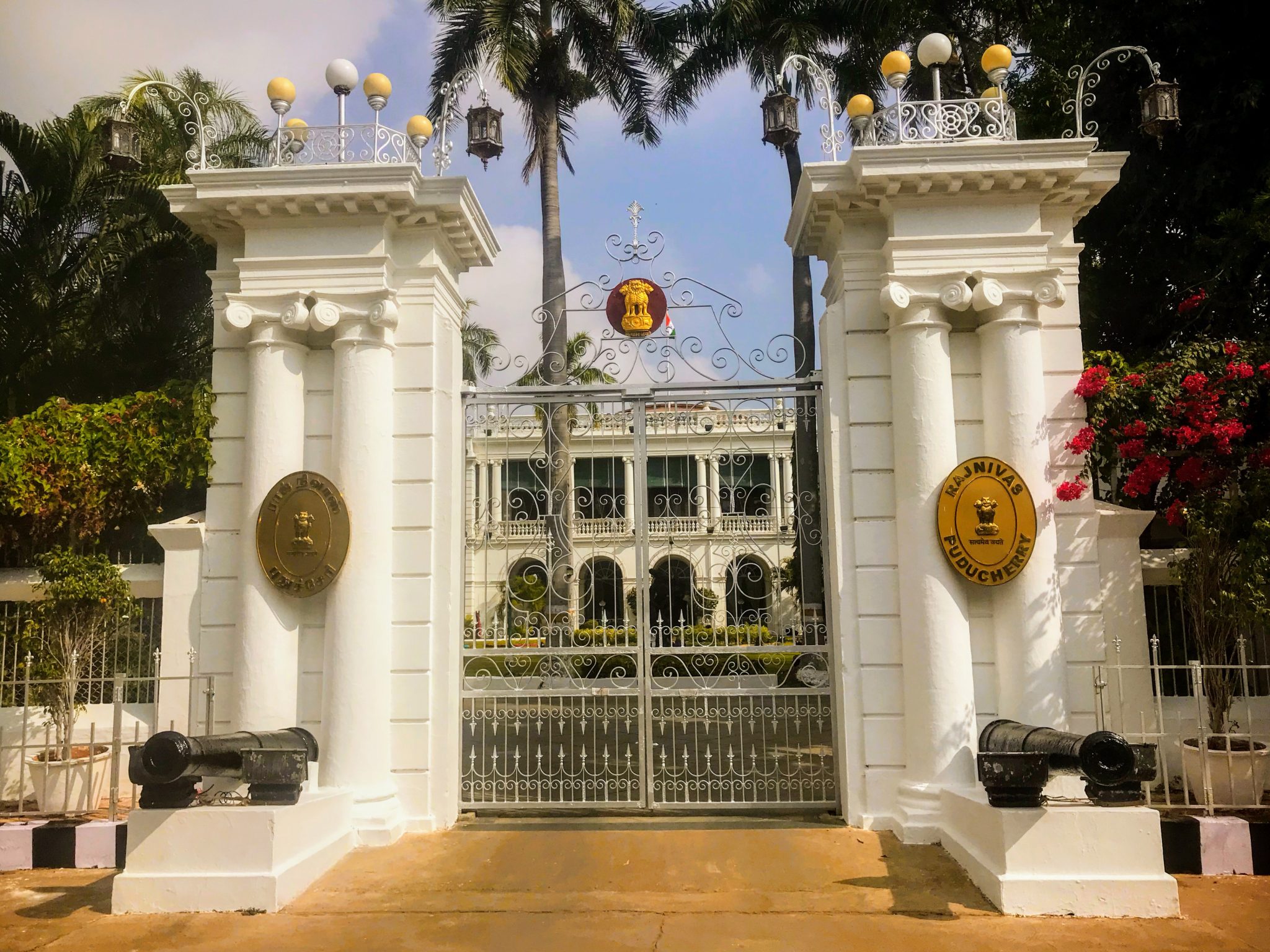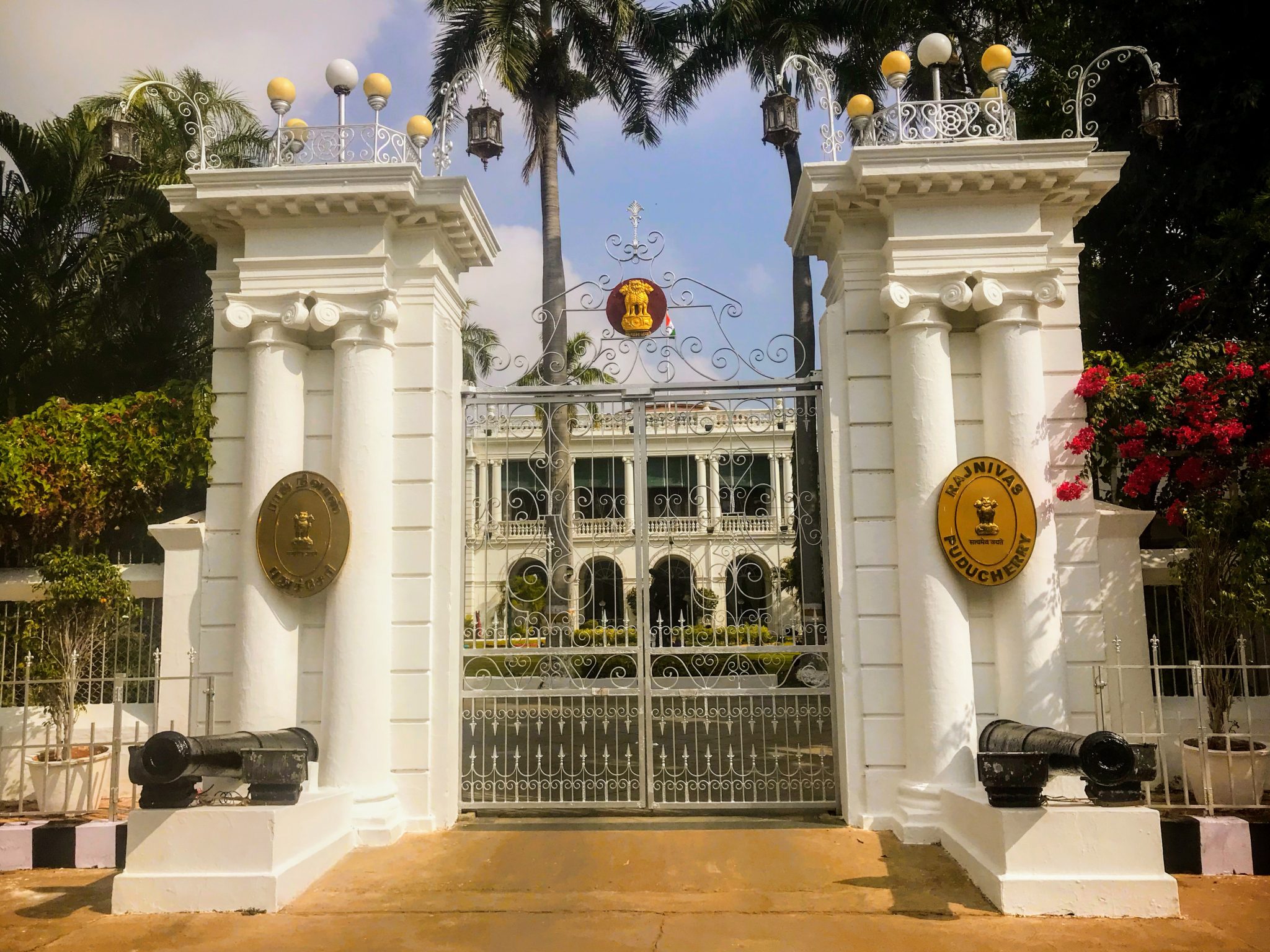 7. Visit churches and temples
Christianity does have a presence in Pondy from colonial times and some of the churches in the French Quarter are gaudy yet quite beautiful as the same time.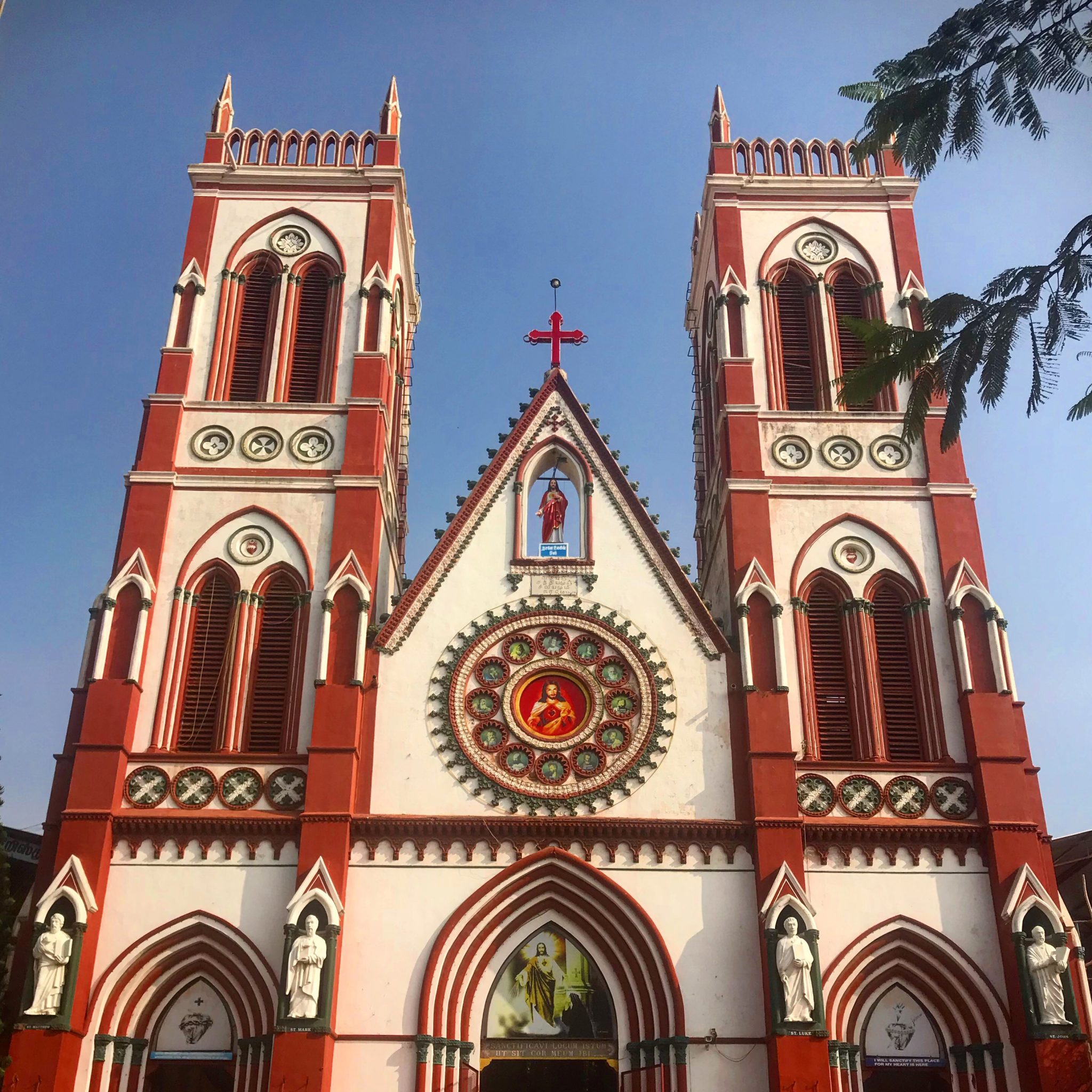 The biggest churches are the Sacred Heart Basilica and the pink Notre Dame des Anges that are both on the streets parallel to the promenade.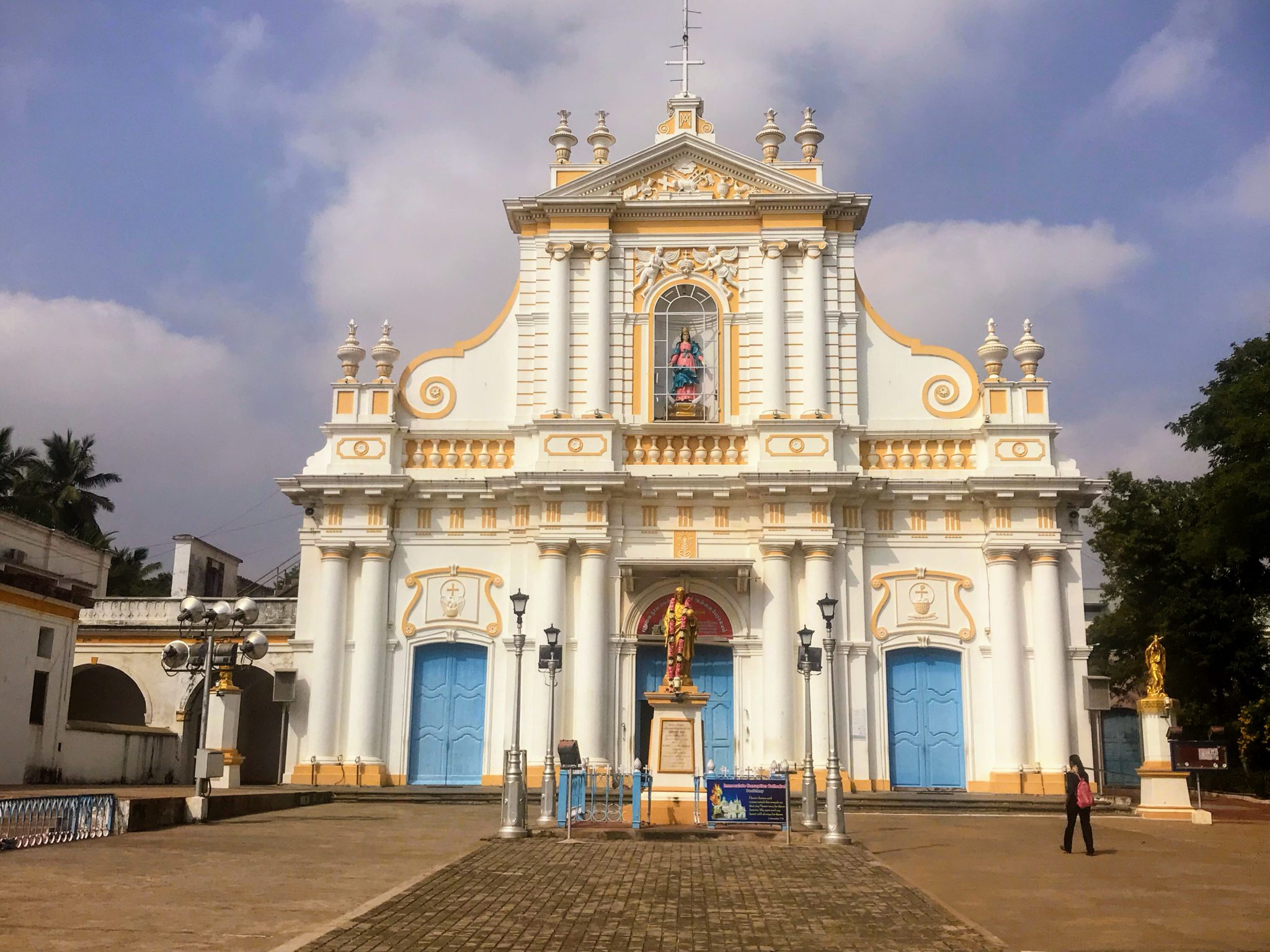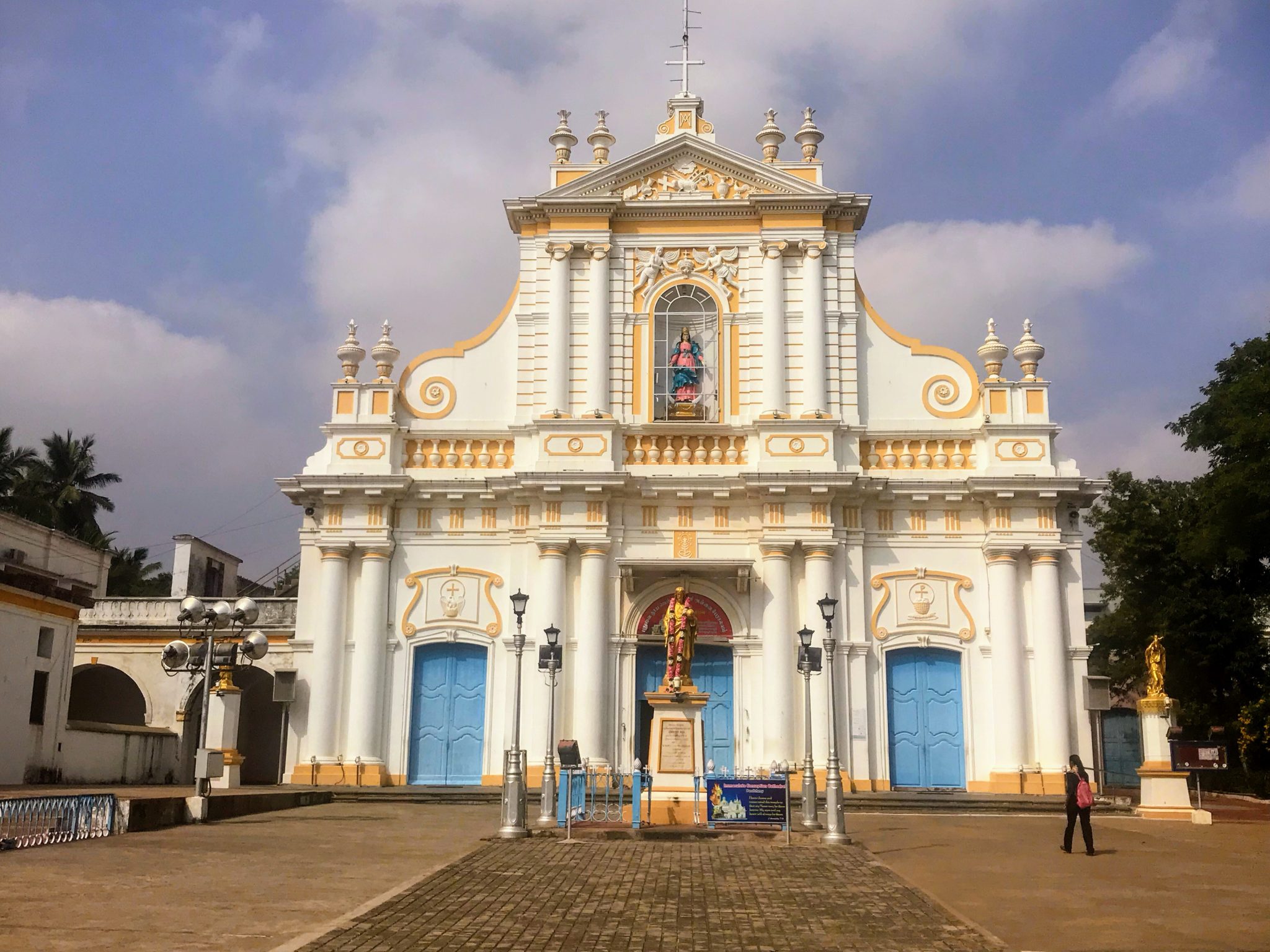 Slightly further back is the equally bright Our Lady of Immaculate Conception Cathedral (Open 7-12 pm and 3-8.30 pm).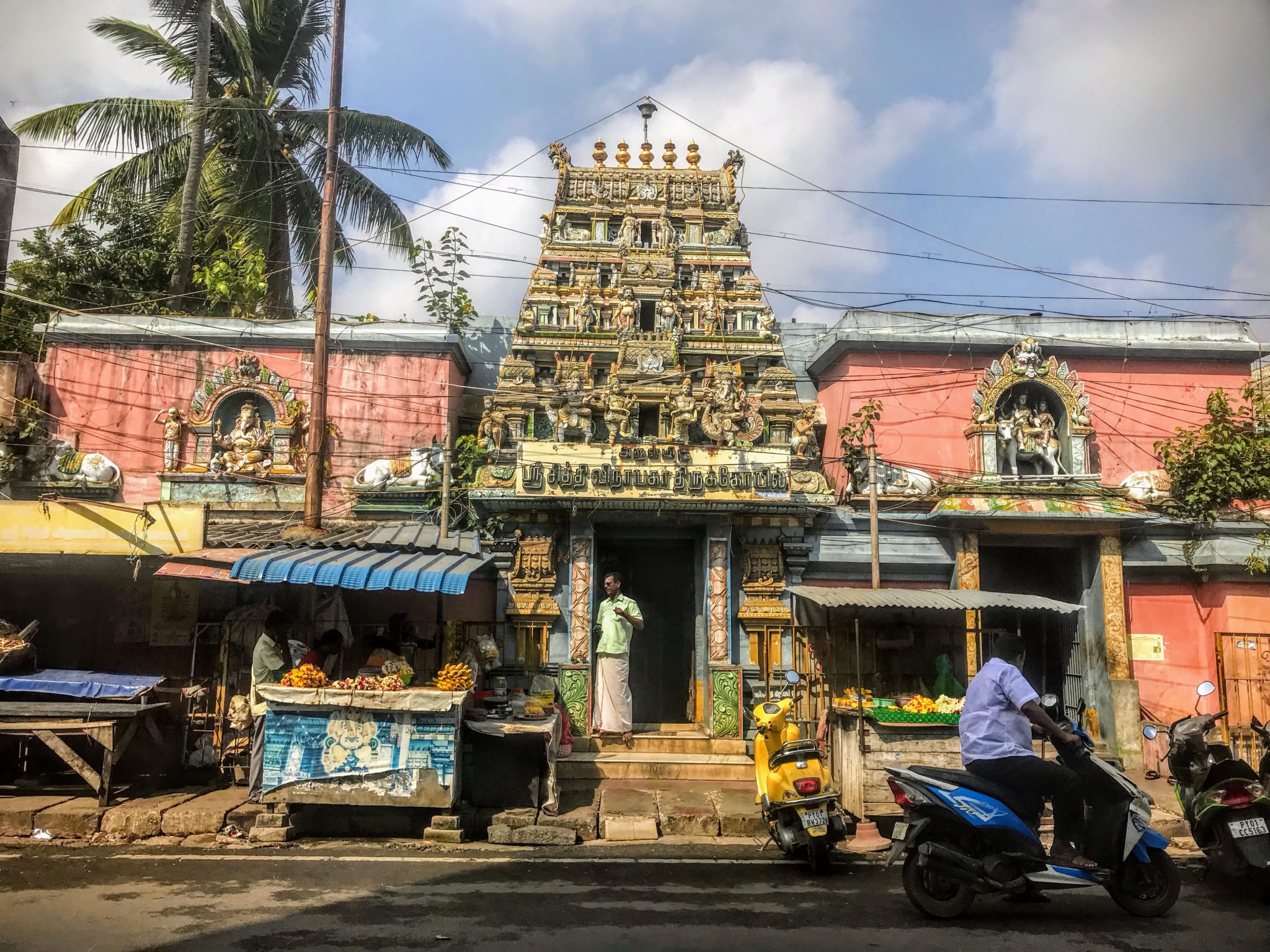 If you're more interested in Hindu temples then there are plenty of them around. I would avoid Arulmigu Manakula Vinayagar Temple as it has a captive working elephant that is forced to bless people for coins, and it is morally wrong dubious to have it there.
Price: All churches are free to visit but check opening times
8. Go to the beach
Pondy is the perfect base to enjoy the wild west coast, but be aware of strong currents and many are not suitable for swimming! The promenade has a beach but its very rocky so it's better to get out of town on a scooter or by tuk-tuk.
OSome of the best beaches are next to fishing villages like Serenity Beach to the North where this picture was taken or Paradise Beach to the South. Auroville also has its own beach complete with shops and cafes that gave off a real Goa vibe, bmut be warned that some areas are very polluted. Culture Trip has a guide to the 6 best beaches in Pondicherry.
It's also a great area for surfing with several schools dotted around, although some are only open for peak surf season which is May-September. Red Bull have information about recommended surf schools in Tamil Nadu, in Kovalam, Mahabalipuram and Auroville.
9. Feel the vibe in Auroville
Auroville is an international community of 2,500 people seeking an alternative way of place dedicated primarily to the ideals of peace, sustainability and divine consciousness. It calls itself the 'City of Dawn'.
You can get to Auroville by bus, tuk-tuk, taxi or scooter and it is about 12km from the centre of Pondy. We went on a scooter and parking for a two-wheeler is a mere 10 rupees. The route is clearly signposted once you're a view kilometres from the Auroville Information Centre where you start your visit.
Visiting Auroville
This map shows the layout of the centre of Auroville and it's actually much easier to visit than it seems. When you arrive, you just wander into the visitor centre which has some information about the community, then watch a short introductory film. After that, pick up your ticket for the Matrimandir viewing point at the door. Staff will point you in the direction of the golden sphere but its an easy and shady 1km walk, but there's an electric bus if you need transportation.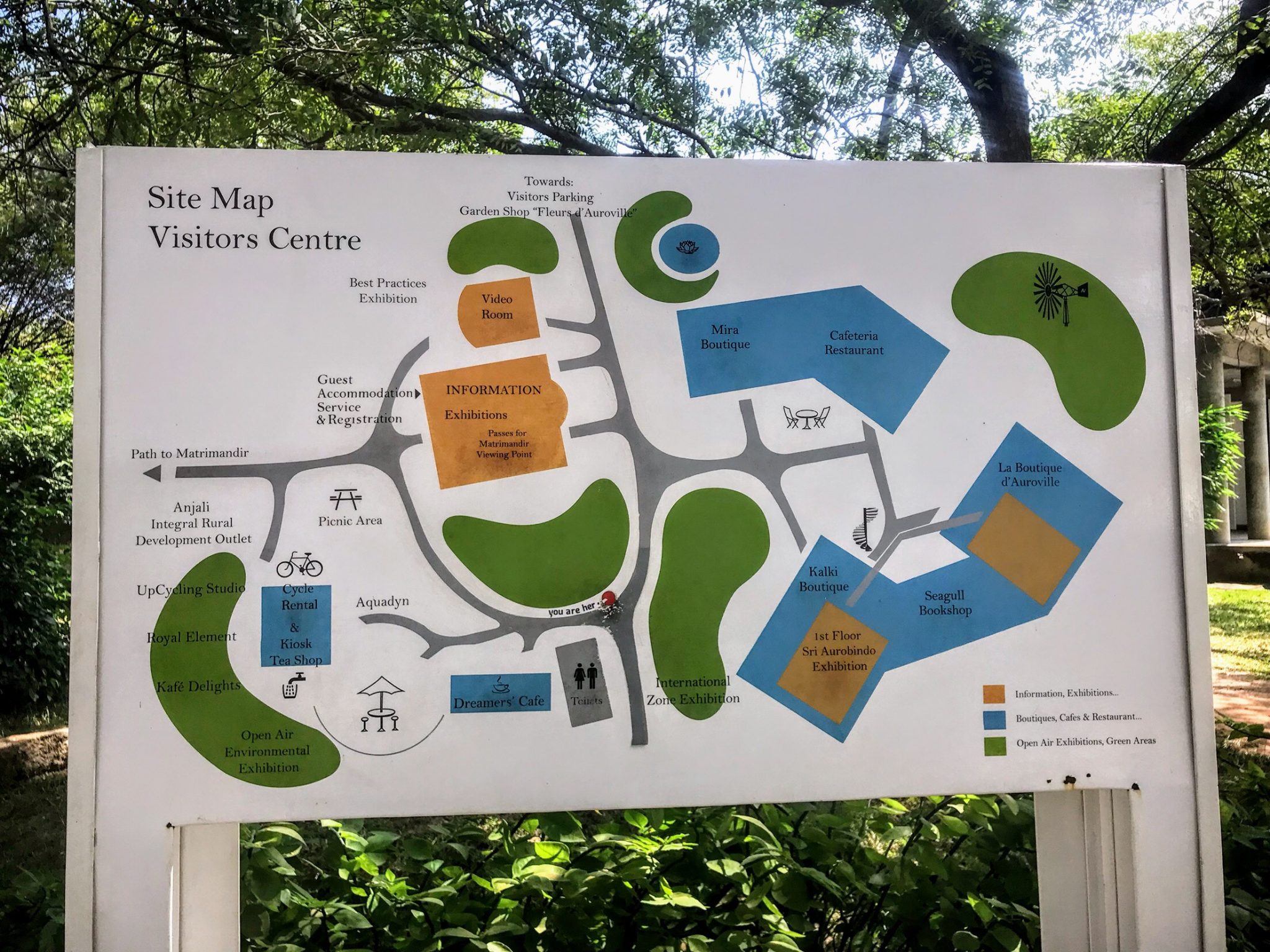 The most famous monument in Auroville is the Matrimandir, but if you want to join the morning meditation inside this globe then you need to pick up a ticket from the visitor's centre the day before. So you'll need to go twice as you can only do this in person.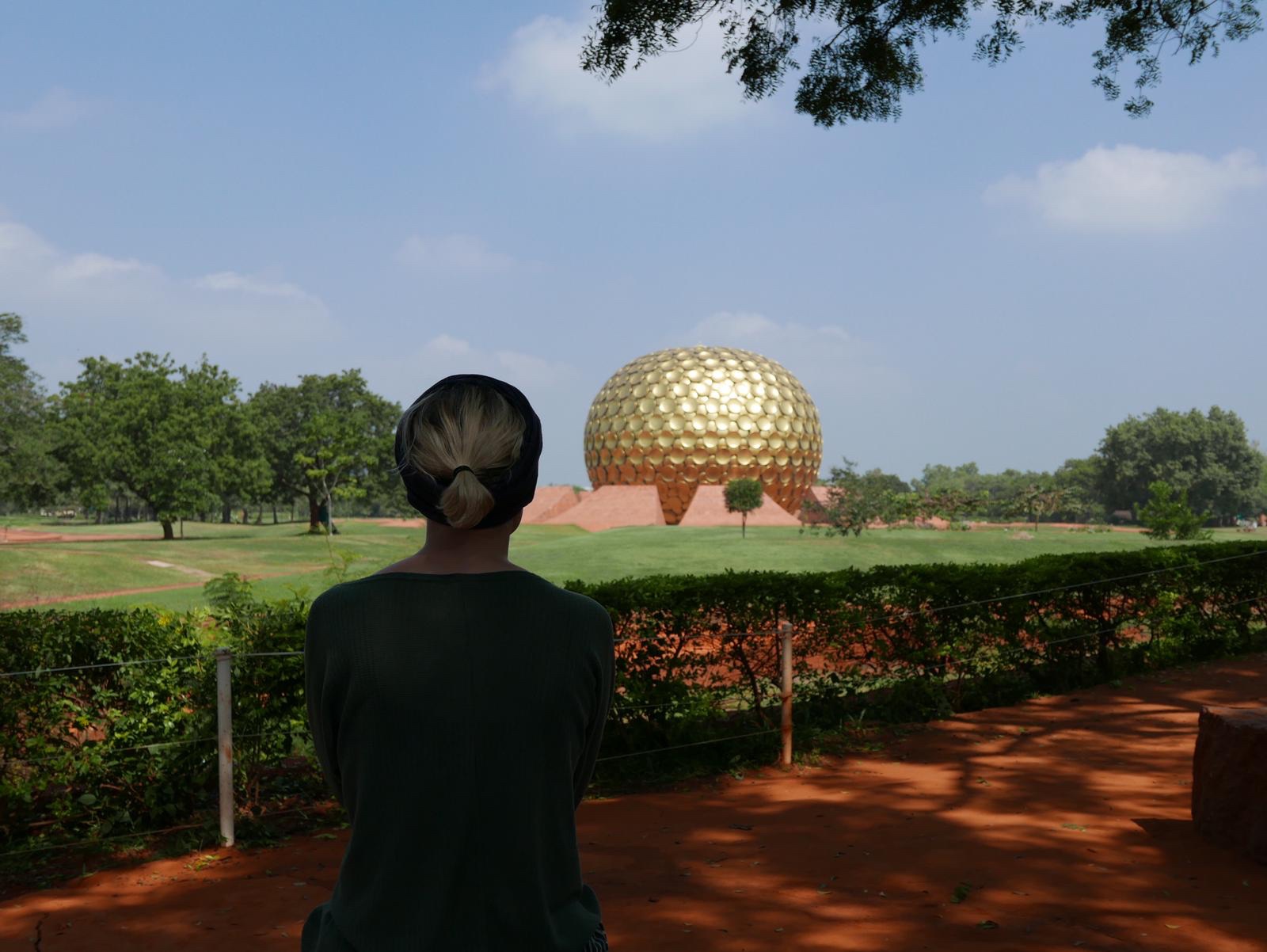 Auroville produces clean ionised water and invests in various projects to support the community in the area so while some aspects are a tad indulgent, there is an overarching goodness here.
Taste Auroville
It's easy to contribute by purchasing Auroville produce which includes organic ice cream (I recommend the cinnamon), flower juices (in glass bottles), soap, paper, incense, toys and various other paraphernalia.
If you want to feel this vibe in the form of an Ashram experience, then you can go on a retreat at the Sri Aurobindo Ashram in Pondicherry old town.
Overall, Pondicherry has fabulous cuisines, reasonable prices, beaches, history and spirituality all in a small and easy package, if you're in Tamil Nadu then I would definitely swing by.
Have you been to Pondicherry and/or Auroville? Would you love there and what were your favourite things to do?
Are you heading to Chennai? Check out my 7 Things to Do in Chennai blog!
Pin this for later: