If you always wanted to go to the Lost City of Atlantis but couldn't as it doesn't exist then The Lost City is a very good bet. It takes six days and it is a slightly edgier and considerably lower altitude version of Macchu Picchu.
It's edgy because it used to be a FARC stronghold and the army is still present there today, there used to be a live demonstration of cocaine production but that has come to an end now that Colombia is cleaning up its reputation.
In Rio I saw a television advert for Colombia which proclaimed that 'the only risk is you won't want to leave', I absolutely loved it and decided that it was definitely on my itinerary from that day on, plus the rave reviews that you will certainly hear from fellow travellers. The trek always gets a regular mention in those accolades.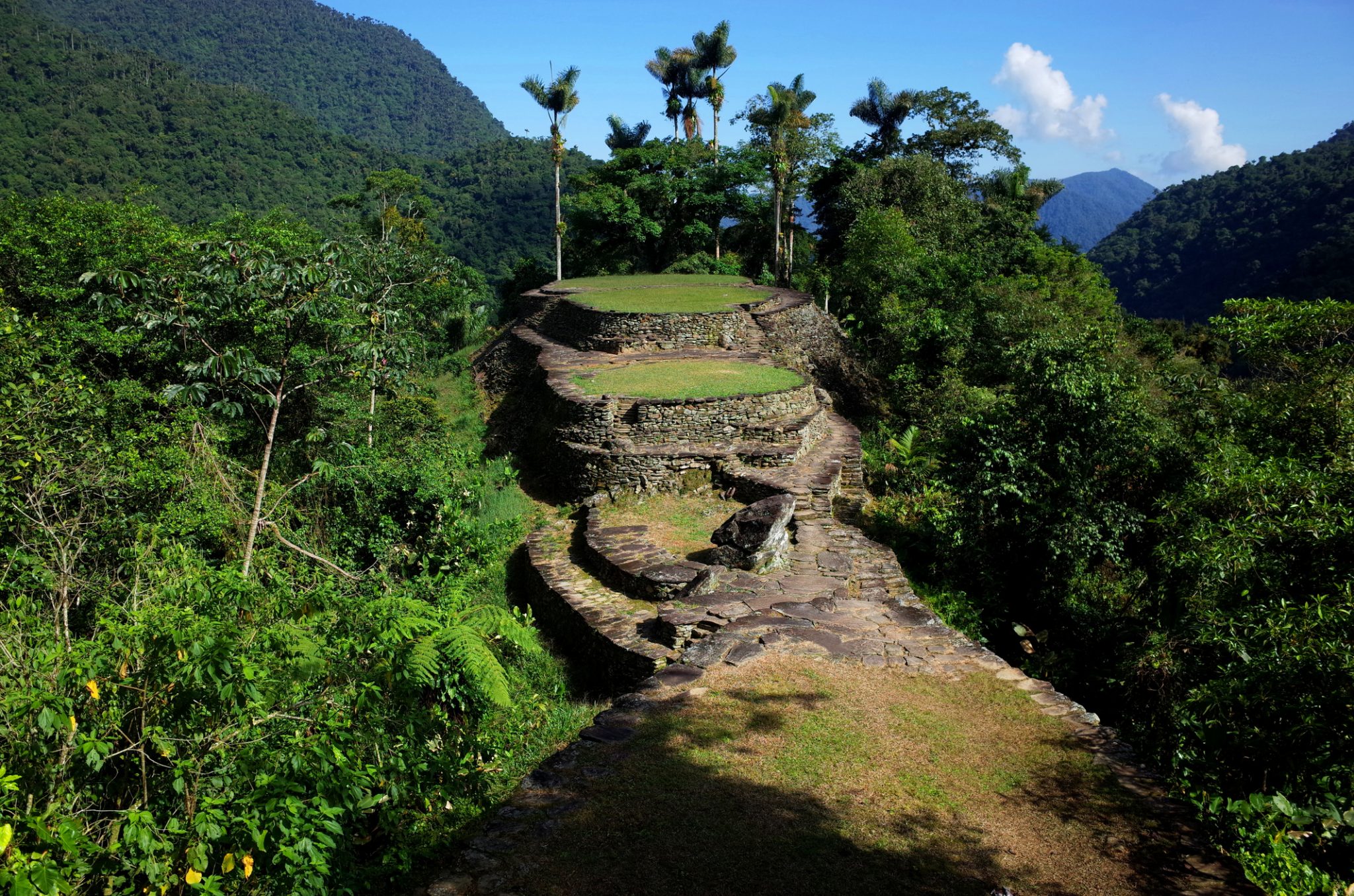 Ciudad Perdida history
The Lost City of the Sierra Nevada is actually older than Macchu Picchu by 650 years as it was actually built in 800AD. It was discovered by looters in 1972 who found the stone steps by the river and followed them to the city. The treasures of the city were making a regular appearance on the black market and the site was made official in 1975. The thieves bizarrely named it 'green hell' and 'wide set', presumably they didn't realise the real green was to be made decades later by the tourist trade which has made their black market quick sells paltry in comparison.
Indigenous tribes
The indigenous tribes of the region were aware of the archaeological site but kept quiet about it for obvious reasons as it has subsequently been overrun by looters, drug gangs and tourists. It has real significance to them as it was built by their ancestors the Tairona, who were forced to evacuate during the Spanish conquest. To reclaim the ruins for yourself and your fellow tribespeople must have been a wonderful thing for the duration of the time that they had private access to it.
The city was quite a hub for the region at the time and was home to 2,000 to 6,000 people, who they laid 1,200 steps from the river up a steep hill to ensure their privacy. Nowadays the jungle is much less dense so it is much easier to find than it would have been years ago.
Armed conflict
During the armed conflict in the area, there were several parties at war in the area, The Colombian National Army, right-wing paramilitary groups as well as left-wing guerillas like the National Liberation Army (ELN) along with the Revolutionary Armed Forces of Colombia (FARC). All travellers tell the tale of the infamous 2003 tourist kidnapping but who was responsible? It was the ELN who kept the travellers for 3 months and in return for their hostages they wanted the government to investigate human rights abuses. I actually met someone in Australia who knew one of the hostages, it's a small world.
The Global Heritage Fund is currently working to preserve the historical site and would like the indigenous communities to be major stakeholders in the project. According to my guidebook, there was only one operator doing the tour so I went with them, this is no longer the case as we saw several different tour companies on that route. You are likely to be sharing lodgings with another group and you will frequently pass other tourists.  This is not good news for the indigenous people who live next to the pathway.
Compared to the Inca Trail
It was a lot easier than the Inca Trail and there was a bit of up and down but it is a path well-trodden. The most difficult thing to deal with is the heat as we got pretty sweaty. There were showers in most places we stayed and we slept in hammocks apart from the last day in the hut at the lost city itself.
Overall, it wasn't as hardcore as you might think plus there is Gatorade being sold every few miles if you get that knackered. There are a few river crossings so it is useful to take sandals but I wouldn't be surprised if they put some bridges or walkways in. The trek from start to finish is only about 15 miles but it takes 5 days as you have to get there and back by coming back the way you came. The most hours that you will walk in a day are six which is good as it gives you lots of time for socialising, swimming, eating and sleeping.
First day
On the first day, we drove to the starting point and ate some food for sustenance whilst doing the getting-to-know-yous. We didn't walk for very long before stopping at a river for a swim. I didn't go in as I felt like I looked terrible and I just wanted to get the walk done for the day. That night we stayed in a family's house in hammocks slung from the roof outside.
I had a secret cigarette as I didn't think anyone would be smoking on a jungle trek but then everyone started bumming them off me as they were gutted they didn't bring any. Classic backpackers. As I was standing on the outside level I could see parrots through the trees, they also had a white and brown kitten that I loved. I took a photo of the old man on his rocking chair next to the doorway and it looked like a painting.
Second and third day
The second day was good as the campsite was pretty nice and it was in a great location next to the river so we all went swimming. I was super paranoid about being in my bikini so I legged it into the water which just made me look more obviously self-conscious. At the time I thought that the Dutch girls had much better bodies than me and I felt like I looked awful.
On the third day, there are lots of river crossings and we saw a scorpion, I was surprised that we didn't see more nature. I'm sure that is has learnt to stay away from people as the jungle is an easy people to hide, especially with noisy backpackers like us.
Getting into the trek
The various campsites were great as we all socialised and played games. I had become friends with Sarah who was Texan but not the redneck kind. She was travelling with her friend Joe. There was also an English couple and a Finnish woman travelling alone called Jonna. There was a gaggle of attractive Dutch people and an American guy who'd been adopted into their group.
We all had a great time and it was great to finally see The Lost City after hearing so much about from other backpackers on the trip. Even though we slept in a bunkhouse with quite a few backpackers, it somehow felt more exclusive than Machu Picchu. I'm sure that is not the case now.
The lost city
It is probably an unfair comparison as the geography and heritage is different. The lost city feels very undiscovered and it was overgrown with jungle plants and there was much less to see than MP which is so well preserved at such high altitude. One couple and I don't know who as it was pitch black had sex at the city in the bunkhouse, it was such a flimsy structure that it was basically rocking. Fair play to them but I'm sure they could have found somewhere more discreet.
After we got back from the trek it was time for some well-deserved R&R so we all headed to Taganga which is a beach community close to Santa Marta.