Sukhothai is a lovely place to visit if you're in the North of Thailand as it makes a great stopover on the way from Chiang Mai to Bangkok, or vice versa. You can also do it very cheaply by following this advice if you're on a budget.
We went during the dry season which meant that we got really good deals on accommodation but it was hot! I recommend staying near the ruins as that's where most of the accommodation is and you're close to the ruins.
We got a good deal on the Vieng Tawan guesthouse which had a nice pool but breakfast was expensive. To check out reviews and find deals then have a look on TripAdvisor below:
This post may contain affiliate links
When you arrive at Sukhothai bus station, you're 12km away from the ruins so you need to get a bus from platform 1 to the historical park. It costs 30 baht and a private tuk-tuk costs 150 baht.
There are loads of cheap eateries, supermarkets, cash machines and bike hire places near the historical park as well as hostels so you have everything you need here.
Bike hire costs 50 baht for the day and they'll give you a lock to secure it so it doesn't get stolen. It can get really hot, especially in the dry season so make sure to take a hat and suncream.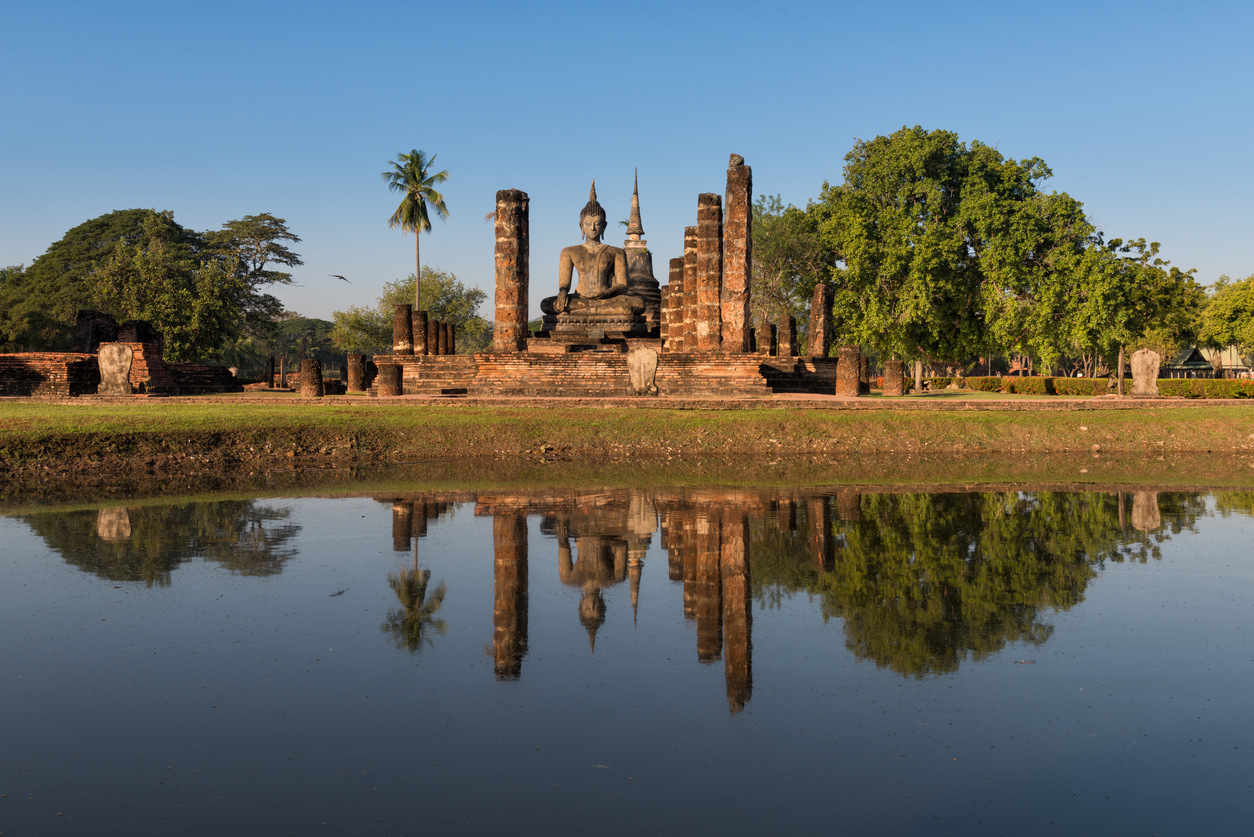 Sukhothai history
Ancient Sukhothai is part of a group of three historical towns, which also includes Si Satchanalai and Kamphaeng Phet.
Sukhothai was important as it was the political and administrative capital of the first Kingdom of Siam in the 13th and 15th centuries. Si Satchanalai was known as the spiritual centre as it had many temples and Buddhist monasteries as well as ceramic exports. Kamphaeng Phet, was a military town to protect from foreign intruders and provide security for Siam's vital trading network.
This threesome shared infrastructure like their water resources, and linked by the Thanon Phra Ruang highway that was named after the king. They also shared an alphabet, legal system and an architectural style.
Here are the 7 ruins that I recommend seeing on a bicycle, starting with the Sukhothai historical park which was the most and costs 100 baht entry. If you want to go into all the ruins then you need to get a combined ticket for 350 baht.
To do it on a budget, I recommend paying to go to the historical park and then cycling round to see what other ruins you can see for free.
1. Wat Mahathat
This is a great place to start, as it's the most important royal temple of the kingdom. It's also the biggest and looks beautiful at the sunset.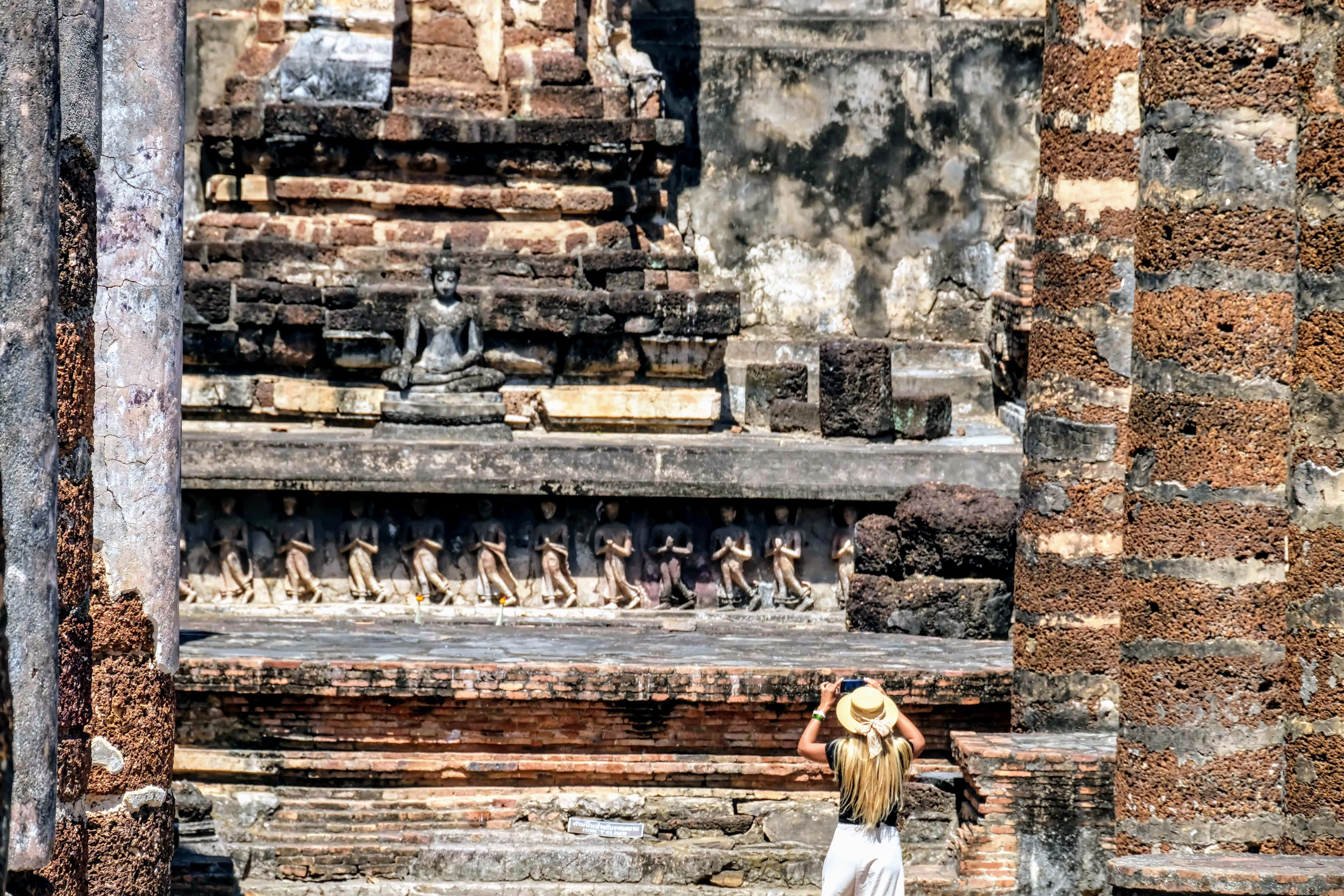 2. Wat Sa Si
To the right of Mahathat, is Wat Sa Si, which is on a lake island and has a famous statue of Buddha who looks like he's walking.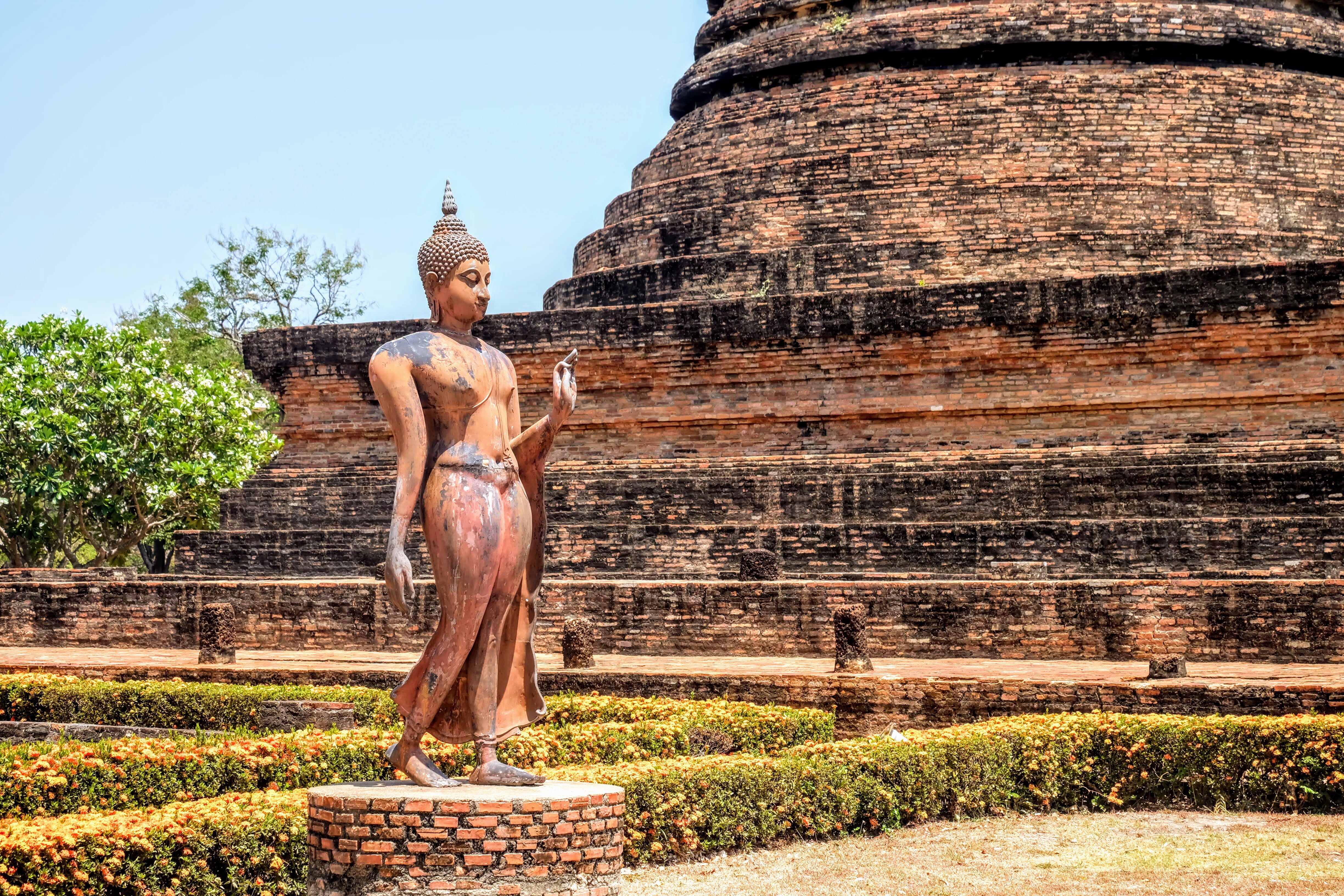 3. Wat Si Sawai
To the left of Mahathat, and also still in the historical park, is Wat Si Sawai which is a Khmer-style temple with 3 prangs. The Cambodian influence in the park is due to the war in the 12th century so it may remind you of Angkor Wat.
4. Wat Phra Phai Luang
If you exit right out (west) of the main historical park, you will come across Wat Phra Phai Luang. This is a big sight that you pay to get in, but you can see it from the road as it used to be the main administration centre. It is also Khmer-style but bigger than Si Sawai, only one of the prangs was actually completed.
5. Wat Si Chum
If you keep going along the road, you will see various ruins along the way and you'll come across Wat Si Chum. This big Buddha statue comes with a legend as when the Burmese Army attacked, they thought Buddha told them to leave. It was actually Sukhothai soldiers hiding behind Buddha who were speaking to them. I'll leave it up to you whether you believe that to be true or not.
6. Wat Saphaan Hin
If you go north from the historical park, you will find the Wat Saphaan Hin with a Buddha on the small hill, which is supposed to be a good spot for sunrise. It's about 3km from the park but the view is not quite as good in the dry season when it's not as green.
7. Wat Chetuphon
If you want to go full circle, you can cycle past the historical park, straight along the road and you'll come across Wat Chetuphon which is free to visit! Buddha has lost his head but you might well have the place to yourself. Opposite is Wat Chedi Si Hon that is decorated with elephants and another Buddha statue.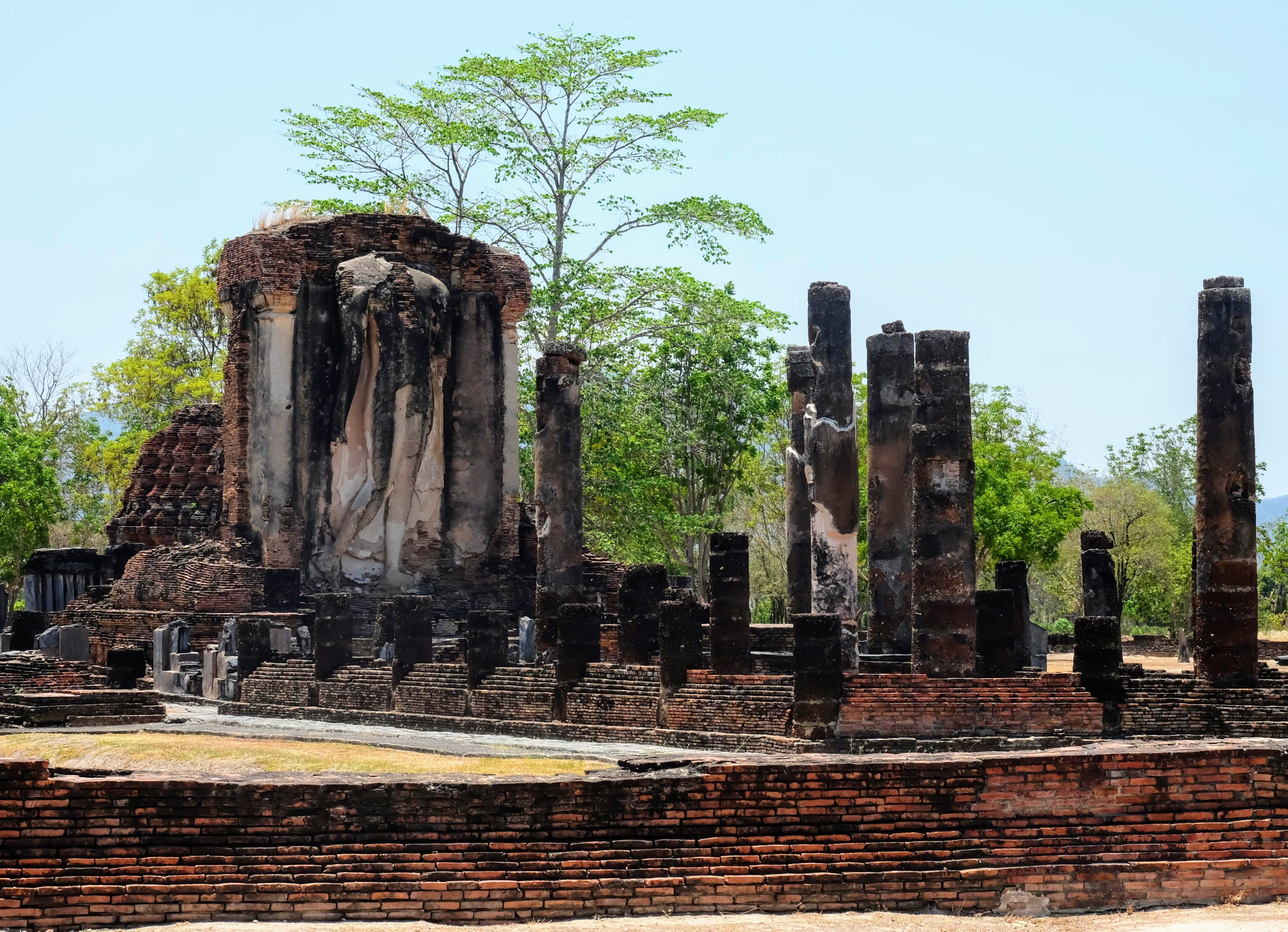 There are quite a few ponds around the ruins so look out for the Asian openbill storks, kingfishers, drongoes, hoopoe and herons that live here. When the lotuses are in bloom, from December to February, the ponds are extra beautiful.
If you want to know more about the history, there is the Ramkhamhaeng National Museum near the entrance of the historical park. It costs 150 baht for a foreigner.
Sukhothai's lovely setting distinguishes it from Ayutthaya which is a bigger ancient site but inside a city. It's a lovely low-key place to visit in North Thailand and a nice stopover on the way from Bangkok to Chiang Mai if you love history. As a bonus, it's quite cheap and you can see quite a lot for $10-15 for tickets, bike hire and snacks.
Pin this for later: