I could write you a travel guide all about the things to do in Varanasi but I've seen so many travel blogs that varnish over the truth of backpacking in North India that I thought it would be better to be totally honest.
Instead, I'll just tell you about everything that happened to me while I was here for three days and what it was really like to be a female traveller navigating India's most fascinating city. Here is the good, the bad and the ugly about visiting the fascinating city of Varanasi.
I want to begin with the ugly, so this is not in chronological order and I've ordered it by how it made me feel. At this point, I'd been travelling with my boyfriend in India for just over 3 months. We'd been from the North to South of India, as well as the neighbouring South Asian countries of Nepal, the Maldives and Sri Lanka.
We were not newbies by any stretch of the imagination and Varanasi was one of our last stops before we left India for Bangladesh, as we didn't want to leave without coming here.
THE UGLY
In many ways the ugly was a much more intense version of everything we'd experienced in India so far, more clicks, more chaos, more cultural clashes and so much more colour.
Despite the religious significance of Varanasi, it's open air rituals and the abundance of holy people, there was still fascination about seeing a blonde-haired white woman.
My entire route along the ghats was caught on film by the phones of Indian men who had no qualms about capturing me doing basically nothing. I was filmed standing up, sitting down and walking for reasons I'll never understand. Hardly scintillating stuff and all of it was without my consent, which clearly wasn't deemed necessary. It was intrusive and exhausting. My boyfriend actually managed to take this picture of a guy trying to sneak a selfie with us.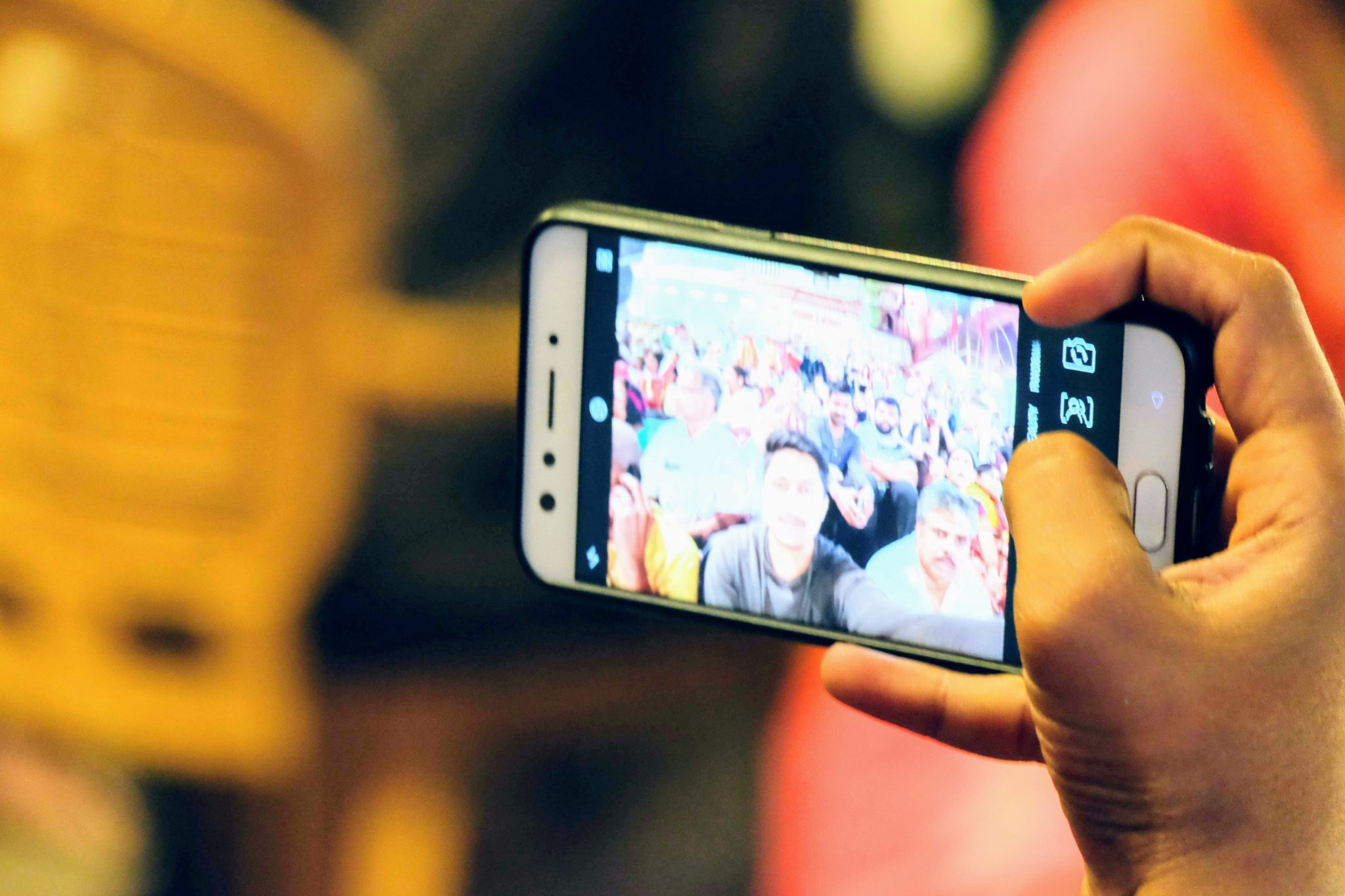 Another intensified experience was that both of us were shouted at by men, from young to old and without a logical reason. Again, we'd experienced this before, but Varanasi brought this have-a-go attitude to a new level.
My boyfriend was shouted at by several men for telling a young boy to take a polythene bag off his head so he wouldn't suffocate. The boy was wandering the streets and I know that fatalism is part of the cultural identity, but we couldn't let that slide.
Monkey with a skull
Later on, my boyfriend was shouted at by a boy for taking a picture of a dog with a monkey skull down at the ghats. It was tiny with fangs and definitely a monkey so there is no discernible reason why this would be a problem. That evening I was shouted at by a boy for taking a picture of a wedding cart, again with no people in the picture. It's worth noting that Indian people are prolific photographers to the point that their country accounts for more selfie deaths than any other.
I was shouted at again the next day for not putting my cup in the right place in the Blue Lassi shop. As it was made from pottery I assumed it needed to be washed and the man got unreasonably wound up when I didn't realise that it was supposed to be thrown away. Incidentally, I'm not sure why they don't wash the cups as it is such a waste of money and clay, some of which comes all the way from Gujarat.
Regardless, it was the most times that the pair of us have been shouted at in any city in any country in the world so Varanasi certainly holds the crown for vocal disagreement.
THE BAD
There are a lot of stray dogs in Varanasi, and most are in a right old state. India is known for its stray dog problem but Varanasi had an enormous amount compared to other cities we'd seen. Down at the ghats, it was like it was raining puppies as every step had a young resident sleeping in the sun. We came across this mother dog whose nips were taking a beating from several generations of hungry pups.
Apart from the stray animals there was the hassle of people trying to get you into their boat and it gets very old, very quickly. Even in restaurants you're not immune from extortion as we ate dinner at a place opposite Brown Bread Bakery where there was live music consisting of two drummers. We only caught the end of it and then the other tourists starting leaving when the musician's friend starting asking if we were going to tip them.
We were eating our meal so we didn't really know, but as we were on the top floor there was no escape and people had scarpered. We were trying to eat but effectively at the mercy of the increasingly-irate drummers demanding money. We gave half of what they asked as we hadn't seen much and they shouted at me as I left down the stairs. Forced tipping has happened to us in India before but this was the first time it has happened in such a confined space! The aggression can certainly be intimidating at times and I think I would have struggled had I been on my own.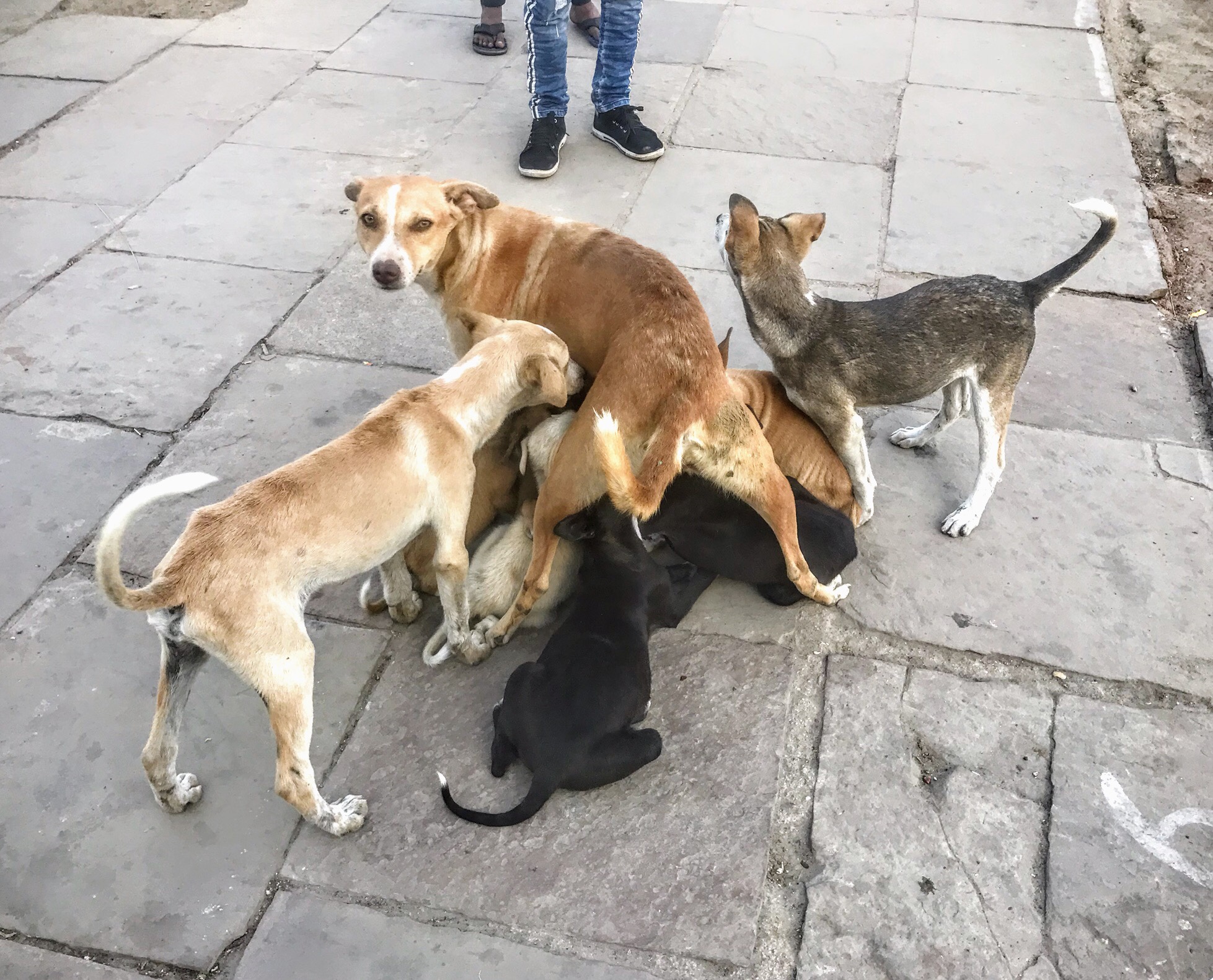 THE GOOD
The Lonely Planet describes Varanasi as the 'India of your imagination' and I wholeheartedly agree with this statement. Down by the ghats it is pure hustle and I say that in the nicest possible way as I love hustle and people-watching. The Varanasi ghats are people-watching paradise and the Ganges is really at its most revealing at dusk and dawn.
Funerals are the reason that so many people come here and it seems odd to put that under the 'good' heading but there's something important about acknowledging the realities of death as a Westerner.
It isn't the first place where we've seen open air funerals but it is the most confronting. You can be drinking lassi in a cafe and see the colourfully bound bodies bouncing past atop the shoulders of porters. There is no turning away from it.
Varanasi is an old city and it is so sacred that it has a high concentration of the so-called holy men. Again, it wasn't the first time we'd seen holy men, but it was the most confronting. Many are naked and they cover themselves with white dust, attach bells to their penises and wrap their dicks around sticks so that their mates can balance on them for donations. Some wear elaborately decorated hats covered in Hindu deities, suns and marigolds to help them stand out from the crowd.
Holy men
The holy men are known as sadhus and declared legally dead after attending their own funerals, so Varanasi is the obvious place for them to pitch their very literal tents. There are many different types of sadhu and perhaps the most difficult to understand are the aghoris, who cover themselves in ashes of the dead, drink blood from corpses and craft things from human bones.
Some people choose to sit in tents with the holy men, but I didn't, as some of them are disguised criminals or so high that they are impossible to understand. One sadhu hit me on the head with a peacock feather stick and shouted 'money' before collapsing into hysterics. You better believe he managed to get me on the way back as well. This all falls under the 'good' section because it's undeniably uncomfortable yet fascinating.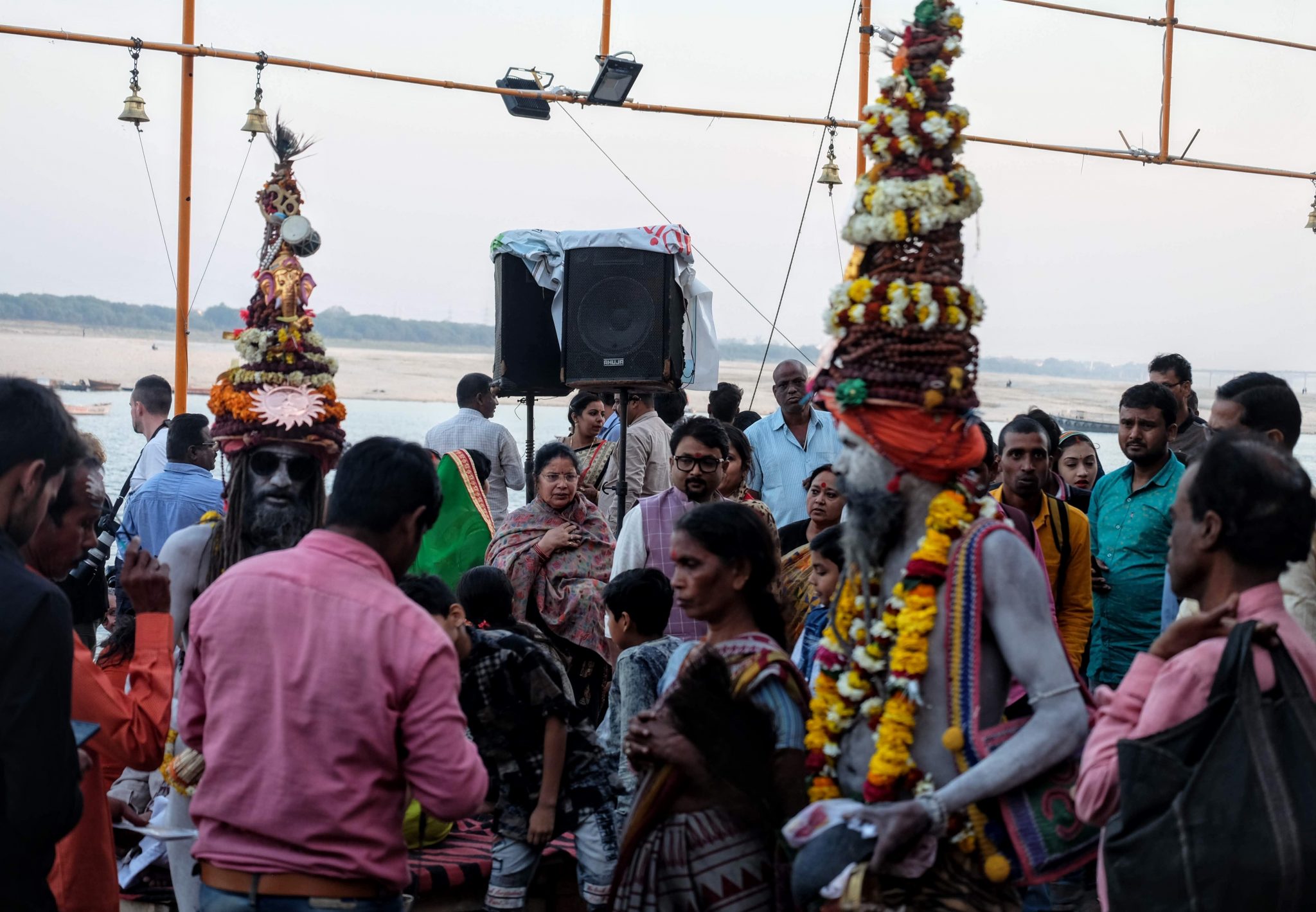 If you want to see some true Hinduism, then it's on offer during the nightly Dashashwamedh Ghat aarti. The aarti is essentially singing, lights and smoke which is part of puja where the light is offered to the gods. This wasn't our first aarti, but it was the only one where people stood in front of us and snapped selfies every few minutes. It definitely felt bigger and more celebratory than the other times that we'd swayed along with the pilgrims in a holy place.
Blue Lassi shop
As we draw towards the end of our journey, I wanted to give an honourable mention to the Blue Lassi shop, as despite the hostile service, the lassi was the best we had in India. I had strawberry and coconut which was a work of art and they deserve kudos for that.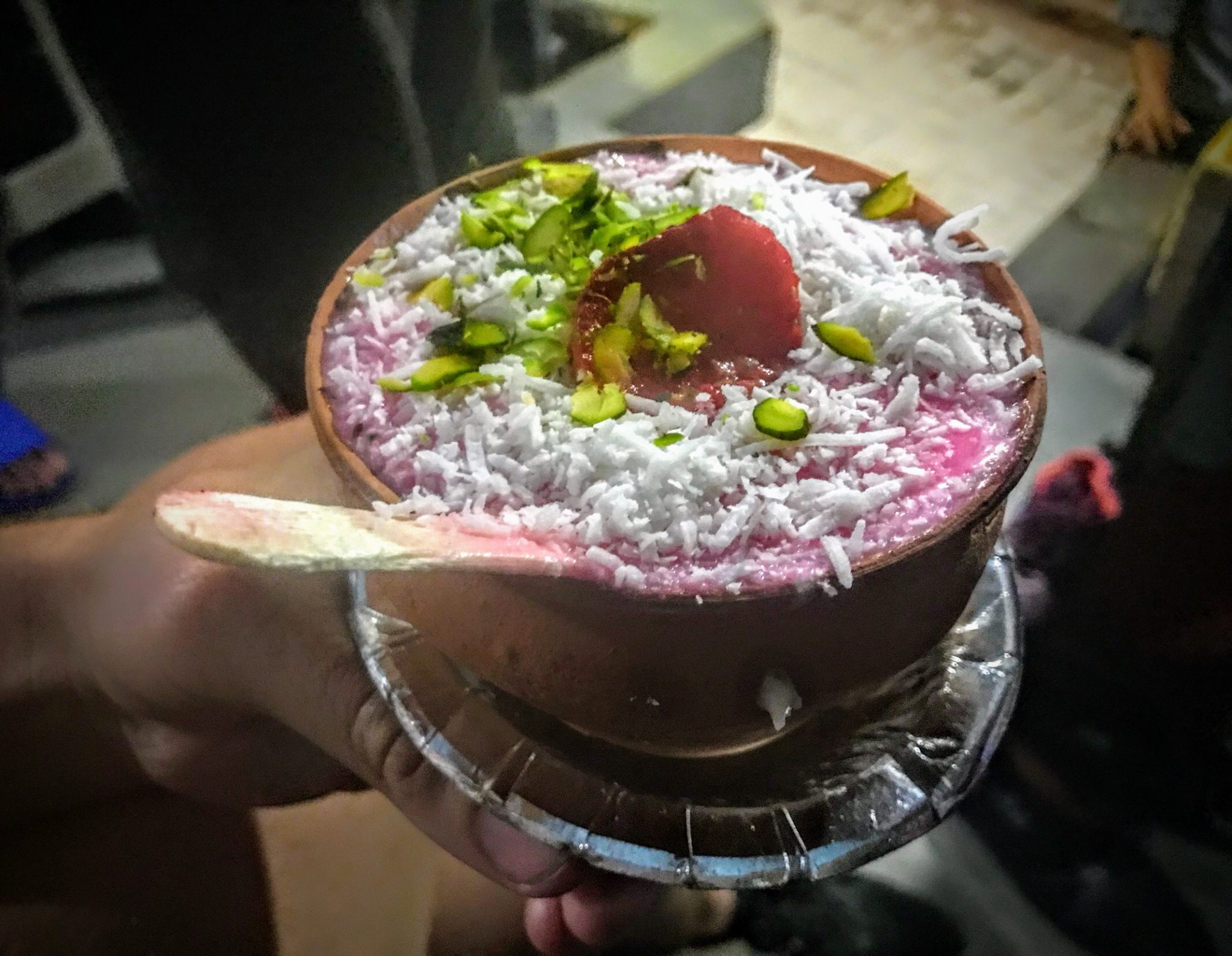 The absolute best way to admire Varanasi is by boat or from above and for a bird's eye view on the ghats then you can go to the Dolphin Cafe. If you do you may well be greeted by a little owl in the door next door. This was one of my highlights of Varanasi and I loved the absolute innocence of this juvenile little owl compared to the chaos around it. It was safe in its tree for now being fed by its mother, but one day it will need to fly over those burning ghats to find itself a home.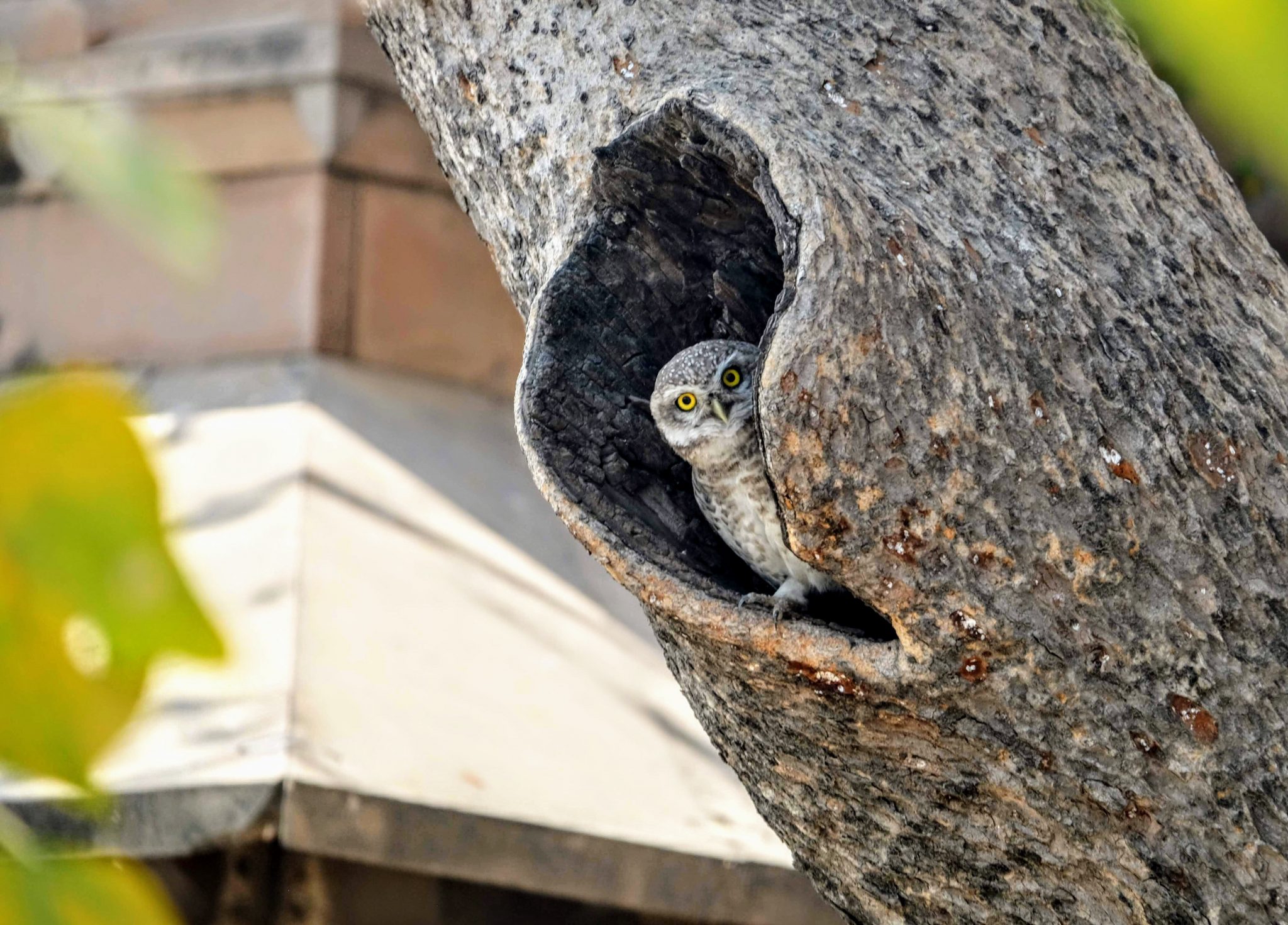 Visiting Varanasi
I recommend visiting Varanasi, because despite all the problems, this is India. This is India with all its elements and baring its soul in every which way. The problems here are India's problems and its highlights are India's highlights. Like much of India, if you're a man you will have a better time.
If you're a foreigner then you will likely be harassed. If you like animals then they're everywhere. If you're scared of death then you will feel afraid. If you enjoy a celebration then you will feel fulfilled. And finally, if you enjoy naked men who can do bizarre things with their penises then this is your paradise. Get on that plane.
But what did YOU think of Varanasi? Snog, marry or avoid? Let me know in the comments below as a story about India is like no other.
Pin this for later: