When you get to Kerala, you will see photographs of brightly coloured performers in voluptuous and ornate outfits, but where can you see it, what does it mean and what are its historical origins?
Watching a traditional Kathakali show was one of the best experiences that I had in South India when I went to a performance in Fort Kochi in Kerala.
Kathakali originated in Kerala, hence why it is so important here, and the best places to see it are Kochi (Ernakulam), Kumily (Thekkady), Munnar and Trivandrum (Thiruvananthapuram).
What is Kathakali?
Kathakali is a form of Indian classical dance that evolved over 300 years ago and thought to be inspired by the Sanskrit dance of Kutiyattam which is performed in Hindu temples and is now UNESCO listed and one of India's oldest living dance forms. The thing that distinguishes it from storytelling dance elsewhere in India is the elaborate makeup and costumes.
The first part of Kathakali that you will get to see if you arrive early is the face painting that many performers do onstage so that audiences can see it. Some of the makeup they do themselves but they have someone to help them with the trickier bits when pieces need to be glued onto their faces. After I took this picture, one of these performers actually fell asleep while laid down and having his chin piece fitted by their makeup assistant who is on the lefthand side!
Kathakali makeup
This makeup or 'vesham' is divided into five types which all mean different things. Pacha (green) represents nobility, kathi means knife for a villain, thadi means beard and there are several types to represent different characters, kari (black) is used for she-demons and minukku is for female characters.
Before the show begins, there are certain rituals that take place, so lamps are lit, rangolis are made on the floor and performers put their hands together before they start so it does have a definite spirituality to it.
The stories that they tell can change nightly and are slightly different everywhere you go but most theatres allow you to take photographs. This is great until an overenthusiastic photographer actually gets onstage and has to be told to get off!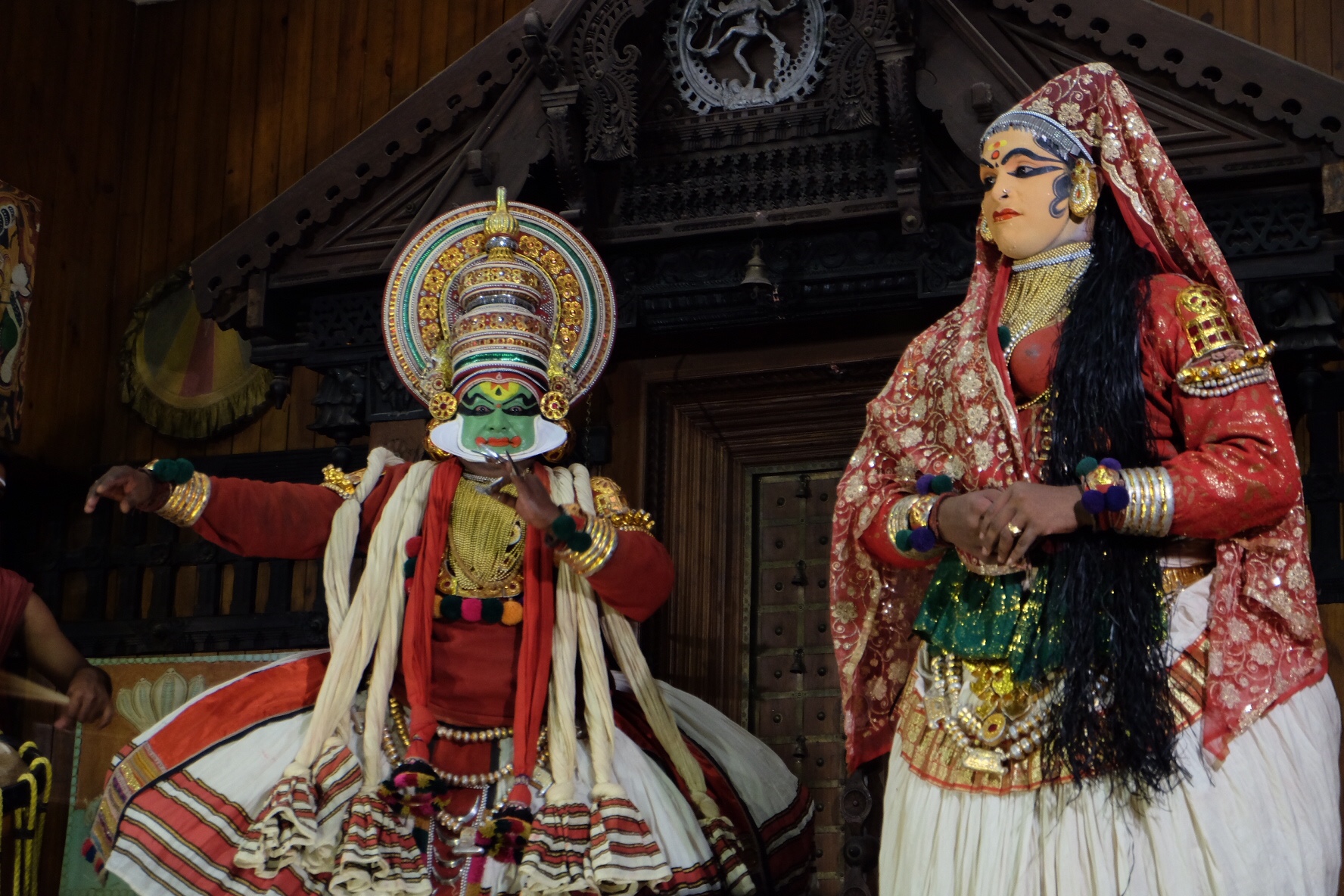 While the makeup in itself is spectacular, you haven't seen anything until you witness the incredibly ornamental costumes that are worn by the performers. This involves the kireetam which is the highly-decorated headgear, the kanchukam which are the beautiful jackets and the voluptuous skirts worn over padding to make them larger-than-life.
Kathakali costumes
These heavy costumes and makeup mean that you have to be dedicated in order to make it in the Kathakali business. Learning the art of Kathakali is an arduous task as students are expected to rise at 3.30am to lubricant their eyes with ghee (butter) which is meant to help with the dramatic expressions that are so important for the actors to perform.
They also endure painful guru-shishya massages to keep them supple as well as a physically-demanding exercise regime and a required method of breathing. This training can go on for 12 years until a Kathakali performer is ready for their first job.
Kathakali sign language
Once the stage is ready, a person acts as a narrator and explains what the performer is doing and what that translates to in the show, you also get a piece of paper in your language which explains the story for you.  The actual show runs for about one hour after makeup and explanations.
There is a certain subtlety to the language of Kathakali despite the grandiose costumes, and this is because the actors use mudra which is a performative version of sign language. These systematic gestures allow the performers to communicate ideas, scenarios and their emotions in a way which is based on Hastalakshana Deepika gestures.
What struck me was how much the performers use their eyes to convey things along to the beats of the drum. They also use Chundappoo (Chunda flower) seeds to make their eyes really red and add to the drama of it all.
Kathakali music
Music is absolutely essential in Kathakali as performers use the beat for the rhythm of their stories. The musical accompaniment is made up from the maddalam and chenda drums, the chengila gong and the ilathalam (cymbals). The drum players I watched were very intense and serious about their work, as you can see from the picture below!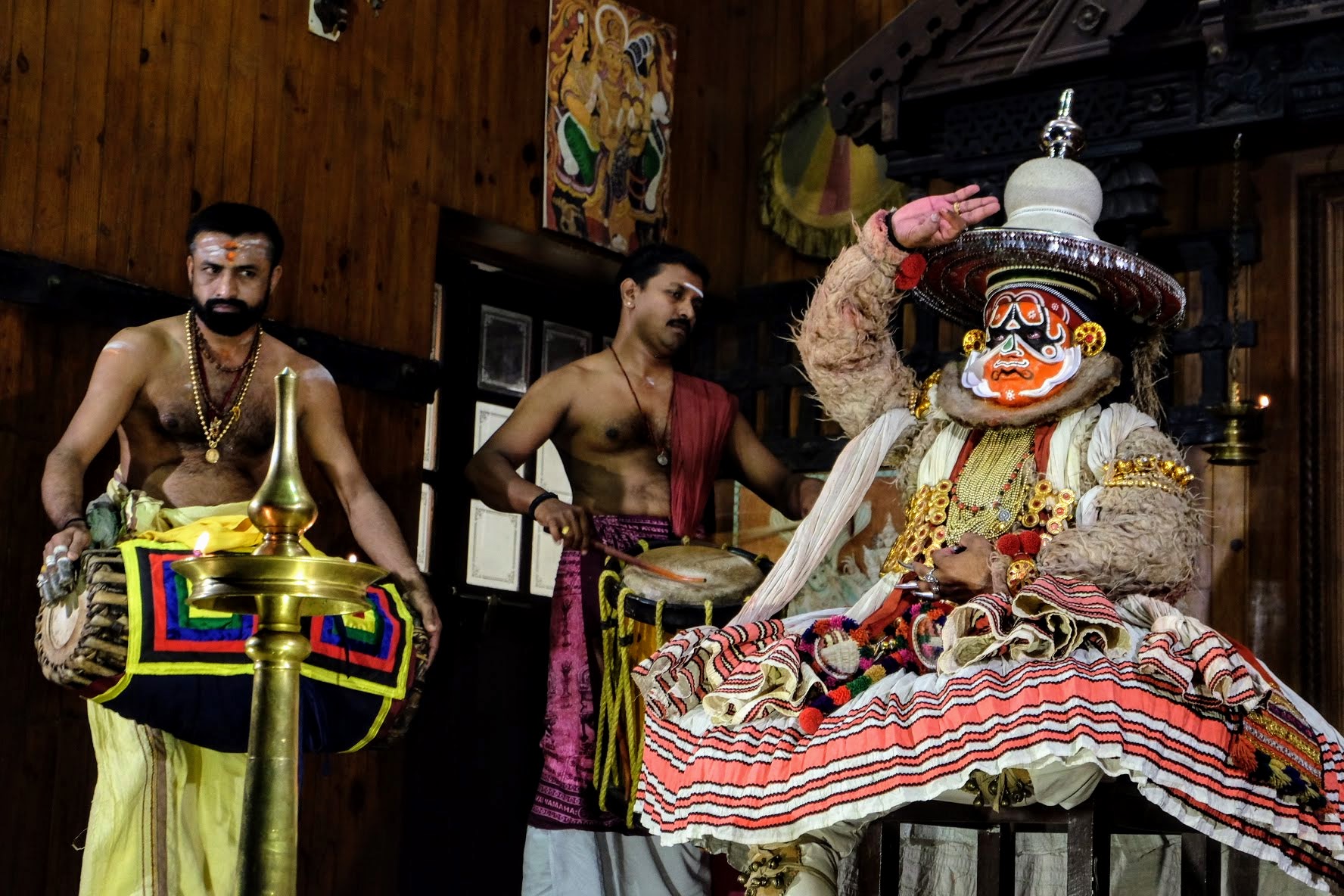 The story that I watched was called Mahabharata and it was about Bhima and Panchali (the queen of the pandavas) and it starts when Panchali asks Bhima to bring her a flower. Bhima disturbs Hanuman in the forest so Hanuman decides to disguise himself as an old monkey to test his brother. Bhima's search for the flower leads him to Hanuman who pledges to help him in the battle of the Kauravas and he leaves with his blessing.
The female role (in this case Panchali) is usually played by a man and Kathakali, like many professions in India is completely male-dominated. This is starting to change, and women are claiming more roles for themselves in Kerala.
If you want to see a Kathakali show in Kerala for yourself, it usually costs 300-400 rupees so it is a cheap night out.
Places to watch Kathakali in Kerala
Kochi (Ernakulam) – Kerala Kathakali Centre, KB Jacob Rd, Fort Nagar, Fort Kochi, Kochi, Kerala 682001, India
Kumily (Thekkady) – Kadathanadan Kalari & Navarasa Kathakali. Address: Periyar Kumily Thekkady Road, Thekkady 685509, India
Munnar – Punarjani Traditional Village. Address: 2nd Mile Pallivasal, Munnar 685565, India.
Trivandrum (Thiruvananthapuram) – Margi Theatre, Near Fort, Thiruvananthapuram
Tel:91-471-2478806, 2473349, 9847099941.
Watching a Kathakali show is so unique that I think it is definitely one of the best experiences that I had in South India. Now that I know the dedication that the performers need to go through such arduous training, I have even more respect for this art form and I hope to return to see women are performing in their own roles.
Have you been to watch a Kathakali show in Kerala? What did you think of this vivid and highly decorative form of storytelling? Let me know in the comments below!
Pin this for later: