Whether you're getting engaged or planning a proposal, it's never been easier to buy a beautiful and ethically sourced engagement ring.
Ethical jewellery means that the piece has been sourced and produced in a way that is ethical and legal. This means that neither people nor the planet has suffered in the making of it. In a world where poisonous and dangerous mines and slave labour are employed to extract precious stones and metal from the ground, it is socially and morally unacceptable to wear a blood diamond.
Buying ethical doesn't necessarily mean compromising on quality, nor does it mean that you have to spend more money either. I don't believe that engagement rings have to be expensive to be stunning, especially as my own cost £275 and is made from recycled silver and a lab gem.
In this post, I've rounded up 11 exquisite ethically made rings, all produced by small sellers using fairly traded and recycled materials.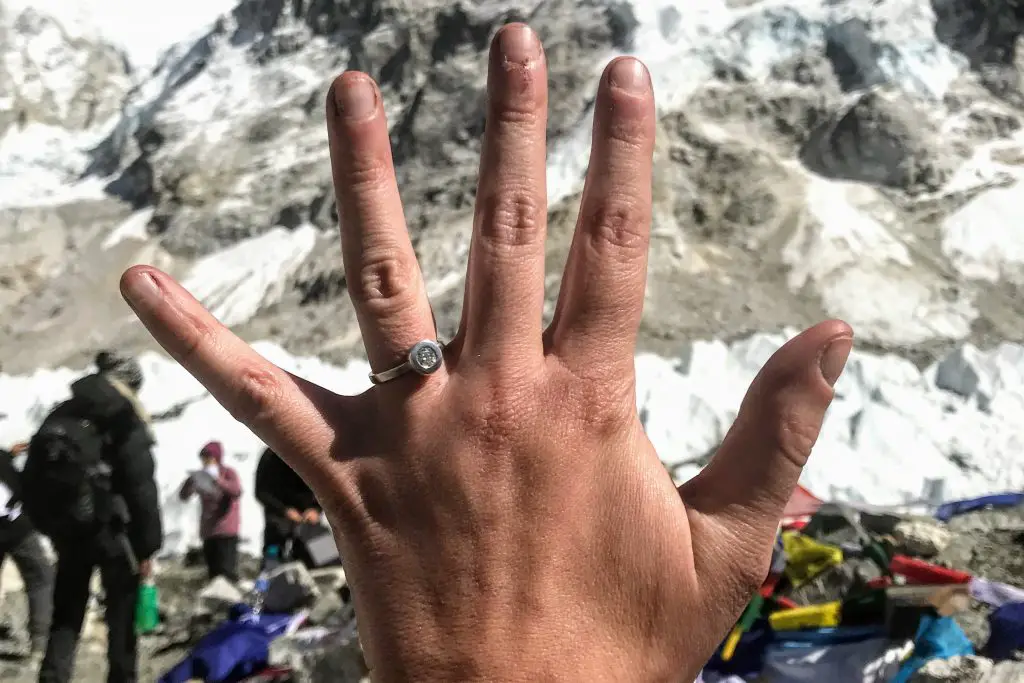 This post contains affiliate links
Prices start from only £22 and I've included a budget guide for each one. Bargain means it is under £500, mid-range is from £500-£1,000 and anything over £1,000 is labelled as a splurge.
I'm a huge fan of Lily Arkwright jewellery, they have the UK's largest moissanite engagement ring collections with hundreds of styles, offering significant savings vs traditionally mined diamonds.
Budget: Bargain
This sweetheart charm ring is made from recycled silver and it is a bargain at under £100. The design also comes in recycled gold. It is packaged in a recyclable gift box too.
Budget: Mid-range
This tranquillity ring is delicate as the band is only 1.5mm wide. It is made 18ct Fairtrade gold, set with a 2.2mm traceable and conflict-free African diamond in a grain setting. All Lebrusan rings come with a certificate of origin for peace of mind.
Budget: Mid-range
This unusual design is handmade in a studio in the Cotswolds in the UK. It is made from recycled solid 18ct palladium white gold and set with a stunning Fairtrade Canadian white diamond. Palladium is a member of the platinum family and used to make the gold naturally white while avoiding the use of nickel and rhodium.
Budget: Splurge
This elegant solitaire design is traditional and classic. It is made from 18ct Fairtrade white gold and a conflict-free diamond. The ring comes with a certificate of origin and it can also be engraved inside the band.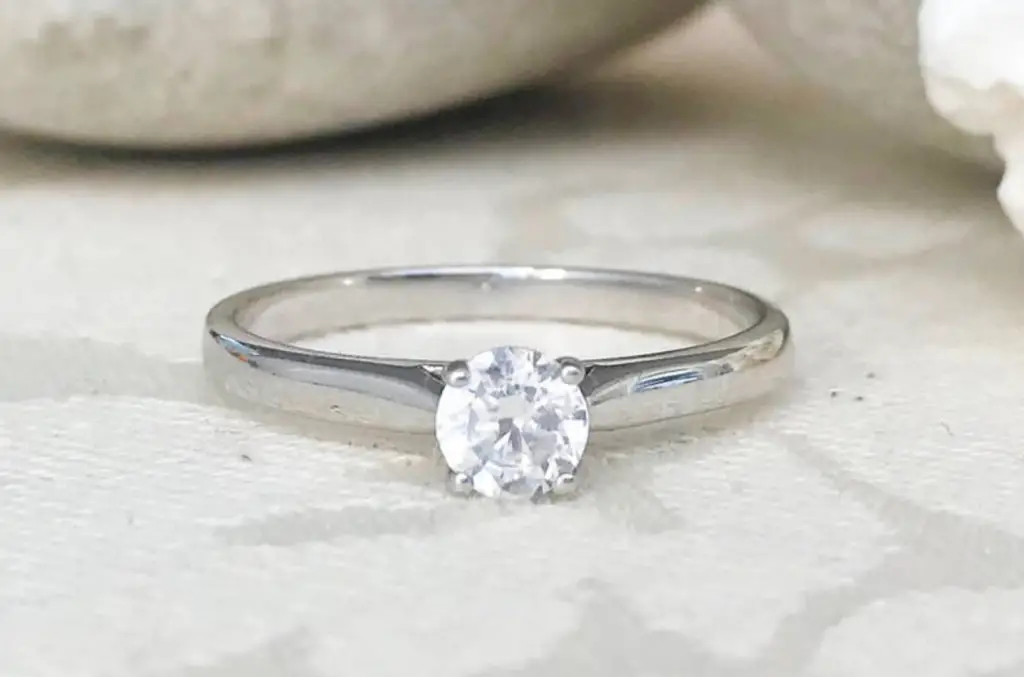 Budget: Bargain
These super cute buttercup textured stack rings are made from ethically-sourced silver and available for under £100. You can choose between three stack bands with one buttercup, five band stacks with two buttercups or seven band stacks with three buttercups. They even come in a 100% recycled pillow box.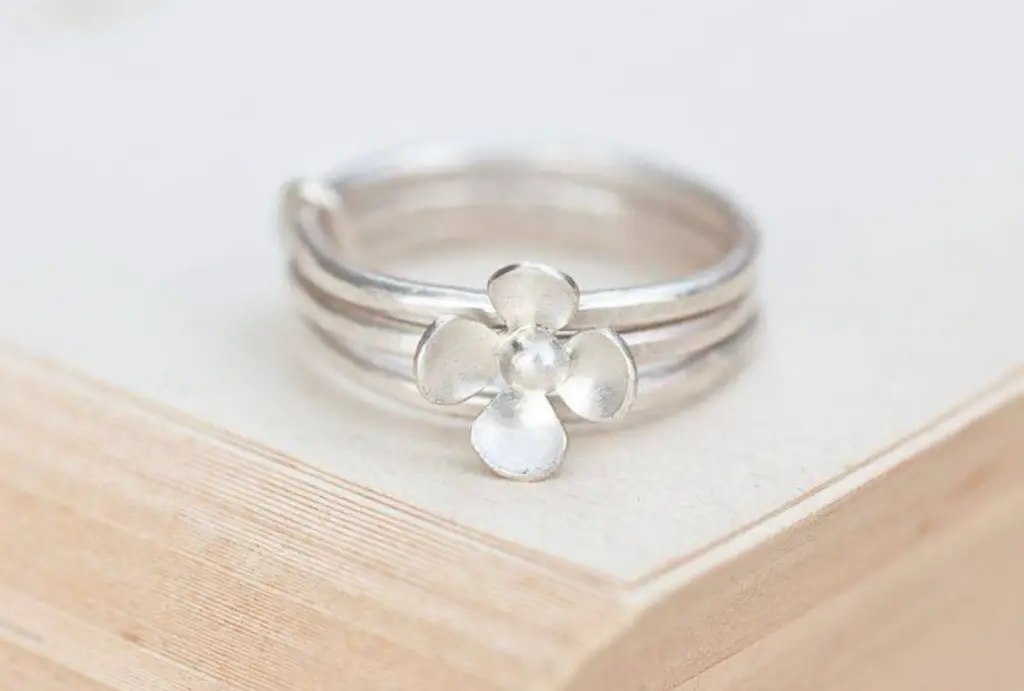 Budget: Splurge
This gorgeous recycled engagement ring is available in platinum, yellow, rose or white 18ct gold. It is set with a round 0.50ct recycled conflict-free diamond. These rings are handmade in Yorkshire in the UK and come packaged in a unique driftwood or reclaimed wood box. They come with a certificate of origin as well as a photographic record of the making process.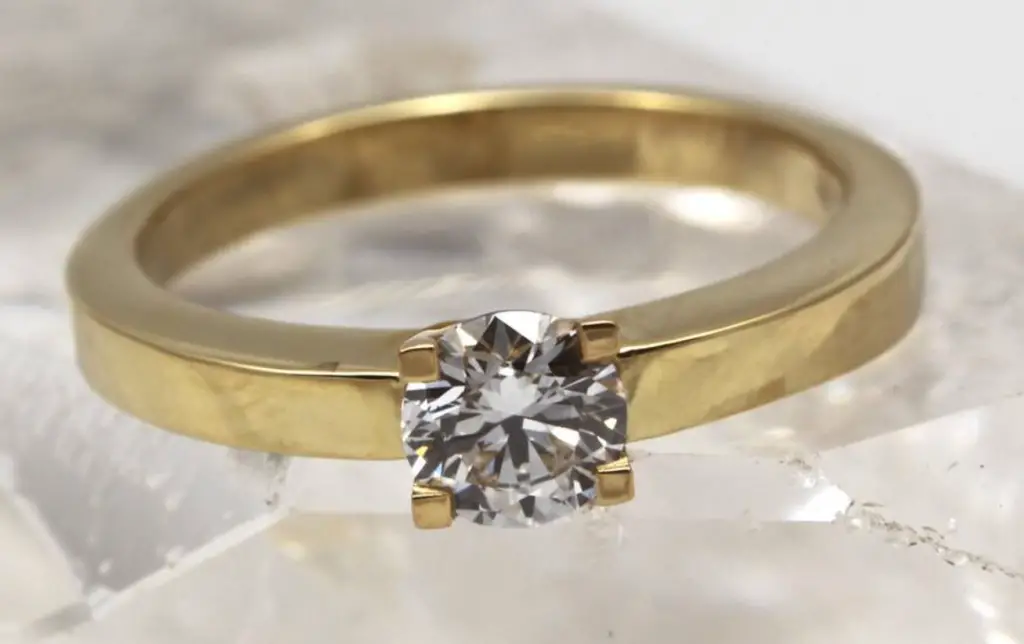 Budget: Splurge
This fabulous handmade Fairtrade rose gold engagement ring is made with a CanadaMark diamond at its centre. Canadamark diamonds are responsibly mined in Canada's Northwest Territories and come with a certificate of authenticity. This amazing piece is made in Somerset and the gold is fairly traded from Peru.
Budget: Bargain
This stunning recycled silver ring is handmade in the Sidlaw Hills of Angus in Scotland. It is set with cubic zirconia in a hand-engraved setting and comes with gift wrapping if you want it.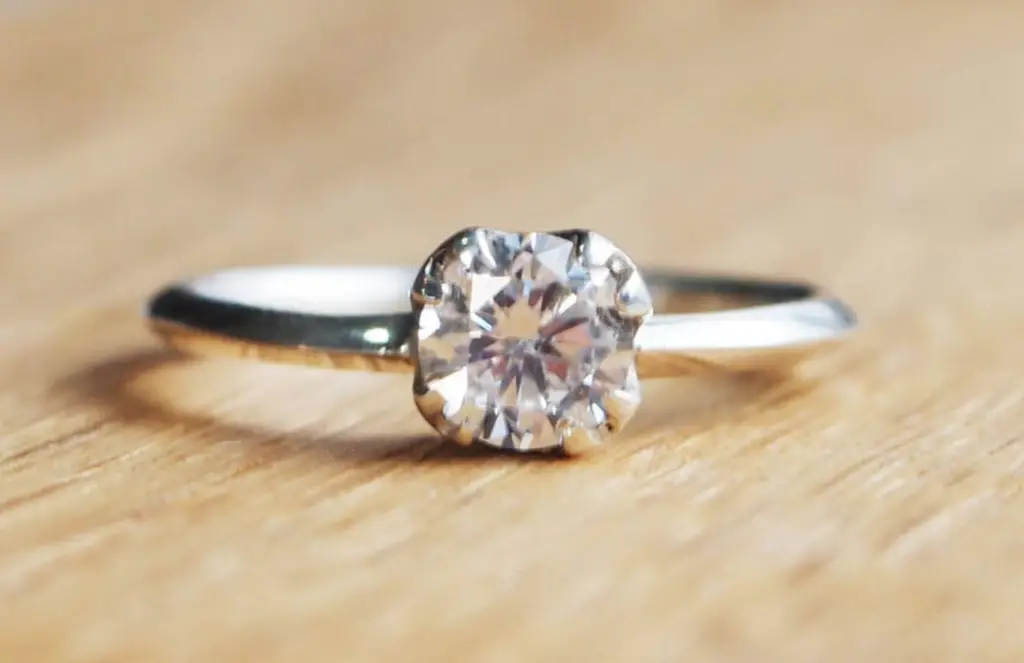 Budget: Extreme bargain
This wonderful silver nugget ring is handmade from recycled silver into an organic circle shape. It looks perfect on its own or it can nest with other rings too. This ring is a complete bargain at only £22.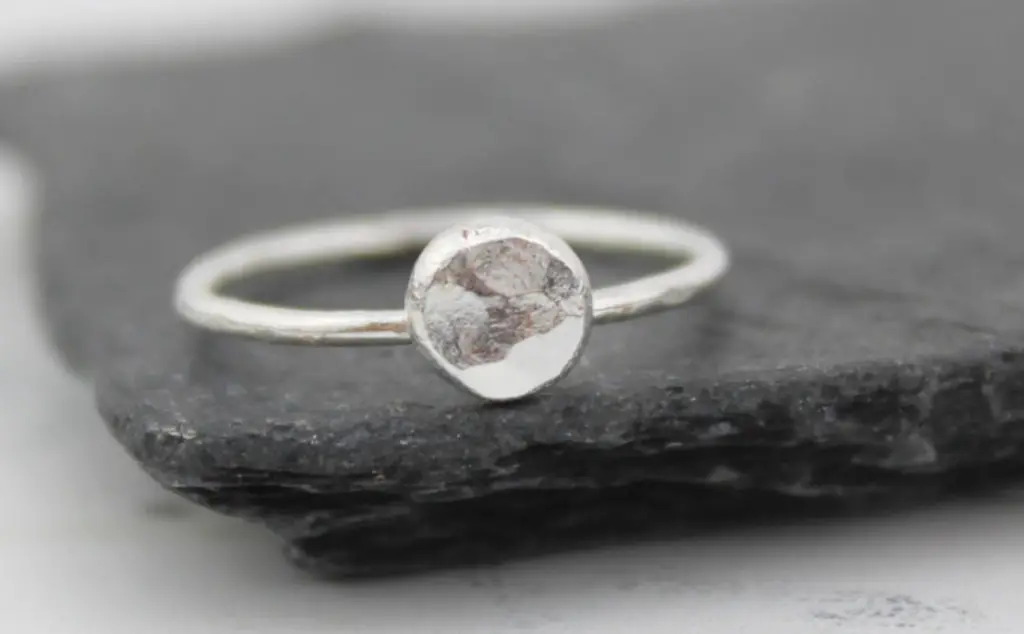 Budget: Splurge
This diamond solitaire is simple yet exquisite. It is handmade from a 0.40ct conflict-free white diamond with a recycled white gold band. Available in a matte or polished finish.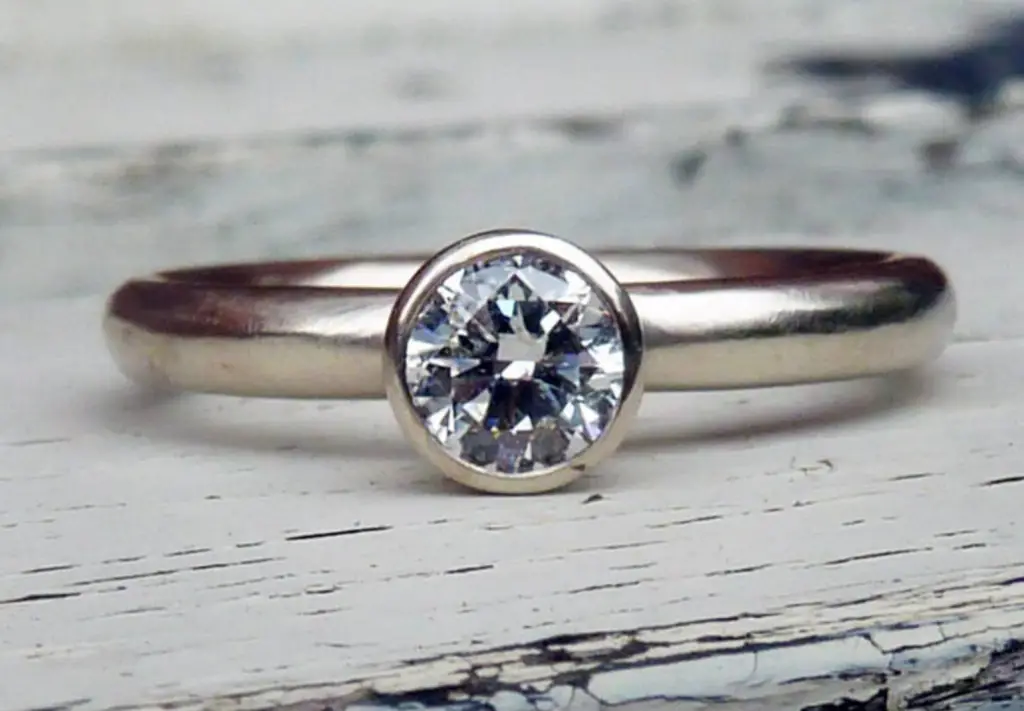 Budget: Bargain
This is my very own engagement from when I got engaged at Everest Base Camp! I chose this one because I love the shape, its made from recycled silver and set with moissanite (a lab gem made without nasty chemicals). It also comes with a second band that can be used as a wedding ring. Priced at under £300, its a great price for a simple yet stunning set.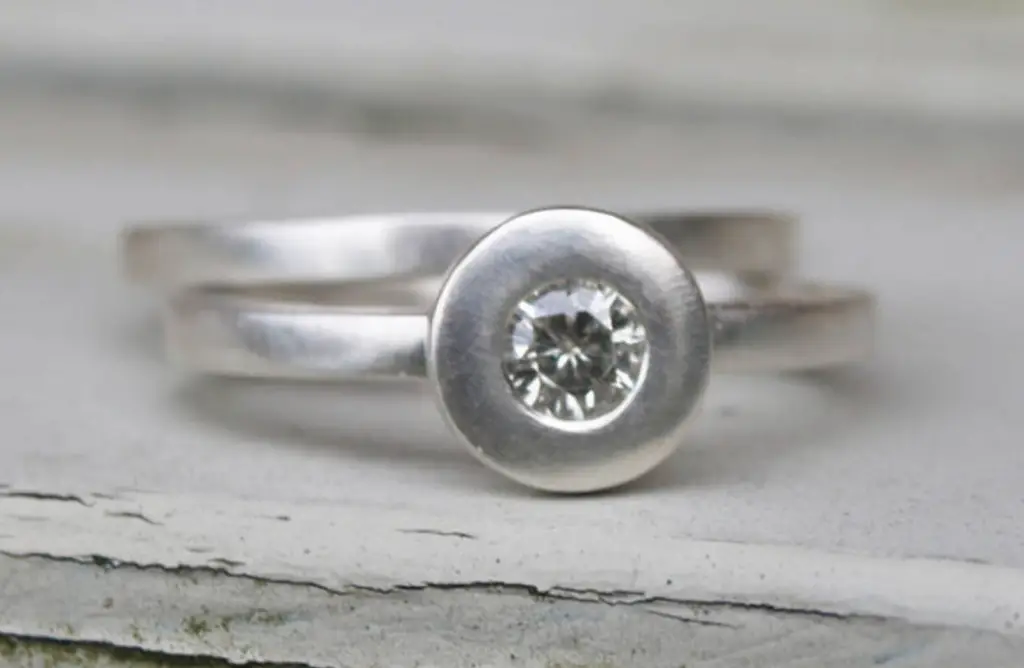 I hope you love these beautiful ethical engagement rings as much as I do. Which one is your favourite? Let me know in the comments below!
Read more like this:
Pin this for later: