If you're visiting Dhaka, then this guide tells you how to visit Sonargaon, the museum park and the old city of Panam Nagar by bus from the capital city in one day while on a budget.
Sonargaon is famous for being Bangladesh's 'Golden City' and it was where the Hindu powers based themselves before the Muslim invasion. It was restored by an independent sultan and prospered for nearly 300 years until the Mughals decided the river location was too vulnerable to Burmese invaders. To replace Sonargaon they founded Dhaka and the rest is history.
Getting to Sonargaon
Sonargaon is the only really viable day trip that you can make from Dhaka and it will take you a full day to get there and back due to the traffic. The good news is that you can do this trip for under $4 including bus and entry fees. Bangladesh really is one of the cheapest places to visit in South Asia.
It isn't a particularly difficult journey to make, but it can be really slow and it took us about 3 hours to get from Gulshan (take a bus or taxi) to Dhaka and then then from Dhaka to Sonargaon.
You can get a public bus or a private car – a private tour will cost about 5,000 taka and the bus costs about 40 taka each way plus entry fees but takes a lot longer. In a private car you can also visit the mini Taj Mahal monument at the same time and be back before dark.
We opted for the public bus, which you can get from either Sayedabad bus station or Gulistan bus terminal. You need to ask for Mograpara bus station as this is the place next to the highway where you'll be dropped off.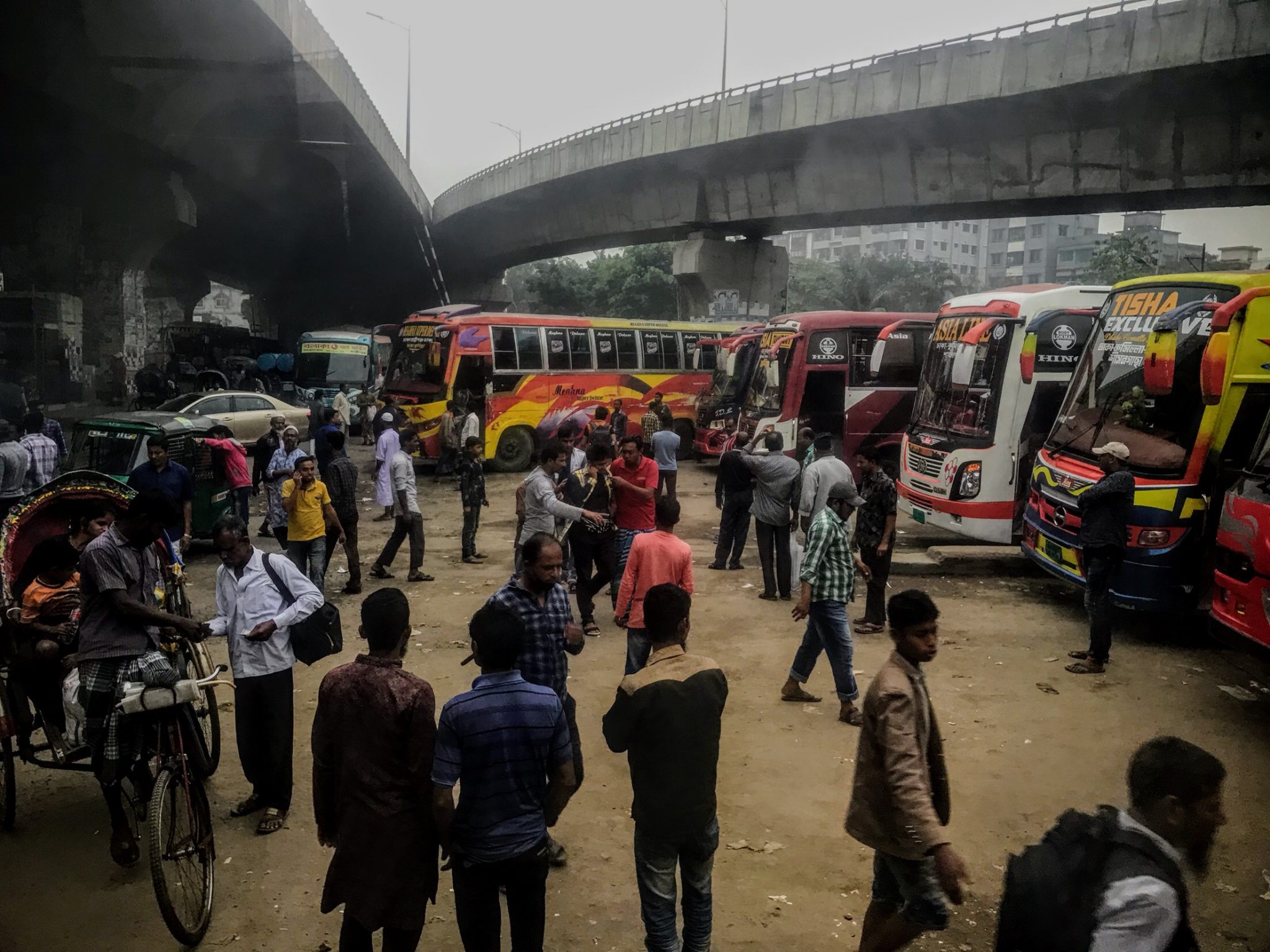 It then takes about 30 minutes along the straight road to walk or you can get a rickshaw which should be 20 taka, but foreigners are quoted around 200 taka. We opted to walk but once you get past the shops near the Main Street, there wasn't much to see.
Sonargaon Museum
The closest attraction to the main road is the Sonargaon Museum complex which houses the Folk Art and Craft Museum. The Sadarbari building below is closed for renovation in 2019 but you can see it from the outside.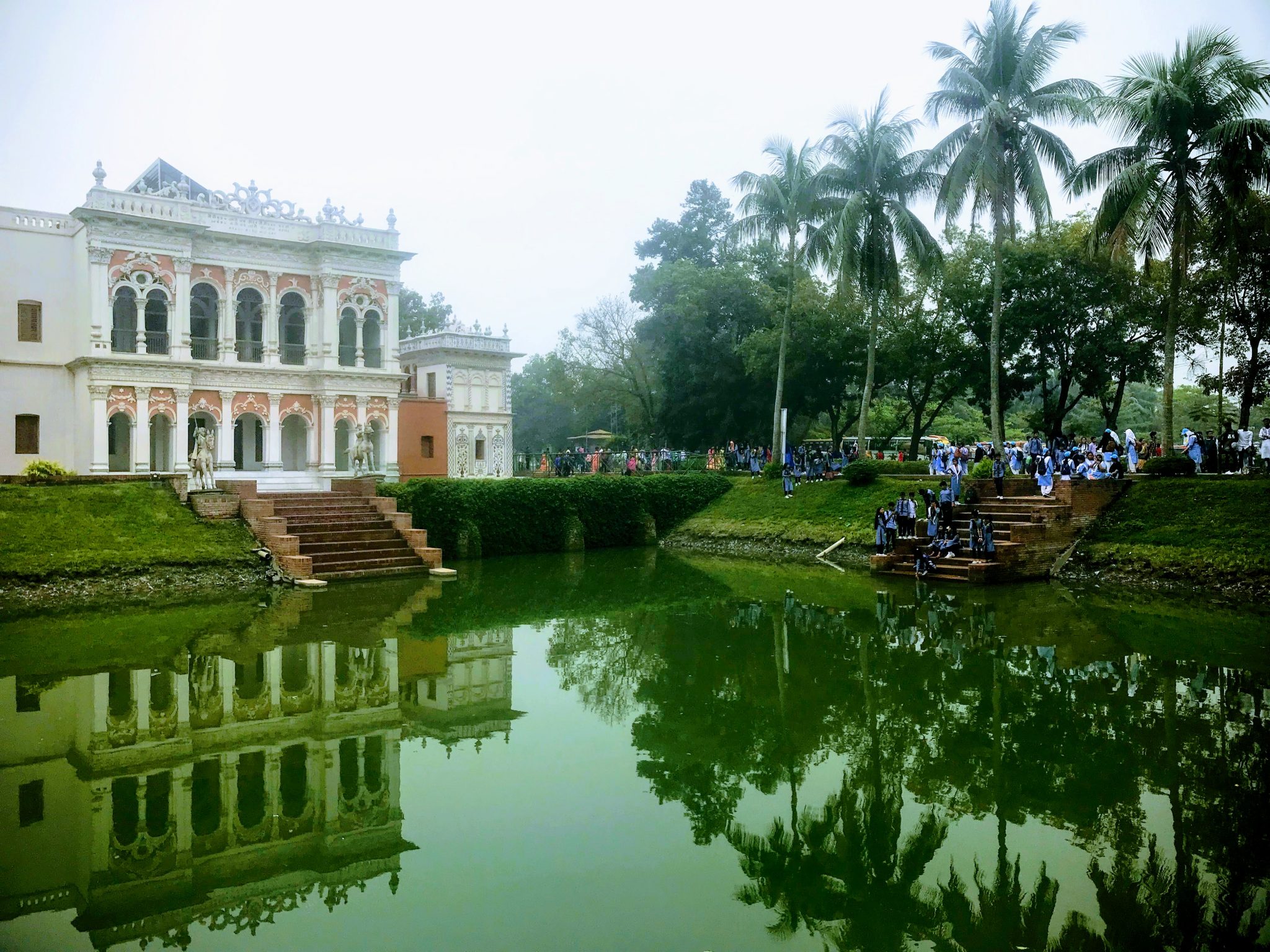 Entry for a foreigner is 100 taka or 30 for Bangladeshis (much less than museums in Dhaka which are 500 taka for foreigners).
The complex gets busy as it is a playground for middle-class families and school groups of which there were many!
Be aware that many Bangladeshis have not seen foreign tourists so be prepared for selfies! We got asked a lot for selfies but we found that people were respectful and spent time chatting so we felt welcome. Some teachers even gave us hats as a gift!
The main sights are the new folk museum itself where the art is housed and the old ornate buildings at the front near the water tank.
When you walk around the complex, there is a boating lake, snack stalls, gift shops, art sculptures and gift stands. If you need any presents to send home, Bangladesh is great place to buy them as they're cheap and they don't have the inflated prices of nearby countries like India.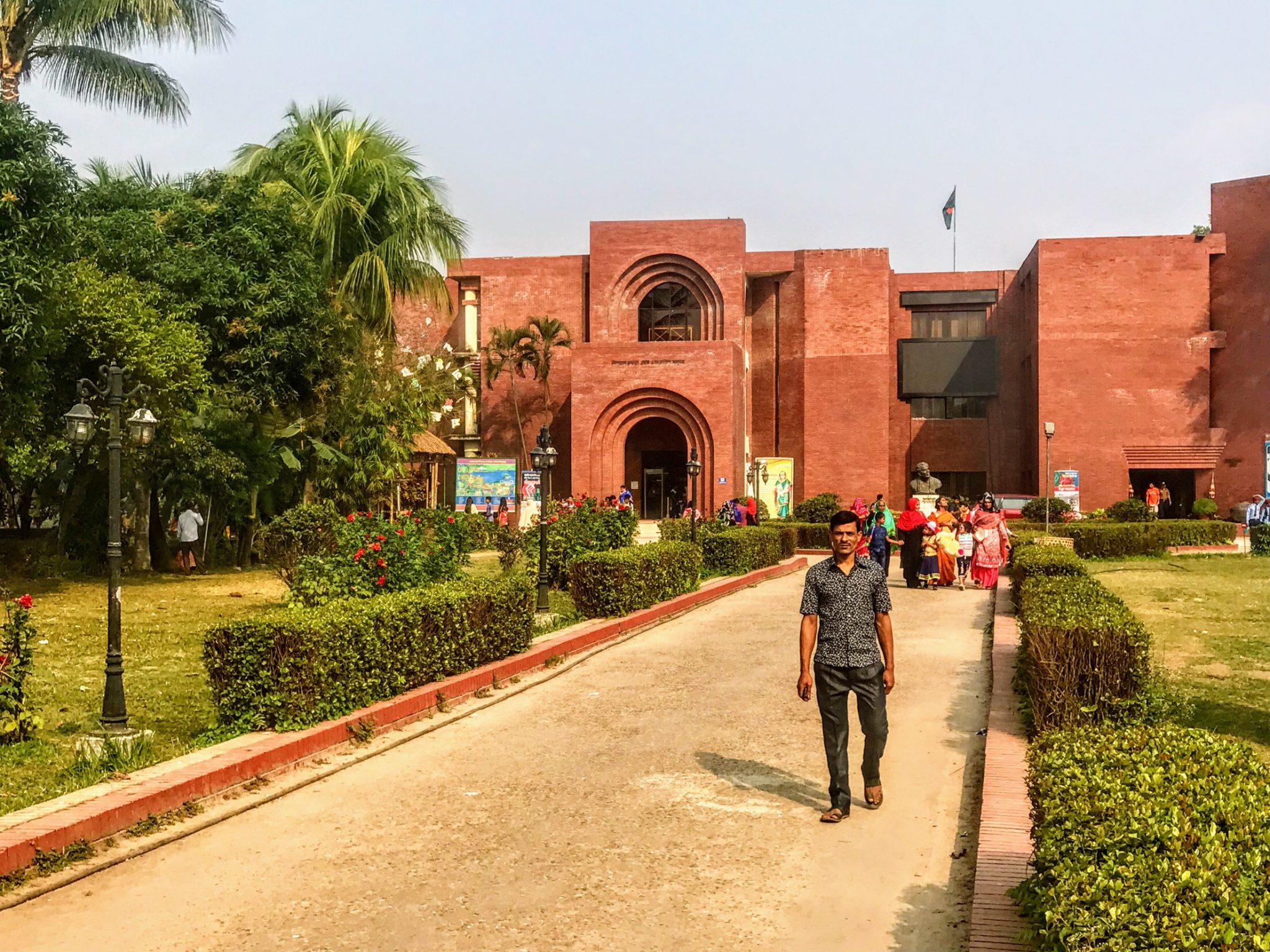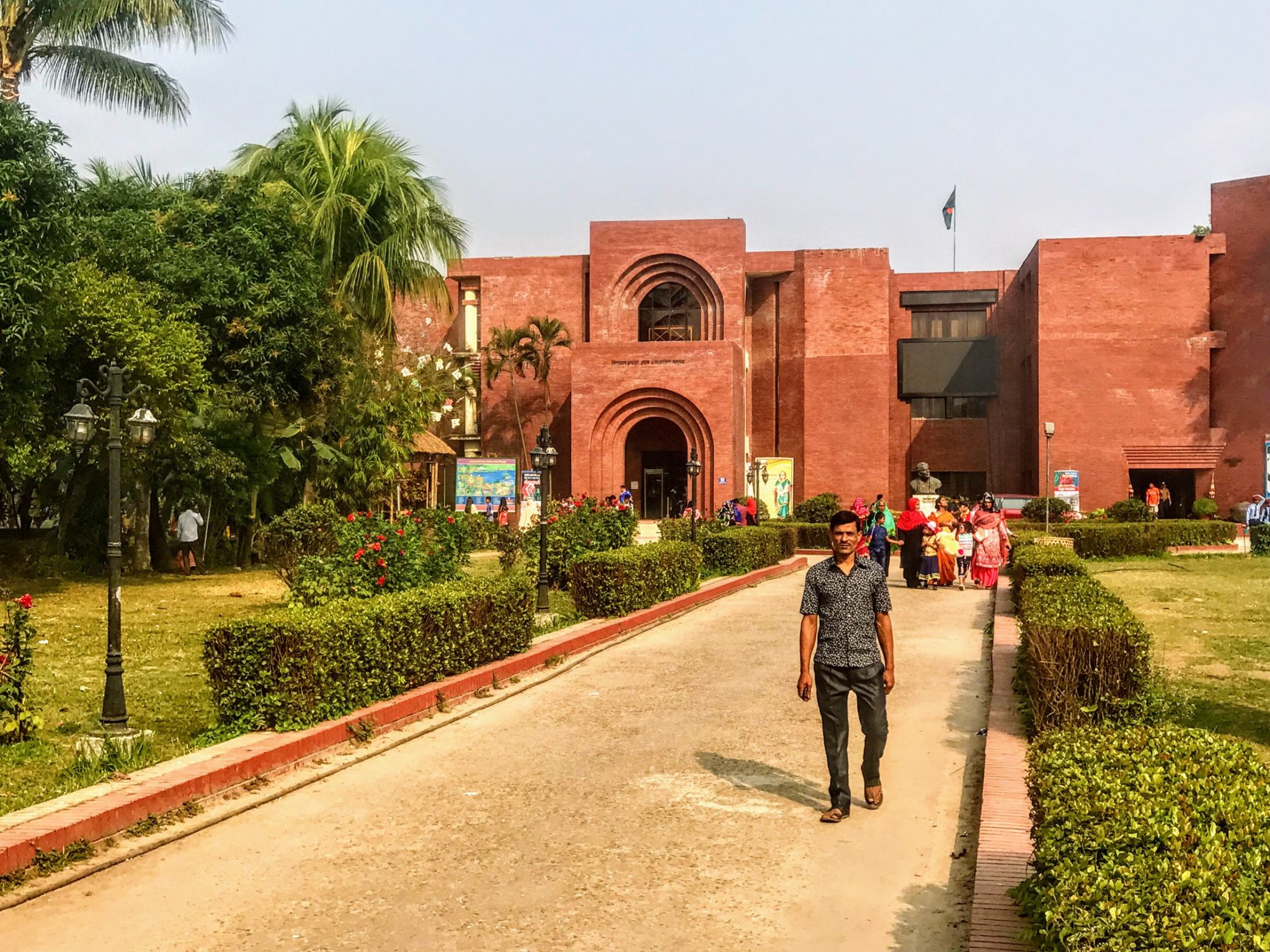 Panam Nagar
Once you've been around the grounds of the museum, it is a ten-minute walk to the Panam Nagar complex which is a street of 50 old mansions built by wealthy Hindus that remain as relics from the ancient capital city. The owners fled due to the Indian Partition so this isn't the only place in Bangladesh with these abandoned homes as a result.
They are not particularly well preserved but they're certainly atmospheric and worth seeing if you've come from Dhaka. A couple are occupied which makes them more interesting.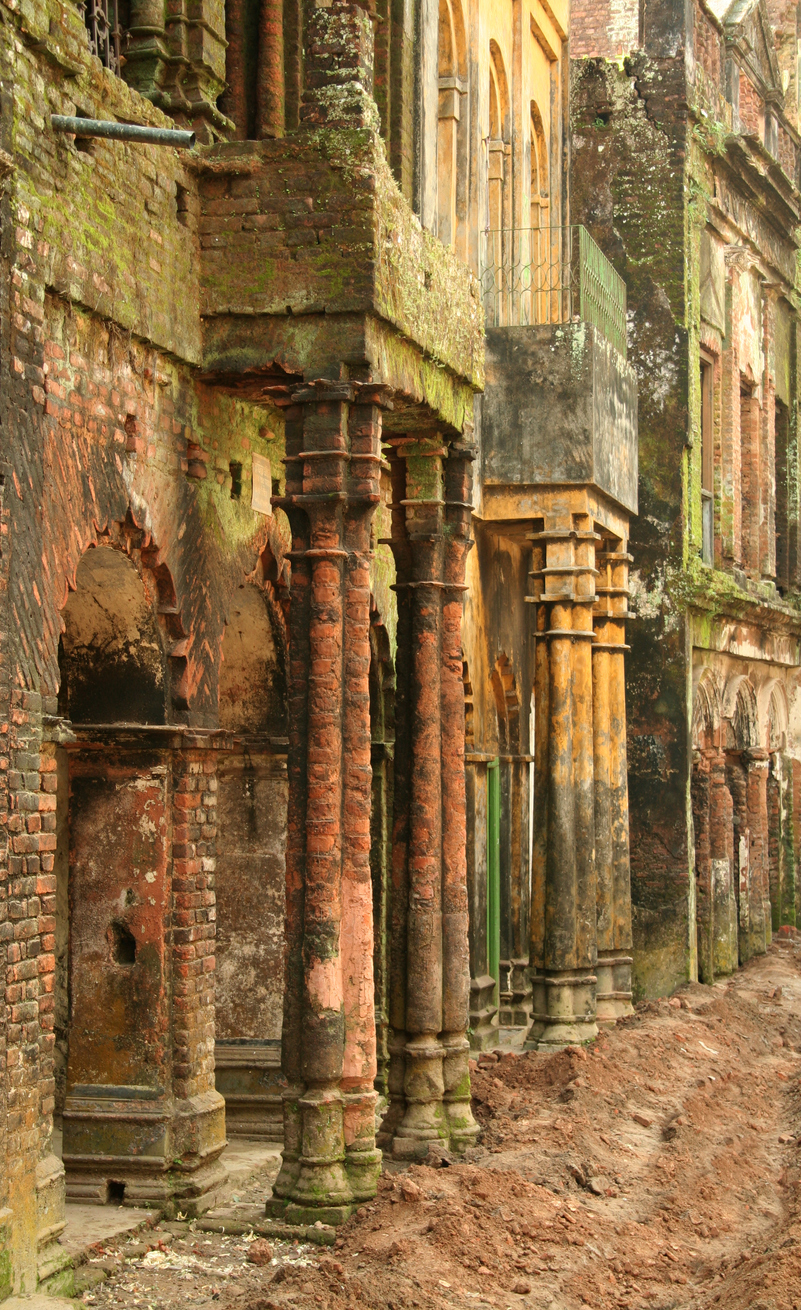 Panam Nagar costs 100 taka for a foreigner or 15 taka for a Bangladeshi so you can see both of Sonargaon's attractions for 200 taka as a foreign tourist, which is great! These deserted buildings aren't structurally sound so avoid going inside them.
Hidden away is the Goaldi Mosque which was built in 1519 but is now hard to see through tree foliage. On your way back it's on a right-hand street after you've left Panam Nagar and you may have to ask a few times for directions! It's free as it is essentially abandoned now.
Getting back to Dhaka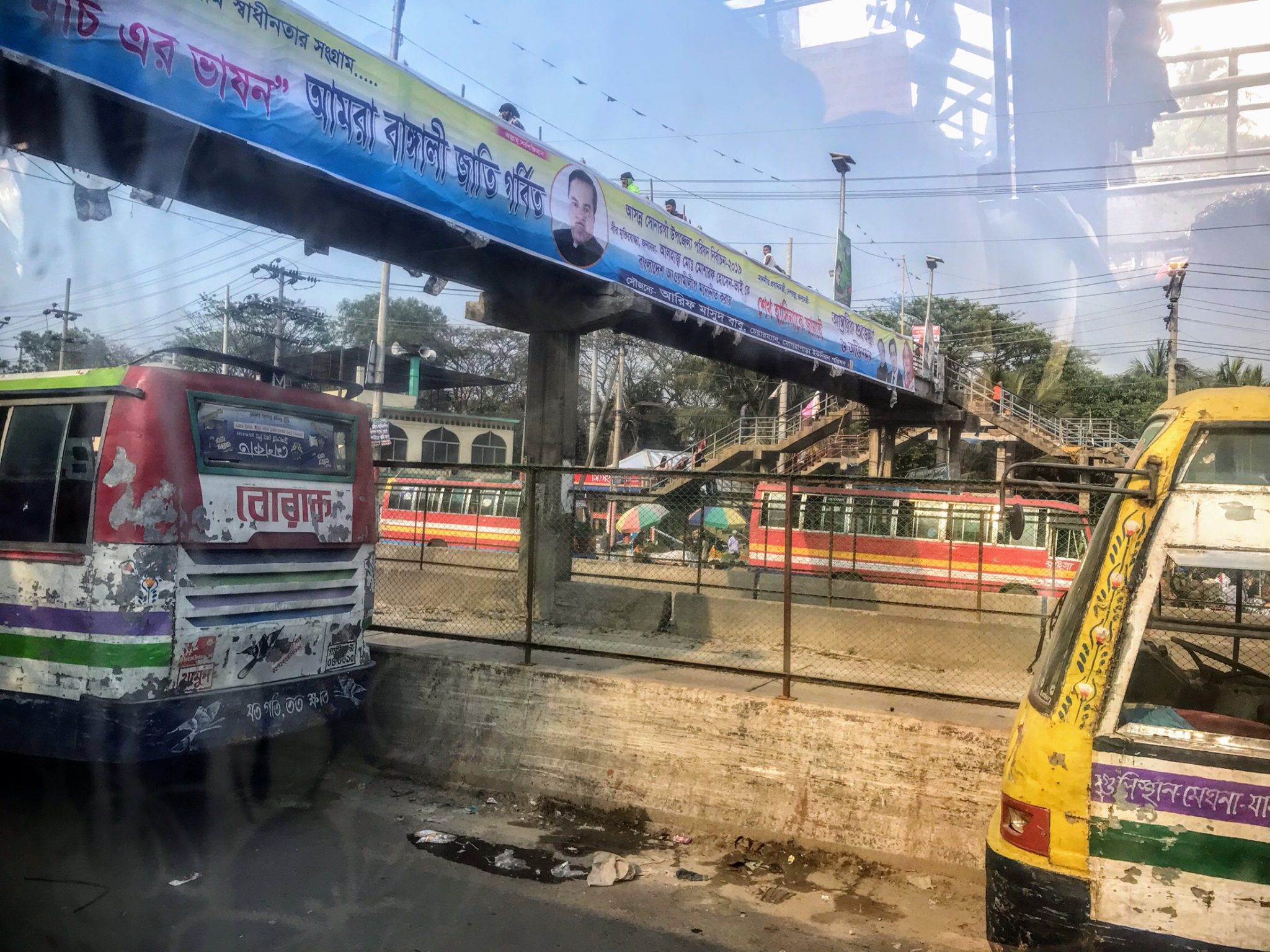 When you get back to the highway, cross at the flyover and get a ticket from the little booth to make sure you pay the right price for your ticket. There are many beggars on the bridge and it is quite harrowing to see people suffering due to a lack of public health provision.
Keep an eye on your map on the way back, as it's a lot quicker to get into the city than out of it. Also, you may be dropped off on the flyover and have to walk down to street level to get back to the bus station.
Have you been travelling in Bangladesh? Whereabouts did you go and what did you like about it? Any questions then let me know in the comments below!
Pin this for later: