There have been various environmental controversies about the Komodo Islands, including dragons being stolen, environmental degradation and government threats to close the island to tourism altogether.
The good news is that there are ways that you can make your trip more ethical and sustainable by following these simple rules.
Getting to Komodo Island
Try to travel to Labuan Bajo by boat to decrease your carbon footprint to get here. If that's not possible then take the shortest flight possible.
We took a day trip to see Komodo Island which included Padar Island, Pink Beach, the Komodo dragons and Manta Point. If you want to avoid the crowds, there are also Komodo dragons on the nearby Rinca Island too.
It's better to go on a group tour rather than a private boat to minimise your carbon footprint. For some reason (possibly Komodo inactivity), all the boats get to Komodo at the same time.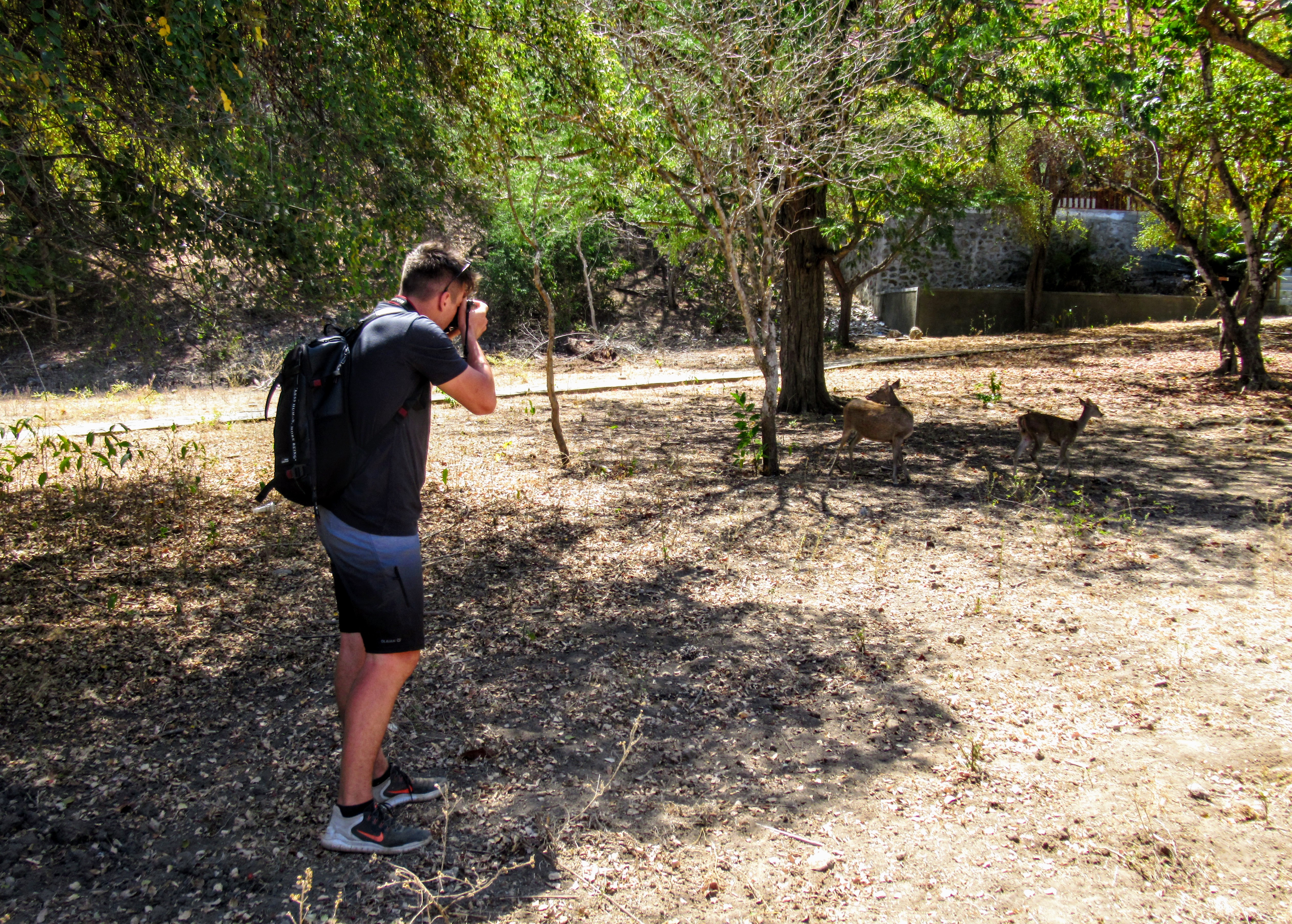 Other Komodo wildlife
As well as the Komodo dragons, you are likely to see rusa deer and wild boar on the island as they're used to people so not too timid. Remember to keep your distance from wildlife. It takes energy for them to run away from you and can cause them stress. The deer are illegally hunted as well as the dragons eating them so it's a tough life being a deer on Komodo.
When you are in the park you cannot smoke as the land is so dry that it causes fires. Smoking on the boat is also a fire hazard. Cigarettes are a major source of marine pollution so avoid smoking at all if you can.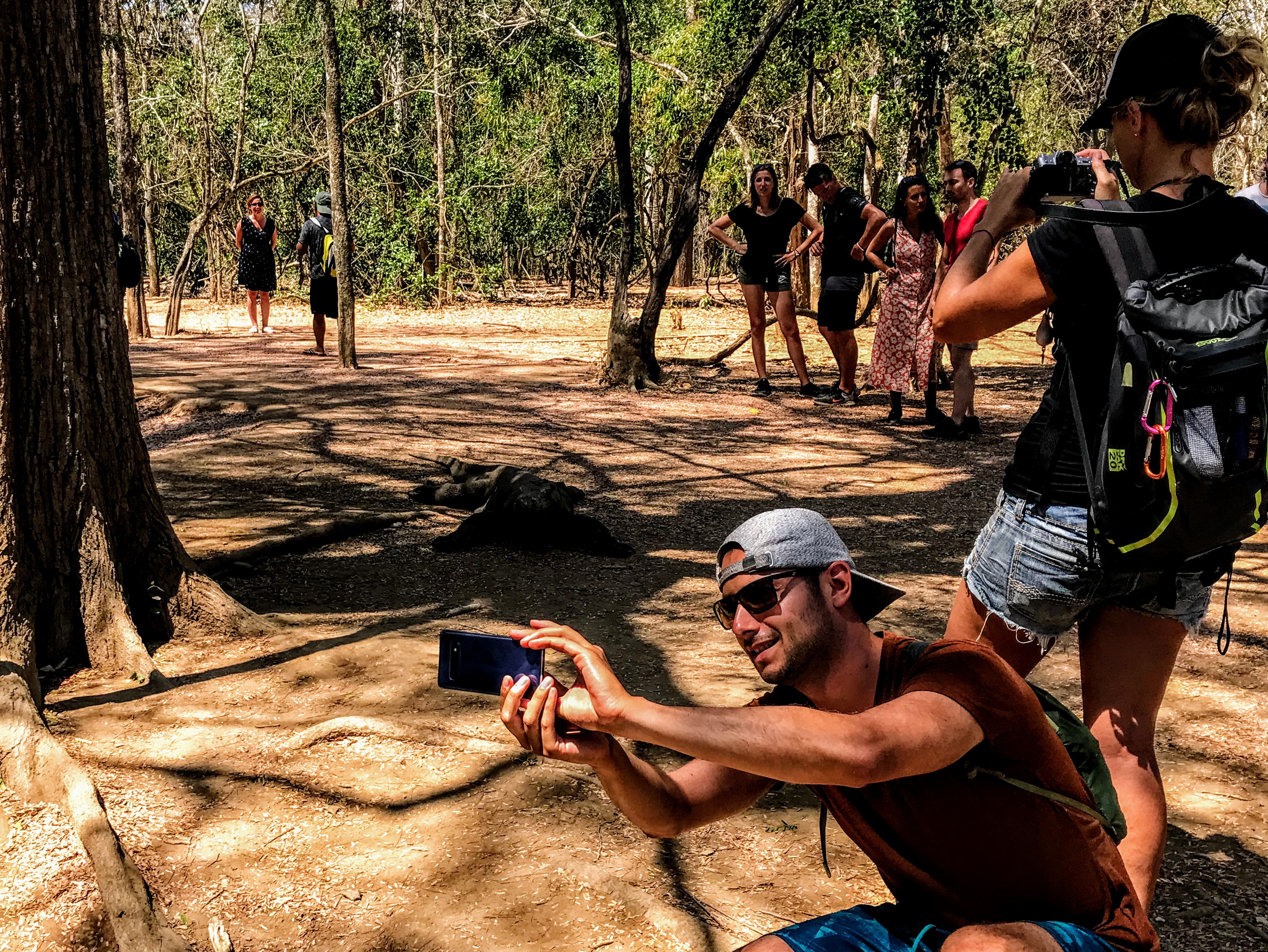 The dragon walk
Two guides will take you all on a short walk to see the dragons, it's really hot so make sure to bring water, a hat and sunscreen! We found a single dragon by a tree and the guides encouraged people to take selfies with it. They asked for no pictures taken of them so they didn't get caught.
This struck me as an odd practise as they are supposed to be protecting wildlife and not exploiting it for tourists. Komodo dragons are a wild animal and not for our entertainment. Naturally, I don't agree with taking selfies with them. The dragon in question actually moved, so I don't think he liked this harassment either.
If you see a baby Komodo dragon (they live in trees to avoid being eaten) then keep it to yourself as these are the ones people steal. It goes without saying that you should report it if you see people acting suspiciously around young dragons.
How deadly are the dragons?
The time when the boats bring the tourists is at the peak of the day, when Komodo dragons are at their most lethargic so less likely to attack people.
These dragons are deadly, as they release venom when they bite which is how they hunt deer so they can easily kill you. You're not very likely to see them move or mate in the middle of the day. In fact, they're so still they don't look real. Another reason not to selfie with them even when they're at their most lazy.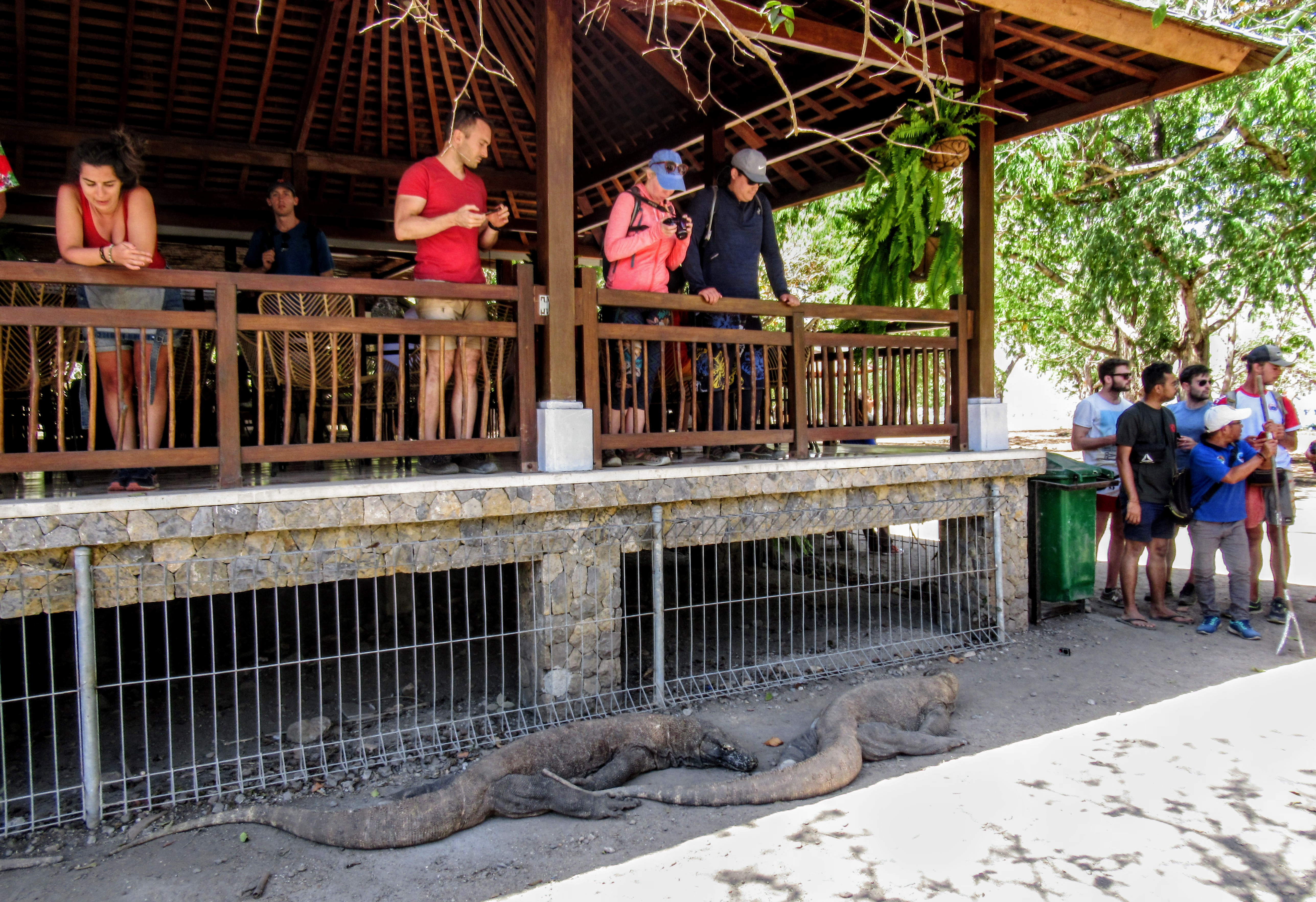 Chilling by the cafe
The place where you're guaranteed to see Komodo dragons is by the cafe, a bit like seeing Bornean bearded pigs at Bako National Park. Asian wildlife loves the canteen! They like it near the cafe as it's nice and shady for them.
If you're buying food or souvenirs from the market then avoid plastics at all costs. There is nowhere to dispose of it here so it may well end up in the sea. Many companies provide a packed lunch so make sure to request paper and not plastic packaging for your Nasi lemak.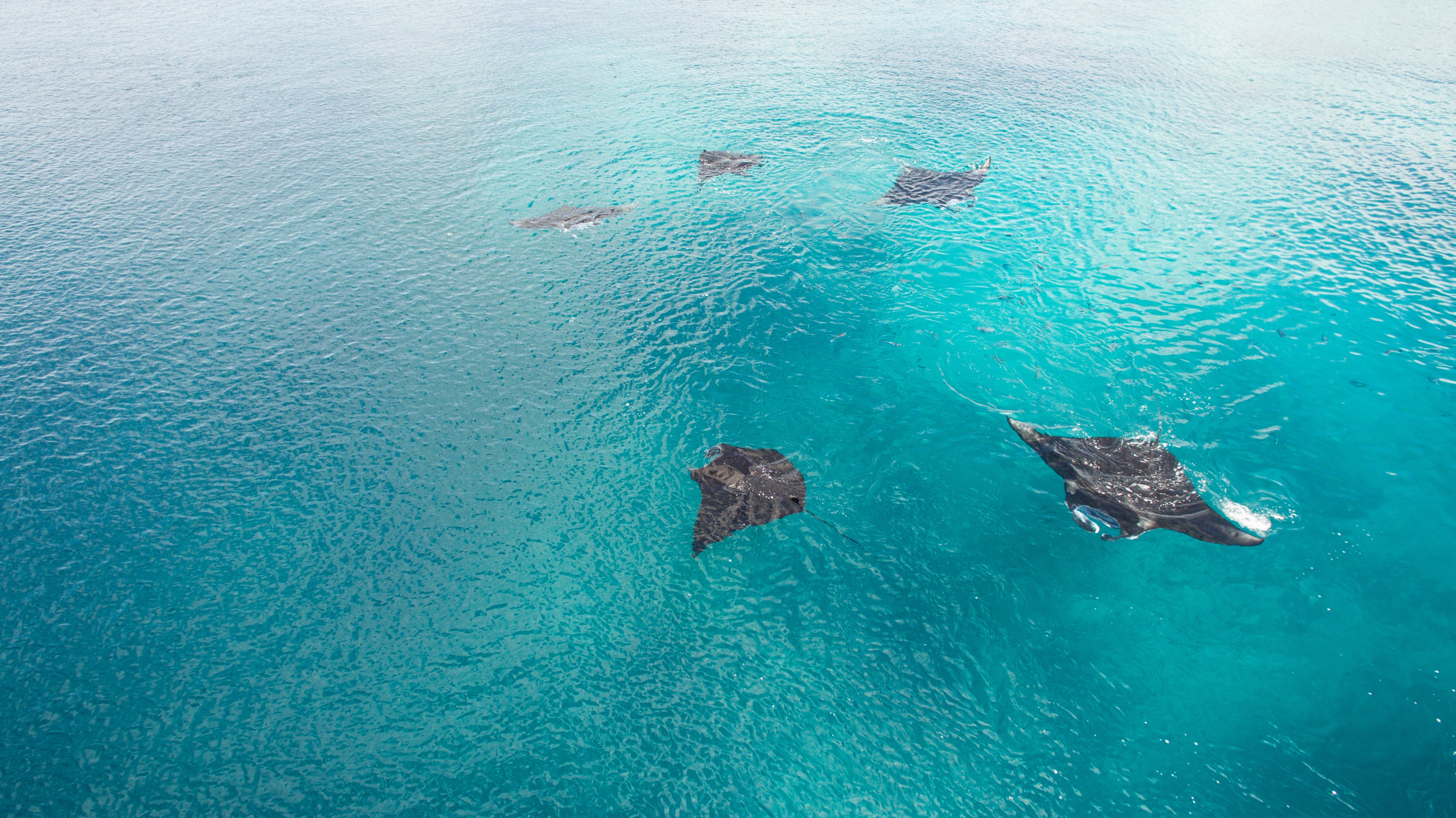 Snorkelling and Manta Point
If you're visiting the Komodo Islands, then you'll probably fit in a trip to Manta Point to see the rays there. We could see the mantas really well from the boat as they were feeding on the surface. Once we jumped in it was difficult to find them in the choppy waters.
We also went snorkelling at the Pink Beach where there were some beautiful fish swimming around. Sadly, one of the boats had its anchor blown into some coral which was devastating to see. Always ask your skipper to drop anchor far from the coral so this doesn't happen.
Read more: 21 fish species you'll see when snorkelling or diving in Bali or Lombok
Always remember to look out for boats and don't crowd marine life. For your own safety, don't get in the water if its too choppy and use a lifejacket if you're not a strong swimmer.
Be sure to adhere to the snorkelling code of conduct in order to protect the reef. Do not touch any coral or marine life, apply reef-safe sunscreen 30 minutes before going into the water and don't take anything from the ocean, unless it's trash.
Read more of my sustainable snorkelling tips and for reef-safe sunscreen recommendations here.
Manta rays are harvested in Indonesia, so why not take a moment to sign this petition by Mantawatch, to put quotas in place to preserve the species.
I loved visiting the Komodo Islands, but I do think that it could be better set up to preserve its unique wildlife. If we tread lightly and demand better environmental protections, then hopefully it will remain there for years to come.
Have you been to the Komodo Islands and did you see environmental damage while you were there? Share your stories in the comments below!
Pin this for later: