We decided to get from Kota Kinabalu in Malaysia to Bandar Seri Begawan by bus instead of by boat and this is how the journey went.
The reason we went for the bus was that the seas had been stormy and there wasn't too much difference in cost or time. It was also convenient that we didn't have to change vehicles, but it was a long and tedious journey so here are my tips for getting through it!
If you go by boat you go from the jetty in K.K. to Labuan island, get stamped out of Malaysia, change to another boat for Muara and then get stamped into Brunei on arrival. You then get a bus from Muara to Bandar Seri Begawan, followed by a taxi to your accommodation.
Boarding the bus
To go by bus, there is only one bus per day from K.K. to Brunei, and it goes at 8 am from the K.K. Sentral bus terminal, opposite Plaza Wawasan. To get there from the centre of K.K. costs about 5RM in a Grab taxi.
You can get the tickets there, but it's easier to book them online as it leaves early and you need to be there 30 minutes before. Tickets cost 50RM one way and you can book them on Easybook for a small fee. This is not a sponsored link – the Sipitang Express bus website is pretty bad.
There are four border crossings during this journey, and it takes 8-9 hours in total. The border crossings aren't that bad as Brunei and Malaysia both grant free visas on arrival to many countries.
Sabah to Sarawak
The first crossing is from Sabah to Sarawak as you get stamped to move between these two Borneo states. This is because the states want to control movement for several reasons including immigration, economic reasons and to preserve their cultural identities.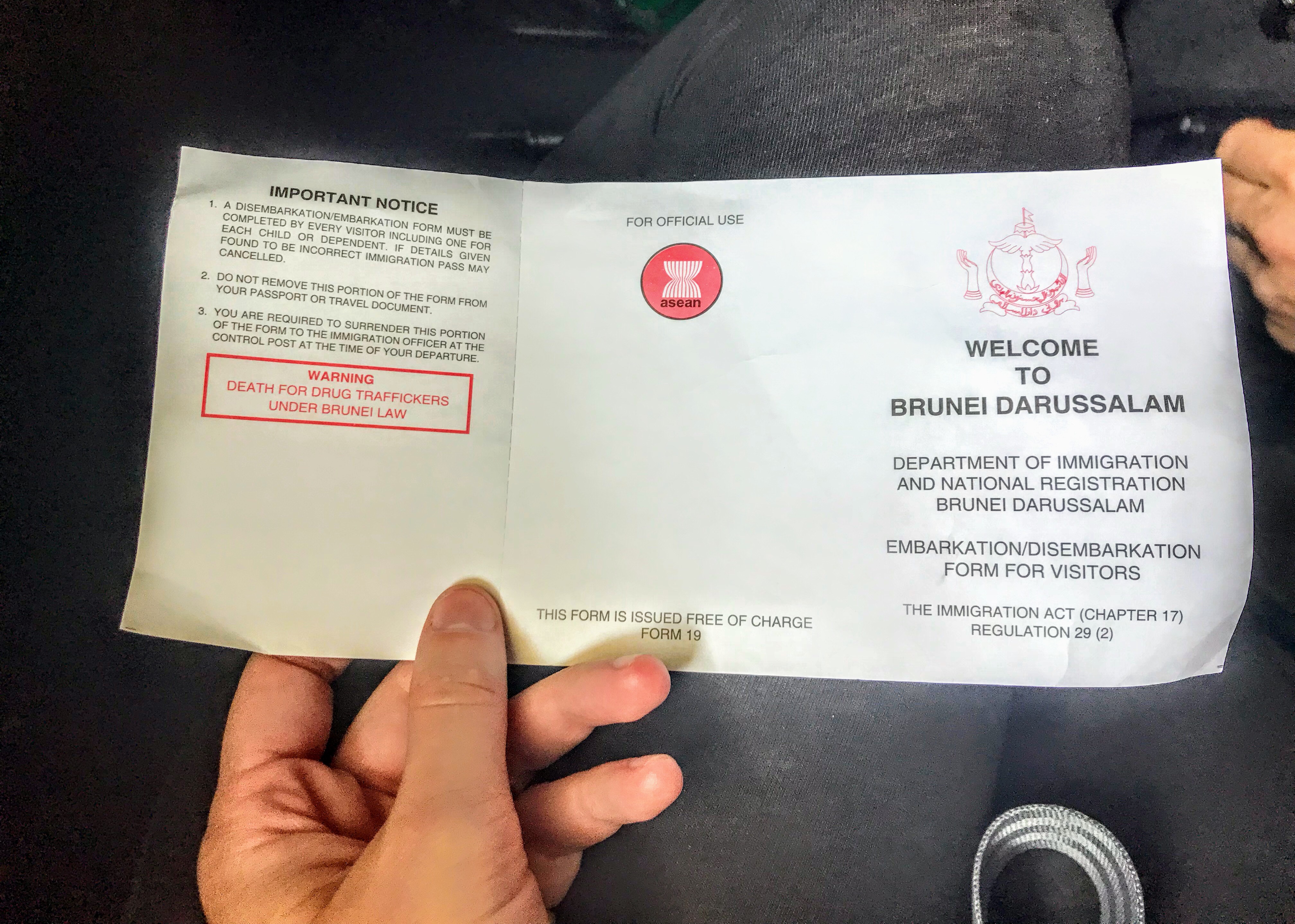 Helpfully, you'll be given two immigration forms for the two Brunei borders, fill them both in entirely to save time. The bus staff are really good at pointing out which immigration office you need to go to and the queues are generally short.
Bruneian borders
The first Bruneian border is for an area of protected forest called Ulu Temburong and you may actually see proboscis monkeys from the bus, which we did. After you leave this chunk of Brunei, there is a lunch stop at Limbang in Sarawak. You'll get 45 minutes to eat and if all else fails, there's a KFC with WiFi near the bus station.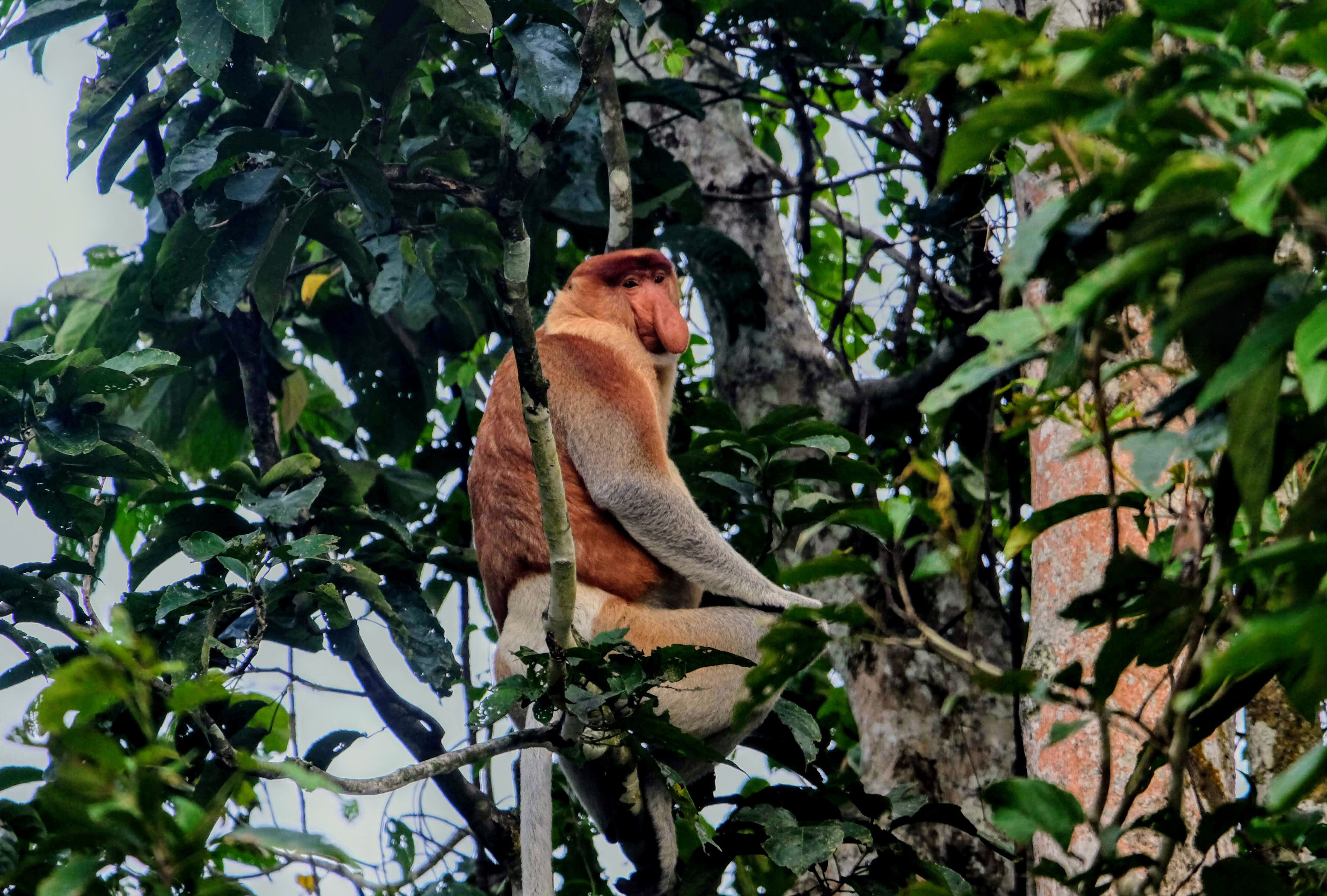 There tend to be delays when entering and leaving the protected forest area of Brunei, which delayed us by an hour. There is also a queue to get into main Brunei. A group of long-tailed macaques actually try to steal food from the line of cars!
Bandar Seri Begawan
You'll be dropped off in Bandar Seri Begawan at the Royal Wharf which is close to the main sights of Brunei and you'll see the floating village of Kampong Ayer to your left. Then you can walk to your hotel or get a Dart taxi as unfortunately they don't use Grab here. I also recommend downloading the Maps.me app as it's pointless to buy data if you're here for a short time. There is WiFi available in the nearby malls as well as cash machines if you need them. There are money changers next to the Brunei Hotel.
I stayed at the Jesselton Hotel in K.K. and the Brunei Hotel in Bandar Seri Begawan. They were a little bit more expensive than usual, but they were both very convenient. Check for reviews and deals and Tripadvisor before you book:
Get travel insurance here:


Have you travelled from Malaysia to Brunei or vice-versa? How did you find it? Share your stories in the comments below!
Pin this for later: