I enjoyed the UNESCO-listed Ajanta Caves and it was one of my favourite places that I visited in South India so I'm going to tell you how to see them on a backpacker budget including transport and accomodation.
We got a sleeper coach from Margao in Goa to Aurangabad, which is the jumping-off point for the Ellora and Ajanta Caves. There are also coaches from Mumbai. Download and book transport directly on the Redbus or iXigo apps to avoid cripplingly high commission from travel agents. You can also take a train to Aurangabad.
The state of Maharastra has some hotels that are Indians-only so be careful when booking your hotel! There aren't really any budget guesthouses for foreigners, but there are a couple of reasonably-priced hotels. We stayed in the Treebo Royal Kourt which was good, but I recommend staying near the bus station if you can to save on tuk-tuk fares. Check the Tripadvisor link below to check reviews and find good deals for hotels in Aurangabad:
This post may contain affiliate links
To get to the Ajanta caves, you have a few options – the cheapest is to go to the central bus stand which is near Siddhartha Garden (find it on Maps.me). You can get public buses to both the Ellora and Ajanta Caves but be warned, Ajanta is a 2 and half hour journey away.
Ajanta Caves is 2 and a half hours away from Aurangabad by bus. It takes about the same time in a jeep, but if it's shared then you'll spend 20 minutes picking up passengers so it will take more time in the long run. Be aware that travel sickness is quite common in India and while I was in a jeep a child tried to be sick out of the window and it landed on my face.
The public buses to Ajanta go from the left-hand side of the terminal as you walk in (look for a woman in a little booth), they go every half hour or so and cost 121 rupees. Jeeps go from the jeep park is on the outskirts of Aurangabad off the highway near the Panchavati Hotel. It is marked on Maps.me.
The third option is a state-run sightseeing coach which goes at 7.30am from the Central Bus Terminal and returns at 5.30pm. You can book it on the day or the day before and it goes to the and costs 595 rupees per person. I've heard that it's quite rushed tour and when we went on a bus tour in Goa, it wasn't a very pleasant experience for several reasons but mainly because people were so late that we didn't see everything.
*The Ajanta Caves are closed to visitors every Monday*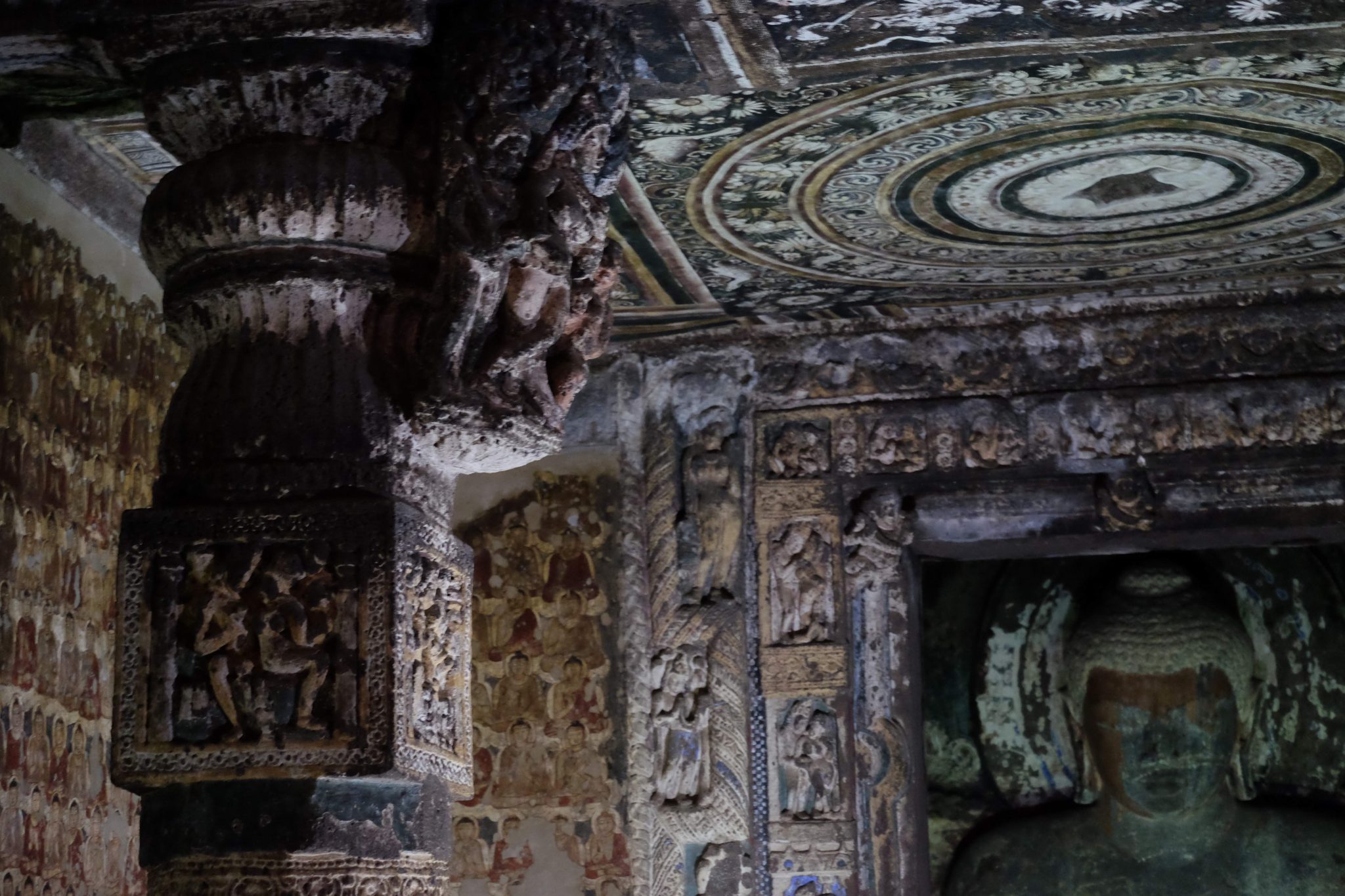 The Ajanta Caves are older than the Ellora Caves and some are from the 1st and 2nd centuries B.C. The temples were made out of hollowed out granite cliffs in a ravine in the Wagurna River valley that is 65 miles away from Aurangabad. If you come here on the day that the Ellora Caves are closed (Tuesday) then it will be very busy (and vice versa for Ajanta Caves on Mondays).
Once you get the Ajanta Caves you have to walk through a market and then get either an air-con or non air-con shuttle bus to the entrance for 20 or 30 rupees for a 10-minute journey. The entrance price is 600 rupees for foreigners.
There a quite a few steps and you can pay porters to carry you up and down them if you have mobility issues. It's not possible to see anything without paying the entry fee. Watch out for the grey langur monkeys in the trees.
Some caves require you to take your shoes off and some don't so look out for the sign and pile of shoes at the entrance. You cannot take pictures with a flash as the light degrades the paintings that are extraordinarily well-preserved.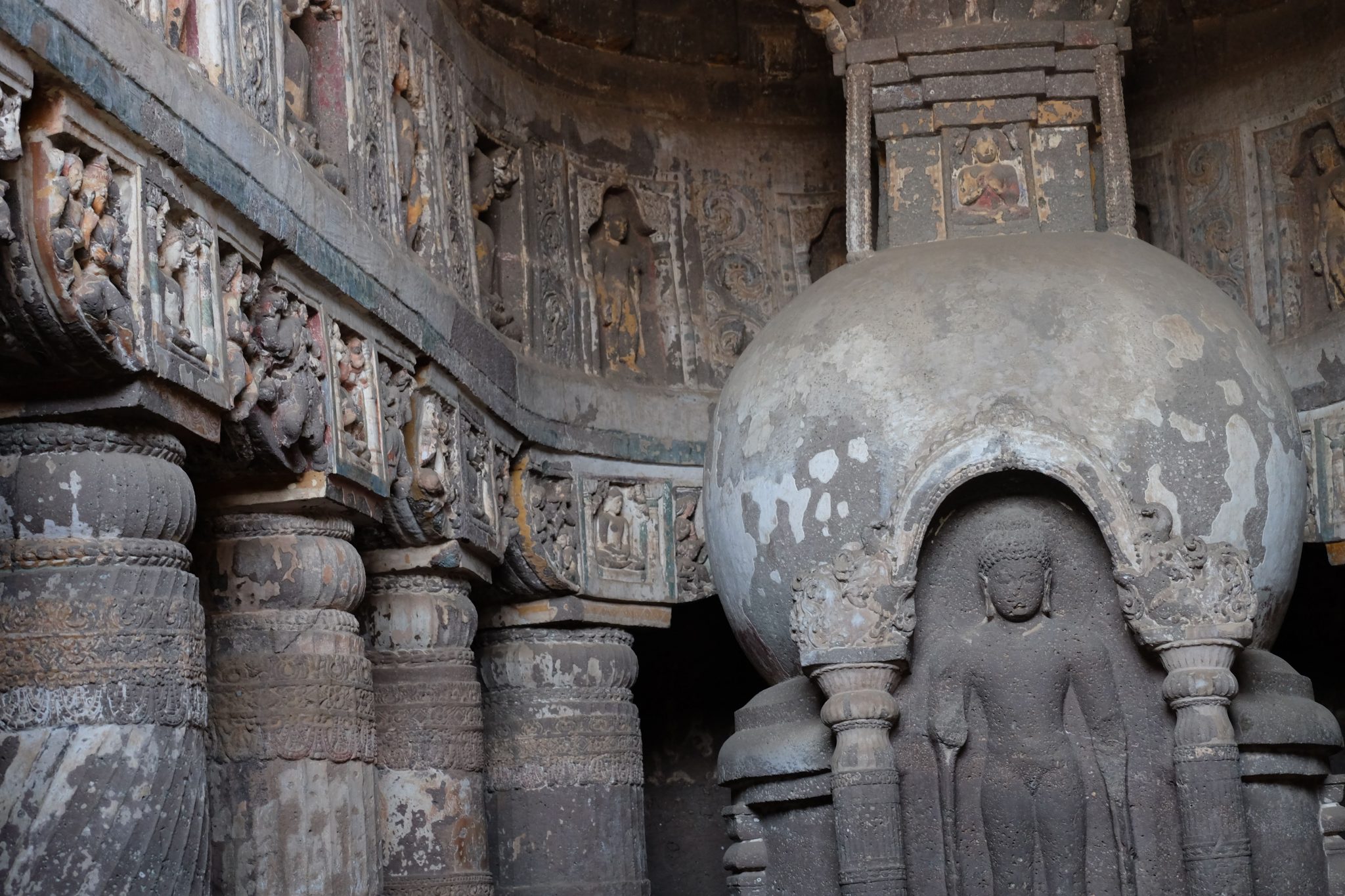 There are 30 Buddhist caves in total and 5 are chaityas (prayer halls) and the rest are viharas (monasteries).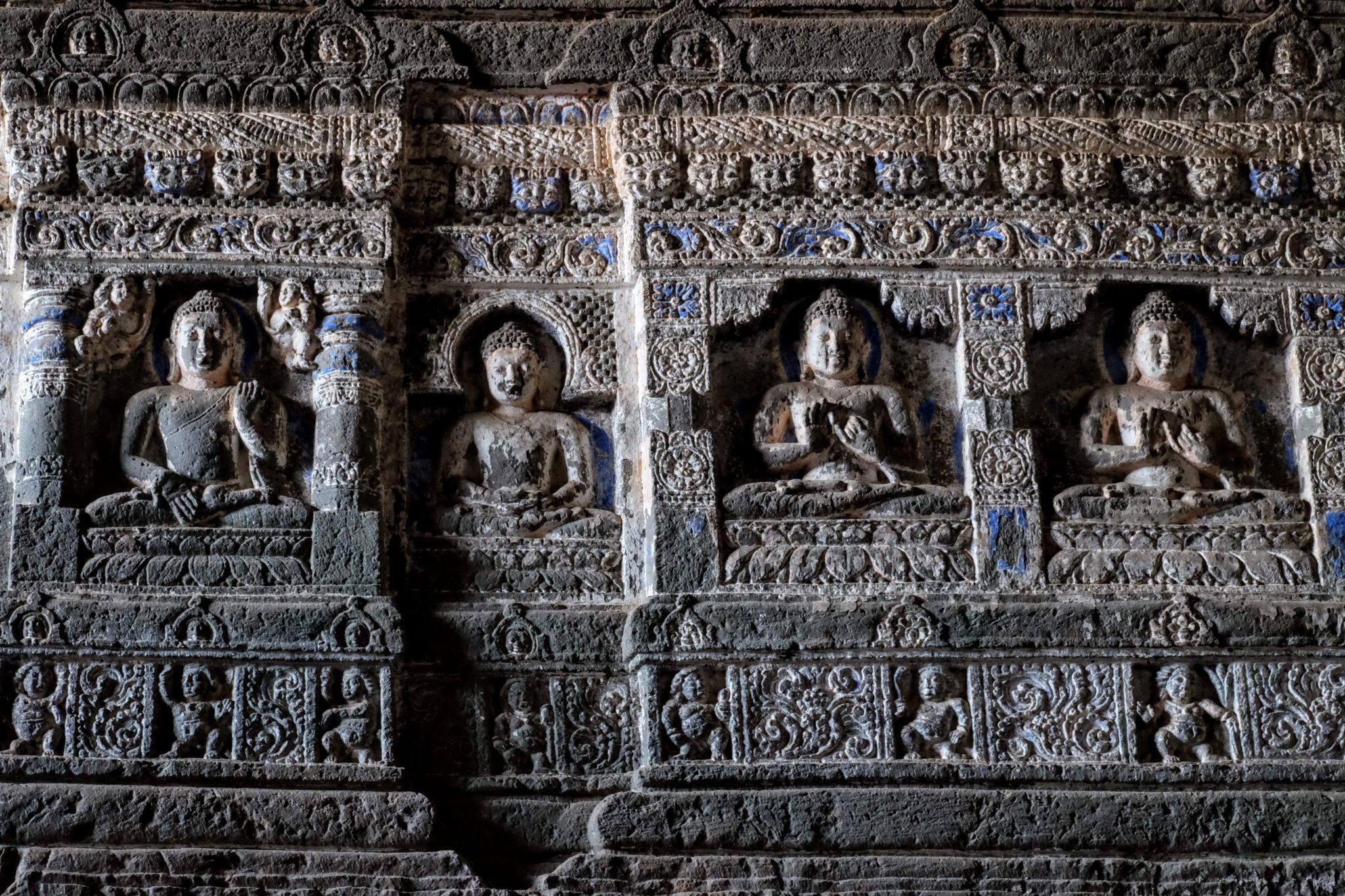 The most impressive caves to see if you don't have much time are caves 1, 2, 16, 17, 19 and 26. Out of these, the caves most famous for their paintings are 1, 2, 16 and 17. Caves 19 and 26 are known for their stone sculptures.
You can see the Ajanta Caves in about 2 to 3 hours and be sure to climb up the small hill to get a panoramic view. All the caves are close together as you can see which makes it easier. The route takes you around in a loop across the river so take all your photographs as you go along.
The Ajanta Caves are a bit of a trek but along with the Ellora Caves they are one of the most incredible sights that I saw in the whole of South Asia. Certainly, a day trip to remember and an insight into India's fascinating history.
Have you been to the Ajanta Caves? What did you think of them? Any questions then let me know in the comments below!
Pin this for later: