If you're in Agra visiting the Taj Mahal, then why not go on a day trip to visit the UNESCO-listed ancient city of Fatehpur Sikri which is arguably more impressive than Agra Fort and it can be cheaper. Read this guide to find out how to see Fatehpur Sikri on a cheap backpacker budget from Agra.
In terms of accomodation in Agra, the area near the Taj is also where the best restaurants are, and Agra Fort is about 15-minute walk along a boulevard from the Taj. We stayed at Hotel Kamal, which wasn't the best hotel I've ever stayed in, but it was really close and it did have a roof terrace with a view of the Taj. Check out hotel deals and reviews on the Tripadvisor link below.
The main train and bus stations are on the other side of Agra, but a journey to or from those should only cost around 100 rupees.
This post may contain affiliate links
Be aware that the Taj Mahal is closed for prayer on Fridays so you could schedule your visit to Fatehpur Sikri or Agra Fort on that day.
Getting to Fatehpur Sikri
Once you've seen the Taj, Fatehpur Sikri makes a great day trip from Agra. The Bharatpur bus goes from the public bus station near Agra Cantt and drops you off just outside the city walls. Bus station signs are only in Hindi so you'll have to ask which bus it is. It costs 30 rupees, takes one hour and gets incredibly busy.
There are shuttle buses that go up the dusty track for 10 rupees to the entrance to Fatehpur Sikri, or you can walk and it takes about 20 minutes. To go into the Fatehpur Sikri ancient city complex, it costs 600 rupees for a foreigner.
If that's more than your budget allows, you can skip that and head straight to the Jama Masjid, which is the impressive mosque and absolutely free.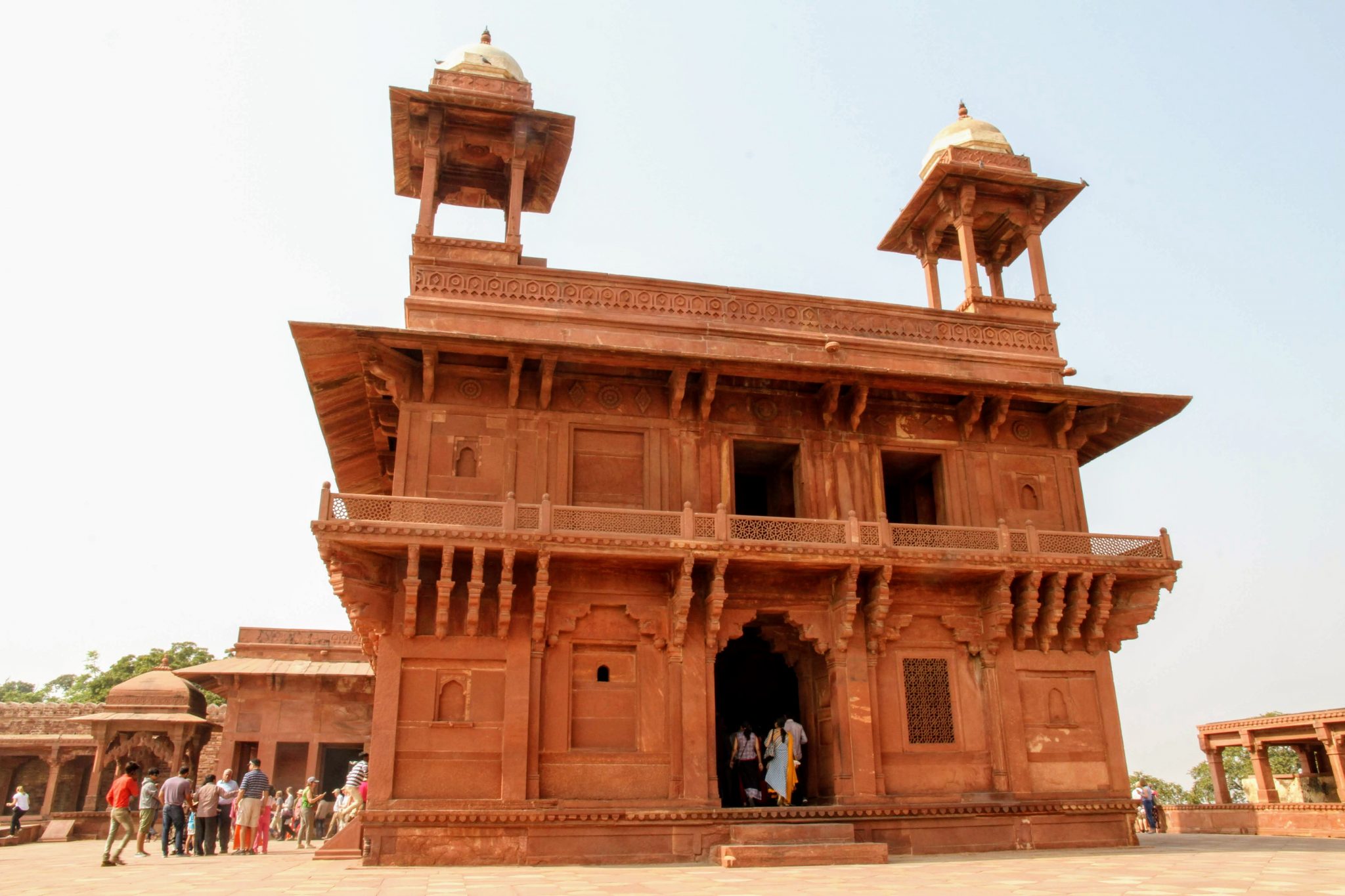 The history of Fatehpur Sikri
Fatehpur Sikri (City of Victory) was an Indo-Islamic masterpiece built in the 16th Century by Emperor Akbar, was the capital of the Mughal Empire for just over 10 years from 1572 to 1585. Akbar visited Sikri to see Sufi saint Salim Chishti who told him a heir to the Mughal throne would be born. He ordered a complex of monuments and temples including the Jama Masjid, one of the biggest mosques in India. He built 3 palaces (mahals) for each of his favourite wives – said to have different religions.
After Akbar's death, the area was abandoned – apparently due to water shortages. The buildings are made of red-sandstone and look beautiful at dusk and dawn.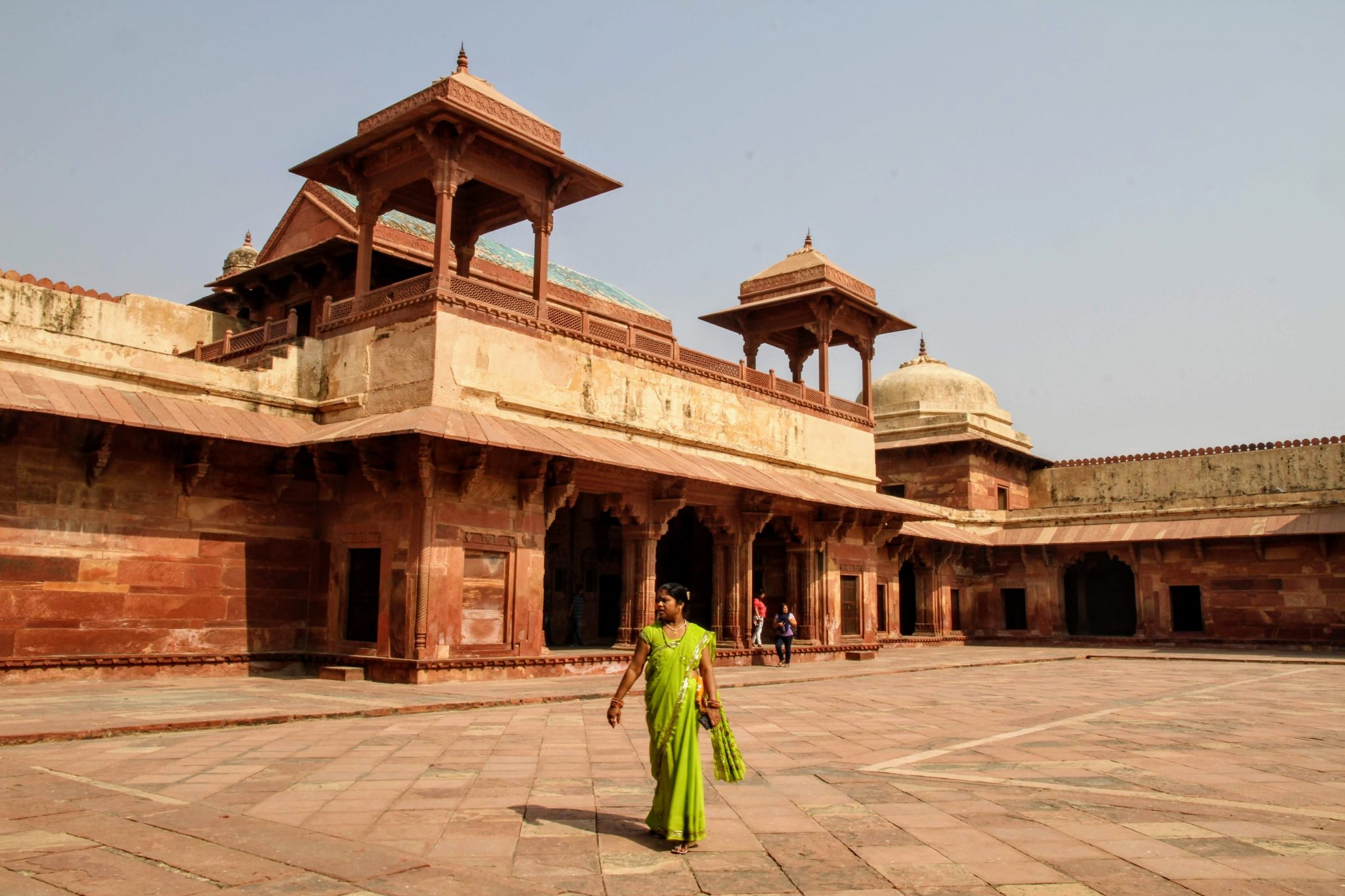 Some of the most impressive buildings within the complex are the Diwan-i-Khas (Hall of Audience), Samosa Mahal, Jodha Bai's Mahal, Hiran Minar and the Panch Mahal. People will probably ask you for selfies here, and looking back at my photos I can see people photographing me so be aware of that.
When you leave the palace complex, you'll come face to face with the incredible Jama Masjid.
Jama Masjid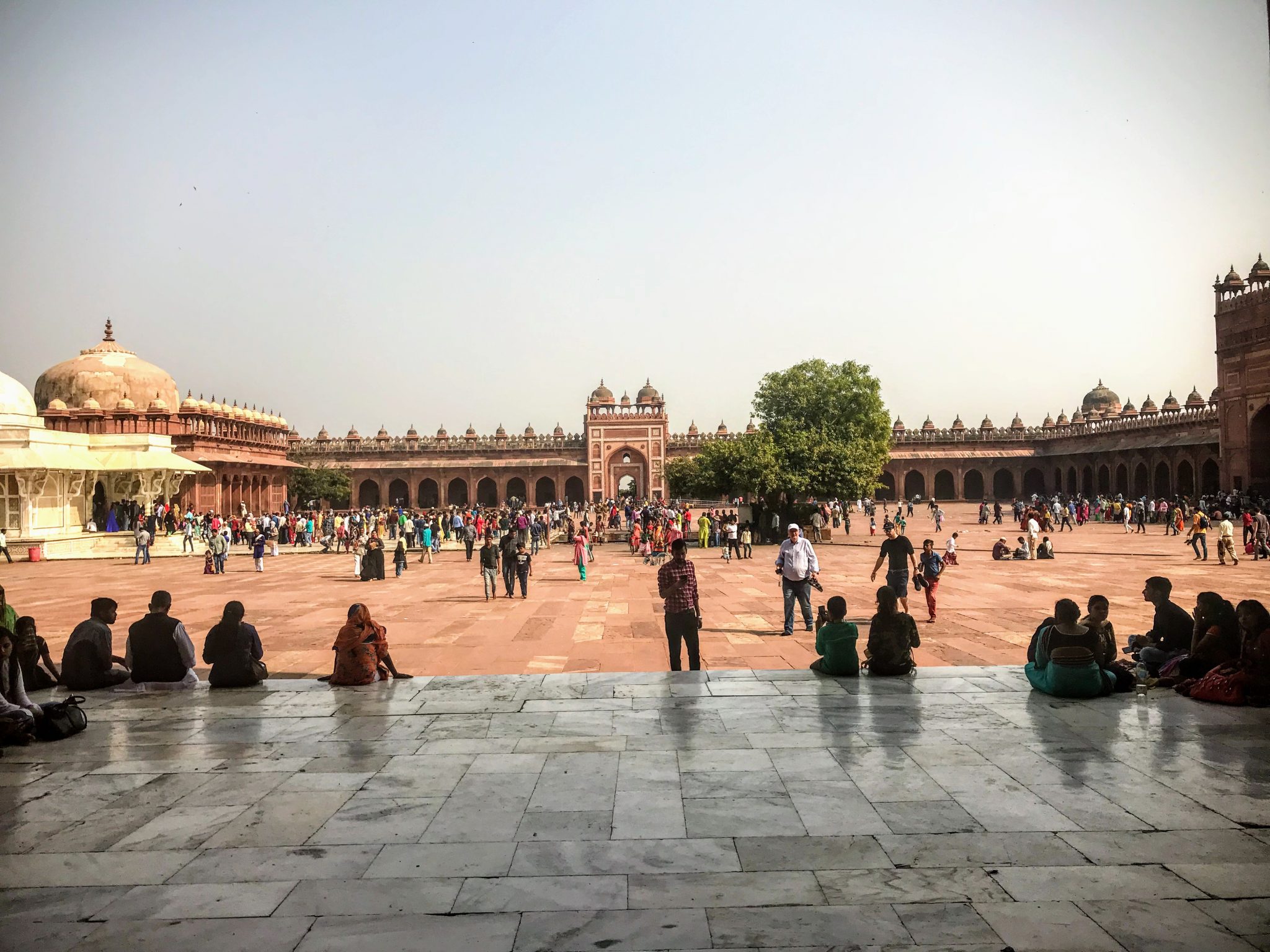 The Jama Masjid is very busy and you need to pay someone to look after your shoes before you go in or you'll have to carry them. Entry is free but be very careful with your belongings. Look out for the giant wasp's nests (avoid them), intricate carvings in the doorways, the white Tomb of Salim Chishti and the ornate Buland Darwaza gate.
There is a bus station just 5 minutes down the hill from the mosque where you can catch buses back to Agra without having to go back to the main road.
For me, the Jama Masjid was one of the most impressive buildings that I saw in North India and Fatehpur Sikri is a great little escape from the hustle of Agra. If you include the Taj Mahal and Agra Fort, you can see 3 UNESCO heritage sites in just 2 days which is incredible.
Where to next?
I also recommend visiting Keoladeo National Park in Bharatpur either as a stopover or day trip but it's better to stay here so you can get up at 7 am to see the wildlife. The bird sanctuary is two hours from Agra and was easily one of my favourite days in North India and it only costs 500 rupees.
Have you been to the Fatehpur Sikri? What did you think of it? Any questions then let me know in the comments below!
Pin this for later: