Train travel in India is a minefield and can be stressful so I've put together this quick and easy guide to tell you all you need to know in the least time possible, including all the links you need to register with and download.
Outside of Europe, trains are not so widely available which greatly adds to the novelty factor when travelling in India, compared with other countries. India has its own rules though, which you must learn (as we did) in order to make the most of your journeys and ensure that the seat or sleeper that you want is the one you book.
If you're planning on visiting India, then I recommend reading my article about the 15 things that you need to know before visiting India.
Here are 5 things that you need to know about booking and taking transport in India: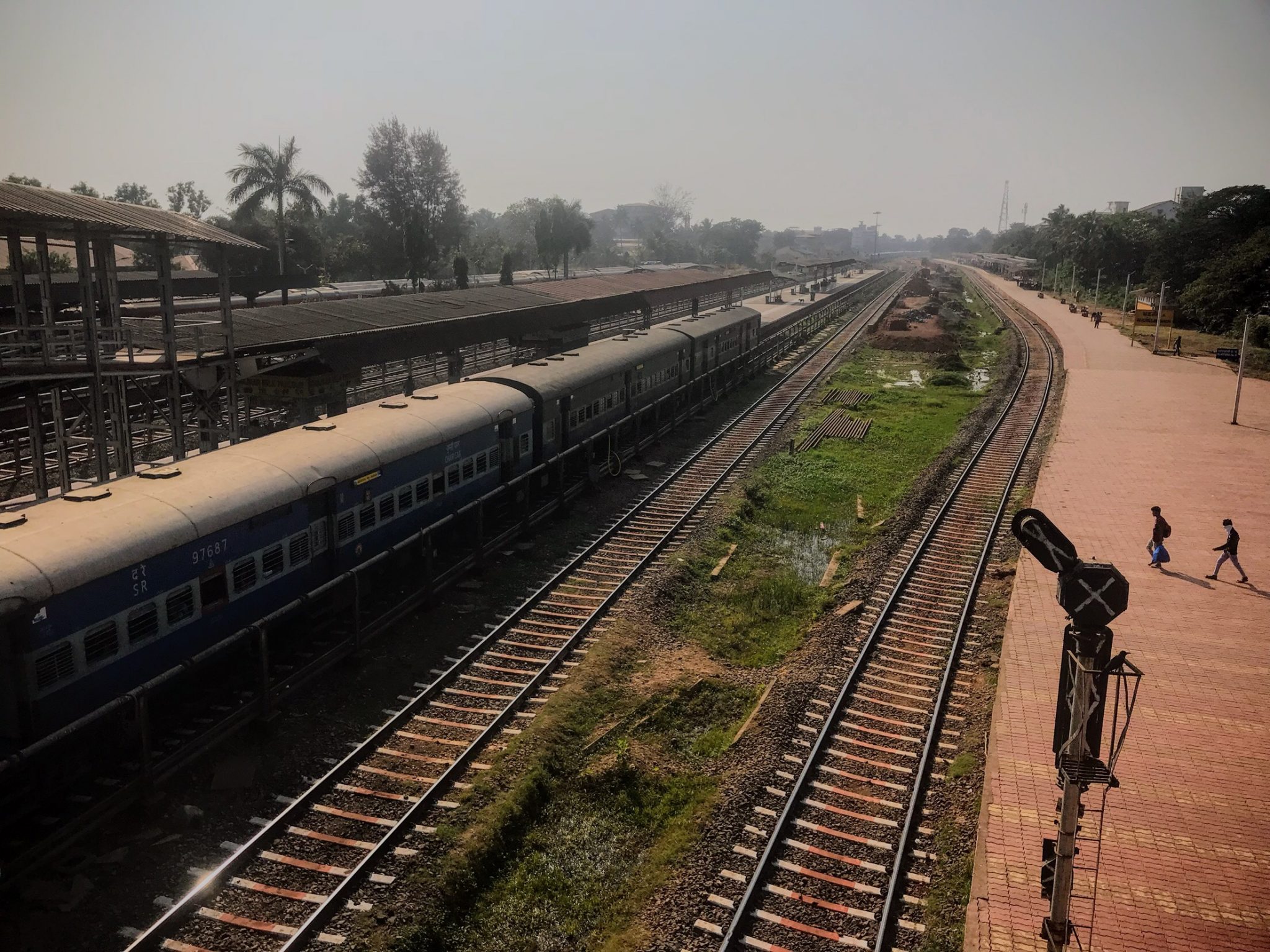 This post may contain affiliate links
1. What class of train?
AC First Class – You get your own cabin or two berths to yourself. So couples get their own cabin, sometimes there is no first class cabin so you get your own cabin in 2A.
2A – AC Two-Tier – Two tiers so 4 berths per cabin. 48 berths per coach.
3A – AC Three-Tier – Three tiers like a sleeper but with AC. 64 berths per coach.
EC – Executive Chair Car – Fancy AC chair train – sometimes includes food but only run a couple of routes.
CC – AC Chair Car – AC chair train for daytime travel.
SL – Sleeper Class – Most common class. Six berths per cabin plus two at the side. No AC.
2S – Second Seater – Like CC, without the AC.
UR/GEN – Unreserved/General – Crowded, cheap and no seat guaranteed.
Always book trains well in advance as reserved seating books up really fast. They are released 120 days in advance. If you're a woman be careful with sleeper trains and try to book the single beds at the side instead of sharing a cabin.
In places like Delhi train station, there are tourist booking centres that you can use, you may wait for hours to get seen but you will save money. There are also higher priced TATKAL tickets that go on sale at 10am the day before the train departs.
It's a massive pain to register with IRCTC, the Indian Railway company but it's worth it when you finally get verified and you get your ID. Once you have your ID, you won't be able to book on the IRCTC website directly so you'll have to use an app like iXigo using your ID. You won't be able to book on any app/website without an ID.
The train booking apps help you track trains as they're usually delayed and sometimes change platforms – be prepared for delays of up to 4 hours as a matter of course.
3. Book buses directly using apps
Download and book transport directly on the Redbus or iXigo apps to avoid cripplingly high commission from travel agents. The usual commission is not a percentage but a fixed fee of 300 baht or more per ticket. Travel agencies are one of the businesses in India that are most exploitative of foreigners who are not able to book transport directly, but technology is changing this which means they may lower their prices in the future.
Both Redbus and iXigo currently accept either Paypal or international cards as this is another problem with some booking apps. I had problems with MakeMyTrip which uses AmazonPay for foreign cards which can be temperamental.
If you want to book a state transport bus ie Kerala State Transport then search for their website online to see if you can book them there as it depends, Gujarat State Transport buses can actually be found on bus booking apps. The best and most comfortable buses are the Volvo coaches.
4. Buy data, download maps and book taxis directly once you arrive
Tuk-tuks are great for short journeys and they're everywhere but they massively overcharge tourists and often can't find places. Always get offline maps like Maps.me on your phone so that you can direct drivers to your hotel. The main advantage is that tuk-tuks are good because you can jump out if you're in danger. The main disadvantage is that it's difficult to barter with drivers because they would rather not take your fare than lower the price.
If you have data or wi-fi connectivity then I recommend getting an Uber cab to avoid getting ripped off. Get £3 off your Uber by using my code jennifers467.
We stayed in some quite ropey accomodation in India so its always worth looking at the reviews from other travellers on Tripadvisor before you book your hotel. Your hotel can help you navigate your time in India so look and book on Tripadvisor below:
5. Prepare for discomfort and secure your luggage
Most trains and buses are uncomfortable, even the more luxurious ones like the overnight buses with claustrophobic cabins. Another issue is that companies won't always let you put your luggage in the hold as it slows them down, so you will have to put your backpack on your knee or sit on it in the aisle. It is also common for people to push and shove to get on trains or jump on while they're moving. You need to be careful as there was one occasion that a man physically grabbed my arm and forced me to remove it from a pole as he cared more about getting a seat than causing me pain.
My partner had his bag stolen on the public night bus to Shimla and we had to get him a new passport from the British Embassy as a result. Make sure that your bags are chained up securely as although the bag was secured but they cut through it. It's also worth investing in locks like the ones below as people will go through bags as well given the opportunity.
Despite the toughness of travel in India, you'll see some incredible things once you get there. Whether it's the Taj Mahal, the streets of Jaipur or the magnificent Ellora Caves you will see some things that can only be found in India which will keep you going through those sometimes difficult and long journeys.
Do you have any tips for travel in India or want to share your experiences of public transport? Let me know in the comments below.
Pin this for later: