Trekking to Everest Base Camp is on so many people's bucket list and there are several things you need to know before you do it. Many people gloss over some of the more difficult parts of the EBC trek, and funnily enough, the hardest bit of it is not necessarily the trek itself, it's the environment around you.
If there's one thing I took away from successfully completing EBC, it's not about the trekking itself, the whole experience is hard. In fact, the trekking is one of the easier parts so here is my exhaustive list of everything you need to know before you trek Everest Base Camp.
This post may contain affiliate links
Without further ado, here is the list in no particular order:
1. Don't carry too much
You'll get backache and put yourself in a bad mood, I certainly did. Only take what you really need in your daypack so water, a couple of layers, a camera, snacks and money. Your guide will advise you on what you need.
2. Don't make your porter carry too much
To make your life really easy, I've compiled a complete packing list for female trekkers which has everything that I took and used, which will save you buying excess kit.
3. You will be hot
Without sounding dramatic, I actually found the heat quite unbearable as there is no shade. If you are trekking in peak season, you'll probably spend a lot of time stripping off. Make sure that you have your hat and suncream to prevent heatstroke.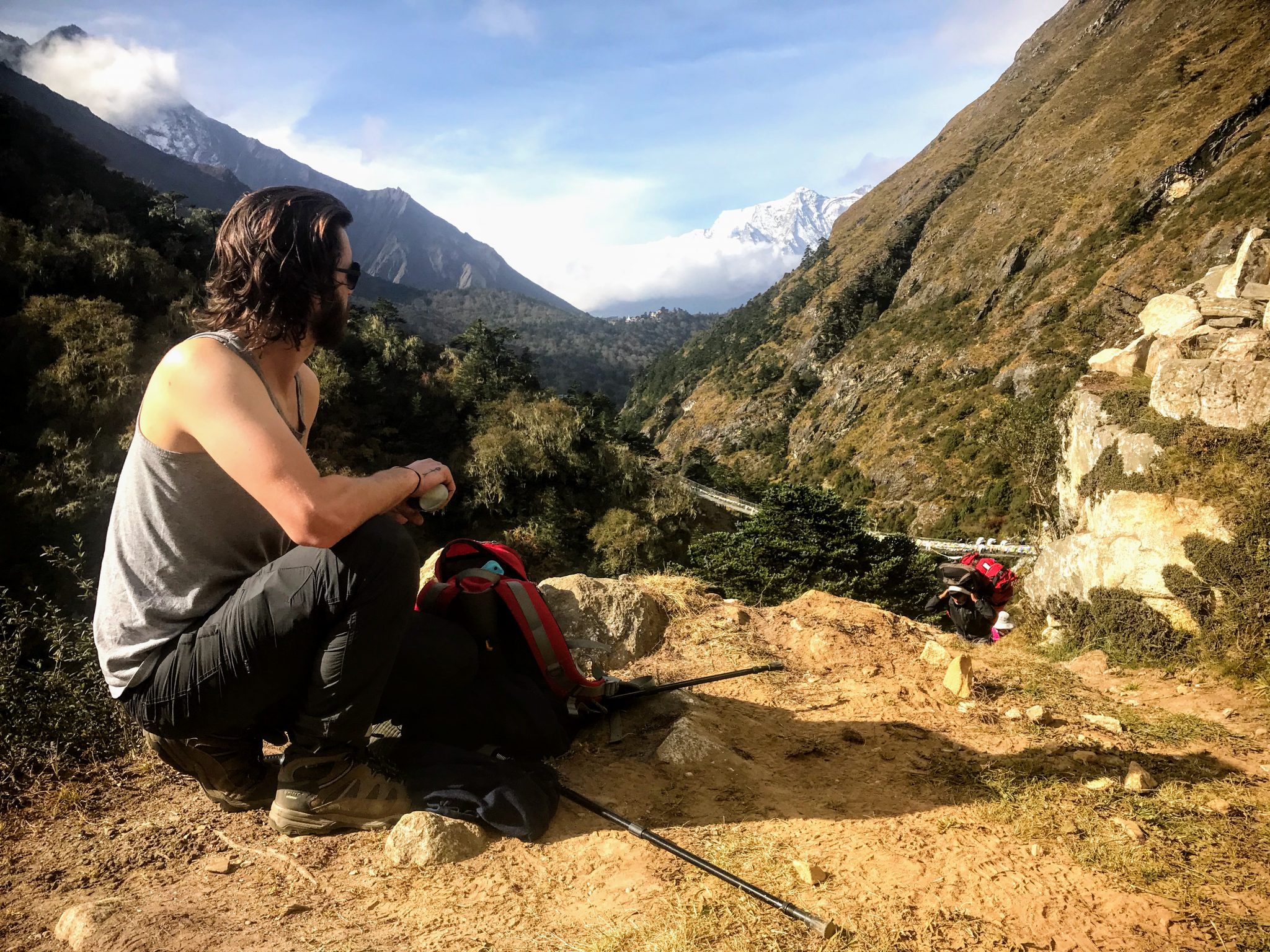 4. You will be cold
In the nighttime, you'll have the opposite problem and you'll be freezing. Make sure you have a four-season sleeping bag and thermal underpants. Don't nap though as you won't sleep at night, stay up to at least 9pm as you'll need lots of sleep.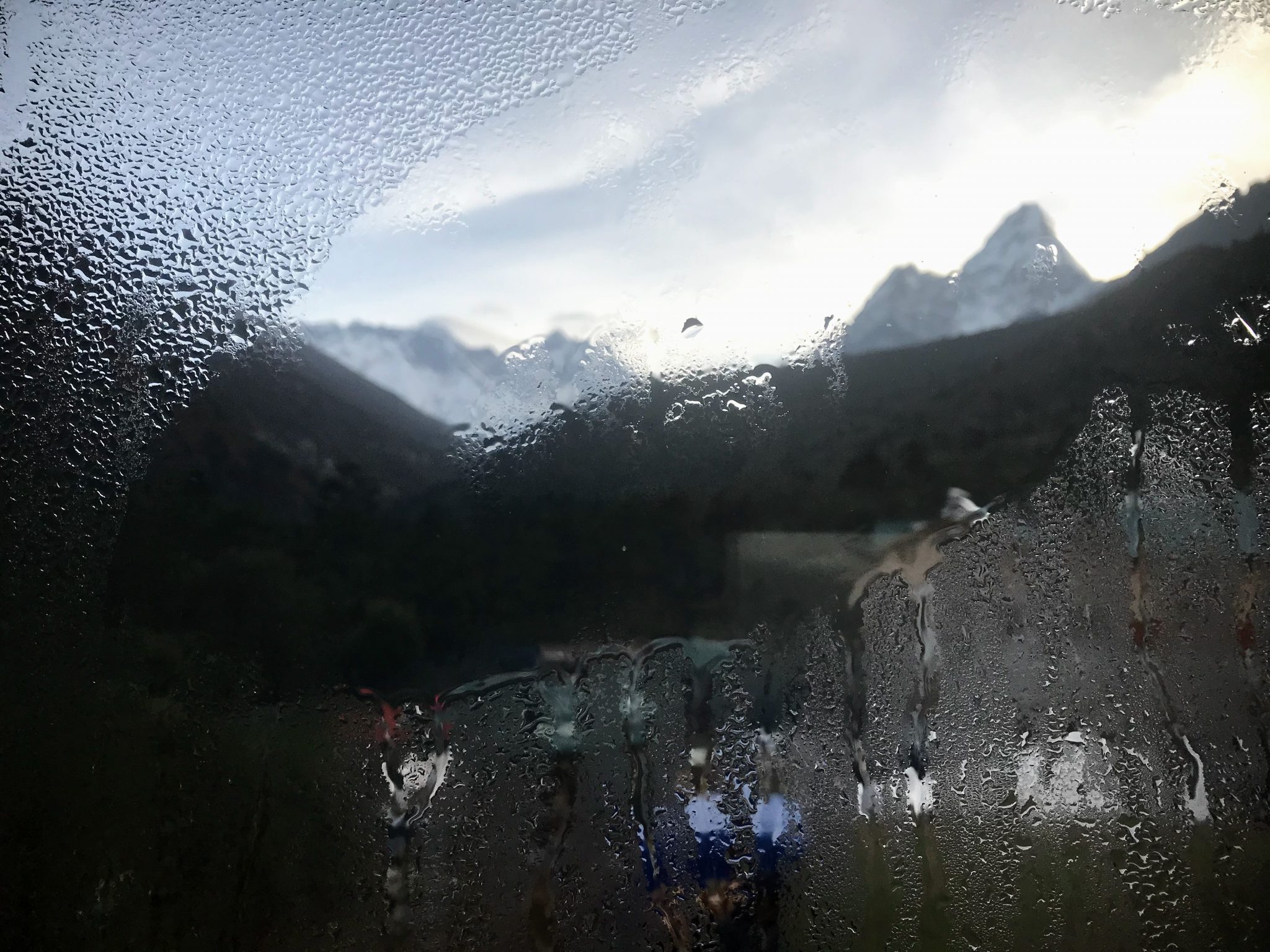 5. Everything gets more expensive as you get higher
Everything does get more expensive as you get higher, but it's incremental so you don't need to worry about it too much. I took $200 in Nepalese rupees and that was enough for my meals plus cake and beer at the end.
6. You will get sick
Everyone gets sick in some way as your body is going through a lot. 'Khumbu cough' is one thing that many people get due to the thin air, dust and smoke. Sunstroke, food poisoning and diarrhoea can also cause problems as well as altitude sickness. Read my guide to a complete medical kit for world travel.
7. You may get emotional
Many people cry on the mountain and apparently altitude makes you more emotional. It also makes you fart more so you essentially regress into a child. A woman who got sick in our group cried more than I've ever seen anyone cry which was hard to watch.
8. You may develop a fondness for certain food
It's actually quite hard to eat at altitude so if you can find something on the menu that you really like, then it really helps. One of our group subsisted largely on popcorn and custard but that is not to be recommended! She still summited the bottom of the mountain though. I liked pancakes, porridge, hash browns and chips as they were plain enough for me to manage.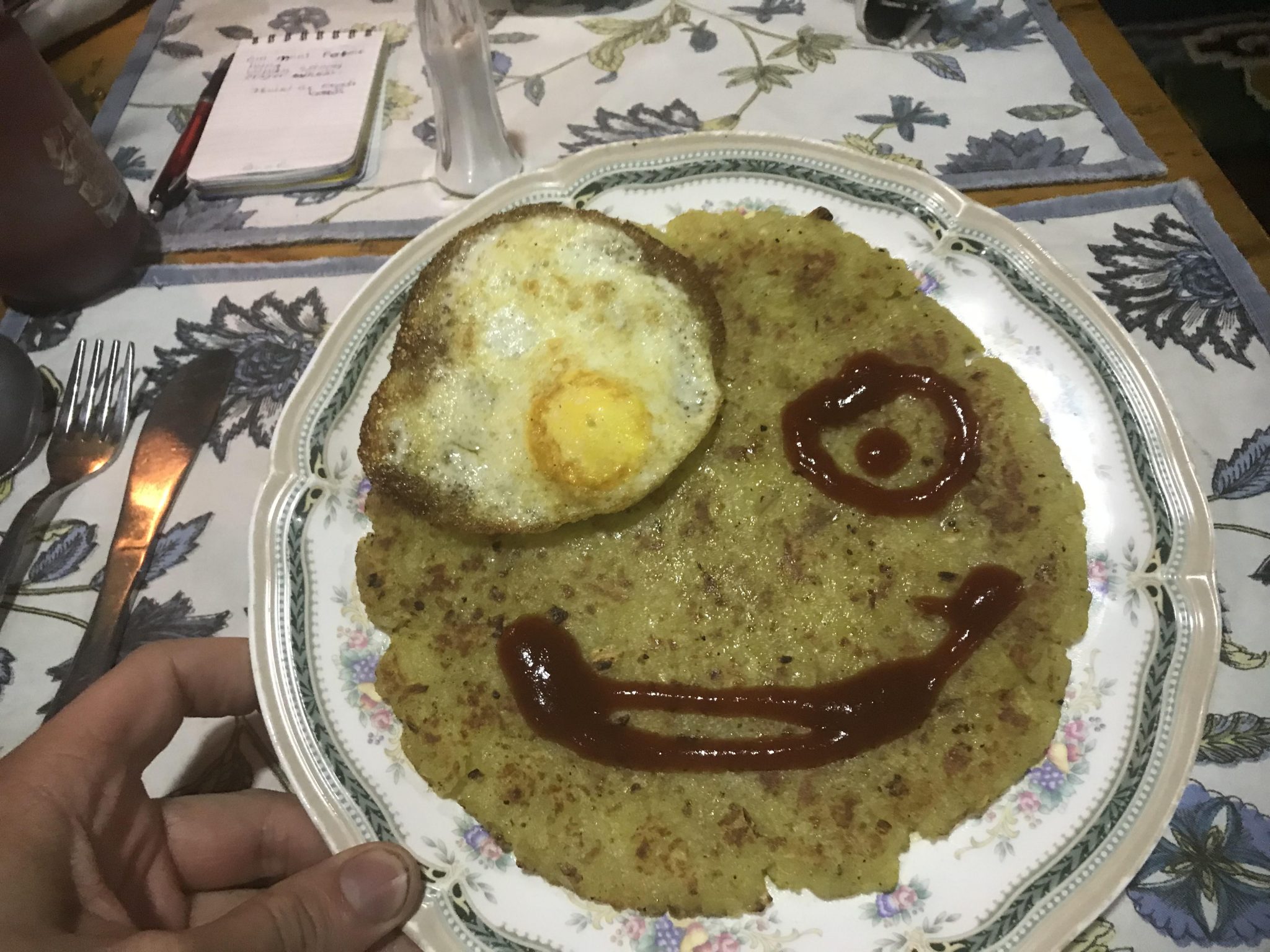 9. You will feel strongly towards your group
You're in the proverbial trenches together and you look after each other. One of our group had some virulent form of Nepalese gut disease (possible food poisoning) and she had to go back down the mountain which was hard for morale. You will bond as you spend a lot of time together in the evening playing cards and Jenga to stave off the boredom. Six months later and our Whatsapp group is still popping.
10. Your health stats may become an obsession
If you're with a reputable company then they will track your health stats in a logbook as it is their priority to keep you healthy. I would panic every time I gave a reading so my heart rate was really high but they knew that it was mental and not physical so I was fine. Lowered blood oxygen is a good indicator of how well you are, as sometimes people don't recognise or lie about their sickness. Needless to say, you'll become obsessed with them.
11. You're not having a stroke, everything smells strongly of smoke
You will be in a small restaurant and the smell of burning yak dung can be quite overwhelming. When I first smelt it I thought I was having a stroke but this is what people use for fuel in the mountains. It does make the teahouses more unpleasant but at the same time, it's great when the fire goes on at about 4pm as it's so much warmer.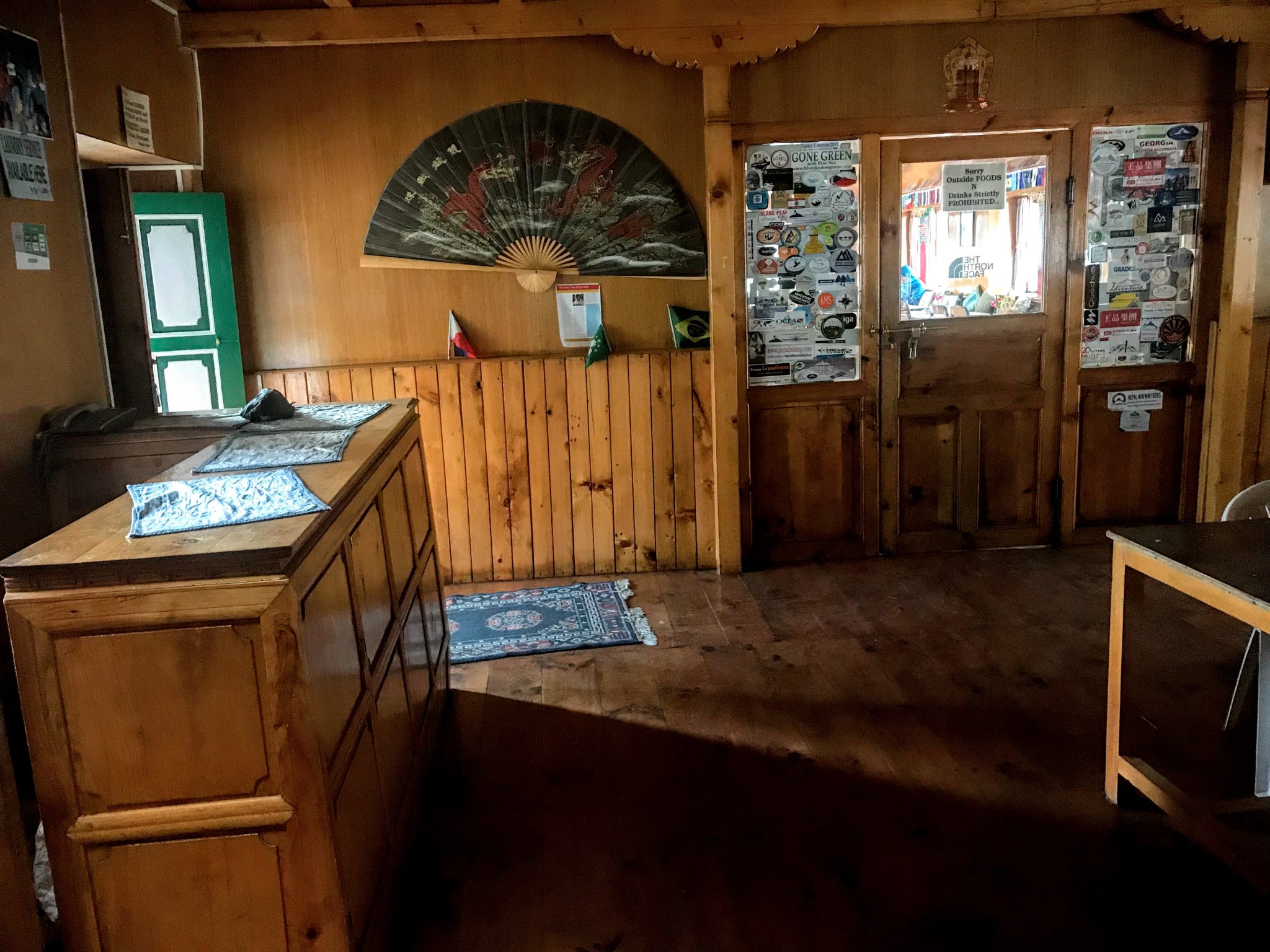 12. Know your HAPE from your HACE
Altitude sickness comes in three forms, AMS, HAPE and HACE. AMS (Acute Mountain Syndrome) is your general feelings of headache and nausea whereas high altitude pulmonary edema (HAPE) and high altitude cerebral edema (HACE) are life-threatening. HAPE is water collection in the lungs and HACE is water collection in the head and if you have either, you need to descend as they can be fatal if untreated.
The NHS website has more information about the symptoms of altitude sickness, always seek medical advice if you feel unwell on the mountain.
13. Treat yourself
We stuck strictly to a budget so make sure you buy or bring good snacks! There are also a few bakeries to indulge yourself in, all claiming to be the world's highest. They will help your morale but don't bring crisps because this happens at altitude…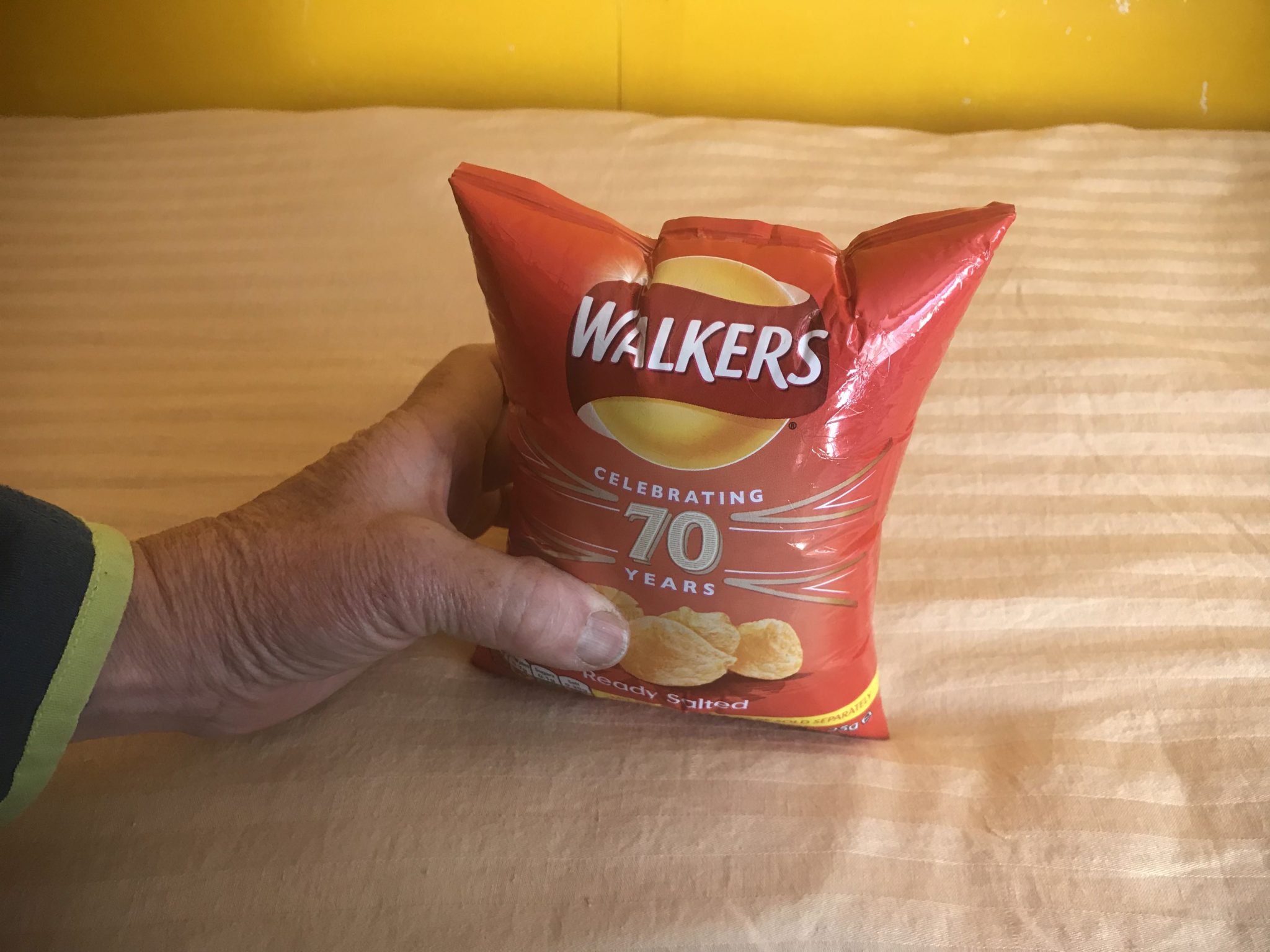 14. Sticks are a pain when walking on the flat
If you can find a way to tuck your sticks into the side of your bag then I really recommend it as they will get on your nerves when you're in a bad mood. They really help when descending though.
15. Follow your leader's advice
Your guides go through a lot of training and in order to be the main guide, you have to do a lot of treks as an assistant. They know what they're talking about and they take their jobs seriously – so listen to them.
16. Don't trek without a group and only use a recommended company
If you trek alone and you run into problems then you are putting your health at risk and potentially the person or people who have to rescue you. Always do your due diligence about the company that you use, we used Kandoo Adventures and they were great (not an ad). Find reviews online to make sure you're with the best of the best.
17. Learn a bit of Nepalese
The words you'll really grow to hate are 'zum zum' which mean 'let's go'. On a serious note, its definitely worth learning some Nepalese as it will help you to relate so much better to your temporary mountain community. As with any language, a little goes a long way.
18. Choose the most robust insurance possible
Your insurance policy needs to cover you for over 3000m altitude so you will need specialist insurance. We used World Nomads (not an ad) and we had to make a claim for our helicopter (our Lukla flight was cancelled so we paid the difference and reclaimed it). It was expensive for the insurance but worth it in this instance.
19. You can always get a helicopter down
There are many helicopters in circulation as there are constant flights for pleasure, medical reasons and chartered for people who are completing their hike at EBC. You can request a helicopter at any time that will take you back to Kathmandu if you need it.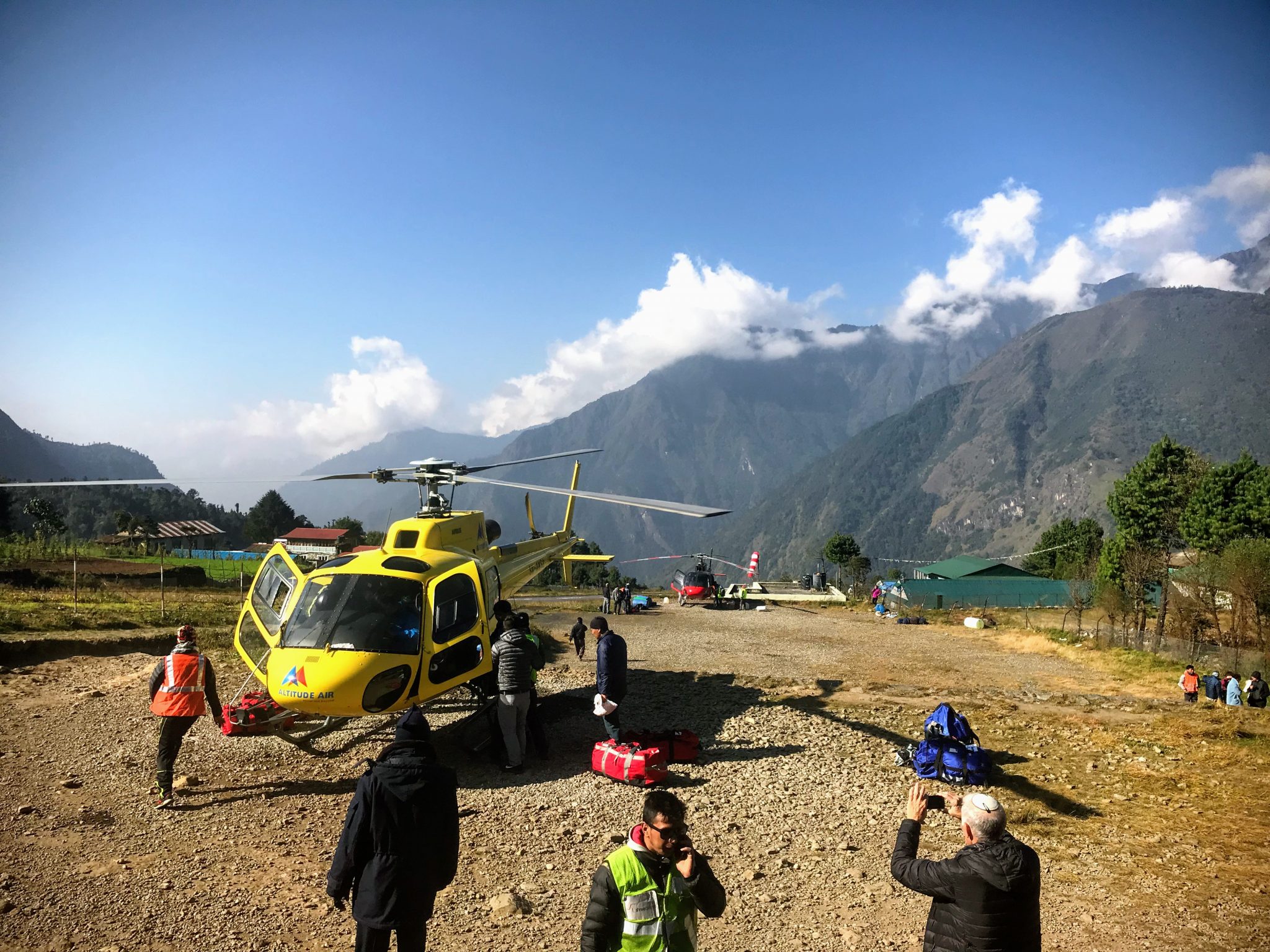 20. If you can't afford a helicopter, you can take a mule
If you're not sick enough that you can get a helicopter on your insurance (or out of your own pocket), you can hire a mule to ride as you descend.
21. Some people pretend to be ill because they hate it so much
Obviously, you should take sick people seriously but I did see a few fakers who struggled and wanted to leave the mountain as a result of the tough conditions.
22. Your plane either there, or back may be delayed and you'll become obsessed with the weather as a result
Our flight to Lukla from Kathmandu was cancelled so we had to drive to another airport in the middle of nowhere the next day after getting up at 4am. It's quite mentally draining when you're full of adrenaline for the trek and you're told you can't go. It also means that you miss an acclimatisation day that you might need as two are generally built into your itinerary. Our flight was also cancelled on the way back (we trekked in October peak season) so it's difficult as people do get stuck in Lukla! Luckily you can usually get a helicopter and claim it on your insurance.
23. Diamox can be taken for mild altitude sickness (do not do this without supervision)
Seek medical advice when taking Diamox (Zolamide). It can be bought in Kathmandu and on the trail including the clinic in Pheriche.
24. Watch out for animals
There are a lot of animals on the trek – mostly cows, yaks, mules, donkeys and horses carrying various things like gas and food. I saw some yaks that had the discarded ends of walking poles put on their horns to stop them from hurting people which is just so pure.
The donkeys, cows and yaks have bells so you can generally hear them – but you always need your wits about you as we nearly got knocked off the mountain by an escaped horse. Constantly concentrating on avoiding animals can be tiring but they are as much a part of the mountain as the people.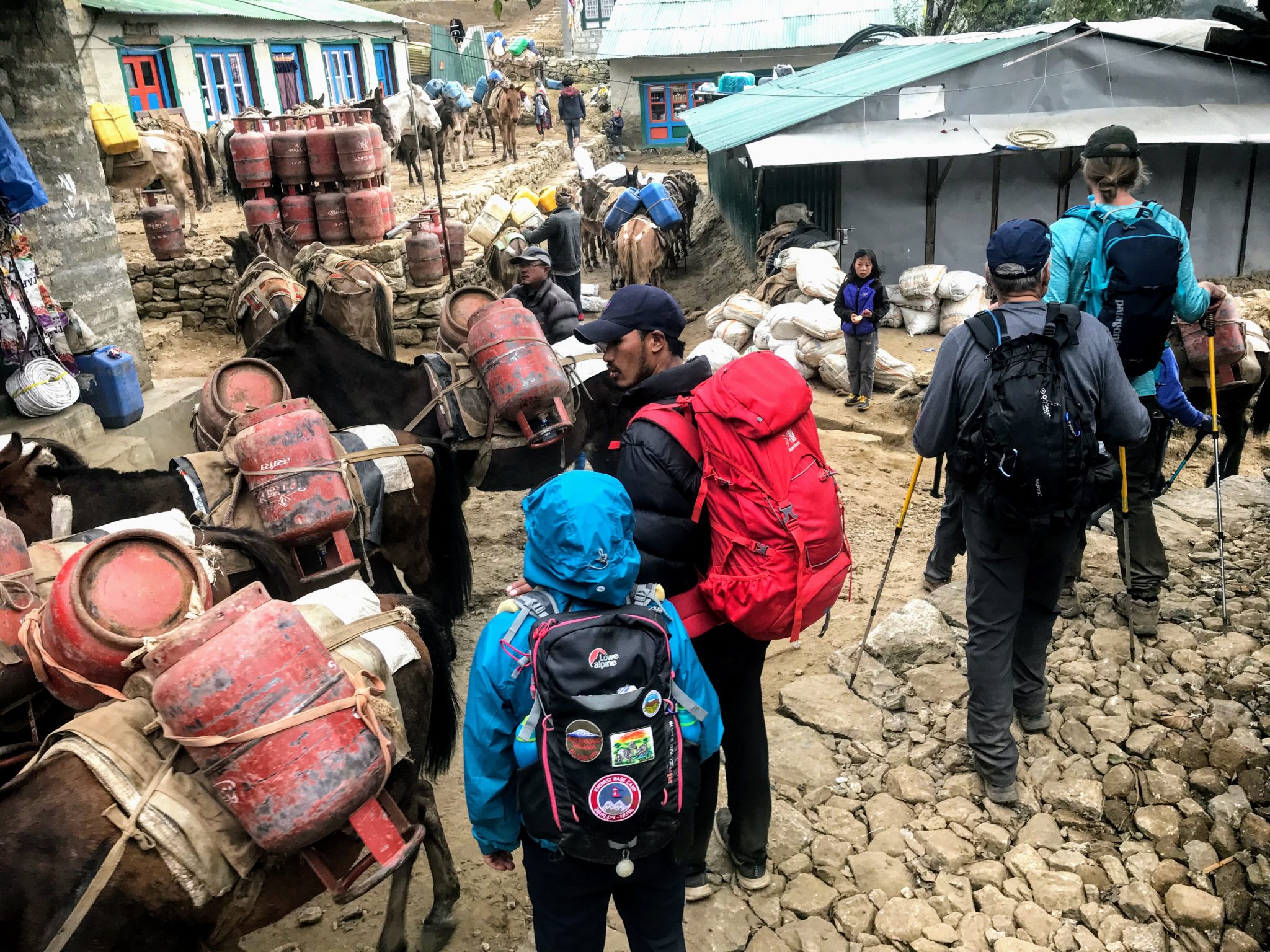 25. Watch out for wildlife
On our way back down, on the approach to Namche Bazaar, I saw a weasel with a pika in its mouth and it really gave me a boost. Here is a poster that will tell you about the creatures that you might be lucky enough to see in the Sagarmatha National Park.
26. Always move for porters
As well as Sherpas or porters carrying trekking kit, there are many other porters who make a living by carrying various items up the mountain that are needed by people and businesses. This means that people are carrying fridges, metal girders, huge plastic water storers, crates of food and drink and many other essential items.
It's unbelievable what people carry up the mountain with only a small walking stick to offset the weight. These porters take priority so it's important to get out of the way for them as they're under a lot of physical strain, with much of it for trekkers like you. I've seen tourists push past porters and that is not okay as you can seriously injure someone as well as making yourself look like a prick which leads me onto…
27. Don't be a knob
The combination of exhaustion and altitude with put you in a bad mood, and it's normal to get irritated at small things that wouldn't normally bother you. On the rocky and very congested pass from Lobuche to Gorak Shep, a woman made a sarcastic comment to me about not saying thank you when I'd passed hundreds of people that day.
Everything on the trek is about being mindful of the hoards of other people that are around you and you would exhaust yourself by thanking everyone. Sometimes you chat and sometimes you don't but it's totally unnecessary to be disparaging and unkind to others, especially as many people are sick and you don't know what they're going through.
28. News travels fast on the mountain
If something bad happens then you'll know about it. You may also see very sick people so be prepared for that, especially if you're staying somewhere with a hospital, like Pheriche. Seeing people in the full gear for altitude sickness is quite distressing so be aware of that as well.
29. Gorak Shep is a hellhole
There are few hotels in Gorak Shep (nearest place to EBC) and in peak season they're insanely overcrowded with people asleep everywhere. I spent my evening in Gorak Shep throwing up in a bin as did my boyfriend. Even climbing stairs will make you exhausted and when you've seen EBC, you may feel quite flat when you return.
This is partly to do with sleeping over 5000m which is pretty rough for anyone and higher than you'd actually sleep on Kilimanjaro. The picture below shows the whole of Gorak Shep and despite the beautiful backdrop, it feels good when you leave. I left a few piles of vomit by the path but perked up no end once we descended to Lobuche.
30. You don't get a good view of Everest from EBC
This small peak is mighty Everest and its the view you get from Base Camp. You get a better view from Kala Patthar but you need to get up at 4am to see it which is tough. It's worth noting that Everest Base Camp is a popular staging point for people making a statement – whether that be personal or political and people leave momentoes of their cause there too.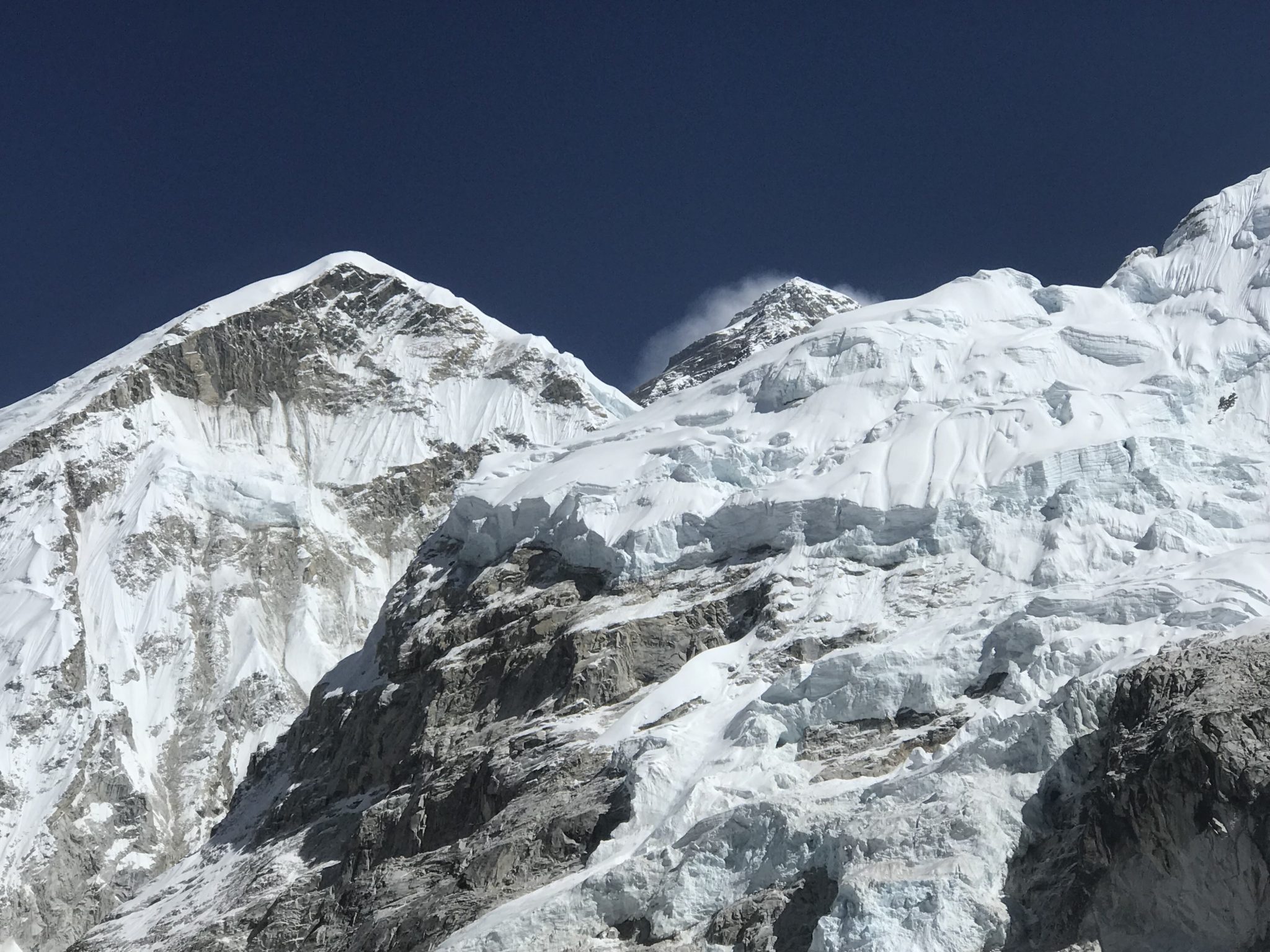 31. The beer at the end tastes so sweet
You've seen Everest, now drink Everest as your reward. If you don't drink, there are some cafes and an Irish bar that you can hang out in while you pray that your plane arrives the next day. I loved going to the pub in Lukla as it was the first time that I could relax in months and you can chill out with your gang. Savour that moment.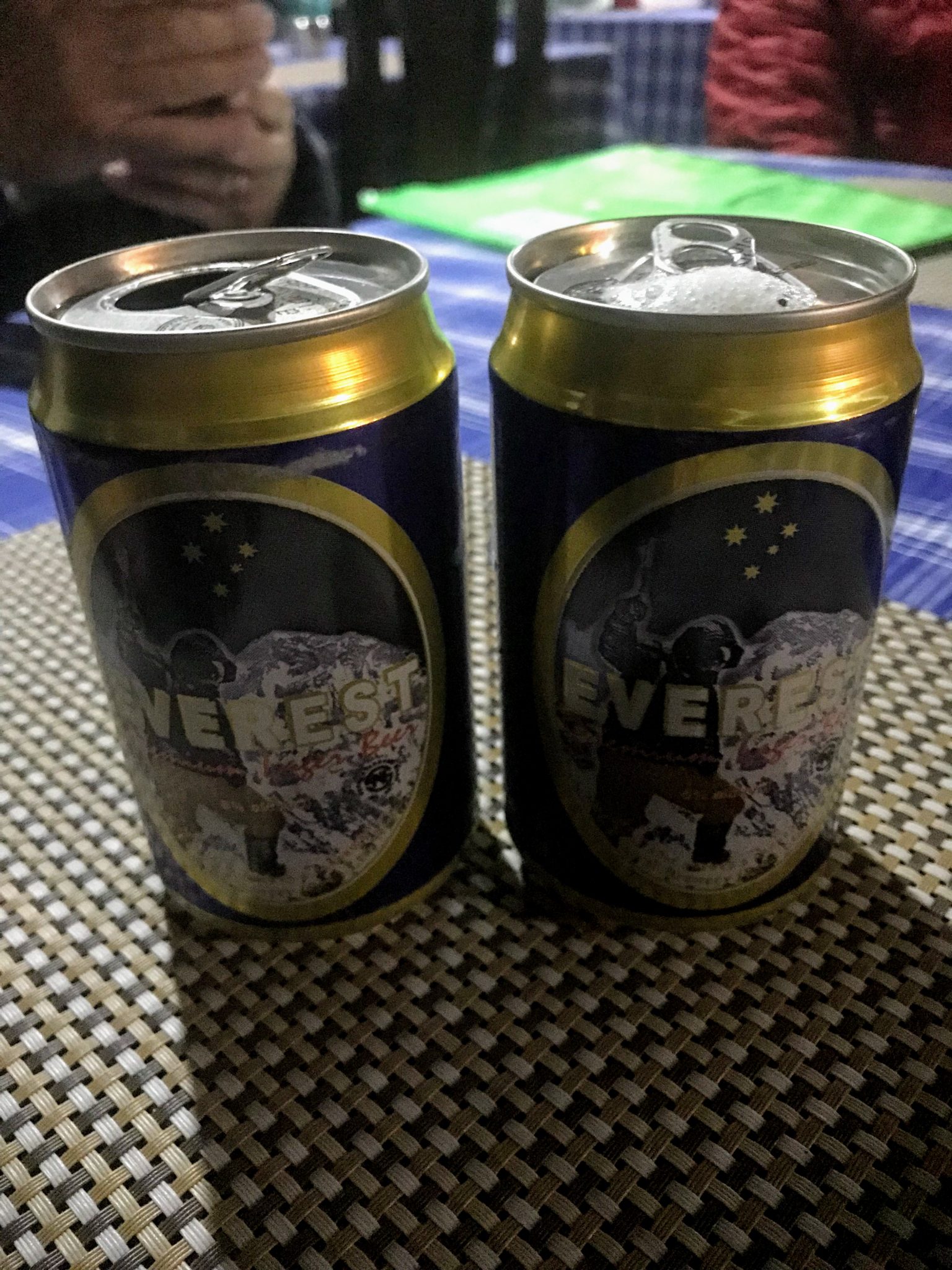 My last piece of advice is to take a few moments at points in the trek to take in the incredible landscape and everything in it – there is so much going on that it's easy to forget to do that. Trust me when I say it's beautiful and the pilgrimage to Base Camp is utterly life-affirming.
Have you hiked or are you planning to hike to Everest Base Camp? How did you feel and what were the things you wish you'd known or surprised you along the way? Share your stories and questions with me in the comments below. I'd love to hear them.
Pin this for later: