If you're planning on trekking to Everest Base then you'll need the right equipment, which is why I've created the definitive packing list for female trekkers to give you one less thing to worry about while training.
Before we begin, I would always recommend going with a reputable trekking company, and ascend slowly, it can be very dangerous to try trekking Everest Base Camp too quickly and somebody died trying to do it in 9 days just before our trek.
Make sure you have an insurance policy that covers you for an altitude of over 5,000 metres. We used World Nomads who are expensive but worth it if evacuation is necessary for you.
Most people feel ill at some point during the trek and this is pretty normal as the altitude makes it tough, make sure to have a fully stocked medical kit and always let your guide know if you're feeling ill. One of our group had to descend due to sickness and diarrhoea, she was bitterly disappointed but it's not worth it to risk your health. A good trek company will test your blood oxygen level every evening to make sure you're fit to trek.
I recommend being fairly fit as this will help you to push through, in preparation I went running and did a few hikes and I had no issues with the trekking. In many ways, it's the harsh environment, the mental strain and the altitude which is much worse than the trekking itself. I have an anxiety disorder and OCD and I managed to do it, ultimately if you take it slow and steady, sleep well, drink a lot of water and eat well then you're in with a fighting chance.
I overpacked slightly, so these are the things I actually took on the 14-day Everest Base Camp trek with me, and why they were useful: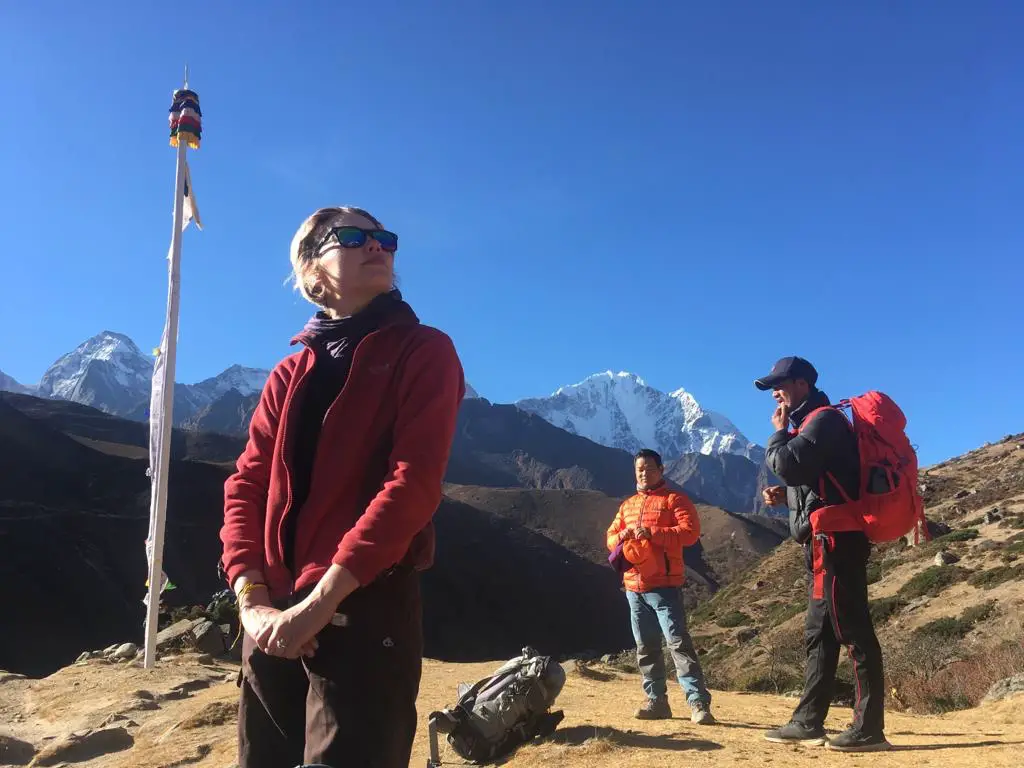 This post contains affiliate links
1. North Face fleece
I took two North Face fleeces, the thick red one in the picture above and the thin black one below. The thin one was great for layering and the thick red one was my outer layer for the first few days of trekking before it got really cold. Fleeces are also good for when you're relaxing in the freezing cold tea houses.
2. Icebreaker Thin Base Layer x 1
Icebreaker tops are made from merino wool and when you're at altitude, merino wool is your friend. It also comes in sustainable packaging. I used this thin layer for the first days of trekking and then for layering up in the evening.
3. Icebreaker Thick Base Layer x 1
This top was toasty so I used it for the higher up days, including EBC, Gorak Shep and Lobuche. I generally chose black, blue and grey colours so that everything would match but not look too dirty. I actually got engaged in this top, true story.
4. Short-sleeved Berghaus tech tee x 2
I recommend taking tech tees because you do get surprisingly sweaty, as, despite the cold, the sun does bear down on you. There were numerous times that we were trekking in our T-shirts so it's worth wearing one as your base layer. I recommend a t-shirt instead of a vest as you might get burnt in a vest. If you're showing any flesh then definitely wear sunscreen as the sun's rays are very strong.
It's worth taking two so you can have a refresh halfway through your trek or if one gets really dirty. I took 3 t-shirts with me, but if you have your base layers then I don't think you need them. I still wear these two on my travels as they match everything and they don't get smelly.
5. Craghopper trousers x 2
These trousers were inexpensive and heavy-duty. They also have space to put leggings underneath for extra warmth. They're good for the nighttime as they are warm but some people prefer to wear lycra leggings when they trek so it depends on your preference.
6. Icebreaker thermal leggings
These merino leggings will keep you toasty, especially on cold mornings. When it warms up you can always put them in your bag and they don't take up much room. I wore these to bed as they were more comfortable than trousers and my sleeping bag was pretty warm.
7. North Face waterproof trousers
I preferred these to gaiters as if you're trekking in season, the pathways are much more muddy than dusty, so I would just take waterproof trousers for protection if you experience wet weather.
8. Waterproof walking boots
I was really impressed by these Hi-Tech boots as they were inexpensive and really comfortable to wear, even though I didn't have much time to wear them in. They're also waterproofed really well as I walked through streams in them without my feet getting wet. Nothing really dries in the Himalayas, so much better to avoid getting wet in the first place as wet feet are not fun.
9. Buff x 2
Buffs or neck gaiters are one of my favourite things to take travelling. This buff is made from merino wool and it was a lifesaver whilst trekking, partly because it kept my neck warm and protected it, but mostly because of the dust. The trek is very dusty and Kathmandu is one of the dustiest places I've ever been, so putting your buff over your face can really protect your health while trekking.
I didn't wash my hair for the whole trek as I didn't want to get sick from the cold, so I used my buff as a headband for my extremely greasy hair. I would definitely take two though, as they don't take up much space and they go through a lot from being on your dirty face and head!
10. Wide-brimmed sun hat
I wore my wide-brimmed hat much more than my woolly hat as the sun gets very intense. It helps to protect your face and neck to avoid sunburn and sunstroke as well.
Despite drinking 3 litres of water, wearing my hat and sunscreen, I still ended up with sunstroke as there is not much shelter when you're trekking. So this is my warning to be wary of the sun if you're trekking in peak season.
11. Beanie hat
While you may not need it much when trekking (not until you are close to EBC), you'll definitely need your hat for the tea houses and to keep your head warm when sleeping. A warm head at night will help prevent you from getting ill as well.
12. Gloves
I took big mittens with me but it was difficult to hold my sticks with them. Unless it's out of season or you're staying at EBC, I wouldn't bother with mittens as they take up a lot of space. I loved these North Face gloves as they were really lightweight, I could still grip my sticks and they dry very quickly.
13. Merino bra
This merino bra was one of my favourite things that I took with me and I now wear it all the time! I also took another crop top with me but I wore this bra for most of the trek. It's so comfy and it didn't get smelly.
I've come to dislike underwired bras and they take up a lot of space so I'm actually wearing this bra right now as its perfect for travelling.
14. Merino socks
I had quite expensive socks recommended to me, but I found these Danish endurance merino socks did the job just fine. They don't get too sweaty so I would take 4-5 pairs, as well as a couple of trainer liner socks if you wear them.
15. 12-14 x pairs of knickers
The only item of clothing that I changed every day was my knickers, I just took plain black ones.
16. Platypus bottle
Your guide will provide you with filtered water and this platypus fits two litres. You can get them refilled at restaurants and tea houses as you're recommended to drink at least 3 litres at altitude.
Having the tube constantly near my mouth really helped me to do this! When you're tired it also makes a big difference to not have to open your bag up and being an altitude makes you so tired that everything is an effort.
17. Lifeventure towel
I'm not a fan of wet wipes so I won't recommend taking them and creating waste in the Himalayas. I do recommend taking a trek towel as you'll always be near clean (but cold) water so you can wash your face, feet, armpits and bits in the teahouses without using wipes.
18. Polarised sunglasses
As I've mentioned – the sun is strong! Take decent sunglasses like these ones in order to protect your eyes, as a headache is the last thing you need.
19. Wash kit:
You don't need much in your washkit, because you really won't care how you smell or what you look like:
Bamboo toothbrush and toothpaste
Hairbrush (optional)
Really good suncream
Shampoo bar/soap
Period pants or menstrual cup (if you're on your period while trekking)
20. Torch
If you have a battery pack for your phone, you might not need a torch. I bought one from Kathmandu as I recommend a rechargeable torch for going to the toilet at night – which you will because you've drunk so much water!
21. Camera and batteries
I took a DSLR but I never took it out as it was too much effort. I recommend taking a mirrorless camera like a Fuji XT10 or using your phone if you're not too bothered about photography but want to document your trek.
22. Tea and snacks
You can buy snacks in Kathmandu or bring your own from home. I recommend anything sugary that will cheer you up as home snacks will probably be better. You can buy hot water as well on the trek if you want to bring your own tea or coffee.
23. Chargers, adapters and/or solar panel
You need to pay to use a plug socket at a tea house and you won't always have access to electricity so it's worth bringing a solar panel. Many trekkers attach them to their bags so they charge as they trek to make the most of that strong sunlight!
24. Medical kit
I've made a separate post about what to take in your medical kit, but at altitude, you might consider taking extra medications like Diamox but consult a health professional first. I would also take water purification tablets if you won't have access to filtered drinking water.
25. Small rucksack
I used this Osprey Questa as my daypack which I carried myself. It fits 27 litres and fitted in my waterproofs, hat, gloves, camera, suncream, medical kit, snacks and thermals very nicely. It was the right amount to carry with me and you can adjust what you take depending on how high you are, when you will need warmer clothes. Ask your guide if you're unsure what to take.
26. Large rucksack or duffle bag
North Face makes popular waterproof duffle bags that you can buy or rent for your porter to carry. Being a porter is a way for many people to make a living so its good to hire one, so tip them well but don't overload them (if you stick to this list you won't anyway). I removed the day pack from this Fairview 70 litre and it fitted in my sleeping bag, down jacket and clothes very nicely. The porter loved it as it was light and easy for him to carry.
Items that I bought in Kathmandu in Thamel's many outdoor wear shops:
I bought these things from Kathmandu as I couldn't carry them along with all my gear for the rest of my trip around Asia. I sent this stuff home afterwards as even though a lot of the stuff sold in Thamel may be fake, it can be really good quality. The waterproof coat and down jacket that I bought was excellent and I'll definitely be wearing it back in the UK when Winter comes!
27. 1 x 'North Face' down jacket
I wore this in the evenings as it was so warm – I didn't wear it trekking though as I would have overheated.
28. 1 x 'North Face' waterproof coat
A decent hardshell jacket with a hood is a must to keep your layers warm and for protecting you from bad weather.
29. 2 x walking poles (you can also rent these for $1 per day)
There are different opinions about poles but I loved mine and they're great for hills. You can store them in the side of your backpack when you're on trekking on the flat and don't need them.
Items that I rented:
30. 1 x North Face down sleeping bag from my trekking company at a cost of $1 per day.
Make sure its a four-season sleeping bag so that its good enough to keep you warm once you're up at freezing Gorak Shep.
And that's it! If you are planning on trekking Everest Base Camp, the Annapurna circuit, or any of the other treks in the Himalayas then I wish you luck! I trained by going to the gym, hiking and going on walks, but if you're of a reasonable level of fitness and don't have serious problems with the altitude then you can achieve it. It's emotionally hard and draining due to the altitude but physically it's not too bad as you have to go at a slower pace to avoid getting ill.
Knowing that I had all the right clothing and equipment gave me peace of mind, and I'm glad I invested in quality stuff that I can use for future treks like Mount Kilimanjaro and for mountain climbing in Scotland!
Have you trekked in the Himalayas? If you did then what did you take with you? If you have any questions then let me know in the comments or message me on social media.
Pin this for later: