Mysore and its palace are a highlight for many backpackers travelling around South India on a budget and I am in complete agreement which is why I've written this guide to spending the perfect day in this wonderful Karnataka city.
We arrived on a public bus from Ooty, which took about six hours but you can also get here from Bangalore as well. To book private buses, download the Redbus or Ixigo apps to book transport directly and avoid cripplingly high commission from travel agents. If you're also visiting Gokarna while you're in Karnataka then check out my guide Gokarna's beaches for budget backpackers.
In Mysore, we arrived at the state transport bus station where you can take a prepaid tuk-tuk to your accommodation to prevent being overcharged. We stayed at Banyan Tree Comforts which was a decent budget option and not too far from the palace. Check the Tripadvisor link below to check reviews and find good deals for budget hotels in Mysore:
This post may contain affiliate links
Historically, Mysore is quite a spiritual city, thought to be the domain of the demon called Mahishasura (buffalo demon). The name comes from the land of Mahishasura, which became Mysore in English and Mysooru in the Kannada language.
How to spend a perfect day in Mysore/Mysuru in South India
If you would like to engage with Mysore's mythology then I highly recommend starting your day at Chamundi Hill which is where the buffalo demon was said to be slain.
How to get to Chamundi Hill
To get to Chamundi Hill, head to the city bus station and on the left-hand side, there is a modern city bus which takes you to the top of the hill. They leave every 20 minutes, take 25-30 minutes and costs 30 rupees.
Once you're at the top, there is a statue of the demon as well as a collection of market stalls for flowers and drinks. There are a few temples, the Rajendra Vilas Palace and the quirky Adhyathimika Museum where the bloke working there cheerfully tells you how the human race is ending as part of a cycle of evil and rebirth. It's free to visit.
Chamundeshwari Temple
The most famous sight is the Chamundeshwari Temple which is dedicated to the Goddess Chamundeshwari. Watch out for the flower sellers who try to scam you by asking for a fee at the entrance as it is free for foreigners. The only people who pay are pilgrims who pay for a 'darshan' ticket to skip the queue. There were no queues when we went as it wasn't festival time, but you need to put your shoes in at the cloakroom opposite. Puja happens several times a day in the Chamundeshwari Temple so you may catch it while you're up there. If you're a foreigner, then you may be asked for selfies as we were several times.
Look for the 'Nandi' sign which points you towards the stairway of 1008 steps which will take you to the bull temple and then to the road. Check out the views along the way and look out for people placing fingerprints of coloured powder on every step as they make their pilgrimage.
Nandi statue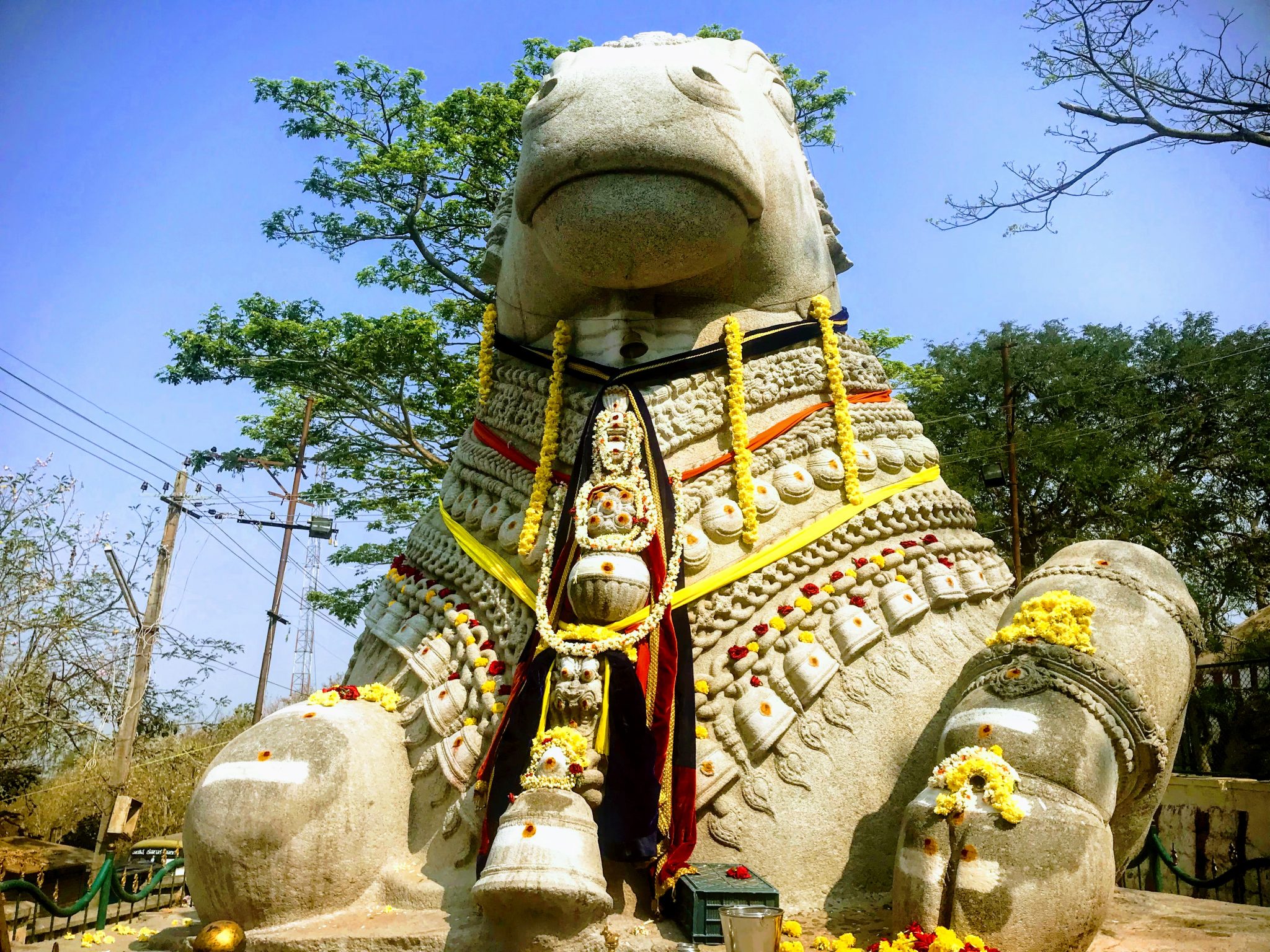 Check out the Nandi statue on the way down and you can receive a blessing and give gifts of flowers for 10 rupees if you wish. You can also buy delicious sugar cane juice from the stalls opposite as it gets very hot on the hill.
Once you get to the bottom of the hill, its a 20-minute walk to the road where you can flag down a bus on the opposite side which will take you to the far of Mysore Palace for only 10 rupees. There are several canteen-style restaurants on the eastern side so you can grab a traditional South Indian vegetarian thali on the way to the palace for only 80-100 rupees.
Mysore Palace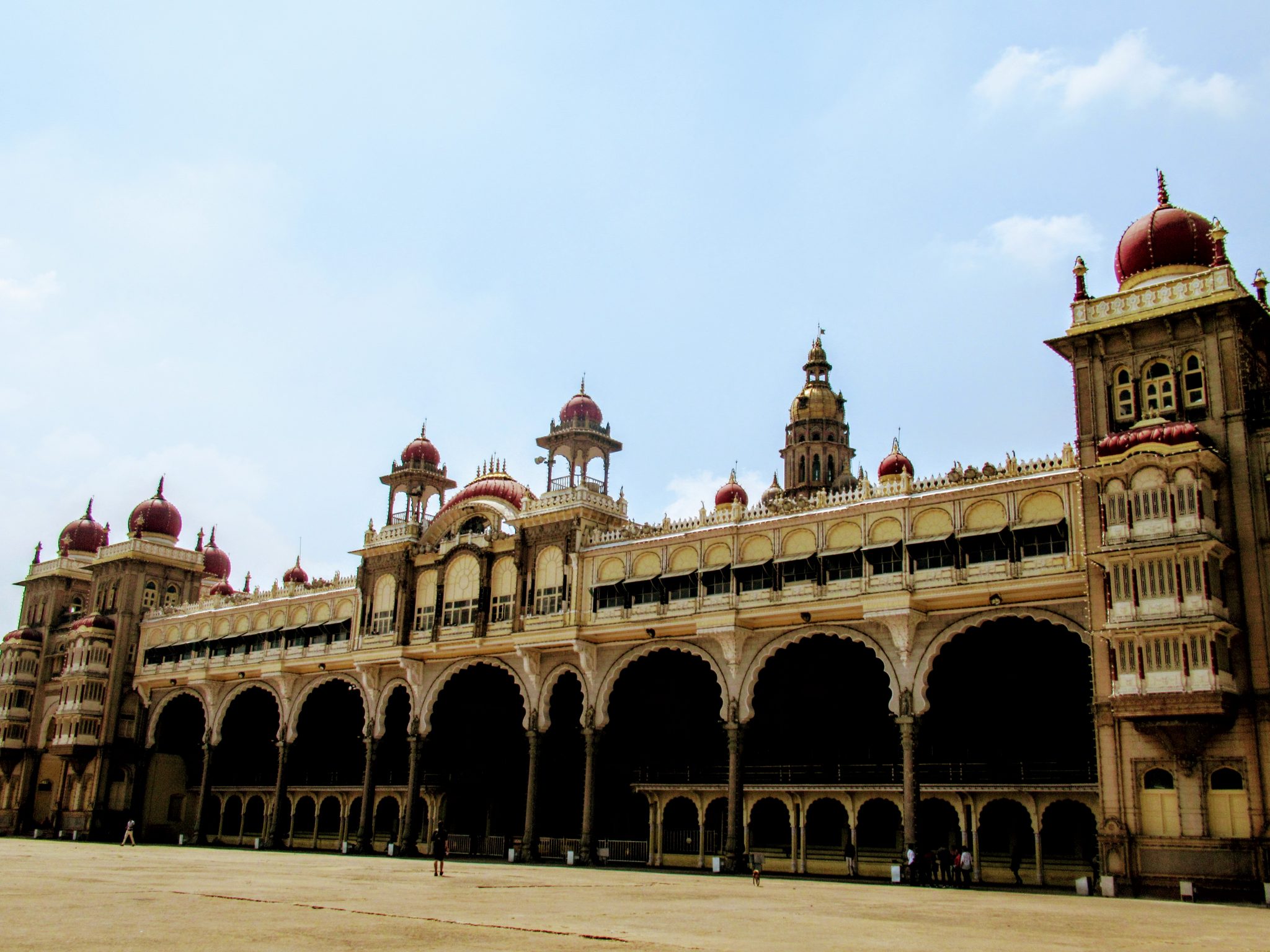 The good news about Mysore Palace is that it doesn't have a ridiculous entrance price so it only costs 50 rupees for foreigners. Your bag will get searched on the way in and you will need to leave your shoes in the cloakroom before you go in. Chances are, you'll also get asked for a lot of selfies. Just don't look at the covered shed as its where a troupe of depressed-looking retired elephants spend their days in the grounds.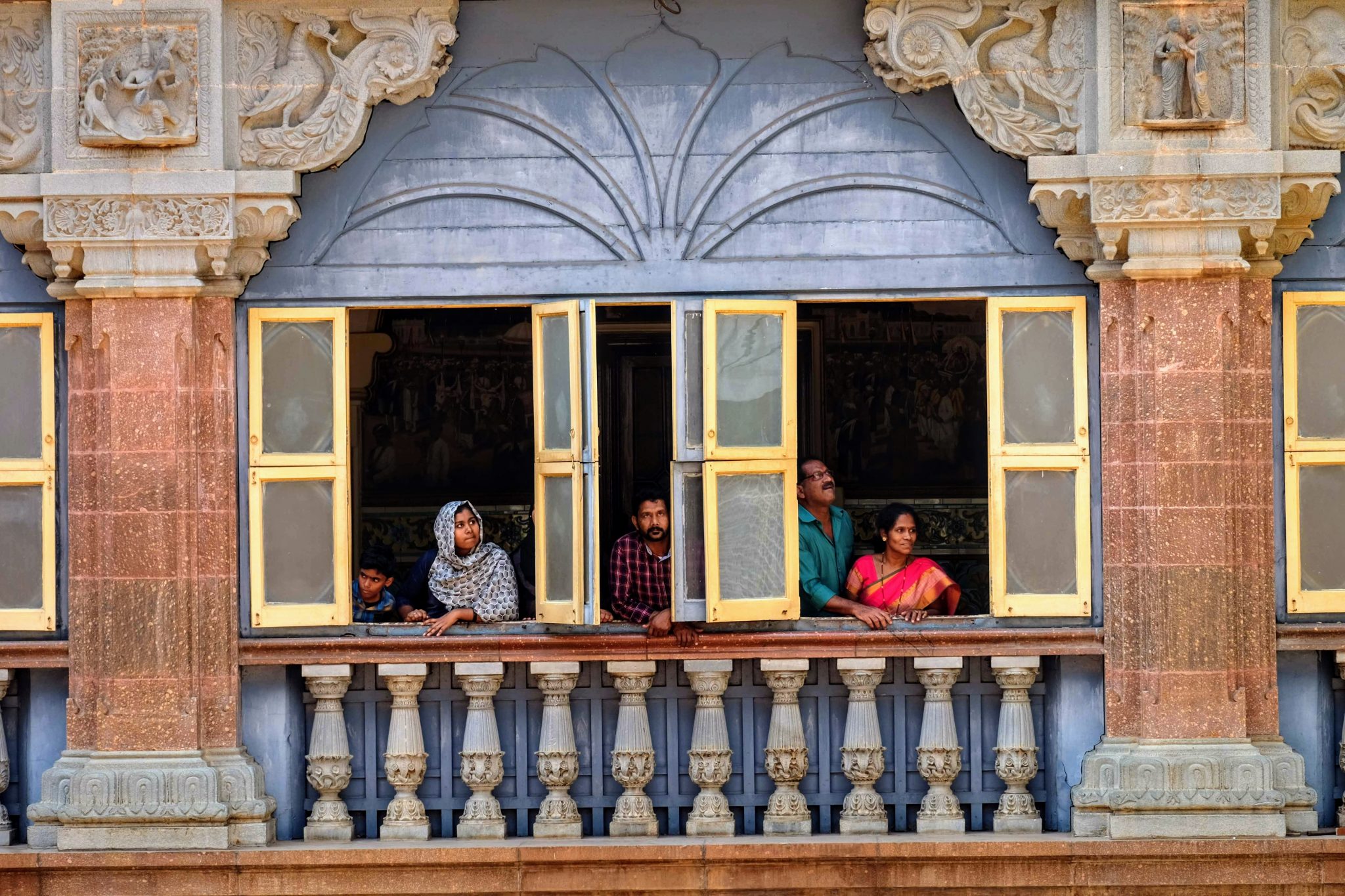 Mysore palace was commissioned by the Krishnarajendra Wadiyar IV and built to face the Chamundi Hills out of devotion to Goddess Chamundi. Historically, it was the seat of the Wadiyar dynasty who ruled the Mysore Kingdom from 1399 to 1950. It was built in the Indo-Saracenic style of architecture in order to replace the wooden building that burnt down in the late 19th century.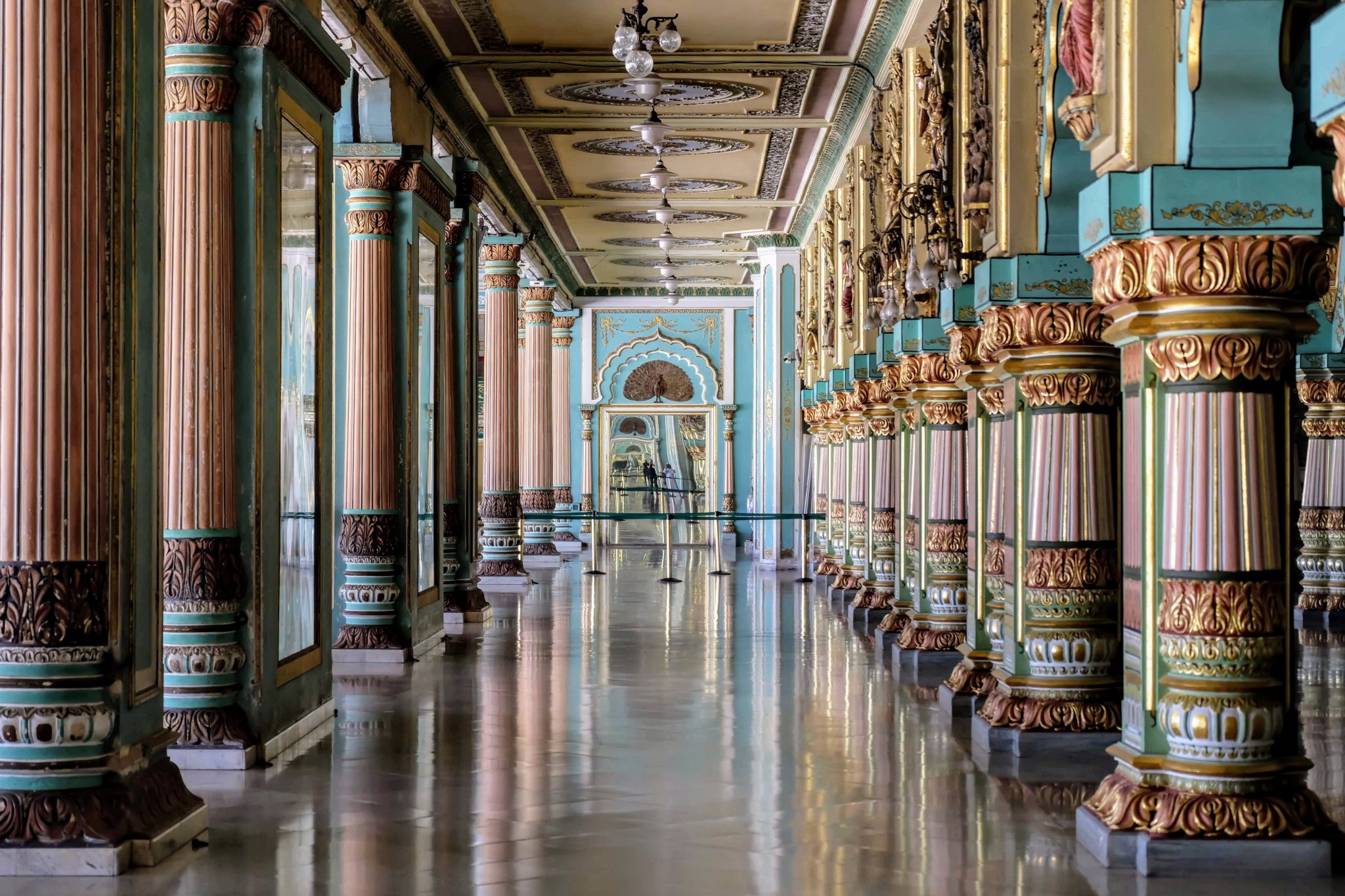 Mysore Palace is exquisitely beautiful, and if you can't get enough of it, you can pay extra to see the Sound and Light show with a commentary which is 200 rupees for foreigners on at 7pm every night except Sunday.
If you still have energy, you could visit the Devaraja Market, but its smaller than Bangalore's Krishna Rajendra market so it's up to you as to whether you want to include it in your itinerary.
Mysore pub scene
Just like Bangalore, Mysore has a decent pub scene and if you want a decent feed and some craft beer then head to Kalidasa Road in north Mysore, which costs about 150 rupees by tuk-tuk. There are loads of reasonably priced restaurants selling Indian and Chinese food and I recommend ending your day with a pitcher of soft drink or beer at Pupa Pub.
I'm so glad that I made Mysore part of my South India itinerary as it has some wonderful sights, everything is reasonably priced for foreign tourists and its a nice size for a city. If you fancy an easygoing place with a beautiful palace to see while you're in Karnataka then I highly recommend Mysore.
What did you think of Mysore/Mysuru? Did you go the Chamundi Hill or the palace, or both? Any questions then let me know in the comments below.
Pin this for later: