Munnar is a great South Indian hill station to visit if you're backpacking around Kerala, if you want to kick your boots off here then here are 11 easy and cheap things to do in and around Munnar.
To get here, we got the public bus from Madurai via Theni to Munnar and you can travel to or from the Periyar National Park in Thekkady, or from one of the cities along the backwaters of Kerala. You might need to bring a blanket or a jumper and some of the roads to get here can be long and rough. I preferred Munnar to Ooty as I thought there was more to do and you can hire bikes to get around which makes it easier to see stuff, check out my Ooty guide here.
This post may contain affiliate links
1. Stay in a tree house
Trees are a massive part of the landscape in Munnar and you can stay quite cheaply in a house on stilts with a view through the trees. They are known locally as Erumadams. Check the Tripadvisor link below to check reviews and find good deals for hotels with a canopy view here:
2. Cycle or scooter around the plantations
One of the best ways to see the landscape around Munnar is to hire a moped so you can easily see the area. Beware of potholes and make sure that your bike is powerful enough if you're going over a lot of hills. You might also get quite cold if you tackle high hills. It costs 400 rupees to hire a moped and make sure that you get a helmet.
If you want an easy and cheap day, I recommend taking the Top Station Highway out of Munnar as there are several nice spots to see along the way and the road is quite good. You can also take a jeep or tuk-tuk tour.
3. Chocolate eating
Munnar town centre isn't the best, it's overcrowded and stressful but it is a great place to pick up some locally grown chocolate. It comes in a vast variety of flavours and you can take it at one of the viewpoints which make it taste even better.
4. Tea drinking
Tea picking and drinking is the most famous thing to do in Munnar, to the point where some tourists even dress up as tea pickers. If you want to go beyond tasting it in a cafe or at your hotel, then you can learn more at the tea museum to the north of Munnar which cost 75 rupees. If you want to see a tea factory in action, then check out the Kolukkumalai Tea Plantation tour to the south of Munnar.
5. Mattupetty Dam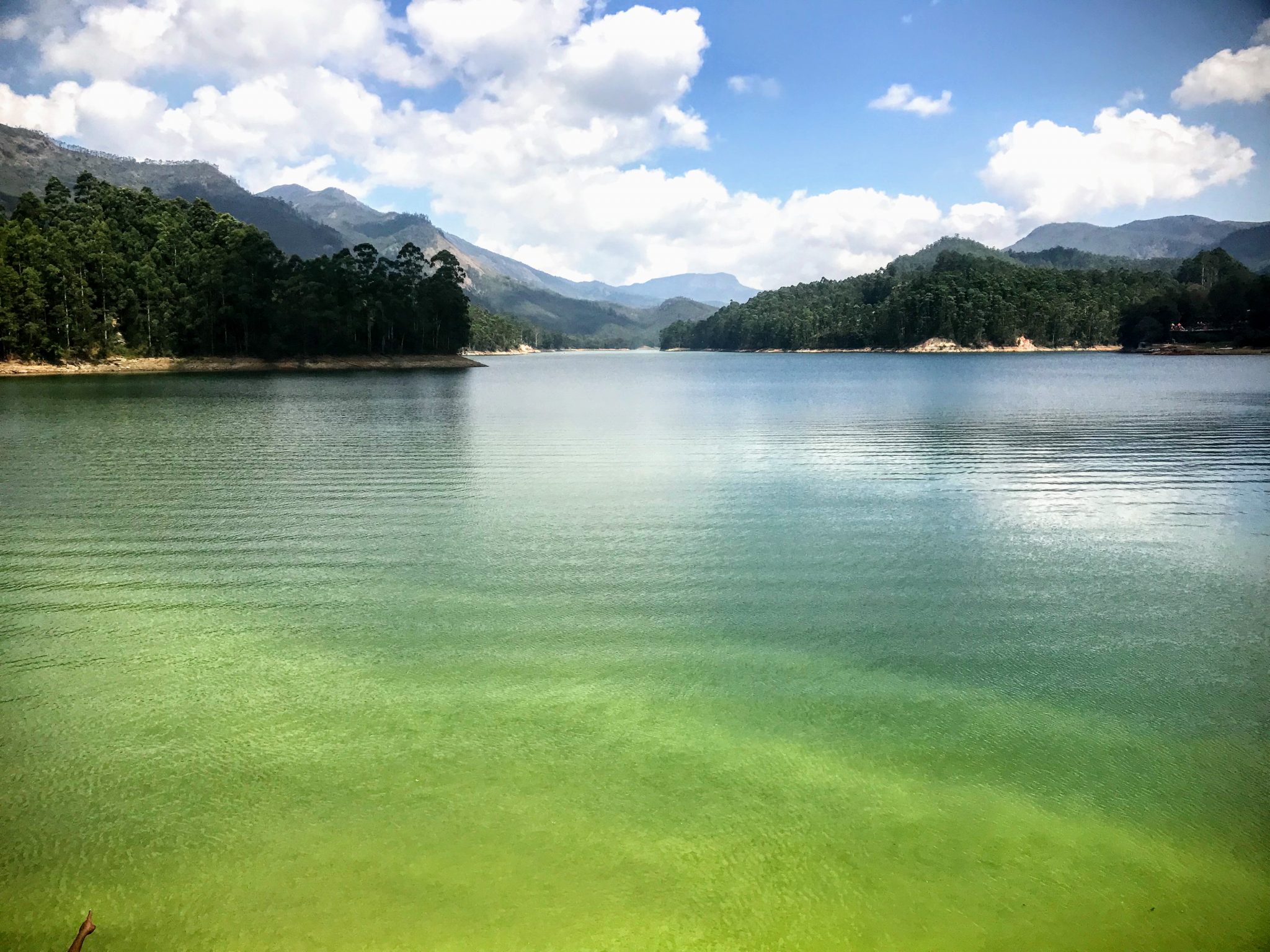 Mattupetty Dam is very popular with local tourists and it's connected to a lake. You can see bonnet macaques here and it costs 5 rupees for bike parking. It's one of the first things to see along the Top Station Highway and look out for the honey bee nests on your right-hand side. If you bike past the base of Echo Point then you'll see hokey attractions like rifle shooting at balloons and food stalls. There is also an elephant park which I don't recommend.
6. Enjoy the viewpoints
There are more beautiful viewpoints that you can count in Munnar, so I recommend downloading Maps.me onto your phone as it labels the panoramas near you that you can spot on your journey. You could even bring some food and have a picnic with a view.
7. Kundala Reservoir
If you continue along the highway past the Mattupetty dam, you'll come to the Kundala dam and lake which is a prettier location than Mattupetty. It also costs 5 rupees for bike parking and it has some stalls but not as many as near Echo Point so it's a bit more relaxed.
8. Goat spotting
The Nilgiri tahr is an endangered goat that is endemic to South India and you can spot it in the hills of Eravikulam National Park near Munnar while driving through it. Note that during the breeding season in February the park is closed.
9. Bird watching
Munnar is a bird watchers paradise, and you'll see feathered friends everywhere you go, so it's worth bringing binoculars if you have them! You can join an organised tour and I saw a few or you can take your bird book and just do your own. Birds to look out for that are endemic to the Western Ghats are the Malabar parakeet, Malabar grey hornbill, white-bellied treepie, grey-headed bulbul, rufous babbler, Wayanad laughing thrush, white-bellied blue flycatchers and the crimson-backed sunbird. Check out my post on the cheapest and easiest wildlife photography kit for travel if you're a keen photographer.
10. Waterfalls
Munnar is much cooler than most places in Kerala, so it's a lovely place to see waterfalls in a pretty setting. They do require a bit more effort to see than lakes and plantations so they're worth exploring if you have more time here. Some of the most famous waterfalls are Lakkam, Attukal, Nyayamakad, Chinnakkal, Kuthumkal, Cheeyappara and Thoovanam waterfalls. The easiest and closest to get to are the Attukal waterfall which is south of Munnar and Nyayamakad which is in the north.
11. National parks
If you do want to spend more money, it's the right season and you have time, then you can visit one of three parks from Munnar on a jeep trip. As well as the nearby Eravikulam National Park, the home of the goats, there is the Chinnar Wildlife Sanctuary with elephants, deer and leopards and the Salim Ali Bird Sanctuary is also known as Thekkady Bird Sanctuary. They are both 60-70km away and the entry fees are low, it's just getting there which costs more money but worth it to see a rare or endemic species!
I really liked Munnar as its a chilled out place to be, but I definitely recommend taking outside of the centre of town to have the most relaxed time. Even though some of the attractions can be a bit hokey, much of what is beautiful in the hills is the incredible landscapes and its features of lakes, waterfalls, wildlife and nature. It's also a nice place to try local food and tea as well as learning all about how it was made.
Have you been to Munnar and what did you think of it? Where is your favourite Indian hill station? Let me know in the comments below.