Periyar National Park near Kumily is one of the most visited National Parks in South India, and it's a great place to spot elephants, deer, langurs, macaques, otters, bears, giant squirrels, gaur and a whole wealth of other wildlife.
The park is open all year round but the best time to go is when it's drier from October to February and not in monsoon season when the animals have less reason to come to the lake.
The good news is that unlike other Indian safaris, you don't necessarily have to book in advance! You can just turn up and book either at a tour agency or at the forest department's office and these can be found near Thekkady junction.
The names Thekkady and Kumily are used interchangeably but the area near the park is generally called Thekkady.
The forest department office is located on the Labbakandam Bypass which is just past St. George Orthodox Church, just off the Kumily Thekkady Road that leads to Periyar. If you're on the Main Street in Kumily then turn off at the giant white Lady of Lourdes statue next to the church. This office is also where you need to go for the boat trip which I will talk about later.
If you're booking a jeep safari then make sure to bring your passport as they will need to make photocopies, wherever you book it from. We booked our jeep safari privately as we arrived late in Kumily and wanted to go the next day.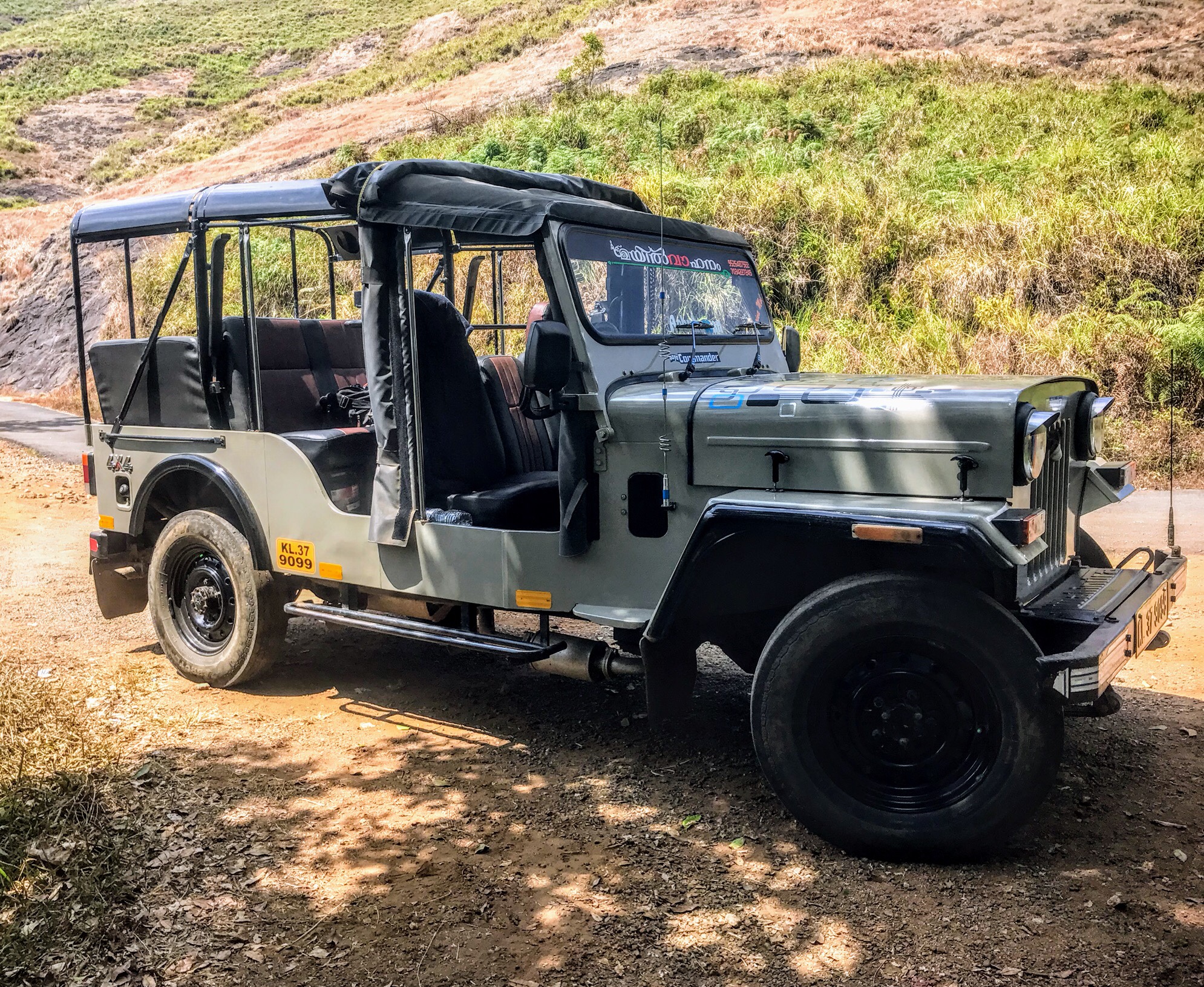 This is what your jeep will look like, they're usually closed up in the mornings when they pick you up from your accommodation and then they open the flaps once it gets light. You'll be glad as it is really chilly in the mornings and full day or morning half-day safaris start at 5.30am.
Your driver is also your spotter and we hired our own jeep as a couple for 3,500 rupees each so 7,000 in total for a full day. This included breakfast, lunch, snacks, jeep, driver, park fees and permit. Always check what's included but this the minimum foreigner price you'll pay for a full day safari. We also had to pay a 100 rupee camera fee on top of that at one of the checkposts.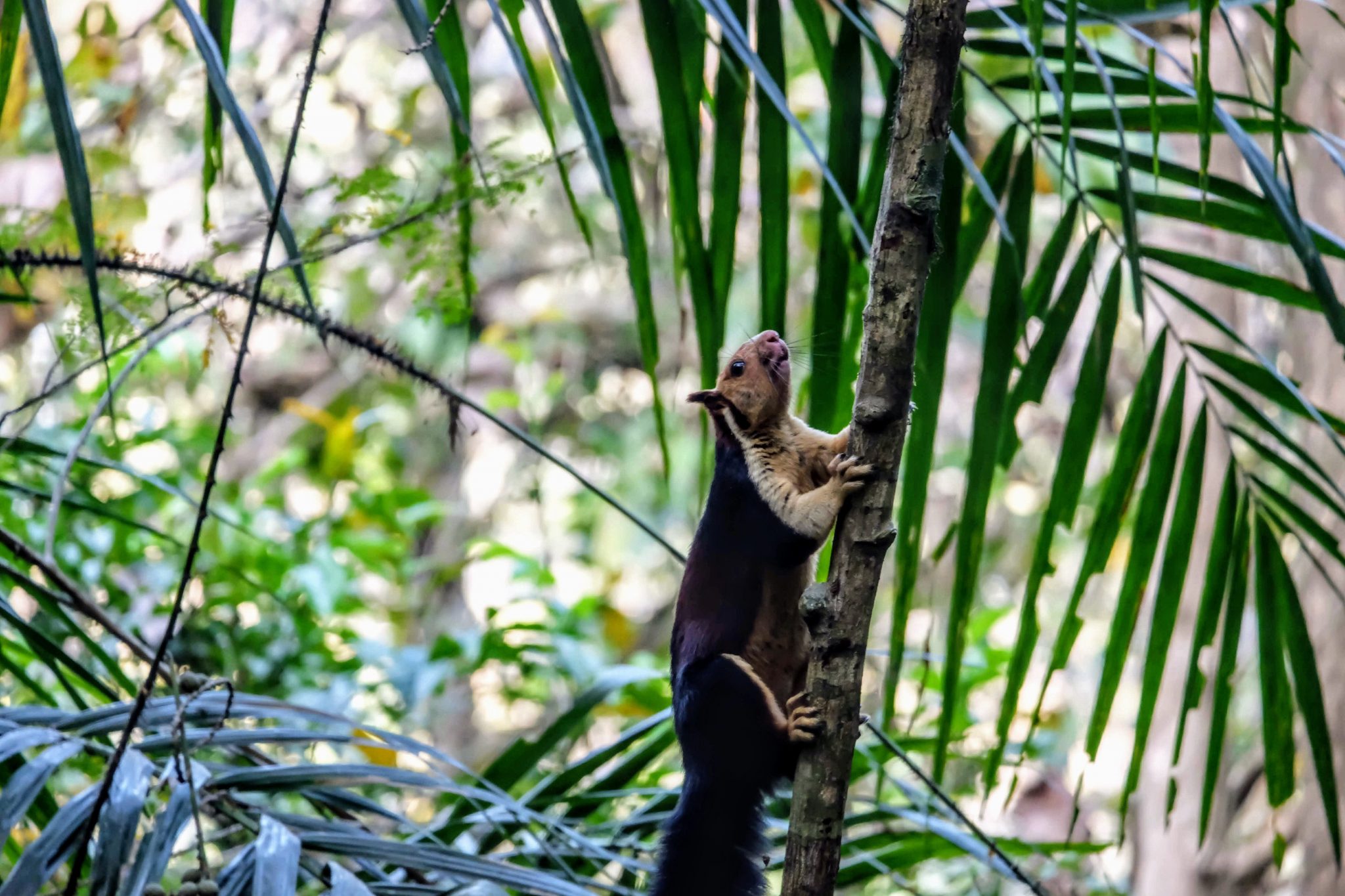 Mammals that can be found in Periyar include wild boar, sambar deer, gaur (Indian bison), mouse deer, barking deer, sloth bears, wild dog (dhole) and tigers. There are around 40 tigers in the park but you're unlikely to see one. Our guide had only ever seen two.
Primates include the lion-tailed macaque, the Nilgiri langur, Gee's golden langur, common langur and bonnet macaques. Periyar also has a few endangered Nilgiri tahrs (wild goats) but you're unlikely to see one of those either.
One of the first mammals we spotted was the Malabar giant squirrel (pictured above), we saw about six throughout the day on safari and I was surprised how easy they were to spot.
Before going into the park, the driver tends to point out various plants, spices and trees as well as the people tapping rubber from the trees.
I think that as the area is so well known as a place that grows spices that they offer this knowledge as part of the tour even if it doesn't relate to wildlife as such.
For breakfast we had roti, sambar and omelette with coffee which was delicious from a small restaurant outside the park. You don't actually enter the park properly until about 9.30am but there are gorgeous views along the way.
Grey junglefowl, Periyar National Park, India
Over 265 bird species have been identified in Periyar. Species that you may see include black kites, blue-winged parakeets, hornbill, white-bellied treepies, laughing thrushes, flycatchers. darters, cormorants, barbets, junglefowl and plovers.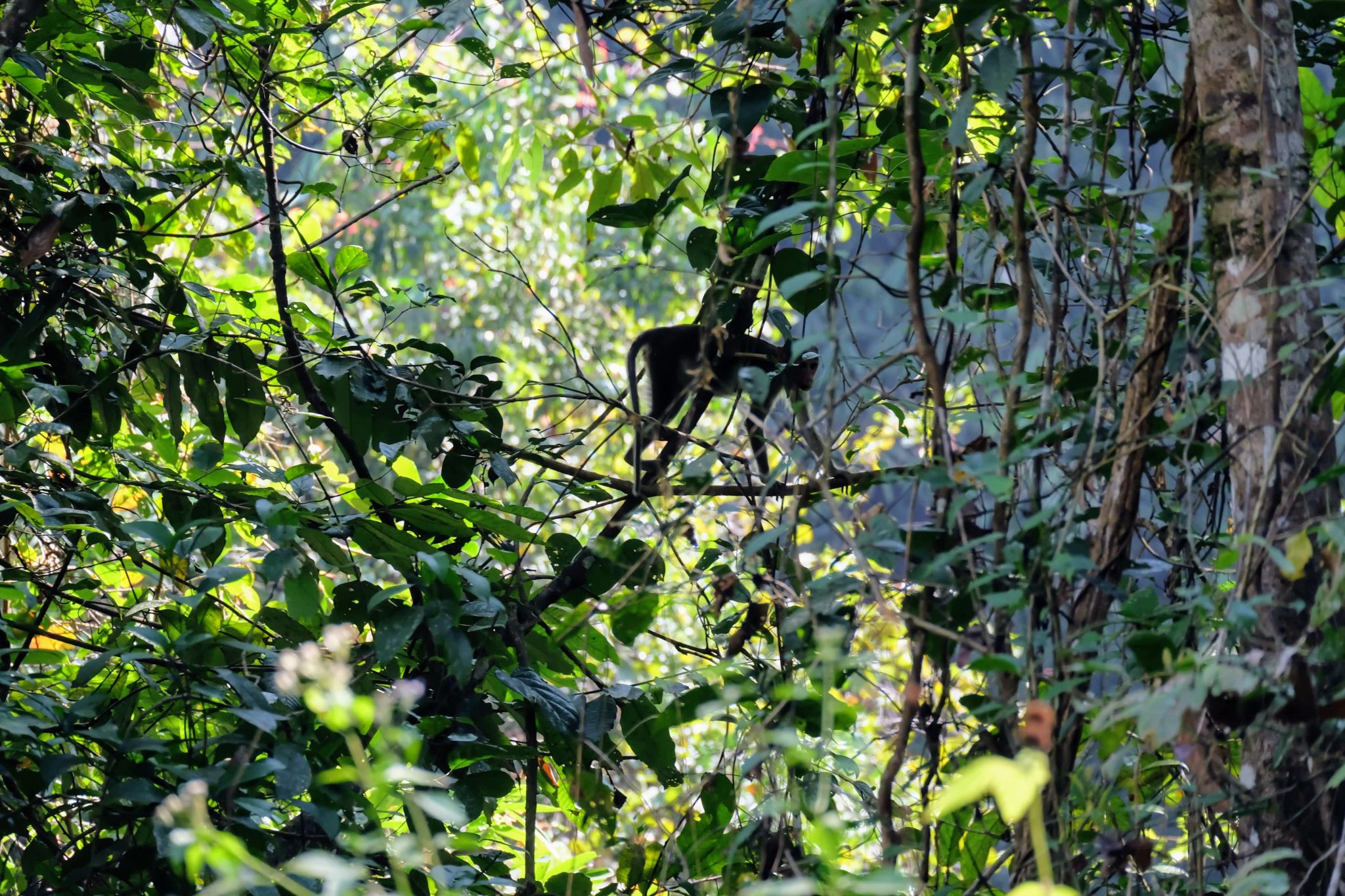 One of the issues with Periyar National Park is that some of the wildlife is quite hard to spot, as you can see from the outline of this bonnet macaque! We also heard an elephant eating, but we couldn't see it, as it was down in the valley and you drive around the hills, so that is a drawback to the jeep safari.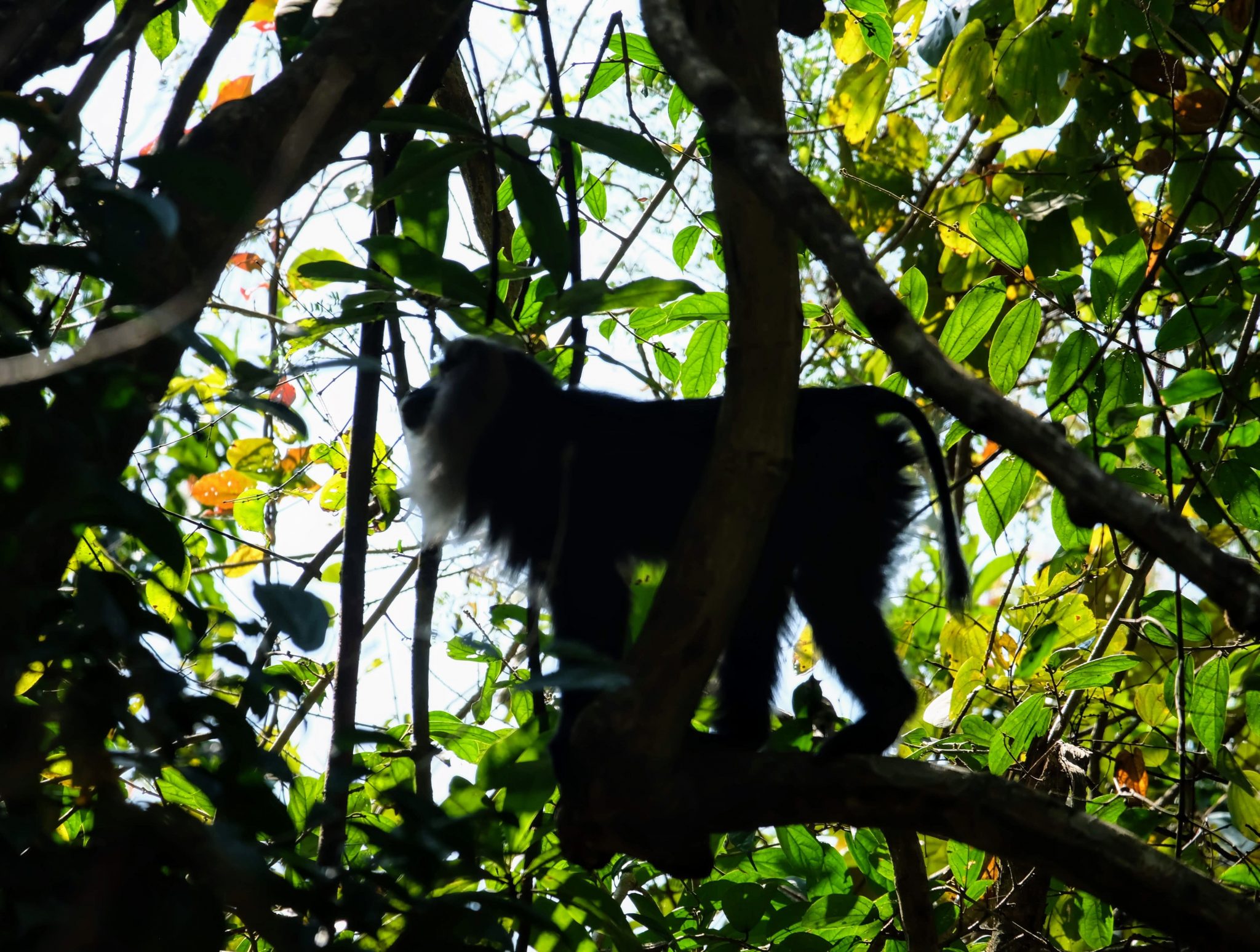 A benefit to the jeep safari, is that you do see tree-dwelling mammals like this lion-tailed macaque, but they do tend to be shy. You would certainly struggle to see these guys from a boat as they hide so high in the trees. If you stand up in the jeep you can look into the canopy for tree-dwelling mammals.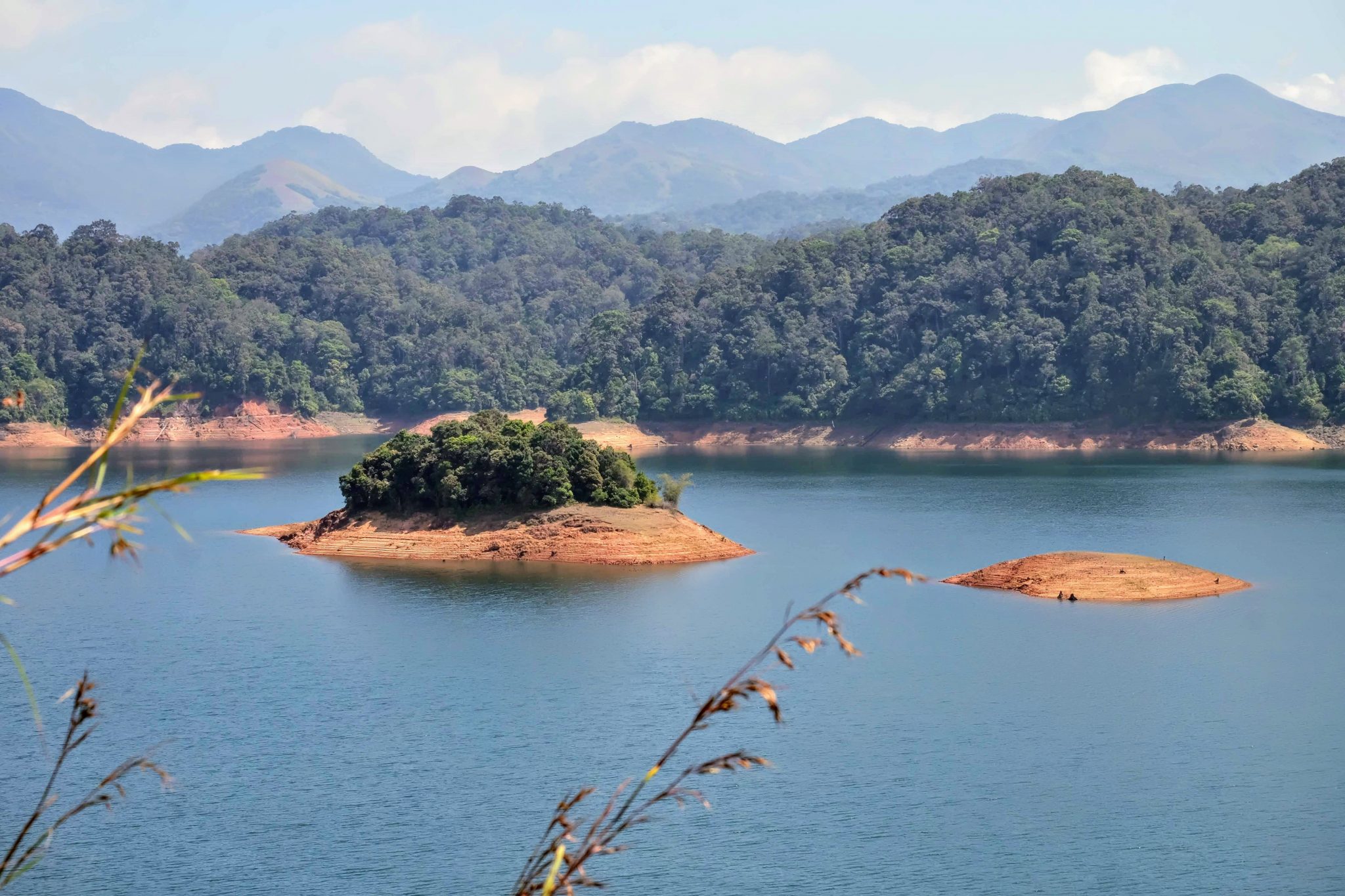 The views on the safari are pretty spectacular as you are looking down into the valley, Periyar Lake and the forests surrounding it. This picture was taken in the heat of the day so there were no animals around it. It looks weirdly photoshopped but it just has a weird screensaver look to it!
For lunch, you go to one of the canteens where you get a South Indian thali served in a banana leaf, and it's all you can eat! The canteens aren't in a spectacular area so you don't get much of a view with your meal.
After lunch, we went for a wander at the Gavi Dam, where there is an eco tours place that holds activities for tourists. From the dam we saw this snake in the water eating a fish, which was pretty cool so always check the water for wildlife!
It's worth mentioning that there are several dams in Periyar but you are not allowed to take photographs of them. The police enforce this rule if they see anyone doing it.
Unfortunately, after the snake, all we saw was a single gaur from a long distance away. During the full day safari, we saw six species in total, the lion-tailed and bonnet macaques, Nilgiri langurs, Malabar giant squirrels, the snake and the gaur.
Back at our hotel, (we stayed at Panthalams Homestay), there was a Nilgiri langur sitting outside munching on flowers in a tree. There was also a family of wild boar that visited every night, and you'd know they were there when the dogs started barking. Whilst we'd been on safari, a porcupine had also turned up so I was gutted to have missed that!
As we were disappointed to have not seen any elephants, the hotel owner suggested going on the boat trip as other guests had seen two lots of elephants that day. I'd read in the guidebook that you didn't see much on the boat but I was convinced enough to try.
To give yourself your best chance, make sure to get the 3.30pm boat as wildlife comes out after the heat of the day. There are two other boats, one in the mid morning and one at midday but you're less likely to see anything.
It meant paying the entrance fee again (450 rupees for a foreigner) but we did it and spoiler alert: it was so worth it!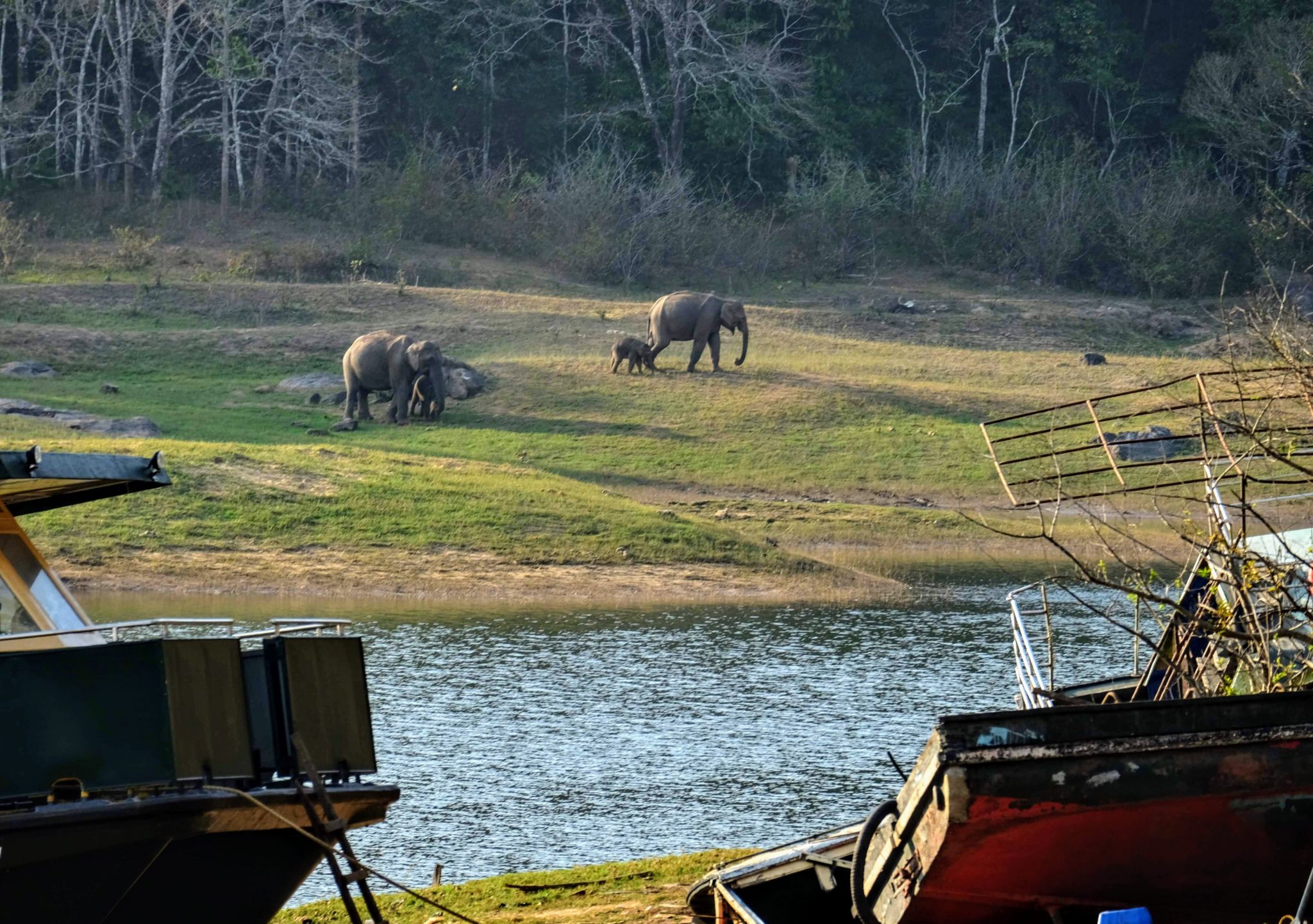 You pay the entrance fee at the same park office that you buy safaris from and you buy a return bus ticket for 20 rupees at the same time. The bus is next to the office so get on that and it takes 15 minutes, set off at 2.15-2.30 to make sure of getting a boat ticket!
Once you're at the boat office, buy your ticket which costs 220 rupees and you'll be given a seat number and boat name. The total cost for a foreigner is 690 rupees. There is a waiting area and you can rent binoculars for 50 rupees plus a 1000 rupee deposit.
As soon as we arrived at the boat jetty, there were bonnet macaques marauding everywhere and one of the guards told me there were elephants on the other side of the river. There were two mothers with babies (see picture above) which was pretty incredible and we hadn't even got on the boat yet.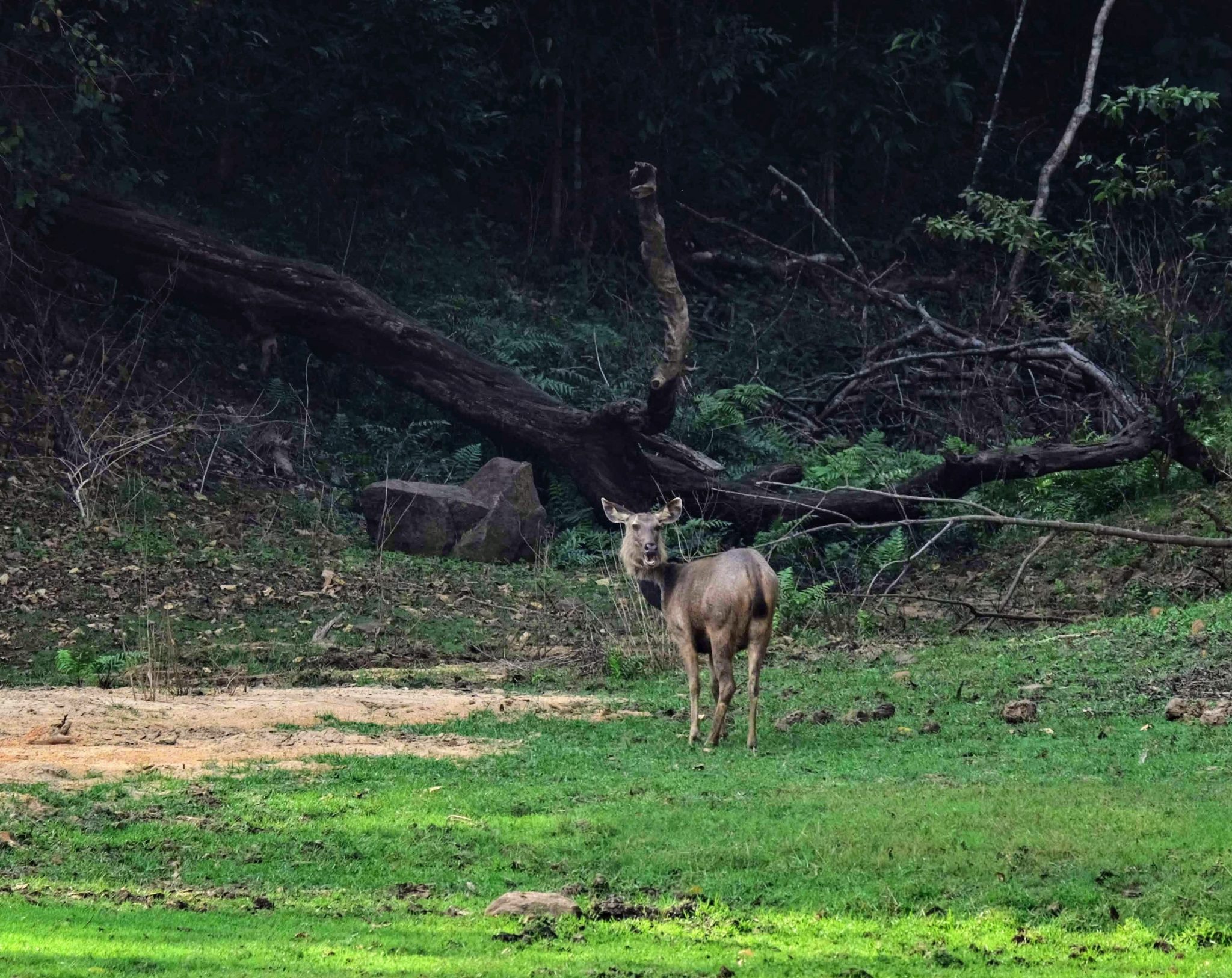 It's definitely easier to see your four-legged mammals from the boat and there were several herds of sambar deer. They are quite big and stupid so they make great prey for tigers but we hadn't seen a single one the night before.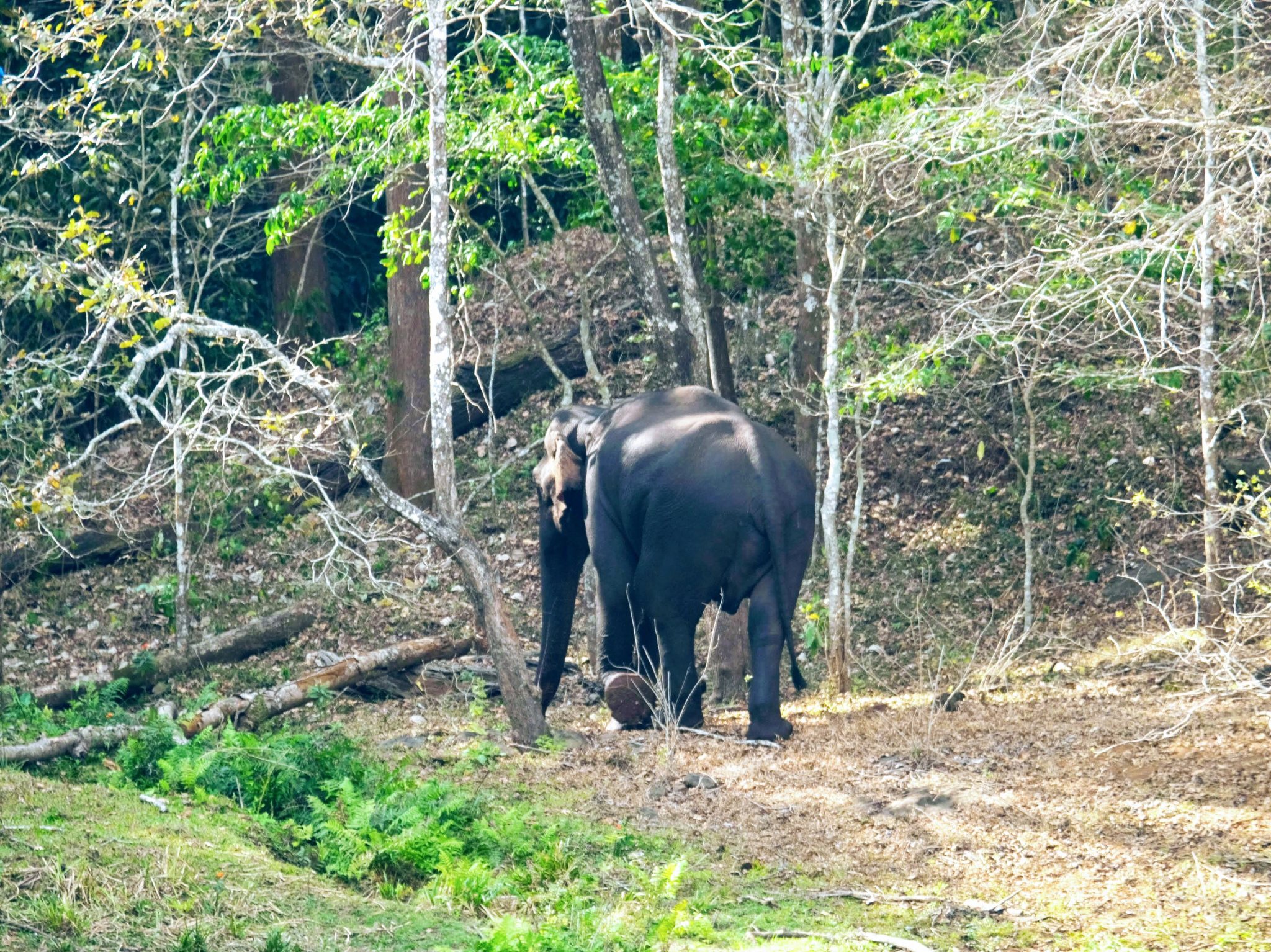 A short time after the boat set off we saw this lone male make its way through the lake to the other side and we chugged by it until it made its way back into the forest. Unfortunately he didn't turn around so we never got a proper look at his face!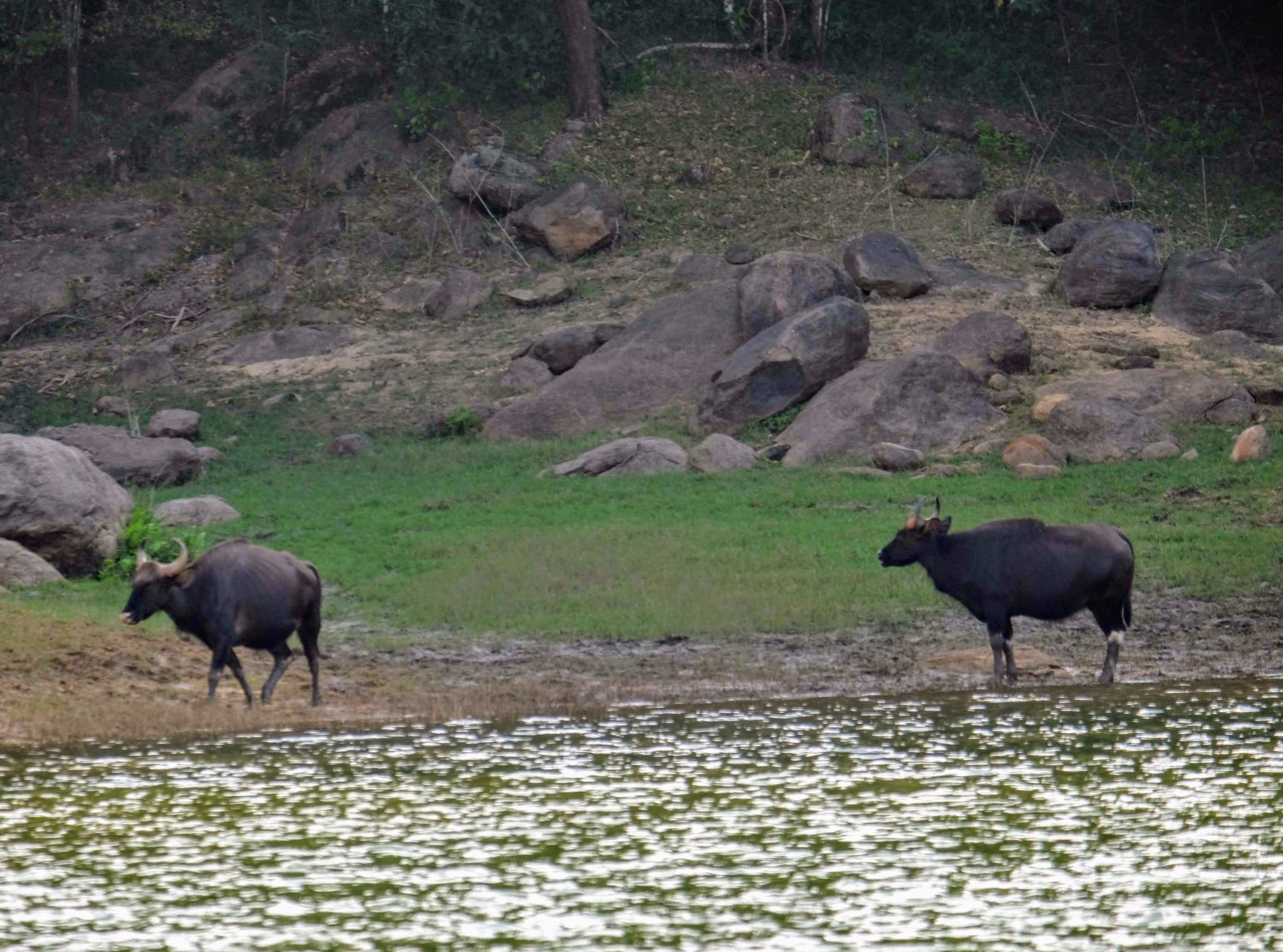 We'd seen one lonely gaur on our jeep safari the day before but we saw several herds from the boat. The gaur or Indian bison is on the IUCN vulnerable list and you can identify them from buffalo by the white 'sock' markings that they wear on their legs.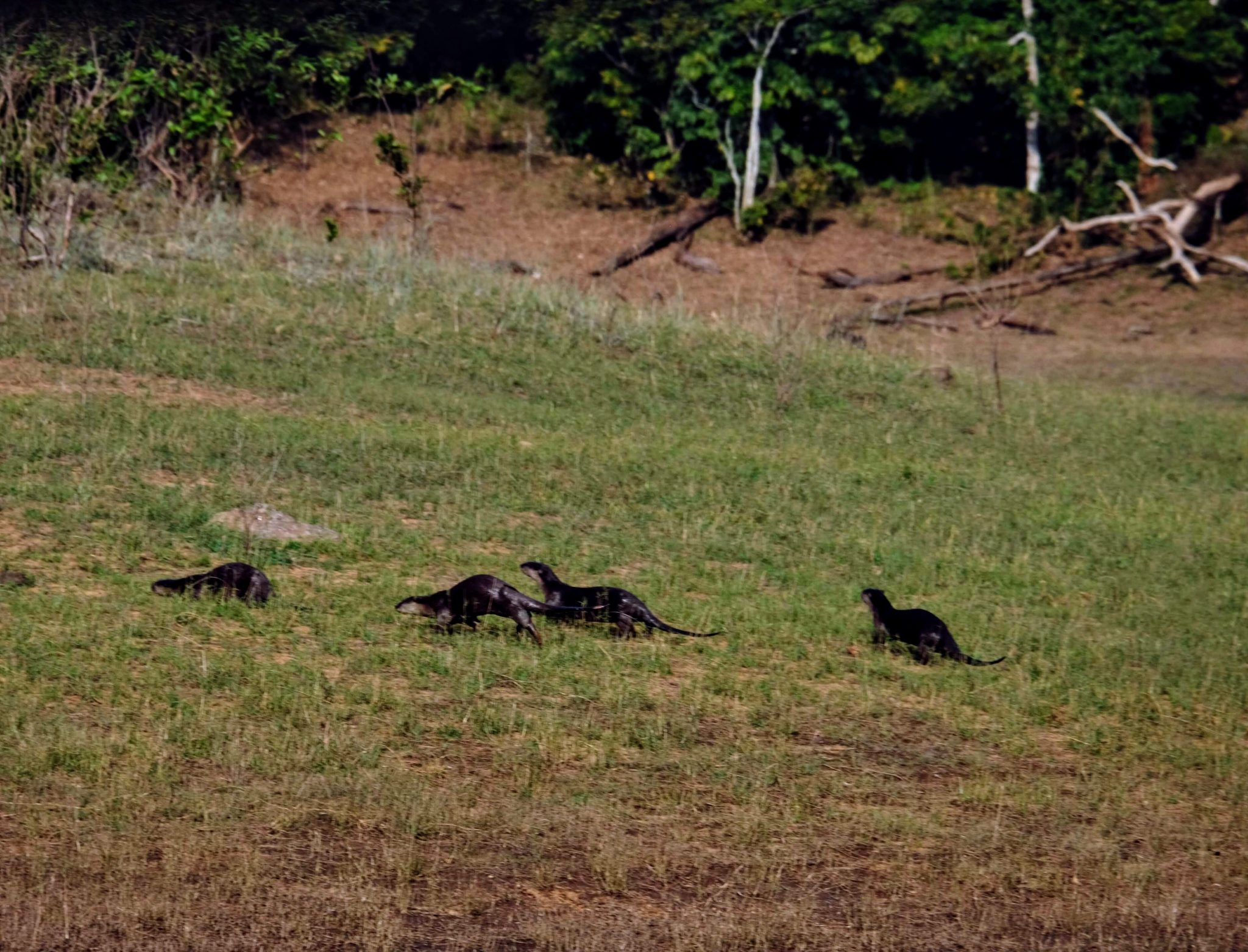 One of the most incredible and surprising spots was a family of Asian short-clawed otters. We first saw them running up the river banks and playing together. On our way back we saw them swimming in the water behind our boat so keep a look out for 'v' shaped ripples in the usually still water.
The banks are lined with their burrows, (known as holts) which show the territories that they move between so keep an eye on those also.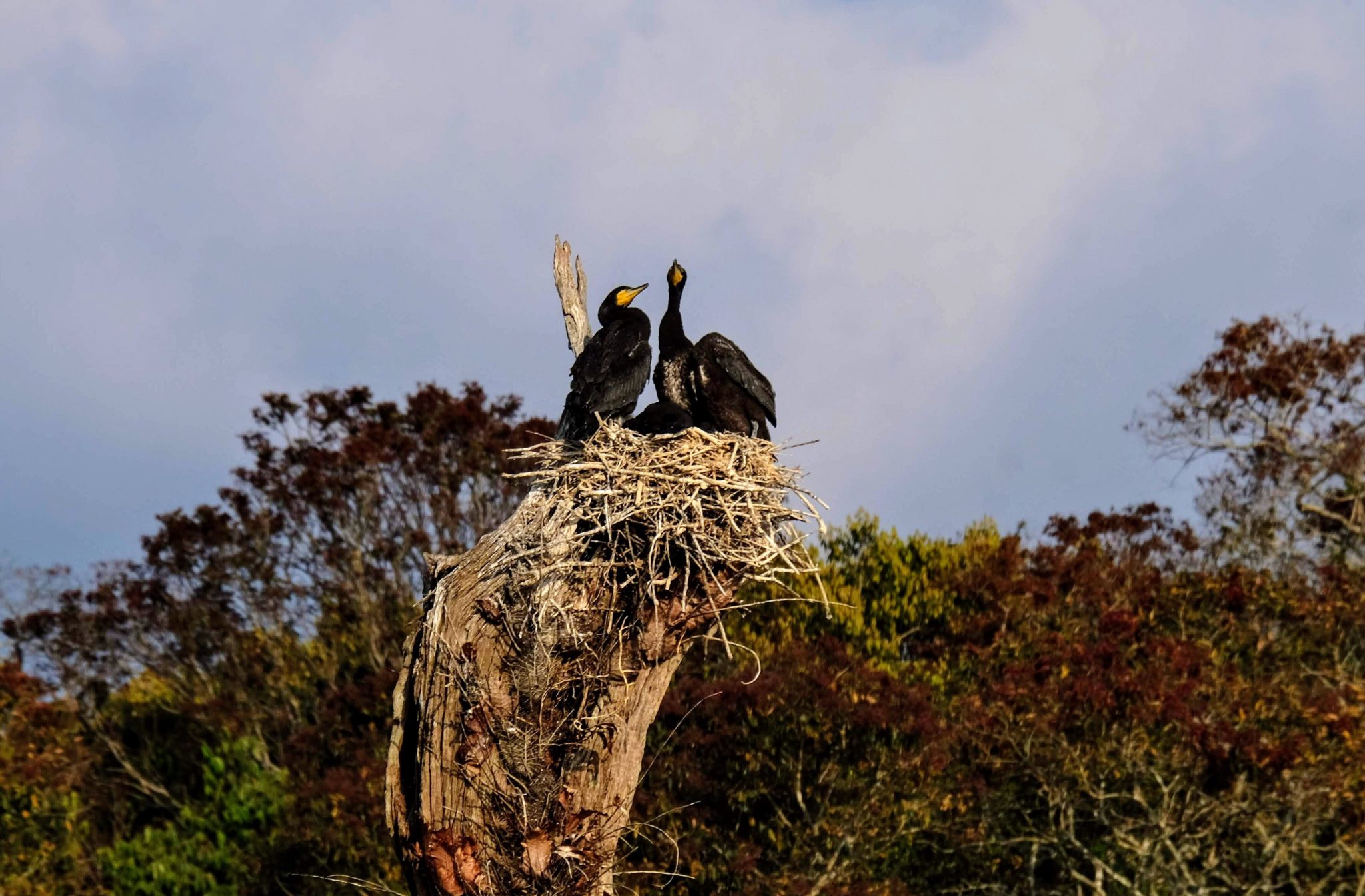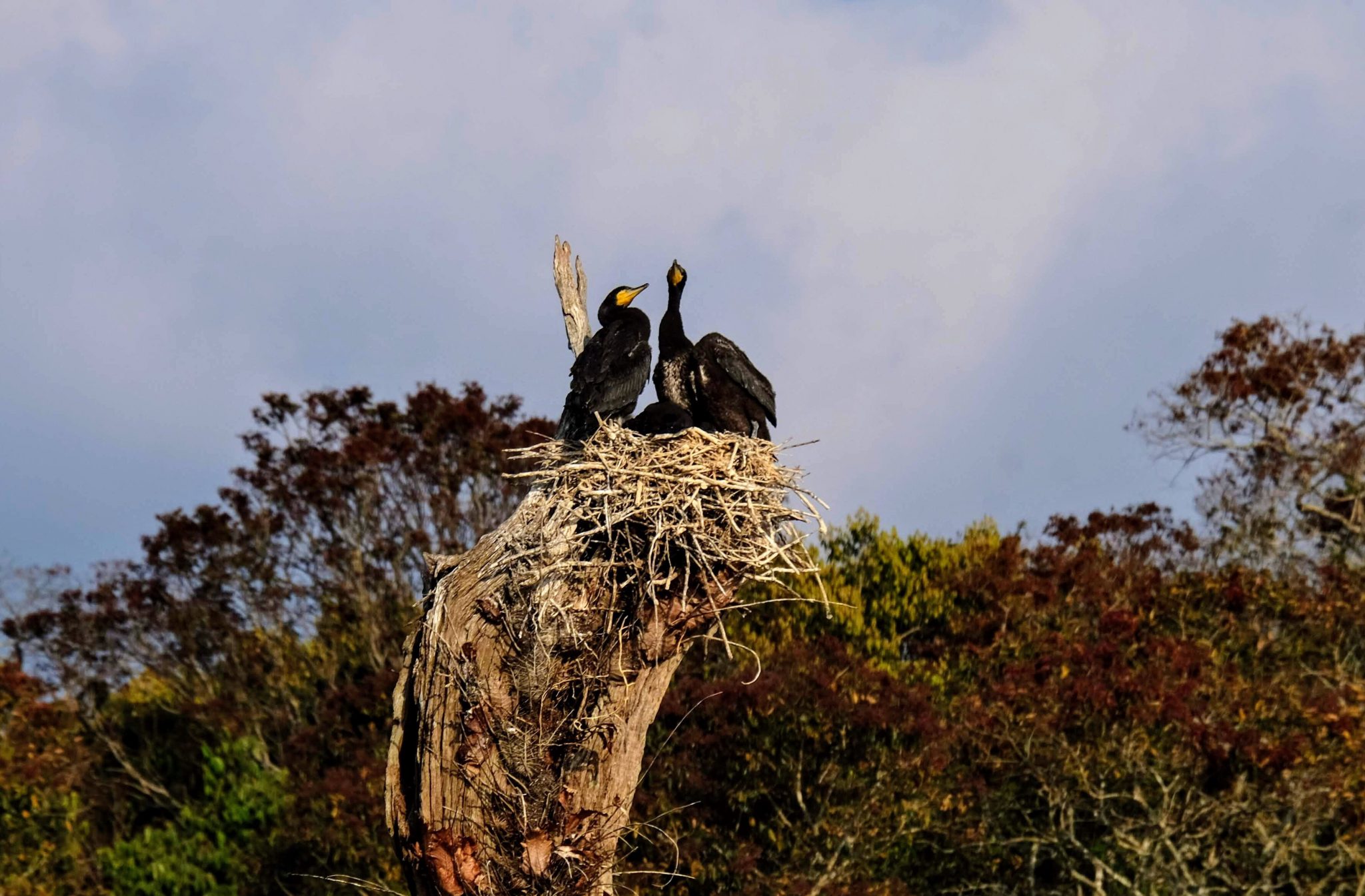 One benefit of going on the boat is seeing the water birds that you can't see in the forest, like this cormorant feeding its chick. There are also kingfishers and darters to spot.
When we arrived back on land, we saw these Nilgiri langurs sat in a row and I couldn't resist taking a photo before we ran for the bus. It's worth getting ahead of the crowd coming off the boat if you have evening plans, so you can get on the bus before it gets full.
On the boat trip and the jetty we saw elephants, Nilgiri langurs, bonnet macaques, otters, gaurs and sambar deer so it was about the same as the jeep safari. You do get to see more jungle birds on the jeep safari though.
We saw lots of signs of elephants in the form of dung but you have more chance of seeing them by boat and you can try as many times as you like.
You can also go on jungle walks and I heard about people seeing sloth bears while walking. However, I worry about the safety of these walks so always use a government approved company that uses guards and don't approach wildlife.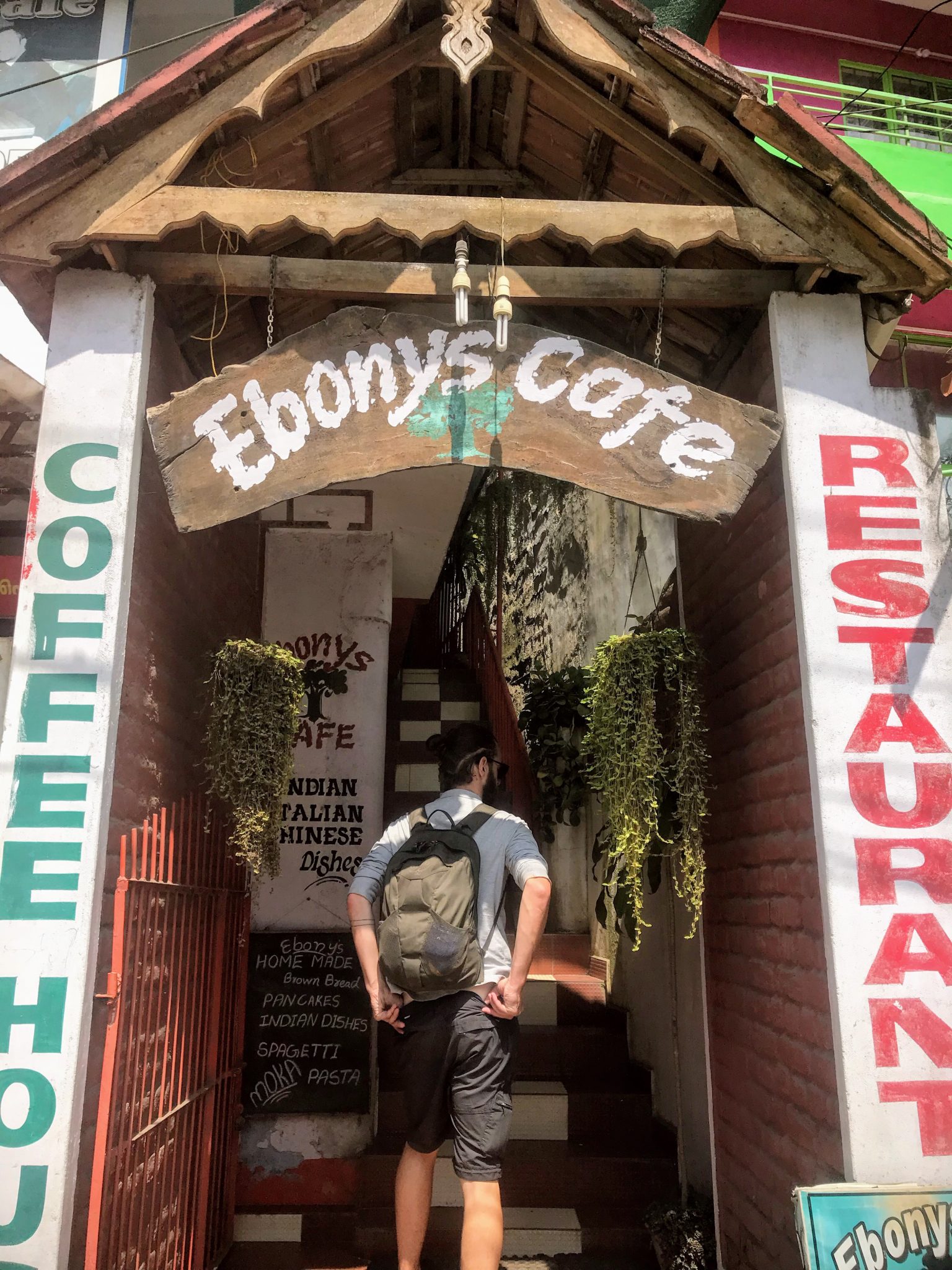 When you're staying in Kumily and not on safari, I highly recommend Ebony's Cafe, it has great food, WiFi and it's super chilled. It even had beer!
I also recommend seeing Kalaripayattu martial arts at the Kadathanadan Kalari & Navarasa Kathakali Centre near the forest office. It's a great show for only 200 rupees and they jump through firey hoops and show off their physical skills. It starts at 6pm and there are Kathakali shows as well.
Have you been to Periyar National Park either on a jeep safari, jungle walk or a boat trip? What wildlife did you see? Let me know in the comments below.
Pin this for later: