Madurai is the heart of Tamil Nadu and it boasts the incredible Meenakshi Temple. If you're a backpacker or on a budget, then here are 7 things to do that will cost you very little.
The 3 things I liked about Madurai as a city were that it was very walkable as most of the attractions are in one place, it's spiritual without being too overwhelming and it's extremely cheap.
This city is set up for pilgrims much more than foreign tourists so there aren't cafes with Wi-Fi or fancy backpacker hostels but that's part of the charm. Madurai is fundamentally Indian and it's a great place to feel Tamil Nadu's spirituality.
Some of the city centre accommodation is pretty bad so always check reviews and most of the decent budget accommodation is near the train station. While it may be noisy, you're really close the main sights that are mainly concentrated within Madurai's old fort area.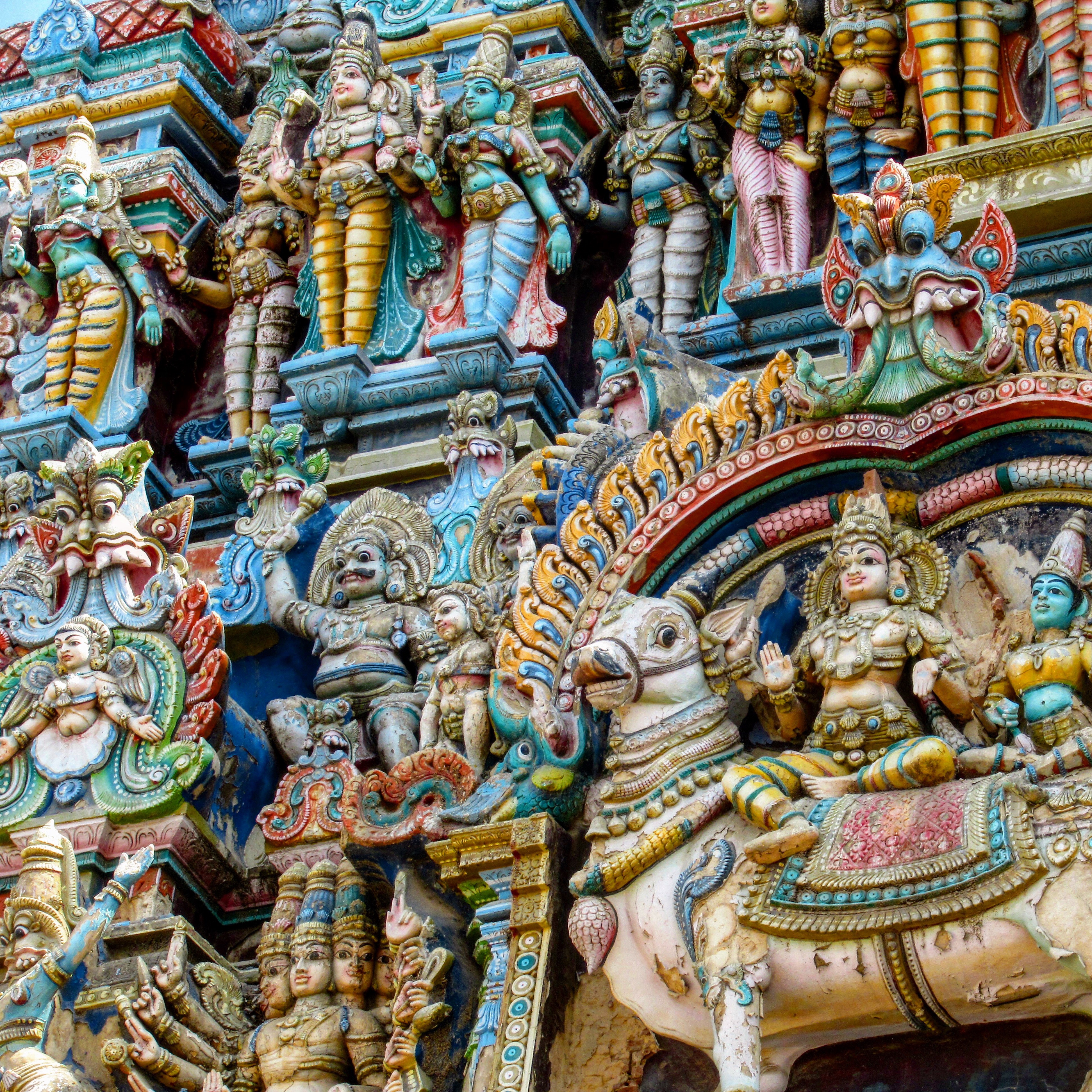 We stayed at Ashok Bhavan which was a restaurant with digs upstairs with decent rooms and WiFi connection. The Meenakshi Temple was only a 15 minute walk away.
1. Meenakshi Temple
The Meenakshi Temple is one of the most famous monuments in South India and named after triple-breasted warrior goddess Meenakshi, whose name means 'fish-eyed'.
Inside the temple is the most spiritual I felt as a cynical Westerner in India as the temple is incredible and deceptively big inside. This 3,500 year-old temple is spread over 15 hectares with 12 gopurams which are the towers that depict various gods and legends.
The good news is that it is free to visit the main temple, but you are not allowed to take photographs or bring any electronics inside.
When you arrive go to the East entrance you can put your shoes in the storage area for free but it costs 2 rupees to put your bag in. They search your bags before you go in and there are also mobile phone storage lockers but we didn't bring ours to be safe. You must also cover shoulders and legs.
Be aware that the temple is closed in the middle of the day from 12:00 until 16:00. Hindus can pay for 'Darshan' tickets to view the idols of Goddess Meenakshi and Lord Sundareshwarar which cost 50 rupees each or they stand in line and wait their turn. Non-Hindus can just walk in and don't have to queue up as the shrines can only be seen by Hindus.
Puja at Meenakshi
There are various puja ceremonies throughout the day, and the most famous one is the night ceremony at 9-9:30pm where Sundareshwarer is walked to Meenakshi's shrine to spend the night. Non-Hindus are welcome to watch. The puja involves worshippers bathing in smoke, worshipping Lord Shiva, chanting, drumming and fanning the deities. Check at the temple for puja timings.
Tourists can also visit the Temple Art Museum which costs 50 rupees and contains the Thousand Pillared Hall, which actually has 985 columns as well as a Shiva shrine.
Madurai Gallery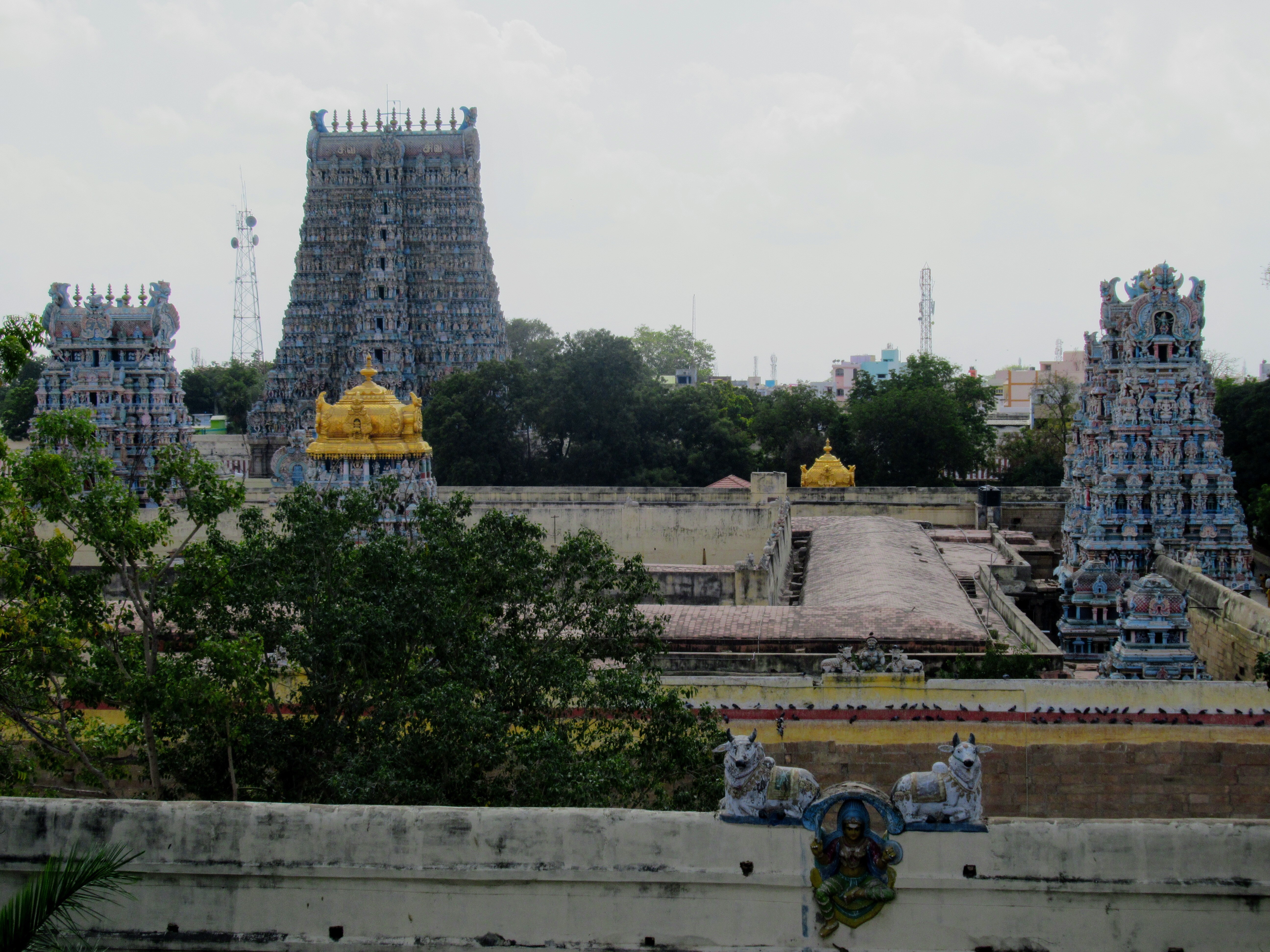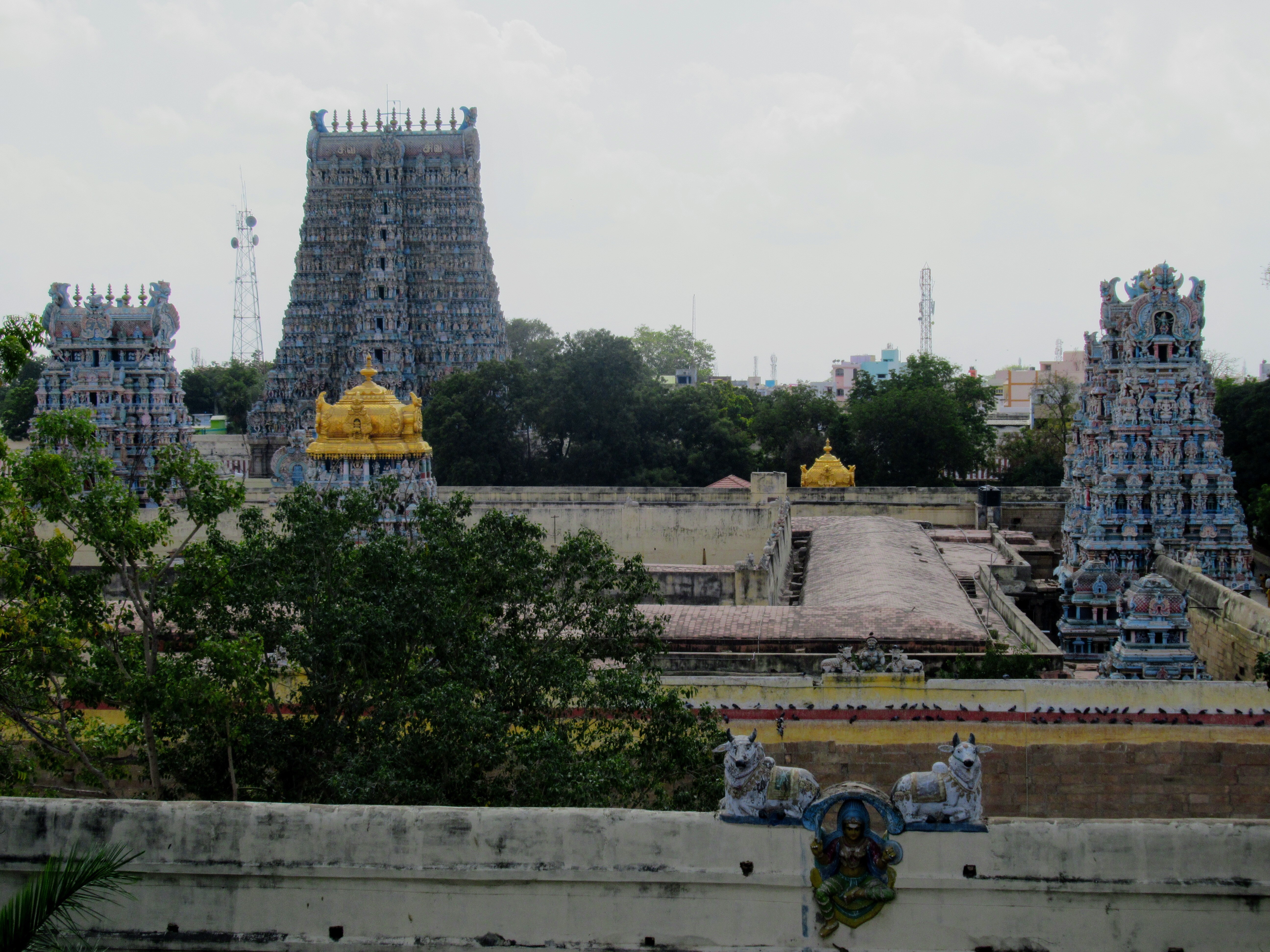 On the Western side of the temple is the Madurai Gallery and you can go on their roof and see the view for free…unless you end up buying something! Don't worry though, the touts will find you.
The government aren't massively on board with this practise and they keep banning it, so it's now very discreet. Rules change frequently in Madurai so always ask.
Entrance – Free or 50 rupees for the temple museum.
Opening times – 05:00-12:30 and 16:00-22:00.
2. Thirumalai Nayakkar Palace
Thirumalai Nayakkar Palace is only 1.2km away from Meenakshi Temple so you can easily walk here from there.
This palace was built is 1636 by Nayak king Thirumalai Nayak and utilises both Dravidian and Islamic architecture.
The palace is slightly unloved and the ample pigeon population do make it dirty (I felt for the cleaners), but it has some beautiful features. Aside from the main hall, there is a dance hall and a small museum room.
There are also light shows in the evening in English and then Tamil, if that's your thing.
Cost: 50 rupees for a foreigner
Opening times: 9-1pm and 1:30-5pm
3. Get historical at the Gandhi Museum
The Gandhi museum is smaller than it seems, but it is free and just a short tuk-tuk journey across the river which won't cost more than 100 rupees.
The displays give you a fairly comprehensive look at Gandhi's life and influence as well as a collection of photographs of him and the dhoti he was shot in.
The reason he means so much to Madurai is that he entered the Meenakshi Temple with the Harijans in order to display his untouchability. So if you visit the temple you are walking in his footsteps. There's a reason he's on all the banknotes and his importance here cannot be underestimated.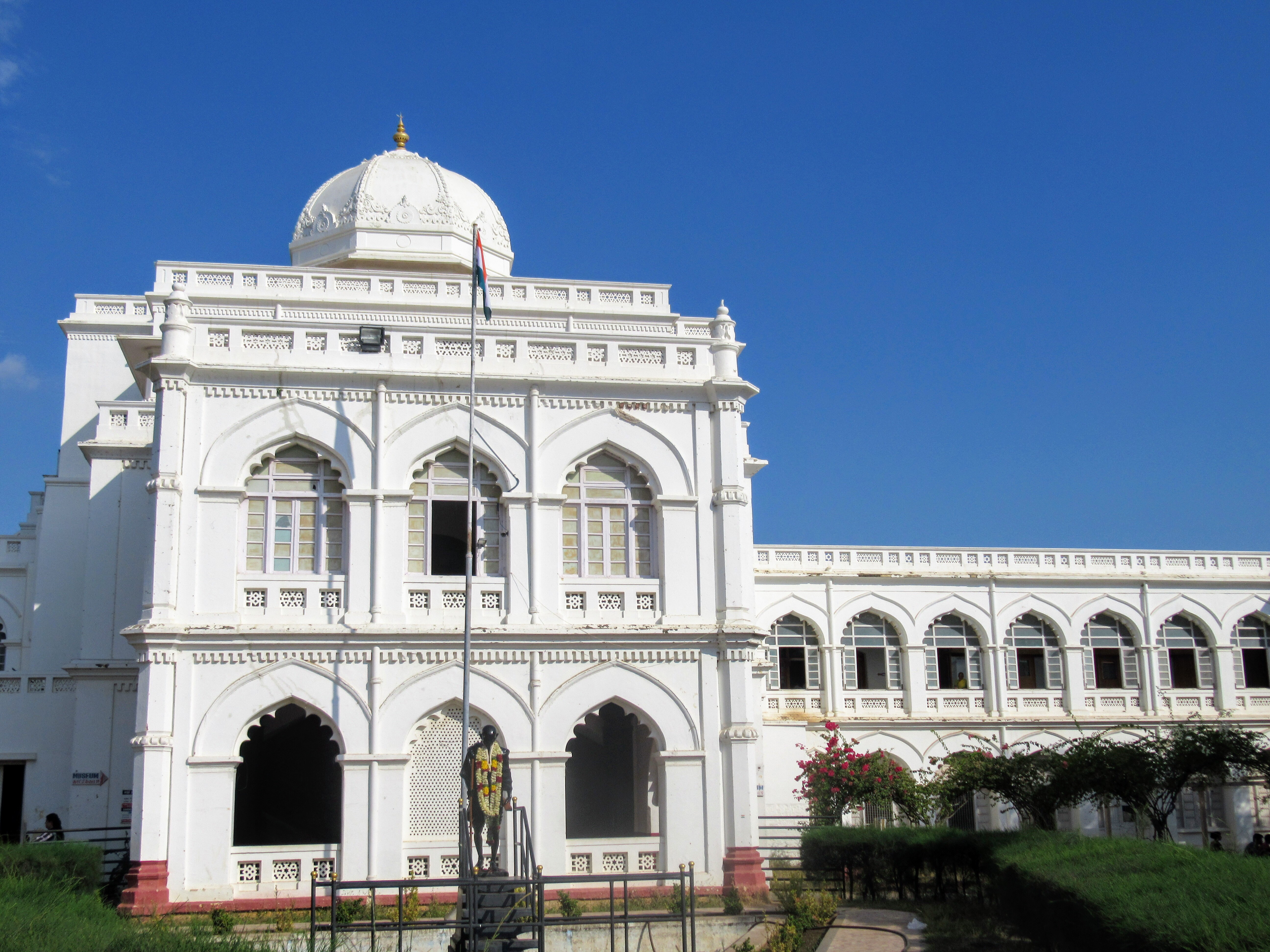 Gandhi Museum, Madurai, South India
Cost: Free with a 50 rupee camera fee
Opening times: 10-1pm and 2-5:30pm.
4. Browse the markets
There are several markets in and around the centre of Madurai that you can visit, and there are loads of stalls near the temple aimed at middle-class pilgrims that sell jewellery and toys.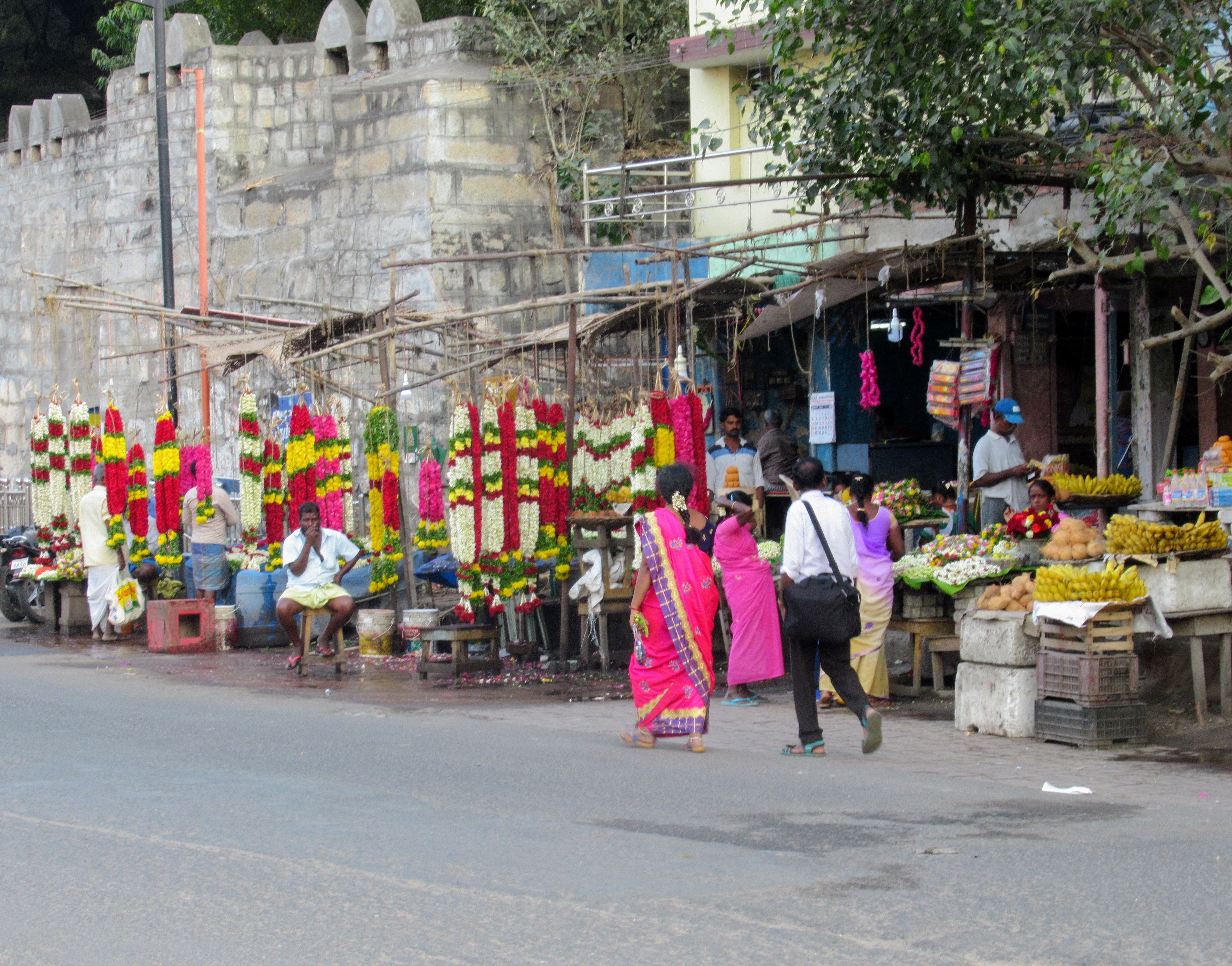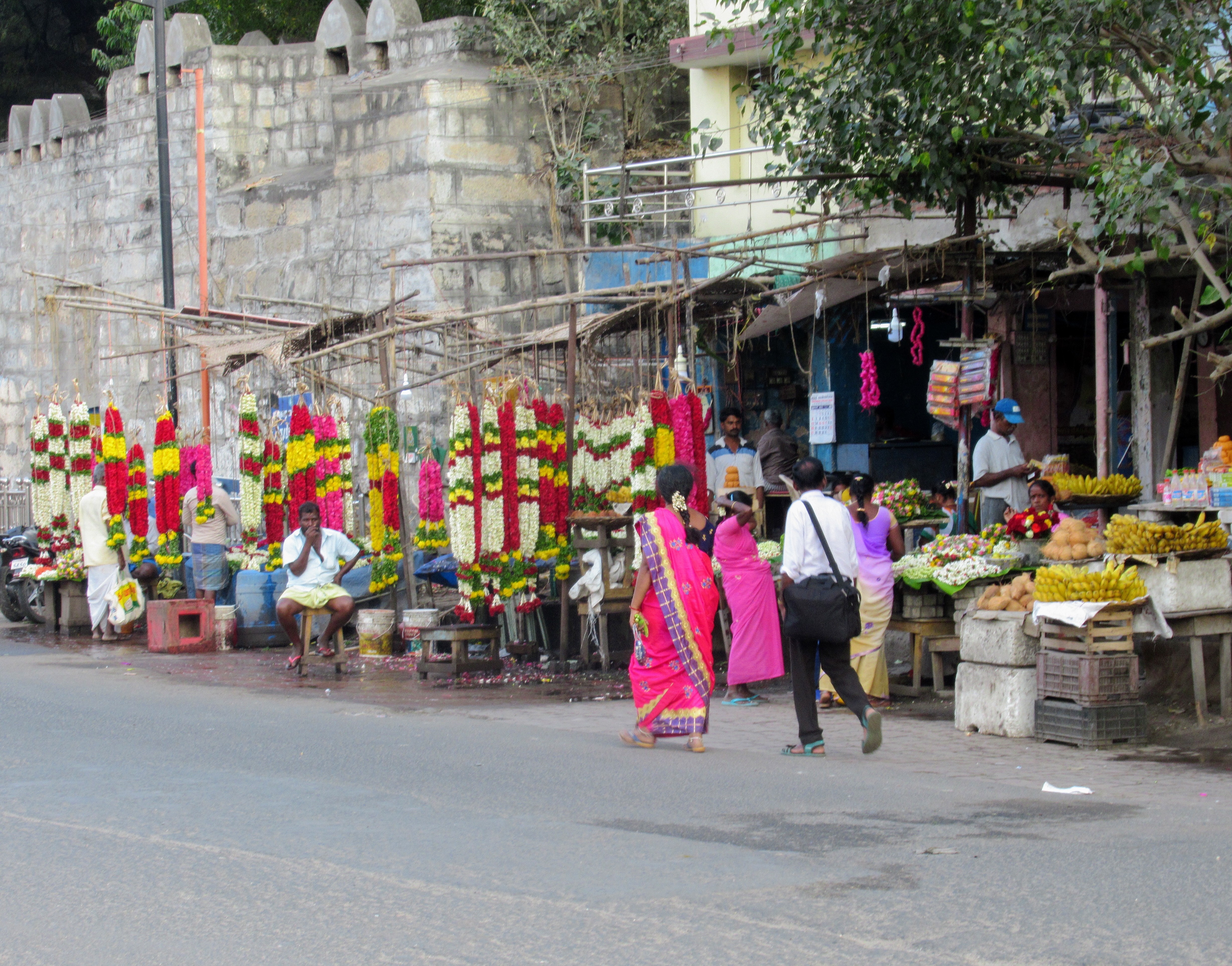 The fruit market is near the Western side of the temple and the flower market is slightly further in Mattuthavani. The flower market has been criticised for the amount of waste it produces in unbought flowers.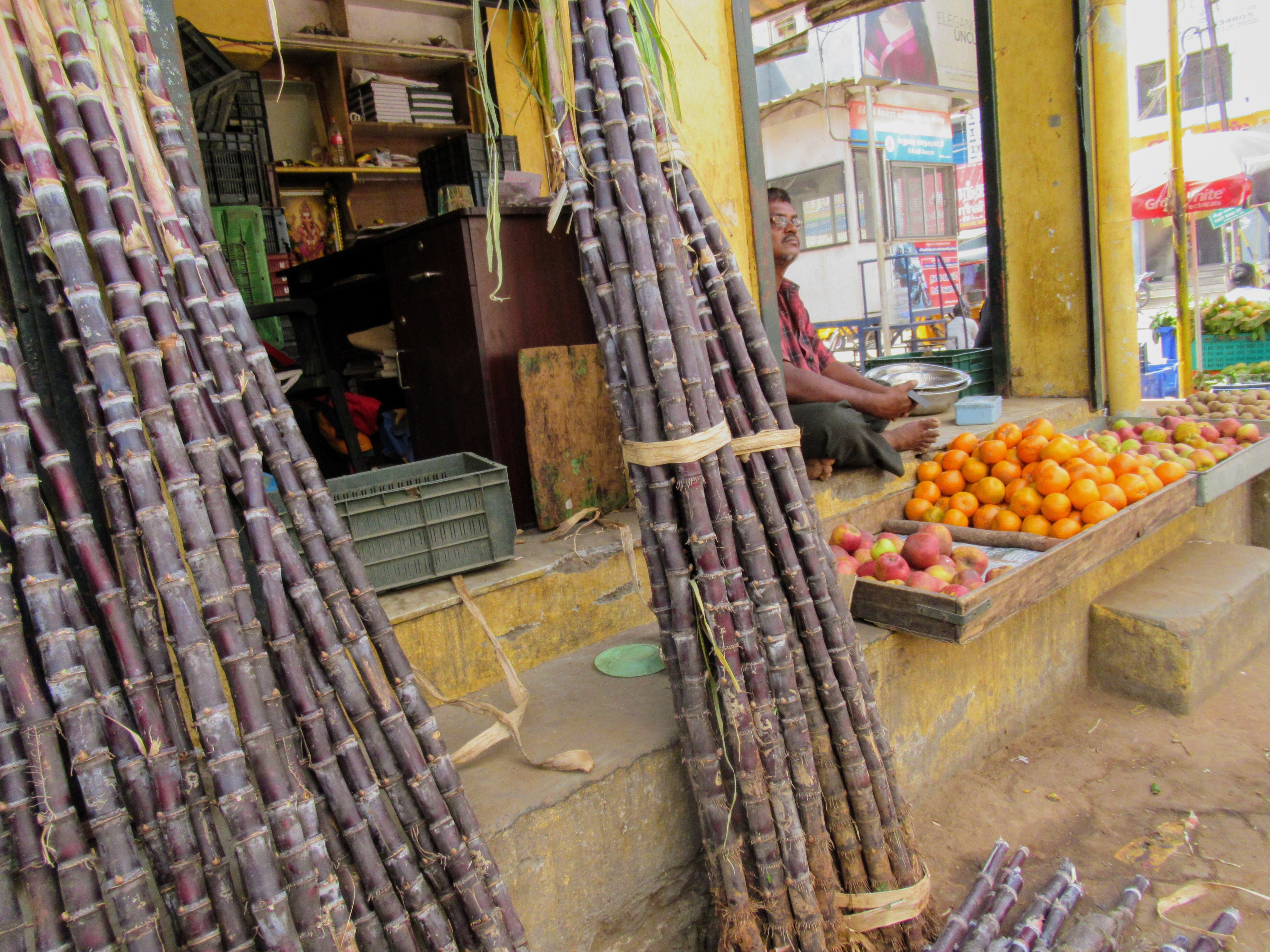 Flower market opening times: 10-7pm.
5. Drink jigarthanda
Jigarthanda was invented in Madurai so this is the very best place to drink it. It means 'cool liver' in English and it will certainly cool down your insides.
It tastes extremely sugary and is made of milk, almond gum, sarsaparilla syrup and ice cream. It's served with the ice cream on top so you mix it altogether with the spoon they give you. It is good though.
Cost: 30-50 rupees
6. Eat delicious street food
South Indian meals are served on a banana leaves and made up of rice, several curries, sauces and a popadom. Madurai doesn't have big restaurants, so it's more a case of short eats cafes which are good for the budget!
There's also a few nice bakeries and idly (steamed rice cake) shops so Madurai is pretty snack-tastic. There is very little Western food on offer so unless you're in a big hotel.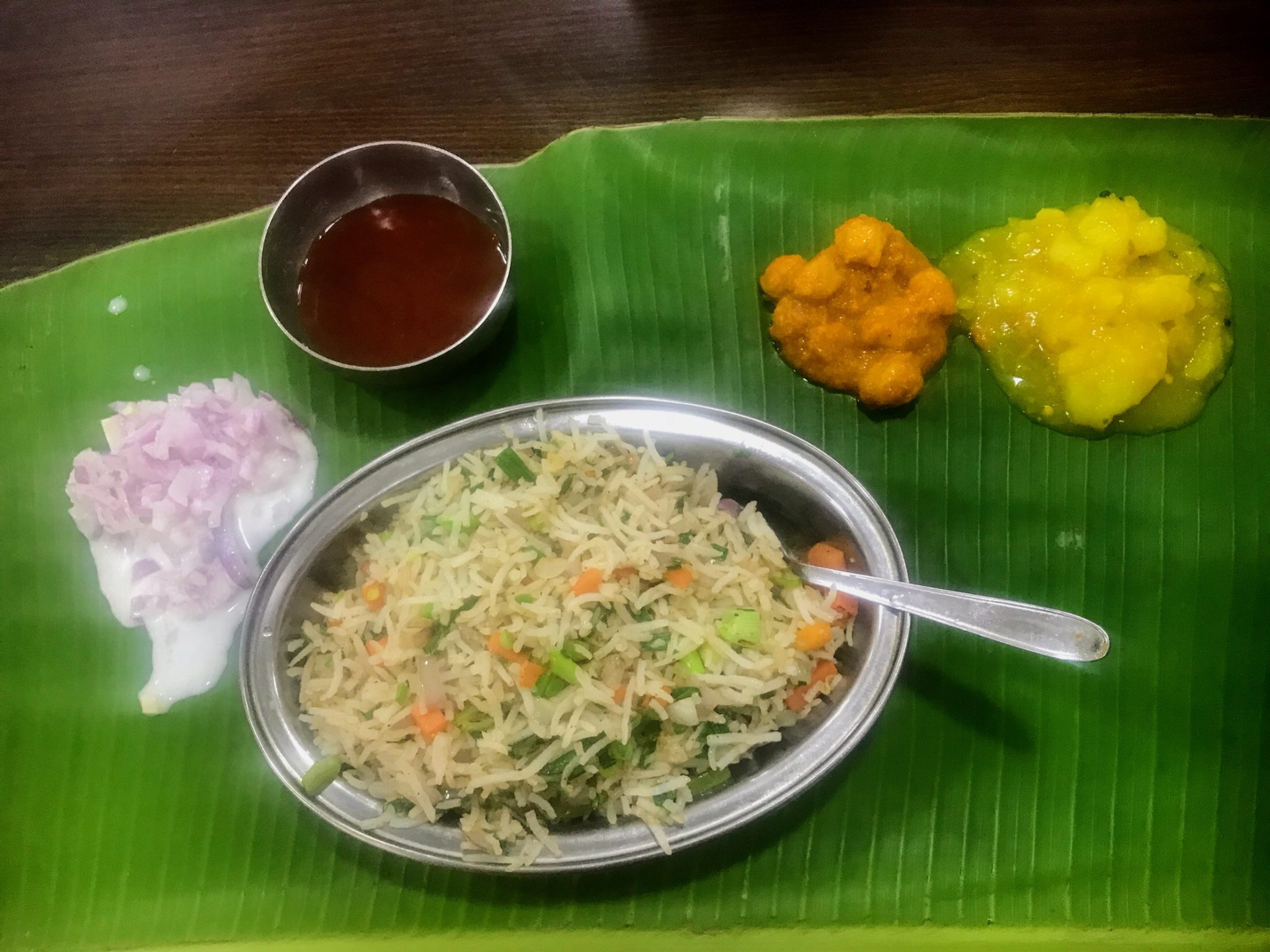 Cost: From 50 rupees for a biriyani
7. Watch Tamil cinema
There are a few cinemas in Madurai, and we went to the Thangaregal Cinema near the train station, which was nice. It sold burgers, chips and ice-creams and they even bring the food to your seat for you.
Going to the cinema is quite a luxury experience in India and we went to see the Tamil film Petta which featured an extremely famous actor called Rajinikanth. Fandom is strong in India and people cheer for their favourite actors, which makes it a different experience in itself for foreigners.
Be warned that Tamil films are long but they do have an interval. It's also preferred to sit next to someone as the same gender as you when you sit down although not everyone minds.
Cost: From 120 rupees per seat
I've heard that Madurai is the heart of Tamil Nadu in many ways and I definitely agree as it is so spiritual and fundamentally South Indian. It's big enough to have a good time but it's still quite a relaxing and friendly city. Definitely a great addition to any South India itinerary.
If you're travelling elsewhere in Tamil Nadu, then check out my guides to Chennai and Pondicherry.
Have you been to Madurai? What were your favourite experiences while you were there?
Pin this for later: