Gokarna is the gateway to some of Karnataka's best beaches including Om Beach and it's also cheaper, less-crowded and more relaxed than many places in neighbouring Goa. In many ways, its what I imagine Goa was like when it first became touristy.
Transport connections aren't quite as good as Goa, but you can get buses or trains from Goa in the North or Kochi (Ernakulam) in Kerala. There are also overnight buses from Bangalore or Hospet (Hampi) in Karnataka. I'd heard that is was a rough journey but it was no worse than any other road we took in the region.
It is quite a religious place, and despite being small it has several popular Hindu temples that you can visit if you dress conservatively and remove shoes. Some temple areas are reserved for Hindus only.
Gokarna festivals
Be aware that it becomes really busy around the festivals of Shivaratri and Ganesh Chaturthi. You can actually see the chariot bearing Lord Shiva that is pulled through the streets for Shivaratri in the middle of the road in Gokarna town. It is pulled by hundreds of pilgrims during the nine-day festival in February/March time. Ganesh Chaturthi is held in September and this is when pilgrims take their Ganesh idols to the sea as part of their worship.
Gokarna's dry season is from October to March and it gets busy with foreign tourists from November to February. The wet season is from April-September so this is not a good time to visit the beach.
If you arrive at Gokarna Road train station, then a tuk-tuk to town will cost about 200 rupees as the town is 10km away. The bus station is located in the centre of Gokarna.

Most of the decent budget accommodation is on Kudle Road and we stayed in the Hari Om Guesthouse which was great value at $8 for a double room. It took us about 20 minutes to walk from the bus station and about 15 minutes to get to Kudle Beach from there so the beach road is a good area to stay in.
Gokarna town
It is becoming a popular place to go to yoga schools and retreats as it is a spiritual place offering lower prices than some of the courses held in Goa.
When you arrive, one of the cool things to look out for in the centre of Gokarna is the street art as there's plenty of it. I loved this cow on an abandoned building on the way to the Kudle Beach road.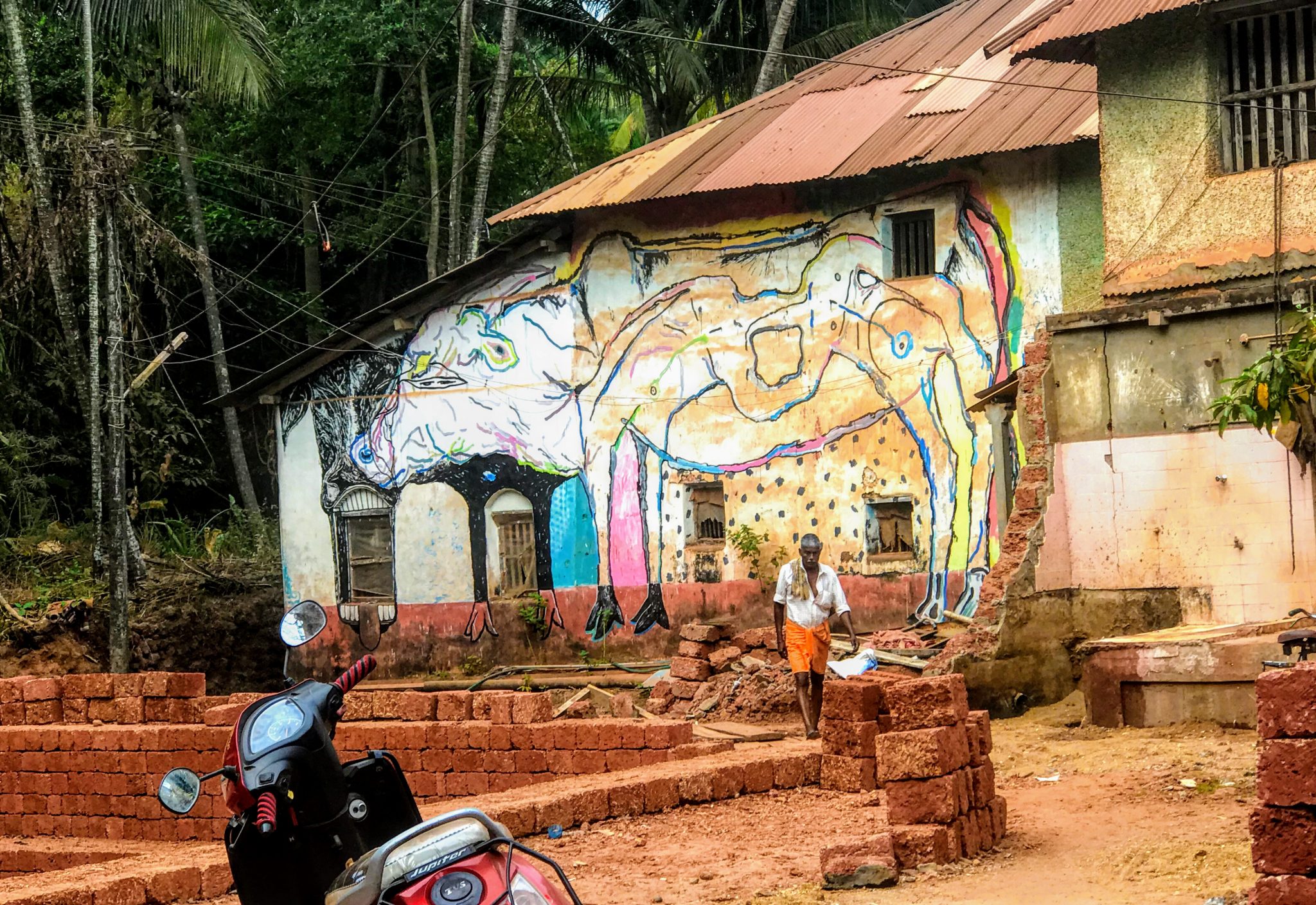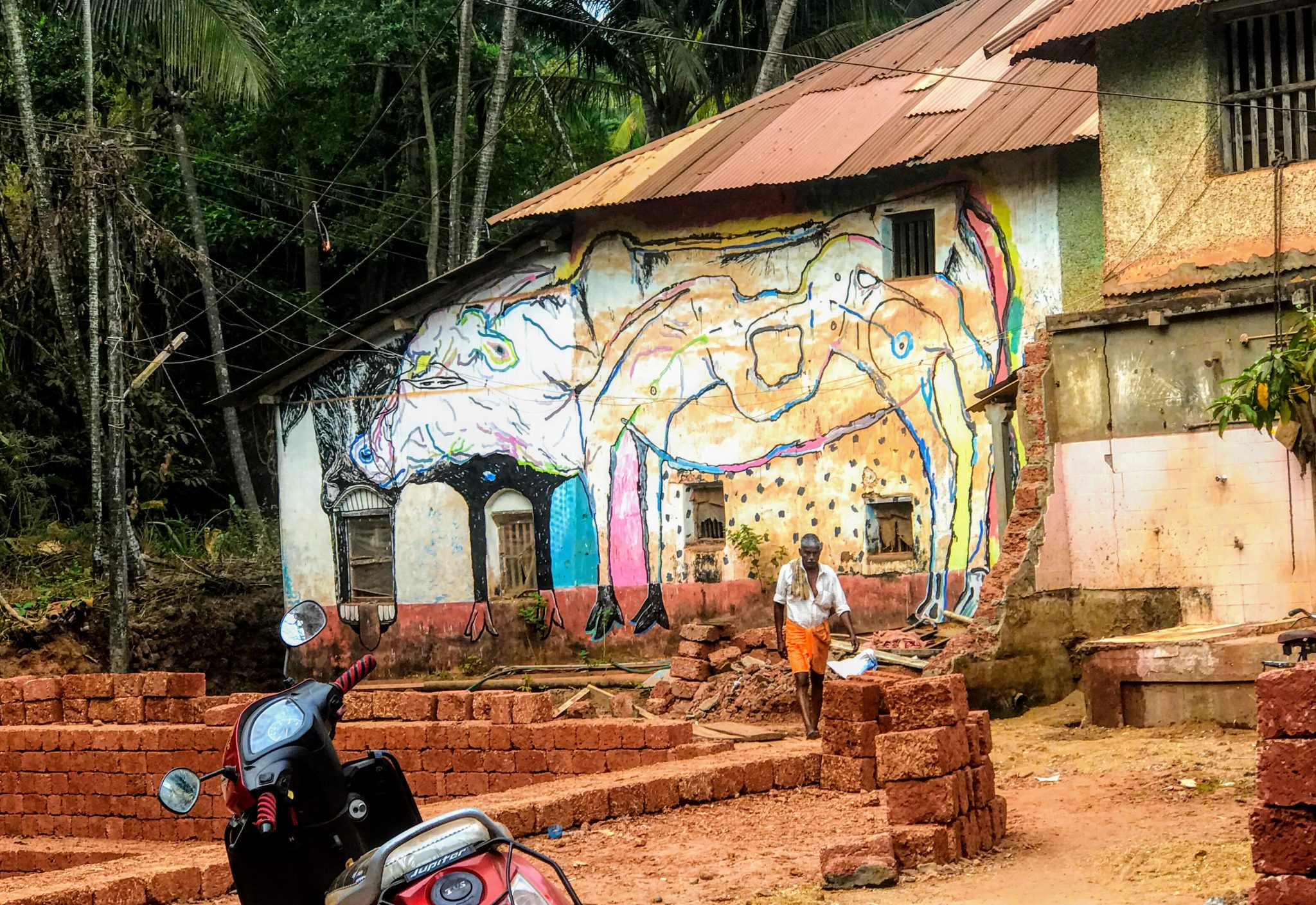 Even though Gokarna is a religious place, you can still buy alcohol here and there is a bottle shop opposite the bus station where you can stock up. You can't drink it in public though (even in your hostel) so you have to drink in your room or decant it into a mug.
Don't be put off by Gokarna's town beach when you arrive, as it is polluted and not very pleasant. You can see from the river behind it which is pink from chemical waste. There aren't many places to eat in Gokarna either so once you've seen the temples (if you want to) and got your money and beer, then it's time to head to the beaches.
Kudle Beach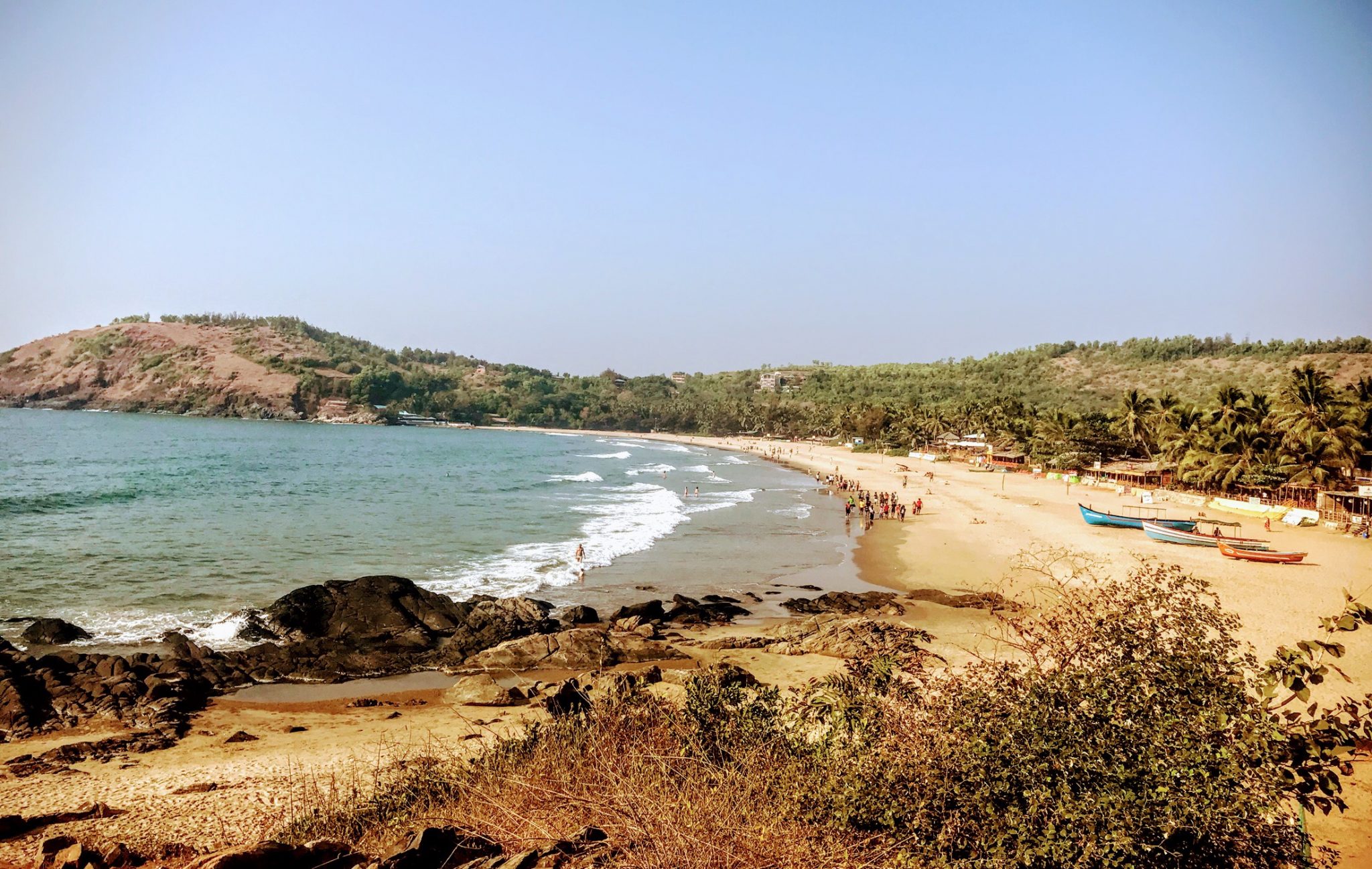 Lovely Kudle Beach is about 5km from Gokarna town along the Kudle Road and down some steps. Along the way is a hill that you can see, which is also a nice viewpoint.
There are no sunbeds on the sand but they have some in the restaurants which line the beach, there's about twenty of them, plus a few shops selling sarongs. Here sand gets extremely hot so you will need one to sit on the beach. Unfortunately, there isn't a lot of shade so you will need your sun cream! It's acceptable to wear a bikini on the beach but you are expected to cover up on the road.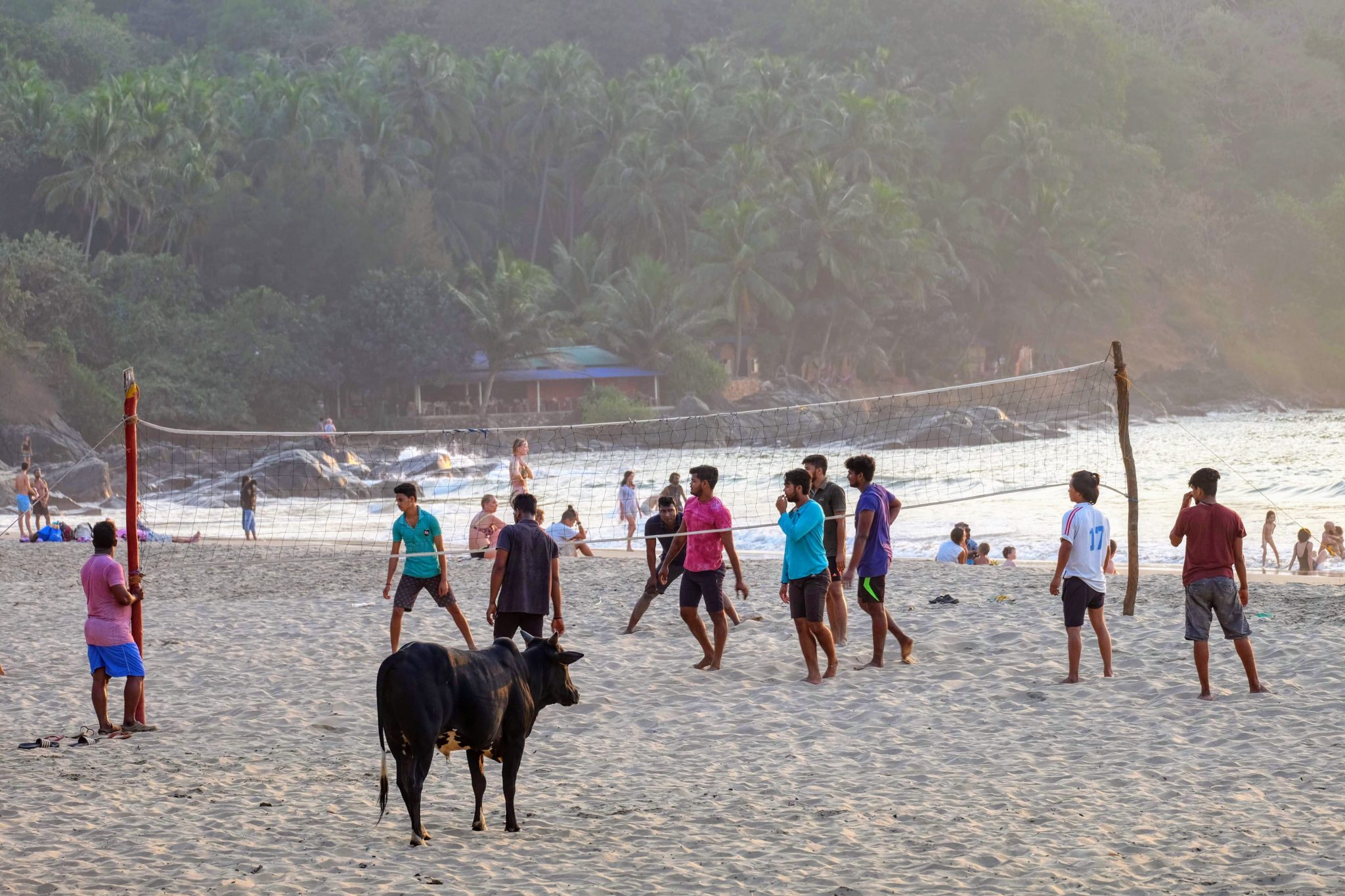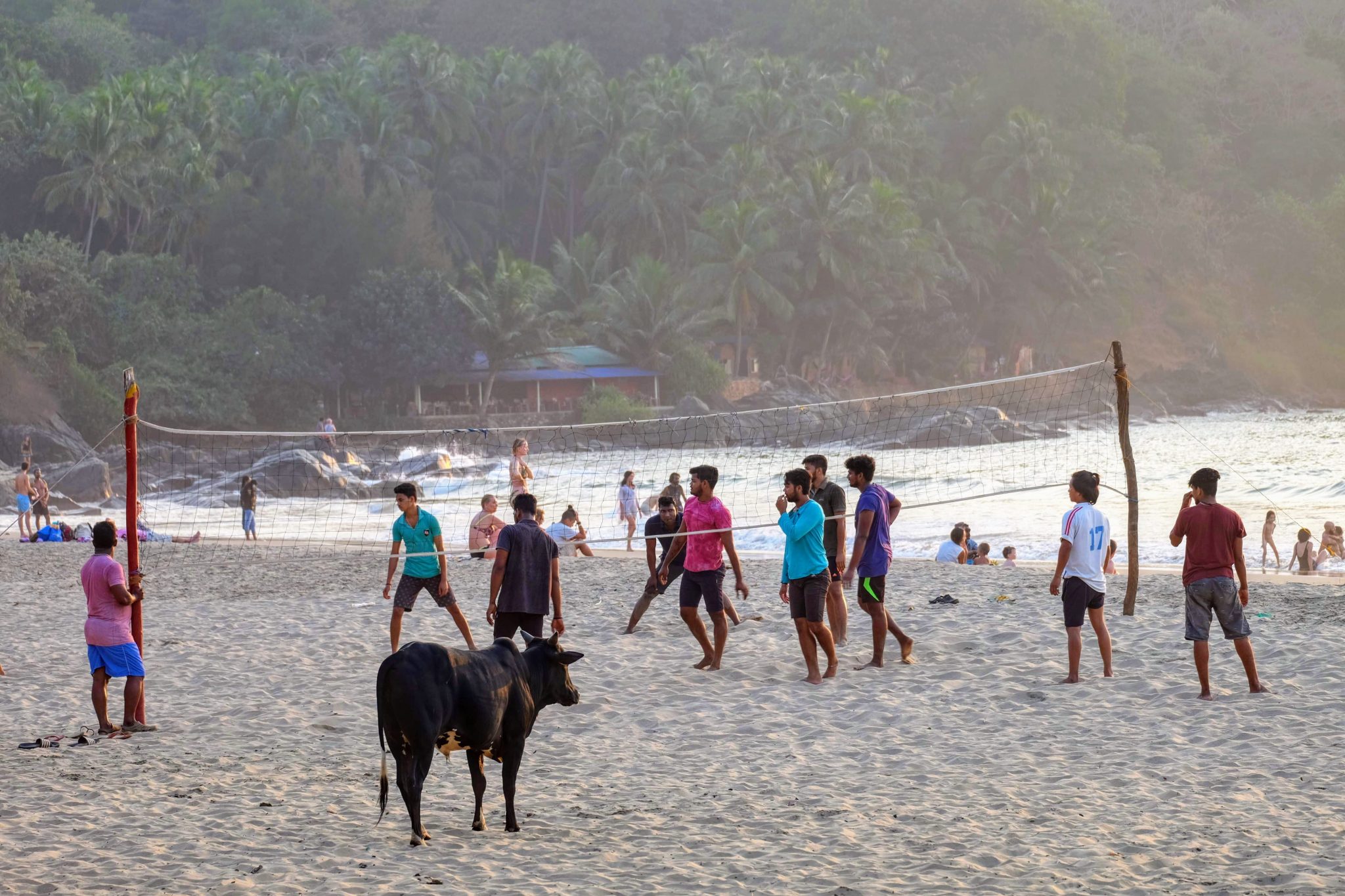 In the evening the beach really comes alive after people finish work. There are people playing volleyball (with cows trying to join in), with their dogs, having a dip, playing the drums, meditating, doing circus skills and practising yoga.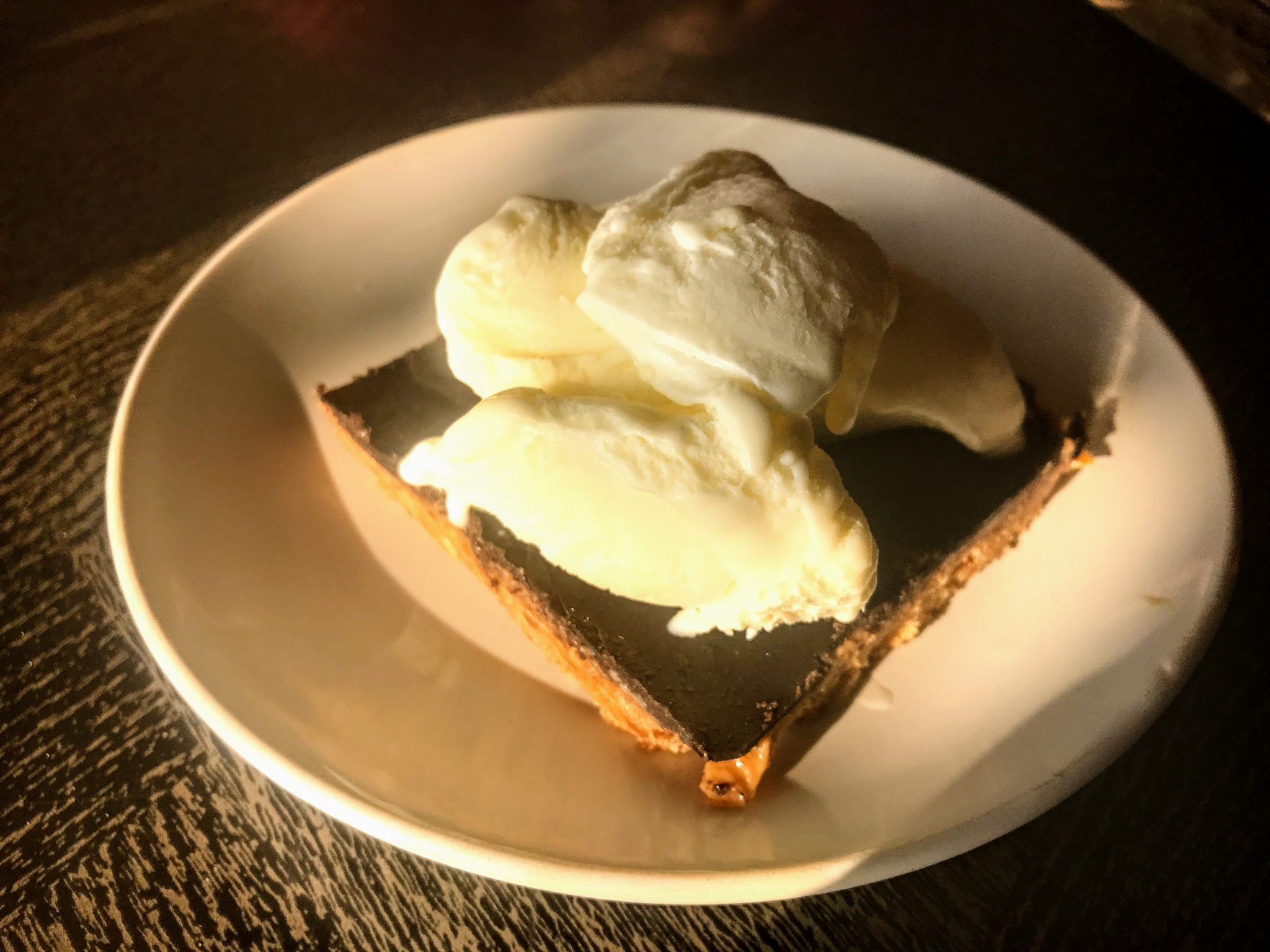 Whilst you're on Kudle Beach, try the delicious Kudle Cake which is a biscuit, caramel and chocolate dessert that they make here. It goes well with ice cream and a sunset!
Om Beach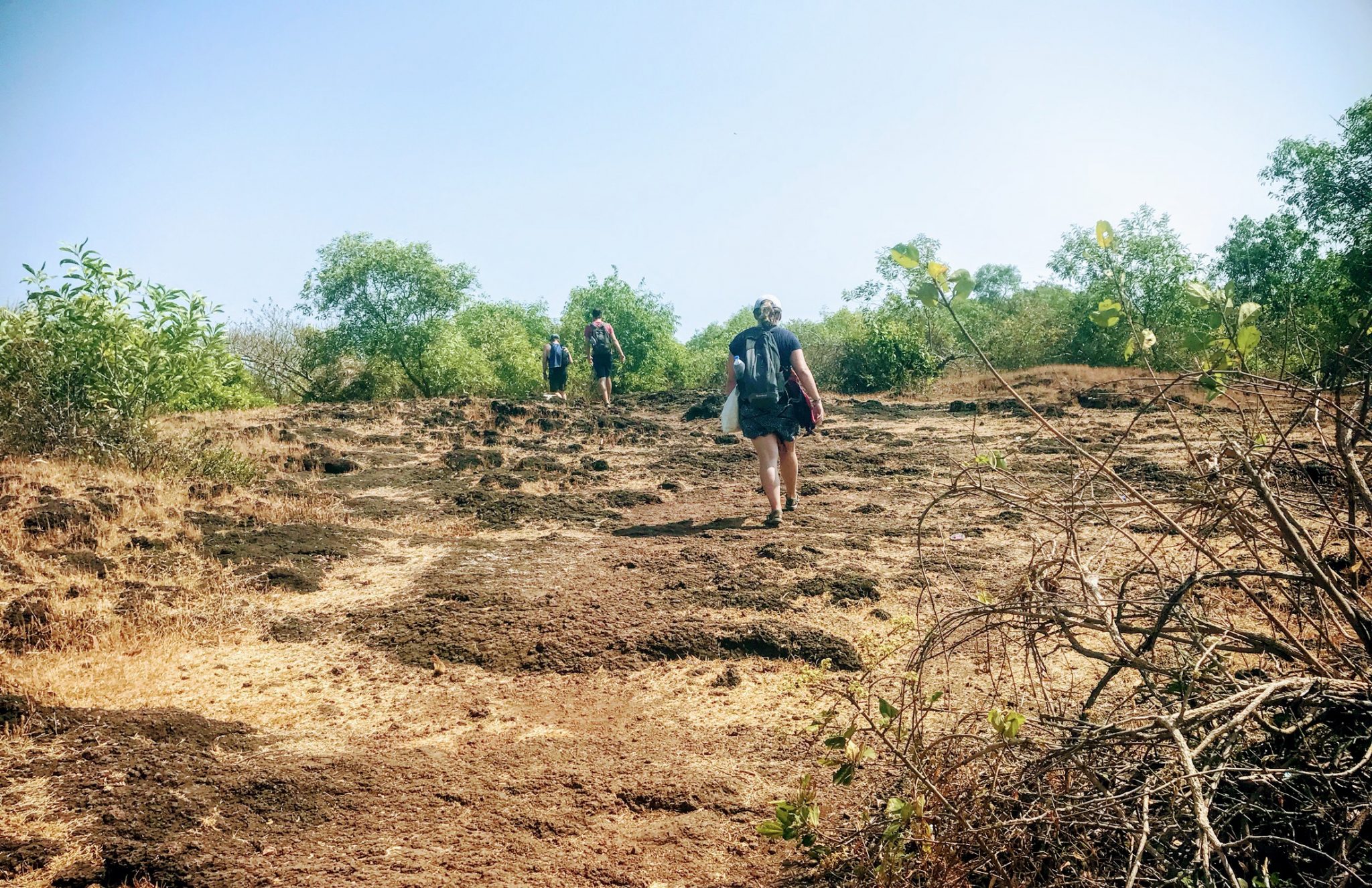 The walk from Kudle Beach to Om Beach is not well marked, but you go up the steps on the south side of Kudle Beach. Then cut across the scrub where there is a faded painted sign on a rock saying 'Om Beach'.
You'll find tuk-tuk drivers waiting at the top of the steps who won't always give you the right information so that you'll ride with them, but it's only a 15-20 minute walk.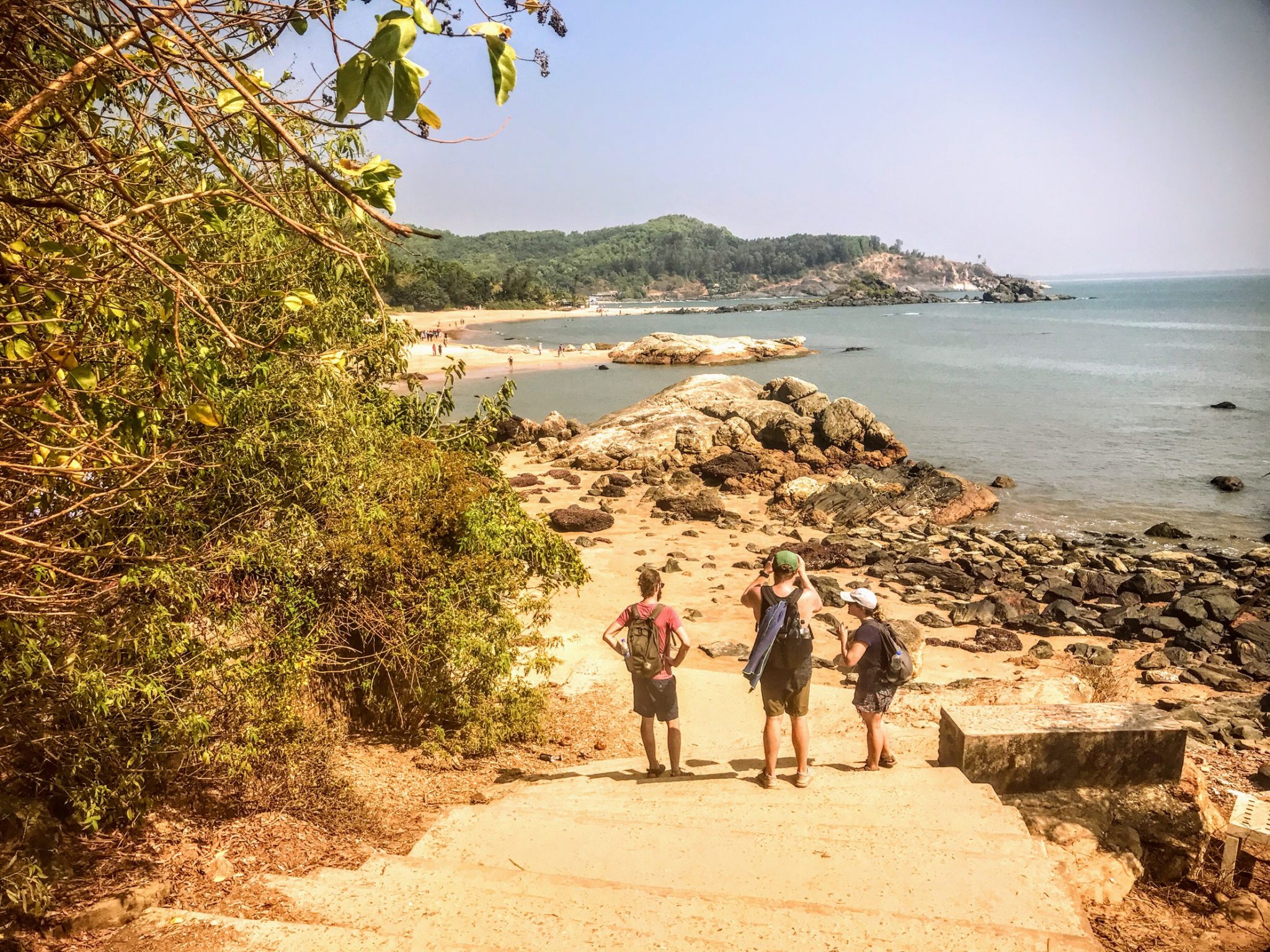 There are steps going down to Om Beach and as advertised, it does look like the Om symbol! It has fewer restaurants than Kudle Beach but a lot more shade as you can sit under a tree! Here are fewer women in bikinis as there are fewer foreigners here than Kudle Beach. When I walked on my own, men would try to flirt with me on both of these beaches so be aware!
The next beach along is the small but perfectly formed half-moon beach which is straight across from the Om Beach viewpoint.
Paradise Beach
The final main beach of the quartet is Paradise Beach which is further along still, past the Hell Cliff viewpoint and the tiny Small Hell Beach.
Some people spend the night on Paradise Beach, but it gets cold so you will need a blanket and a mosquito net. Leave your valuables back in your room and be careful of the strong tides. You won't be able to come back in the dark so you're committed once night falls. It is possible to see marine bioluminescence in the ocean on some nights.
Be careful about walking the coast road during quiet times as there have been muggings.
Aside from the great beaches, Gokarna is a lovely place to spot wildlife whilst you're relaxing in your hammock. I saw loads of tropical birds and lizards, as well as this tree frog that sneaked into our hotel! We later found another frog chilling out in the shower which was pretty cool.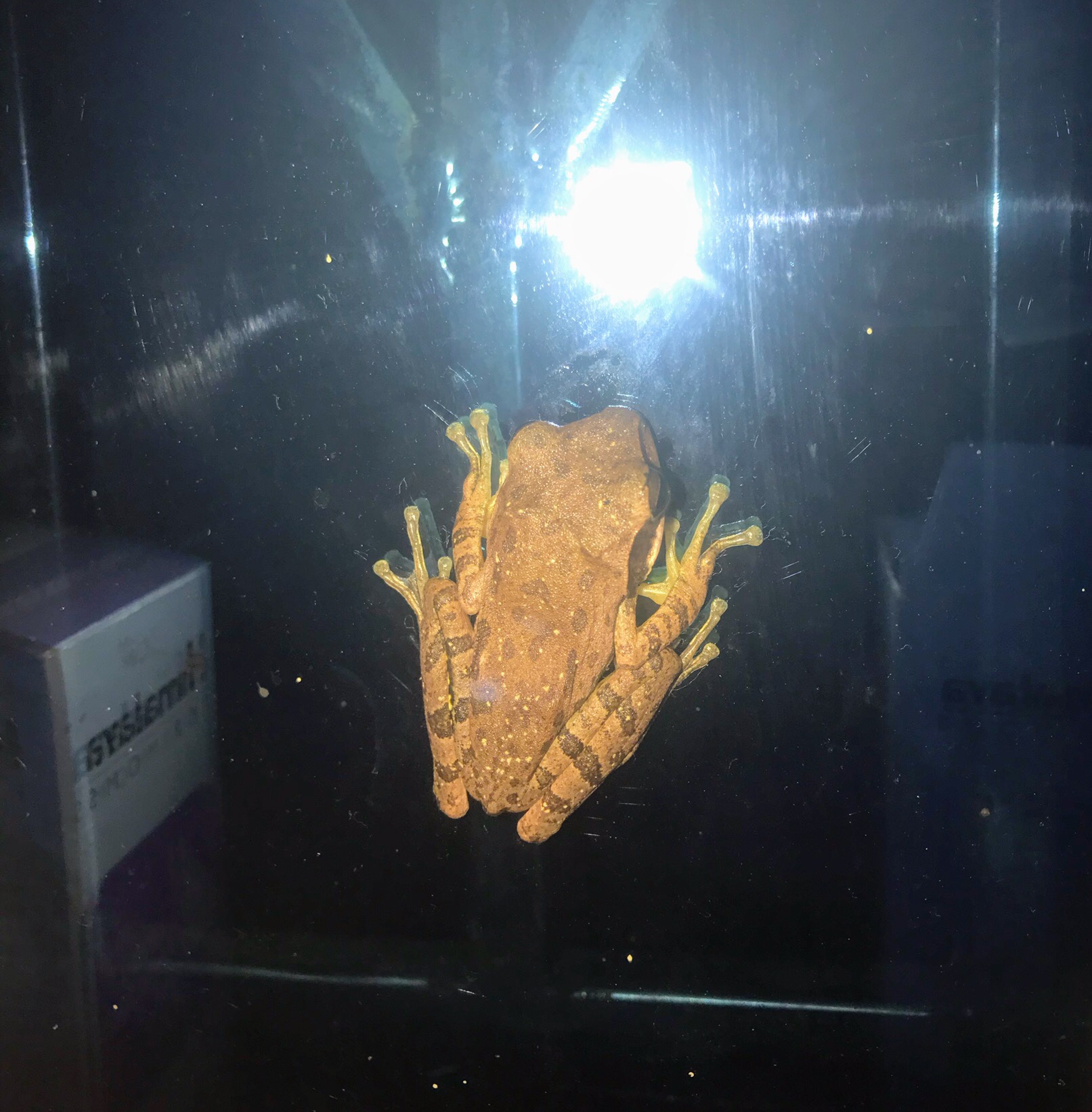 The very best thing to do in Gokarna (in my opinion) is to watch the sunset. Absolute no filter necessary and it's also nice to share the experience with other people and cows.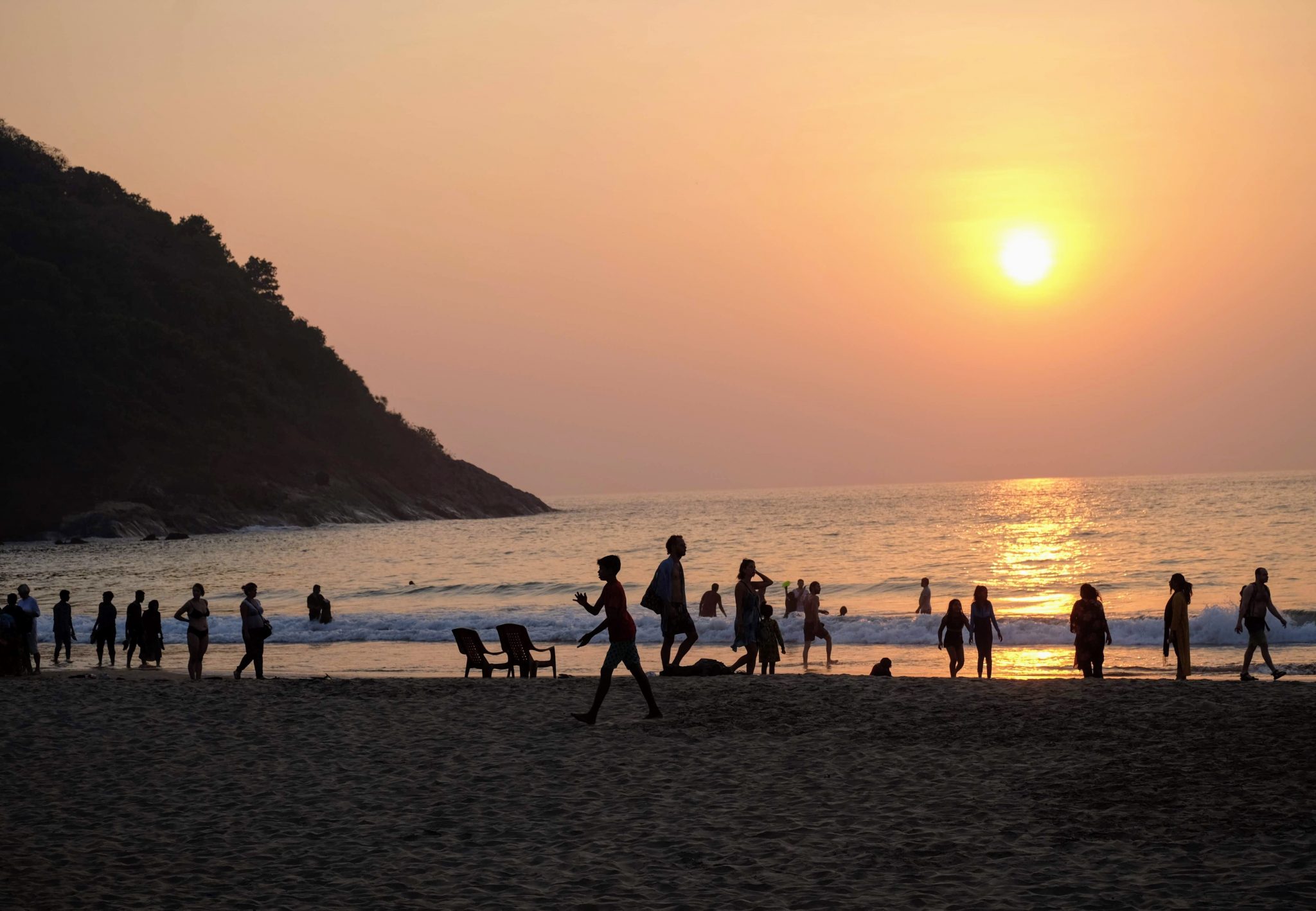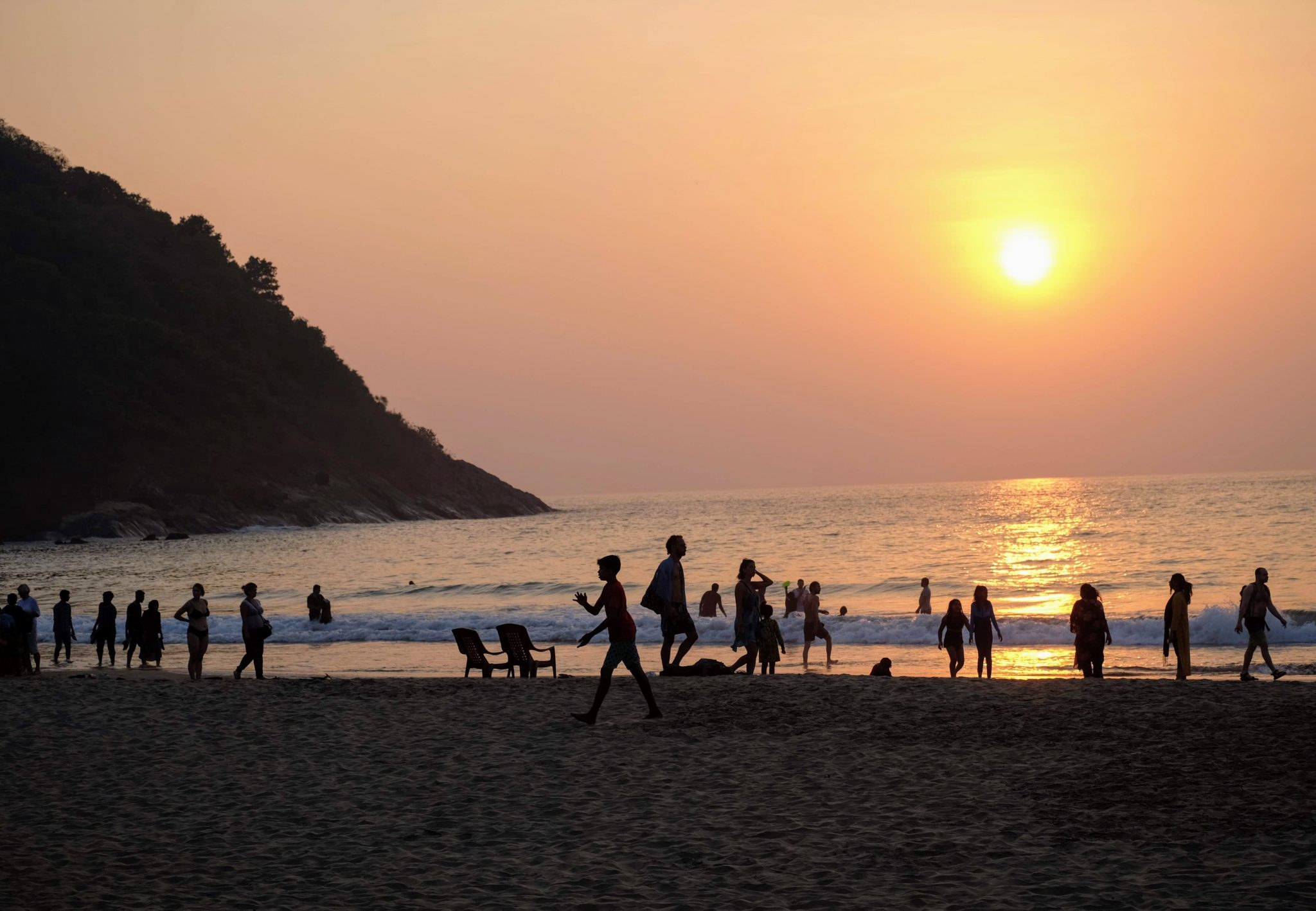 What did you love about Gokarna? Let me know in the comments below!
If you are heading to Goa, check out my top 8 experiences to have in Goa and why Palolem Beach is my favourite place in Goa.

Pin this for later: