Everyone loves Indian food but not many people know how to cook it well. I put myself firmly in that category, in fact, I struggle to cook anything well as it's not something that I've ever been taught.
I'm as fascinated as the next person about the spices, flavours and the myriad of dishes that I feel obligated to work my way through before I leave India. The beauty of Goa is that it's such a relaxed place that there is more time to do the things you wanted to do elsewhere, for me this meant cooking.
I didn't have to look too far to find one as there was a highly recommended place close to where I was staying. I booked it and I was in after a chat with the lovely cooking school owner.
There were six people in the class, five dishes to make and 2 and a half hours to do it in. The kitchen looked like a filming kitchen with a floating island in the middle. I sometimes film in show kitchens for work and this was like something from a cooking show. They're generally held in private kitchens but this was borrowed from a restaurant which was a good idea.
On the menu were five dishes, mushroom curry, daal, chapatis, vegetable pakora (also known as bhajis) and aloo jeera in that order. It was a slick operation as he had two assistants to help him. This made sense as we did only have two and a half hours to make these five dishes.
He explained about spices to us, including how to make a spice mix and what spices are commonly used as a basis for Indian cooking. The main difference between North and South Indian cooking is that the north uses much more dairy milk and yogurt whereas the south use more coconut milk.
There is an overwhelming amount to know about Indian food but a short introduction is better than none in my book. We began with the mushroom curry which was fairly straightforward, it was all about frying the right flavours and adding in the yogurt later.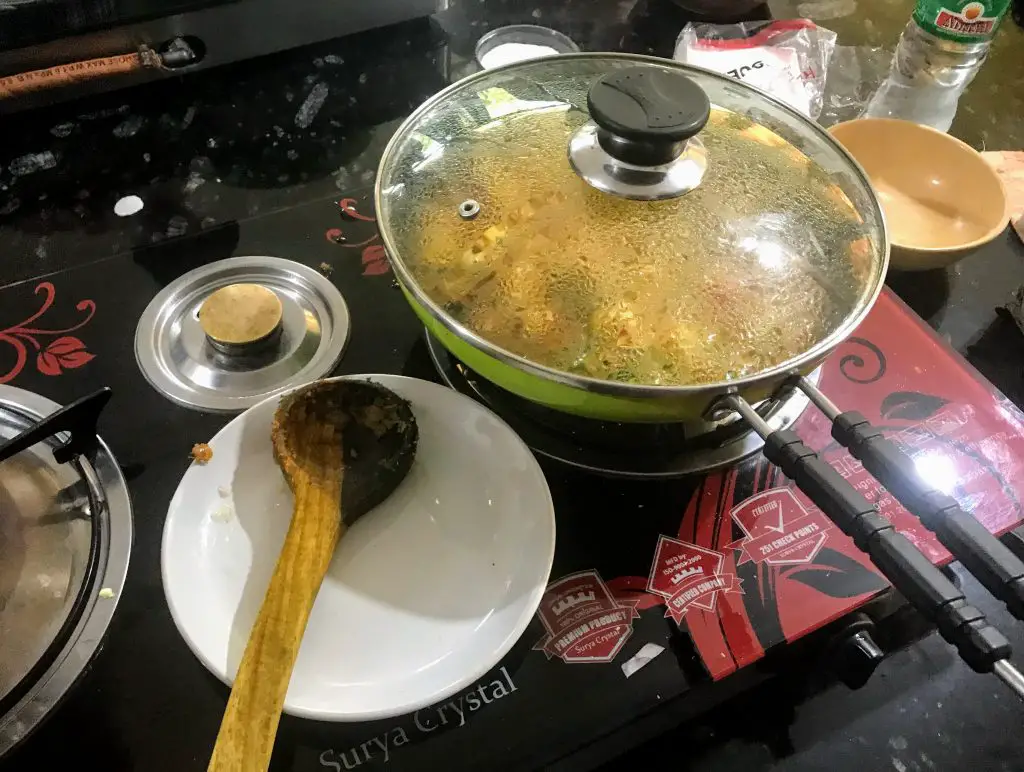 Then came the daal, slightly more complicated because you have to boil the yellow lentils in a pressure cooker first. You fry them with some flavours and then simmer with your sauce.
Rahul showed us how to make a tarka at the end which basically involves frying ghee and spices in a tiny pan and throwing it over the top of the daal. Et voila, tarka daal.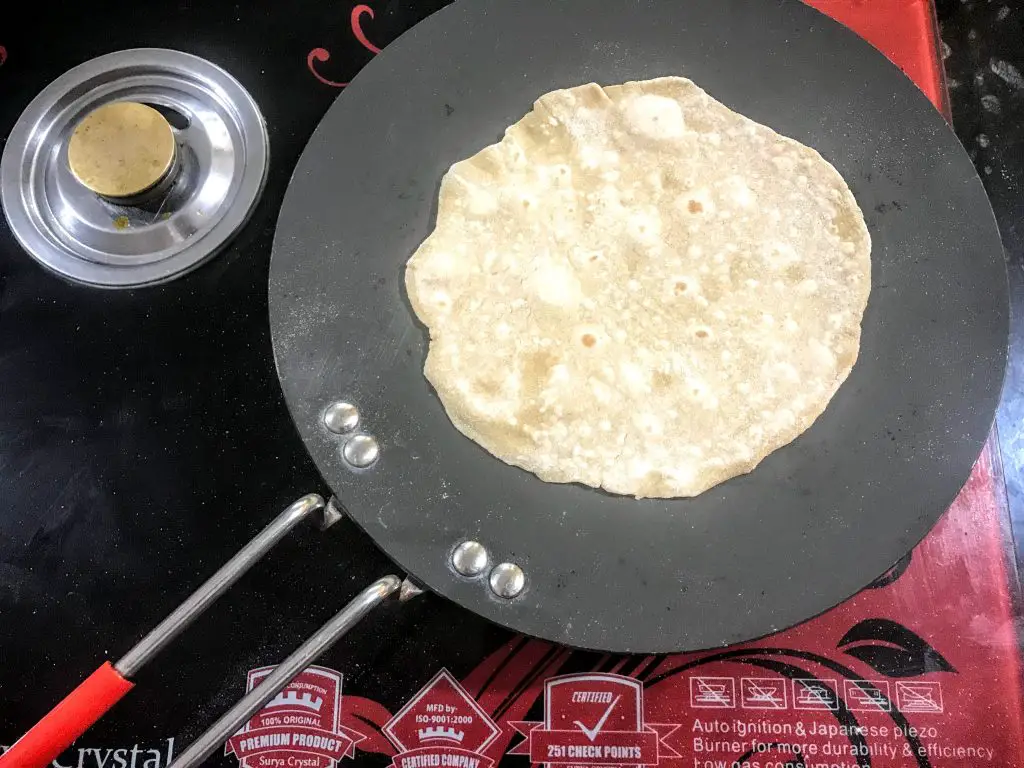 The next culinary adventure was something I was excited for, and that was chapati making! Definitely a skill I could use. The way to make chapatis is by making dough, rolling it into circles and frying it on a hot pan until it bubbles on both sides. The most exciting bit is whipping away the pan and cooking it for 5 seconds directly on the hob flames so it puffs up. This is why many places smell like burning.
By this point, we were cooking up a storm, although it was closely managed by our teacher so I didn't feel like we'd really grafted to make the food. We moved on to making vegetable pakoras from chopped spinach and onion covered in chickpea batter.
Frying the pakoras is very satisfying and you fry them twice to make them nice and crispy but not burnt.
After that, it was time for our final dish, aloo jeera, which means cumin potatoes. These were potatoes fried in turmeric and cumin and they were pretty simple.
He then demonstrated how to make puris, which are made the same way as chapatis but fried in hot oil so they puff up.
It took us two hours to make five dishes in three teams with a lot of assistance from the chefs. The last half hour was spent enjoying the spoils of our 'labours'. It's worth noting that even with fans, it can get really hot in the kitchen, so much so that people were dripping sweat into their food.
We ate the food in the terrace garden on the beach complete with fake grass which was lovely as it gave the group a chance to bond. This was great as I was travelling on my own at this point.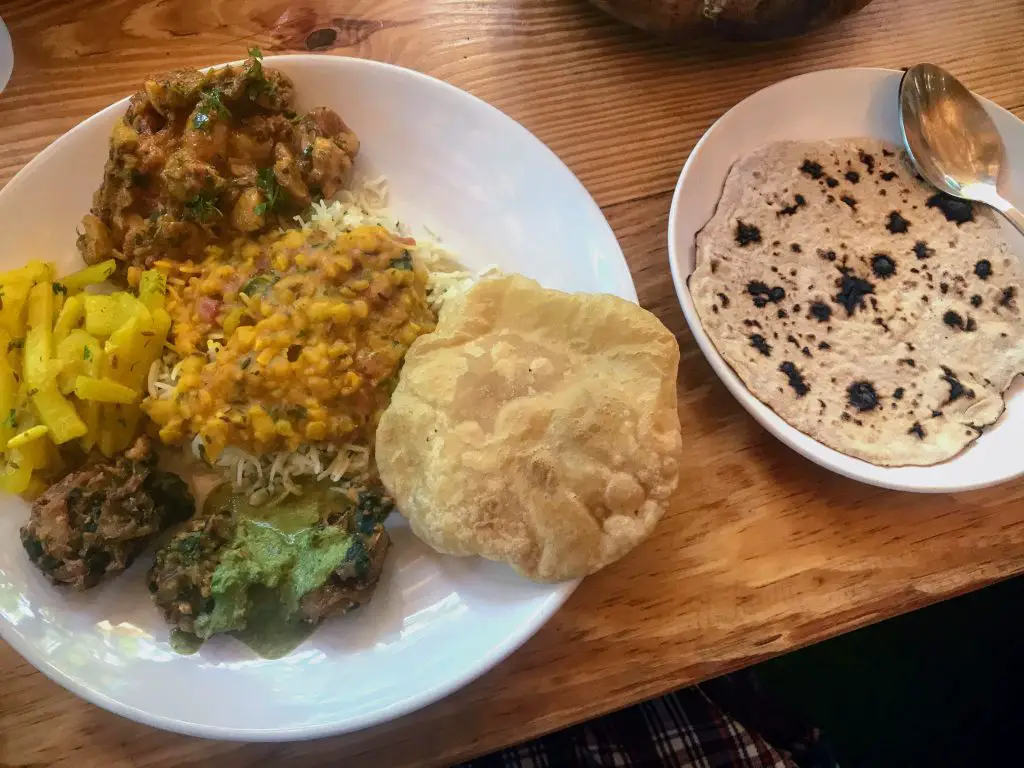 Doing this cooking class was an excellent way to spend time in Goa. Even though I've only learnt 0.0000001% of what there is to know about Indian cooking, everything I learnt was really useful.
Indian food has become such a staple in British life that I felt compelled to learn more about it. I really recommend learning through the medium of food, as we all love to eat. It gives you the opportunity to chat as the second best thing to eating, is talking about food. There is not a cook in the world that doesn't love to have their food complimented, and with some practise that cook could be you.
Pin this for later: