I am currently in beautiful Sri Lanka and I was surprised at what an excellent child-friendly destination it has become. I shouldn't have been, of course, as it's an incredible country with tonnes of beaches, breezy hill towns, jungles and ancient cities. There are places to keep every generation and budget happy, but for families, the beaches are the obvious choice.
There are beaches all over Sri Lanka, on the north, west, east and south coasts. I'm going to focus on the north and west, as they have better facilities, safer swimming conditions and you can visit them all year round.

This post contains affiliate links
The Sri Lankan beaches have been on the tourist trail for a long time and many families come here on holiday. Sri Lanka is a family-minded nation so it's easy to find other families to bond with that have children that can all play together and keep themselves amused. Always be wary of the ocean though and here are some tips for keeping kids safe by the sea.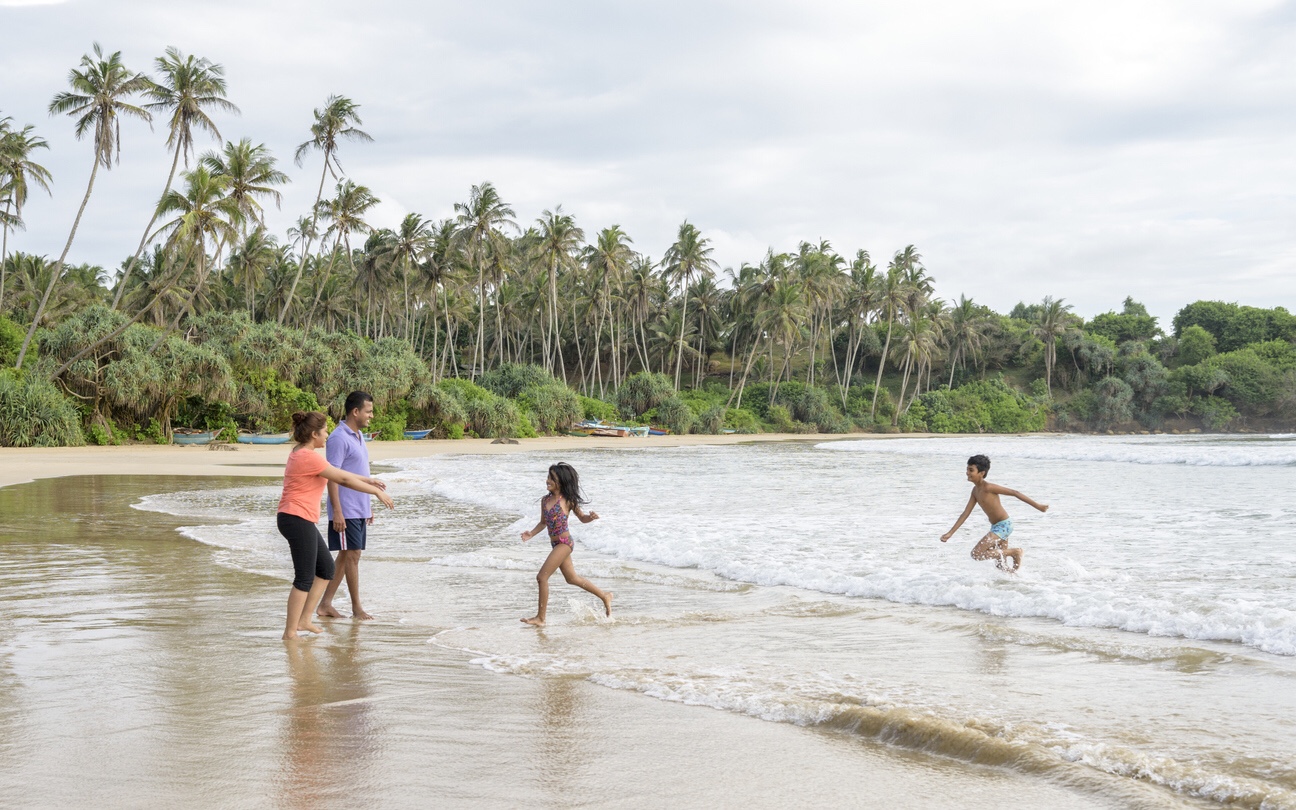 These beaches are in no particular order, as it depends on what you are looking for and the age of your children. I will start with the west coast as that is closer to the airport and good for older kids.
1. Hikkaduwa Beach
Hikkaduwa will appeal to older kids as it has its own reef, a nearby sea turtle hatchery, snorkelling opportunities, surf schools and it's not too busy, except on Christmas Day when this picture was taken! Hikkaduwa is a bargainous place to stay, with loads of cheap eats plus the ability to explore the surrounding areas.
There's a train station so you can even take a ride while still being able to see the ocean out of the window! Hikkaduwa is only a few hours from the airport so you can easier get here via a transfer. It does have a main road that runs through it so you need to be aware of that, which is why I wouldn't necessarily recommend it for younger kids.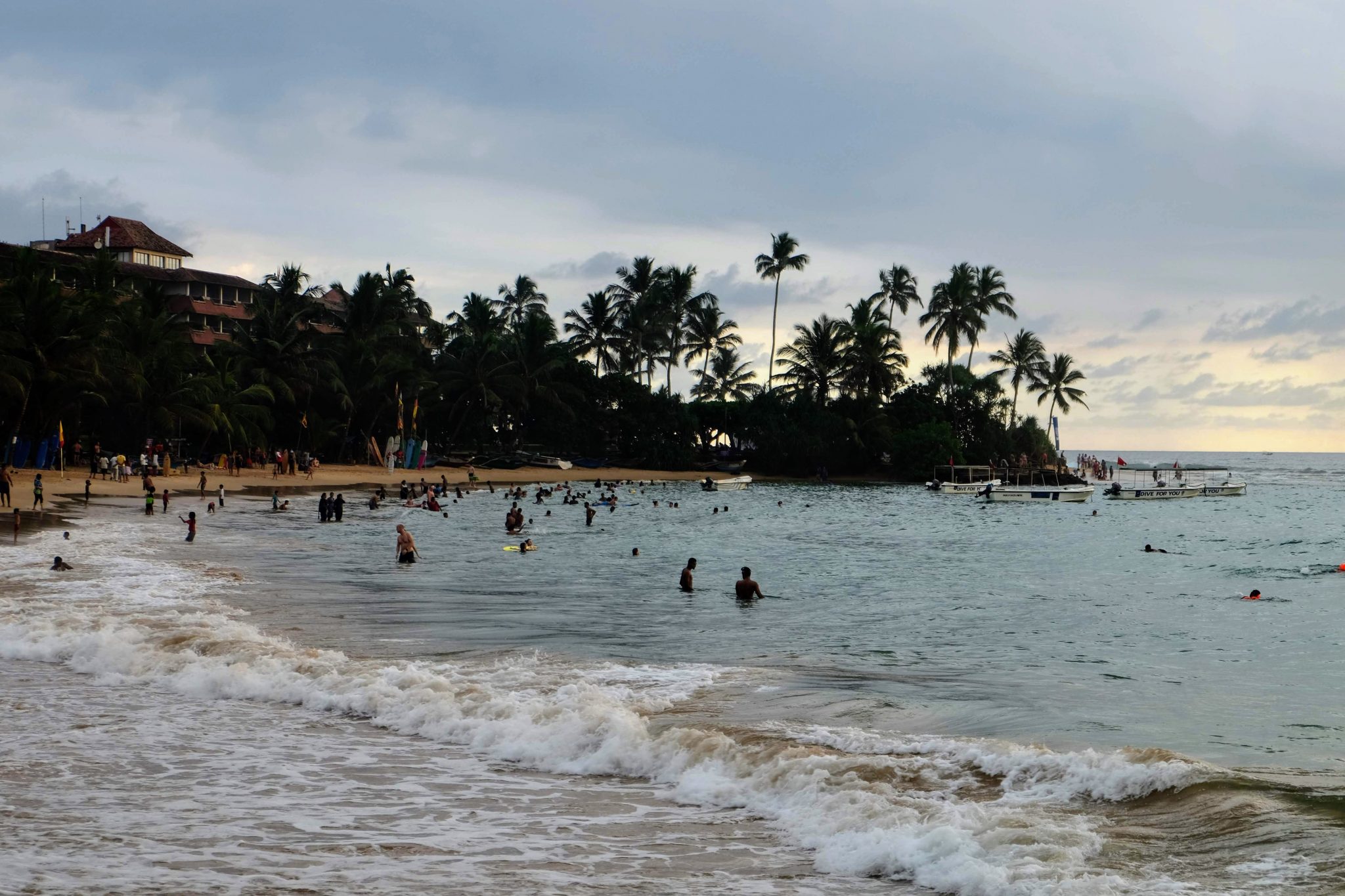 2. Mirissa Beach
Mirissa Beach is a lovely chilled-out place on the southern coast that is small but away from the busy coastal road. This is another beach that has lots to offer for older kids, like the surf schools in nearby Weligama Beach and you can go on whale-watching tours from the Mirissa port. Younger ones will enjoy pottering around and watching the people and animals on the beach.
There were young children on the whale-watching tour that we went on, but the sea can be so choppy that they may get sick. I'm an adult and I was VERY sick. One child wore anti-sickness bands which helped him and he didn't get sick at all. Companies can advise about conditions before you go. We saw sea turtles here as well so it might be worth looking for them if you have no joy with whales or dolphins!
There are also great restaurants and cafes in Mirissa, including chocolate roti places that will appease even the fussiest of tastes!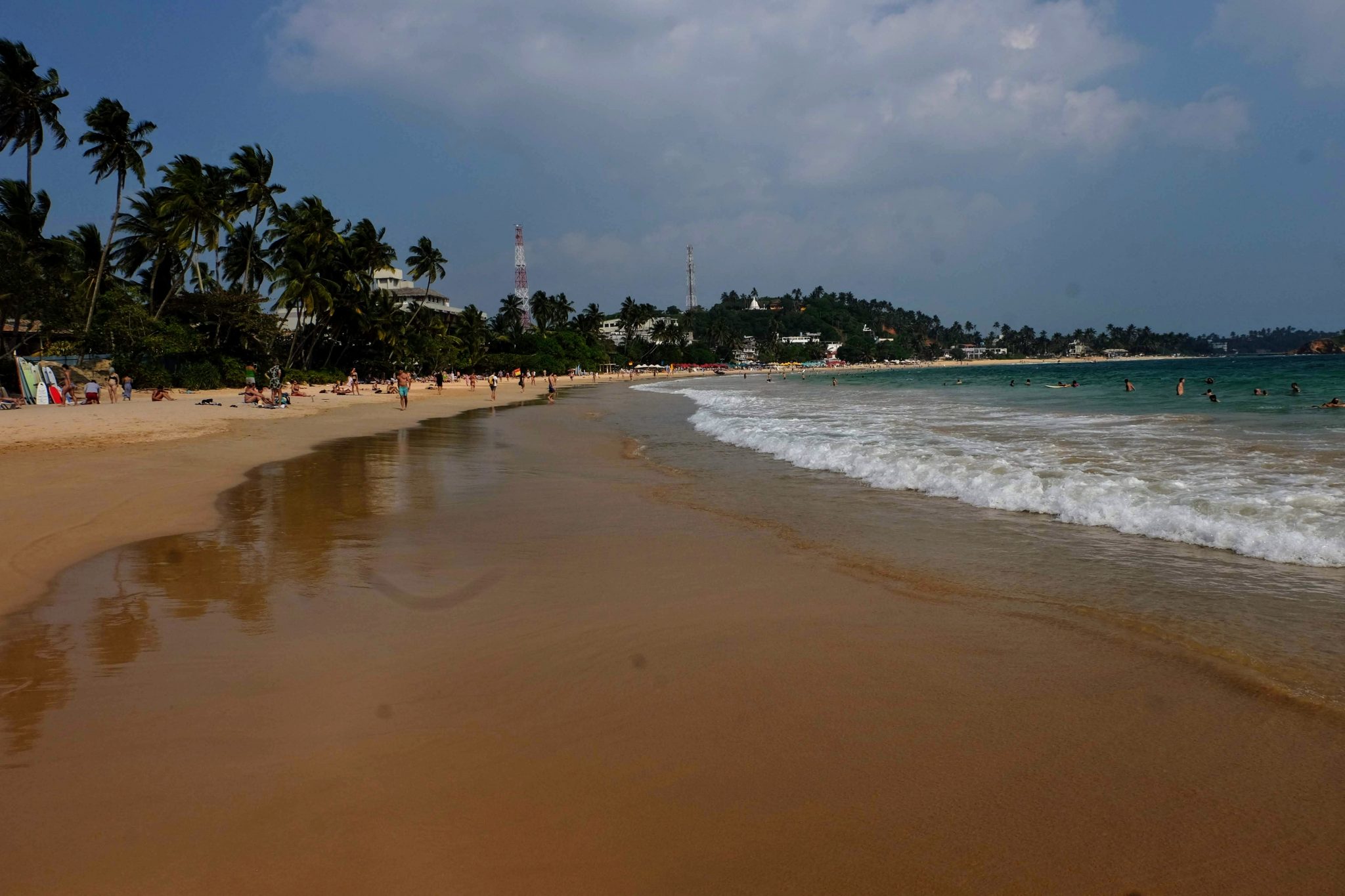 3. Dikwella Beach
Dikwella is such a hidden gem because despite being located behind the busy coast road, it was actually incredibly serene and beautiful. This is another southern beach but unlike Mirissa or Hiriketiya, you might get it to yourselves!
Its uncrowdedness means that it is easy to keep track of kids, and the water is quite sheltered compared to many beaches of the south, like Tangalle, whose water is choppy and brown as a result of strong waves.
There isn't much in the way of infrastructure here, but it is a great place where younger kids can explore, enjoy the shallow sea and poke about in the rocks. It's also very close to Hiriketiya Beach so it makes a great day trip from there.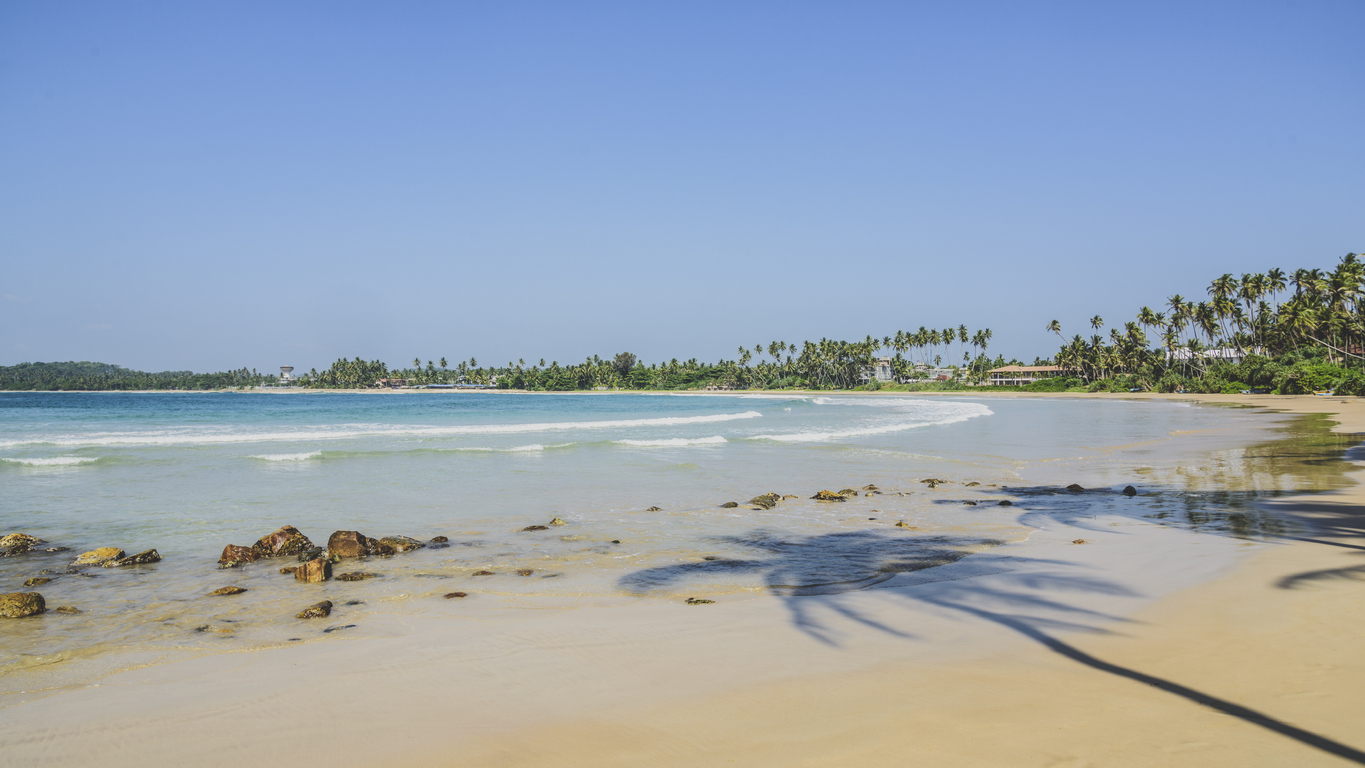 4. Hiriketiya Beach
Hiriketiya Beach is a small curved beach only 5 minutes drive from Dikwella and it is justifiably very popular with families on holiday. The sheltered bay means that its a great place for even young kids to start surfing, as there are small waves and surf schools well used to teaching young ones.
It's so small and protected that it's a great place for youngsters to learn about the sea with child-sized waves and hotels that cater to kids. The beach is lined with restaurants but there are still rock pools to poke around, crabs to find and lizards sunbathing on the palm trees. This is probably the best beach to come to meet other families as well.
5. Rekawa Beach
Rekawa Beach is the most deserted of the beaches, but its the best for tiny animal lovers! There are mudskippers galore in the many rockpools, hundreds of crabs as well as curlews and seagulls that come to feast on them.
It was my favourite beach in terms of beauty as it is long, empty and surrounded by palm trees, behind it is the Rekawa Lagoon and there are some low-key resorts to stay in. If you stand on the rocks that stick out on the eastern end of the beach, you can even look out for sea turtles passing by.
The trees also mean that there is more shelter from the sun than you can find on other beaches, but Rekawa isn't so protected as Hiriketiya and Dikwella so it does have decent-sized waves that you will need to watch. Rekawa can easily be reached from Tangalle.
Sri Lanka must be one of the most kid-friendly countries in Asia and it's hard not to fall in love with this place. Hikkaduwa, Mirissa, Dikwella, Hiriketiya and Rekawa are all great options for kids and adults alike as well as being wonderful places to create memories together.
What is your favourite beach in Sri Lanka to take kids? Let me know in the comments below!
Pin this for later: