Latacunga
As I had been up all night from the shamanic ritual, I had the most unattractive sleep on the crowded bus to Latacunga, I must have looked like a total wreckhead.
The most impressive thing about Latacunga is that it has survived several eruptions by the Cotopaxi volcano. I stopped at a street food stall to grab a snack and it was run by Colombians who were chatting away to me. This was my first taste of chatting with Colombians and my first taste of what a fantastic and friendly nation awaited me on this trip.
I met an Australian girl in Thailand a few years ago and she had lived with two Colombians, this was during some really dark times for the country and they'd saved up for years to visit Australia. She said they sobbed when they had to return and it was a devastating thing to see. Thank god we're living in better times for the country now.
Latacunga was a jumping off point for me so I swiftly moved on to the Quilotoa loop which is an oft-trodden tourist trail.
Quilotoa Loop
The Quilotoa loop is a circular road that encompasses market towns and unsurprisingly Lago Quilotoa. After reading up on how to do this – spoiler alert – I failed miserably and it isn't even that difficult to do.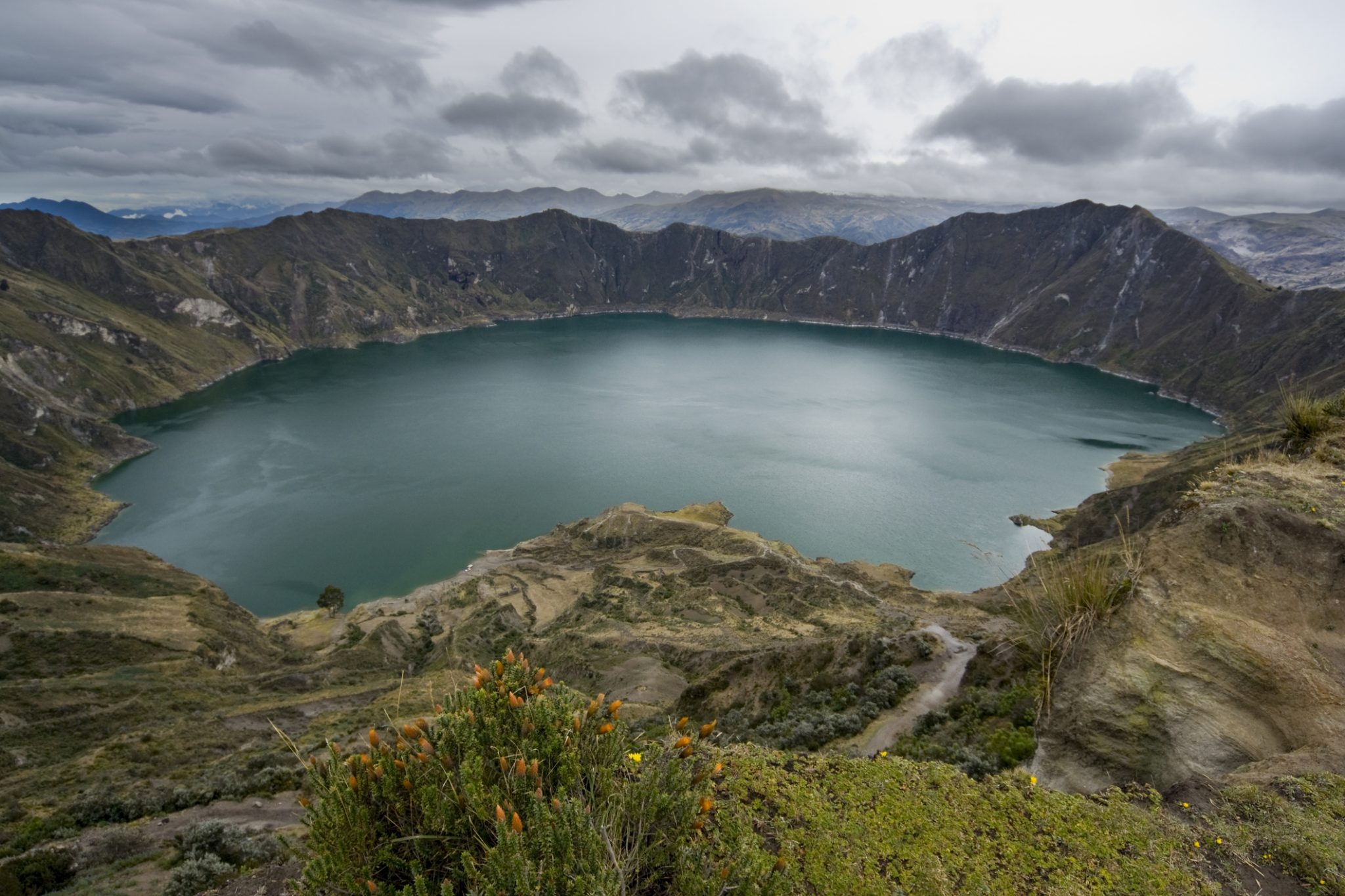 I got the bus to the market town of Pujili and it was pretty much deserted when I arrived as it was not a market day. I knocked on the door of the hostel on the main square where I was planning on staying and nobody was there. A van driver gestured me over and said he would take me to Lago Quilotoa for a few dollars so I went with him. When I got to the settlement on the cusp of the lake an indigenous Kichwan (Quechua outside of Ecuador) lady offered me lodging which I accepted.
Meals were included in the price as there wasn't much in the way of restaurants. It was a three-course meal so I went to the dining room and ate with a very nice American/Ecuadorian family. The Ecuadorians were very posh and owned a milk farm near Quito. The American girl was married to their hot Ecuadorian son and her mum had come to stay with them so they'd all come to the lake for a weekend away. The food and company was very nice.
Quilotoa lake is a volcanic crater lake. The dissolved minerals mean that it has an aquamarine colour. The elevation is 4000m which makes walking around it much harder than your average walk. The hole was caused by a collapsing volcano.
The next day I set off for Chugchilán with my backpack containing all my belongings on foot. To reach this place I needed to go a quarter of a way around the lake and then head down a path to reach the village that I would hopefully be able to see. On my way to the lake, I passed a van driver who offered to take me to the next village and I said no. That was a mistake. It was a lovely morning but this soon changed as the high altitude clouds and mist drew in and I couldn't see the next village anymore. I bumped into a couple who were looking for a path and couldn't find it either which should have been a clue.
I went down what I thought was the correct path to get to the village and quickly found that this was the wrong way and the right path was further along. I went off-piste trying to find the right track and started trying to climb over muddy walls whilst carrying my heavy backpack and holding onto weeds to try to keep my balance.
The clouds got worse and I could hear voices of indigenous people in the mist. I followed where I thought I could hear them so that I could ask for directions. I found the house of the herders but unfortunately, nobody was there. I got so confused about where the voices were coming from in the thin Andean air I started to retrace my steps. I remember sitting down at one point to rest my back from the weight of my heavy bag and wondering what the hell I was going to do.
I managed to get back to a track and followed it upwards so that I could get back to the lip of the lake and regain my bearings. Just as my spirits were starting to lift I did find some indigenous children and they set their dog on me. I later found out that vicious dogs are a particular problem in this region. They'd learnt that their dogs freak out tourists and used that to their advantage. They shouted 'Regalo, Regalo' at me which means gift in Spanish and meant that they wanted money. I didn't give them anything at first but I became more worried that the dog would bite me and there were no hospitals in the area. 
I gave the oldest girl a dollar which was a mistake as it would encourage such behaviour in the future. She didn't even call the dog off and I could hear them laughing as I walked away. The dog got bored of following me once I got to the rim. Apparently, the best thing to do is to stand your ground and pretend to throw a rock at them. I was full of relief as I walked back to the settlement. The indigenous lady didn't question it when I garbled that I'd got lost in Spanish to her and she gave me another room for the night, pleased for the extra business no doubt.
A French guy who staying at the B&B told me that he'd had money stolen from his room and he was annoyed that he left money there in the first place. I commiserated but I couldn't really help him as I'd had enough trauma of my own. The lady was also watching us so I felt awkward. I went to my room and put my wet trousers on the log burner. This burnt a massive hole in them and they were no use to me after that. The next day I got a van back to Latacunga to make my way back to the rainforest.