I'm a vegetarian so when I watched the Netflix Street Food documentaries, I was looking out for street stalls in Singapore that sold delicious food that I was able to eat, like putu piring!
When I saw the Singapore episode on Netflix, featuring the story of Ms Aisha Hashim who returned from her life as a successful pastry chef in the US to work on her families putu piring stall, I knew I had to visit. Previously to the programme, it was featured in the Singapore Michelin guide and has received numerous accolades on top of that.
Getting to Haig Road
The Haig Road stall from the Netflix show can be found on Maps.me and it's only a short 5-minute walk from the Ang Mio Kio MRT station.
Putu piring means 'dessert plate' and it's made from steamed rice flour and gula Melaka (palm sugar from Melaka in Malaysia), served with grated coconut and pandan leaves.
This post may contain affiliate links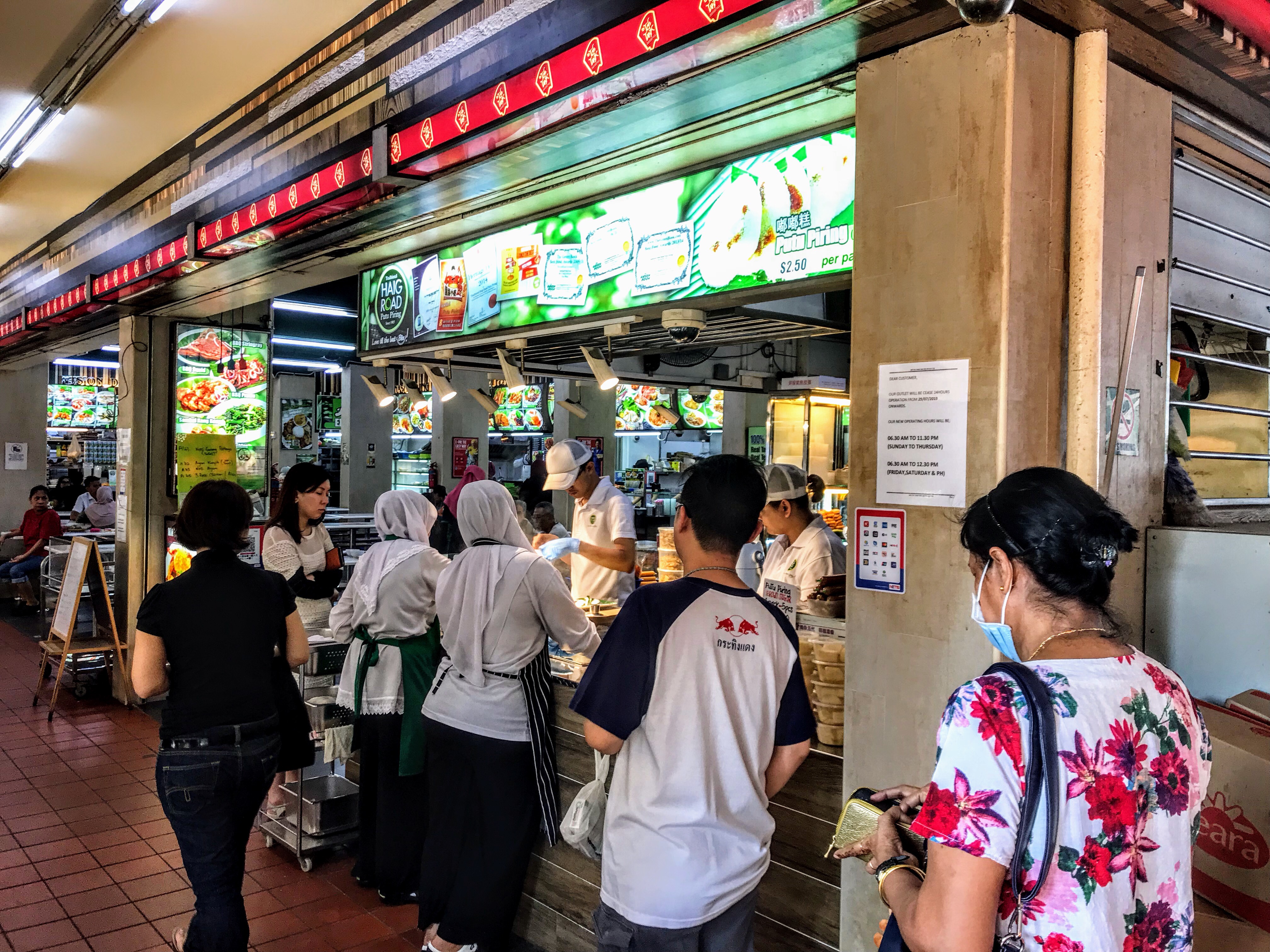 Putu piring origins
The Netflix documentary series is not without its controversy, as putu piring it is not strictly Singaporean in origin, so it has drawn critics for its inclusion in this episode above other more typical dishes.
Street food is so close to the heart of its makers and so rooted in a nation's culture that it's perhaps not surprising that it's drawn the ire of traditional food lovers. Some commentators have accused the show of poor research as well as being exploitative and 'poverty porn'.
While producers need to work on their representation, in the meantime it is good publicity for street food vendors and it really whets the appetite of travellers around the world.
Netflix controversy
It is very surprising that Malaysia wasn't featured in the Asia portion of Netflix's Street Food as it has some of the most incredible food of the continent. I'm no huge foodie by any means, but I took a cooking class in Penang, snacked at Melaka's Jonker Street and joined in the Kuching Food Festival.
I enjoyed every bite of it, as Malaysia is frankly, a food haven as it's influences are so diverse and far-reaching. Pretty much all of Asia, as well as Arabia and the Middle East, are represented here and done well, so even vegetarians like me can join in. Everyone is welcome.
Making putu piring
Preparing putu piring is an extremely time-consuming process for a dessert that appears relatively simple. The sugar is now refined by a machine and the metal moulds that you can see in the pictures have replaced the coconut husks that were used before.
I didn't know what to expect when I arrived at 4.30pm so I was thrilled that there was no queue and that I was served straight away. I watched the rhythmic construction of the putu piring as they make it in the little bowls right in front of you, then wrap it in paper. One portion of 5 cakes costs only $3.50 in Singaporean dollars which is around $2.50 US.
They have diversified into chocolate, durian or coconut flavour of putu piring but I went for the original flavour. It's best to eat it hot as that's why they make it on the spot and the palm sugar bursts out when you bite it.
Tasting putu piring
I took my putu piring to go as a queue started to form as soon as I got mine. It seems to get busy at 5pm, so I would go before then to beat the crowds that arrive once the working day ends. I found putu piring to be great comfort food and the coconut that it's served with is so refreshing.
The origins of this Malay desert are thought to be Indian, which makes sense to me as they reminded me of the idly steamed rice cakes that I ate in South India, but sweet instead of savoury. I highly recommend going if you've got time to swing by, as it really is delicious! I'm not surprised that Netflix decided to feature putu piring in their Singapore episode, as it is a wonderful experience.
I stayed at Hotel 81 in Geylang which was a good budget option in this expensive city! Click the Tripadvisor link below to check reviews and find good deals for hotels in Singapore:
Get travel insurance here:


Have you visited any of the stalls from the street food documentaries? If so, whereabouts did you go and what did you eat? Let me know in the comments below!
Pin this for later: