Yorkshire is one of the wildest places in England, which is why it is one of the best counties to watch wildlife. In late spring, I based myself in Scarborough so that I could visit some of Yorkshire's finest reserves. I started with RSPB Blacktoft Sands near Goole and the next day I was excited to finally see Bempton Cliffs.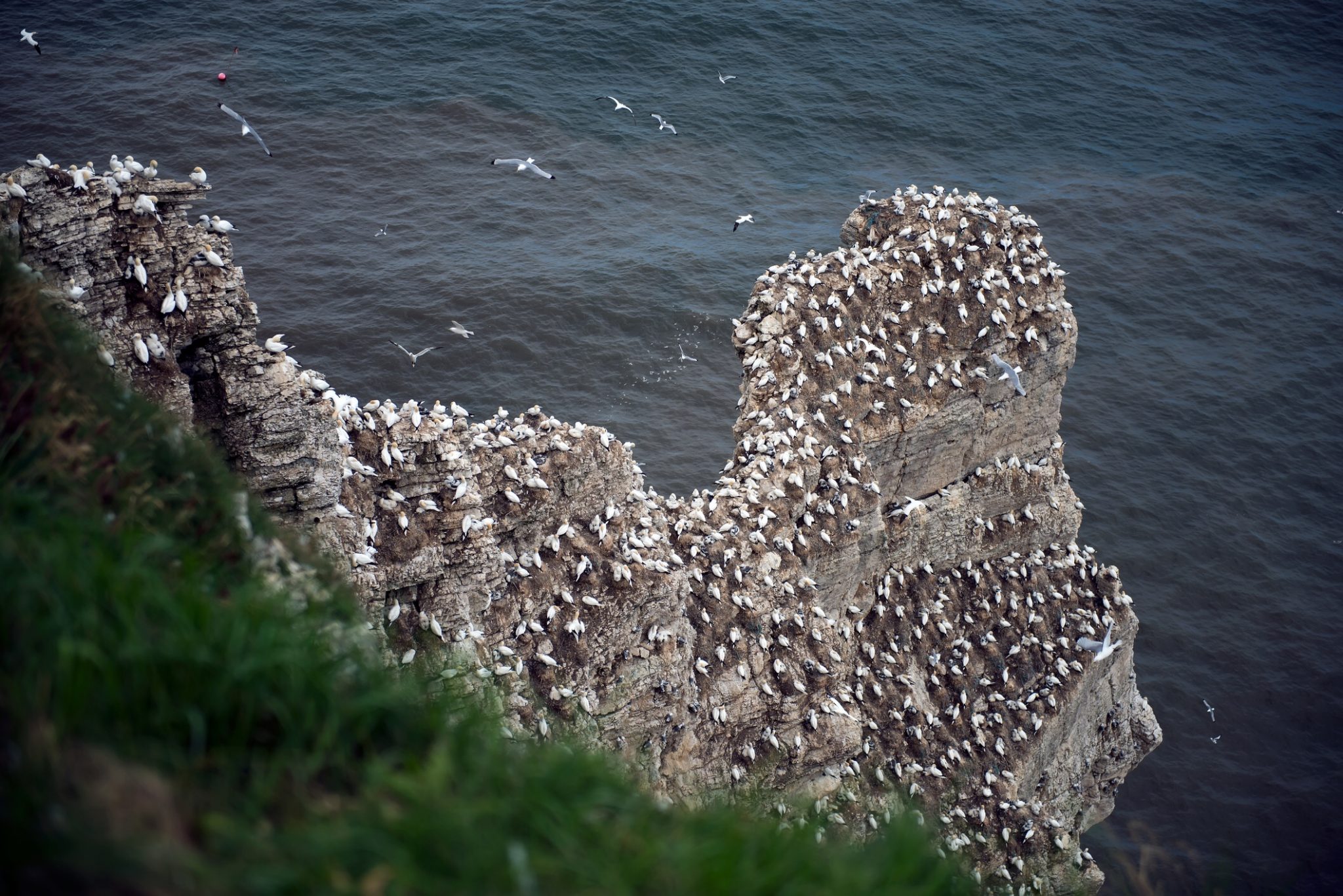 The reason that I excited is that Bempton Cliffs reserve is home to 250,000 birds in the breeding season. Not only is it a great place for birdwatching, there is also some great conservation work being done behind the scenes. One of the birds that will benefit from their hard work is a small but perfectly formed migrant with a brightly coloured beak.
Puffins are one of our much-loved birds in the UK with hundreds coming to our cliffs to breed over the years. When I first visited Bempton Cliffs I actually heard visitors exclaim with delight when they first looked across the noisy vista.
But its not just puffins, there are fulmars, kittiwakes, gannets, razorbills, herring gulls, shags and guillemots to see. They are affectionately known as 'the Big 8'. In fact it is the most important breeding ground for kittiwakes in the UK, as they also nest on the walls of Scarborough castle. You will certainly wonder how on earth some of these birds manage to sleep and nest in such tiny spaces. Luckily, the eggs of guillemots are pointed at the end so they don't roll off the edge.
The cliffs are a haven for photographers as you can stand just metres away from these birds on safe viewing platforms. You can even come early in the morning to see the sun rise and watch the birds make their first catch of the day.
What you may not know is that puffins as well as other seabirds are in major decline. The puffin is now a red-listed species, which means it is at risk of extinction if we are not careful about stopping this trend. One important job is to find out how many we currently have in Yorkshire.
So how do you count birds that live high upon a cliff face? Well, in order to get accurate numbers of seabirds at Bempton Cliffs, which is one of the largest colonies in the UK, the RSPB are using drone technology. In the past they surveyed the birds by taking photographs on boat trips.
After some trials they found that the birds aren't actually bothered by the drones and it will help them to get more accurate figures. If the count is successful then they can use it to look at other seabird colonies in other parts of the UK, even those that are quite remote.
As well as drone surveys, the RSPB have launched Project Puffin, which is a great piece of citizen science. They are asking visitors to Bempton Cliffs to send in any pictures where the puffins have food in their beaks so that they can identify what they are eating. This is because its population may be affected by the fate of its favourite food, the sand eel. Fishing and warmer seas mean that the puffins take other species such as the pipefish, which can be difficult for pufflings to swallow.
If you have your own telescope or binoculars then you can get great views of pufflings and other seabird chicks. In 2018!the first puffling was seen on the 18th June so fingers crossed for that little chick survives.
But it isn't just the RSPB that is on the puffin's side! The Wildlife Trusts are also working to preserve vital marine conversation zones where seabirds, seals, whales and dolphins can live without threats such as waste spillage, overfishing and other human disturbance.
One way to enjoy a whole new perspective on Yorkshire and its wildlife is to take to the seas on a boat trip! This allows you to not only see the birds but to also hear (and smell!) them in all of their glory. There is also the chance to see grey or common seals bobbing up and down in the water as well as being joined by a school of playful dolphins. If your sea-legs aren't that strong then you can try spotting dolphins or porpoises from the cliffs with your binoculars.
The best thing about visiting a nature reserve is that you never know what you will see. The last time I visited Bempton Cliffs I saw a cockatiel flying around with the gannets. I have no idea where it had come from so that was a surprise. The very rare common crane also made an appearance in one of the fields on the same day but I missed it! This bird was once extinct as a breeding bird in the UK but as a result of a reintroduction programme, it is starting to make a comeback.
If all this action gets too tiring as it did for me then you can enjoy a cream tea in the sunshine whilst looking out at the sea. It was very relaxing to feel the sea breeze in my hair even though there were four jackdaws hungrily eyeing up my scone.
Where to stay: