Check out these 11 easy creative craft ideas to take your mind off coronavirus:
This post may contain affiliate links
1. Make a simple quilt
This simple quilt tutorial is one of the most popular articles I've ever written and for a good reason! It's the easiest way to make a simple quilt and doesn't need any fancy techniques to achieve it.
All you need is fabric, thin wadding and sewing machine as well as your scissors and ruler.
Read more: How to make a really simple quilt
2. Crochet a soap saver
Crocheting a soap saver is so useful for when you're washing your hands a lot, but you don't want to waste your soap. It's a great idea for beginners as it is very forgiving and doesn't have to be perfect!
Instructions: Chain 10, treble crochet into all the stitches, then every other stitch with one chain between until you're halfway through. Then do another two rows of trebles to make the bottom of the bag. Fold over and repeat. Sew the sides together and thread a piece of wool through the top trebles. Knot the ends and pull the top together to make a bag. Then put your soap inside, and hang the bag on your shower to dry between uses.
3. Sew a coaster
This is another easy quilting project that only requires a bit of fabric so you can easily use any offcuts that are lying around the house. You can also get really creative and experiment with the patterns.
Read more: How to sew a quilted coaster
4. Sew a toilet roll holder
Everyone has become obsessed with toilet roll so why not make this toilet roll holder to show off your hoard in style? It's really easy to make and it can be created with scraps.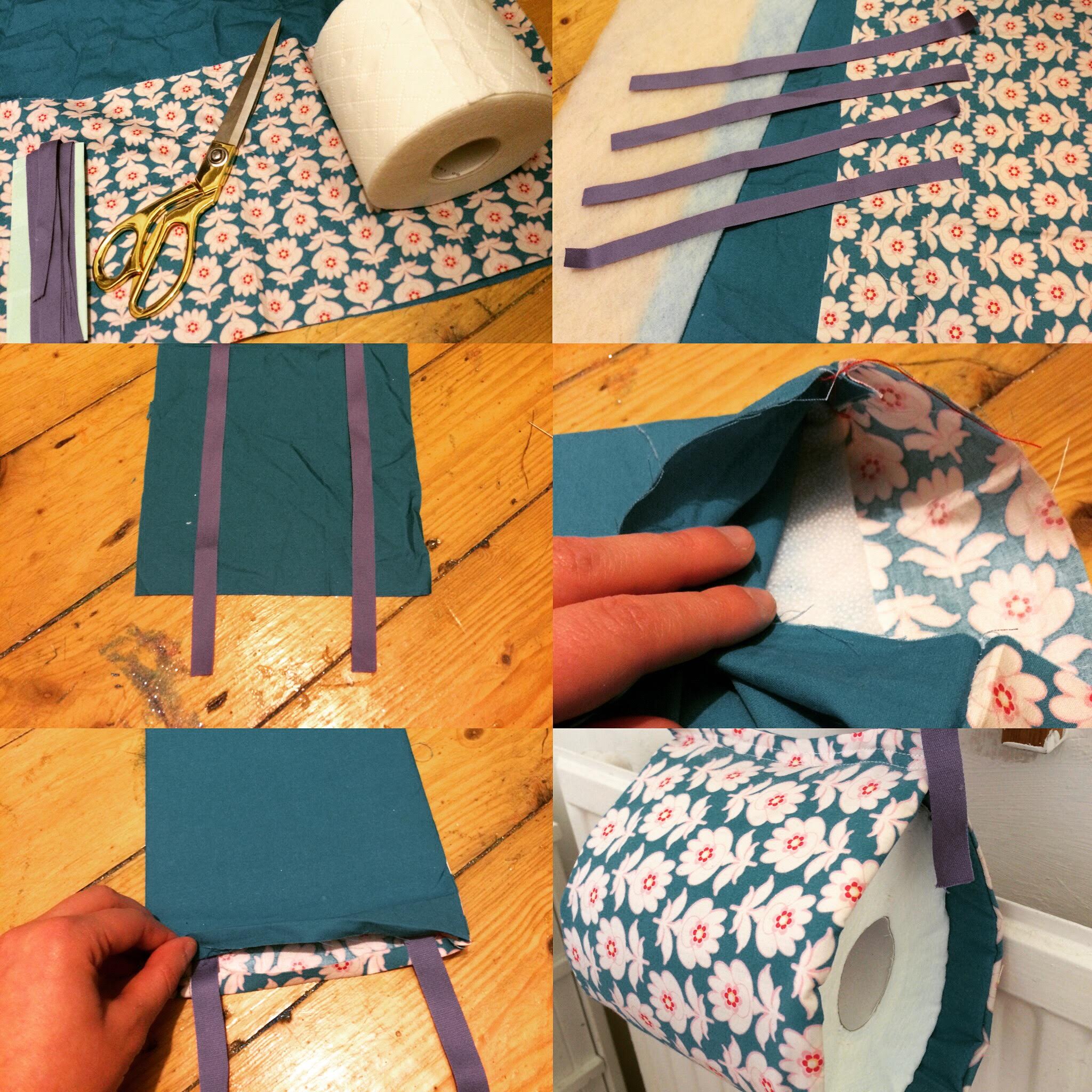 Read more: How to sew a toilet roll holder 
5.  Create a wreath
Wreaths can look great in the house all year round! Create a circle shape using wire (or a wreath base) and cover. Use whatever you have in the house so it could be raffia, string, wool, ribbons or anything else you find. 
Decorate your wreath with buttons, shapes, shells or anything else you fancy. Make flowers by twisting paper or fabric around in a circle shape. Glue or sew on your decorations. Finish by adding a loop so that you can hang it up.
6. Stegosaurus stuffie
A stegosaurus stuffie is a super cute kids toy and it's a great way to use up old ribbons. If it's for a baby then add plastic inside to make it scrunchy or put bells or squeakers inside to create a noise. Just draw a dinosaur shape and cut two pieces out. Place wrong sides together with the folded ribbons facing inwards. When you sew it will catch the bottom of the ribbons. Leave a gap so you can turn it through and stuff it. Stuffing can be upcycled from old pillows or duvets if you don't have any. Hand stitch the bottom closed using ladder stitch and tie a ribbon around its neck.
7. Sew a mouse mat
A mouse mat can be made in half an hour and look great! Cut two rectangle pieces of fabric in contrasting colours. Round the corners then sew together leaving a gap and turn through. Insert thin wadding and tuck the edges of the open side under. Zigzag stitch around the whole thing to keep it all together and add to the design.
8. Sew a fish 
Feely toys are great for babies as well as people with dementia as having something to touch can soothe them. Cut out two fish shapes and add embellishments like lace, ribbons, fins or zips to both sides. Sew the sides together and turn through. Stuff each section and sew into place so the fins are secured in the right position. Fold any open bits of fabric closed and sew over them.
Read more: 6 easy art activities for kids
9. Needlefelt an animal
Needlefelting is a great craft but it does take time to master as you can see from this dog! Use merino wool and a needle on a rough surface like a brush to mesh the fibres together and create your animal. You may need to create a shape first to avoid using too much wool fibre as it shrinks when it is felted. Be careful of the needles as they can break if you're too rough with them.
Read: How to needlefelt
10. Create a woven wall hanging
The repetition of weaving can be very relaxing and there are many stitches and configurations to learn! I would start with the basics and do simple stitches and tassels to start off with until you get the hang of it.
To make a weaving you will need a loom with warp and weft threads. Use a needle to weave in and out of these threads to create your masterpiece. Experiment using different stitches and textures of wool as your first try doesn't have to be perfect!
Read: A beginner's guide to weaving
11. Create an embroidered picture
All you need to create an embroidered picture is a hoop to keep your fabric taut, a scrap of fabric, embroidery threads and a needle. You can easily embroider while listening to music or a podcast and let your imagination run free!
There are a variety of embroidery stitches to try, but I particularly love a french knot which is what I used to create the majority of both of these pieces. They're fantastic for if you want to make a gift for someone that has had a baby, or to brighten up the walls of your relatives if you are not able to see them in real life.
Read: How to make a french knot
I hope these ideas help you to manage your anxiety during these difficult times and that these easy crafting projects can bring you joy.
Check out Ebun & Life for even more DIY craft ideas.
What have you been crafting? Share your ideas in the comments below!
Pin this for later: