Kolkata, the artist formerly known as Calcutta, is one of North India's most famous cities and the capital of the West Bengal state. Once upon a time, it was the capital of British India as well as the place where nun and missionary Mother Teresa lived.
It's well worth a stop on your North India itinerary as it has great connections to everywhere in India as well as flights to Bangladesh and Thailand. We arrived on the night train from Varanasi, and you can visit the Sundarbans forest as well as Puri and the Konark Sun Temple easily from Kolkata.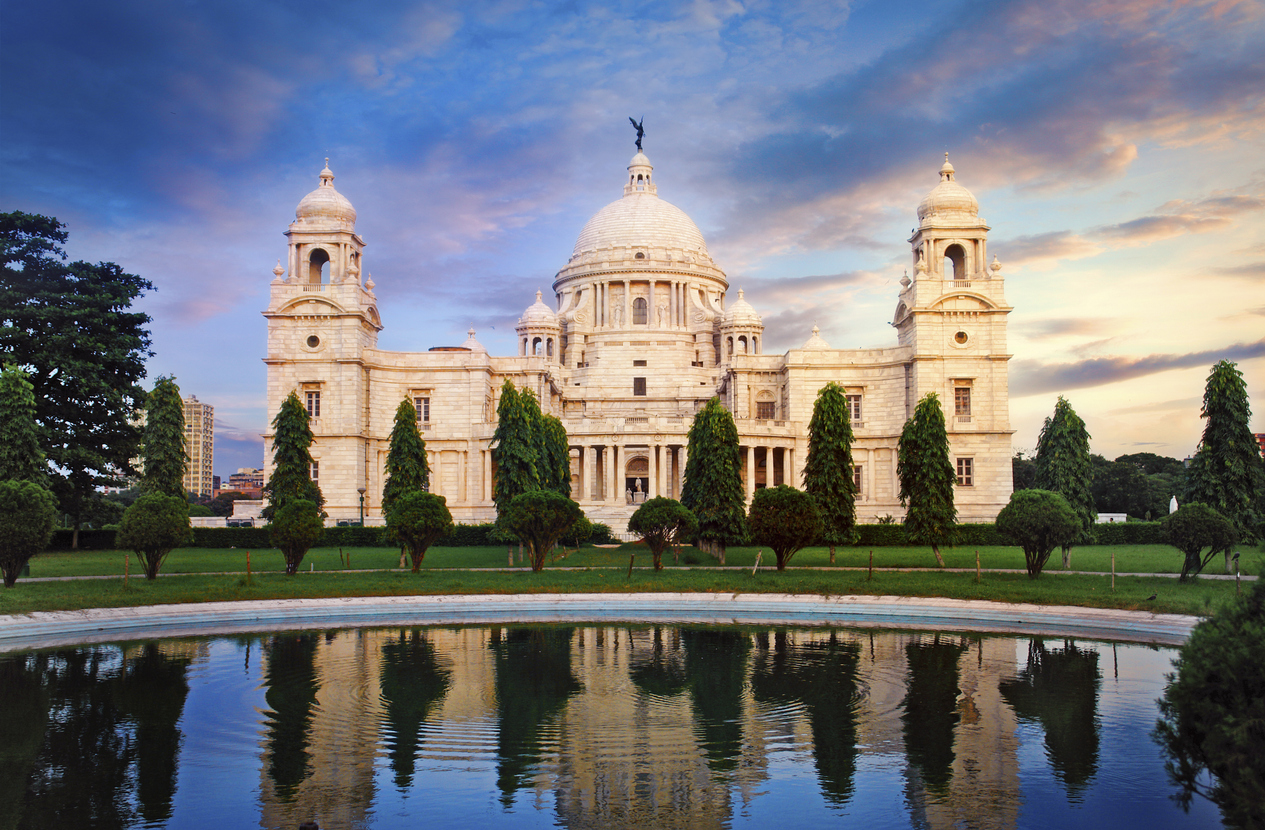 If you're arriving by train, you'll likely be dropped off at the Howrah station and then you'll cross the bridge over the Hooghly River into Kolkata.
We stayed in The Harrington Residency, which is an art gallery as a special treat, but it was expensive. Check TripAdvisor for accommodation reviews below.
This post may contain affiliate links
Kolkata's attractions are all very close together, so it's easy to see them all in a day or so. Be aware that the drivers are some of the most aggressive we encountered in India. They won't stop for you!
Here are five fun things to do during a day in Kolkata:
1. Victoria Memorial
The Victoria Memorial is Kolkata's most famous and arguably most impressive attraction. It is described in The Lonely Planet as a cross between the Hagia Sophia in Istanbul and the Taj Mahal.
It is a gorgeous building, especially at dusk and dawn. As the name suggests, it was built from marble for Queen Victoria by architect William Emerson. The inside is now a museum.
Cost: 20 rupees for the grounds and a foreigner price of 500 rupees for the museum
2. Indian Museum
Not far from the Victoria Museum is the Indian Museum. It is an incredible collection as you would expect from both the largest and oldest museum in the whole of India.
It contains a plethora of historical items, including antiques, suits of armour, fossils, skeletons, ornamental relics and the ubiquitous Mughal artefacts. A visit here will certainly help you to understand to intriguing abyss of Indian history very slightly better than you did before.
Cost: 500 rupees for foreigners
3. St. Paul's Cathedral
Neighbour to the Victoria Memorial, St. Paul's Cathedral is another throwback to the time of the British Empire. It took about ten years to build and survived an earthquake but is still a great example of Indo-gothic architecture. Check the board for the times of services and entry is free.
Cost: Free
4. Marble Palace
Not too far from Howrah Bridge but north of the Victoria Memorial is Kolkata's marble palace. The palace was built by a wealthy Bengali merchant in Kolkata's boom time and its incredibly opulent as a result. It's known for its Neoclassical architecture as well as its extensive art collection.
To visit, you have to apply to the West Bengal Tourism Information Bureau at least a day in advance. If you go on a tour then they will take care of it for you. There is strictly no photography allowed inside, lest the burglars find out that there's expensive stuff in the building made from marble.
Cost: Free but paperwork is involved
5. Howrah Bridge
The 2,300 ft bridge that connects Howrah to Kolkata is a hub of activity so it's well worth coming down here to see what's going on. You can find the Hooghly river ghats here, as well as the flower market by the bridge. If you take a stroll, see the sunset and you can people-watch as well as take in some of Kolkata's lovely religious buildings.
Cost: Free
I found Kolkata to be a fascinating city with a lot of history despite not being outwardly very attractive to a casual observer! It is fairly progressive in that alcohol and condoms are sold in the streets and there is a fantastic restaurant scene here to whet your tastebuds. If you love eating and drinking then check out Park Street in South Kolkata.
Have you been to Kolkata? What were your impressions of this city? If you have any thoughts or questions then let me know in the comments below!
Pin this for later: