If you fancy a cool breeze and a change of landscape in Vietnam, then head for the lovely hill station of Da Lat. The good news is that this is easy to do on a backpacker budget.
Da Lat is a relaxing place to spend a couple of days, you can get here on the night bus from Hoi An or Da Nang, from Ho Chi Minh City (Saigon) or on a minibus from Mui Ne.
I recommend hiring a moped for $5-7 so that you can easily and cheaply see all the sights in a day, just be aware of all the one-way streets! Otherwise, you will need to take a tour or hire a taxi which will cost more, or choose sights closer to town.
Check out my other guides to Vietnam.
*This post may contain affiliate links*
I stayed at My Dream Hotel, which was a good budget option near the centre of town. Check for reviews and deals and Tripadvisor before you book:
Here are 7 cheap or free things to do in Da Lat in Vietnam on a backpacker budget:
1. Sample the local produce
Like many hill stations, Da Lat has the perfect climate for producing its own food. The hills around the city grow fruits like berries, cocoa beans, coffee beans and, of course, grapes for wine! Nip down to your local shop and see what deliciousness in on offer without even leaving the city! I opted for a bottle of Da Lat red wine and it was lovely.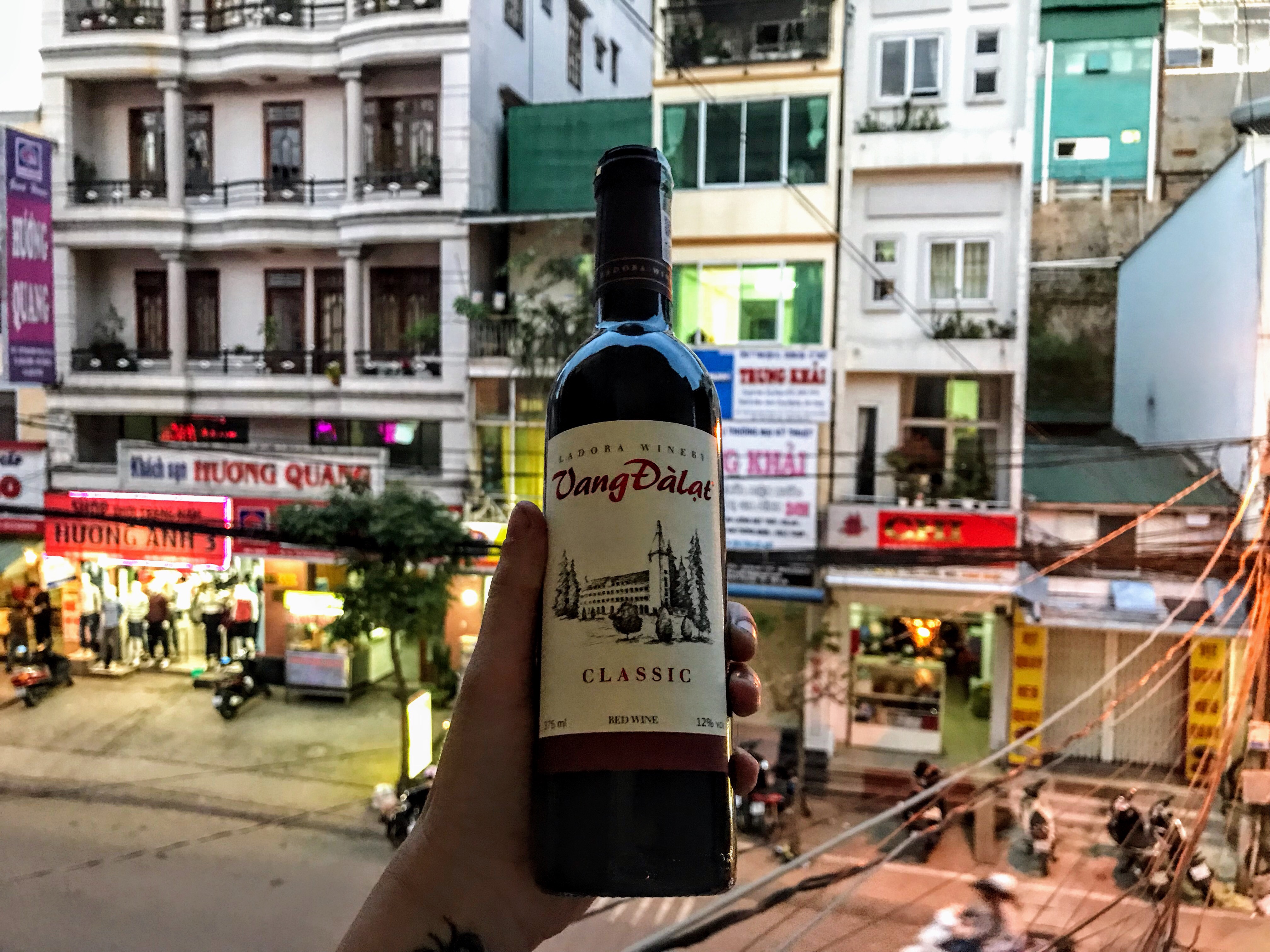 2. Old and new architecture
Da Lat is a wonderful place to take in the funky architecture and the best new architecture is on the far side of the lake. The area around Lam Vien square has some awesome buildings. It also has a big supermarket to grab some food from and is where people go to fly kites and socialise of an evening with a view of the lake.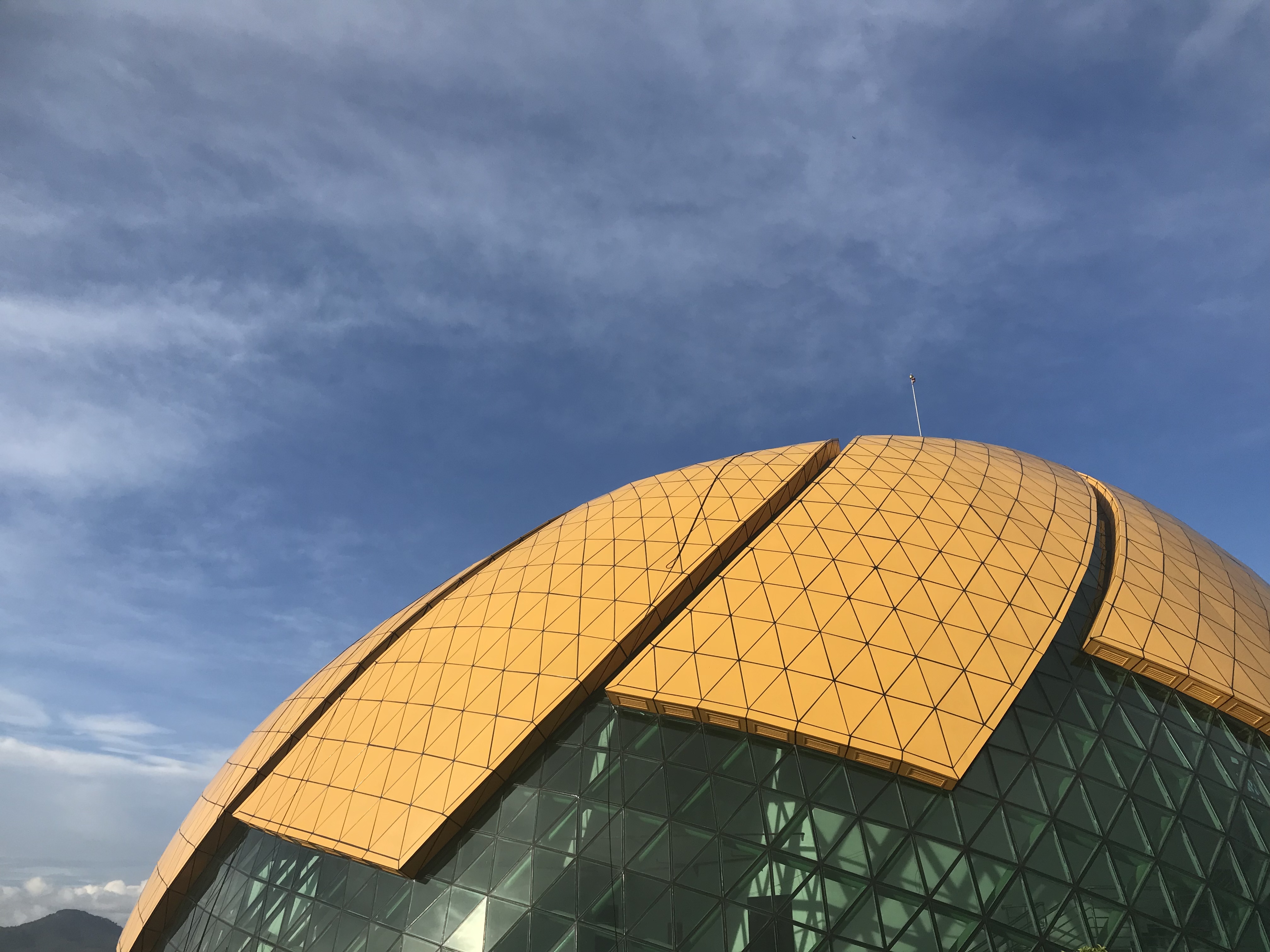 If you like colonial architecture then there are several buildings to take in, like the Cock Church (named because it has a cock on the top – get your mind out of the gutter). As well as the railway station, the college, the Mai Anh pink church and the colonial houses.
I recommend plotting them out on Maps.me to make sure you have time to see them all and don't miss anything.
3. The Da Lat Crazy House
The Da Lat Crazy House is probably the most famous sight in Da Lat, which isn't surprising as it is pretty out there. It costs 50,000 dong to visit Hang Nga's nature-inspired boutique hotel. Just like Gaudi's buildings, it is still being constructed. The Lonely Planet describes it as what would happen if Gaudi and Tolkien dropped acid together, not a bad analogy for this place.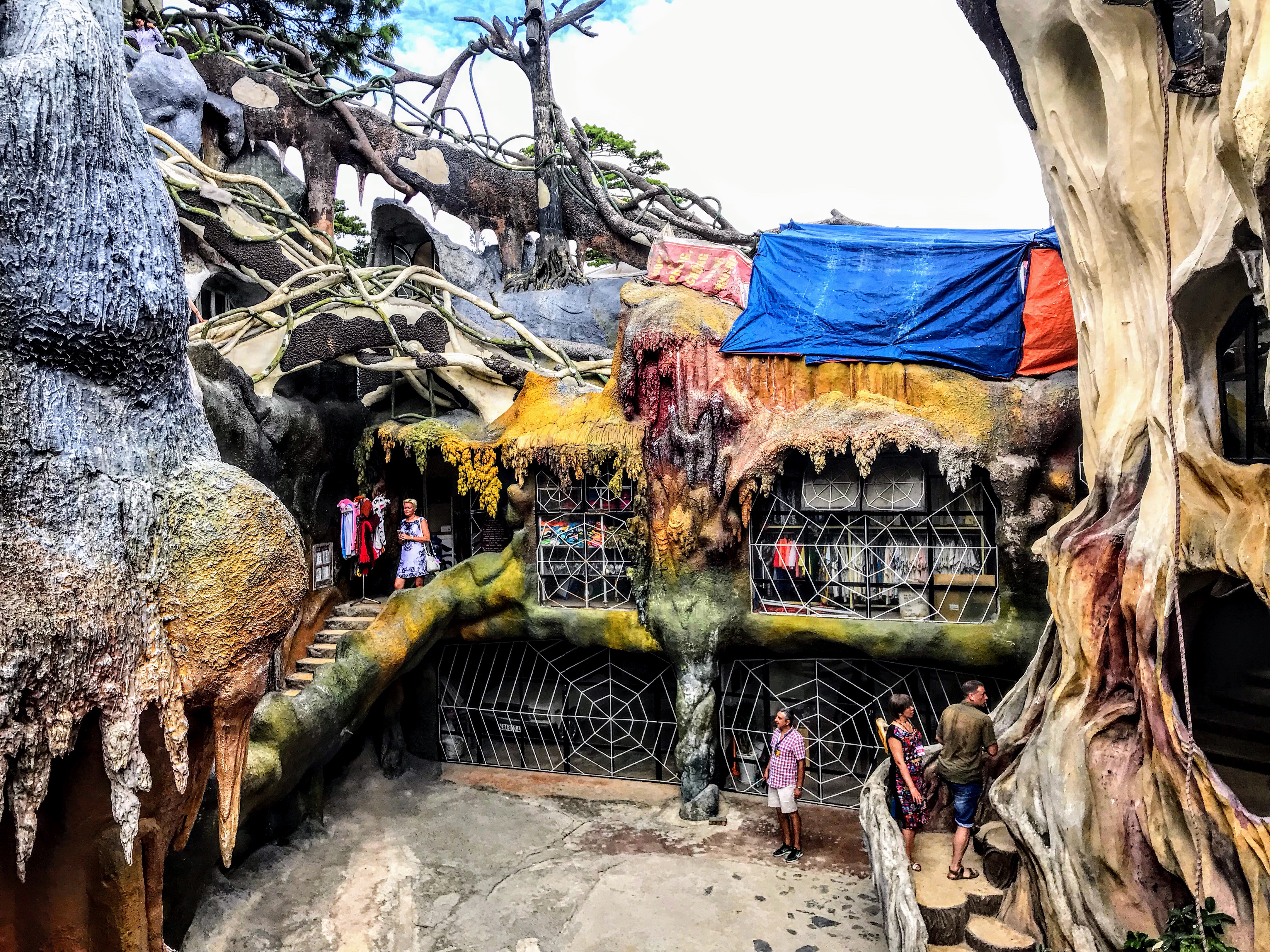 4. 100 Roofs Bar
If you liked the Crazy House, then you'll love 100 Roofs Bar which is a cafe that is also a maze. You can't miss it as it has a tree growing out of the top of it! When you find your way out it takes you to a secret garden with views of the city.
It's trippy, fun and the entrance price is to buy a drink at the entrance so around 40,000 dong (around $2) depending on what you get. Also, a great place to bring kids!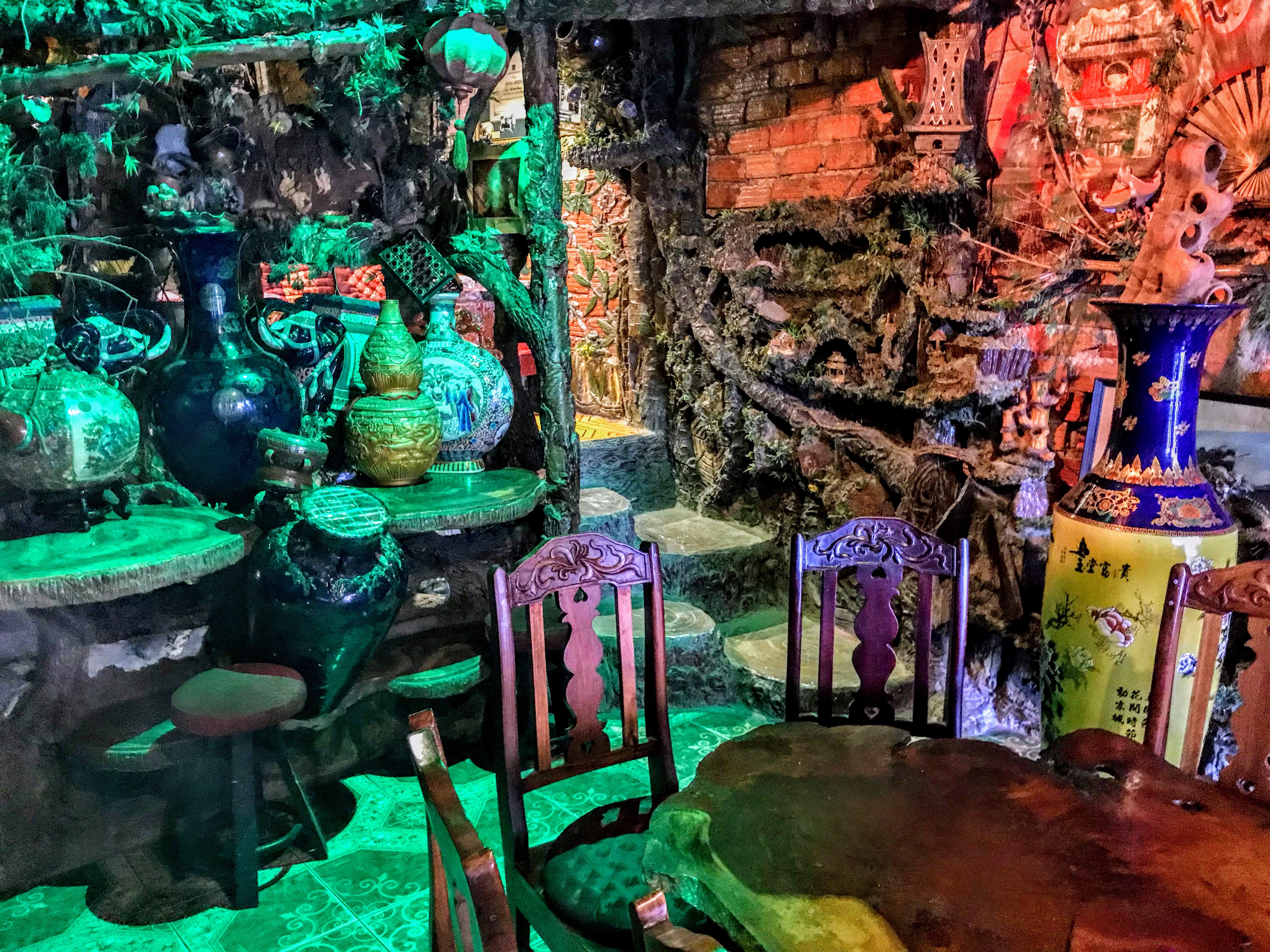 5. Take in the view
If you want to take in the view of Da Lat and the mountains, then you can take the cable car (60,000 dong one way) to the Tuyen Lam lake, or you can drive your moped up to the top of Robin Hill and see the view for free which is what we did.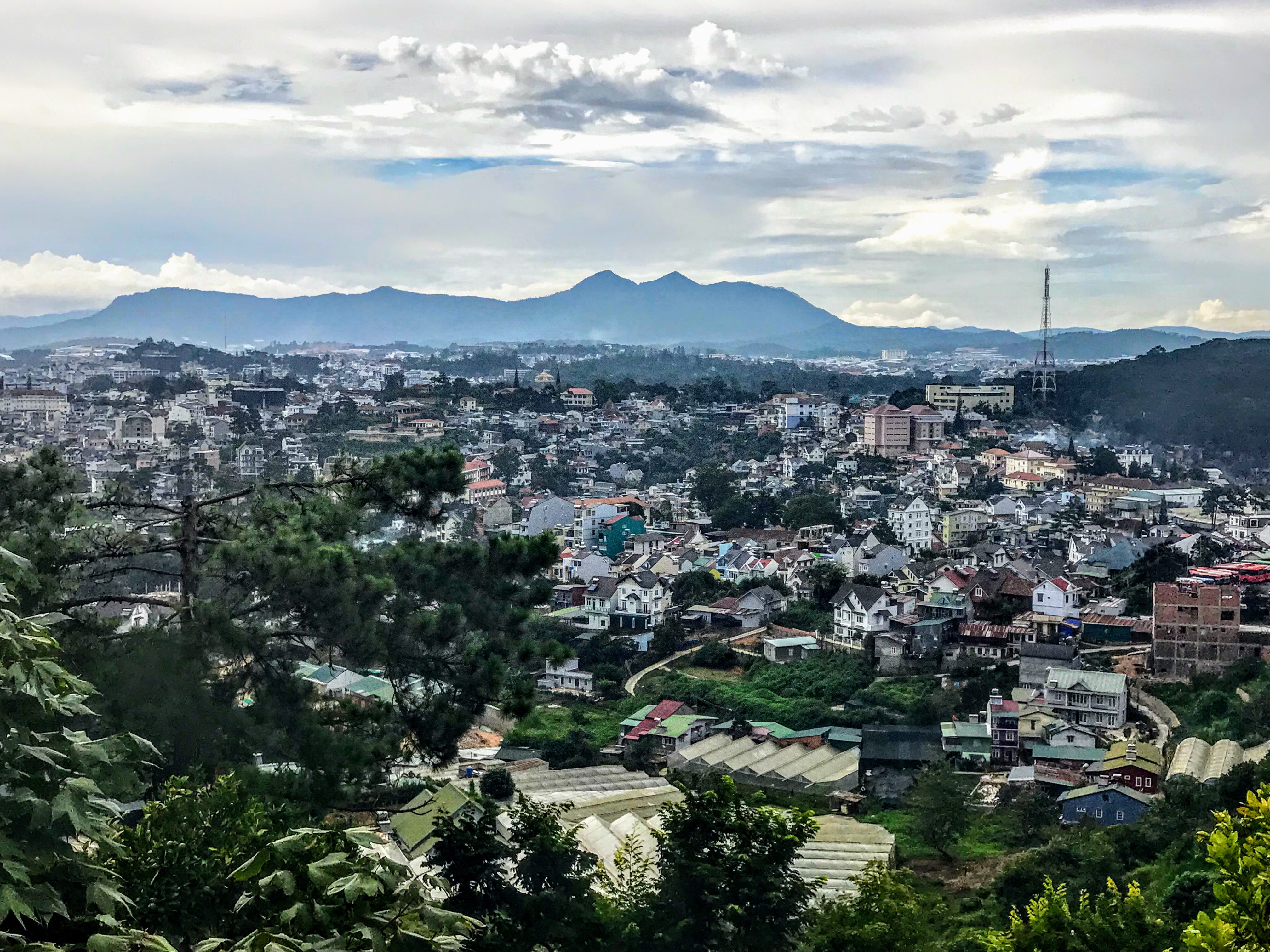 6. Head to the lake
There are two nearby lakes to choose from, you can visit the Tuyen Lam lake which is near the monastery where the cable car drops you off, or stay local at the Xuan Huong lake near town. You can hire boats and pick up tasty snacks at both, but I recommend Tuyen Lam as you can see the countryside at the same time if you ride around it on your bike.
7. Check out the waterfalls
There are various waterfalls that you can visit around Da Lat, whether you go close to town or further afield. Many charge a small fee for entrance. Datanla waterfall is close to the cable car, and Cam Ly is walkable from Da Lat.
I recommend going further afield by going the Elephant Waterfall or Pongour Waterfall as they're more impressive. You also get to see the countryside on the way. I don't recommend Prenn Waterfall as there are elephant rides there.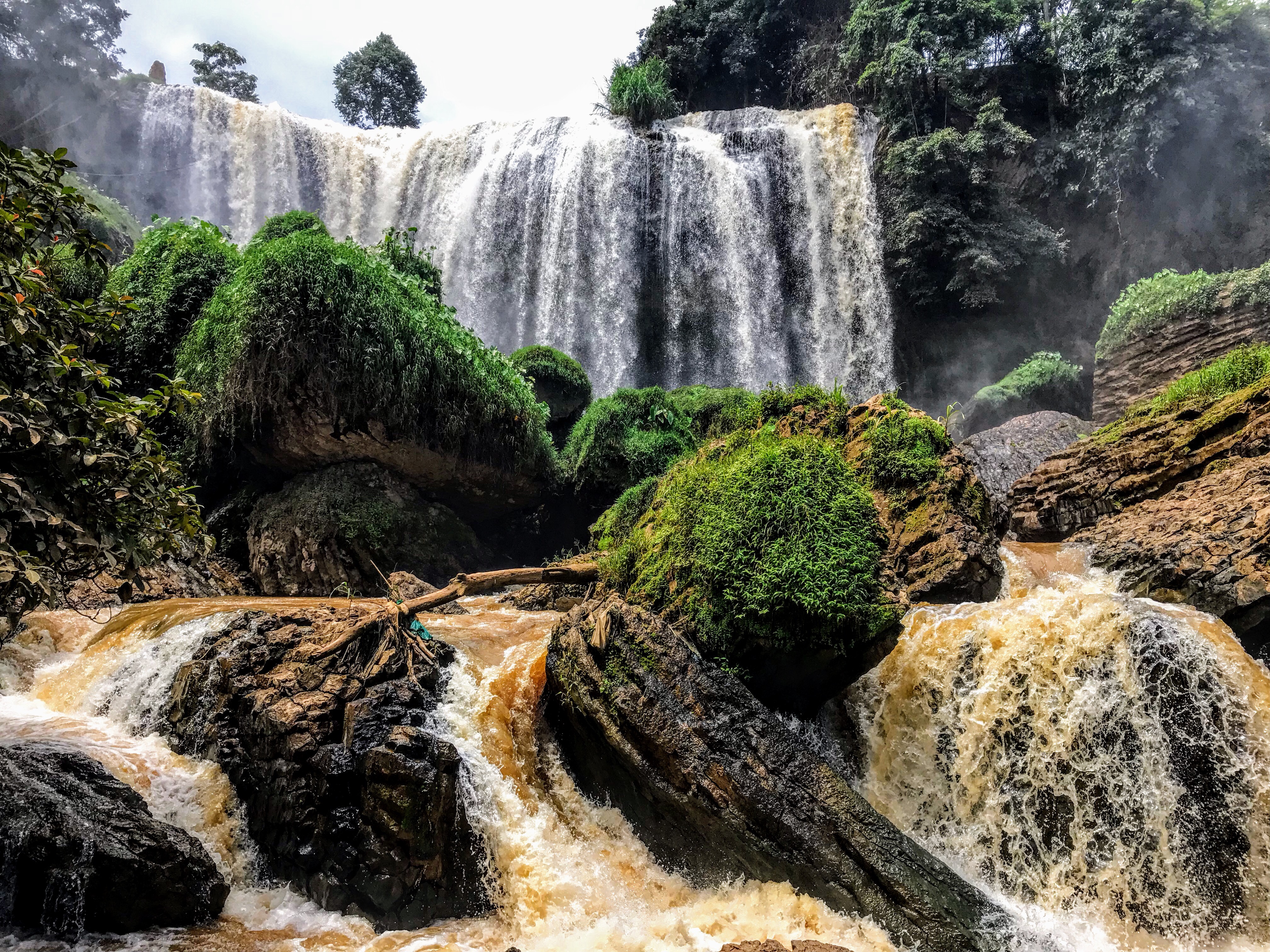 I loved the quirkiness of Da Lat and it's a wonderful place to visit in Vietnam if you can fit it in. Share your experiences of visiting Da Lat in the comments below! I would love to hear about them.
Pin this for later: