Singapore is a wonderful place to see wildlife and I really recommend a walk around the MacRitchie Reservoir trails to see some of it.
I spent a few hours here and these are some of the wonderful creatures that I encountered on my way that you may see too.
It's really easy to get to MacRitchie Reservoir, just take the MRT to Caldecott and walk from there. There are several trails that you can take from the visitor centre – we walked to the canopy walkway and then back out through the Windsor Nature Park.
It was a nice route but we had to walk to the Marymount MRT from there once we were finished. It gets hot so don't forget your water and snacks. You can fill up your eater bottle at the entrance and near the canopy walkway.
*Trigger warning – this post contains a photograph of a spider*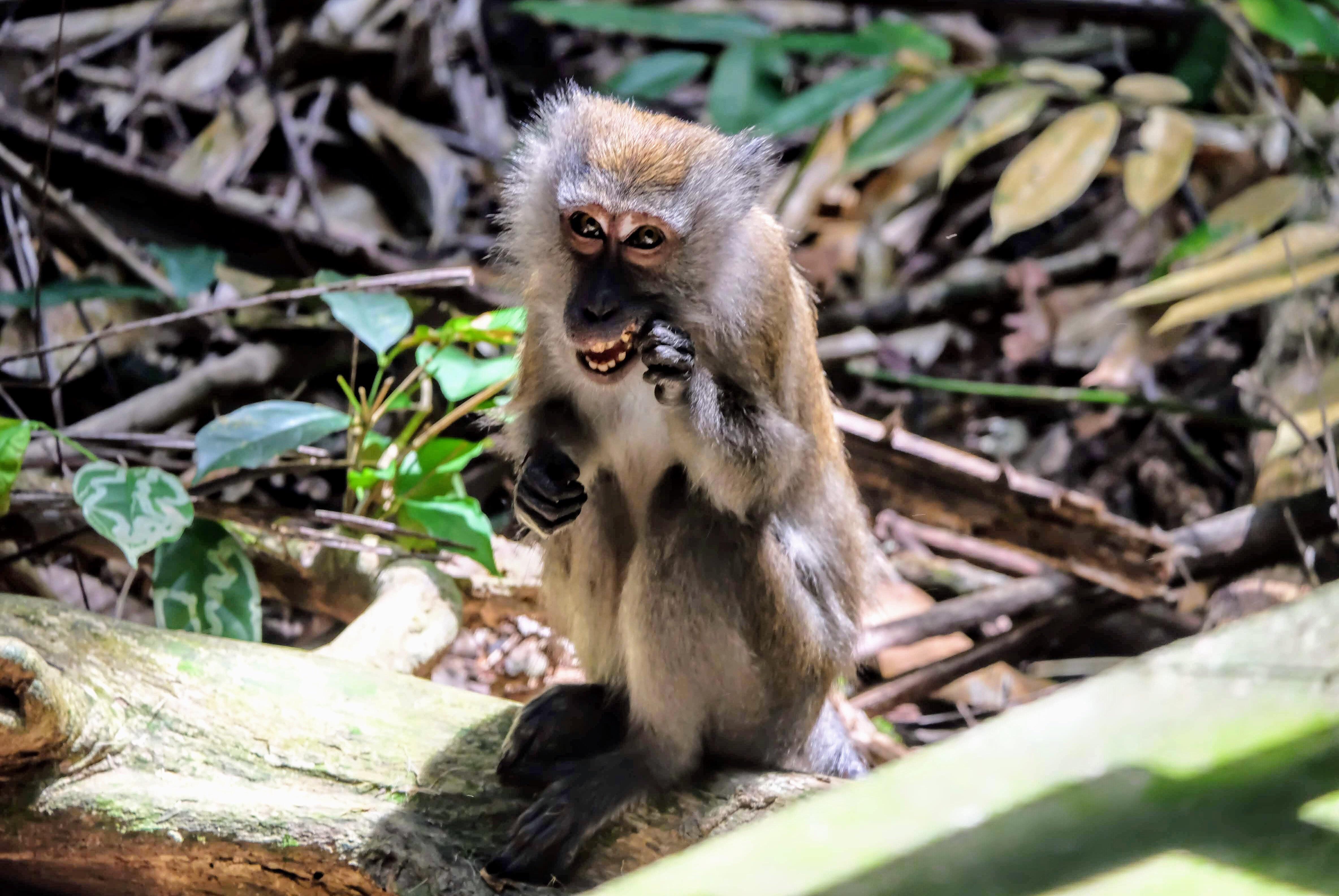 This post may contain affiliate links
The first sighting will probably be the ubiquitous long-tailed macaque. They're relatively well-behaved here as the fines for feeding them are hefty. Hide all plastic bags as they associate them with food. Don't smile at them as they associate it with aggression.
Singapore has a critically endangered langur monkey that only exists here and in neighbouring Johor, which is the Raffles Banded langur. It isn't easy to see and it's now a race against time to save it, but there is a conservation group dedicated to doing just that.
Top tips for dealing with monkeys in Asia.
MacRitchie mammals
Another mammal that you're likely to see, is the humble squirrel. The most common types here are the plantain squirrel which is striped with an orange belly and the smaller slender squirrel.
If you look in the tops of trees, you might see the Malayan colugo (flying lemur), sleeping upside down. In the late evening, you'll be treated to an assortment of bat species, including fruit bats. Dusk is also a good time to look for otters swimming in the water, they've returned now that the water is less polluted.
If you shine a torch into the trees, you may even glimpse a slow loris, but you'll need to be lucky! Civets also come out at night and they can be spotted on the ground and in the trees. Sometimes you can spy the eyes of tiny mousedeer on the forest floor if you have a torch.
Two other critically endangered mammal species that do exist here, but you probably won't see, are the Sunda pangolin and the leopard cat.
Insects and fish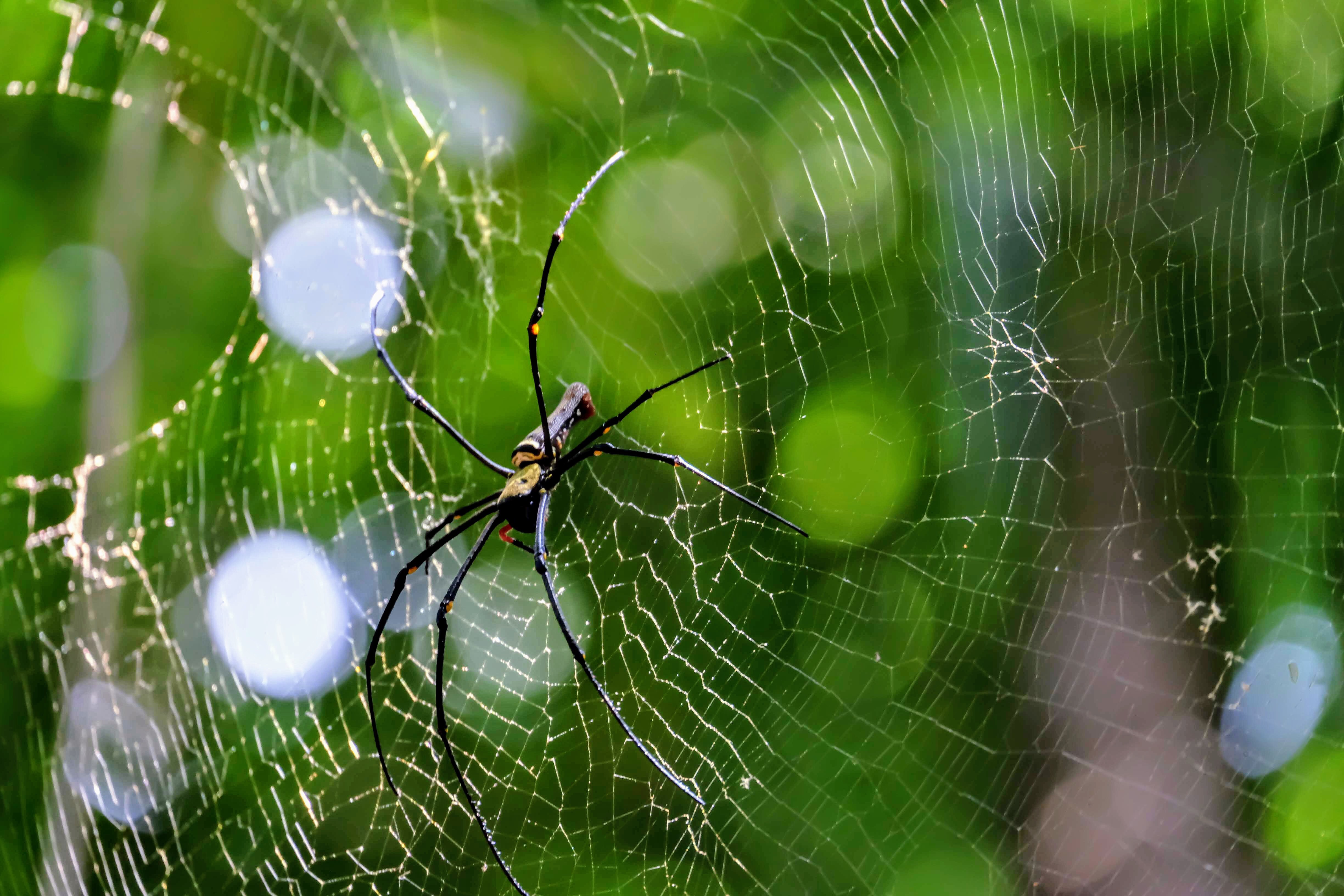 MacRitchie's jungle trails are home to an incredible amount of insects and other types of creepy crawlies. There are some excellent spiders like the golden orb web spider and the St. Andrew's cross spider. Not to mention the giant ants you come across – be careful though as some of them bite!
The pale-coloured jade tree snail is a recently discovered species that only lives in Singapore. MacRitchie is understandably a sanctuary for beautiful butterflies, like the purple duke butterfly, one of the most special of the butterfly species that call this place home. There are also some incredible and vividly coloured dragonflies.
In and around the lake, you can find Johnson's freshwater crabs and the temasak shrimp as well as various species of freshwater fish. I also found a beautiful katydid nymph next to the canopy boardwalk.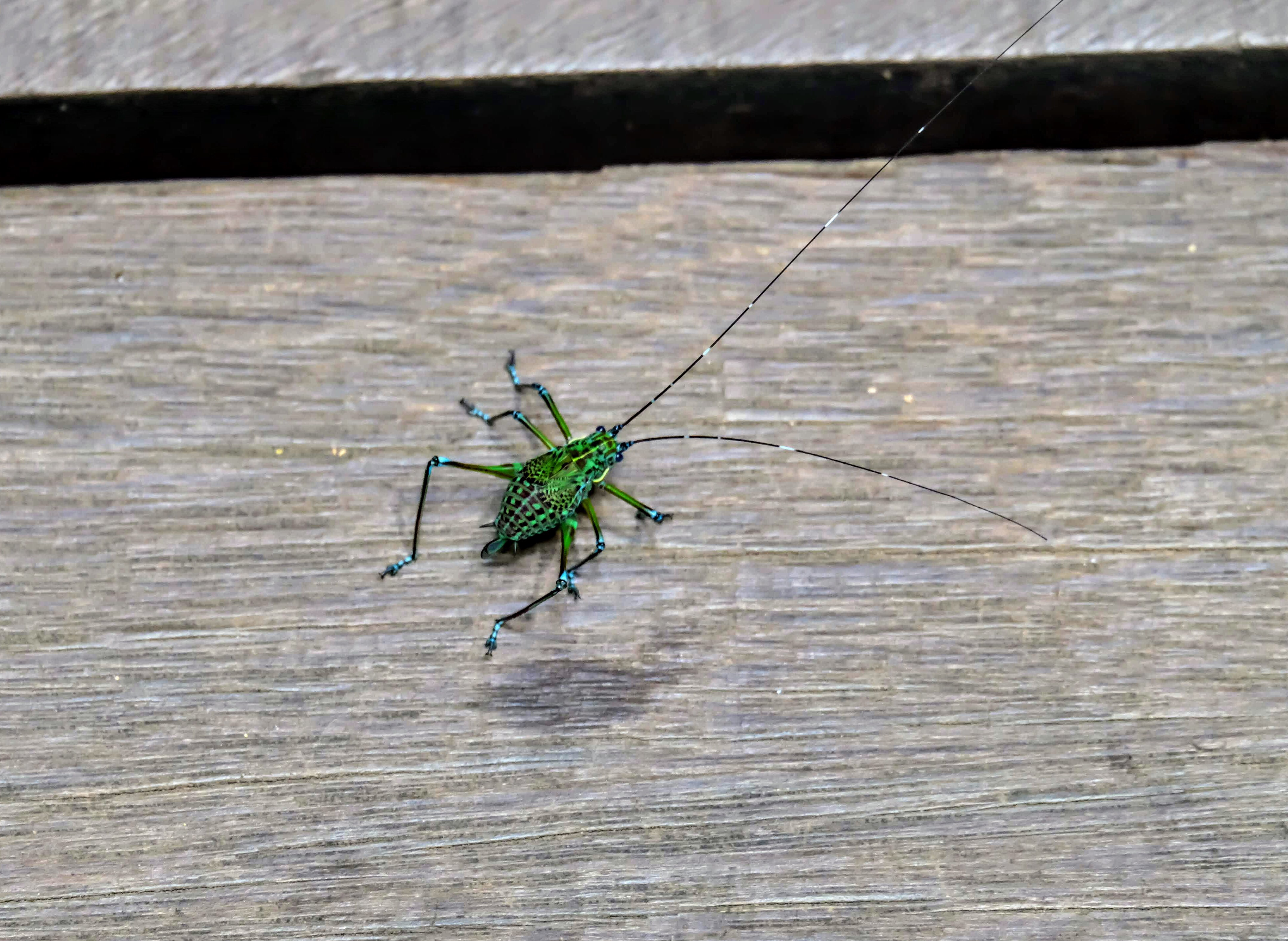 MacRitchie bird life
The reserve has some wonderful bird life in the trees, including the blue-rumped parrot, orange-bellied flowerpecker, spotted dove, zebra dove, green imperial pigeon, sunbirds, coucals, cuckoos, barbets, woodpeckers, pittas, shrikes, starlings and owls.
Near the water, you can find kingfishers, whistling ducks, egrets, herons, shanks, plovers, crakes, bitterns and osprey amongst other migratory birds.
MacRitchie reptiles
There are a whole bunch of snake species that you may come across, and you may have seen the viral video of a king cobra and python doing battle on MR's pathway. I saw a striped kukri snake, but there are vipers, water snakes, rat snakes, whip snakes and keelbacks too. Vipers can usually be found dangling off tree branches.
If you don't like snakes then here are some tips on how to avoid them.
As well as the land monitor lizards that you'll see and hear rustling around in the leaves, MacRitchie has a plethora of lizard species. Look out for skinks sunbathing on the boardwalks and there are agamas and geckoes to find too. Geckoes usually come out at night to feast on insects near lights so it's a good time to spot them.
It also has various frog and toad species that you can spot much more easily after it has been raining as that's when many of them emerge. Frogs like to live inside leaves on the trees as well so keep an eye out for them!
Windsor Nature Park
As we were entering Windsor Nature Park, we stumbled across a wild boar, they're one of the biggest mammals that you'll find here but they can aggressive so keep your distance and don't feed them!
MacRitchie Reservoir is a wonderful place to find wildlife in Singapore and the trails are jungle-y and wonderful. I really recommend spending half a day here and it's the perfect place to lose yourself in the city.
Read more: Crocodiles and birdwatching at Sungei Buloh Wetland Reserve in Singapore
I stayed at Hotel 81 in Geylang which was a good budget option in this expensive city! Click the Tripadvisor link below to check reviews and find good deals for hotels in Singapore:
Get travel insurance here:
Have you been to MacRitchie Reservoir Park in Singapore? Did you spot any wildlife? Share your sightings in the comments below!
Pin this for later: