As part of our interviews with small and ethical businesses, check out our Q&A with ethical jeweller and maker of fabulous engagement rings, Lily Arkwright.
Who Are Lily Arkwright?
Lily Arkwright is a luxury ethical jewellery brand based out of Manchester, and we strive to
produce a range of beautiful pieces, including lab-grown moissanite engagement rings,
that are of the highest quality. We use a wide variety of precious gemstones, all of which are
specially curated in a laboratory.
This post may contain sponsored or affiliate links
Mined diamonds are out of the budget of many people and come with many ethical
concerns. We are proud to offer stunning alternatives in the form of premium moissanite, lab
diamonds, emeralds, sapphires, alexandrite, and more in our engagement rings, none of
which come with the harmful side effects of mining.
All Lily Arkwright collections are crafted in the UK from 18k white, yellow, and rose gold, and
platinum and all items of our fine jewellery are available to ship globally.
What Are The Benefits Of A Moissanite Engagement Ring?
At Lily Arkwright, we are specialists in a gemstone called moissanite. If you're in the market
for an engagement ring, you have probably placed a lot of focus on diamonds, and in fact,
many people haven't even heard of moissanite. So what exactly is moissanite, and why is it
a great choice for an engagement ring?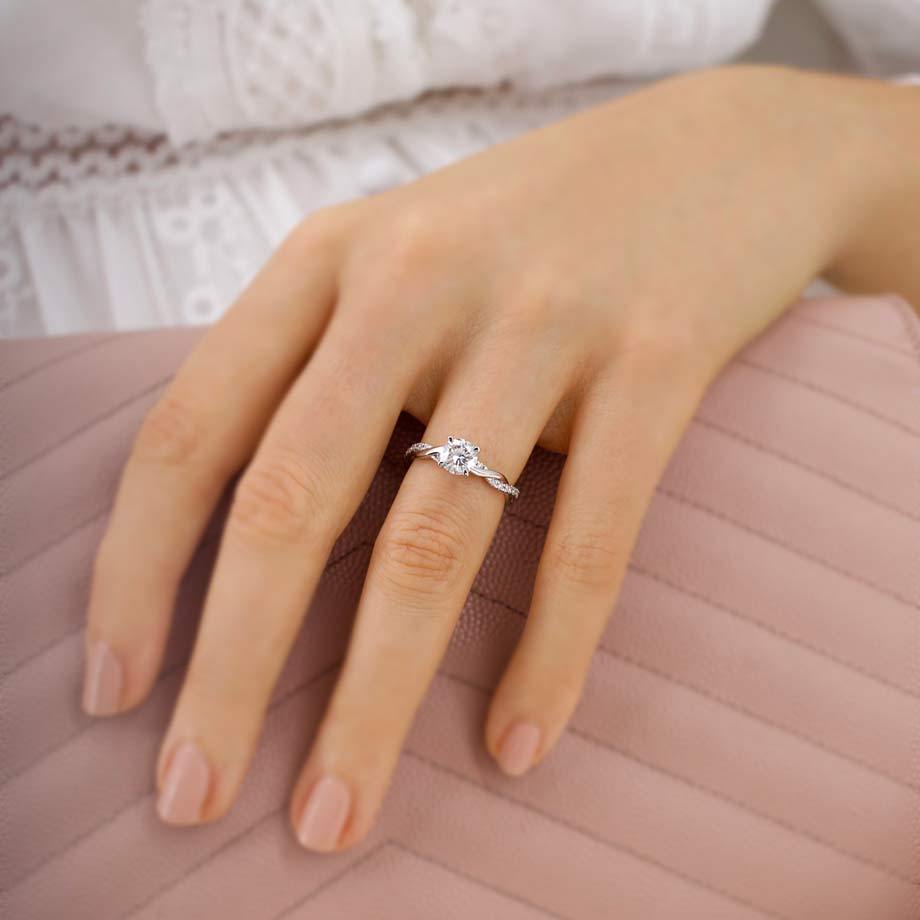 Moissanite is a naturally occurring gemstone that was first discovered in the late 19th
century and is actually rarer than diamonds.
While moissanite can be mined, most moissanite available for jewellery is lab-grown. This
means that a laboratory recreates the natural pressures and conditions that create
moissanite naturally to create an ethically-produced and sustainable gemstone.
Moissanite looks incredibly similar to diamond and is just as durable, with only experienced
jewellers being able to tell the difference between the two.
The first and most significant consideration is cost. As you probably already know, mined
diamonds are expensive. Most traditional diamond set solitaire engagement rings range from
£2,000 to £15,000 in price, depending on the size, cut, colour, and clarity of the stone. While many
consider diamonds to be an investment, in fact, diamond jewellery has a poor resale
value of only 25 – 50% of the price you originally paid for it.
However, if you opt for a moissanite engagement ring from Lily Arkwright, you can expect to
pay between £400 and £2,000, depending on the style. This huge cost saving over high
street jewellers means you have more money to spend on your wedding and honeymoon,
while still having a stunning engagement ring that will last you a lifetime.
The other reason to choose moissanite is that producing gemstones in a lab is highly
sustainable, and does not involve any ethically dubious mining practices. If you care about
the earth and want to ensure that another human has not suffered for the sake of the ring on
your finger, lab gemstones are a clear choice.
Why Choose a Lab Grown Diamond Engagement Ring?
At Lily Arkwright, our laboratory-grown diamond engagement rings are an amazing option
for those who still want the classic and characteristic sparkle of a diamond ring. Lab-grown
diamonds are exactly that, a diamond. Graded and certified by the same governing body.
The advantages are huge, and the price difference alone should make it a consideration.
Although still slightly more expensive than moissanite, the contrast in cost between a
lab-grown diamond and a mined diamond would mean that your ideal engagement ring can
be realised without the need to break the bank.
As well as this, all of our customers can be safe in the knowledge that no individual, family or
community have been displaced, violated or harmed whilst producing your ring. The carbon
footprint of a grown diamond is also significantly smaller than a mined stone, which is
another huge advantage.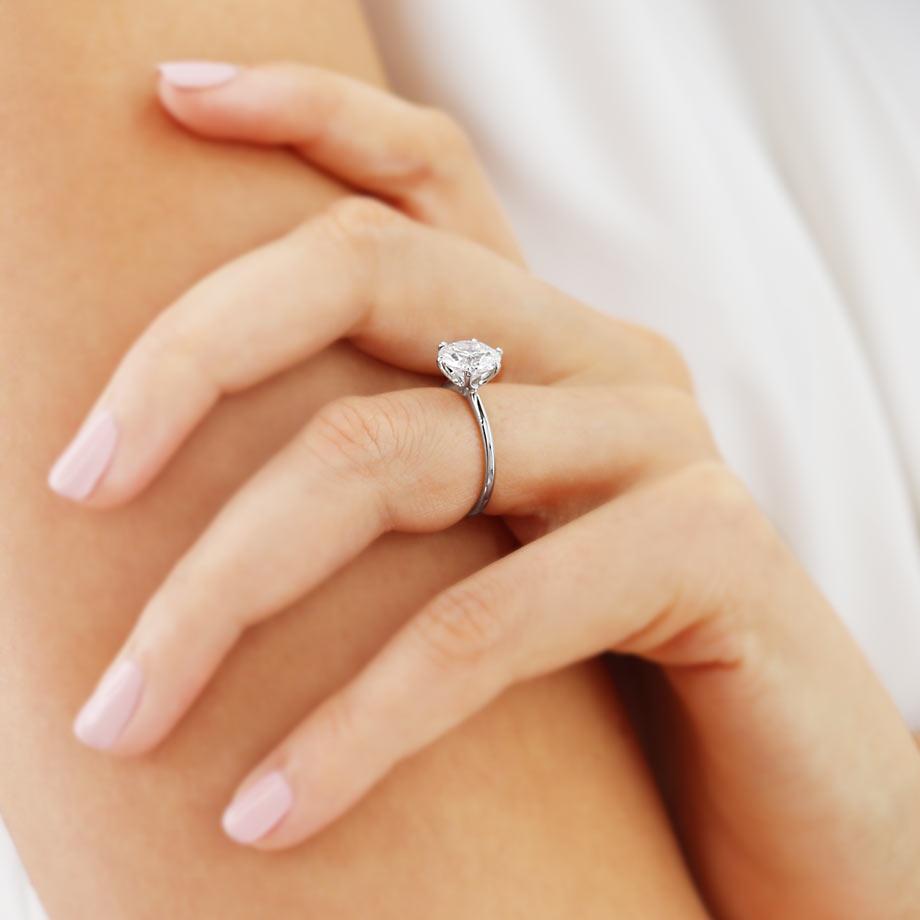 Are All Of Lily Arkwright's Gemstones Certified And Traceable?
Lily Arkwright are Assay Assured retailers and can guarantee that all of our jewellery meets
and exceeds legal requirements, having been independently tested and UK hallmarked.
All lab-grown diamond engagement rings offered by Lily Arkwright come fully certified to
international standards and are accompanied by an International Gemological Institute (IGI)
or Gem Certificate and Assurance Labs (GCAL) Certificate, which includes the cut, colour,
clarity and carat weight specifications. The same can be said of our moissanite, including the
Charles & Colvard forever one, hearts & arrows and Lily Arkwright Moissanite, which come
with a limited lifetime warranty included.
There is a 12-month warranty on all other jewellery we offer, and a 30 day return policy on all
standard collections.
Why Lily Arkwright?
At Lily Arkwright, we pride ourselves on our ability to produce stunning ethical and
sustainable fine jewellery at an amazing price point, supported by unrivalled customer
service.
You can browse the Lily Arkwright website directly and there is also a bespoke engagement
ring design service available. This enables you to design your own engagement ring with
the help of a skilled jewellery designer.
Production usually takes between two to 14 days, with some custom orders having a
delivery timescale of up to four weeks. Payments can be made by major credit and debit
cards, Paypal, and Klarna, with the option to spread payments over a series of instalments.
If you are interested in booking a consultation or simply would like to find out more
information about ourselves or our collections, please call us on 0161 537 6773,
alternatively, you can email our jewellery consultancy team at hello@lilyarkwright.com.
Follow Lily Arkwright on Facebook, Instagram or Pinterest. Browse the collection here.
Read more like this:
Pin this for later: