This is my quick and easy guide to crossing the border between Mae Sot in Thailand and Myawaddy in Myanmar including getting your stamps, transport, onward travel and hotels to crash at on your journey.
I've crossed many land borders in my time as a traveller and I can confirm that the Mae Sot to Myawaddy border crossing is a nice one, so I recommend it if you're going from Thailand to Myanmar or vice versa.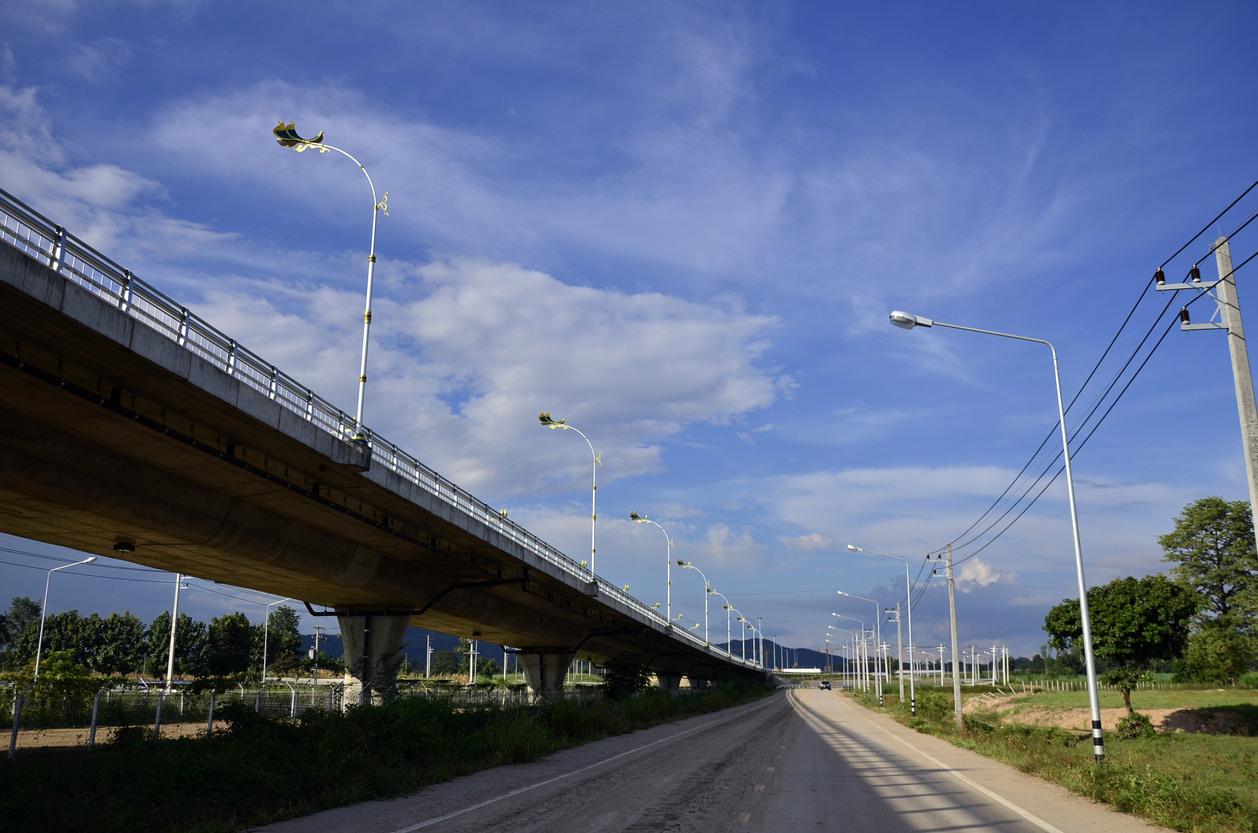 Staying in Hpa-an
If you're coming from Myanmar, I really recommend staying at Hpa-an which is a lovely place 4 hours away from the Myawaddy border town. Hpa-an is a tourist attraction in its own right and it has Mount Zwegabin, the Kyaut Ka Latt Pagoda and several incredible cave temples including the Sadan cave.
It costs 10,000 kyats ($7) to get a shared cab from the bus booth in the centre of Hpa-an to Myawaddy and the journey takes 4 hours. The cab drops you off at the Myawaddy border and you go into the immigration office on the bridge and fill out your departure form.
Once you've filled in this form then you will get stamped out and walk along the right-hand side along the bridge over the river which takes about ten minutes. Thai immigration is pretty easy, most nationalities can get in for free and get a one-month visa on arrival. All you need to do is fill in a form and join the foreigner queue. There is only one foreigner booth so make sure that you go to that one but it is labelled.
If you're coming from Thailand then you need to apply for your Myanmar visa in advance which is pretty straightforward as it is an e-visa. When you apply on the government website you will need to upload a passport photo and the visa costs $50 for 28 days (non-refundable).
Collective taxis run from the Mae Sot border (immediately on the left) to the centre of Mae Sot which is about a 20-minute drive away and it costs 20 baht ($1).
Onward travel:
You can get buses from Chiang Mai and Bangkok to Mae Sot and there is a Green Bus terminal where you will arrive and you can get a Grab Taxi from there to the border if there are no shared taxis available. If you don't have data then ask someone to call one for you and pay cash.
The journey to/from Chiang Mai takes 6 hours and it is 7 hours to Bangkok. The roads in Thailand are much better than those in Myanmar and the journey from Hpa-an to Myawaddy is pretty rough!
You can pop over the border to Myanmar for a day to renew your Thai visa but I really recommend spending time in Myanmar as it is an incredible country.
*There is currently armed conflict in Mrauk U (as of 15th March 2019), if you were planning on travelling there then I strongly advise you to cancel them, there were shootings while we were there.*
It takes 8 hours to get from Hpa-an to Yangon once you've taken the 4-hour shared taxi journey from the Myawaddy border. Yangon is a lovely and relaxed city to explore and if I've written a guide on travelling from Yangon to Ngapali Beach via Pyay as well as a guide to Ngapali Beach itself.
Accommodation:
If you need a place to stay in Hpa-an then I recommend Galaxy Motel which is cheap with nice staff, a good location and bike hire.
If you're staying in Mae Sot I recommend T-House which is a nice place in the posher area of the city and for onward travel to Chiang Mai I recommend Plern Plern Bed and Bike to stay which is a great place near lovely eateries. To find the latest deals as well as reading reviews from other people, I recommend looking and booking on Tripadvisor:
What are your favourite border crossings in Southeast Asia? Any questions or wisdom to share then let me know in the comments below!
Pin this for later: