If you want to see tigers in Ranthambore National Park on a backpacker budget as part of your India trip then this is everything you need to know to do just that. We spent $20 on a half-day safari, $10 on food and $20 on accommodation so we spent just $50 and here's how we did it.
Ranthambore National Park is another one of India's great wildlife reserves that used to be a hunting ground for maharajas from Jaipur. Nowadays, it is one of the best places in India to see tigers in the wild. Its prominent past is why in the gateway town of Sawai Madhopur, there are so many nice havelis and grand hotels. These upmarket resorts make Ranthambore seem unobtainable to backpackers, but that is not the case as there are several homestays which offer reasonable prices.
The best way to get to Sawai Madhopur is by train, and the station is covered in tiger murals. Most of the hotels are along the dusty road leading to Ranthambore so you'll probably need to get a tuk-tuk to get there, but it's only a few km away and should only cost about 200 rupees.
There are budget homestays available on . We stayed in one that was very basic and it had no breakfast or WiFi but the room was nice. It wasn't really near anything so if you're on a strict budget, I would check if it's near a shop. We ate at a hotel owned by the same person and the food did get repetitive but it was cheap at only $3 per meal.
For a safari, you can do a full day or a half day, a full day is extremely expensive to do a private hire or you have a slim chance of booking one through your hotel as they sometimes have places available for a price.
The two options of vehicle are a jeep (known as a gypsy) that contains about six people and a canter that can carry 20 people. A canter is bigger and can get rowdy. For a canter, it is 562 rupees if you're Indian or 1,302 per person if you're a foreigner. For a gypsy, it is 799 rupees if you're Indian or 1,539 for a foreigner. There are a couple of small payments on top of that but it works out at roughly $20-$25 for a foreigner.
If you want to avoid paying commission, queuing and possible disappointment then you may want to go through the slightly painful process of registering on the Rajasthan Government Portal. It does take foreign cards, but you have to be patient. It took me about 90 minutes to complete the registration and payment process but it meant I was guaranteed a place on safari, instead of having to queue up for places before. The best zones to see tigers are 1-5 and you don't always get the zone you ask for, but we requested 4 and that's the one we got. You won't see any tigers in the buffer zones of 6 and upwards.
When you get to Ranthambore, you still need to queue up to pay a small fee for your vehicle. It is still much quicker to do it when you've already registered, just bring your confirmation on your phone. The safari office is in Shilpgram craft village, but be aware that on the road to the village, funerals take place and there is a pyre by the side of the road. Once you've paid your fee, you are issued with your ticket and jeep number.
This post may contain affiliate links
Safari times vary depending on the season so a morning safari leaves at 6-7am and afternoon safaris leave at 1-2 generally. This is the cantor park and even though they call out the numbers, it's better to find your vehicle first so that you can get a good seat. The number is the last few numbers on the number plate.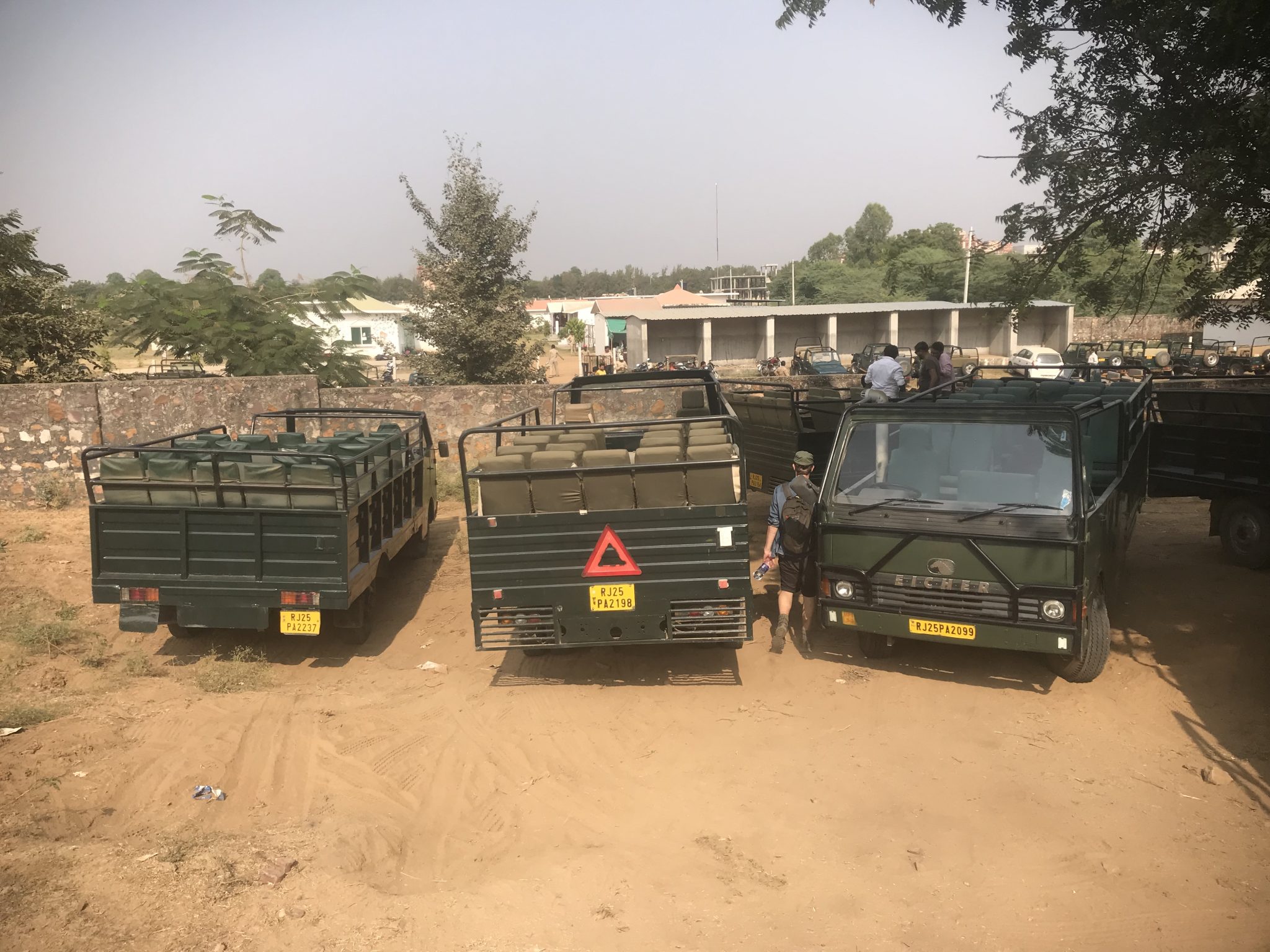 There are estimated to be just over 2,000 tigers in India and these are spread across over around 50 reserves. The best parks for seeing tigers in India are thought to be Bandhavgarh, Ranthambore, Kanha, Pench, Satpura and Corbett. I don't need to tell you how critically endangered the tiger is, but if you want more information on the latest developments in the conservation efforts, then the WWF can tell you more.
The closest we got to a tiger that day was this picture next to a tiger mural. While I was disappointed, we actually saw something even rarer to see. As you can see from my fetching outfit, you can't wear bright colours like white or red. It's also advisable to take a hat, sunglasses, suncream and water as you're exposed in your vehicle.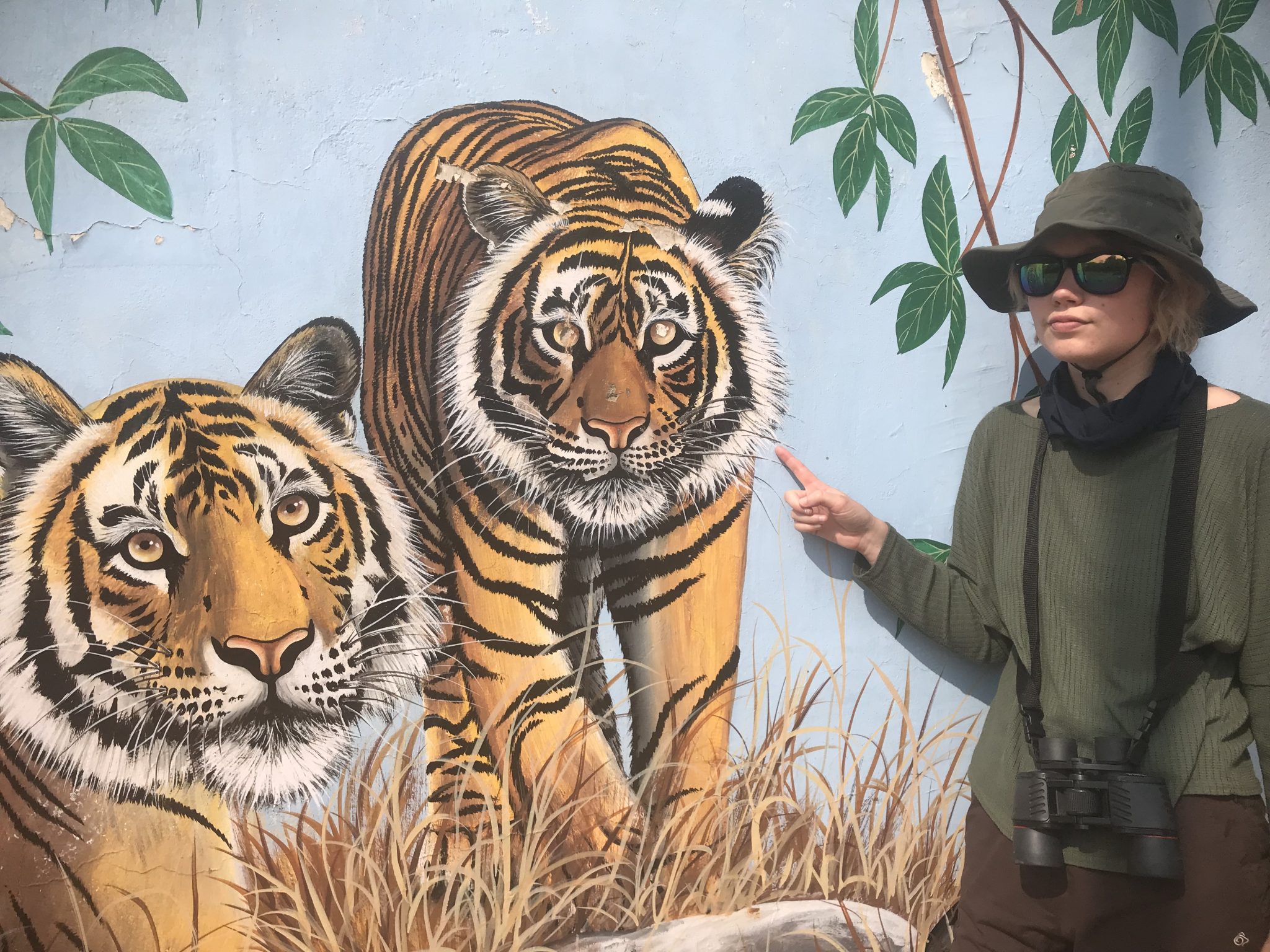 The entrance to Ranthambore is flanked by grey langurs, and people selling dust masks as it gets very dusty along the roads.
PRO TIP: Take a buff that you can wear over your face to protect you from the dust.
I managed to get a good picture of another langur posing soon after we drove in, if you look up when you enter you can see Ranthambore fort on the cliffside.
Mammals that you need to look out for while in the park include tigers, leopards, hyenas, sambar deer, chital (spotted deer), nilgai (antelope), langurs, macaques, jackals, jungle cats, caracals, sloth bears, blackbucks, Rufous-tailed hares, wild boar, chinkara (antelope), civets, common yellow bats, desert cats, palm squirrels, flying foxes, foxes, gerbils, mole rats, porcupines, long-eared hedgehogs and mongoose.
Reptiles and amphibian species include the common Indian toad, common frog, snub-nosed marsh crocodiles, desert monitor lizards, tortoises, kraits, cobras, turtles, pythons, rat snakes, vipers, and the chameleons.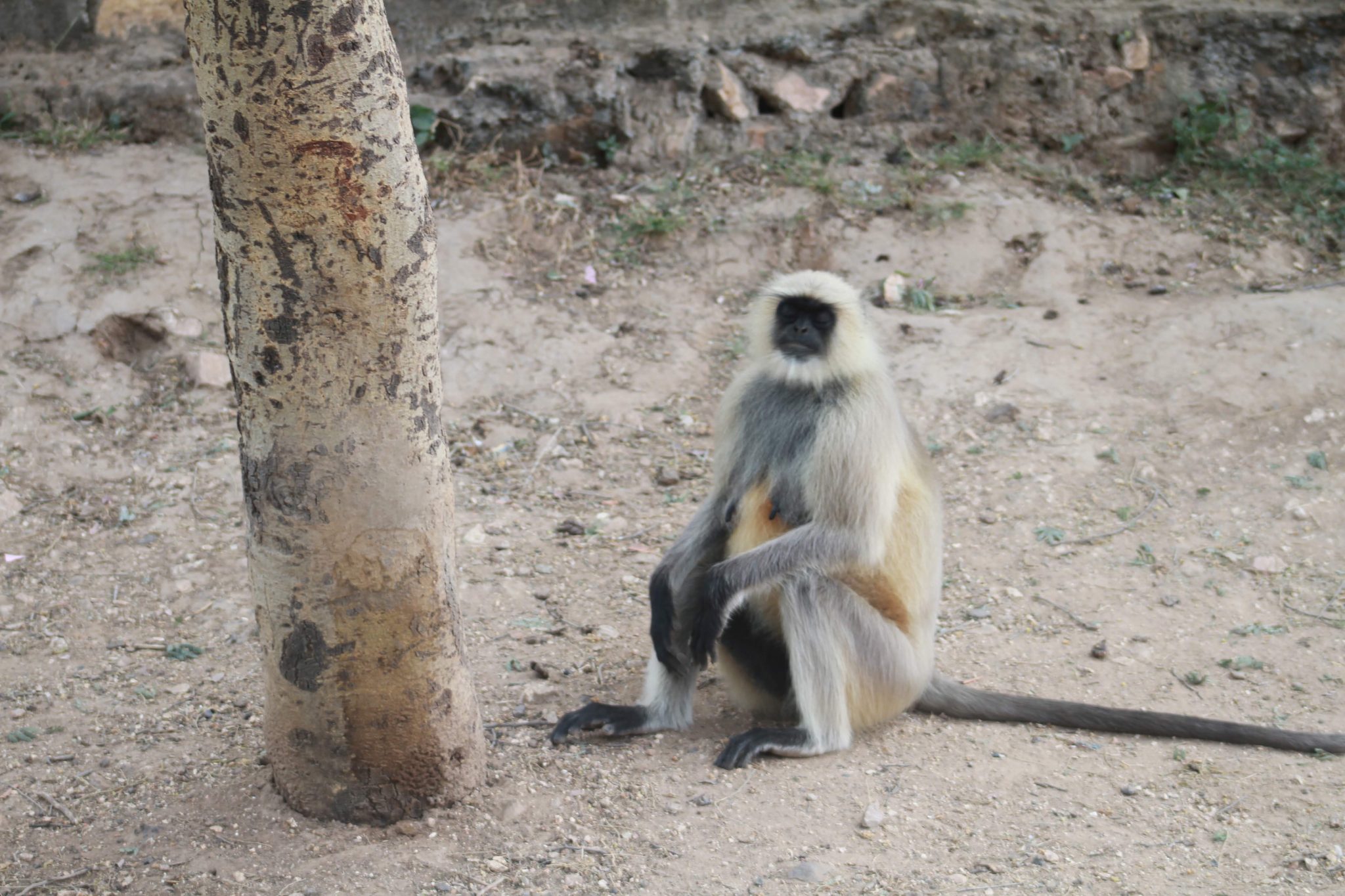 The peacock is an important bird in South Asia and you can usually hear them calling in nature reserves. They're everywhere in Ranthambore so you're pretty much guaranteed to spot them.
Other birds to spot in Ranthambore include greylag goose, woodpeckers, Indian grey hornbills, kingfishers, bee-eaters, cuckoos, parakeets, swifts, owls, nightjars, pigeon, dove, crakes, snipe, sandpiper, gull, tern, grebe, eagles, darters, cormorants, egrets, herons, bitterns, flamingos, ibis, pelicans, storks, pittas, shrikes, treepies, crows, orioles, cuckoo-shrikes, minivets, drongos, flycatchers, ioras, shrikes, pipits, bayas, sparrows, finches, wagtails, munias, bulbul, mynas and falcons.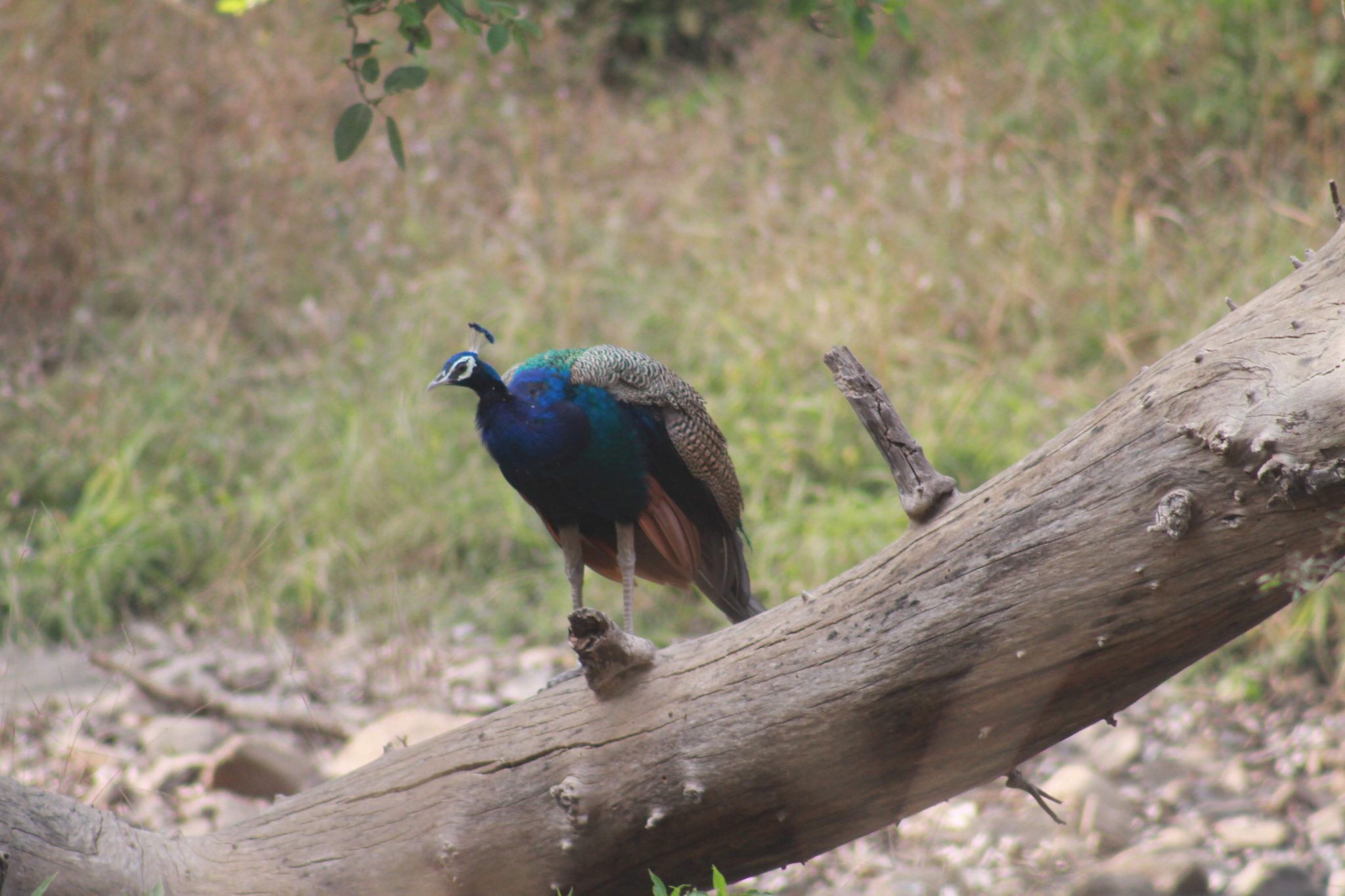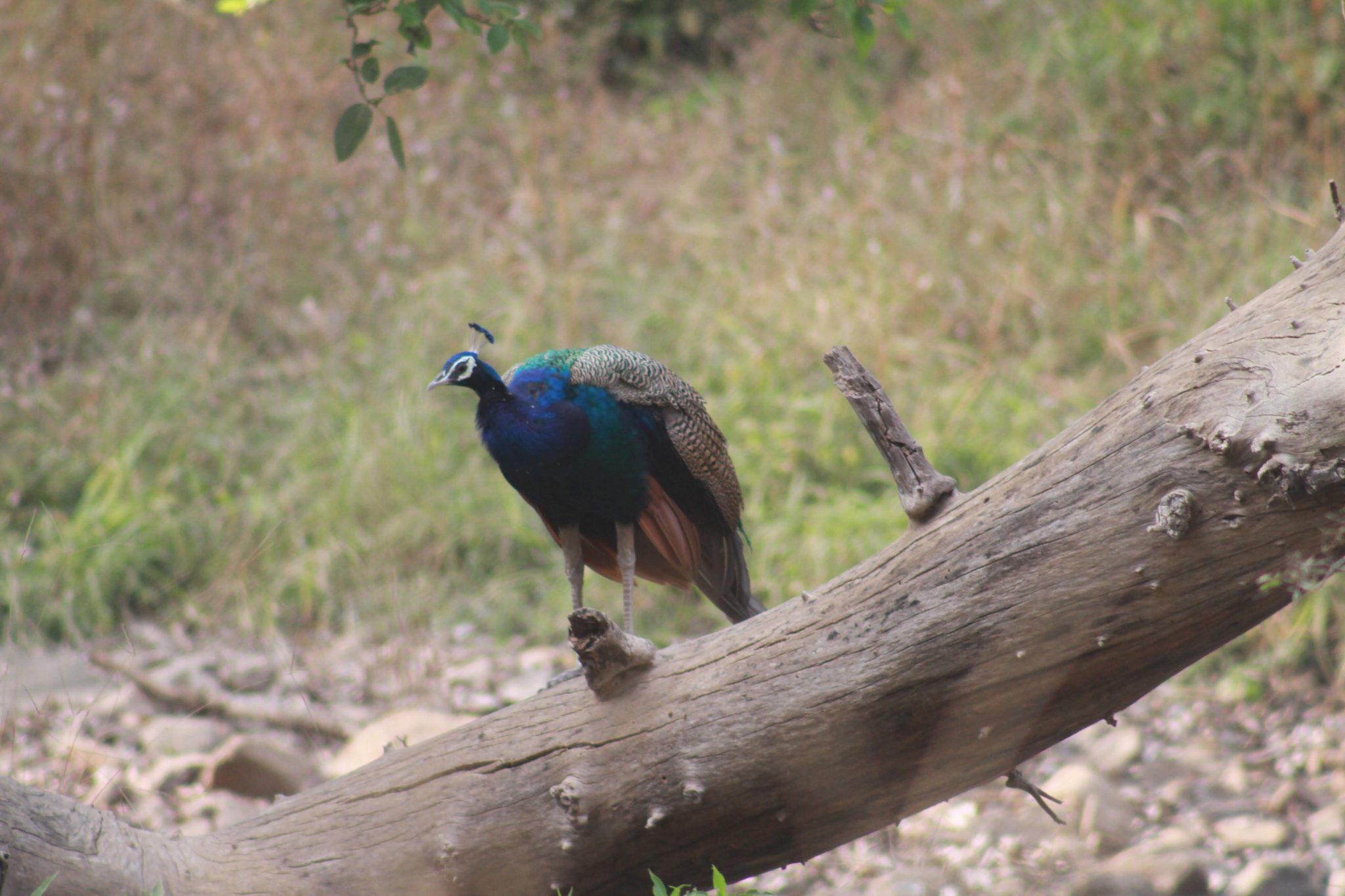 Another common animal and probably the most numerous mammal in the park is the spotted deer or chital. They're not shy at all and they're very easy to photograph. They're not great prey for tigers as they're quite fast but they did help us to find our best spot of the day later on.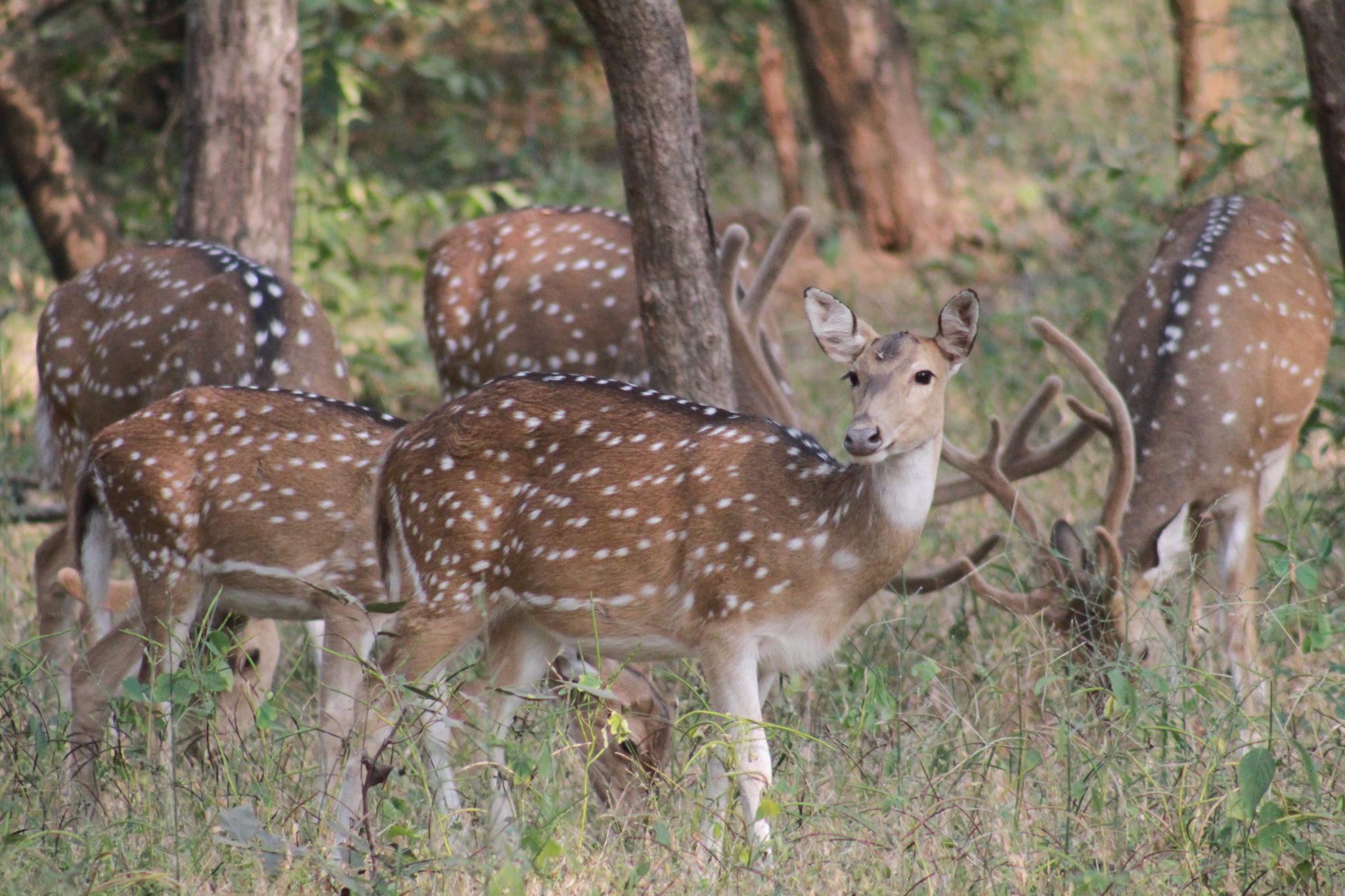 This is the almighty sambar deer, much better prey for tigers as they are massive and a bit slow and stupid. They're incredibly beautiful and very easy to photograph like this female here.
We did see tiger footprints which was so tantalising! They're easy to spot on the dusty tracks.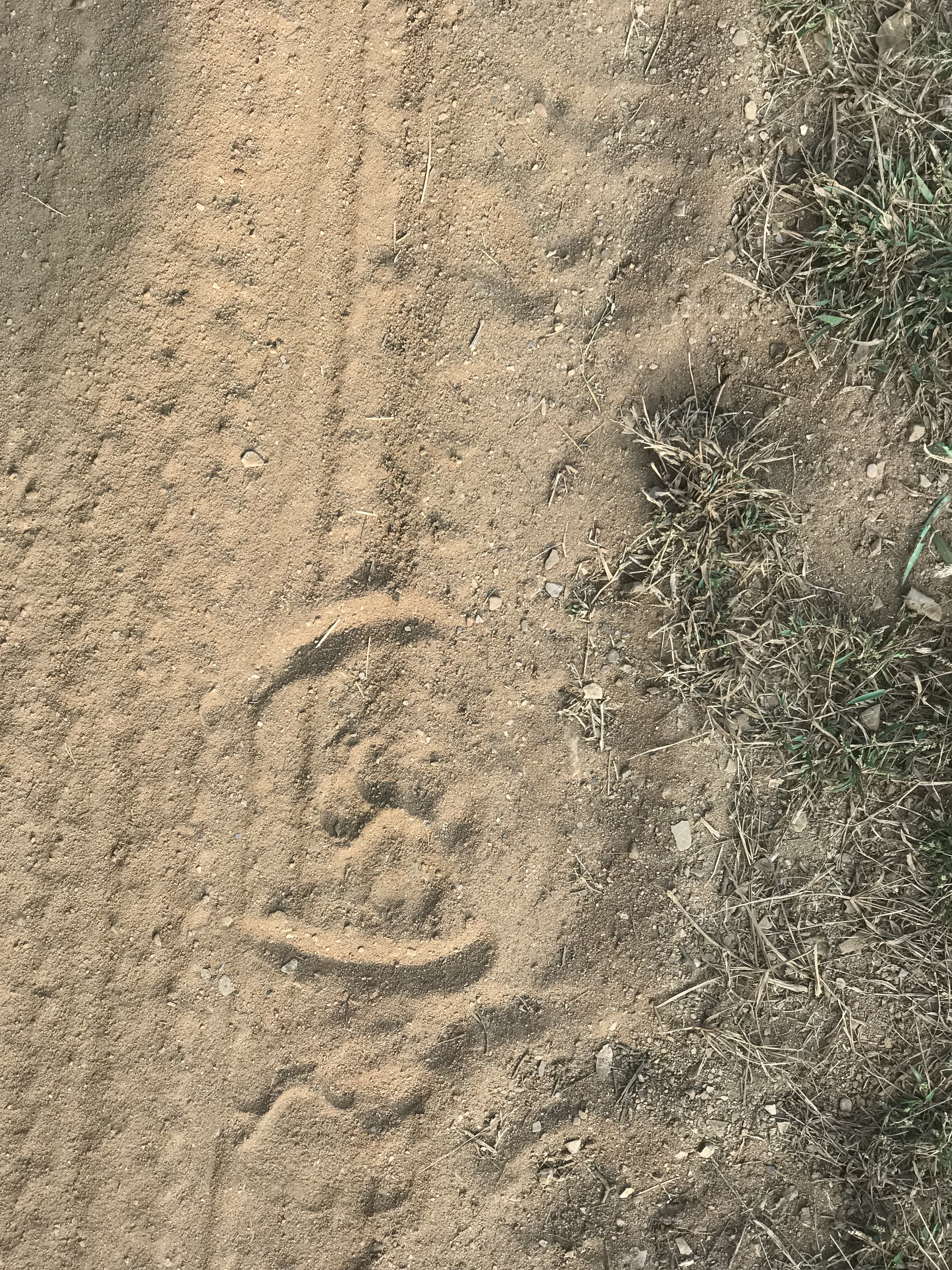 The park itself has some great views and we took a stop on top of this hill to admire them and stretch our legs, going on safari is so bumpy that it's always nice to have a short break.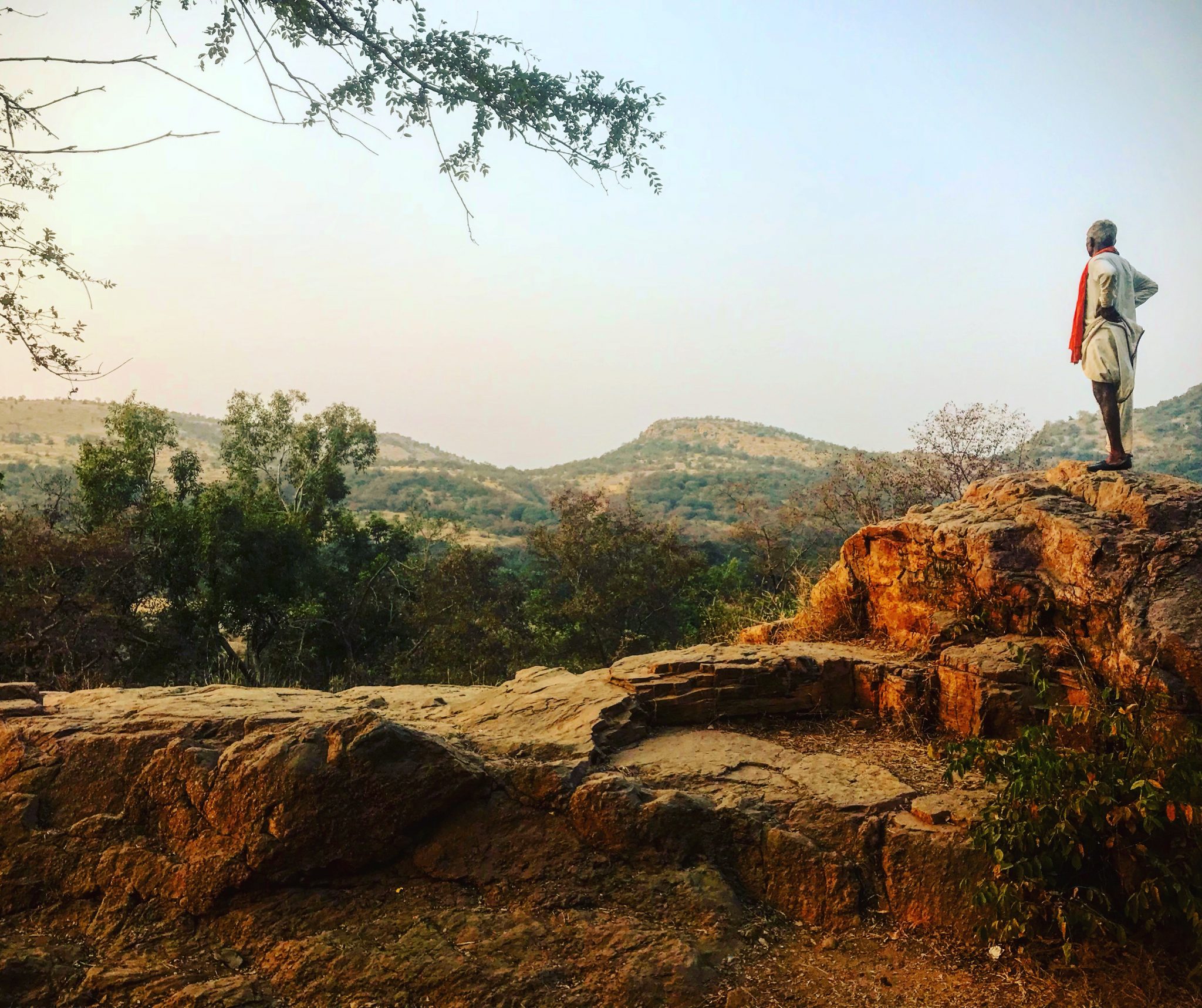 After our break, we came across a crowd of spotted deer who were alert and barking into the distance. This is a great sign that a predator is around, so we stopped and waited. Through a tiny gap in the foliage, we spied a leopard. It was walking across the rocks near the river and it was huge. In the blink of an eye, it was gone and I didn't manage to get a picture of it, or of the leopard at Yala in Sri Lanka either, they're just so quick.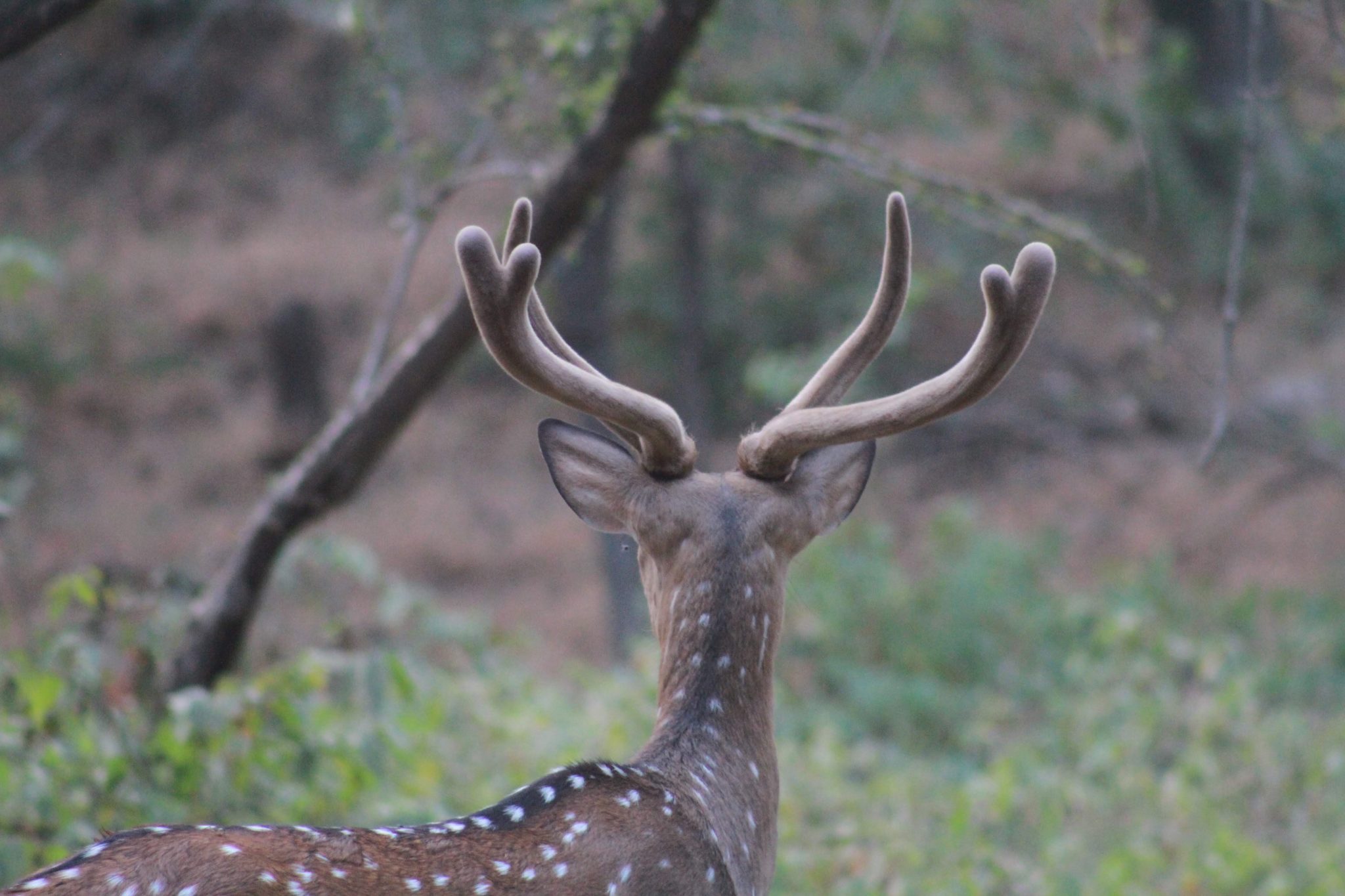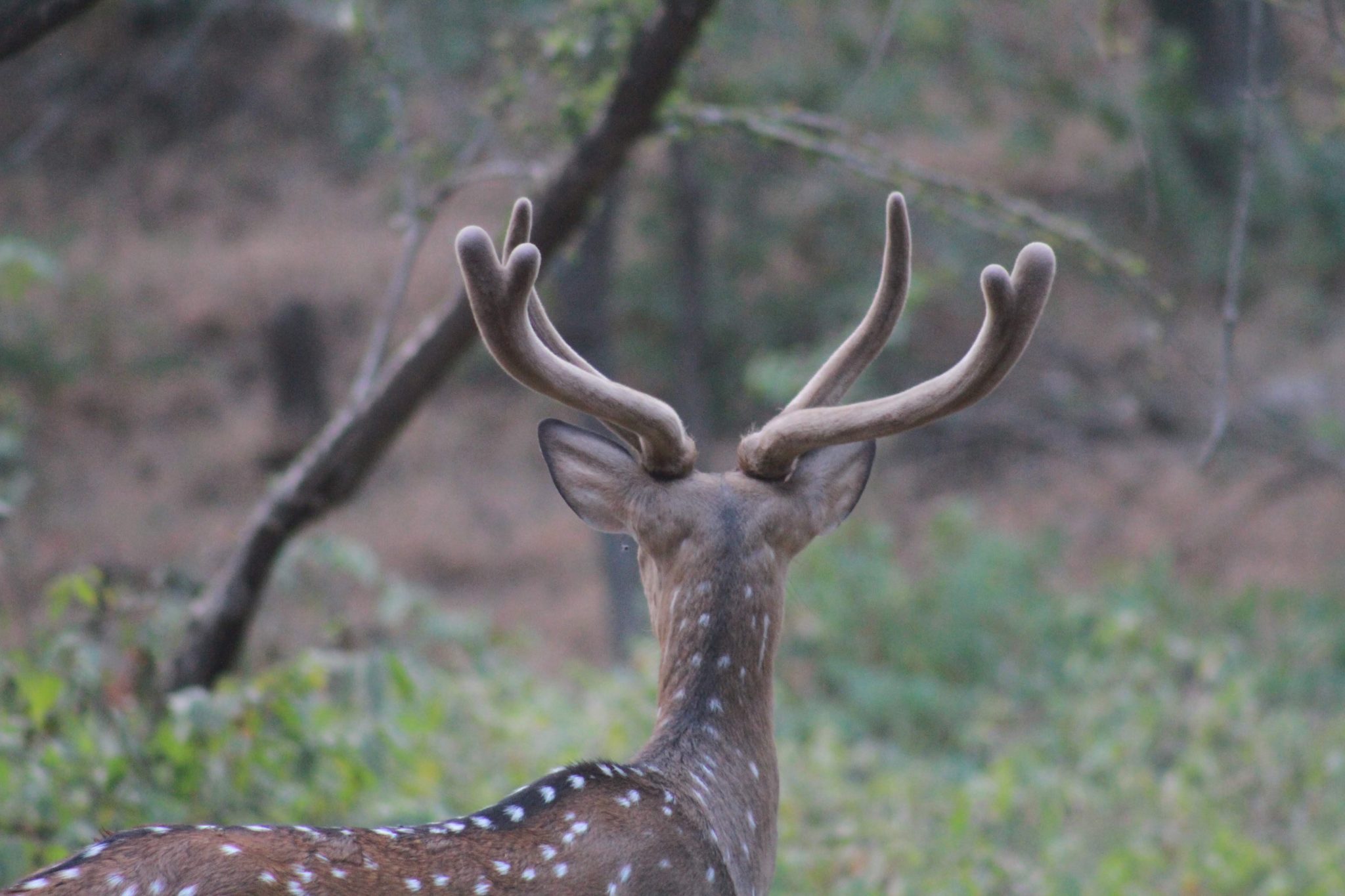 The sun started to go down and we saw this sambar deer taking a drink. These are the beautiful moments that epic national parks like this can give you. We also saw wild boar and crocodiles. It was the biggest amount of deer that I've ever seen in one day, they're everywhere.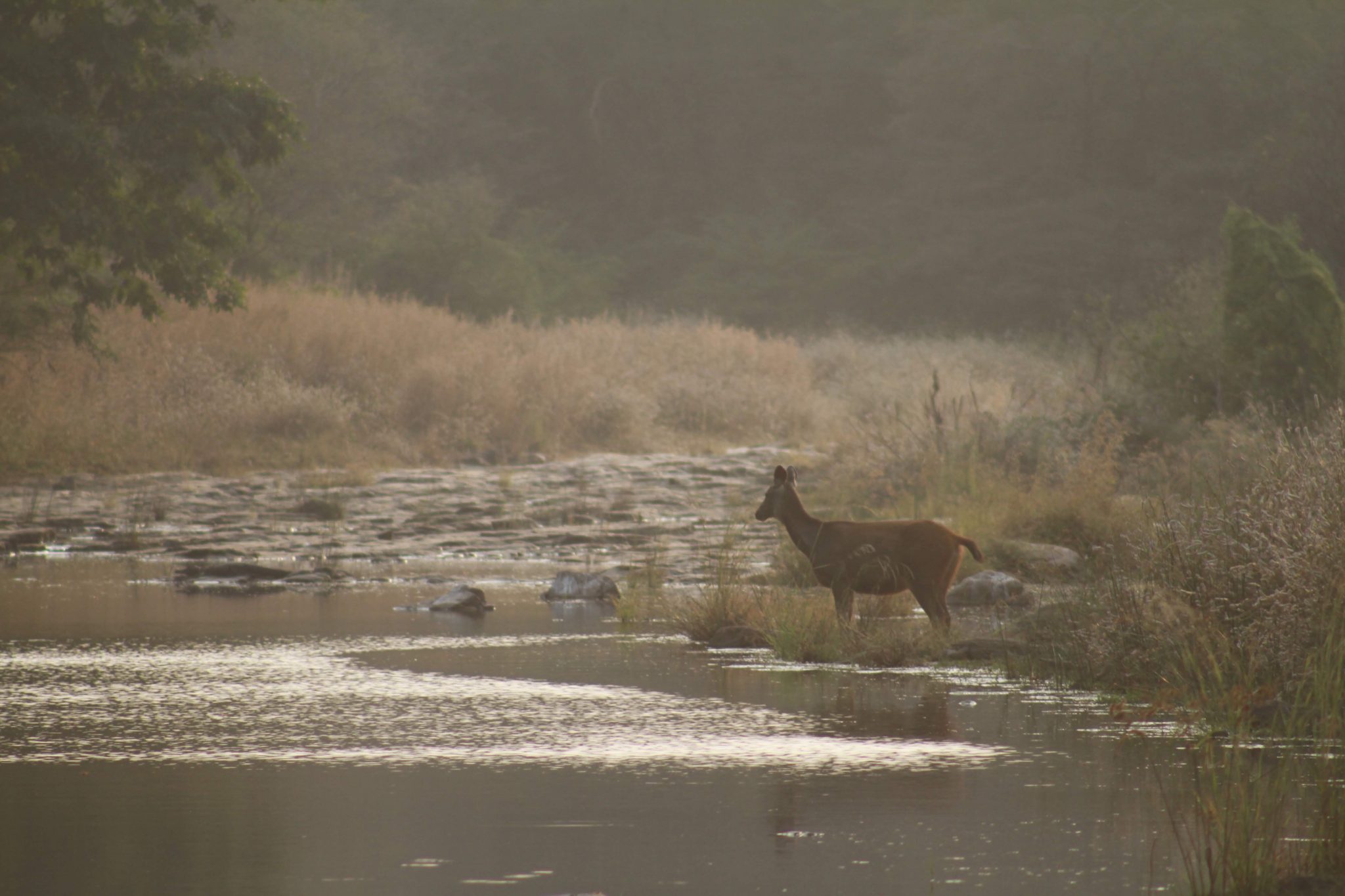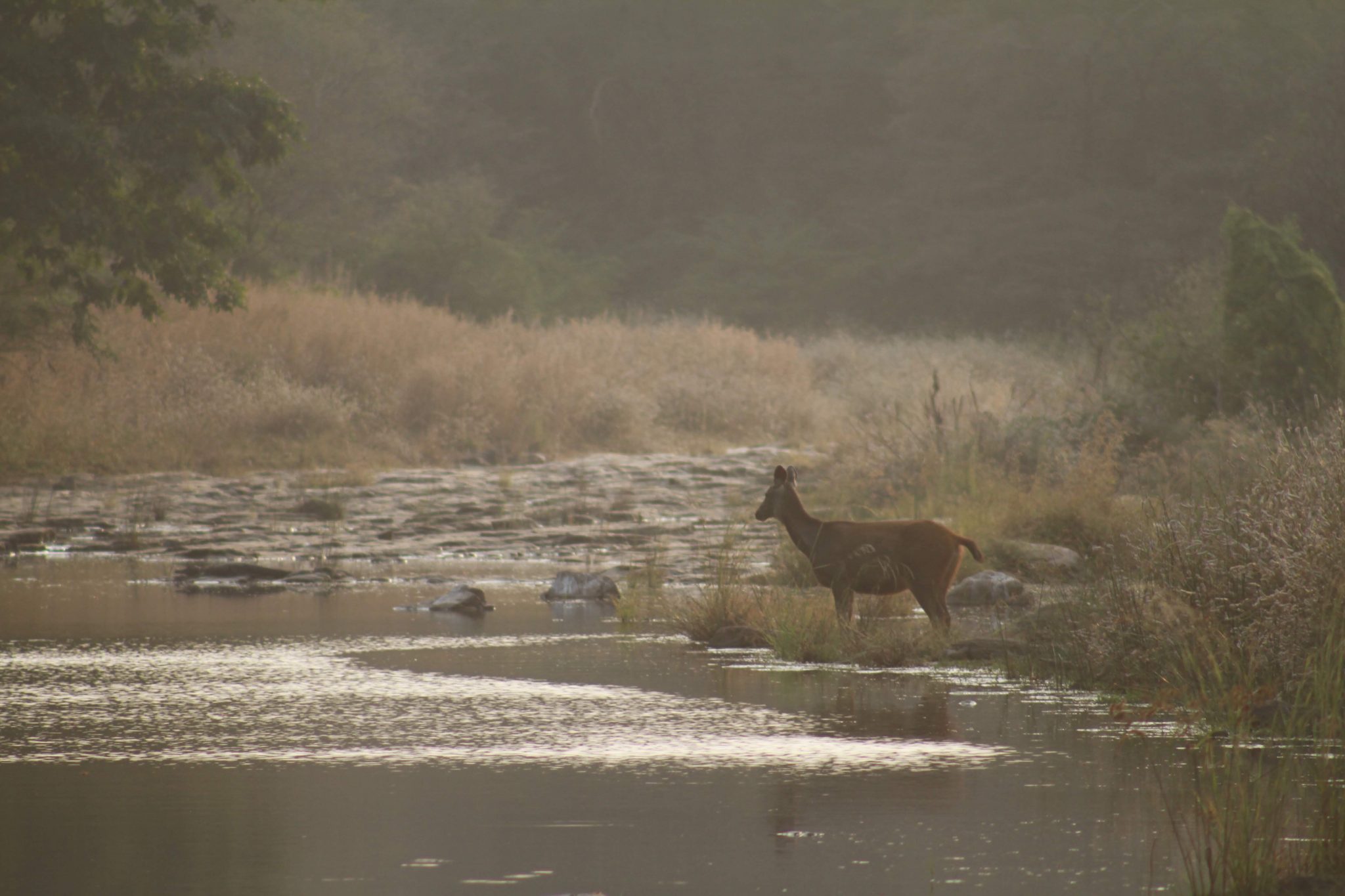 Even though we didn't see a tiger, it was a great safari for the fraction of the cost of going on safari in Africa, and we saw a big cat! There are no elephants here, but there is a wealth of other wildlife. The cost of coming here on the train, accommodation and going on safari only cost us $50 each to share a room so, despite the hassle, it was definitively worth the trip.
If you're interested in wildlife watching in Rajasthan then check out my guide to Keoladeo National Park near Bharatpur.
Have you been to Ranthambore or any of the other tiger reserves? Comment below and let me know what you've seen so I get a picture of what animals that tourists are most likely to spot!
Pin this for later: