Most of us live near some sort of power station, but do we ever stop to look up and see what wildlife may be hiding in plain sight?
Power stations are so big, yet easily overlooked and the height means that birds of prey, as well as smaller birds, can feel at home there.
As I'm fascinated by urban wildlife, I spent a few weeks in lockdown stalking the Fairy Lane substation in South Manchester.
It is located by Kenworthy Woods and the River Mersey, across the way from Chorlton Water Park.
I wanted to find out exactly what creatures lived here after watching a buzzard perching on the power station. Entering the power station would have been dangerous and would make me a trepasser so I kept my distance from the fence.
Large birds
It is the larger birds that make themselves at home on the pylons and herring gulls often hunker down on the top.
One treat I found looking through my photos was this beautiful stock dove that I had assumed was a wood pigeon.
Wood pigeons can always be found roosting on the pylons.
Magpies gather on the ground of the power station to feed and they were the only birds I saw doing this.
Bird of prey
This buzzard lived close to the power station and it would use the pylons as a place to preen.
Here it is keeping an eye out for any prey or other birds.
On another day I found a pair of buzzards above the station.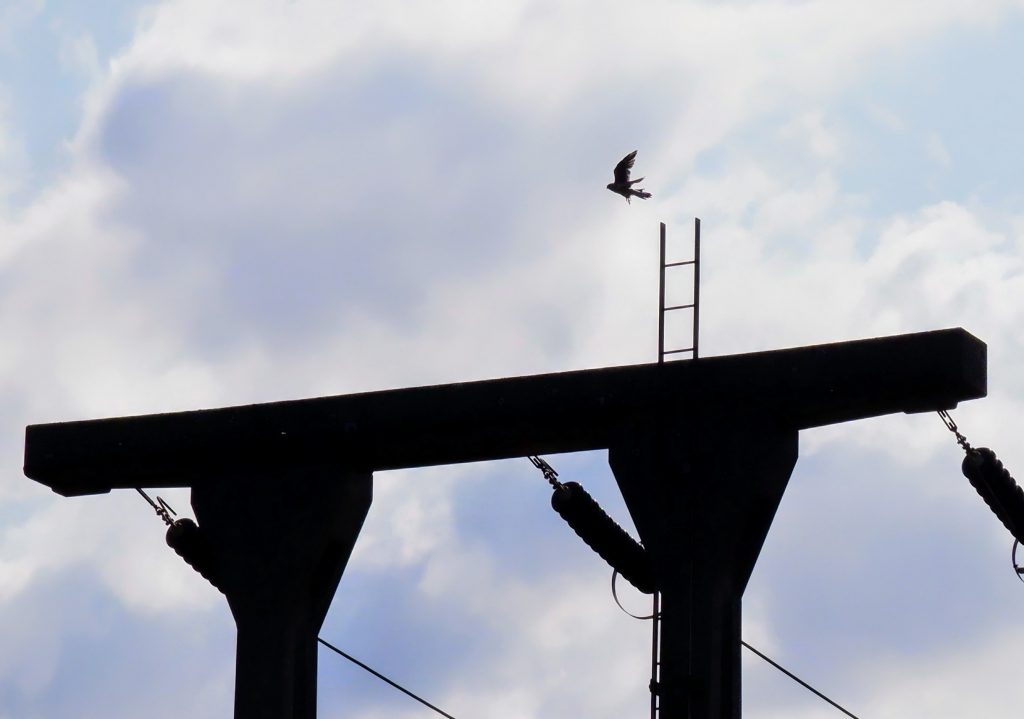 Kestrels love to feed by the River Mersey so a male landed here as the sun started to go down.
The kestrel looked towards the River Mersey, an area rich in voles but they do have competition from the herons that also eat them.
He then headed off to grab his last meal of the day once he'd decided where to go hunting.
Canada geese also pass over on their way to the river. The power station is a great place to spot water birds as they go on their journeys to the lakes and the park.
Insects
The fence also provides a shelter for insect life, especially flies.
This house fly took shelter within the slightly curved fencepost. Crane flies were also fans of the fencing.
The metal fence had another purpose as spiders used the spaces to build webs. Mostly close to the bottom, possibly to catch more prey.
A few animals had tried to dig near the fence and changed their minds. One culprit could be the grey squirrels that I saw here.
There is also a family of rats that have built a nest at one side of the station. I saw them running along the fence line as they like to scavenge amongst the rubbish that sadly surrounds it.
Despite the constant buzzing sounds, investigating my local power station was a fascinating lockdown project. The way that wildlife adapts to our structures will always be fascinating to me. It certainly seems like they use it as a vantage point for the surrounding areas. Saying that I don't think it wouldn't be as useful to them without the green space around it.
If you're wildlife watching in your local area with young ones then download my Birdy Bingo card game to see how many points you can score!
Read more: The secret garden (wild)life of Merseybank Estate in Manchester
Have you spotted wildlife at a power station in your area? Share your sightings in the comments below!
Pin this for later: