If you want to see wildlife in Sri Lanka then Yala National Park is the most popular nature reserve with tourists, and that's because of the high concentration of leopards here. It was the place in Sri Lanka that I was most looking forward to visiting, and I wasn't disappointed as we saw a leopard and a family of elephants.
February to June is the best time to see wildlife, as the dry season means there is less foliage cover and it forces the animals out in search of water. We came in January which was just outside of season but we still saw quite a lot, but there were a lot of tourists.
We came from Tangalle on one of the frequent buses to Tissamaharama, which is the base for safaris to both Yala National Park and Bundala National Park, as it's situated between the two reserves. We stayed here for a couple of nights because we wanted a buffer in case we didn't see a big cat. We spent 1 day in Ranthambore National Park and didn't see a tiger, so we didn't want that to happen again.
There isn't much to do in Tissamaharama, except going to the lake and seeing temples but it does have lots of budget accommodation, as well as a handful of restaurants, a couple of bars and bottle shops that are all reasonably priced.
We booked our safari as soon as we got here and it was really straightforward as it isn't managed by the government like it is for some safaris in Indian national parks. You can book safaris from your hotel, tour agencies or haggle at the Independent Jeep Association in town. They all pretty much go to Zone 1 which is the area with the highest number of leopards, this is in the southern part of Yala but ask them to show you on the map. The other zones in the north and east are only really visited by hardcore wildlife watchers and Yala is joined to several other parks via wildlife corridors (a very important conservation technique to keep our animals healthy and breeding).
There was only two of us so we booked with our hotel so they could put us with other people. It's also worth checking out the quality of the jeep, but quite a few are at the same level, so it depends how much comfort that you need. Half-day safaris range from about $25-$45 to go with a group or you can book a private jeep. The cheapest ones are from 4am-10.30am, then 4am-12pm or 4am-3pm for a full day. We did the 4-12pm safari to give us more time to see elephants, this cost us $35, and we haggled it down from $40.
PRO TIP: Make sure the price is fixed even if they don't fill the jeep, sometimes people drop out and then the remaining people are asked to pay more so it's always better to double check!
The bad news is that safari starts at 4-4.30am as it takes about an hour to get to the park, pay the fees and join the queue before it opens at 6am. The foreigner price for park entrance is $15, but make sure this is included in the price. We had a driver/spotter who shouted out when he saw wildlife, which worked fine and helped us to save money but there are spotters that work for tips if you want extra information about the animals.
You will see wildlife as soon as you get in the park but you will struggle to lose the other jeeps if you're on a half-day. Congestion is a real problem in Zone 1 (the other areas aren't anywhere near as crowded as there are fewer leopards and they're less safe) and it can be stressful to deal with as a wildlife sighting can result in a traffic jam, whereby the animal will be gone by the time you get there.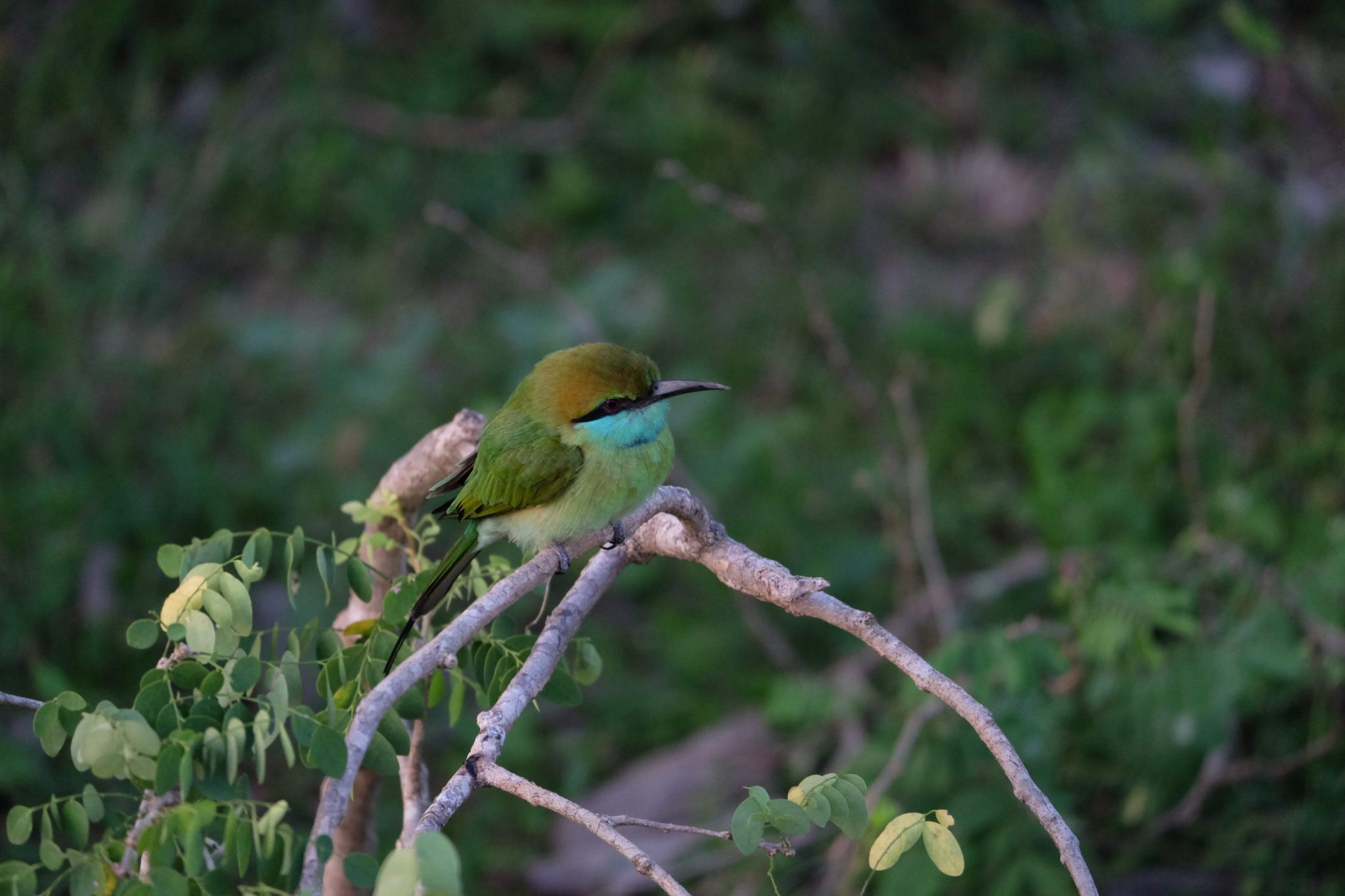 There are about 215 species of bird including the bee-eater above, and six of them are endemic to Sri Lanka. They are the Sri Lanka grey hornbill, Sri Lanka junglefowl, Sri Lanka woodpigeon, Crimson-fronted barbet, Black-capped bulbul, and the Brown-capped babbler. We spotted the junglefowl which is also the national bird of Sri Lanka (yes, it does look like a chicken).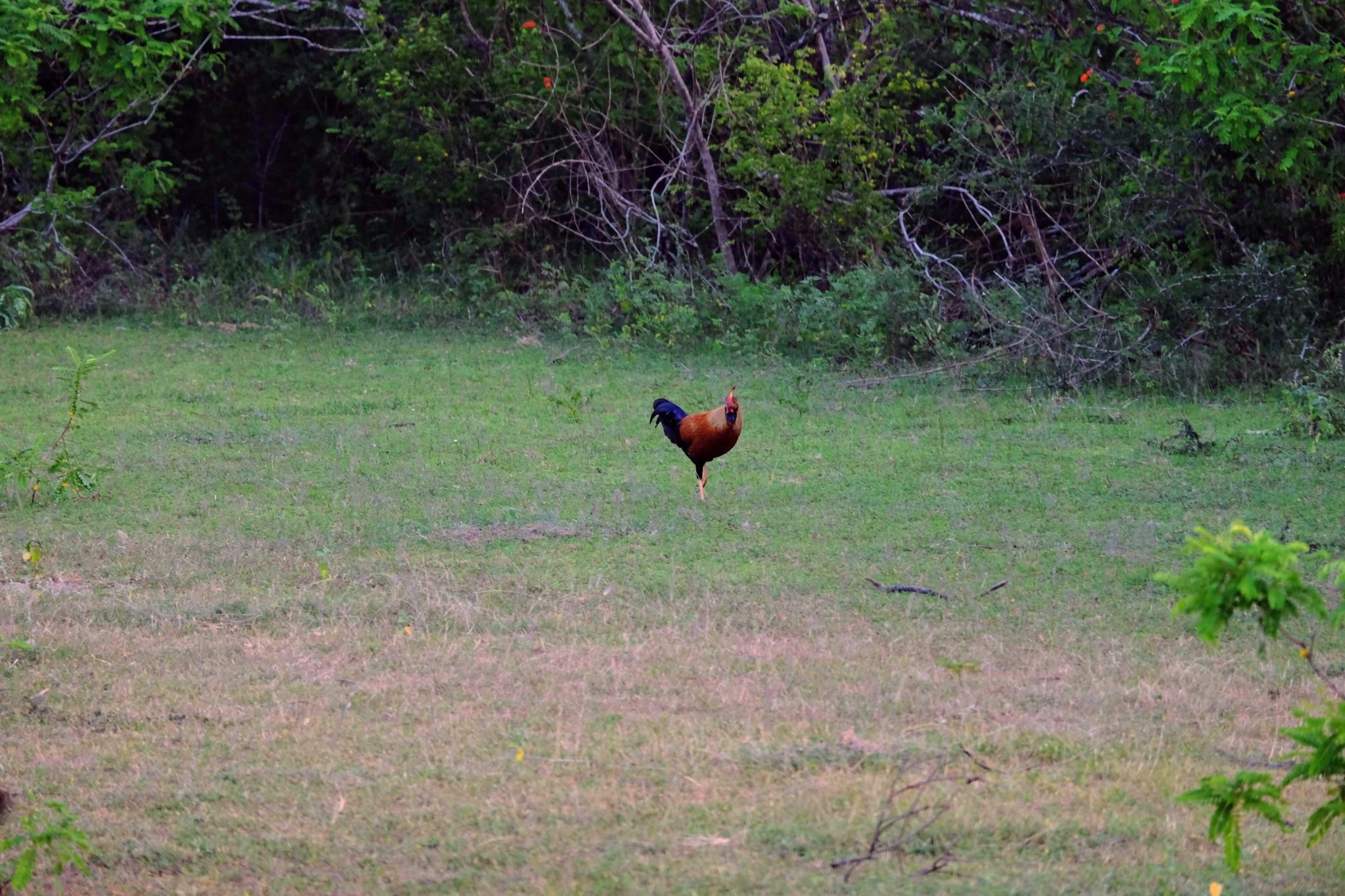 Funnily enough, when we arrived at Tissamaharama we saw a monitor lizard and mongoose on the way to our guest house (the mongoose was living in the roof of the house next door)! On safari, we got some good shots of this ruddy mongoose (distinguishable from the Indian grey mongoose by the black tail tip).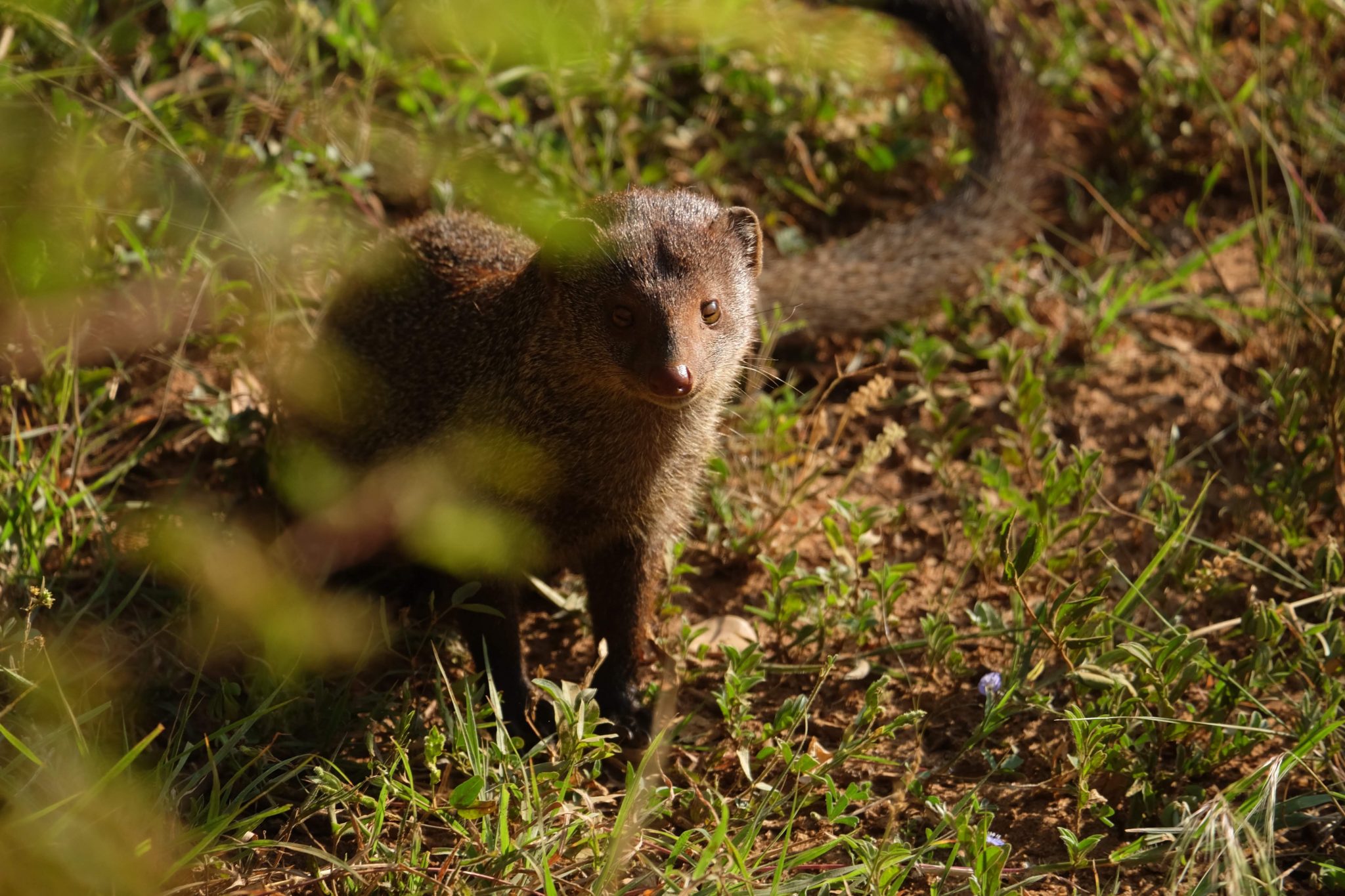 Mammals that can be found in Yala besides elephants and leopards include sloth bears, jackals, fishing cats, jungle cats, wild boar (see below), water buffalo, civets, rabbits, hares, flying foxes, palm squirrels, giant squirrels, rusty-spotted cat, spotted deer, sambar deer, grey langurs, toque macaques and gerbils.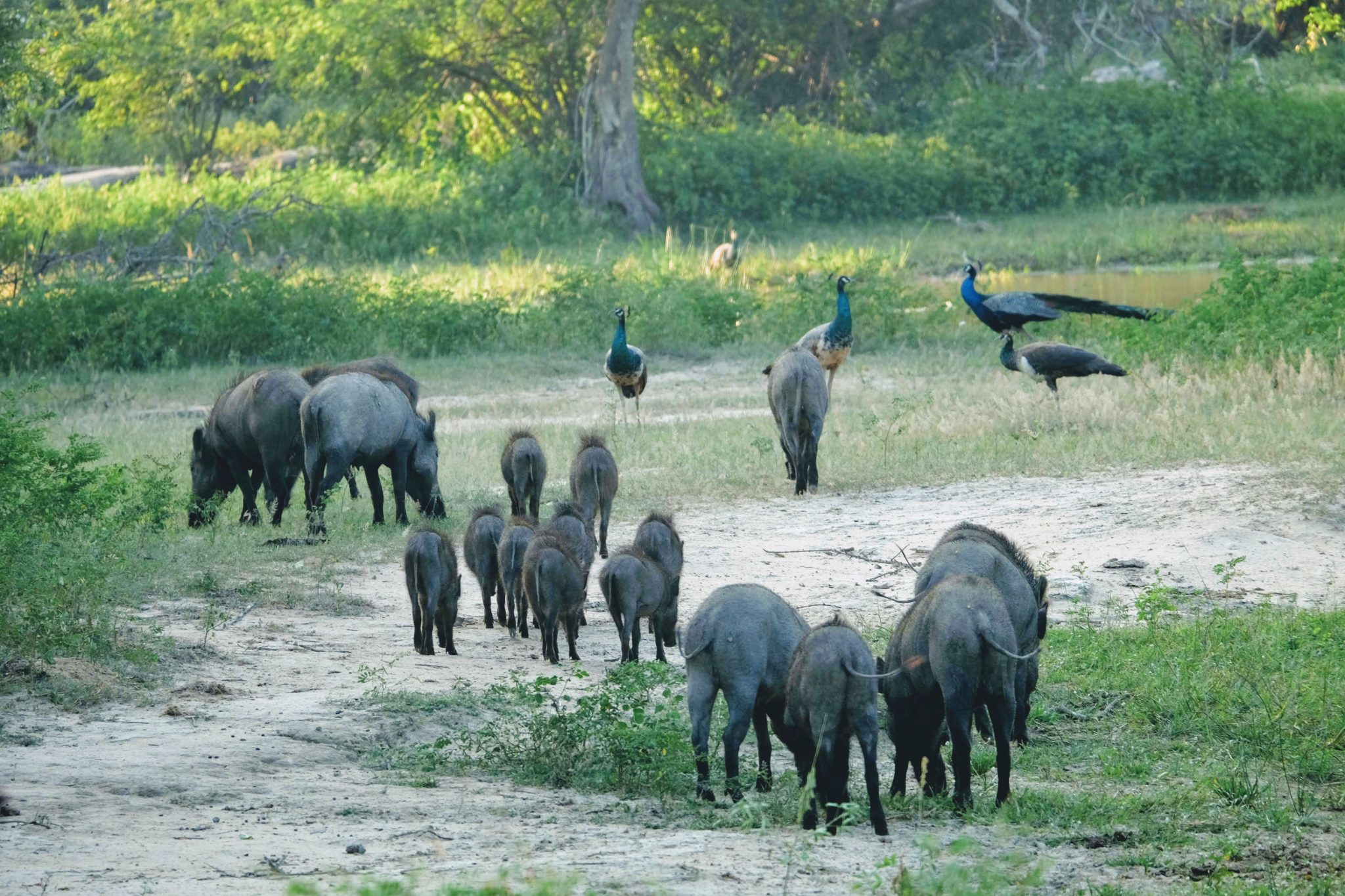 There are six reptile species found here that are endemic to Sri Lanka, and they are the Sri Lankan krait, Boulenger's keelback, Sri Lankan flying snake, painted-lip lizard, Wiegmann's agama, and Bahir's fan-throated lizard. The coast s are patrolled sea turtles, including the leatherback, olive ridley, loggerhead, hawksbill and green turtle. There are two breeding crocodile species, the mugger crocodile and saltwater crocodile, and you're likely to see at least one of the two.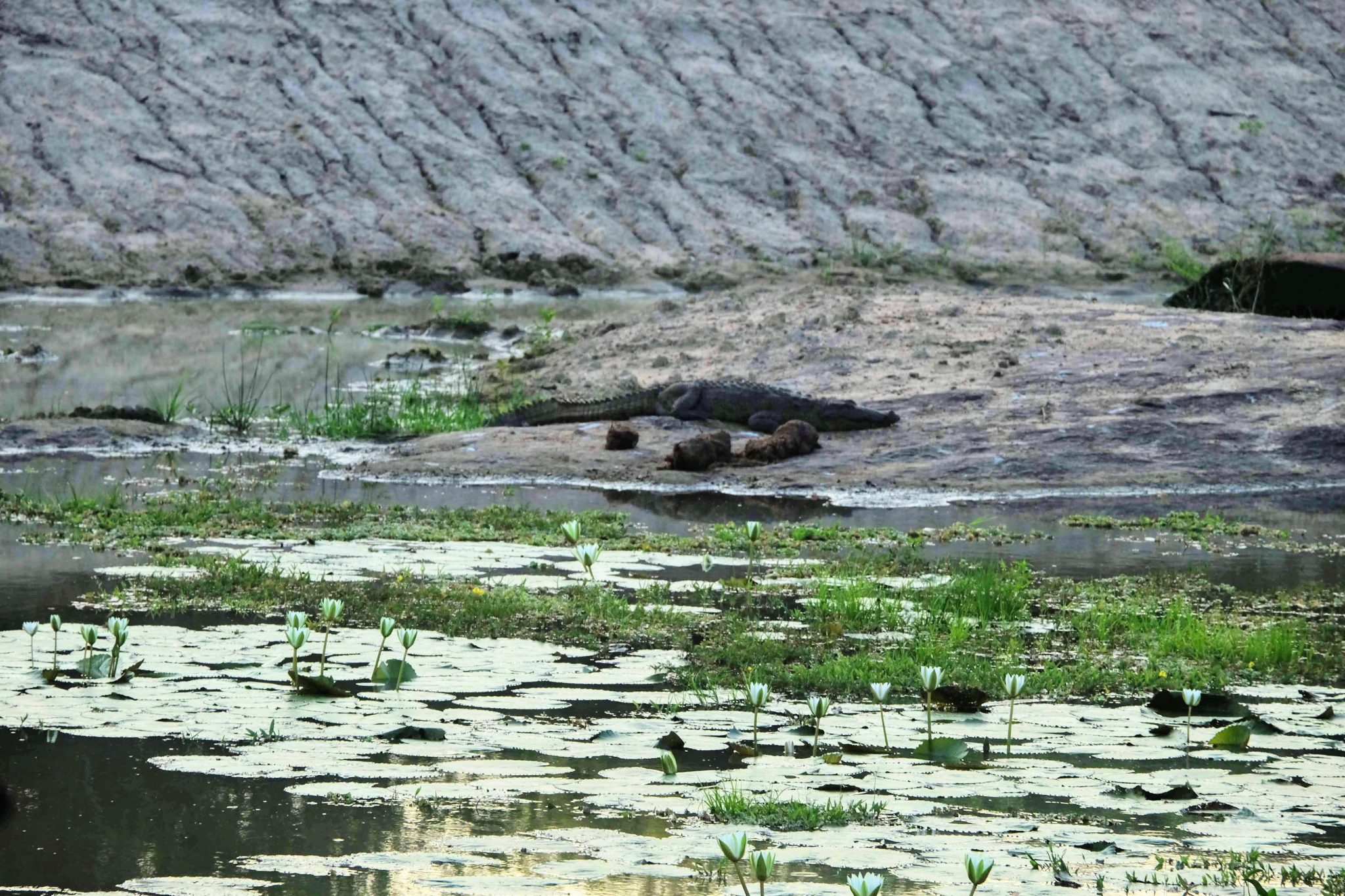 This is a mugger crocodile, and they are much more common than the saltwater crocodiles. Below is a wild water buffalo taking a dip, they are an animal in decline in Sri Lanka, along with the saltwater crocodile.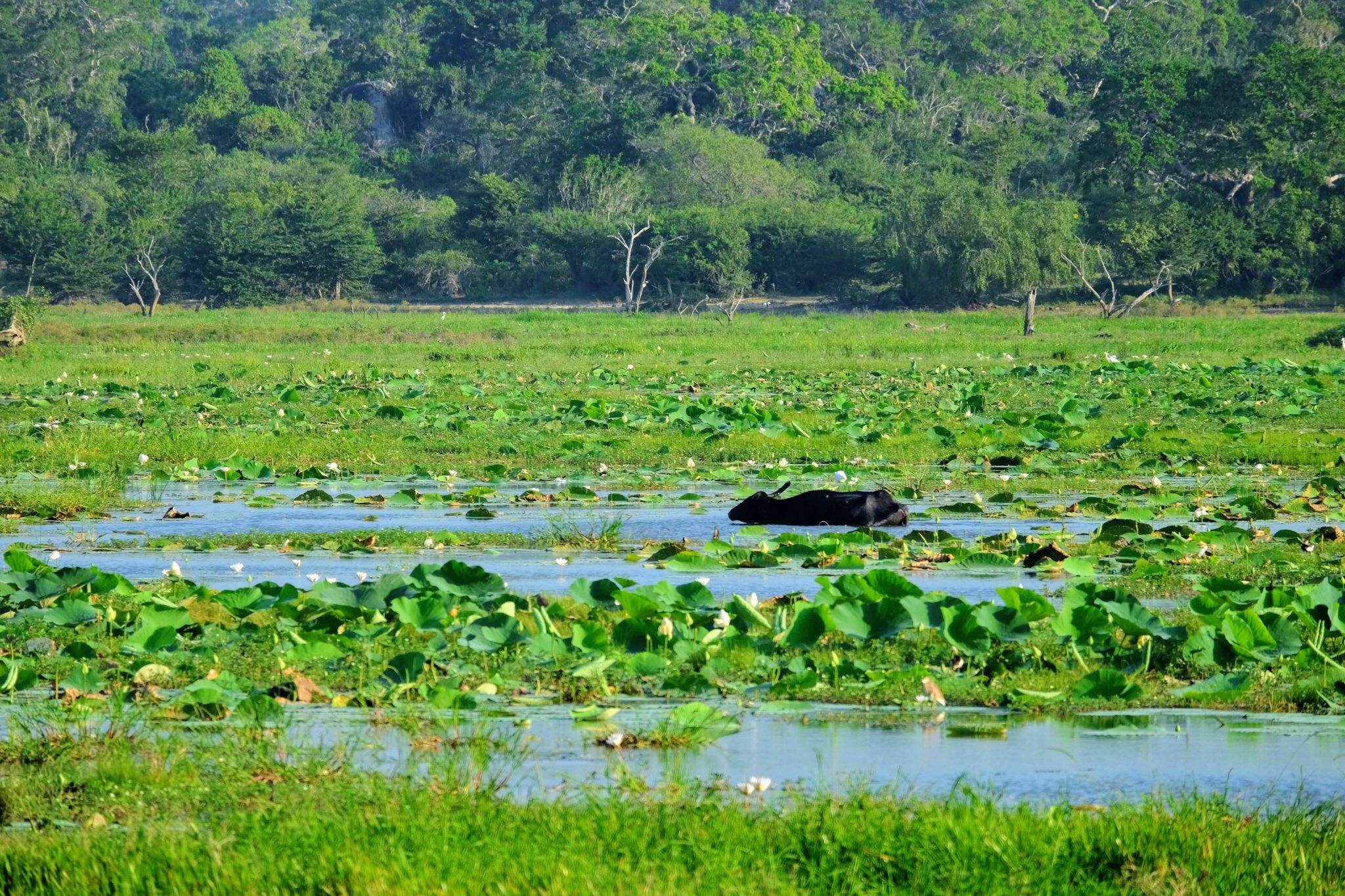 I won't keep you in suspense any more – we did see a leopard, and what's more, we saw it three times and we were the first on the scene each time. We were lucky but I also suspect that they have an idea of the leopard's movements, guides try to get you a leopard sighting early on, as that's when they're most active.
This is a stock image of a leopard, as I didn't manage to get one, but this was taken by a photographer at the park on the road, as you are most likely to see them when they cross the pathways.
PRO TIP: If you suspect you're going to see a leopard, set your camera or phone to record a video so you don't miss it! When our leopard first appeared, it was running in front of our vehicle so it would have made a great video.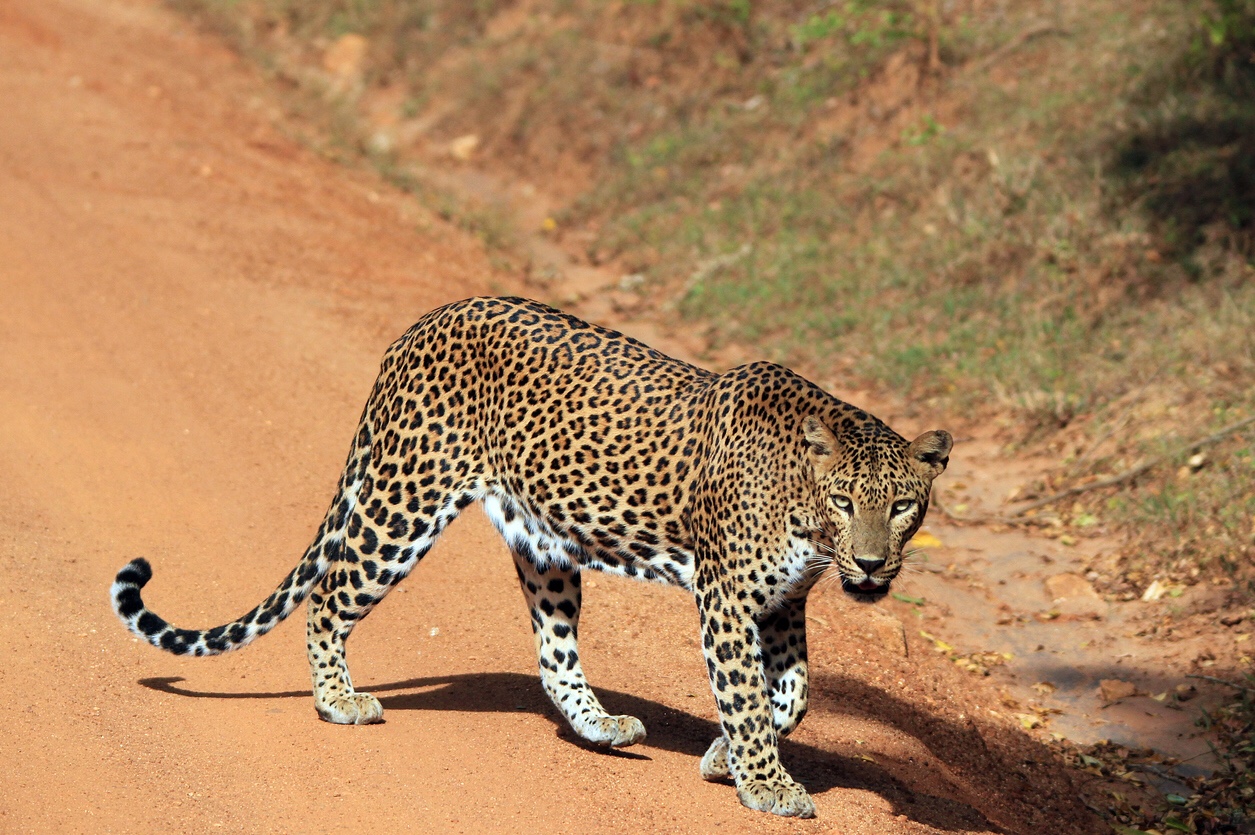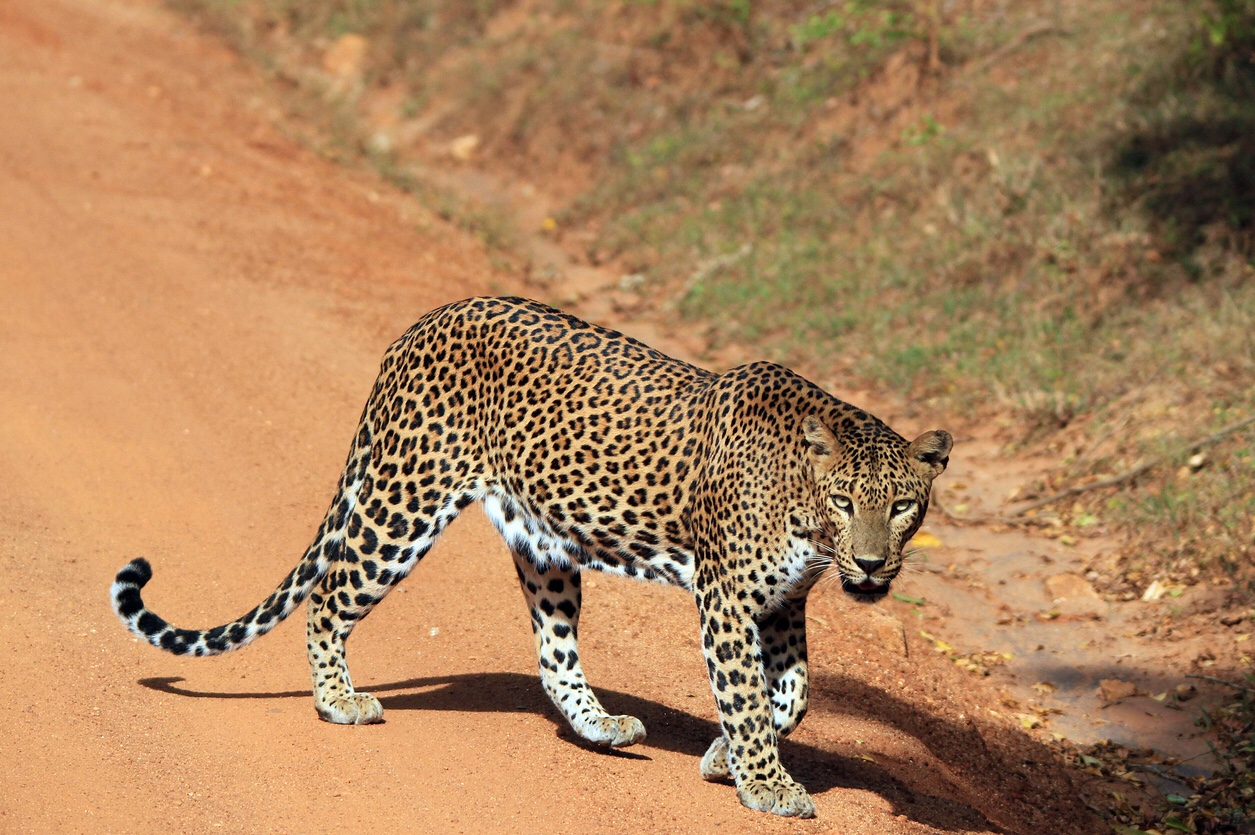 The Sri Lankan species of leopard is indigenous to Sri Lanka, which makes spotting one even more special. A great book that I bought on my trip was Mammals of Sri Lanka, which had loads of great information, but actually came in e-book format so that I could download it onto my phone. Like all big cats, the leopard is in decline and if you want to know more about leopards then there is information on National Geographic.
There is only one place where jeeps are allowed to stop and that is at the beach! It gives you time to admire Patanangala rock outcrop in the distance. Everyone has a break at the same time, so it gets busy. Your guide will provide you with fruit and water as refreshments, but more expensive safaris have much better snacks. I recommend bringing your own snacks or a packed breakfast from your hotel as you're in the jeep for 7-8 hours. The Tsunami in 2004 damaged this coastline and sadly killed 250 people in the park. Much of the wildlife fled after picking up on environmental cues.
After lunch, we saw a herd of elephants. They emerged while we were watching an elephant taking a bath and it was amazing to see them all walking across the path and into the water. This was at about 10.30am and it seemed like a popular place to see elephants as many jeeps arrived after us.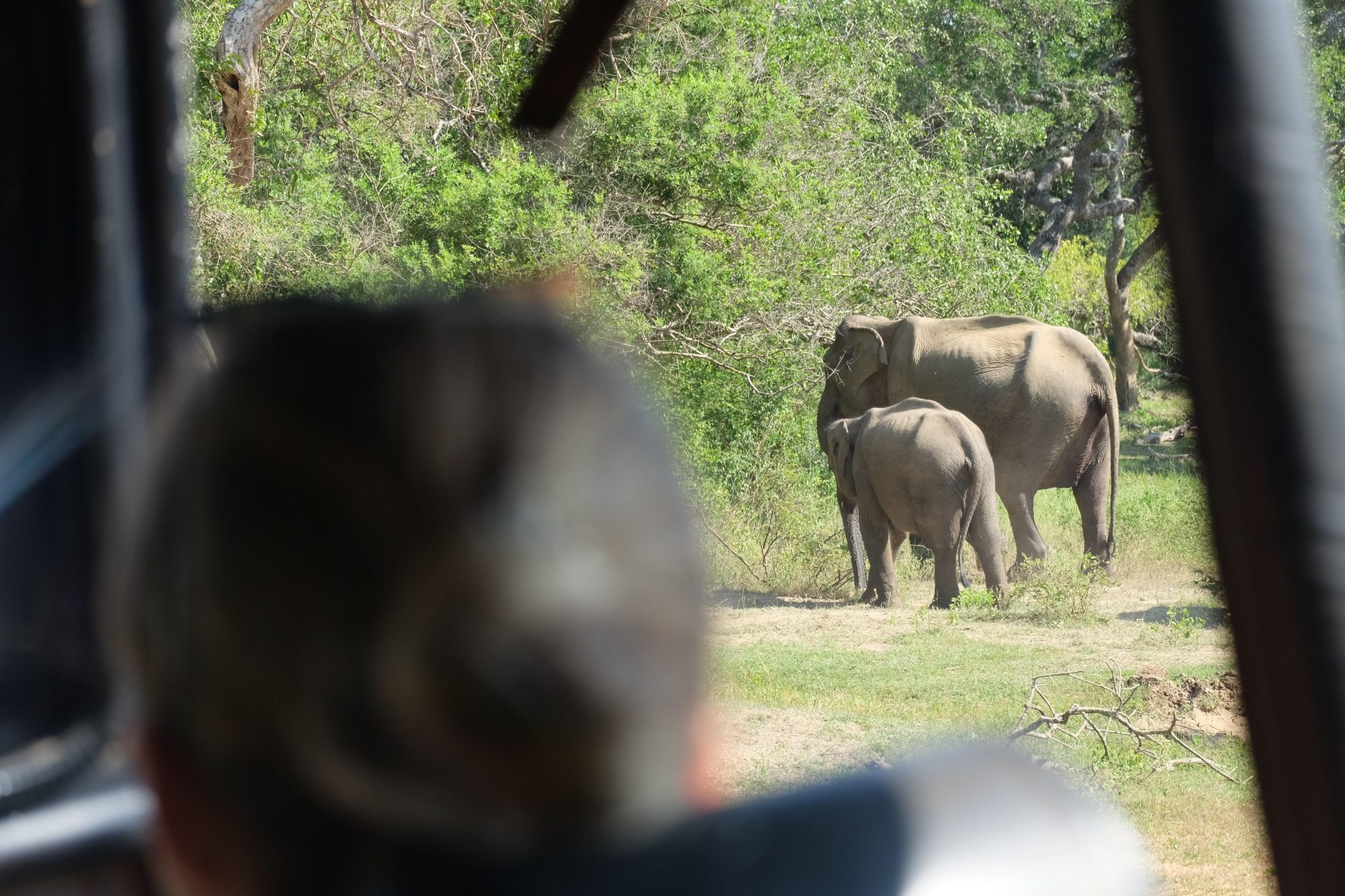 Elephants can be dangerous, but these ones were clearly used to people. It goes without saying that you should always stay in the jeeps when elephants are around so that they don't feel threatened.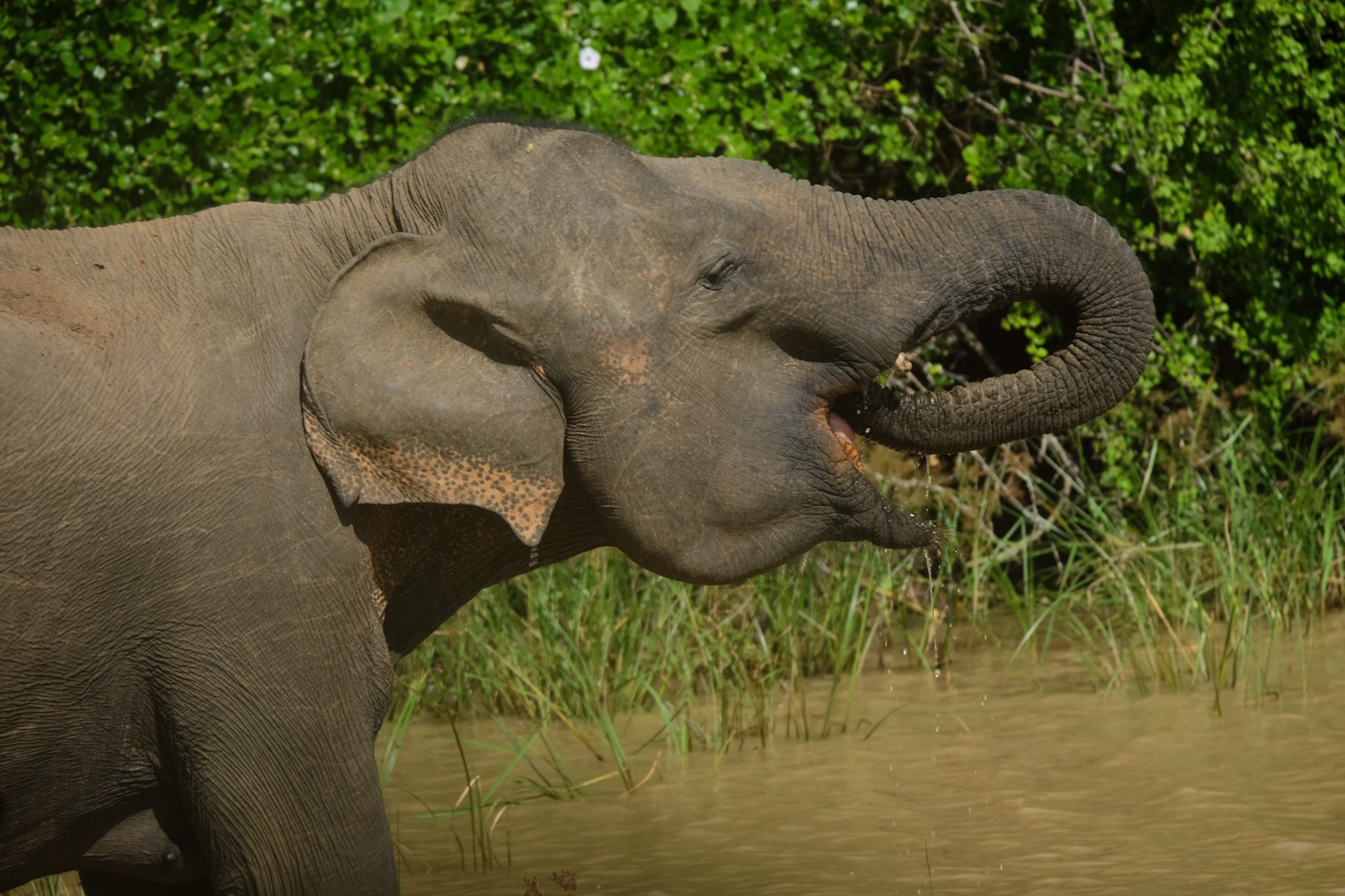 The best part was when the baby got in the water, as it was so cute and clearly loved being in the water!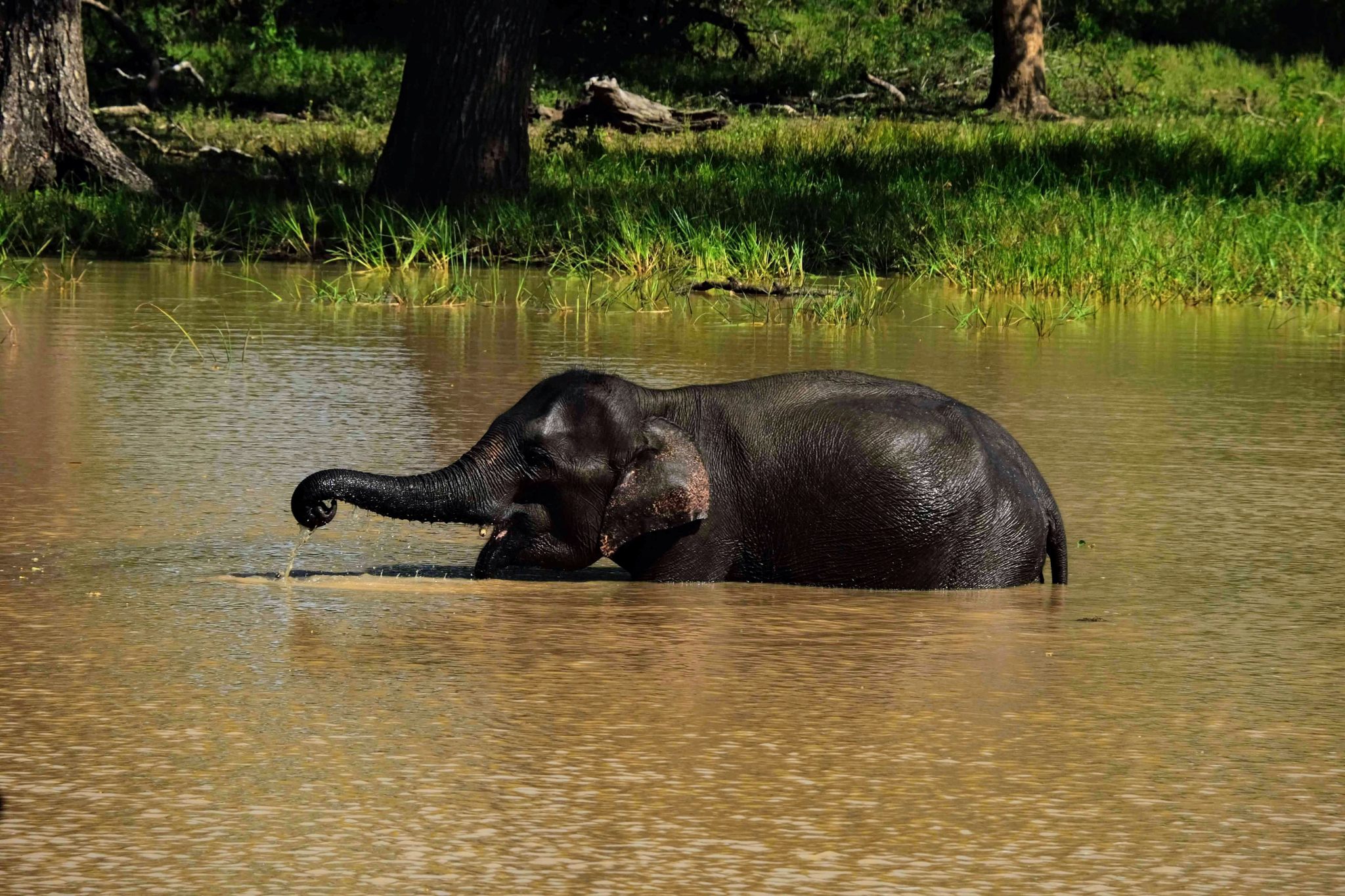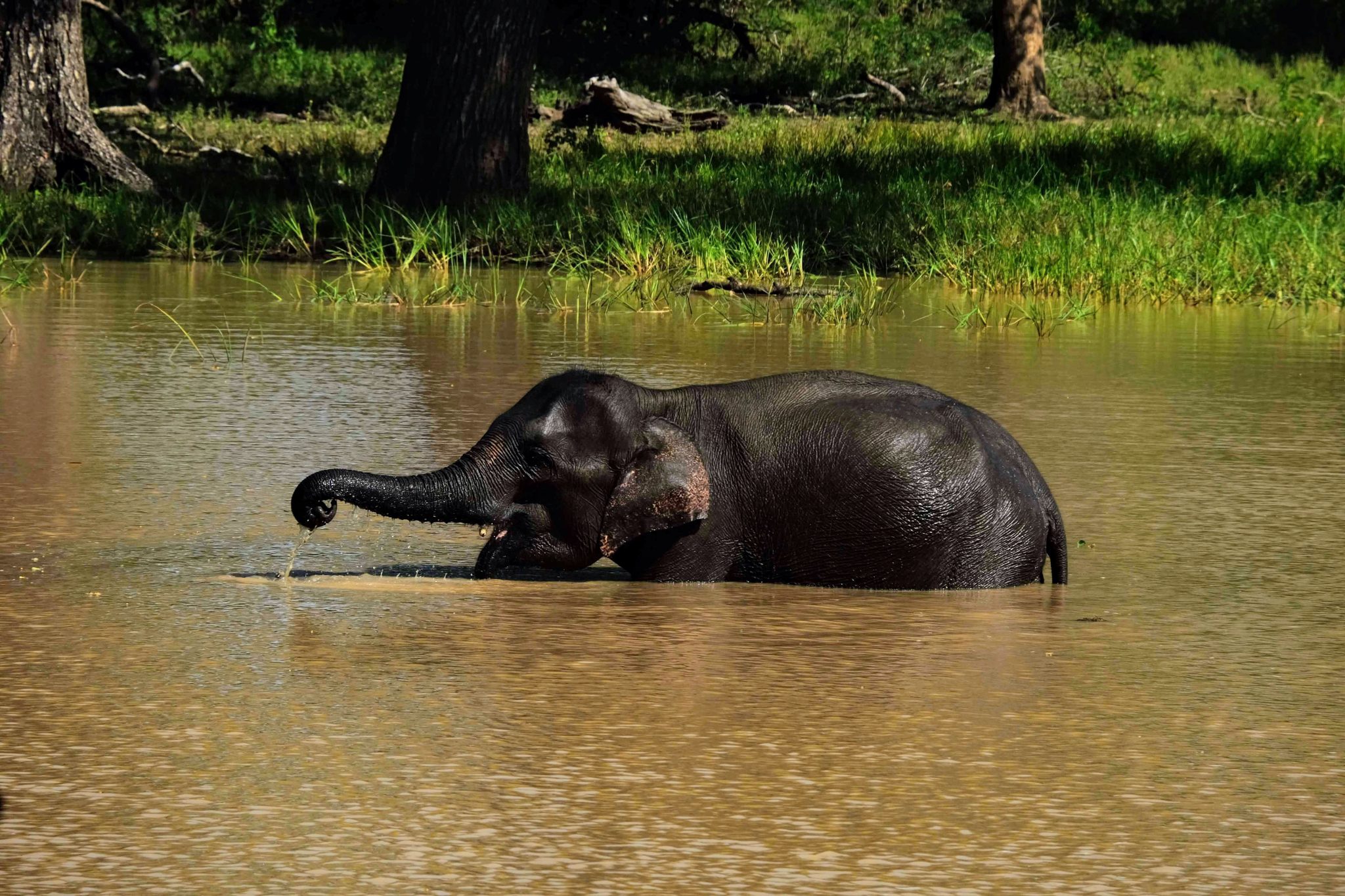 We left at about 11am to return to our guest house at 12pm. Two of the jeeps crashed into each other on the road ahead of us, so its worth having a word if you have a problem with the driving, our guide was also an erratic driver and the roads are very bumpy.
As we had been given a good service, with three sightings of the same leopard and being of the only jeeps to see the elephant family emerge, we tipped 500 rupees each, so 1,000 between us which he was happy with. If you're not too bothered about leopards and want to avoid the crowds, I would recommend a safari at one of the other reserves as there are many to choose from. Yala was a incredible day but it is a bit too popular for its own good, regardless, the leopard is an amazing animal and I would go back in a heartbeat.
Did you go on safari at Yala National Park, and what did you see? If you haven't been yet, what do you want to see? Let me know in the comments below.
Pin this for later: