As a vegetarian traveller, I truly believe that Malaysia has some of the finest street food in the world and this is partly because of their incredible variety of lip-smackingly good desserts. They're also cheap to buy, readily available and a great way to support talented street vendors.
This post may contain affiliate links
Here are 11 incredible street food desserts to try when you're in Malaysia:
1. Sweet steamed bun
Cute-shaped characters abound in Malaysia and I felt bad biting into this bun in the form of a little pig! Sweet steamed buns contain fillings ranging from lotus to red-bean. There are also buns on sticks to eat like a lollipop. They are best eaten fresh from the steamer, but don't burn yourself!
2. Cendol
Cendol is a quintessential Asian dessert, this 'dessert soup' is made from a bowl of ice flavoured with various ingredients. It can be made with rice flour jelly, coconut milk, sticky rice, beans, sweetcorn and palm sugar syrup. This one is topped with pandan jelly, but it can come with durian, coconut or just gula Melaka (palm sugar).
3. Ais kacang
Ais kacang means 'bean ice' but there's much more to this traditional dessert than beans and ice. The generous pile of shaved ice is served with ingredients like sweet syrup, creamed sweetcorn, grass jelly, jelly cubes, fruit and red beans. Ask for no beans if that suits your taste buds better!
4. Fruit kebab
Fruit kebabs dipped in melted sugar is a simple and crunchy treat that you can take with you while on the move. Be careful of your teeth as the sugar sets very hard!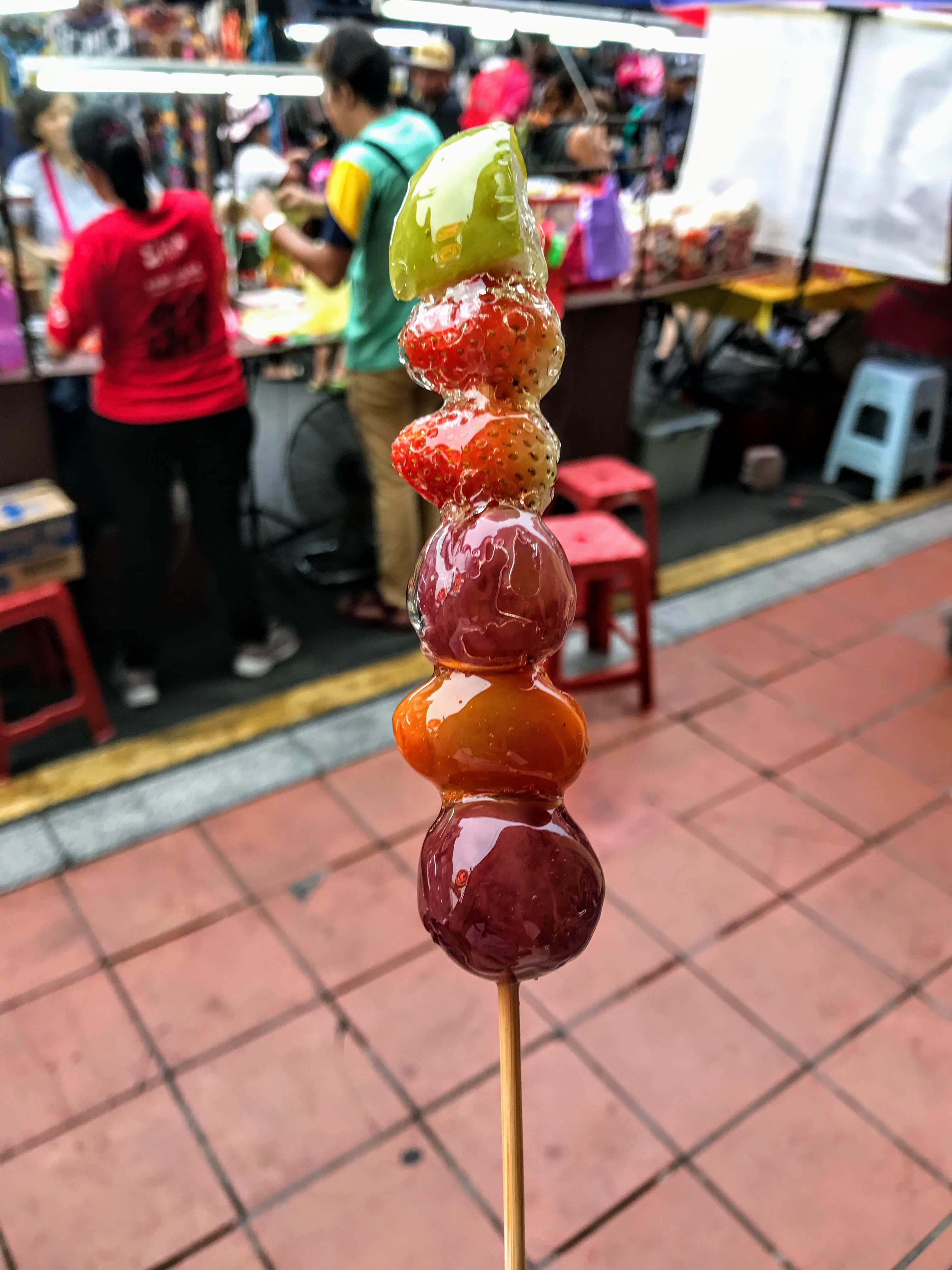 5. Pineapple, custard or cream tarts
The Portuguese influence from colonial times means that delicious tarts are available in Malaysian bakeries to this day, especially in Melaka. Pineapple tarts are particularly famous as it's a more Malaysian take on the tart, using local fruit flavours.
6. Durian puffs
These small pastry balls filled with creamy durian are meant to be eaten in one bite, otherwise the filling goes everywhere. If you hate durian, mango yogurt flavoured puffs are available too.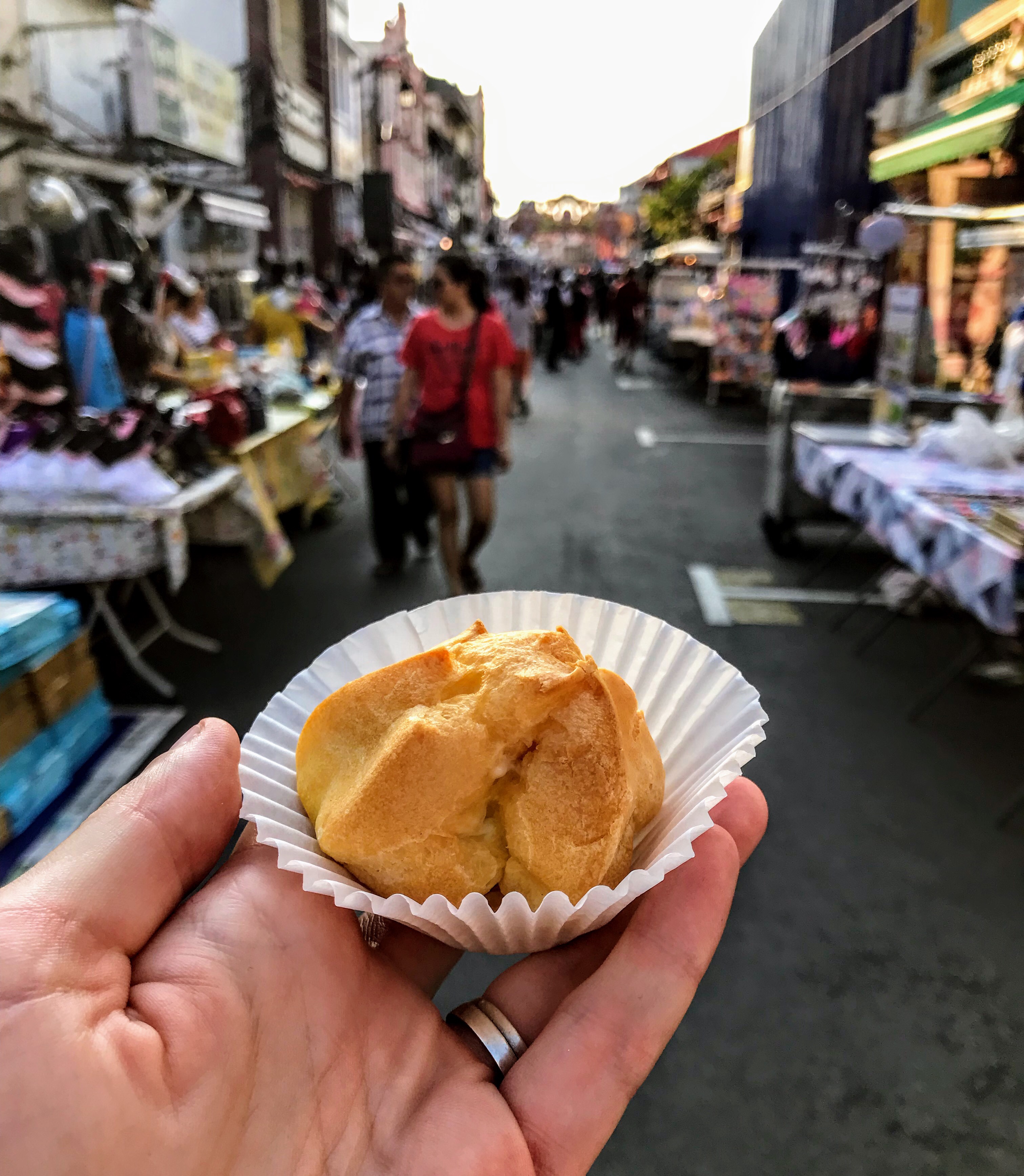 7. Sweet donuts
When I did a Malaysian cooking class in Penang, we made donuts from sweet potato but they can also be made from palm sugar like the one below. They're a great little fried snack and something that you could learn to make when you get home as well!
8. Ondeh-ondeh
Yummy ondeh-ondeh is a sticky rice flour sweet known as klepon in Indonesia. They're flavoured with pandan to make them green, then filled with palm sugar syrup and coated in coconut. Bite these chewy sweets, to taste the sugar that comes bursting out!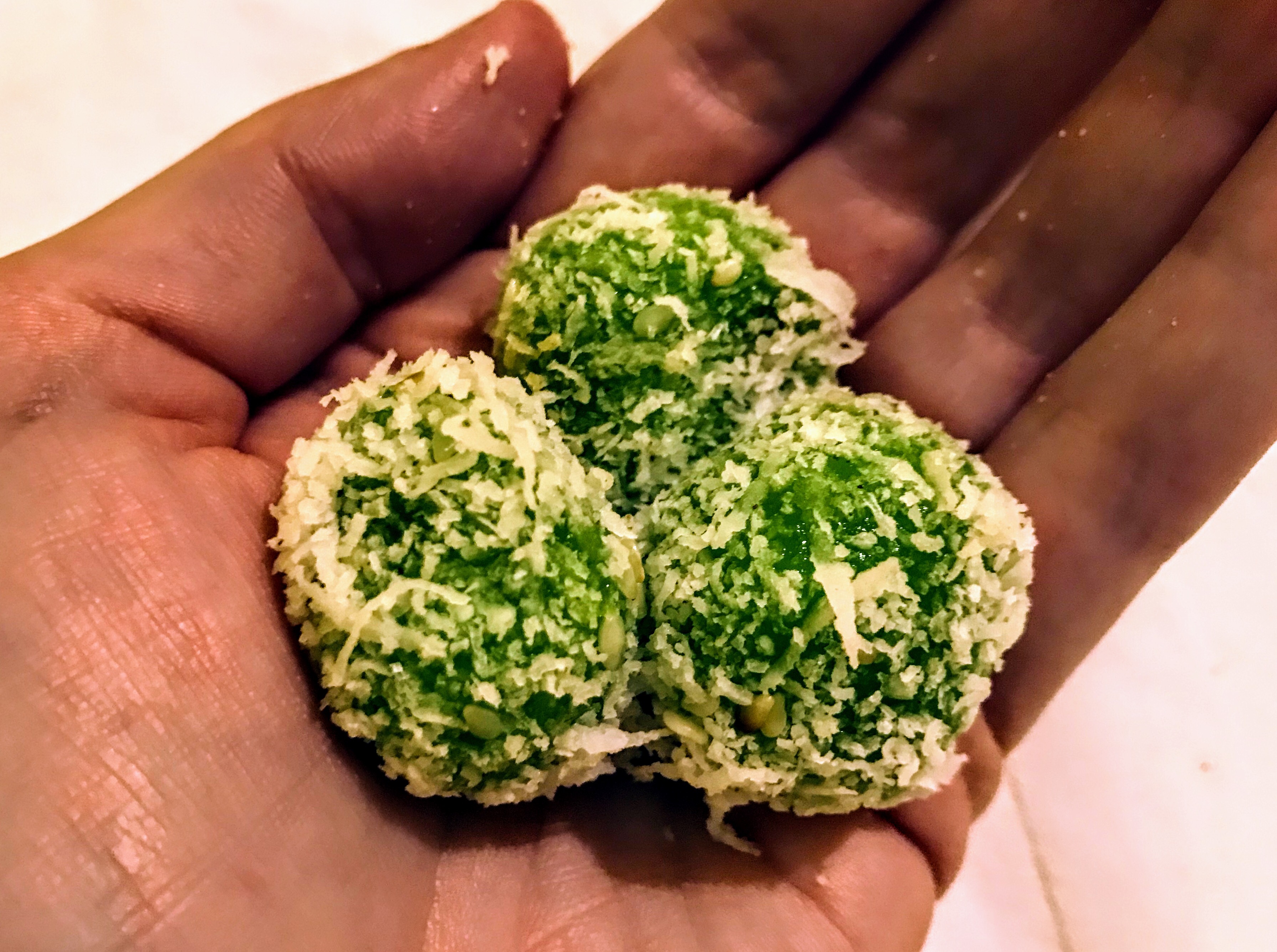 9. Kue lapis
Layered kue lapis is another sweet found in Malaysia and Indonesia. This colourful layered treat made is from sugar, coconut milk and rice flour. Kue just means 'cake' and you can pull the layers apart to eat this soft dessert of you feel like it.
10. Coconut ice cream or shake
The flavour of coconut is probably Malaysia's most popular one after durian. It's not surprising as it's such a light flavour and coconuts are widely available. Everyone has an opinion on who does the most delicious coconut-flavoured fare so look for the longest queues!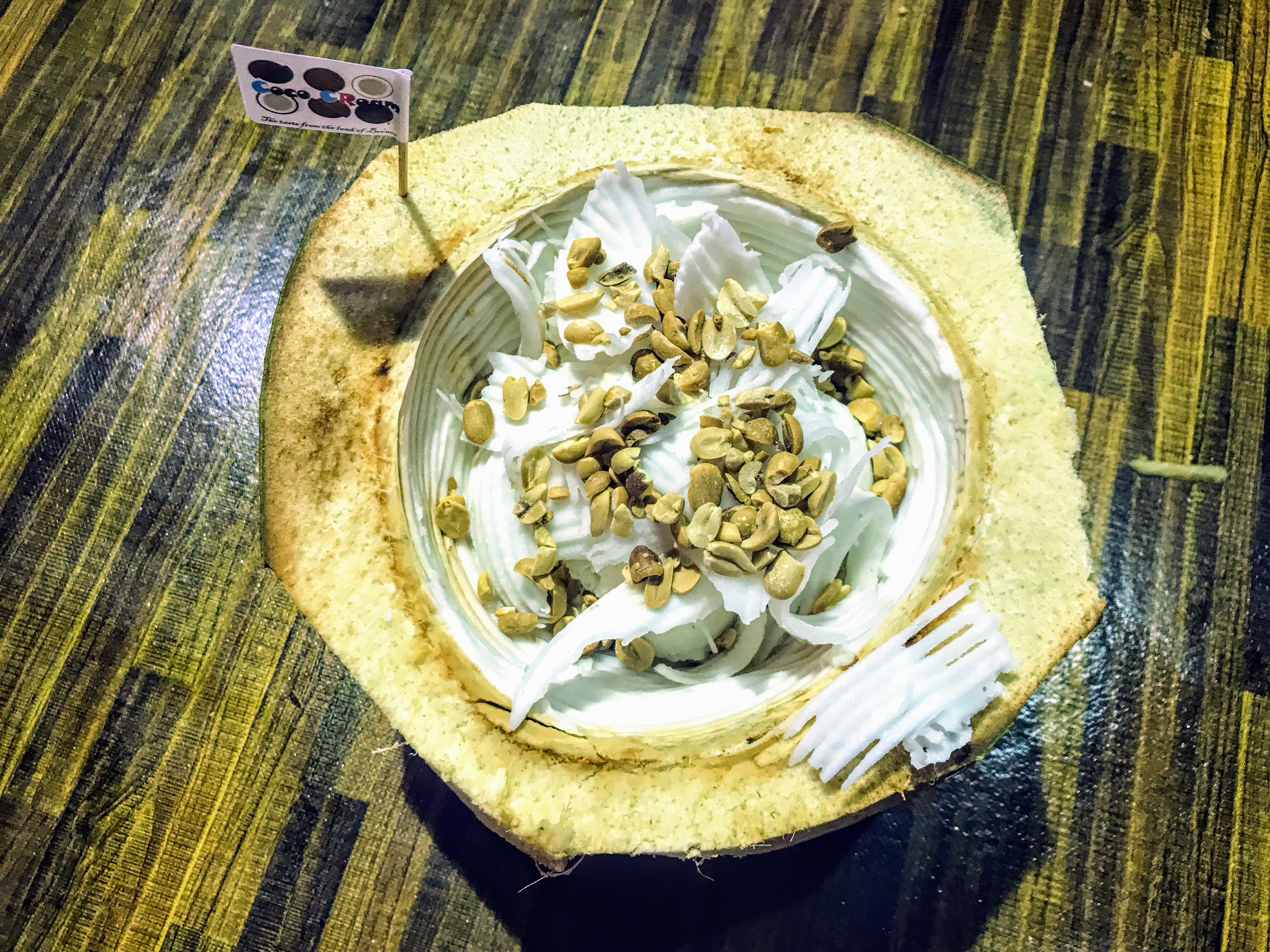 11. Putu piring
The word Putu piring means 'dessert plate' and it's made from steamed rice flour and gula Melaka (palm sugar), served with grated coconut and pandan leaves. You can also get them in chocolate or durian flavour.
Even though Putu piring is a Malaysian dessert, it is featured in the Netflix documentary about Street Food in Singapore. I had putu piring on Haig Road in Singapore.
Trying desserts in Malaysia is one of the most incredible culinary experiences to have in Southeast Asia. Whether you're in Kuala Lumpur, Melaka or Kuching, you're bound to have a mouth-watering time!
This is not an exhaustive list, just something to whet your whistle, so there are many more desserts out there to discover.
Don't forget your water bottle:
Click the Tripadvisor link to check reviews and find good deals for hotels in Malaysia:
Get travel insurance here:


Have you tried any of these wonderful desserts? What are your favourites? Let me know in the comments below!
Pin this for later: