Myanmar's ex-capital Yangon, the artist formerly known as Rangoon is one of Southeast Asia's underrated capitals and as a backpacker I loved it.
The reason I loved was that I'd come from India which is so busy and Yangon has such a chilled-out vibe, yet there's still a lively street life, impressive sights like the Shwedagon Pagoda and awesome food and drink.
If you're travelling around Myanmar, then check out my posts on travelling to Ngapali Beach from Yangon via Pyay, Ngapali Beach, Inle Lake, crossing the border to Mae Sot in Thailand and my travel warning on Mrauk U after I got caught up in civil conflict there.
Yangon is very much the anti-Bangkok and there certainly isn't much room to swing a cat around, as you can see from my tiny room, but there is still lots to occupy backpackers and travellers alike.
This post may contain affiliate links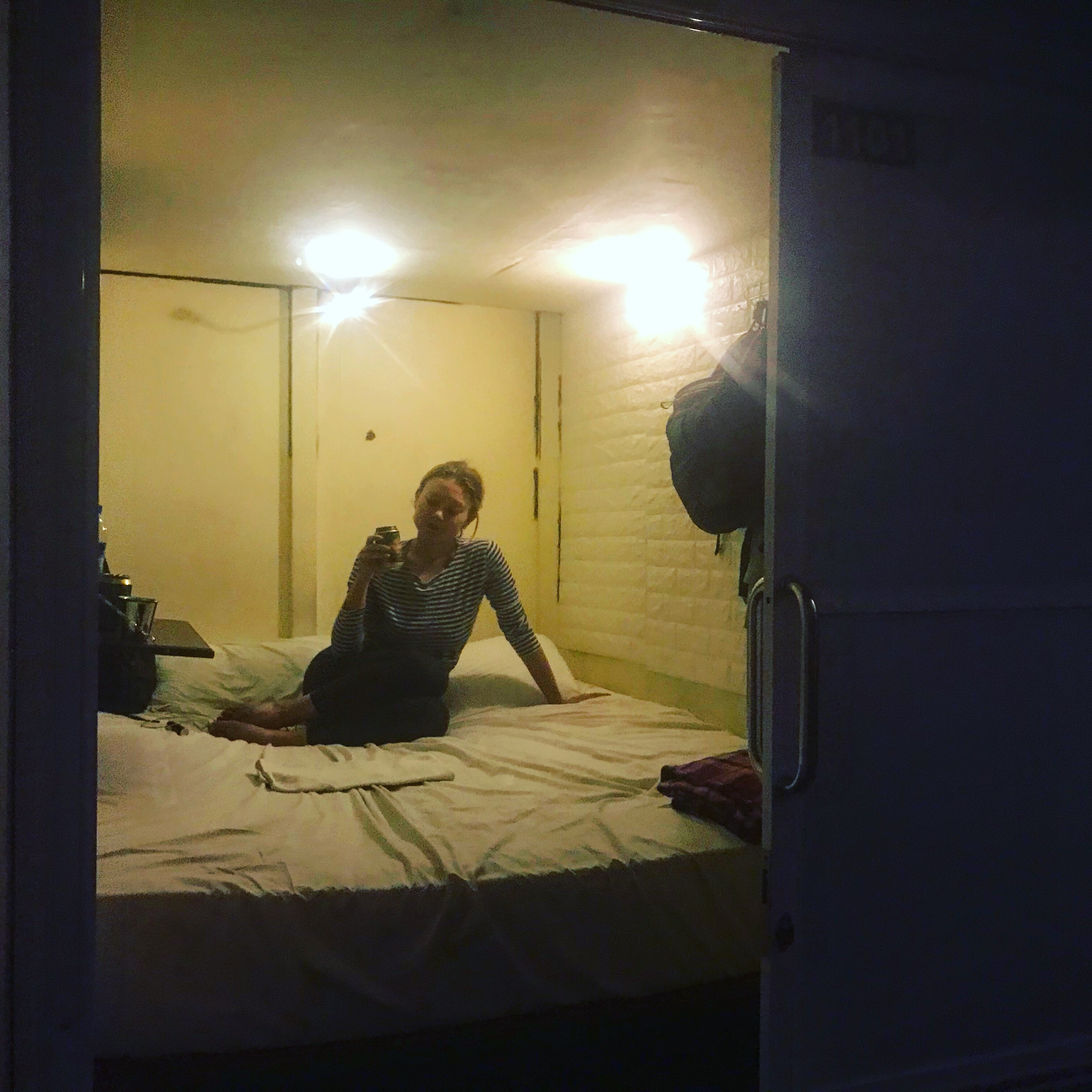 We stayed in a hostel called 21 Hostel, which was a good budget option in the centre of town. Check for reviews and deals and Tripadvisor before you book:
This is my cheap guide to sightseeing, eating, drinking and being happy during your stay in Yangon whether you're spending 1, 2 or 3 days here. I have marked the main sights on this map to give you an idea of where they are, if you download Maps.me you can use it to mark your itinerary.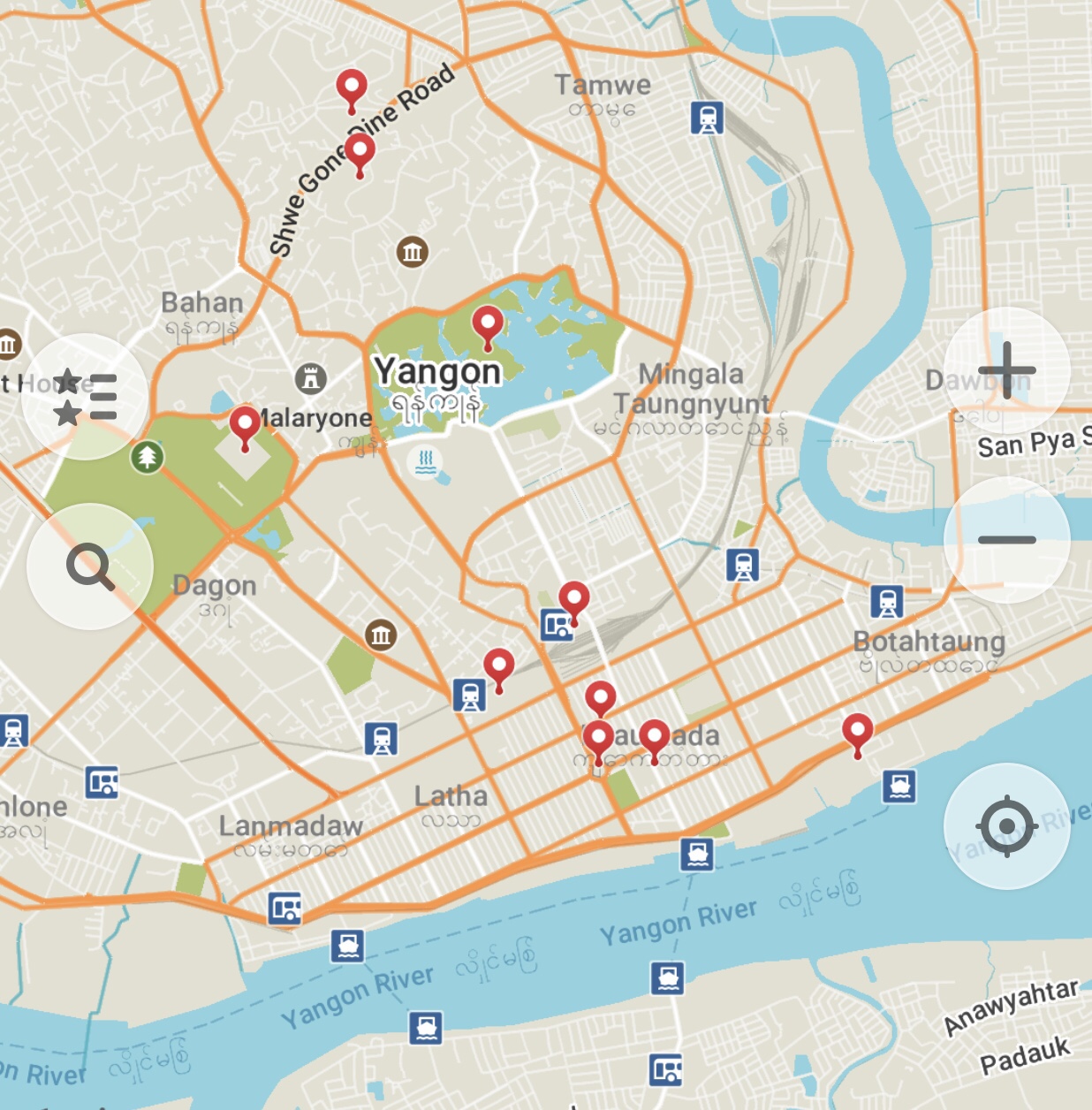 The most famous sight in Yangon, is the grand and golden Shwedagon Pagoda, you can get here in a Grab taxi or hail a taxi in the street.
Now that more visitors are coming to Myanmar, visitor prices are increasing and the price is now 10,000 kyats.
The main stupa is being renovated but it's still an impressive complex and it is said to contain sacred hairs of Buddha (claims echoed in sacred buildings all over Asia).
Myanmar is one of Southeast Asia's most traditional countries, as its political situation has cut it off from the rest of the world. This means that it's a great place to learn about Buddhism, so if the Pagoda leaves you wanting more then there are several other sites to see in the capital.
In the centre of Yangon, on a roundabout in the road, there is the Sule Pagoda that you can visit for 3,000 kyats. It's interesting as it's located on a roundabout but much more of a local temple than the pilgrim hub of the Shwedagon.
To the north of the city, you can visit the Chauk-htat-gyi Buddha Temple (one of the largest reclining Buddha's in Myanmar) and the nearby 'five-storey Buddha' at Nga Htat Gyi Pagoda to learn even more about Yangon's main religion.
If you really want to get under the skin of Yangon, and you've got half a day to spare, then go for a ride on the circle train. Head to Yangon's central train station and go to platform 7 where you get a ticket for 200 kyats. As of 2019, there are works on part of the line, so you can only do half the loop.
The train is pretty basic, but you will see traditional life, drive through markets, eat the delicious food that is sold onboard (like tofu and yellow noodles) and chat to people as they come and go. When you get bored, just get off, cross platforms and head back in the other direction.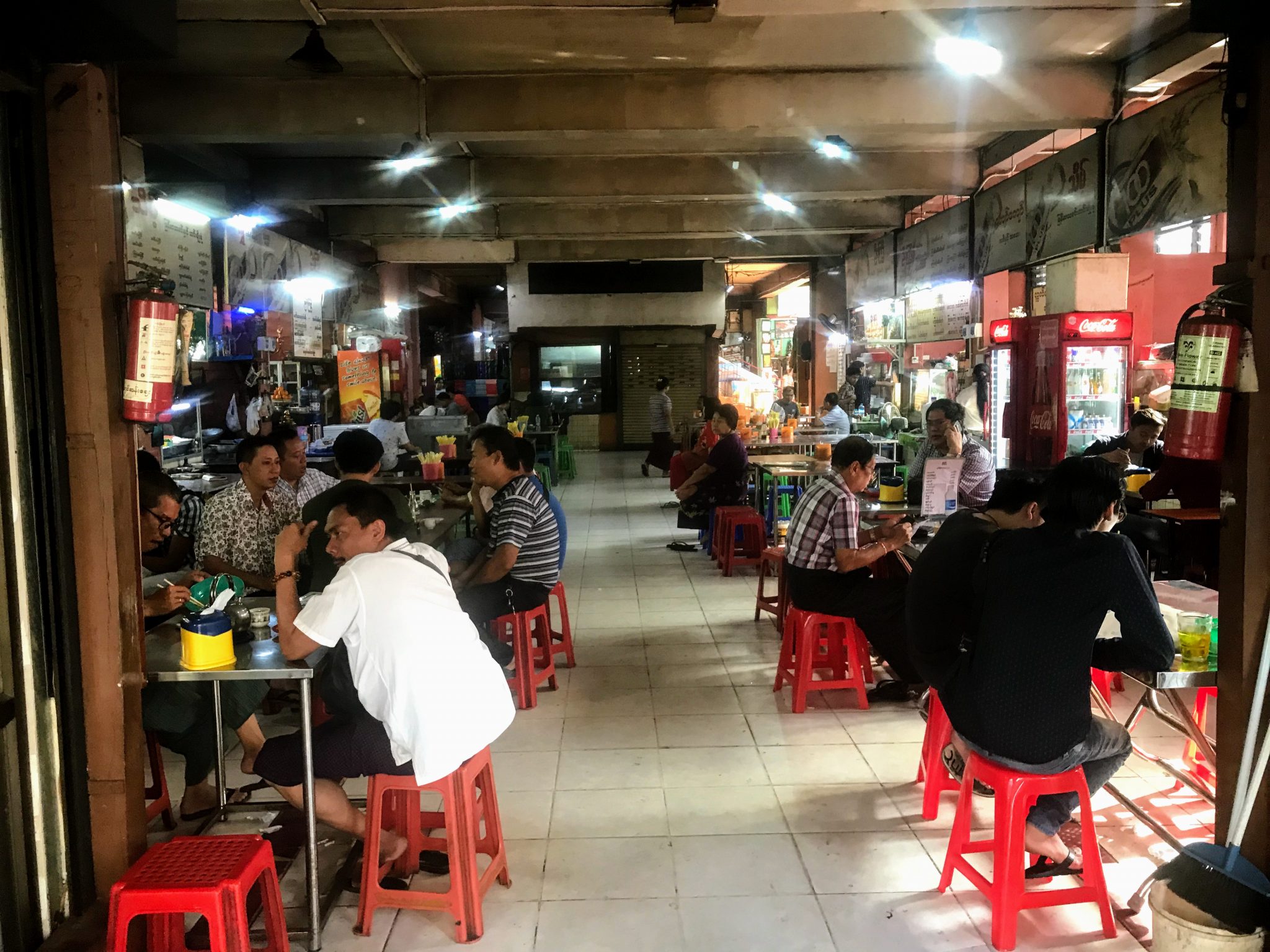 When you get off the train, pay a visit to the Bogyoke Aung San Market next door, where you can get food and traditional souvenirs in this covered marketplace.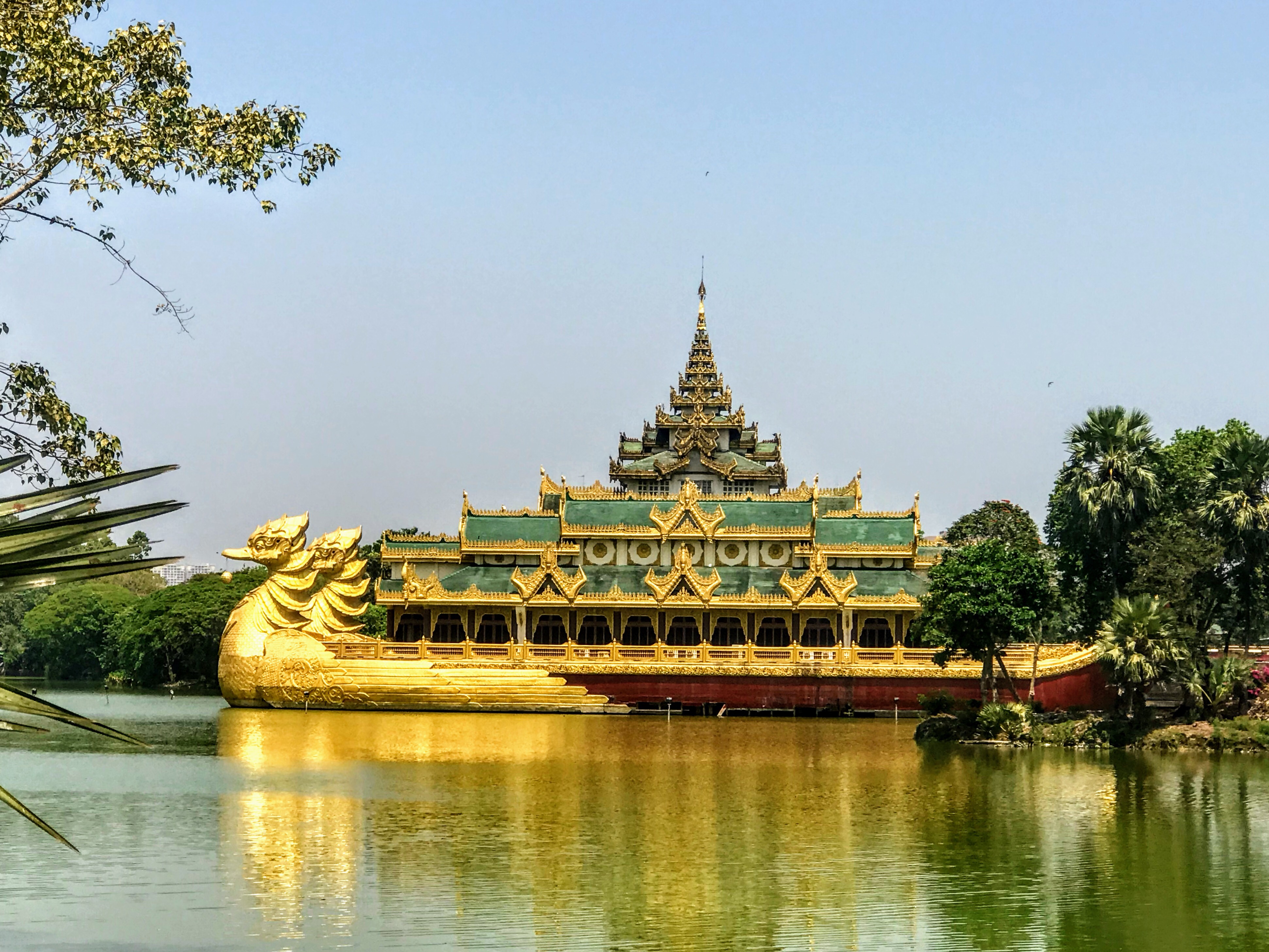 If you fancy getting some fresh air after the Shwedagon Pagoda then walk to the nearby Kandawgyi Lake. It's a relaxing place for a picnic but be aware that some of the walkways are being rebuilt.
The restaurant at the lake was built to emulate the Botataung Pagoda which you can visit on Yangon's waterfront, near the boat terminal.
The circle train passes by the Inya Lake to the north, if you want to explore a bigger lake complex for an afternoon.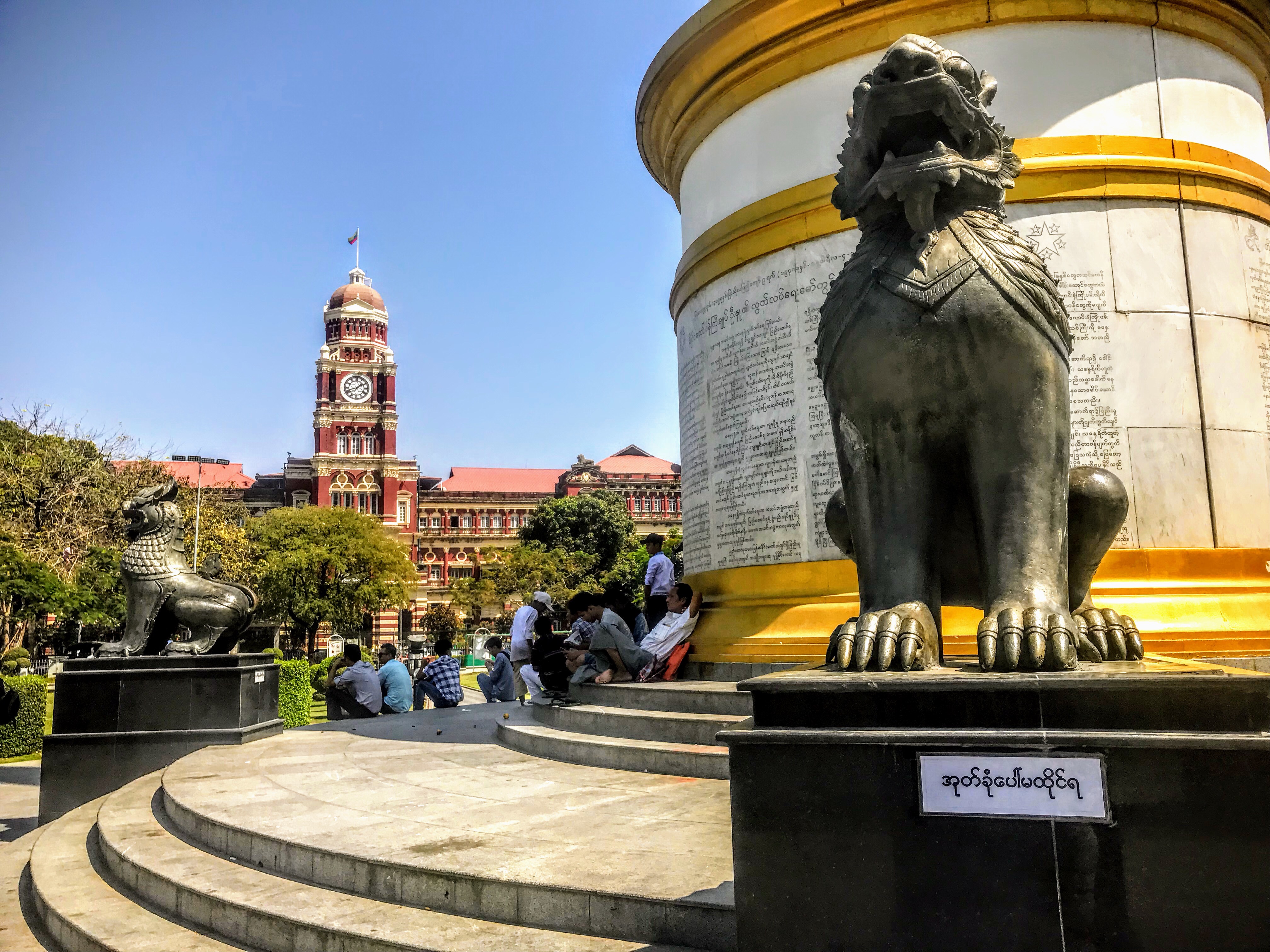 While exploring Yangon's downtown, next to the Sule Pagoda is the colonial area of the city. Start with the independence monument in Maha Bandula Park, see the churches, then explore Pansodan Street that has the old administrative buildings like the High Court. Beware that this area is one of the places that you may get hassled as a tourist by people wanting to take you down the river.
When evening falls, Yangon's most famous walking street can be found in Chinatown on 19th Street. It's a great place to sample various BBQ and local dishes for a cheap price, as well as sampling the local Myanmar beers. My favourite part was the tiny plastic seats that you sit on and it's a great place for people watching.
If you're looking for a dessert in Yangon, then pay a visit to one of the fabulous Muslim-owned ice cream parlours for a falooda. Falooda is an ice cream drink that is a favourite of people in Myanmar, made using variations of ice cream or yogurt, syrup, jelly, noodles and tapioca.
Don't leave Yangon without paying a visit to 999 Shan Noodles Shop, to try one of Myanmar's most delicious dishes. It's good for vegetarians as well as being fast, cheap and cheerful. It's one of the most wonderful eateries in Yangon and popular for a reason!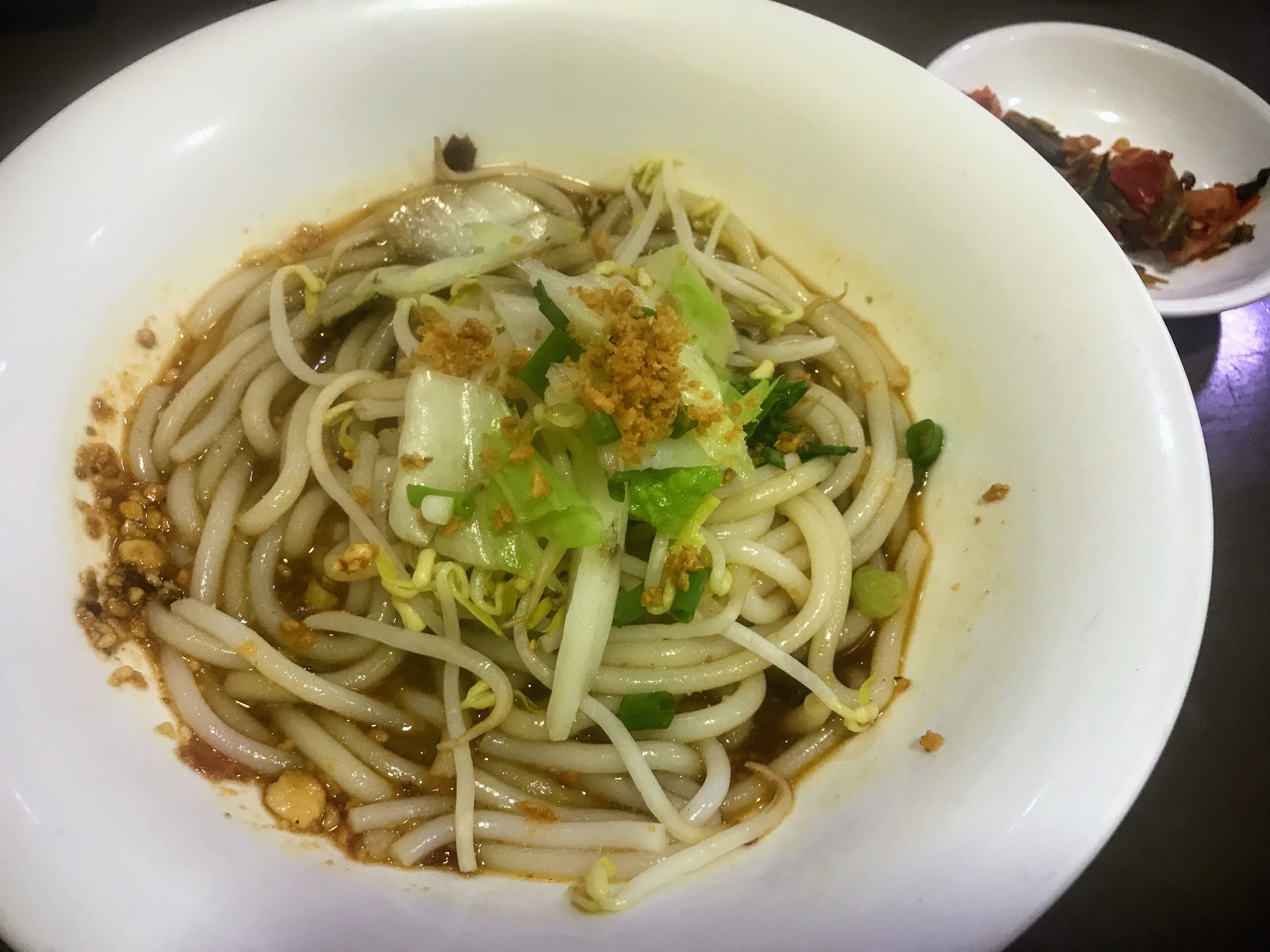 If you have a free evening in Yangon, then you can nip to the cinema where they show films from other Southeast Asian countries, usually with English subtitles and for a cheap price.
Overall, I found Yangon to be a breath of fresh air, relaxed yet culturally interesting with wonderful people, great food and an ex-capital city worth visiting on your travels.
Have you been to Yangon? What were your favourite places and why? Let me know in the comments below!