Visiting Koh Rong Samloem is one of my favourite things to do in Southeast Asia and it's a wonderfully undeveloped island at the moment.
It's not the most budget-friendly island I've been to, but it's certainly one of the most beautiful. KRS is apparently calmer than neighbouring Koh Rong, which is more of a party place at Koh Toch.
You get here on the ferry from Sihanoukville, which is every bit as bad as you've heard as several illegal building projects have been found since one collapsed in June 2019, killing 26 people.
We took the bus from Kampot, but you can get here easily from Phnom Penh and Siem Reap too. The cheapest boat option is Speed Ferry Cambodia and the ticket that you buy is usually a return. Expect delays and confirm your ticket the day before at the booth near the jetty or your hotel.

*This post may contain affiliate links*
If you want to chill out, then I recommend staying on Saracen Beach which is where the ferry drops you off and where you can find most of the action. It's a beautiful long white sand beach and the water is incredibly calm in the bay. Sunset and Lazy Beach are more deserted but they have choppier water and more beach litter.
Where to stay at Koh Rong Samloem:
We stayed at Sara Resort which was located in the centre of the beach with a great breakfast. For reviews and deals, check out the hotels on Tripadvisor:

Here are 7 ways to have a wonderful and relaxed time on Koh Rong Samloem:
1. Walk to Sunset Beach
To get to Sunset Beach, you take the path next to the Octopussy Bar, which takes about 40 minutes. The path splits into two and you take the right-hand path to Sunset. Wear trainers as the path is rocky and steep in parts. Watch out for monkeys, dogs and snakes. As the name suggests, you can watch the sunset here.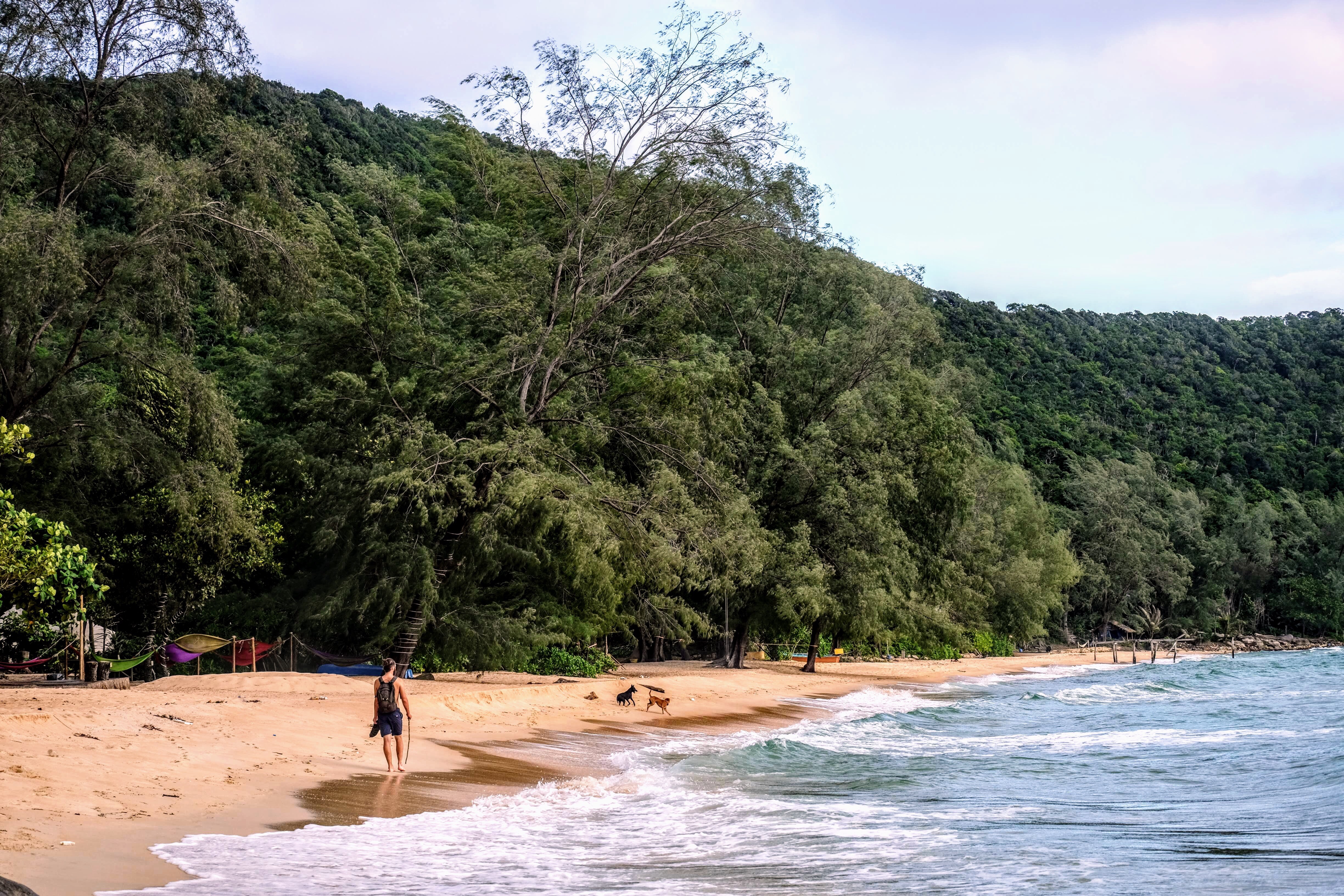 2. Stroll to Lazy Beach
Lazy Beach is an easier and faster walk than Sunset. You get here exactly the same way by taking the path to your left when it splits. The walk takes about 25 minutes and the path is mostly sandy so you can wear sandals for it. Again, be careful of snakes, dogs and monkeys.
Lazy Beach has a small reef for snorkelling on the right-hand side but be aware that the current is stronger here than the Saracen side.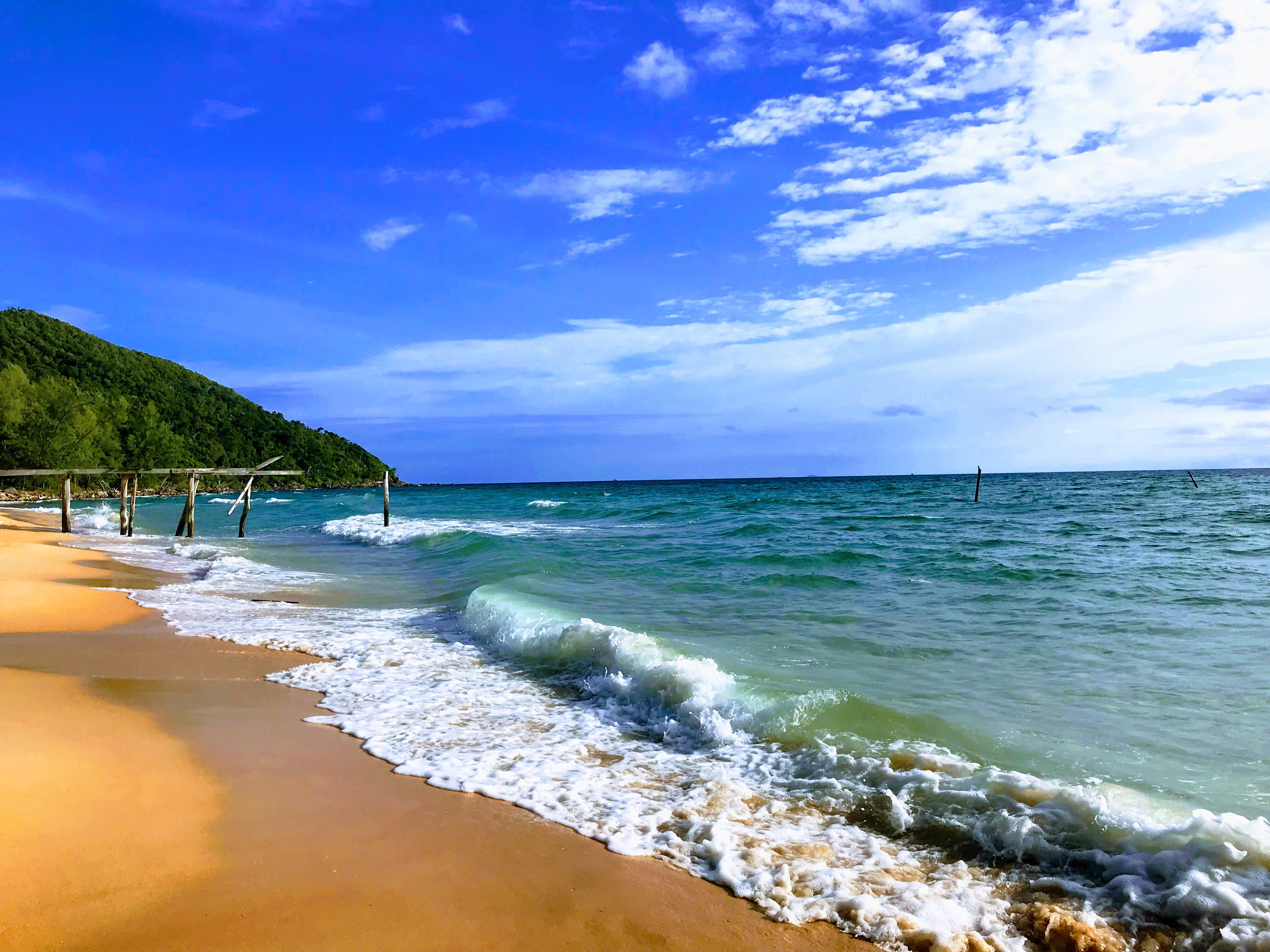 Lazy Beach, Koh Rong Samloem, Cambodia
3. Swim or paddleboard in the still waters
Saracen Beach has the most wonderfully still water so it's the perfect place for a paddle board or a swim. If you've never tried it before then this the place to try, as some guest houses rent boards for free. The lack of a current means that it's much safer than the other side of the island, but always be careful anyway.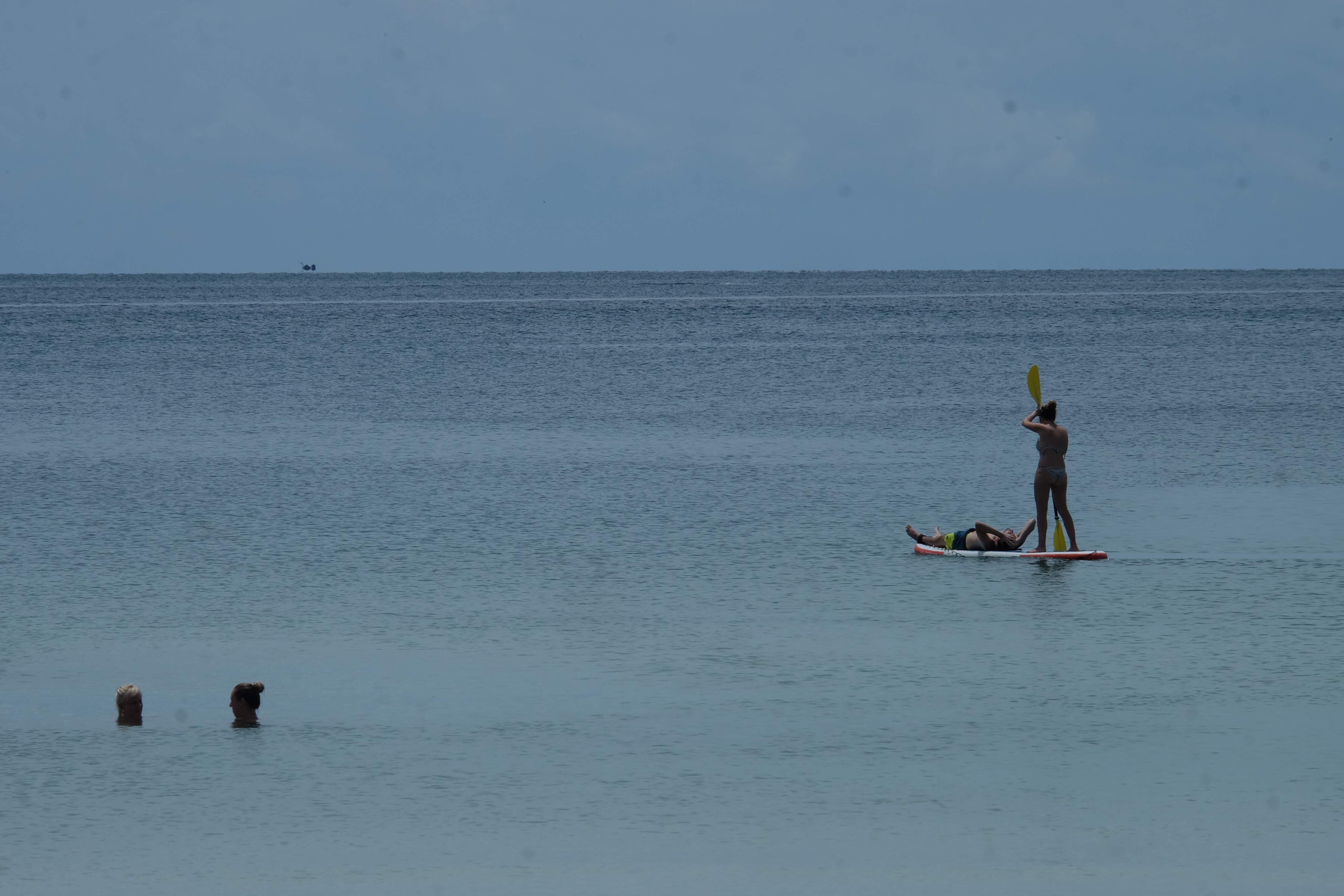 4. Kayak through the bay
As with paddle boarding, Saracen Bay is a wonderful place to try kayaking for the first time, or work on your kayak skills. Our resort rented kayaks for free, but we did have to give a $50 deposit so make sure you have extra money. Look out for boats and be careful of currents as you get further out.
5. Snorkel the reefs
Sadly, the Khmer Rouge regime blew up some of Cambodia's coral reef systems, so it's vital that they're now protected. The areas around both Koh Rong and KRS have been designated as protected marine areas but we did hear blast fishing when we were here.
If you want to know about eating seafood sustainably in Southeast Asia then check out my handy guide.
To see the reef systems, you need to go on a snorkelling boat trip as you'll struggle to see fish from the beaches. Trips cost about $15-20 and you may see squid, grouper, bamboo sharks, stingrays, batfish, pufferfish, angelfish, barracuda and seahorses as well as other marine life.
Check out my ethical snorkelling guide to keep you safe and protect coral while on a trip.
If you like to dive then check out Cambodian Diving Group. If want to know more about preserving ecosystems then Save Cambodian Marine Life has information and a volunteer programme for removing litter from the sea.
6. Spot wildlife
KRS is fairly well forested and there is certainly wildlife that you can spot on land as well as in the sea.
When you're on the beach, look out for the tiny white crabs that dig little tunnels in the white sand of Saracen Beach.
There are long-tailed macaques here and we saw them, as well as snakes (which we also saw so be careful), hornbills, myna birds, geckoes and other kinds of lizard. This blog has more information about the different ecosystems of KRS.
Be careful of sandflies, which are a pest here and wear coconut oil to repel them. There are also a lot of dogs on the island that like to fight with other so be aware of them.
I've saved the absolute best activity until last and I really can't recommend seeing bioluminescent plankton enough. It's an incredibly magical experience and one of the most otherworldly natural phenomena that we can interact with as humans.
Plankton spotting costs about $12 and you go out in a boat to a dark patch of ocean in the bay and jump right in! It's not always safe to swim in plankton due to the jellyfish and other creatures that feed on it but it is fine here.
You have a spotter on the boat who looks after your welfare and you can wear life jackets if you wish. The plankton is like neon yellow bubbles underwater and even though I'm an adult, I fully pretended that I was a wizard while snorkelling. It reacts to your movements which make it glow, and on the way back the boat creates blue luminescence on the water's surface. Be aware that it's almost impossible to photograph but definitely go see it.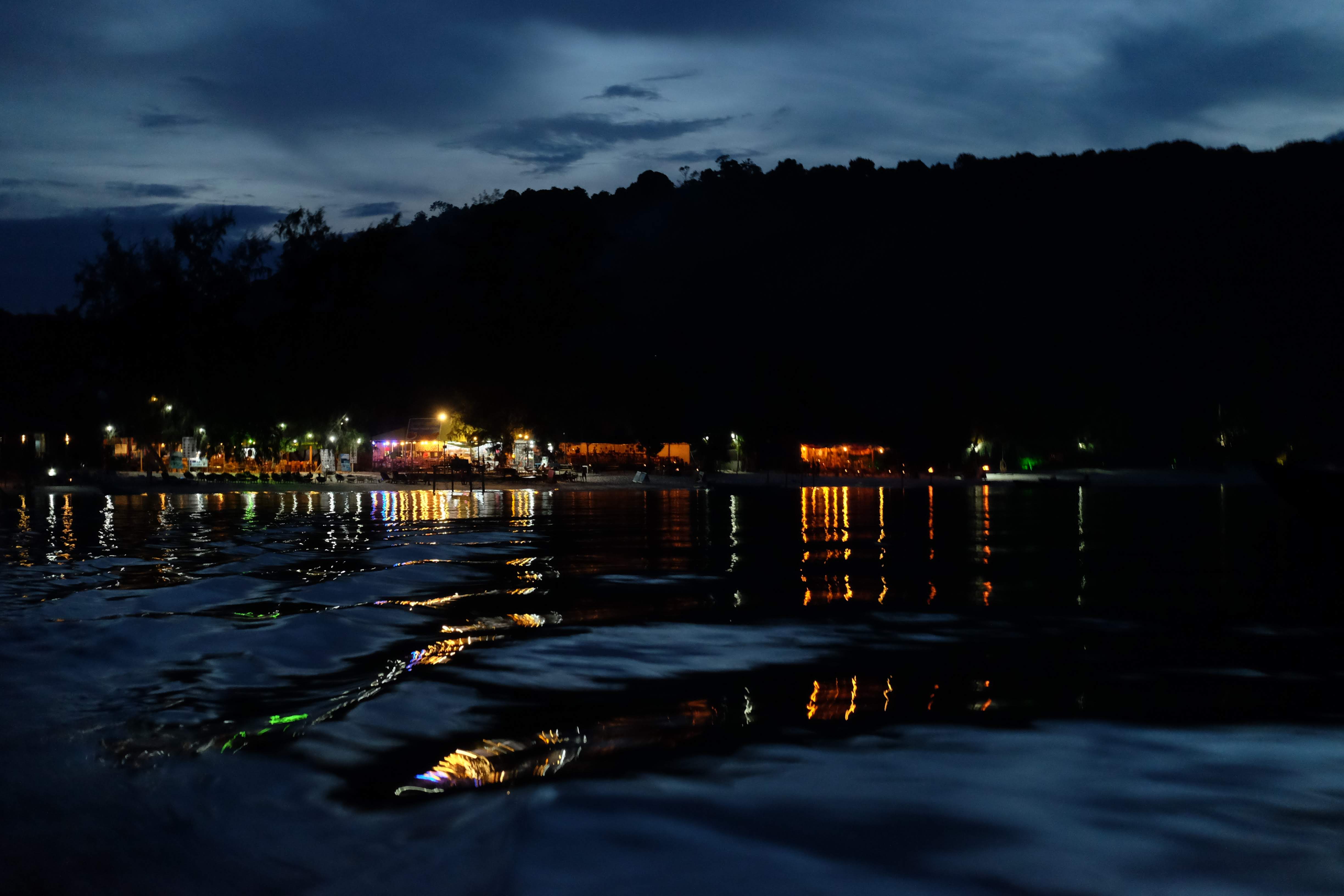 The future of KRS
Big development is sadly on the cards for KRS, and you can see forest that has been cleared for that reason. Hopefully it won't happen but land has been marked for it.
Right now, it's a fantastic place to visit and it has an unbelievably friendly vibe. It's the perfect place to chill in a hammock, but it also has still waters to play in, brilliant bioluminescence and fascinating wildlife.
One other thing that is worth thinking about on the Koh Rong islands, or any beach in Asia is doing a 2 minute beach clean if you are able.
We spent about one hour picking up beach litter on Lazy Beach and it makes a massive difference to both humans and wildlife.
Always be careful when collecting litter to avoid cutting yourself on fishing snares or needles. As we reduce our plastic waste, it's so important to cleanup our oceans, so that they can start to thrive again. For more information, check out 2 minute beach clean's website.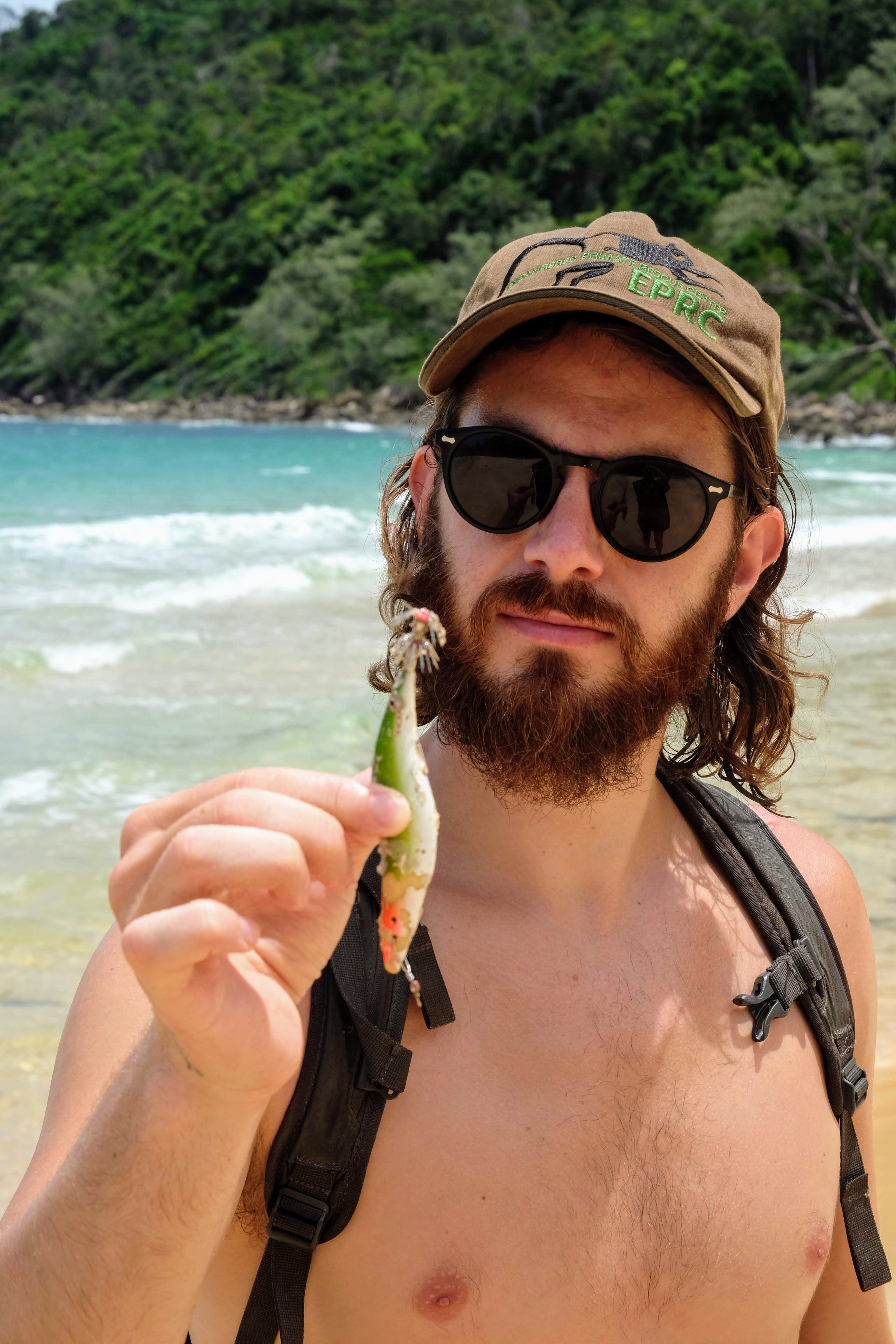 If you are concerned about ocean plastics and fast fashion, then I recommend Planet Warrior who make clothing from waste plastic in the UK. They mainly make yoga clothing as present, but they're certainly an ethical company to watch:
Have you been to Koh Rong Samloem? Or Koh Rong? Let me know in the comments below!
Pin this for later: